Beko Vs. KitchenAid Dishwashers (Reviews / Ratings / Prices)
The two newest, most innovative dishwashers on the market are Beko and KitchenAid.
You are probably thinking, "Who is Beko?"
We will get to that in a bit.
For washing, racks, quietness, and drying, both brands present new features for you to consider.
If you have been shopping lately for a dishwasher or reading this blog, you've probably figured out availability issues on appliances and dishwashers in particular.
These two brands have better availability than most manufacturers, so this article may help you decide your next dishwasher by default.
You will learn about both companies and their dishwashers. We will be comparing the Beko DDT39432X stainlesss steel dishwasher Vs. the KitchenAid 600 series KDTM604KPS dishwasher.
But first, let's answer your first question. Who is Beko?
Beko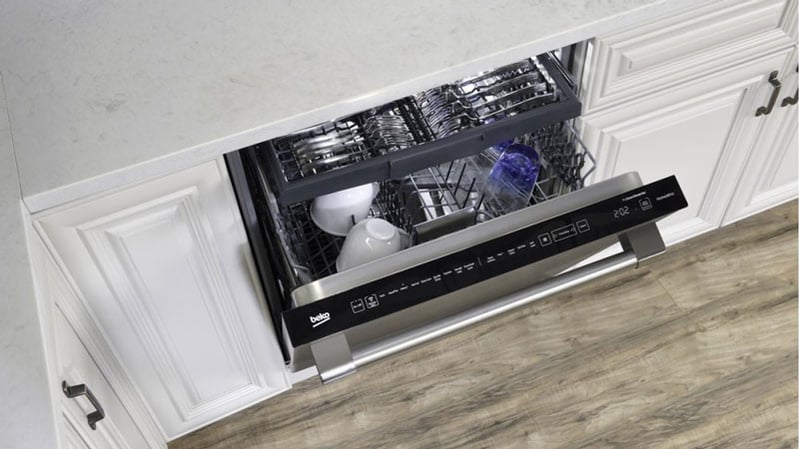 Beko Integrated Dishwasher With Top Controls And Third Rack
Beko is a huge company out of Turkey. They are extremely popular in Europe and sell their appliances in 140 companies.
They have been marketing under the name Blomberg in the US and have been manufacturing Viking dishwashers as well.
Beko dishwashers are quiet, water-efficient, and unique in terms of features.
Short on time? Get our free Dishwasher Buying Guide
KitchenAid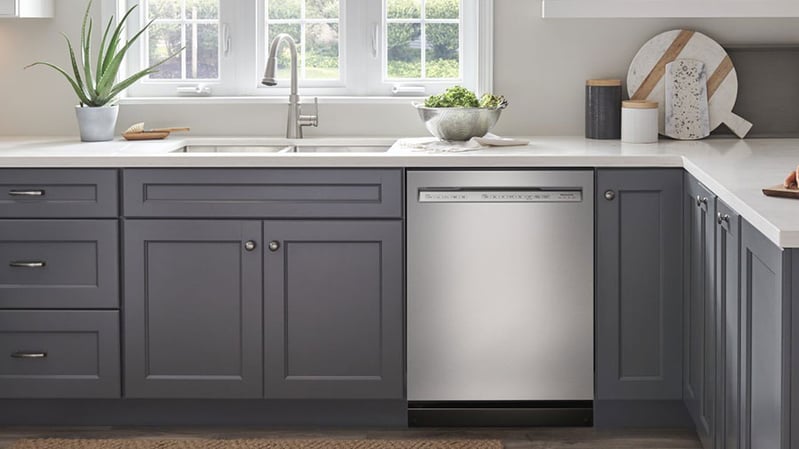 KitchenAid Dishwasher With Front Controls
After playing nail to Boschs' hammer for years, KitchenAid has had the most popular premium (under $1,000) dishwashers since 2018.
Yet, this year, KitchenAid has changed again with a different set of features, unique in the industry.
Where Beko and KitchenAid Do Not Compete
Before you learn about KitchenAid and Beko's hallmarks, let's look at where they do not compete.
Beko has dishwashers under $500. They're basic, but still decent with 48 DB silence ratings and 5 cycles each. To learn more about Beko's best basic dishwasher, click here.
Bekos' best dishwasher sells between $869-$1,099. KitchenAid's best dishwasher sells for about the same.
However, KitchenAid has dishwashers over $1,100 up to $1,899 (not that you should buy one).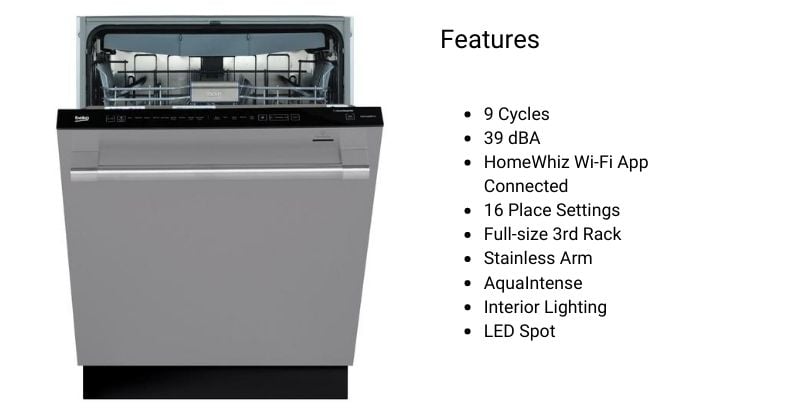 Hallmarks of a Beko Dishwasher
Beko has the best cycles in the industry.
AquaIntense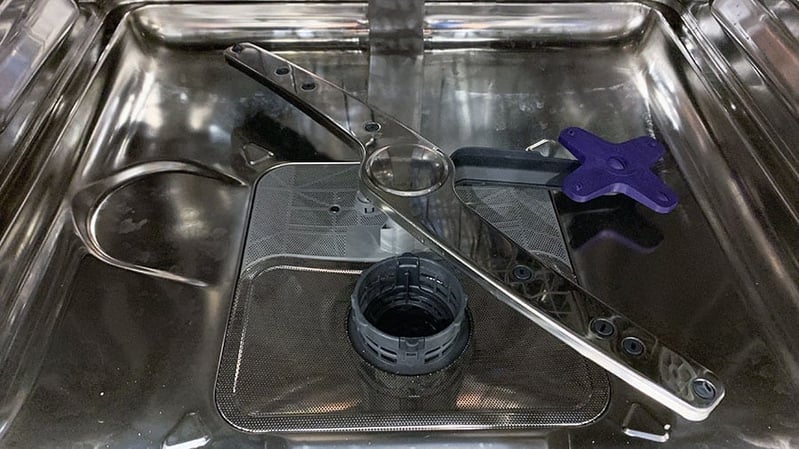 Beko Dishwasher AquaIntense Feature
Beko has three wash action levels and a silverware rack like most other dishwashers, but it has a cycle called AquaIntense.
It's a separate set of sprays to scour baked-on casserole dishes at the bottom of the dishwasher.
AquaFlex
Aquaflex redistributes 60% more water pressure on the bottom for pots and pans and lighter amounts for delicates on the top shelf.
So you can effectively wash lasagna pans on the bottom and crystal on the top rack in the same cycle.
Fast Cycle
:Beko Dishwasher With Top Controls at Yale Appliance in Hanover
The Fast cycle cuts time in half by adding more water pressure and a higher temperature. At 167 degrees, Beko is amongst the hottest dishwashers on the market.
IonGuard
IonGuard is another Beko exclusive. It's included in all their better appliances.
Odors have positively charged ions. Beko has a negative ion generator to eliminate the odors within the tub.
Quiet
Beko is 39 DB and the quietest in this class. You would have to buy a $2000 Bosch for the same level or ironically a $769 KitchenAid (not the one we will be comparing).
Here is what 39 DB sounds like:
Wi-Fi
Let's face it. Wi-Fi in a dishwasher is a stretch as a feature. However, it will signal you when the cycle is complete so you won't open the door while it's still running.
Beko DDT39423X Dishwasher Video Review
To learn more about the Beko DDT39432 top control stainless steel dishwasher, click here.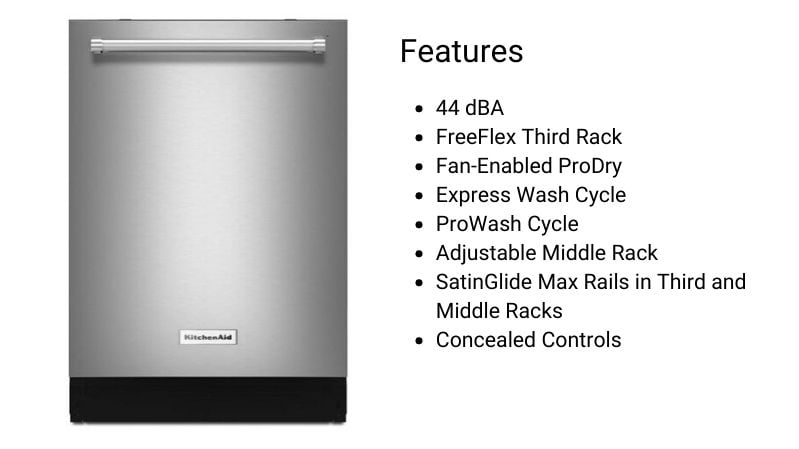 Hallmarks of the KitchenAid Dishwasher KDTM604KPS
KitchenAid had the best dishwasher on the market last year but promptly eliminated most of its best features for a completely different set.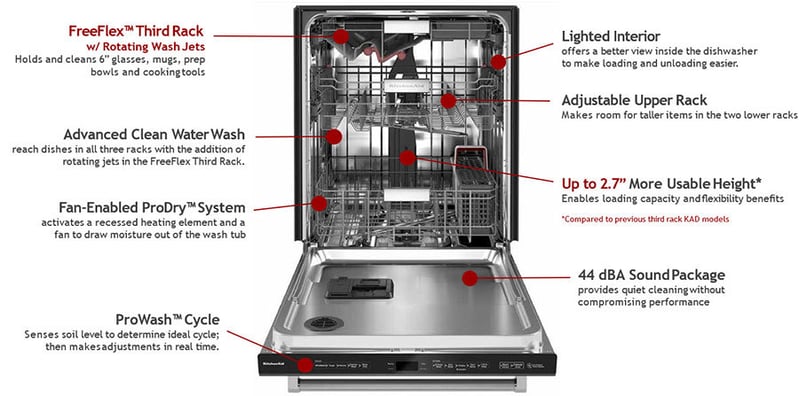 Washing
It now has four levels of wash action, including concentrated sprays from the rack.
KitchenAid dishwashers now have a two-stage filter, so cleaner water washes your dishes.
Drying
A fan pulls in air from the outside, dissipating the moisture as water. KitchenAid adds a heating element as well to absorb more moisture.
Quietness
All M series dishwashers are 44 DBs. I alluded to a quieter KitchenAid, but it lacks the rack and the second filter of this series.
KitchenAid 600 Series Dishwasher Video Review
To learn more about the KitchenAid 600 series dishwasher, click here.
Beko Vs. KitchenAid Dishwashers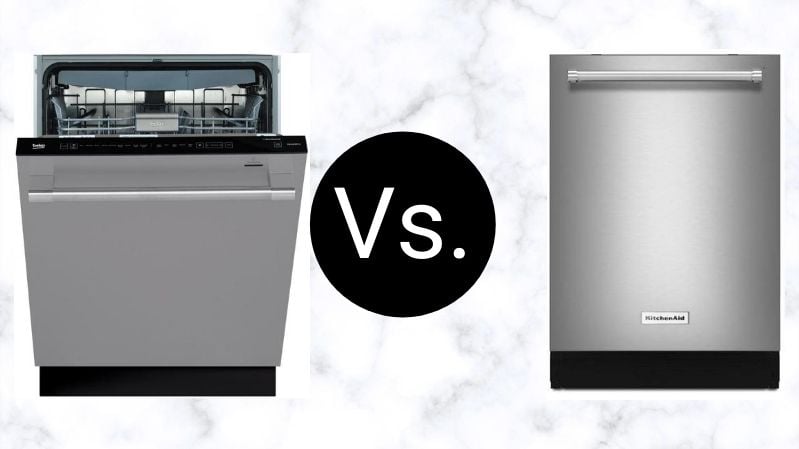 Quietness
This is easy. Beko is the quietest at 39 DB. Wait a minute, though. Don't make the mistake of buying for quietness alone.
Forty-four is the minimum threshold for quiet in a dishwasher and not much louder than the 39 dB.
Racks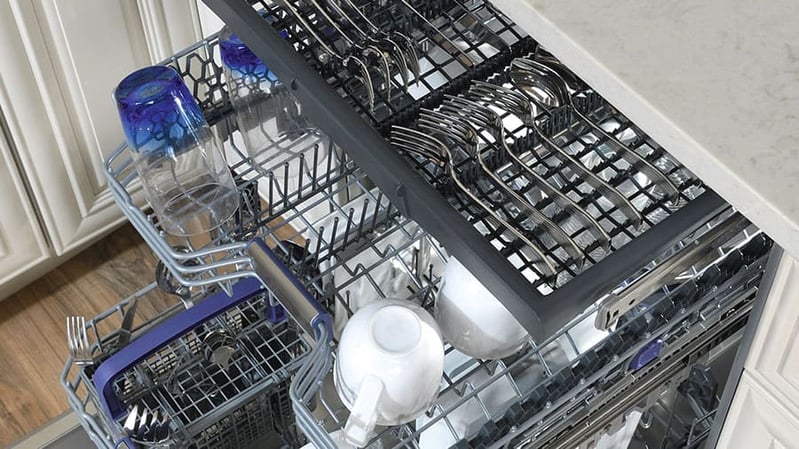 Beko Dishwasher Racks
Beko has an adjustable top rack and a sliding basket o as well as a cutlery rack on the top.
KitchenAid has the largest third rack in the industry and can hold the most in theory.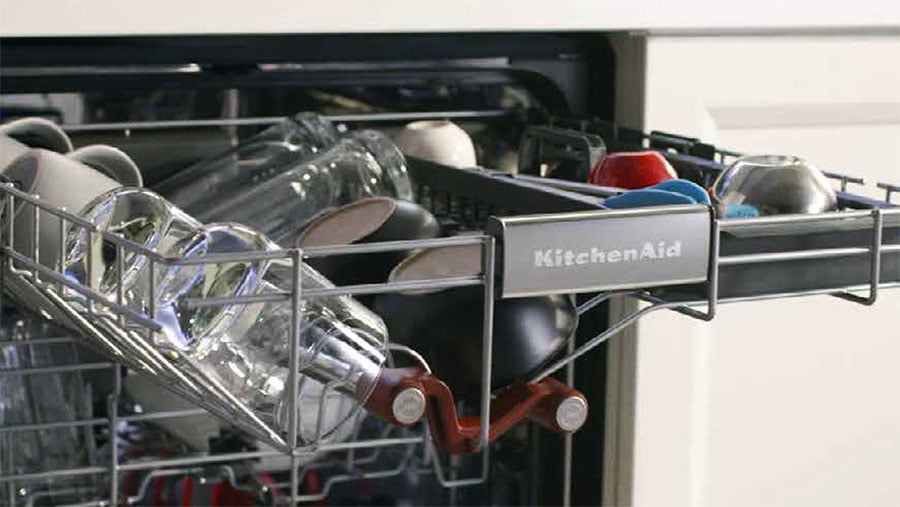 KitchenAid Dishwasher Third Rack
Drying
Beko has normal condensation dry. It's a factory term for using residual heat from the dishwasher plus a finishing rinse like JetDry.
KitchenAid has the fan pulling outside air into the dishwasher. Your cooler, drier kitchen air is attracted to the hotter air and is dissipated as water.
Miele has used a similar system successfully for years.
KitchenAid also has a heating element to absorb moisture as well.
Washing
When you add the 4th level and a second filter, KitchenAid would seem better.
However, Beko has better cycles adding pressure and cleaning power, especially on the bottom rack with AquaIntense and AquaFlex.
Beko can also reach temperatures of 167 degrees versus 150 degrees for KitchenAid. Hotter water adds more cleaning power.
Panel-Ready
Both have models designed to accept a panel or cabinet front. However, Beko will blend seamlessly within your cabinets, whereas KitchenAid will protrude looking like a dishwasher with a cabinet front.
For a panel-ready dishwasher, Beko is better.
Reliability
Reliability is another factor. Beko is new, so there is no data yet. KitchenAid has been good for a premium, almost as good as Bosch.
Parent company Whirlpool and a few others are better, but they are basic builder models.
Dishwasher Reliability for 2020
| | | | |
| --- | --- | --- | --- |
| | Service QTY | Shipped QTY | Service Ratio |
| Asko | 103 | 190 | 54.21% |
| Jenn-Air | 188 | 493 | 38.13% |
| Bosch Benchmark | 25 | 70 | 35.71% |
| Fisher & Paykel | 56 | 193 | 29.02% |
| Miele | 185 | 903 | 20.49% |
| Maytag | 2 | 10 | 20.00% |
| Gaggenau | 16 | 104 | 15.38% |
| Thermador | 126 | 872 | 14.45% |
| KitchenAid | 90 | 688 | 13.08% |
| Café Appliances | 3 | 25 | 12.00% |
| Bosch | 398 | 3573 | 11.14% |
| Samsung | 134 | 1297 | 10.33% |
| LG | 5 | 81 | 6.17% |
| Cove | 2 | 44 | 4.55% |
| Ge Appliances | 1 | 37 | 2.70% |
| Whirlpool | 38 | 1471 | 2.58% |
| Grand Total | 1377 | 10166 | 13.55% |
Now, let's narrow down this comparison with two important questions.
When Will You Buy a Dishwasher?
This is the first of two odd questions. With good feature packages in both dishwashers, timing can be important as both these dishwashers will fluctuate in price from $869-1099.
Are Beko And KitchenAid Dishwashers Available During The Coronavirus (COVID-19) Pandemic?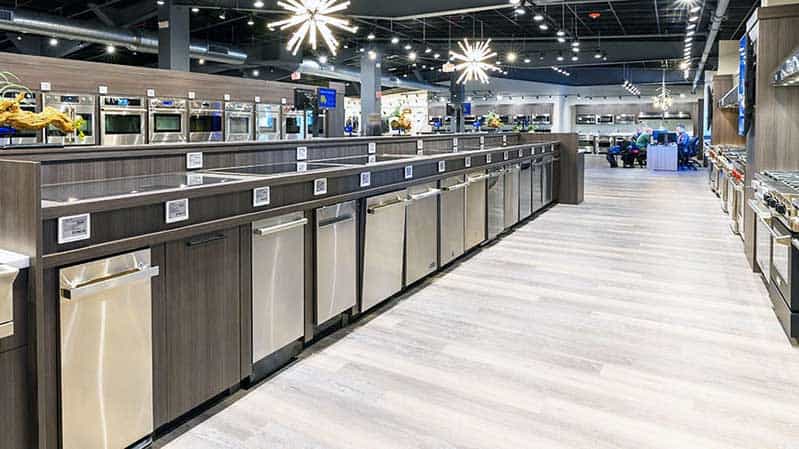 Dishwashers at Yale Appliance in Hanover
COVID-19 has attacked different parts of the supply chain at different times as it spread from China to Europe to the Northeast US and the South.
Factories and warehouses have been shut down. Now many are operating with less efficiency due to distancing guidelines.
Parts are a big problem. Here is a disturbing quote for a brand manager.
"Appliances are made of parts. If a dishwasher is made up of 220 parts and one is not available, we can't ship the dishwasher."
Uh oh.
KitchenAid and Beko have been better than most for now. Certainly, availability will be part of your decision making for many items in the next six months, including dishwashers.
You should consider features or what you want in a dishwasher rather than buying a brand. It will leave you with more options.
Beko Vs. KitchenAid Dishwashers: Key Takeaways
First, Beko is a legitimate brand you should consider even against a KitchenAid.
It has better cycles, washes action, and is quieter. Wi-Fi is a nice touch, but its functionality is limited for a dishwasher.
IonGuard is a nice option depending on how bad your dishwasher usually smells.
KitchenAid is a more known commodity. Its third rack with sprays is novel. The drying cycle with the fan and heating element is better as well.
So both are decent. One may better, depending on what you wash. Beko should be better at scouring, whereas KitchenAid will hold more.
However, for the next six months and maybe more, promotions and availability are almost as important as the features.
Lastly, you always want to ensure your new appliance can be repaired by looking at reviews beforehand, not afterward, when there is an issue.
Additional Resources
Want to learn more about Dishwashers? Download the Yale Dishwasher Buying Guide with features, specs and inside buying tips to all the brands. Over 820,000 people have read a Yale Guide.
Related Articles
Why Should You Trust Us?
It seems that every appliance review has nothing but glowing comments about almost every product, yet you read customer reviews and they are almost universally bad.
We are here to fill in the disconnect. We'll give you the best features, and the drawbacks as well, including reliability based on over 37,000 calls performed by our service team just last year. Our goal is to give you ALL the information so you know what's right for you.
Please consider subscribing or adding to the conversation in the comments below. We appreciate you stopping by.
Steve Sheinkopf
Steve is the third-generation CEO of Yale and a lifelong Bostonian. He currently resides in Boston, one mile from where he was born. Despite being one of the worst goalies of all time, he is a huge hockey fan of college hockey and the Boston Bruins. The love of his life is his daughter Sophie.

Steve has also been featured in numerous publications such as the New York Times, Consumer Reports, The Boston Globe, Bloomberg Radio, and Entrepreneur, for his knowledge of how to buy appliances and appliance repair.
A Note About Pricing
Pricing on this blog is for reference only and may include time sensitive rebates. We make every attempt to provide accurate pricing at time of publishing. Please call the stores for most accurate price.