Should You Buy the Fisher & Paykel 48-Inch Dual Fuel Range With Induction?
Fisher & Paykel is one of the newest professional (pro) ranges on the market you may want to consider.
This range is unique because it has induction and gas capabilities, plus two electric ovens with various modes and features and guided cooking programs.
I enjoyed using various functions, modes, and features with this range and was impressed with the capacity of what you can accomplish in 48".
You get the best of both worlds with induction and gas. Induction is faster than gas with a lower, infinite simmer operating by magnets.
It's also easier to clean because the top does not heat and requires less venting.
I had the opportunity to use this range to its fullest potential and wanted to share my thoughts with you.
The first part will be key features. In the second part, I will put those features to the test by cooking various foods.
You will learn the basic differences between Fisher & Paykel and other pro dual fuel ranges as a bonus.
Short on time? Get our free Pro Cooking Buying Guide
Who is Fisher & Paykel?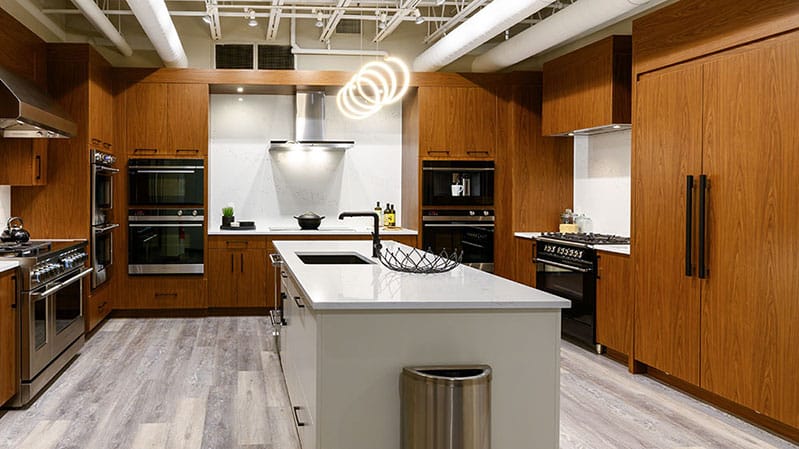 Fisher & Paykel was a New Zealand-based company for years. You may remember them as producing the first double drawer dishwasher almost 20 years ago.
They acquired DCS for their pro range and grill expertise in 2014. The new pro range has the same look as the DCS.
The two brands weren't a great match, and shortly after the Great Recession, Fisher & Paykel was sold to Haier in 2012.
Haier also bought GE in 2016. I have to give Haier props - they have turned around both companies.
Fisher & Paykel 48-Inch Professional Ranges
Fisher & Paykel features eight range configurations in the 48-inch size. In this article, I tested the RHV3-484-N dual fuel range with eight burners, four of which are induction and four gas.
However, I listed your other options below showing the differences between stovetops.
Fisher & Paykel 48-Inch Dual Fuel Pro Range With Induction RHV3-484-N - $13,499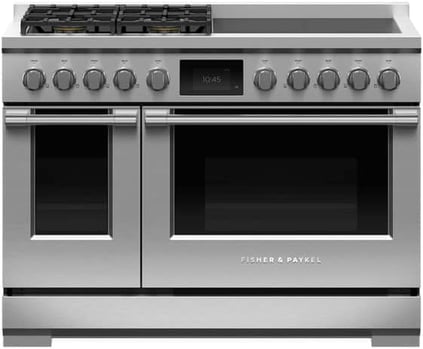 Additional Options in Dual Fuel:

Fisher & Paykel Dual Fuel Pro Range with 8 Burners RDV3-488-N
Fisher & Paykel Dual Fuel Pro Range with 5 Burners, Griddle, and Self-Cleaning RDV3-485GD-N
Fisher & Paykel Dual Fuel Pro Range with 5 Burners and a Griddle RDV2-485GD-N
Additional Options in All Gas: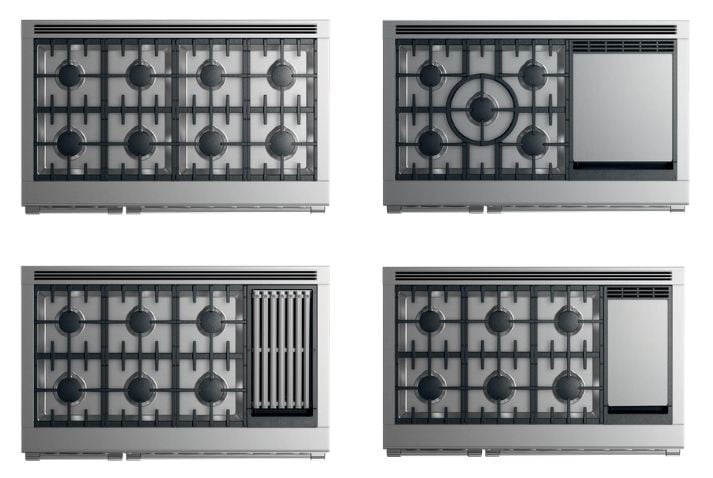 Fisher & Paykel All Gas Pro Range with 8 Burners RGV2-488-N_N
Fisher & Paykel All Gas Pro Range with 5 Burners and a Griddle RGV2-485GD-N
Fisher & Paykel All Gas Pro Range with 6 Burners and a Grill RGV2-486GL-N
Fisher & Paykel All Gas Pro Range with 6 Burners and a Griddle RGV2-486GD-N
Dual Fuel vs. All Gas
As many readers know, gas is a moist heat better for roasting and way better for broiling.
Electric is drier and better for baking.
Fisher & Paykel, like many other companies such as Wolf, Miele, Thermador Pro Grand, and SKS, adds features to their dual fuel.
The differences include self-cleaning and better self-cleaning racks, food probes, and Wi-Fi connectivity.
The dual-fuel models have an electronic clock and timer as well.
They also add air fry (we test that later), pastry bake, pizza bake, roast, slow cook—warm and True convection.
Curiously, gas has larger ovens as well as a robust infrared broiler.
Fisher & Paykel Pro Range Features
The Fisher & Paykel 48-inch dual fuel pro range is $13,499.00. For that price, induction, convection, and gas cooking are rolled into one range.
First, let's break down Fisher & Paykel's best features. Then you will see my cooking test.
Burner Output
The Fisher & Paykel 48-inch pro range has one power burner at 23.5K BTUs. The other three gas burners are 18.5K BTUs.
In their other ranges without induction, you have a combination of 23K and 18.5K BTU burners.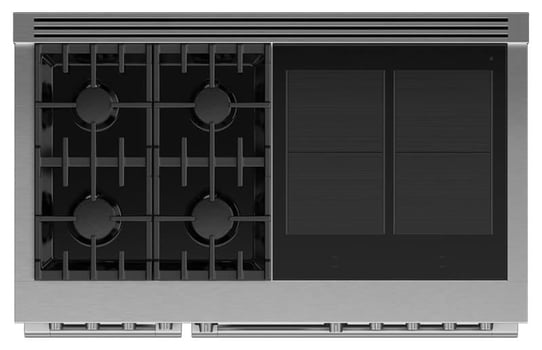 All are dual flow for high and extremely low temps.
For comparison, it's pretty high. Wolf has a combination of 20K, 18K, and 15K on their dual fuel. Thermador Pro Grand has one 22K with a combination of 18K and 15K BTU burners.
SKS is almost identical with 23K BTU but drops off to 15K. Only Hestan with a 3K BTU burner and 23Kand 15K is more powerful.
BlueStar has an open 25K and 22K BTU burner on their Platinum series.
The grates on the cooktop are standard cast iron, but the rubber grommets on the bottom are secured with a small brass ring, so they stay in place.
The top is porcelain-enameled for easy clean-up.
Grill/Griddle
The griddle is 24K BTU, so it's the hottest, with the average being 16K-18K. However, the grill is 12Kunderpowered compared to the 16,000 BTU average.
Induction
Unlike most professional ranges, there are two induction cooking zones with four burners available.
The burners in each zone can be bridged into a "SmartZone" for larger pans, grill pans, and skillets. The power ranges from 2100-3700 Watts.
Signature Kitchen Suite's (SKS) and Thermador's pro ranges also have induction zones on their dual fuel pro ranges, but it's one module.
Ovens
As for the ovens, I was using the 48 inches with one large and one small oven.
The larger oven can fit a full sheet tray, and the smaller oven still has the same modes and functions as the larger oven except "true convection."
The small oven does have a small fan that will circulate air, just not with the third heating element.
The convection system uses "Reverse Pull" technology, and the two rolling racks can hold up to 32 lbs.
The large oven has a capacity of 4.8 Cu ft. and the smaller oven is 2.1 cu. Ft.
Self Cleaning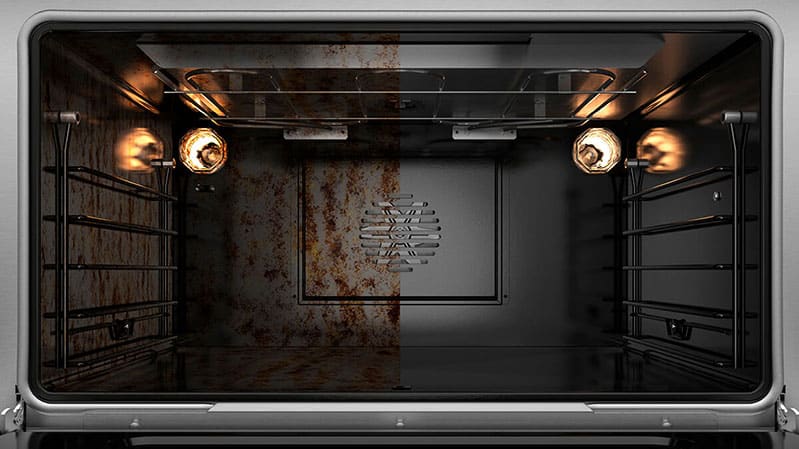 Like any other range, the Fisher & Paykel dual fuel range has a self-clean mode in the large oven but not in the small oven.
The enameled side racks can stay in the oven during the self-clean; however, they will have to be removed if the oven comes with stainless steel side racks.
Only Miele offers racks that can remain in a self-cleaning cycle.
Controls and Guided Cooking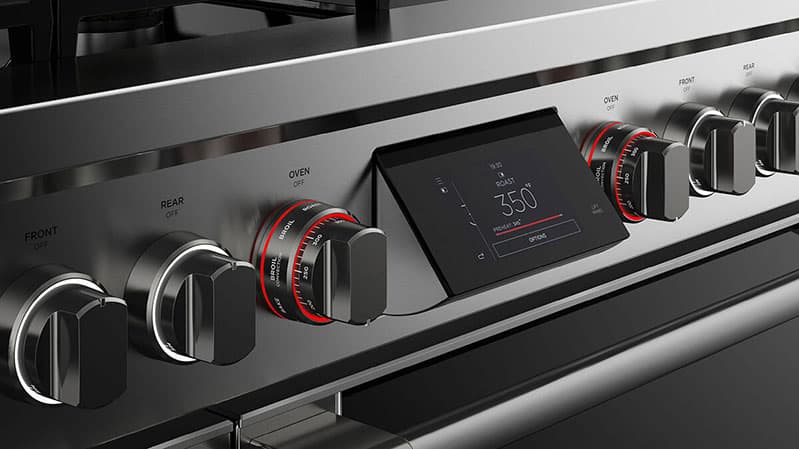 Your burner and oven controls include knobs and a tilting touchscreen. The knobs are made of titanium and are also backlit.
The touch screen interface has over 15 oven functions and an intuitive guided cooking program that will ensure near-perfect results with various recipes and ingredients.
Additionally, the 48 "range will give you both double halo knobs, but the 36" and 30" will only give you a touch screen.
Testing the Fisher & Paykel 48-Inch Pro Range With a Professional Chef
Gas cooktop: We tested pasta water on the power burner and sauteed vegetables on the lower-powered burner that we held using the extra low simmer feature from the dual flow burner.
Induction: We used the simmer function to perfectly poach eggs, as well as make the sauce for our pasta dish, and were also able to hold everything easily without scorching or burning.
Large Oven: I used the roast function and probe for the Roast Beef, which brought the oven to 500 F for 20 minutes, then automatically brought it down to 320 F to bring the internal temperature of the roast up to 128 (which is the temperature I programmed the probe for).
Small Oven: I used the air fry mode in the small oven to make some wings.
I noticed the fat from the wings was slowly rendering and crisping, but there is no "true convection," which would certainly have helped it along.
Overall, everything performed well, the wings could have been slightly crispier, but the flavor and texture were good.
If I left them in the oven for a little longer, I might have seen those results.
How Does Fisher & Paykel's 48-Inch Professional Range Compare to Other Popular Ranges?
I found this range a lot of fun to cook with.
There were a lot of cooking options and modes, but it was user-friendly. If I could compare this range to competitors, Thermador and SKS would be the best to put this up against.
Fisher & Paykel vs. Thermador 48-Inch Pro Ranges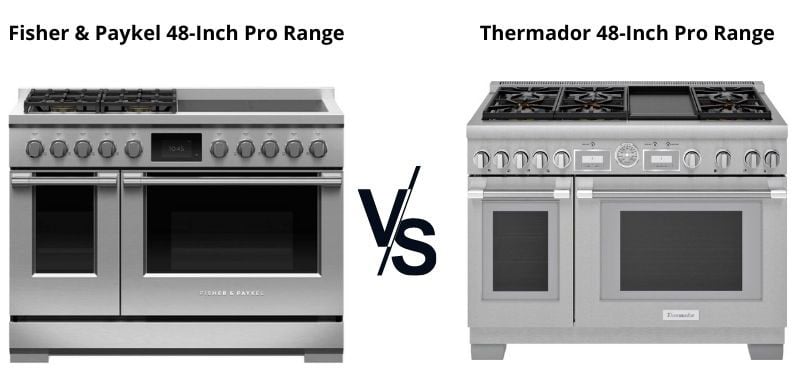 Thermador also has a professional range with induction capabilities. However, the induction zone is smaller and not as sophisticated as the Fisher & Paykel.
Thermador does offer a steam oven as the secondary oven, which gives you more cooking options.
Fisher & Paykel vs. Thermador 48-Inch Pro Ranges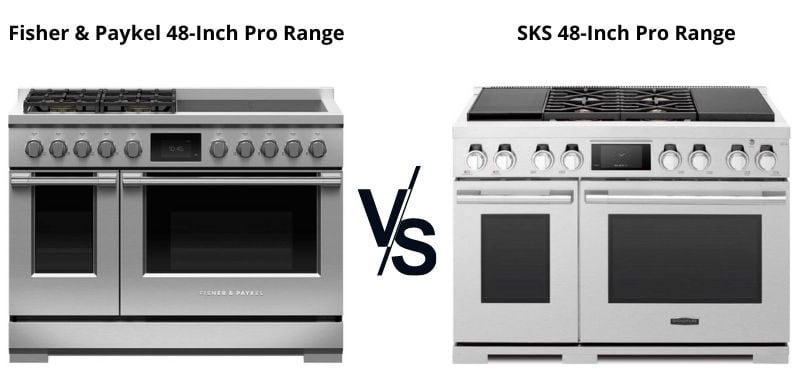 SKS is the range that has it "all."
From a sous vide water bath to gas and induction cooktops, a large convection oven, and a steam oven. This range gives you the most variety of cooking options.
The Fisher & Paykel has an entry-level guided cooking system.
The technology is sophisticated, but it's not as extensive as the Miele MasterChef or as much variety as the JennAir Culinary Centre.
Should You Buy the Fisher & Paykel 48-Inch Dual Fuel Range With Induction?
This Fisher & Paykel range is great if you can't decide between gas or induction or want both.
You have a variety of cooking options and do not overwhelm you with too many features that may not even be used.
With two ovens, you have the option to cook a large 32 lb roast in the larger oven, and save the smaller oven for sides, desserts, or to keep food warm.
The guided cooking program is extremely useful to give you confidence in your cooking for near-perfect results every time.
There are also 15 cooking modes and the guided cooking programs offering variety in your cooking.
Although Fisher & Paykel may not be the most known name for premium pro brands, this range is certainly worth considering.
Additional Resources
Get our free Pro Cooking Buying Guide with tips, trends, and reviews of all the best brands. Over 900,000 people have already found answers in a Yale guide.
Related Articles:
Why Should You Trust Us?
It seems that every appliance review has nothing but glowing comments about almost every product, yet you read customer reviews and they are almost universally bad.
We are here to fill in the disconnect. We'll give you the best features, and the drawbacks as well, including reliability based on over 37,000 calls performed by our service team just last year. Our goal is to give you ALL the information so you know what's right for you.
Please consider subscribing or adding to the conversation in the comments below. We appreciate you stopping by.
Saba Wahid
Saba is the resident Chef at Yale. She will teach you how to use your new oven, cooktop, or range. She is skilled in every new feature, including steam, induction, convection of all types, air frying, and sous vide. Saba is also the reigning Chopped Grand Champion crowned by Martha Stewart herself. Saba is incredibly versatile with all different types of cuisine. After just one session with her, you will be a better chef.

Saba has also been featured in numerous publications such as Mashed, Eater Boston, the Boston Herald, and the Framingham SOURCE.
A Note About Pricing
Pricing on this blog is for reference only and may include time sensitive rebates. We make every attempt to provide accurate pricing at time of publishing. Please call the stores for most accurate price.