Best Affordable Luxury Appliance Brands for 2020 (Reviews / Ratings)
You do not have to spend a fortune to buy a good looking set of kitchen appliances.
Due to fierce competition among large appliance companies, it's probably less expensive than you think.
In this article, we will introduce the best brands to consider and describe the pros and cons of each one as well as the average price for a full kitchen.
The best affordable luxury appliance brands for 2020 are:
Samsung/Café Appliances Appliances (Tie)
Jenn-Air
Bosch
Fisher & Paykel
For the first time in our 13-year blog history, there is a tie for first place.
You will also learn about the reliability of all the major affordable luxury brands based on 35,256 service calls logged by our service team last year.
Then we will tell you when to buy your appliance package to save the most money.
By the way, we recommend buying one brand to maximize your rebates and coordinate the look in your kitchen.
There are also a few tips to combine some luxury and affordable luxury elements without breaking your budget.
If you need some help with a specific question, leave it in the comments. Yes I will help even if you are out of the area.
What Is An Affordable Luxury Brand?
The affordable luxury appliance market spans the gap between your basic four-piece kitchen package and ultra-high-end professional-style products.
You have more style and functionality than a basic kitchen appliance package at a fraction of the cost of luxury appliances.
What Does An Affordable Luxury Kitchen Package Include?
You should expect a French door counter-depth refrigerator, a mid to high-level slide-in range (so you can see your backsplashes), a quiet dishwasher and over the range microwave or microwave convection.
There are different choices within each category. You can also buy a more expensive wall oven and cooktop or pro range instead of a slide-in.
We have between 20-40 appliance packages on our website. Half is Affordable Luxury. We could probably create 100 more, so there are plenty of options.
Short on time? Get our free Appliance Buying Guide
Best Affordable Luxury Appliance Brands For 2020
Fisher & Paykel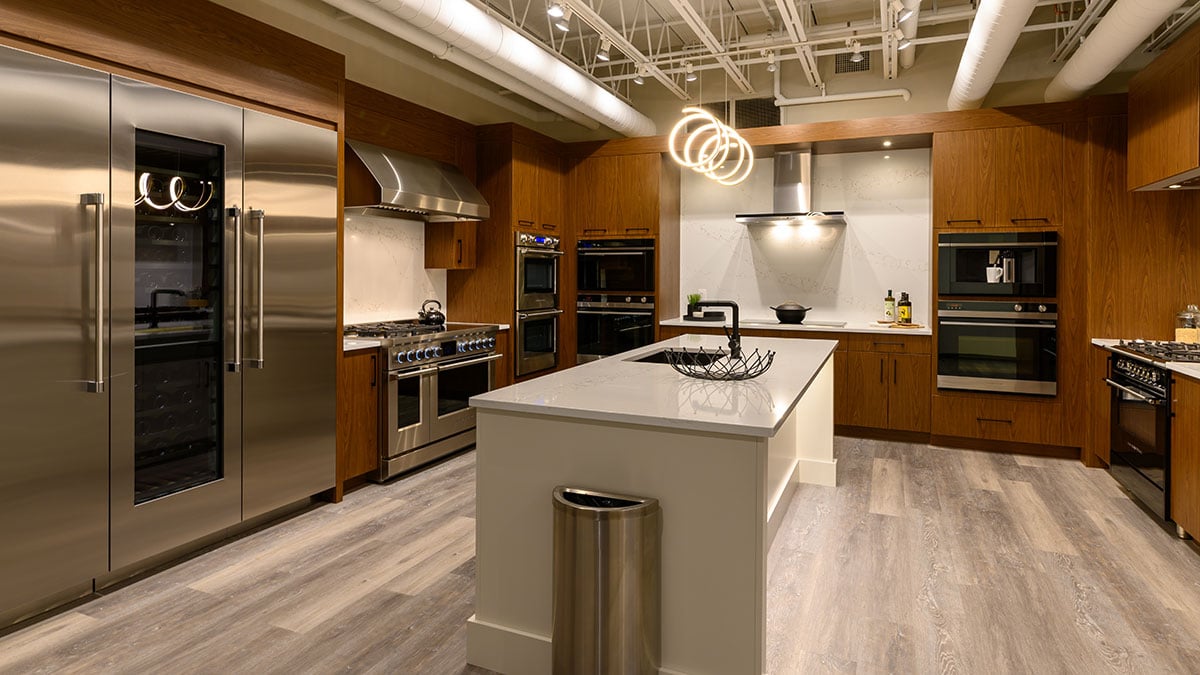 Fisher & Paykel Appliance Kitchen at Yale Appliance in Hanover
I never thought I would ever mention this company. However, Fisher & Paykel was bought by the Chinese company, Haier, and introduced more reliable, highly-styled products for a good value.
You can also buy professional-looking ranges for far less money.
It is the best of what I call the "non-pro" pro-looking ranges, meaning they look like a pro range just without the BTU output and the cost.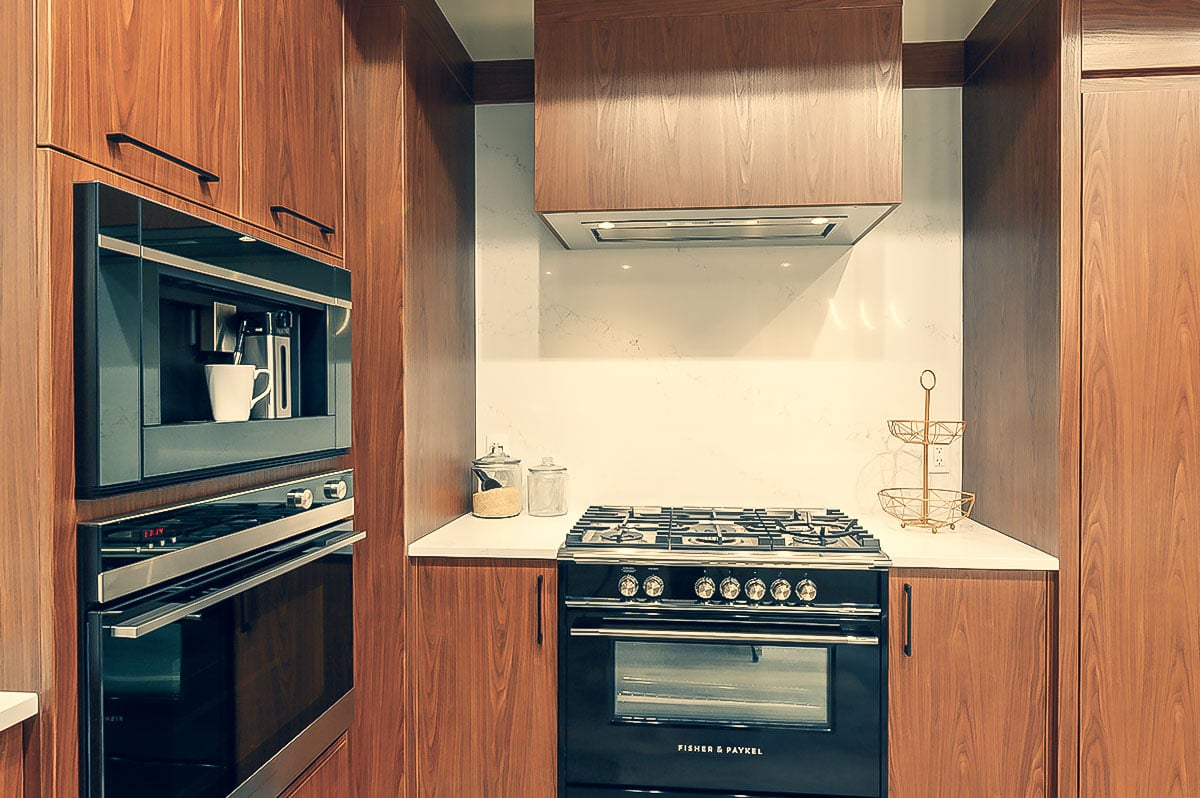 Pro-Styled Range in Fisher & Paykel Appliance Kitchen at Yale Appliance in Hanover
That group would include Smeg, Bertazzoni, and Ilve.
You can also buy the double drawer dishwasher and some unique refrigerators. Their integrated, paneled French door is $5-8,000 less than any other on the market.
Pros: Pro looking ranges, unique styles, colors, and integrated and counter depth refrigerators.
Cons: More expensive than the other affordable luxury brands with fewer models. No Wi-Fi as of yet (which is surprising).
Average Price: $6,000 - $12,000
Bosch
Bosch Kitchen at Yale Appliance in Hanover
Bosch is considered one of the best affordable luxury brands. They are part of the BSH Corporation along with Thermador and Gaggenau.
You can also match the style of Bosch and it's affiliated luxury brands, like Thermador and Gaggenau, for an upscale package for a fraction of the price.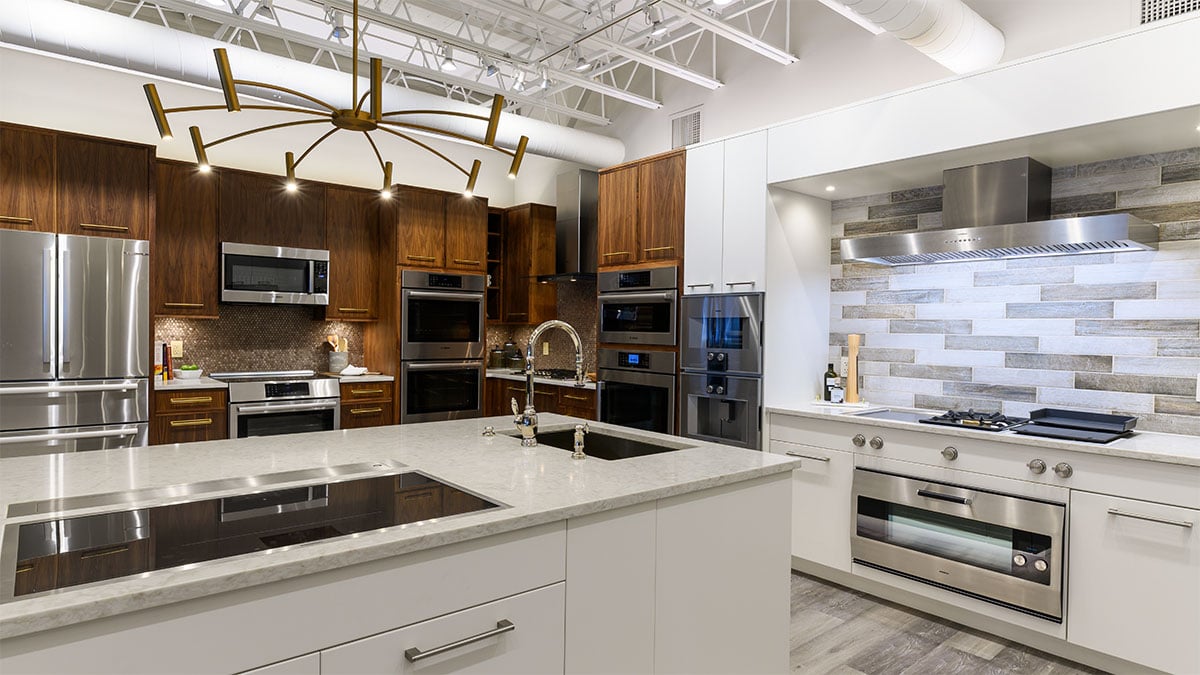 Bosch and Gaggenau Kitchen at Yale Appliance in Hanover
Bosch has attractive styling. For all of you reading this from Boston, Bosch is the best company when there are issues.
Last year was pivotal for Bosch, they now have a decent array of French door refrigerators.
Their HomeConnect Wi-Fi system could be the easiest to use and best in the industry.
Pros: Their gas and electric slide-in ranges are excellent as are their wall ovens and cooktops. Dishwashers are the best on this list. Most reliable induction cooktops Easiest company for resolving issues
Cons: Not a ton of cooking options. They lack the product selection of GE and Samsung.
Average Price: $4,500 - $9,000
Jenn-Air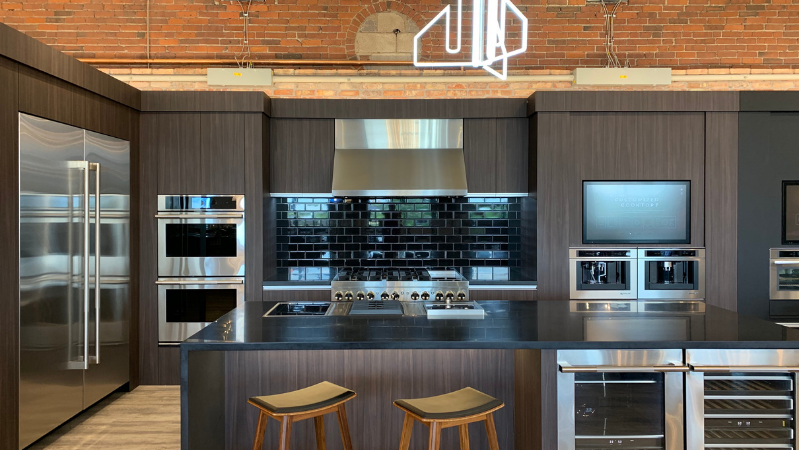 Jenn-Air Kitchen at Yale Appliance in Boston
Jenn-Air is the highest-end brand in the Whirlpool family.
Their slide-in package around $6,000 includes a slide-in range with convection and warming drawer. You also have a convection microwave, so you have two ovens and a warming drawer for cooking.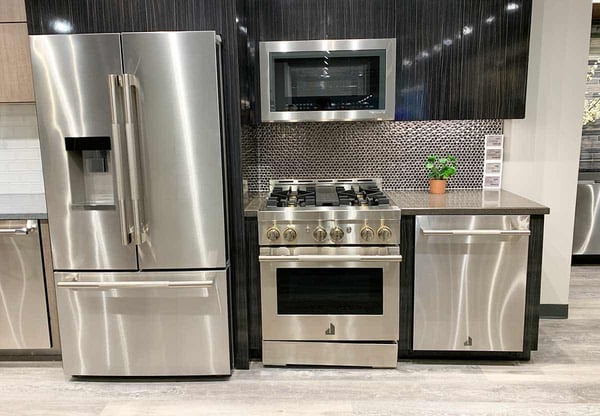 Jenn-Air Kitchen Appliance Package at Yale Appliance in Hanover
Also included are an integrated dishwasher and counter-depth French door refrigerator.
It's the most popular affordable luxury package in the U.S because you have plenty of cooking capacity.
Pros: They were one of the first and only affordable luxury appliance brands to adopt a menu-driven cooking system in their wall ovens.
Their most popular package is probably the single best package available.
Cons: However, Jenn-Air, like every other brand, has to keep pace with Samsung and GE's design and technology, especially in refrigeration. This Affordable Luxury line lacks Wi-Fi as well.
Average Price: $6,500 - $7,500
Café Appliances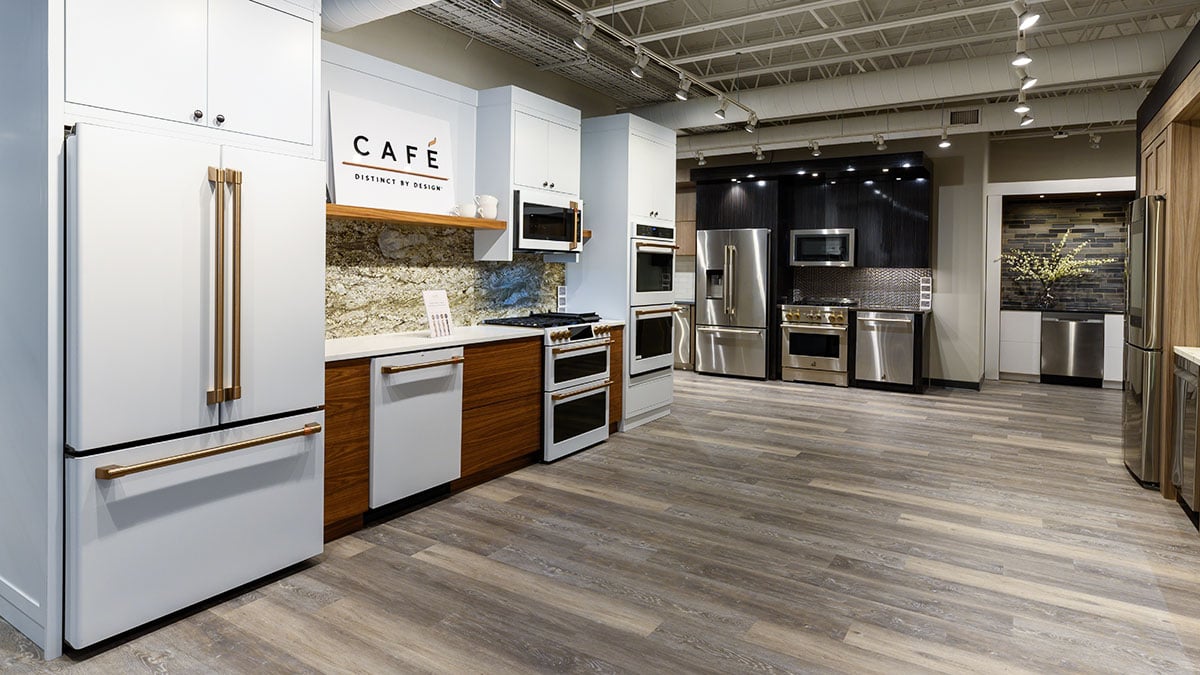 Café Appliances Kitchen in Matte White at Yale Appliance in Hanover
Café Appliances is the best affordable luxury line of GE now a division of the Chinese giant Haier.
Café Appliances is unique because it has different color options and different handle styles, so there is limited customization.
They may have also figured out a true alternative to stainless - their high fashion white. They also have a few other finishes worth considering.
Café Appliances has exceptional gas and induction double oven ranges including a 6 burner 30-inch range (I wonder how many pots it can accommodate).
Café Appliances refrigeration includes Keurig coffee as an option. Their whole line is Wi-Fi as well.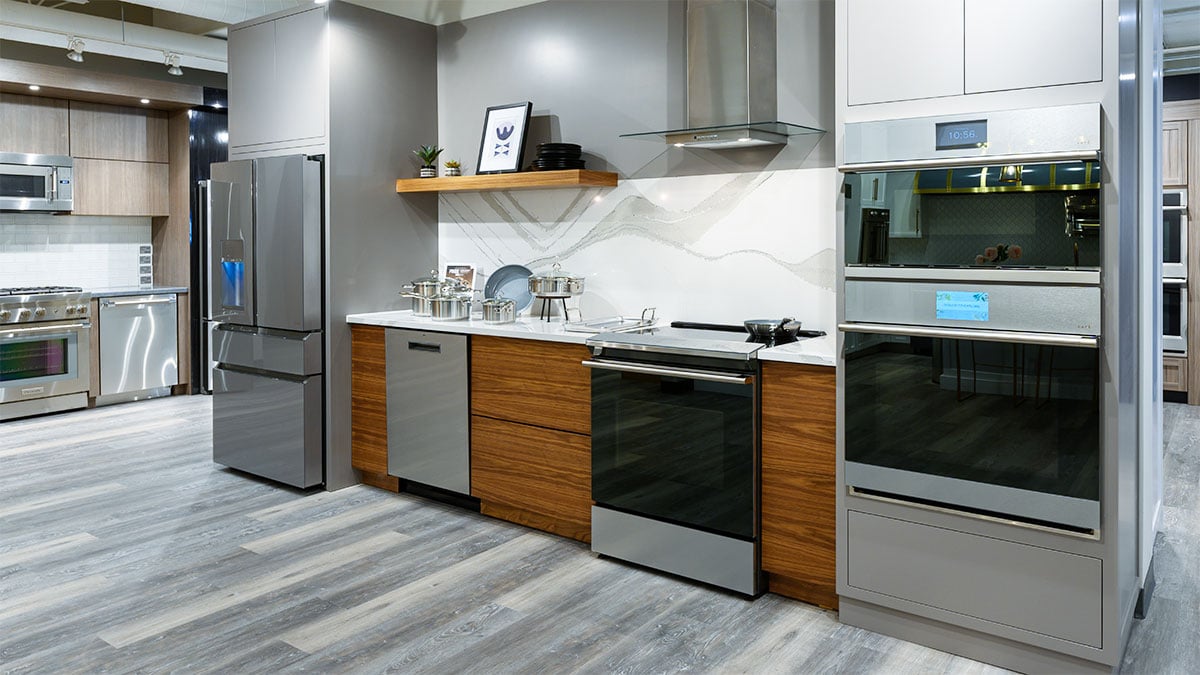 Café Appliances "Modernist" Customizable Kitchen Appliance Package at Yale Appliance in Hanover
2019 was a good year for Café Appliances. They introduced a more modern line dubbed "The Modernist" with understated controls, graphics, and mirrored finishes.
Pros: Customization that won't make you crazy, great ranges, good color choices, Wi-Fi.
Cons: Dishwashers, brand perception to some extent (which will change).
Average Price: $6,500 - $12,000
Samsung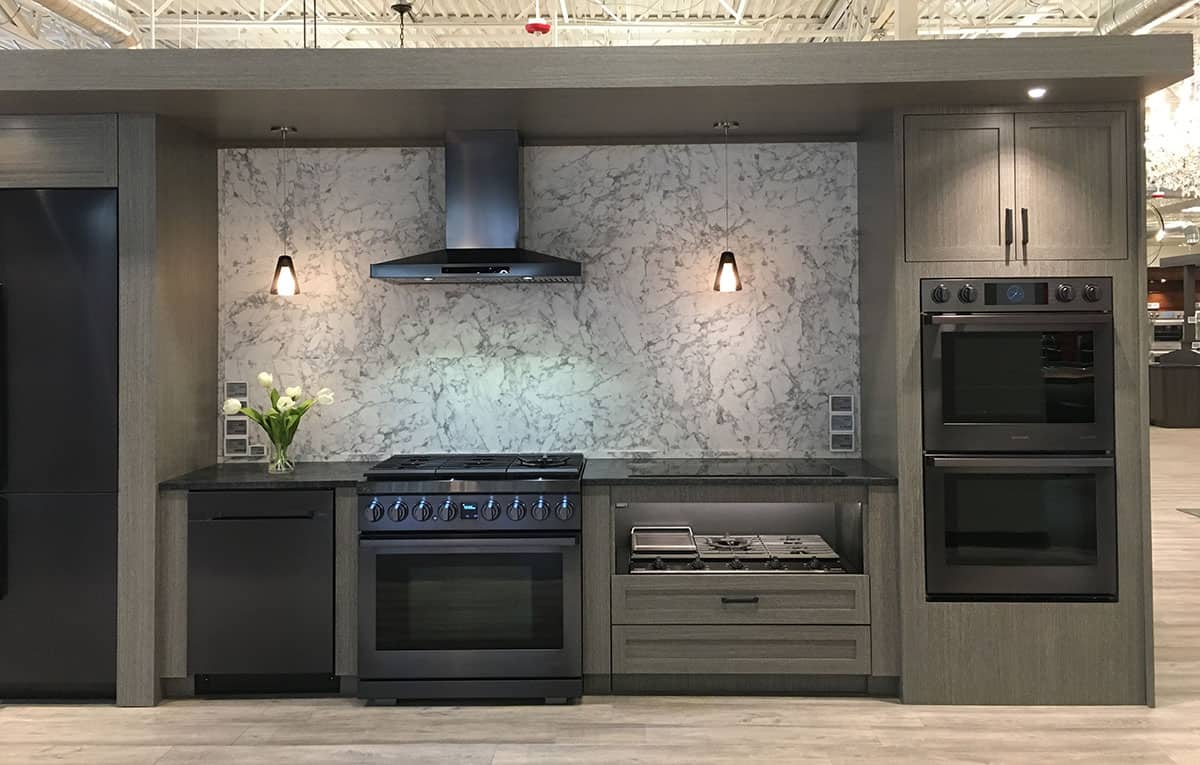 Stainless Black Steel Kitchen Appliance Package at Yale Appliance in Framingham
Samsung is a huge South Korean company. You know Samsung from TVs and phones.
Their claim to fame was rooted initially in attractive and affordable refrigeration and laundry.
Today, Samsung is the number 1 sold brand in the U.S.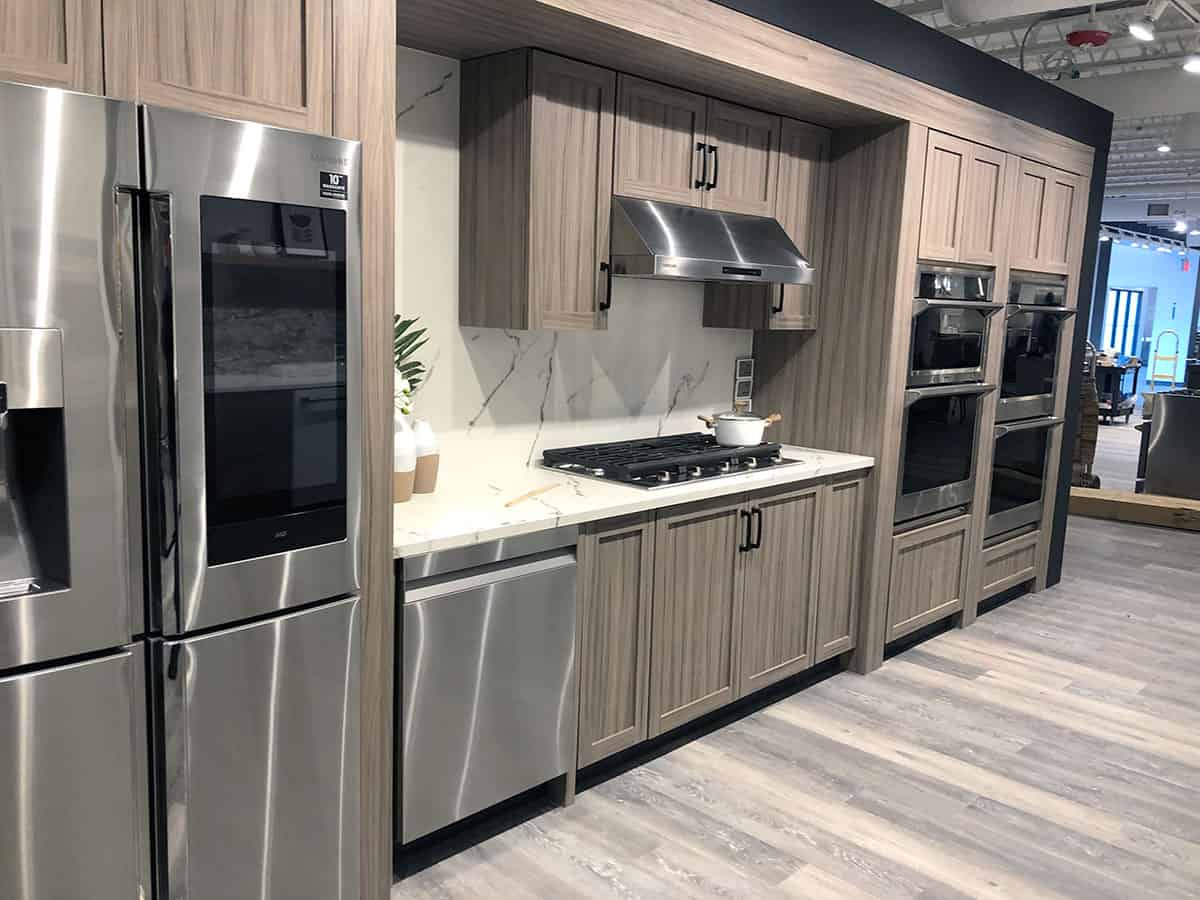 Samsung Stainless Steel Kitchen Appliance Package at Yale Appliance in Hanover
Their refrigeration is so well-conceived with tons of models from French Doors to double drawers and 4-door refrigerators.
Their cooking is surprisingly good, well-styled and priced in electric, gas, and induction. In fact, it may be the best value on the list.
Look at the Flex-Duo ranges for a new spin on a double oven range.
Pros: Samsung makes some of the most advanced freestanding refrigeration. The 4-door flex refrigeration system is arguably the most versatile on the market.
The Family Hub refrigerator is also unique. It looks like a giant Samsung tablet on the front of your refrigerator.
Their cooking is competitive with their Blue Light Wi-Fi induction cooktop and their Flex Duo oven, a range that can be separated into two separate oven sections operating at two slightly different temperatures with reduced flavor transfer.
Cons: The downside to being number one is their customer service. Samsung's customer service could be better as well as their parts and service availability, nationally. We service what we sell, so it's not a huge issue for us.
If you have a problem with a Samsung appliance it will likely be an issue (depending where you live).
Average Price: $1,999 - $7,900
Café Appliances Vs Samsung: Which is better?
These two are a tie, but one should resonate with you depending on your personal taste.
Let's look at some of their best products and finishes.
Café Appliances Vs Samsung Ranges
The Flex Duo is well designed. You can use it as a double oven with both ovens having convection. You can also remove the divider between the ovens and have one large oven.
The GE is a straight double oven only with the top being non-convection (smaller ovens may not need convection, BTW). It does have 6 burners to Samsungs 5.
Café Appliances Vs Samsung Refrigerators
They both have the French door and side-by-side models.
Without question, Samsung has the most French door refrigerators on the market with 4 doors, door with a drawer and Family Hub internet-ready refrigerators.
GE is close and has different features like Keurig coffee. You can program your coffee to be ready when you wake up.
Their Modernist refrigerator is interesting as well with a mirrored finish and a unique look.
Café Appliances Vs Samsung Appliance Finishes
Neither brand has red or blue. They both have easily scratchable black stainless steel and stainless. Samsung has Bronze, GE has its high tech while.
Café Appliances has brass, stainless and copper accents whereas Samsung is just stainless.
Their new modernist line is mirrored.
For the best appliance finishes and alternatives to stainless steel, click here.
Café Appliances Vs Samsung Prices
Samsung has more lower-priced packages, whereas Café Appliances and Modernists tend to focus on mid to higher prices.
Samsung tends to be more promotional around holidays as well, but Café Appliances does have more consistent rebates.
So it really depends on what you want. Which finish, what price, and what do you value in terms of features to break the tie.
When Is The Best Time To Buy A Kitchen Package?
There are 5 times to buy an appliance to save the most money usually around 10-35%.
The best times to buy kitchen appliances are:
Black Friday - now all of November
Tax-Free Weekend/Labor Day
Presidents' Day - now two weeks in February
Memorial Day
July 4th
What Affordable Luxury Brands Are The Most Reliable?
Overall Reliability for the Best Affordable Luxury Appliance Brands:
| | | | |
| --- | --- | --- | --- |
| | Service Qty | Shipped Qty | Service Ratio |
| Jenn-Air | 1186 | 3001 | 39.52% |
| Bosch Benchmark | 105 | 322 | 32.61% |
| Fisher & Paykel | 156 | 849 | 18.37% |
| Bosch | 944 | 8132 | 11.61% |
| Samsung | 946 | 9420 | 10.04% |
| Café Appliances | 21 | 262 | 8.01% |
Last year, our service department logged 35,256 service calls (we are on track to do more this year). We divide sales into service calls for a percentage.
Here is a breakdown of our reliability by brand with Samsung, Bosch, GE, and Fisher & Paykel being in the top 10.
LG and Samsung numbers a bit skewed because they sell laundry, a more reliable appliance category.
We have only carried GE for 8 months, so their numbers should change as well
Here is a breakdown by product.
Dishwasher Reliability
| | | | |
| --- | --- | --- | --- |
| | Service Qty | Shipped Qty | Service Ratio |
| Jenn-Air | 188 | 493 | 38.13% |
| Bosch Benchmark | 25 | 70 | 35.71% |
| Fisher & Paykel | 56 | 193 | 29.02% |
| Café Appliances | 3 | 25 | 12% |
| Bosch | 398 | 3573 | 11.14% |
| Samsung | 134 | 1297 | 10.33% |
For dishwashers, Samsung and Bosch are statistically the most reliable.
Once again, Samsung looks great. Now would be a good time to tell you again that Samsung may have tech support issues in certain areas.
If you are outside of Boston, inquire before you buy Samsung or any other brands. In Boston, we fix Samsung in and out of warranty to Yale customers.
Electric Ranges Reliability
| | | | |
| --- | --- | --- | --- |
| | Service Qty | Shipped Qty | Service Ratio |
| Jenn-Air | 28 | 63 | 44.44% |
| Café Appliances | 3 | 28 | 10.71% |
| Bosch | 10 | 154 | 6.49% |
| Samsung | 27 | 754 | 3.58% |
Gas Range Range Reliability
| | | | |
| --- | --- | --- | --- |
| | Service Qty | Shipped Qty | Service Ratio |
| Bosch Benchmark | 13 | 25 | 52% |
| Jenn-Air | 109 | 323 | 33.75% |
| Fisher & Paykel | 2 | 8 | 25% |
| Café Appliances | 6 | 41 | 14.63% |
| Bosch | 29 | 233 | 12.45% |
| Samsung | 76 | 1170 | 6.5% |
Samsung, Bosch, and Café Appliances for gas and electric ranges are all decent.
French Door, Counter Depth Refrigerator Reliability
| | | | |
| --- | --- | --- | --- |
| | Service Qty | Shipped Qty | Service Ratio |
| Jenn-Air | 308 | 595 | 51.76% |
| Bosch | 135 | 422 | 31.99% |
| Samsung | 248 | 1220 | 20.33% |
| Fisher & Paykel | 31 | 192 | 16.15% |
| Café Appliances | 2 | 41 | 4.87% |
Café Appliances, Fisher & Paykel, Bosch, and Samsung all are decent. Café Appliances has only been at Yale for about 9 months, so their numbers should be higher
If you buy a kitchen appliance package, you will probably need service within a year or two. You want to make certain that whatever you buy can be fixed.
You should shop for a service as well as a price.
Should You Buy An Affordable Luxury Appliance Package?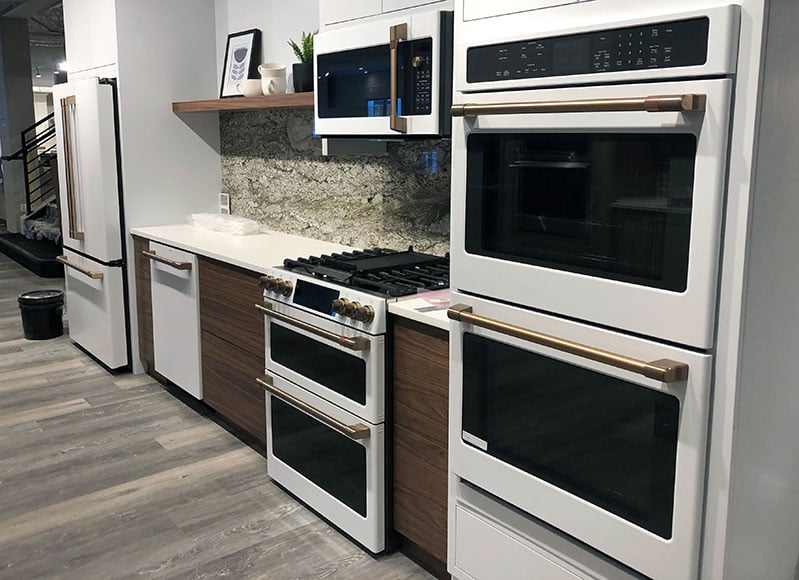 Café Appliances Kitchen in at Yale Appliance in Hanover
You don't have to spend over $8,000 to buy a stylish appliance package. The affordable luxury market offers you great options in a variety of brands.
Typically, in the same brand, you have access to both high-end and entry-level appliances, so you can buy affordable packages with different features depending on the use or need.
Before you spend $18,000-$35,000 on a luxury appliance package, check out these brands for less than half the price.
Affordable Luxury Vs Luxury Appliance Brands
Typically a luxury kitchen distinguishes itself from an affordable luxury in 2 main categories - cooking and refrigeration.
Now you can also buy quieter, better drying dishwashers and different microwaves types like drawers, but the emphasis is always on cooking, refrigeration, and ventilation (because higher BTUs require different vents)
We cover this more in our Best Luxury Brands post.
Luxury brands like Sub-Zero, Miele, and Thermador have professional or integrated refrigerators instead of the more basic counter depth.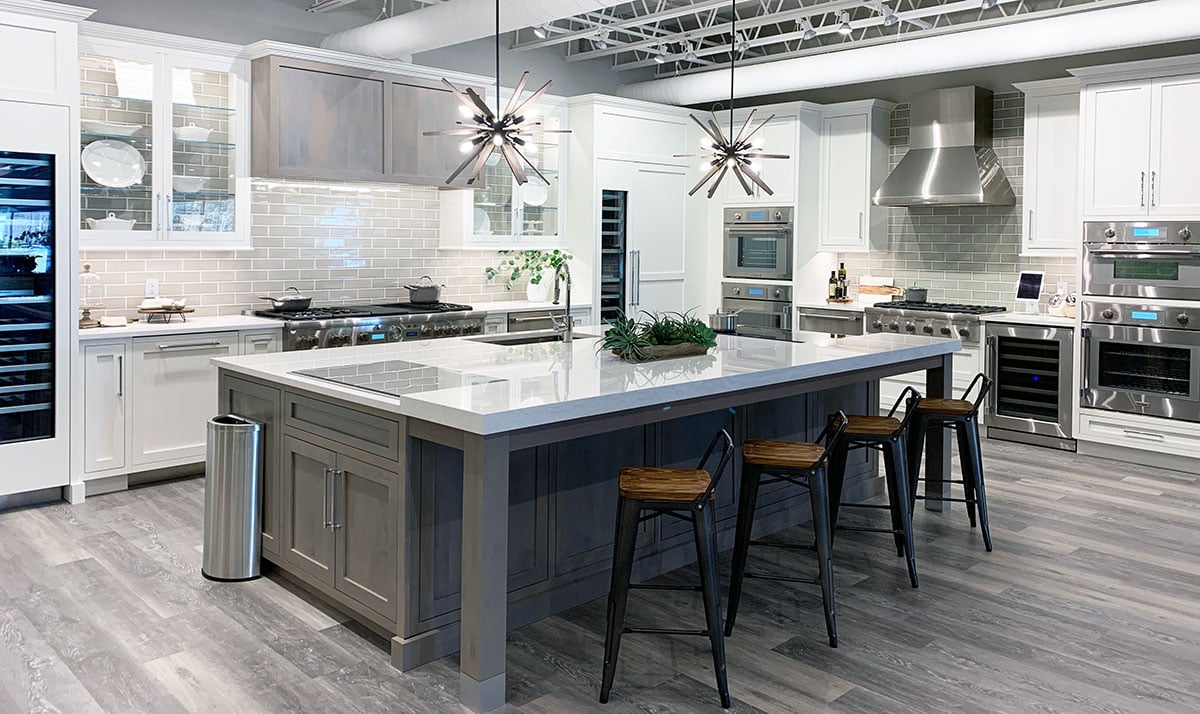 Thermador Kitchen at Yale Appliance in Hanover
The sizes differ from 36-72 inches depending on what you choose. The refrigerators all cool your food. The professional and integrated refrigerators have more functionality, but the main difference is appearance.
Integrated refrigerators will fit inside 24 inches in depth, so it will be seamless to the cabinet. Professional refrigerators are made to be noticed with the compressor on top.
In cooking, instead of a slide-in range, you are either buying a professional stove or a wall oven and cooktop.
Professional ranges are available from 24-60 inches and have higher output, grills, griddles, steam ovens, and induction tops depending on the brand versus a 30-inch slide-in/front control range.
With the pro ranges, you will have to rethink how you vent as well, instead of having an over-the-range microwave, so ventilation becomes important as well
You won't be able to buy these in an affordable luxury kitchen. However, you will spend $3,500 to $10,000 for the best affordable luxury brands versus $18,000 to $40,000 for the more expensive luxury brands.
You can always mix Affordable and Luxury items like a regular counter depth refrigerator and a dishwasher with a professional range and hood. Thermador and Bosch probably have the best combo.
So you have plenty of options between Affordable Luxury, Luxury or a combo of the two depending on your personal preference.
Additional Resources
Download the Yale Appliance Buying Guide with buying strategies, specs, and descriptions of every major brand. Over 630,000 people have read a Yale Guide.

Related Articles:
WHY SHOULD YOU TRUST US?
A few review sites have placed this at the bottom of their articles. So here is our take: Our mission is to find reliable products for you to buy. Other review sites may say this as well.
However, we don't love every product. Quite frankly, it costs us way too much money in repair costs to support less reliable brands.
In fact, we sell fewer brands than most appliance stores. Here is why:
We feel it is our responsibility to repair your appliances after you buy them.
We now have 30 service technicians, each averaging 8-10 calls a day Monday through Friday, plus another 110 on Saturday. That's over 30,000 service calls logged in one year.
The labor rates of fixing an appliance do not come close to the true cost in any product's warranty period.
That is why no major retailer has a service department. It costs too much labor, money and time.
Our Blog is a bit different than most others you will read. We cannot write glowing reviews of unreliable products.
Hopefully, the bloggers and organizations who write such glowing product reviews for every brand consider servicing these products first. Only then they will understand the consequences of their marketing.
Steve Sheinkopf
My goal has always been simple: I want Yale to be the best retail experience anywhere. I have tried to create a compelling environment for customers and employees alike.
A Note About Pricing
Pricing on this blog is for reference only and may include time sensitive rebates. We make every attempt to provide accurate pricing at time of publishing. Please call the stores for most accurate price.