Should You Buy a Signature Kitchen Suite Professional Range? (Reviews / Ratings / Prices)
Signature Kitchen Suite's (SKS) pro ranges are unique with induction, sous vide, and steam technology all in one range.
If you can dream of a cooking mode or feature (go ahead), a Signature Kitchen Suite (SKS) professional range will still have more than you just imagined.
SKS ranges have so many features.
A 48-inch SKS pro range has 23,000 BTU burners, 100 BTU simmer, induction capability, sous vide, and a fully functional combi-steam oven.
No other brand or range offers the same array of features. You may wonder if the features all work. So did we.
In this article, you will learn the best features and drawbacks of an SKS professional range.
As a bonus, you can watch a video of our chef cooking with SKS and testing all the features.
At the end of the video, you will learn whether SKS is right for you.
Let's get started.
Short on time? Get our free Pro Cooking Buying Guide
SKS Professional Ranges
SKS is the premium cooking product of the giant Korean company LG. LG is a highly advanced industrial conglomerate.
Their vision for SKS is similar to Whirlpool's vision for JennAir. SKS wants to provide a luxury alternative to Wolf and Thermador with a more feature-laden product.
They plan on doing so with advanced functionality like steam and steam assist and higher output in stark contrast to most luxury brands to date.
Let's take a look at their best pro ranges.
Sizes and Configurations
Available Options: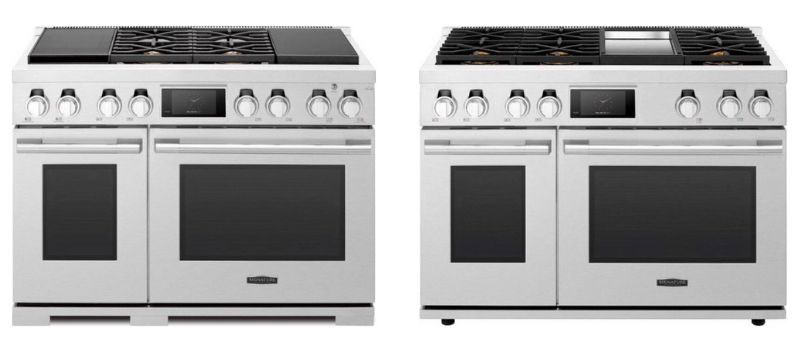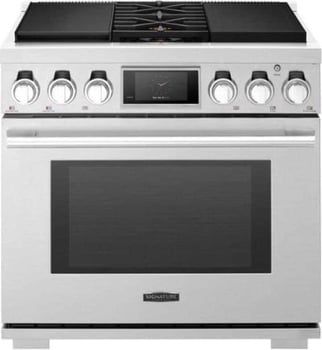 Available Options:

Best SKS Professional Range Features
Now that we've covered all SKS's best pro ranges, let's look at their best features.
1. 23,000 BTU Burners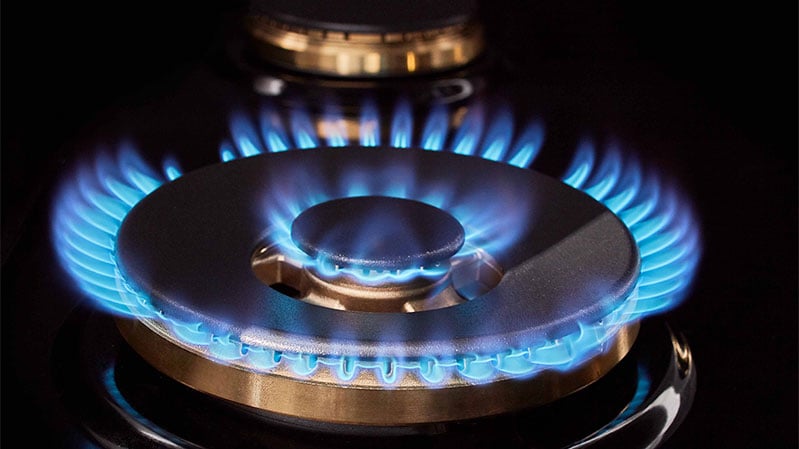 In terms of sealed burners, SKS ties with Viking Brigade for the highest in output at 23,000 BTU. They claim a 100 BTU simmer similar to Thermador.
Only Hestan has a higher BTU output at 30,000 in a sealed burner. BlueStar has a 25,000 BTU open burner in their Platinum series.
2. Chromium Griddle
It is simple to clean and keep looking clean after repeated usage. JennAir is the only other company with a chromium griddle.
3. Induction Capability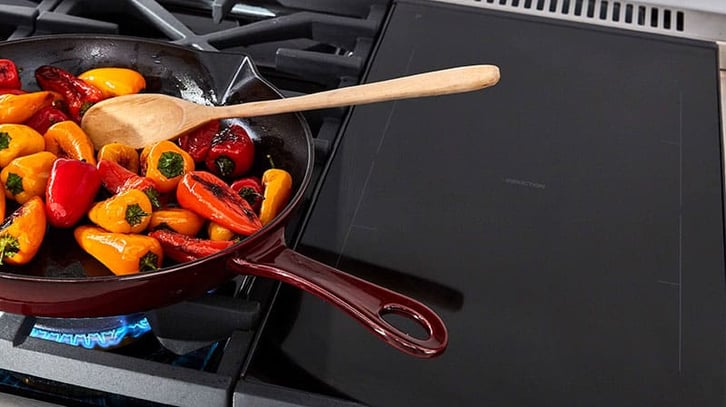 Induction is still faster than that 23,000 BTU pro burner. Induction, like all-electric, is also the best to simmer because it can achieve the lowest temperatures.
The gas flame will eventually extinguish at low temperatures.
Fisher & Paykel is half gas and half induction on their 48-inch range. Thermador has induction burners like SKS. La Cornue has induction modules on their Château as well.
4. Guided Cooking
Wi-Fi capability can surf the web on your range and store recipes like JennAir and Thermador.
As you can see, SKS combines the best features of other ranges to this point. Now for the truly proprietary features - sous vide and combi-steam.
5. Sous Vide Water Bath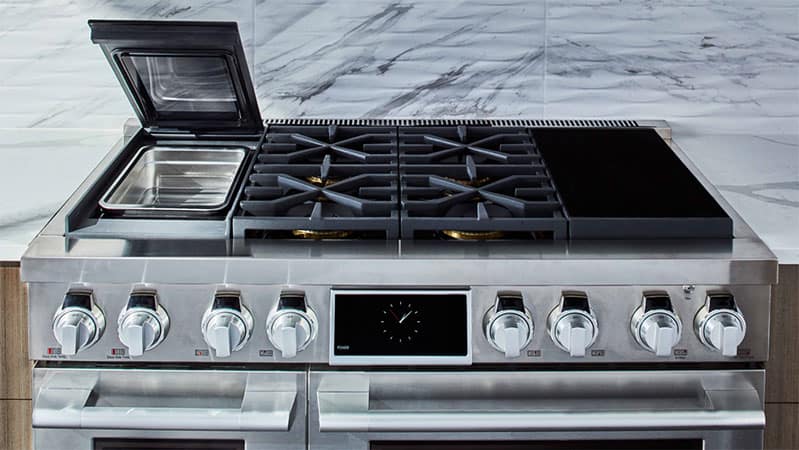 Sous vide means under vacuum in French and is a new type of cooking you will be seeing.
With sous vide cooking, you vacuum seal your steak in a bag and cook it with water immersion. Sous vide relies on internal temperature rather than time.
The food is more flavorful in sous vide than any other cooking mode and the easiest to program.
A few years ago, I tested the sous vide method by cooking salmon in a dishwasher. The fish was delicious.
6. Combi-Steam Oven
You can cook exclusively steam, convection, or both. Thermador has exclusively steam, while Miele has a steam assist, but that is only one oven.
SKS has both combi-steam and steam assist in the large and small ovens in their 48-inch ranges.
SKS Professional Range Problems
No Grill: I do not see this as a big problem. Grills are tough to properly ventilate inside your home anyway.
Guided Cooking: Some work, others do not. The Miele MasterChef is excellent and will walk you through a meal. Samsung has a great interface and pictures of food, but that is about all. You are not guided anywhere to cook that lemon chicken in the picture (perhaps they have improved).
Service: Service is a big problem for most new brands. SKS has a 3-year warranty and a 5-day service guarantee. I don't see how they can fix a technical range that quickly.
But the real question is: Do these features actually work?
For that answer, we tested the SKS thoroughly with our resident chef.
Testing the SKS 48-Inch Dual Fuel Pro Range With a Professional Chef
Yale Resident Chef, Saba Wahid, tested out the SKS 48-inch dual fuel professional range and its features this past week.
Saba tested the gas burners, steam oven, convection oven, induction zones, and the sous vide feature while cooking several types of proteins, grains, and vegetables.
Testing the SKS Pro Range With Chef Saba Recorded Livestream
Below is a summary of her experience.
This 48" professional dual-fuel range has it all!
Testing the Sous Vide Water Bath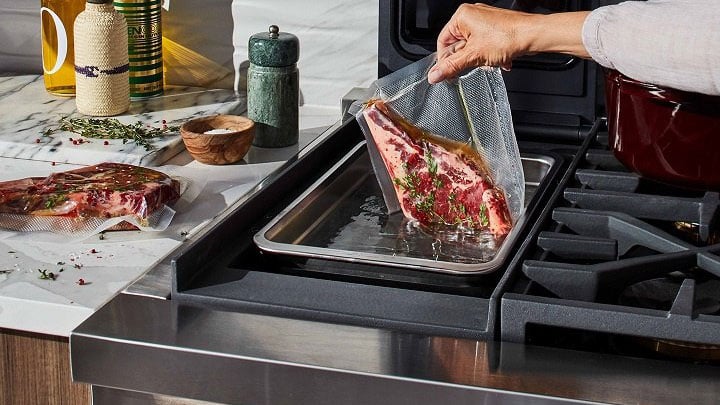 You can program the sous vide water bath in 5-degree increments between 135 F-185F.
For this test, I placed a vacuum-sealed NY strip in the water bath programmed to 135 F. I tested the water's temperature, and it was reading at 133.7 F, so it was reasonably accurate.
However, most sous vide devices can be programmed in 1-degree increments.
Testing the
Gas Burners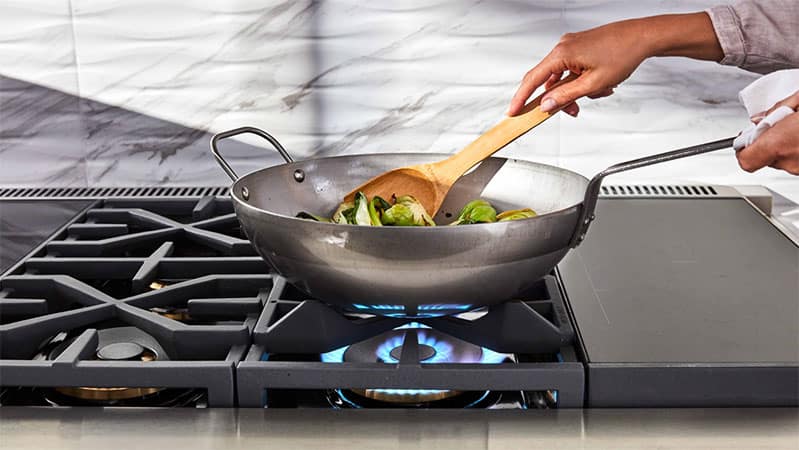 There are two high-powered 23K BTU burners with an inner ring for an extra-low simmer, plus two 15 K BTU back burners with four extra-low/intermittent simmer functions.
To test SKS's gas burners, I seared the sous vide steak on the 23 K BTU burner and achieved an excellent color, sear, and crust.
I also used the lower BTU burner to make a quick and delicate pan sauce that I could hold without the sauce breaking, scorching, burning, or drying out.
I found the four extra-low simmer options on the 15 K BTU burners were similar to the Thermador intermittent simmer.
The S4 setting was a consistent low heat, and the other 3 had different intermittent settings.
Testing the
Induction Cooktop
The SKS 48-inch pro dual fuel range has a two-zone induction cooktop with a power boost in both zones.
I used the back of the induction cooking zone to warm the milk and butter for the mashed potatoes. The milk didn't boil over, and I was able to keep it warm until the potatoes had finished cooking.
The potatoes boiled and cooked quickly. Once thoroughly cooked, I held that at setting one without overcooking or drying them out.
Testing the Combi-Steam Oven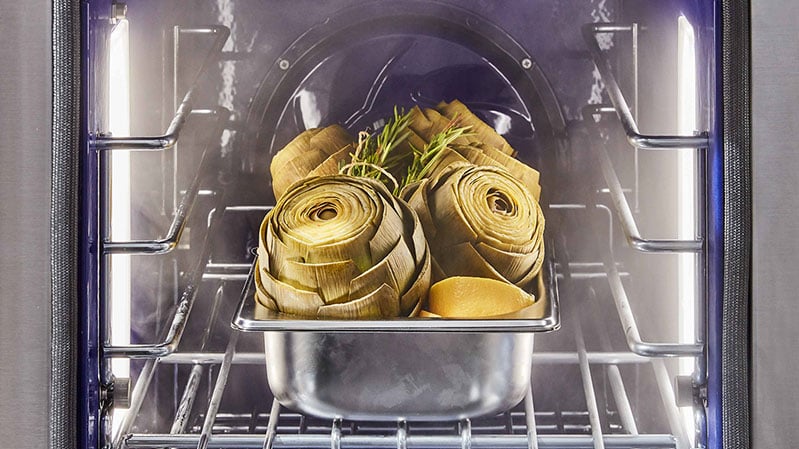 The smaller 18" oven operates as a combi-steam oven with straight steam cooking, convection steam cooking, and straight convection, along with the Gourmet Chef guided cooking program.
I made a protein, grain, and vegetable in the steam oven to show the ability to multirack cook and produce nutritious results.
The quinoa and broccolini were placed in the oven first for around 10 minutes.
Once the broccolini was cooked, I removed it and then placed the shrimp in the oven along with the quinoa to finish the cooking process.
The results were consistent with other steam ovens I've used.
The water reservoir is on the inside, and the outer part has a stainless steel cover. Make sure the water reservoir is full before you begin cooking because the cover will get hot.
If it does need to be filled during the cooking process, be sure to use a kitchen towel or oven mitt to open and remove it.
Testing the Large Convection Oven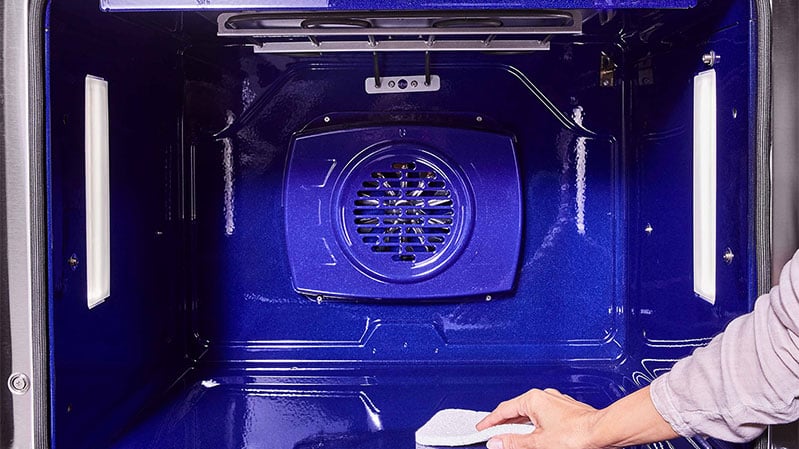 This oven has a variety of cooking features from convection roast, convection bake, broil, bake, plus the Gourmet Chef guided cooking program.
This oven also has the steam assist feature and can be connected to the Signature Kitchen Suite App to monitor your food while it's cooking.
I used the convection roast mode to start roasting the potatoes ahead of the chicken. Once I was ready to place the chicken in the oven, I realized the racks and oven became too hot, making it difficult to plug the probe jack into the port.
I also had trouble connecting the oven's Wi-Fi to my phone because a password was required. Unfortunately, I was unsure where to find it.
I ended up roasting the chicken on the middle rack, the broccolini on the top rack, and the potatoes on the bottom rack. Everything cooked well, with consistent color and heat all around.
How Does the SKS Pro Dual Fuel Range Compare to Other Popular Ranges?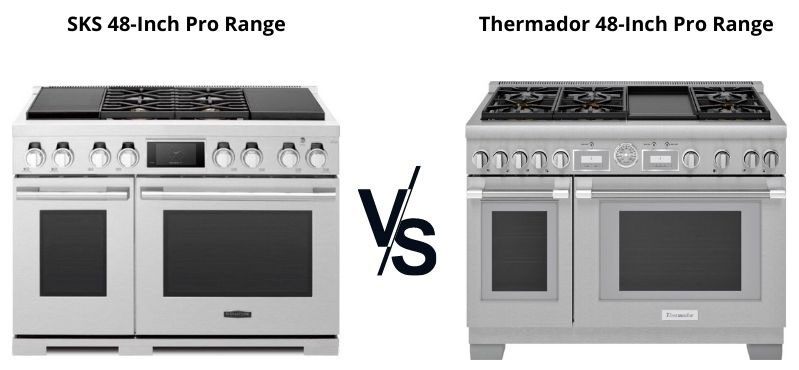 SKS SKSDR480SIS | Thermador PRG486WDG
Comparing this range to other ranges on the market is challenging due to the extensive features of the Thermador.
We did compare the SKS to other brands individually in the first section
The closest would be the Thermador except for the Sous Vide water bath. Both have induction options and steam ovens.
Thermador adds the warming drawer at the base of their steam oven, whereas SKS offers steam assist in their main oven.
The SKS has two 23 K BTU burners at the front and two 15 K BTU burners in the back with the four intermittent simmer features of the gas burners.
The Thermador's front right burner is 22K BTU, along with a combination of 18 and 15,000 BTU burners with four extra-low simmer burners.
Should You Buy a Signature Kitchen Suite Professional Range?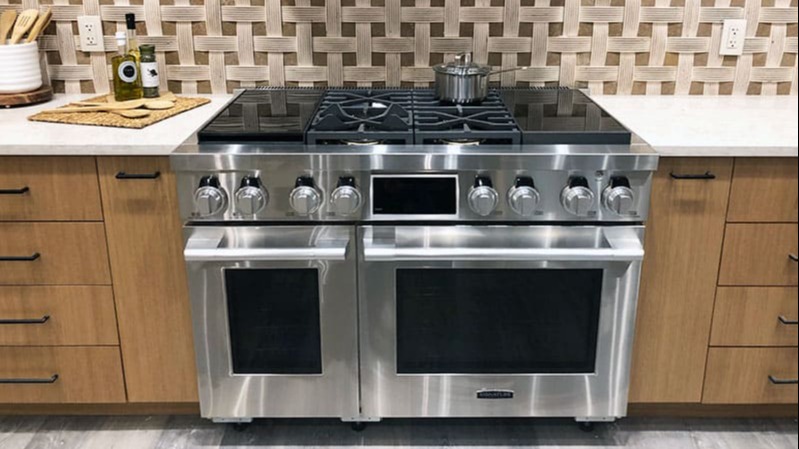 Yes, you should consider an SKS professional range.
The features are incredibly unique and, more importantly, actually work when tested.
You have great output, simmering capabilities, sous vide, induction, and steam capability all in one appliance.
However, you still need to ask about service before you buy an SKS or any other range.
Additional Resources
Get our free Pro Cooking Buying Guide with tips, trends, and reviews of all the best brands. Over 900,000 people have already found answers in a Yale guide.
Related Articles:
Why Should You Trust Us?
It seems that every appliance review has nothing but glowing comments about almost every product, yet you read customer reviews and they are almost universally bad.
We are here to fill in the disconnect. We'll give you the best features, and the drawbacks as well, including reliability based on over 37,000 calls performed by our service team just last year. Our goal is to give you ALL the information so you know what's right for you.
Please consider subscribing or adding to the conversation in the comments below. We appreciate you stopping by.
A Note About Pricing
Pricing on this blog is for reference only and may include time sensitive rebates. We make every attempt to provide accurate pricing at time of publishing. Please call the stores for most accurate price.