True Vs. Sub-Zero Professional Refrigeration: Which Is Better? (Reviews / Ratings / Prices)
July 28th, 2020 | 6 min. read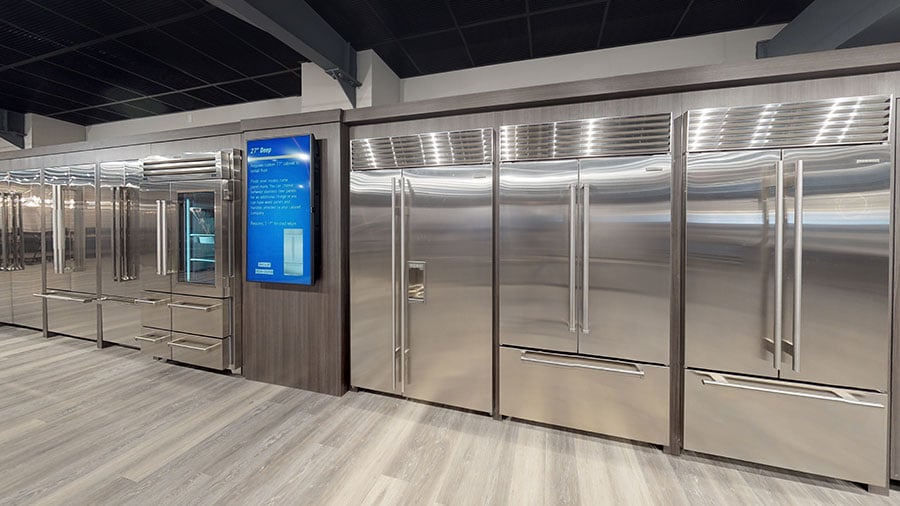 We originally wrote this article in 2015. At that time, True was just starting to manufacture a residential refrigerator.
It was important at the time because most other manufacturers stopped marketing 42 and 48-inch pro refrigerators.
Most now manufacture just columns or smaller built-in types. It's easier to build columns and comply with energy efficiency laws.
Sub-Zero was your real choice with all due deference to Monogram and Viking.
[inlineCTA]
Of all the companies, True is the only company capable of building products on the level of Sub-Zero or even better.
Much has changed in 5 years, so it's worth looking at both companies, their products, and then you will see a comparison in both professional and column-style refrigerators.
Does Trues' capability translate into a product better than the industry standard?
Sub-Zero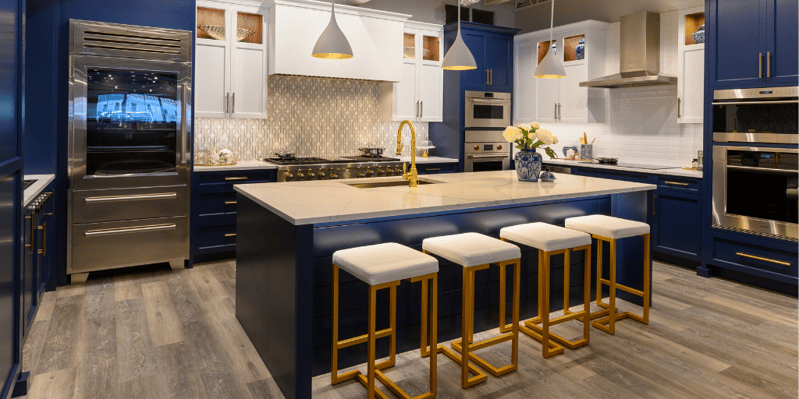 Sub-Zero and Wolf Kitchen at Yale Appliance in Hanover
Sub-Zero is the second-largest family-owned appliance company in the world and is based in Wisconsin with production in Arizona.
They have a dishwasher manufacturing plant in Kentucky.
Founder Westye F Bakke gave the name Sub-Zero because of their freezer's ability to meet the strict quality standards for below-zero safety in freezing food.
In 1955, Sub-Zero was the first with dual compressors for the refrigerator and freezer, so moist and dry air would not be mixed for better tasting food with less spoilage.
There were also first with filters, panels, and first with integrated refrigerators.
Sub-Zero has an astonishing 18 different models in 42 and 48-inch refrigerators. Let's take a look at their best 48-inch professional refrigerator.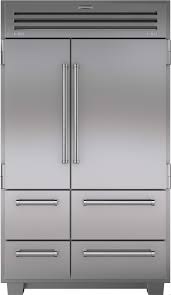 Features:
Dual Compressor/3 Evaporator system. Dedicated 3rd evaporator just for the crisper drawers.
Over 30 cu ft of storage (18.5 cu ft fridge, 11.7 cu ft freezer)
Stainless steel construction
"soft bright" lighting allows for superior visibility throughout the entire cavity
Exterior temperature display for easy reading and adjustment
The flip-up front grill allows for easier maintenance and accessibility
Auto-close door
Seal tight system on the crisper drawers
Stainless steel side panels and top for freestanding application
90-degree door stop
Can be ordered with Glass inlay on the refrigerator door
Sub-Zero Refrigeration Video Review
Just like True, the pro-48-inch refrigerator by Sub-Zero is a beautiful product. Watch this video with everything you need to know about Sub-Zero refrigeration.
True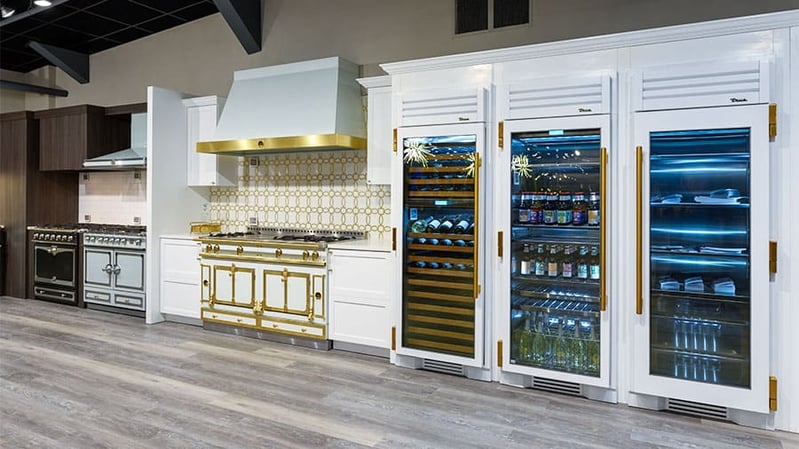 True Professional Refrigeration at Yale Appliance in Hanover
True is the largest name in commercial refrigerators. Just go to any supermarket or convenience store.
They are an American company with an astounding 3.3 million square feet of manufacturing in Missouri.
Like Sub-Zero, they are a family company. Reliability and responsible refrigeration are the company's main selling points.
They are absolutely "true" to your home's commercial aesthetic and execute it better than any other company.
True has four different models in 42 and 48-inch refrigerators. Let's take a look at their best 48-inch professional refrigerator.
True 48-Inch Professional Refrigerator TR-48-SBS-SS-B - $18,449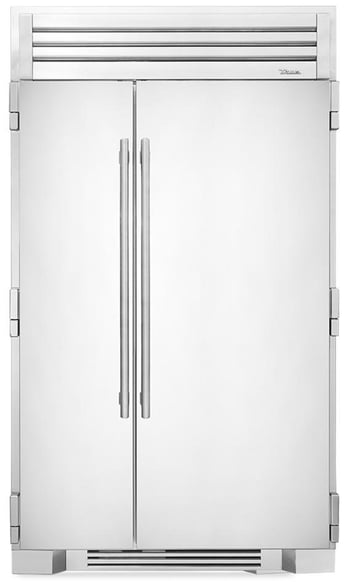 Features:
True 48 total capacity: 29.4 cu. ft.
Refrigerator capacity: 20.7 cu. ft.
Freezer capacity: 8.7 cu. ft.
Dual Evaporator/ Dual Compressor System
300-series stainless steel interior and exterior is resistant to food odors
The proud hinging system is built to last (passes True's 1 million door opening test)
120 degree stay open door feature
Ramp up showcase lighting
True Precision Control (easy digitally accurate temperature controls)
Forced Air commercial refrigeration system enables proper airflow for maximum freshness
Can be installed flush or proud
3-year full/6-year parts and labor sealed system warranty.
True Refrigeration Review
Walking up to the True professional 48-inch refrigerator, you immediately see this passes the pretty test. The stainless is beautiful with the large hinges and thick tubular handles.
Opening up the unit, you realize it's even better on the inside. Ramp-up LED lighting is everywhere in this unit. The beam cast creates a criss-cross pattern all along with the all stainless and glass interior. There is ample space in the unit with a 30" refrigeration space and an 18" dedicated freezer.
The full-extension glide-out drawers and cantilever shelving make it extremely versatile. The glass and stainless shelves seem sturdy enough, and you have three full-size condiment bins in the door which are fully adjustable.
The freezer is a mix of shelves on the top and wire commercial baskets on the bottom. It's a two-tiered shelf. It has a surprisingly sharp edge on it, hard not to touch when reaching into the first basket.
The True does not have an ice maker. Ice makers cause the most issues in refrigerators in general, but at $20,000, this refrigerator should have one.
Sub-Zero Vs. True Professional Refrigeration: Which Is Better?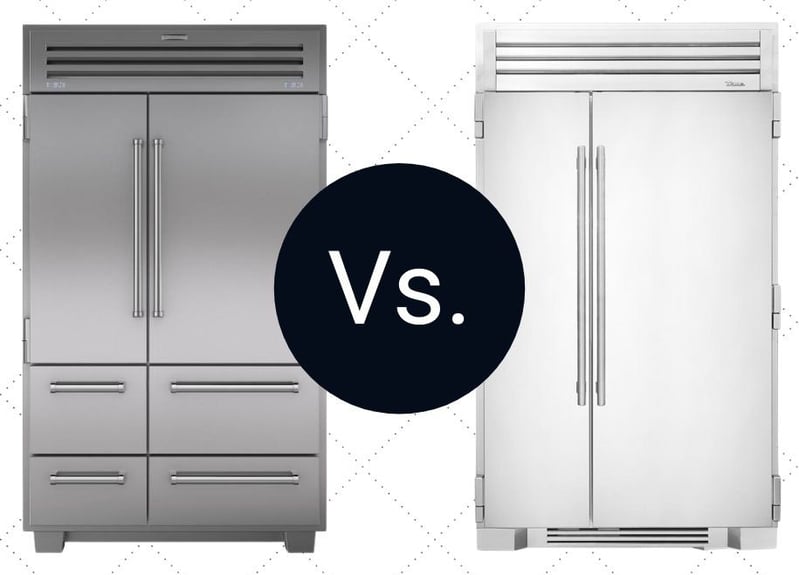 Sub-Zero Vs. True Refrigeration Similarities
1. Dual Compressors
Both have separate cooling systems, so moisture warmer refrigerator air does not commingle with the dryer freezer air
It's better for temperature control as well, plus odors and tastes do not cross over from refrigerator to freezer.
2. Temperature Controls
Both in front and can vary by just one degree.
3. Lighting
Both now use LED lighting.
4. Warranties
Both have outstanding warranties up to 12 years.
Differences Between Sub-Zero and True Refrigerators
1. Design Options
True has nine colors with six accent options. If you want a white refrigerator with brass accents, it will look like this: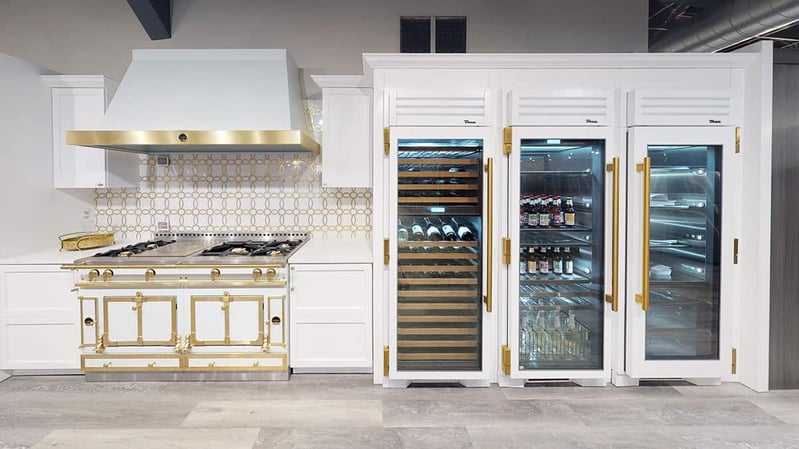 True Professional Refrigeration With Brass Accents
Sub-Zero is designed for stainless steel or cabinet fronts.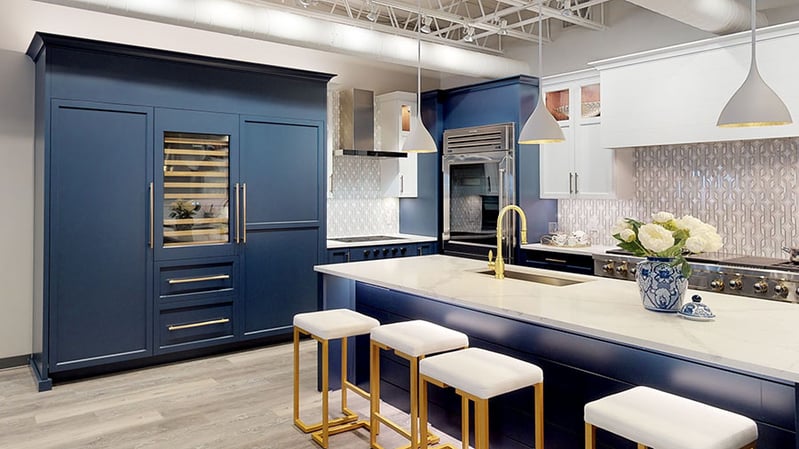 Sub-Zero Professional Refrigeration With Custom Cabinet Front at Yale Appliance in Hanover
Design always has a role in your choice. Do you want your refrigerator hidden by cabinets or a more colorful accent?
2. Interiors
True is stainless on the inside as well. Stainless is a better surface for the inside. It is more hygienic but, more importantly, retains the cold better.
Place your milk next to the stainless steel walls of your refrigerator, and it will be colder faster. In case of a power outage, your stainless steel will stay cold for a while as well.
3. Ice Making & Water Dispensers
Sub-Zero offers ice makers on all their models. True does not have a refrigerator with ice making.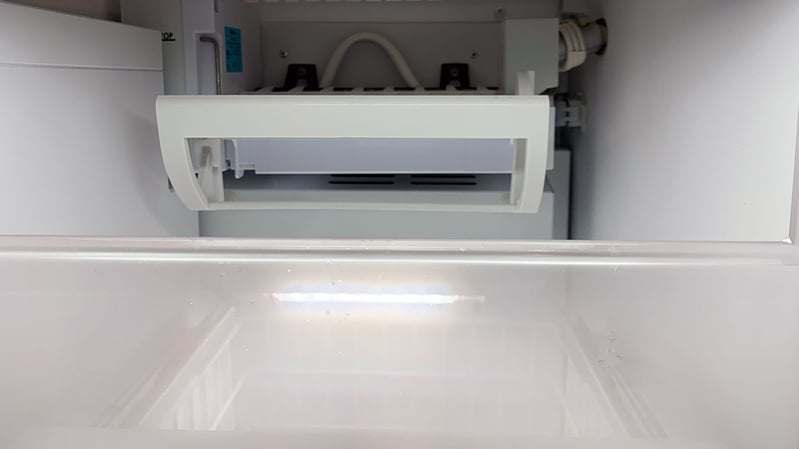 Sub-Zero Professional Refrigerator Ice Maker
Their logic is ice makers break - indeed they do. Ice makers are the number 1 repair for our service department last year.
Given that we logged 35,258 service calls, it's pretty telling.
Water dispensing is available only on Sub-Zero as well.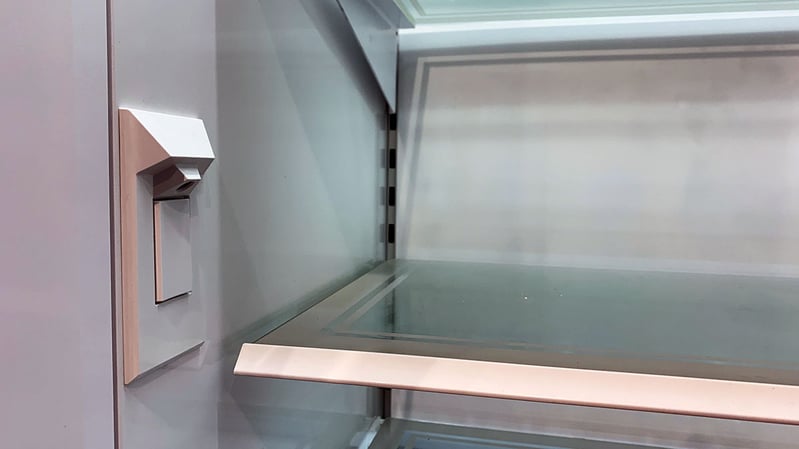 Sub-Zero Professional Refrigerator Water Dispenser
4. Air Filtering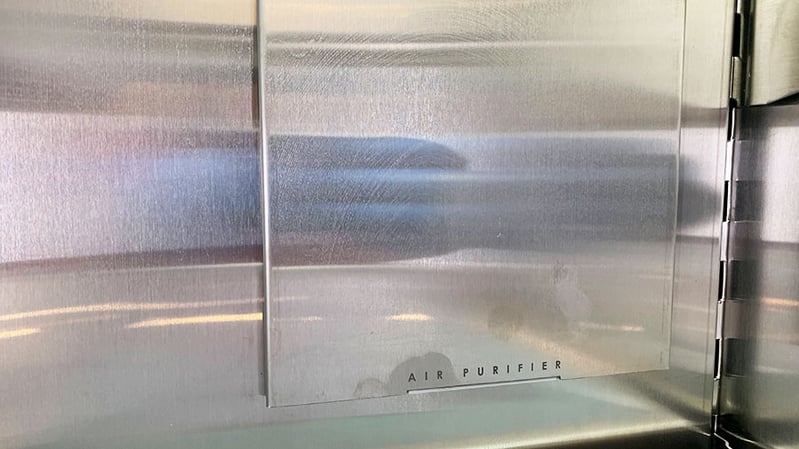 Sub-Zero Professional Refrigerator Air Purifier
Sub-Zero has the NASA-inspired air scrubber. It "scrubs" ethylene gasses off spoiling foods, so they stay fresher longer.
It also eliminates cross-contamination with other foods.
True doesn't have this capability as of this writing.
5. Shelving
True has solid shelves with metal edges. Sub-Zero has nanotechnology, so spills congeal rather than spread.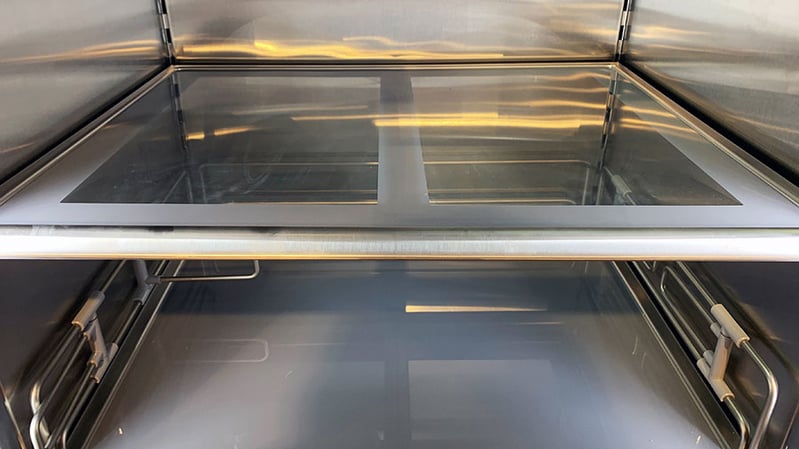 Sub-Zero Professional Refrigeration Shelving
If your kid has ever spilled grape juice in your fridge, you know how to clean the residue out of your fridge for a few months.
6. Crispers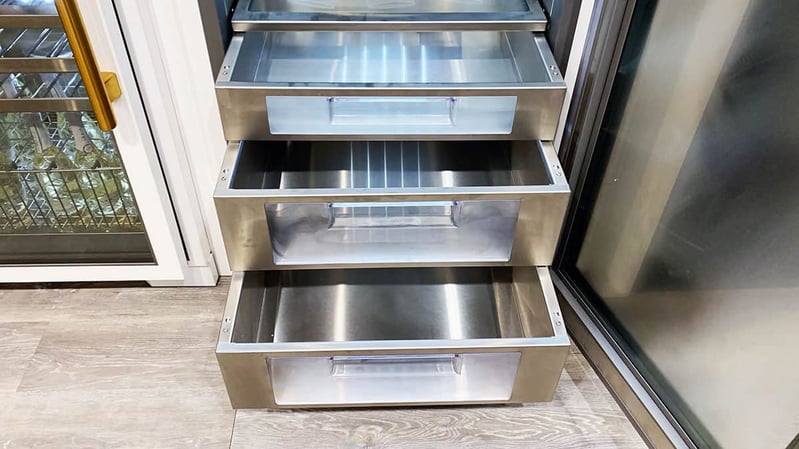 True Refrigeration Crisper Drawers
True is all metal, so your fruit stays colder. Sub-Zero is magnetic, so they seal better from air into the crisper.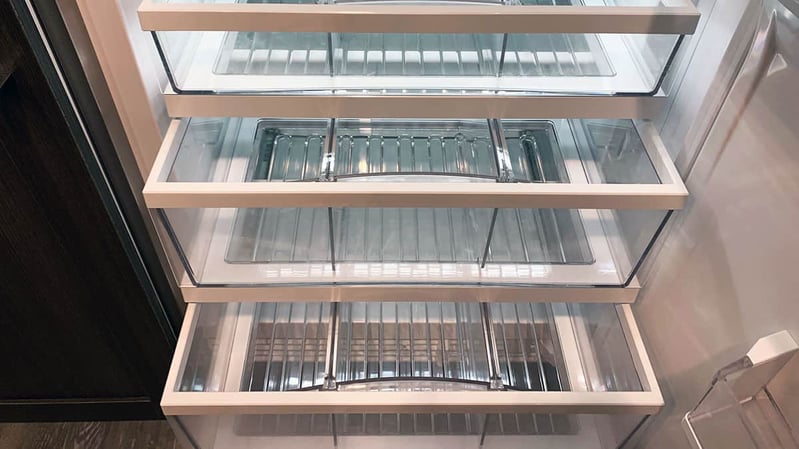 Sub-Zero Refrigeration Crisper Drawers
7. Vacuum Seal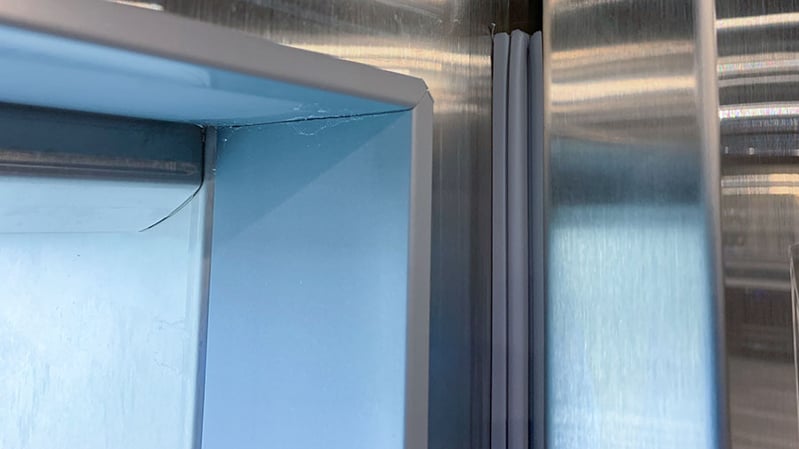 Both are solid, but Sub-Zero has a vacuum seal to eliminate air from entering the refrigerator.
8. French Door Refrigerator Options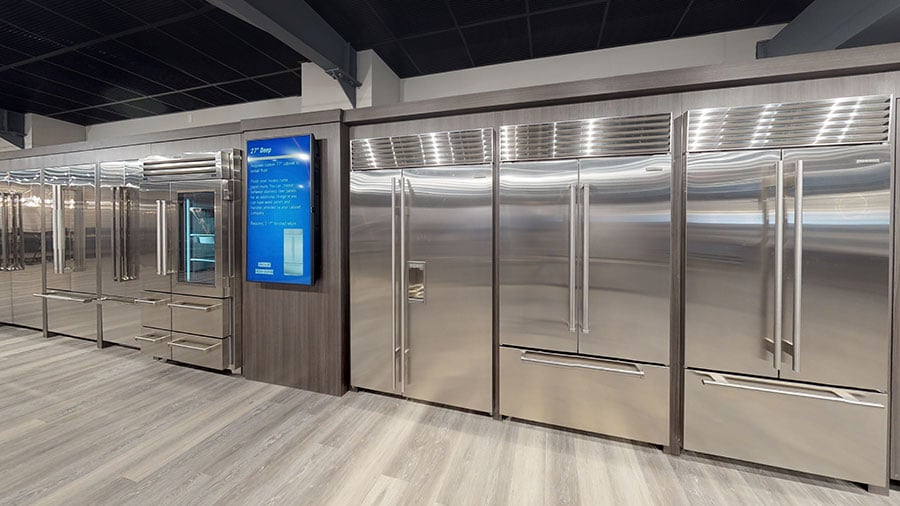 French Door and Side-By-Side Sub-Zero Refrigeration at Yale Appliance in Hanover
Sub-Zero manufactures a French door at 42 inches, so you have more refrigerator space and less freezer.
Choosing a French door is important for a 36-inch space because the freezer is so narrow. At 42 inches you do have plenty of refrigerators and freezers.
9. Column Refrigerator Options
The Pro and column refrigerators have similar features, so this part will only cover the differences.
I am excluding wine for now because that is a whole different topic.
Sub-Zero Vs. True Column Refrigeration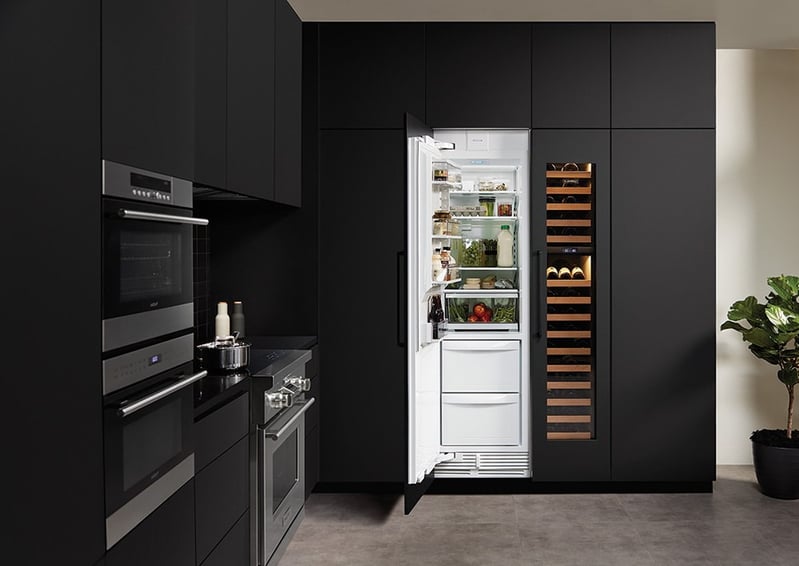 Sub-Zero Column Refrigeration
Beverage Columns
True has a beverage center for a column so that you can place all your drinks in one large unit.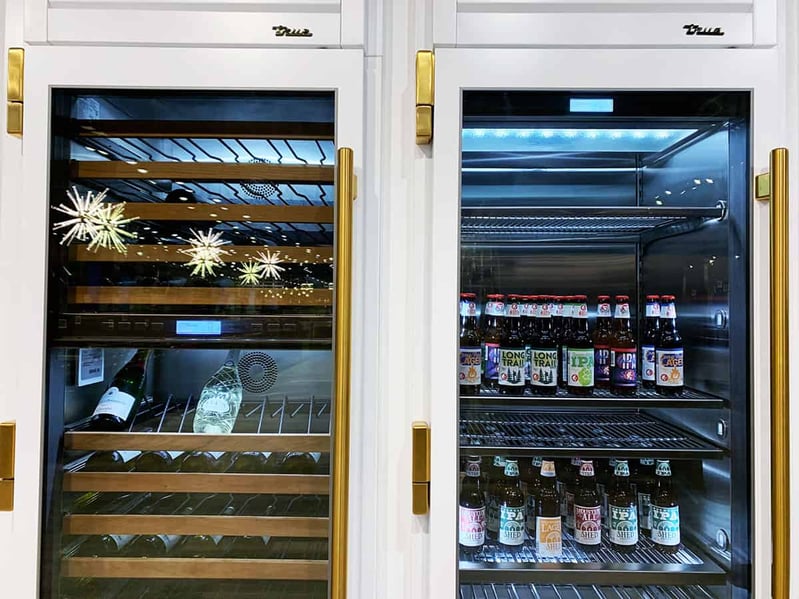 True Beverage Column Option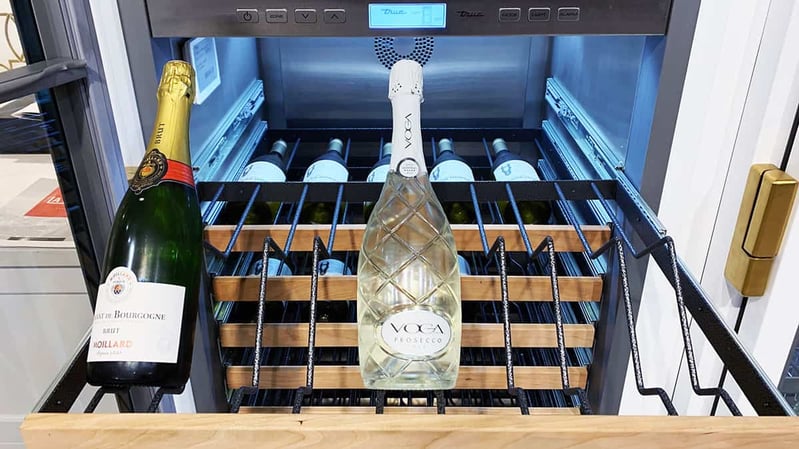 True Refrigeration Beverage Center Shelving
Beverage centers are the most popular under-counter units, so this unit is a great idea for your bar or hospitality area.
Sizes
True is available in 30 and 36 inches. Sub-Zero is available in 18,24, 30, and 36 inches.
If you want a smaller column or a 42 inch combined, Sub-Zero is your only choice.
Capacity
True will have a larger capacity. The 30 inch is 20.3 versus Sub-Zeros 17.3 cubic.
Style
The biggest difference is style.
Sub-Zero is an integrated refrigerator. It's designed to fit within a 24-inch cabinet, so the panel completely hides it.
True is a counter-depth refrigerator. The door and handles protrude into space. You still do not see the sides, but it is not flush to the cabinet.
Sub-Zero Vs. True Pro and Column Refrigeration: Key Takeaways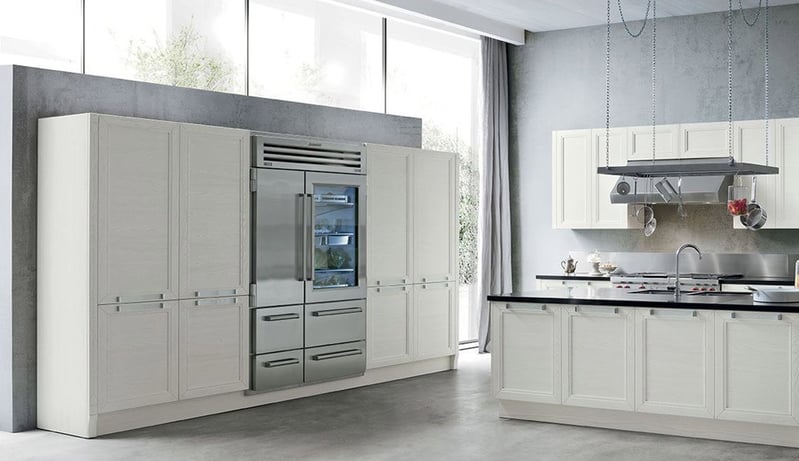 Sub-Zero 48-Inch Professional Refrigerator Installed
First, these are the best refrigerators available. Both have good features and warranties.
For columns, it's style versus capacity. In pro, it's much harder to determine.
Style is a big decision. Sub-Zero has panels. True has colors.
True has upgraded its lineup to include style, colors, and new columns. Its stainless interior is the best surface to keep colder temperatures.
Sub-Zero is still designed to keep food fresher longer, whereas True will make food colder quicker.
However, Sub-Zero is better designed for the home with filters and better seals.
For longer storage, Sub-Zero is a better refrigerator, whereas True may be better if you cycle through food more consistently.
Additional Resources
Want to learn more about Sub-Zero and Counter Depth Refrigerators? Get our FREE Yale Counter Depth Buying Guide with features, specs, and complete breakdowns of integrated and professional counter depth refrigerators from Sub-Zero, Thermador, Viking, Jenn-Air, GE Monogram, and more. Over 820,000 people have read a Yale Guide.
Related Articles:
Why Should You Trust Us?
It seems that every appliance review has nothing but glowing comments about almost every product, yet you read customer reviews and they are almost universally bad.
We are here to fill in the disconnect. We'll give you the best features, and the drawbacks as well, including reliability based on over 37,000 calls performed by our service team just last year. Our goal is to give you ALL the information so you know what's right for you.
Please consider subscribing or adding to the conversation in the comments below. We appreciate you stopping by.
Steve Sheinkopf is the third-generation CEO of Yale Appliance and a lifelong Bostonian. He has over 38 years of experience in the appliance industry, and he is a trusted source of information for consumers on how to buy and repair appliances.

Steve has also been featured in numerous publications, including the New York Times, Consumer Reports, The Boston Globe, Bloomberg Radio, the New York Post, The Wall Street Journal, and Entrepreneur, for his knowledge of how to buy appliances and appliance repair.

Steve is passionate about helping consumers find the best appliances for their needs, and he is always happy to answer questions and provide advice. He is a valuable resource for consumers who are looking for information on appliance buying, repair, and maintenance.

Despite being the worst goalie in history, Steve is a fan of the Bruins and college hockey, loves to read, and is a Peloton biker. The love of his life is his daughter, Sophie.
A Note About Pricing
Pricing on this blog is for reference only and may include time sensitive rebates. We make every attempt to provide accurate pricing at time of publishing. Please call the stores for most accurate price.