How Long Will It Take to Have My Appliances Delivered?
November 4th, 2021 | 7 min. read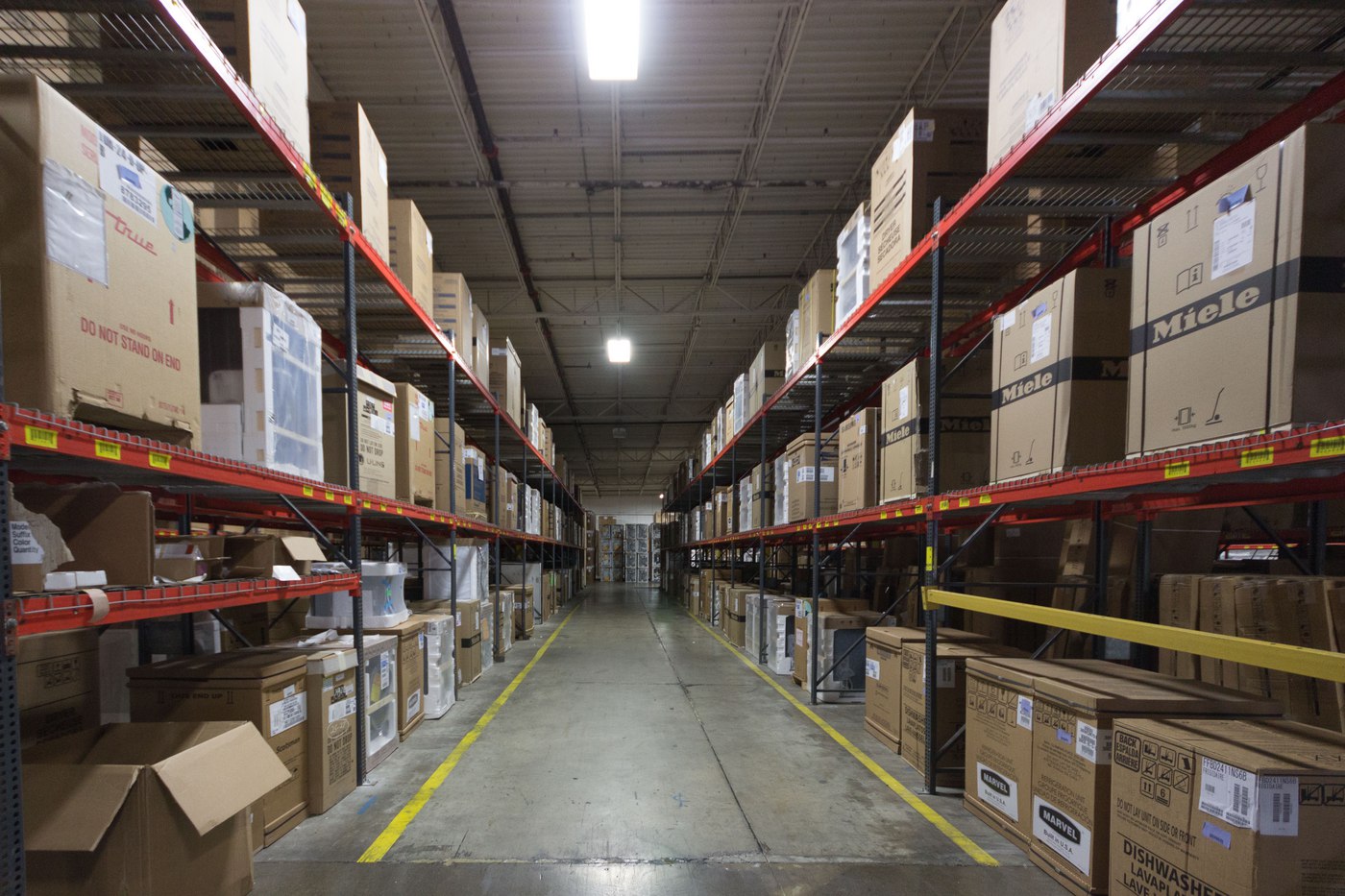 In 2019, you could order a Sub-Zero refrigerator on Monday and have it delivered and installed on Wednesday or Thursday.
With supply chain issues, you will now receive that Sub-Zero a year from next Thursday.
How about a Bosch or Miele dishwasher? We could have delivered a Bosch or Miele dishwasher on the same day or the next day in 2019. Now it's six months or even longer.
The appliance supply chain is irrevocably broken.
In worse news, I don't expect a return to 2019 supply levels until 2023 or, more likely, 2024.
In this article, you will learn how long you should expect to wait for most of the best appliance brands. As a bonus, I will show you how to plan ahead and have your kitchen appliances on time.
But first, let's examine what happened.
My Conversation With Jim Bakke, CEO of Sub-Zero
After a year of theorizing what happened since March 2020, I figured I would ask someone who built appliances.
So, I interviewed Jim Bakke, the CEO of Sub-Zero, on what happened this past year and the future of the appliance business.
Jim is the third-generation owner of Sub-Zero and has managed the brand since 1990.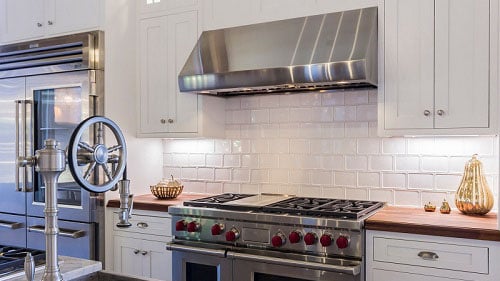 Sub-Zero and Wolf Kitchen at Yale Appliances in Boston
He was behind the first integrated refrigerators, buying the Wolf brand and launching the Cove dishwasher line.
It should be said I like Jim.
He runs a family business successfully against global giants like Samsung, LG, Bosch, Thermador, and Monogram.
It's like there is hope for the rest of us competing against much bigger entities.
He is also a thoughtful, mild-mannered guy, especially now.
In March of 2020, he shut down his factory for seven weeks. Idling a factory is hugely expensive, and, as I learned, there is no big red button to turn it all back on.
Then the factory had new safety guidelines and COVID-19 restrictions limiting efficiency.
Unexpectedly, demand then skyrocketed. Being quarantined at home made all of us want to improve our home.
But that was just the beginning of the issues.
Component Issues
I was driving through my old neighborhood in Needham last week.
The giant Ford dealership Muzi Motors sits with its normally massive selection of trucks and cars off the highway - except now.
Now, vehicles occupy one-third of the lot.
You can't buy a Ford F-150 because of computer chip issues.
To a lesser degree, appliances have chips, but other more pressing issues are parts in general.
The appliance supply chain is based on "Just-in-Time" manufacturing. Meaning products are created to meet demand. When one of those parts is "not on time," the whole unit, like the F-150, cannot be shipped.
Back to Sub-Zero, I only heard Jim once get slightly animated (his slightly animated is me at my most mild-mannered) when talking about component issues, particularly insulation.
Insulation for refrigerators is manufactured in Texas and Louisiana. Both were hit by a freak ice storm and then two hurricanes.
Jim went on to explain problems in the Panama Canal delaying shipments of parts needed for manufacturing refrigerators.
Both problems affect every manufacturer.
I just thought the Port of Los Angeles was the shipping issue. It turns out LA is not the only one.
From skyrocketing demand to faltering supply, all of these issues will prevent you from buying your kitchen on short notice.
Now you will learn how long it will take. Then you will learn a few ways to circumvent the line for faster delivery.
How Long Will It Take to Have My Appliances Delivered?
It could take anywhere from one month to 14 months depending on the brand. In the chart below, we listed the average lead times for each brand and type of appliance.
Appliance Lead Times By Manufacturer
We will be updating the lead times weekly as we receive updates from each manufacturer.
| | | | | | |
| --- | --- | --- | --- | --- | --- |
| | Refrigeration | Laundry | Cooking | Dishwashers | Microwaves |
| Beko | 2-4 Weeks | 2-4 Weeks | 2-4 Weeks | 1-2 Months | 2-4 Weeks |
| BlueStar | 3-14 Weeks | N/A* | 3-13 Weeks | N/A | N/A |
| Bosch | 2-12 Weeks | 2-4 Weeks | 3-14 Weeks | 20-22 Weeks | 10-14 Weeks |
| Café Appliances | 2-10 Months | N/A | 2-10 Months | 2-10 Months | 2-10 Months |
| Gaggenau | 4-6 Months | N/A | 4-6 Months | 4-6 Months | 4-6 Months |
| GE Profile | 2-10 Months | 2-10 Months | 2-10 Months | 2-10 Months | 2-10 Months |
| JennAir | 2-12 Weeks | N/A | 2-20 Weeks | 2-4 Weeks | 2-4 Weeks |
| KitchenAid | 2 Weeks-10 Months | N/A | 1-6 Months | 2-3 Months | 2-4 Weeks |
| LG | 1-2 Months | 1-2 Months | 1-2 Months | 1-2 Months | 1-2 Months |
| Miele | 8-12 Weeks | 3-8 Months | 1-14 Weeks | 30+ Weeks | N/A |
| Samsung | Undetermined | Undetermined | Undetermined | Undetermined | Undetermined |
| Signature Kitchen Suite | 1-2 Months | N/A | 1-2 Months | 1-2 Months | 1-2 Months |
| Sub-Zero and Wolf | 6-11 Months | N/A | 1-10 Months | 6 Months | N/A |
| Thermador | 8-14 Weeks | N/A | 6-14 Weeks | 8-10 Weeks | 2 Weeks |
| True | 2-17 Weeks | N/A | N/A | N/A | N/A |
| Whirlpool | 2-10 Months | 2-10 Months | 2-10 Months | 2-10 Months | 2-10 Months |
* N/A indicates the manufacturer does not make that product.
Appliance Brands With the Fastest Shipping
Let's say you can't wait a year. Well, you probably can't buy many brands when you look at the list.
But you still have other choices. Have a look:
LG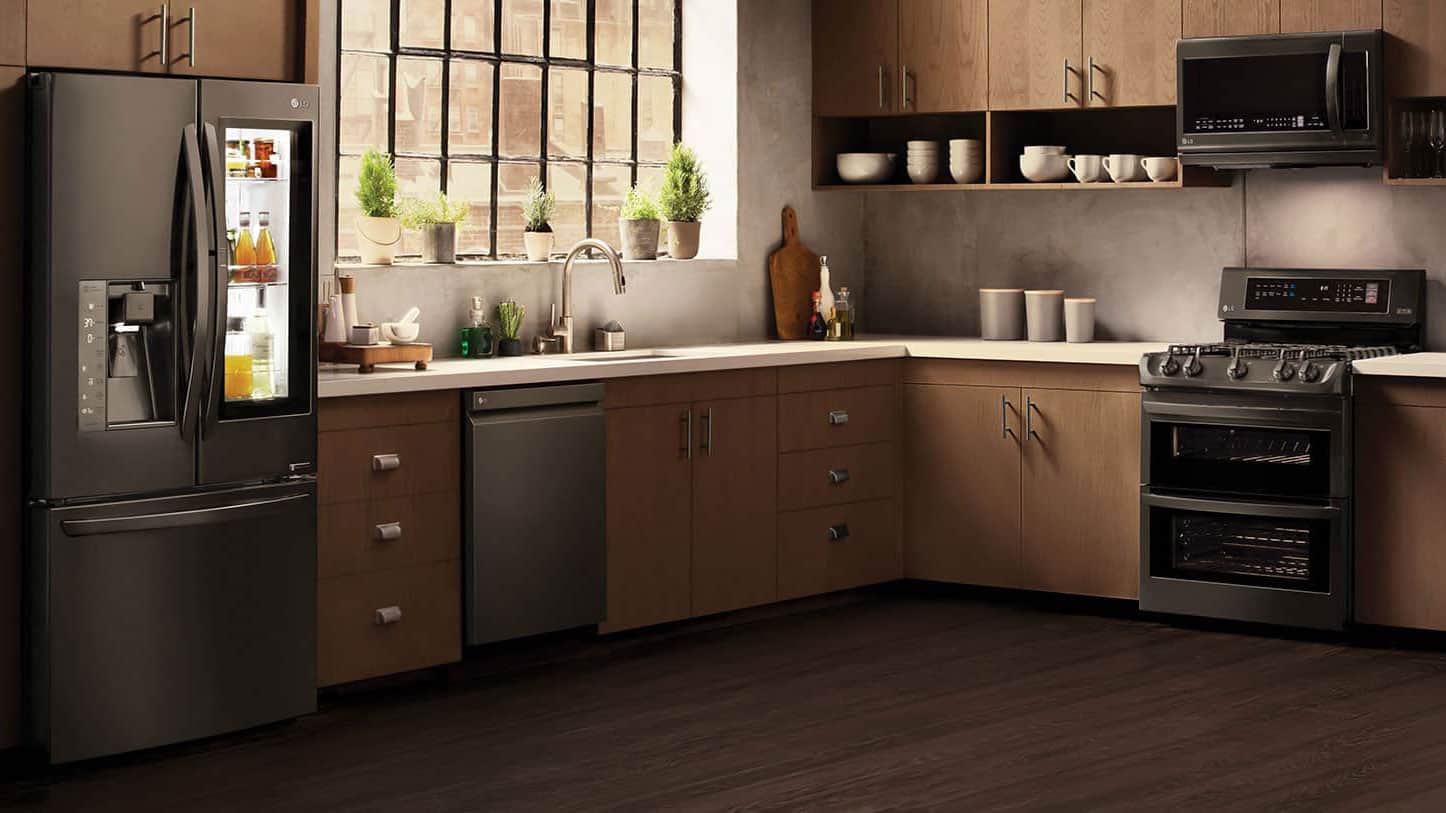 LG Kitchen Appliances
LG has several series, including their Studio and Signature Kitchen Suite Lines. You would compare LG to Samsung, Bosch, and KitchenAid, and JennAir.
Best LG Appliances: Refrigerators, Stoves, and Laundry
LG, like their rival Samsung, has a full array of French door refrigerators. Their ranges have the largest interiors at 63 cubic feet.
Signature Kitchen Suite (SKS)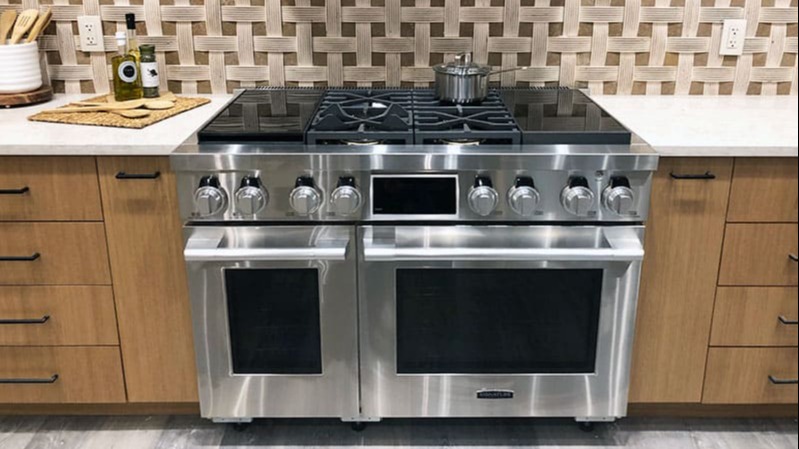 SKS 48-Inch Pro Range at Yale Appliance in Hanover
SKS is the premium LG brand. You would compare SKS to Miele, JennAir, and Thermador.
Best SKS Appliances: Professional Ranges and Column Refrigerators
SKS's professional range is excellent. It has two 23,000 BTU burners, two 15,000 BTU burners, and two induction burners.
You also have sous vide water bath on the stovetop for precision cooking.
The ovens are convection with a side steam oven.
SKS refrigeration has the largest capacity for a column-style refrigerator or freezer.
Read More: Signature Kitchen Suite Professional Range Review
Fisher & Paykel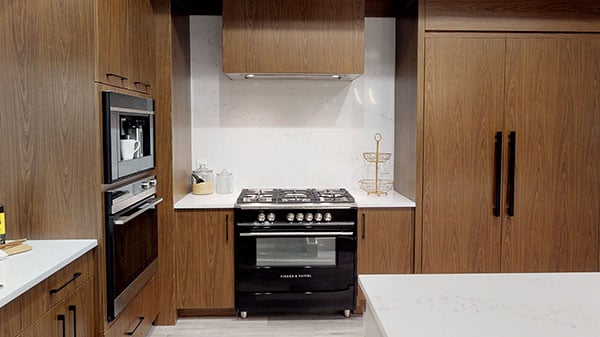 Fisher & Paykel Range at Yale Appliance in Hanover
Fisher & Paykel is best known for its double-drawer dishwasher. However, their most available appliances are their professional ranges.
Best Fisher & Paykel Appliances: Professional Ranges
Their 48-inch pro range is half induction. You will see more induction stovetops because it has fewer venting issues than gas.
Read More: Fisher & Paykel 48-Inch Dual Fuel Range With Induction Review
Beko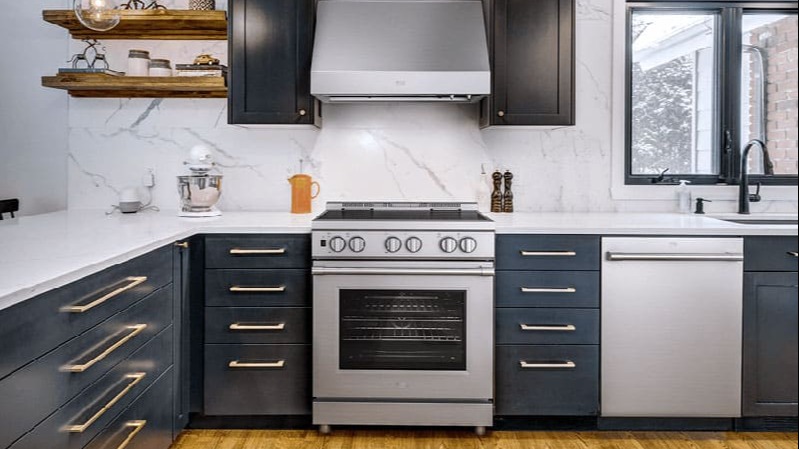 Beko Appliances
Beko is a Turkish company popular in Europe and widely sold in 140 different countries. Along with LG, Beko has been the most popular with some unique features.
Best Beko Appliances: Refrigerators and Dishwashers
Their refrigerators feature ethylene filters and ActiveFresh Blue Lighting to keep food fresh longer. You are probably thinking about how blue lighting is relevant.
Sunlight renders blue, so the lighting in Beko's refrigerator drawers "tricks" your fruit, vegetables, or fresh herbs into maintaining photosynthesis.
Crazy as it seems, the lighting works.
Only Sub-Zero was better than Beko at keeping food fresh longer in our Project Produce tests.
Beko's dishwasher under $900 is 39 dB with special cycles and scrubbing arms. It also has a 5.4% service rate for dishwasher reliability based on last year's service calls.
Read More: Is the Beko DDT39432X Dishwasher Any Good?
How to Plan Your Kitchen Renovation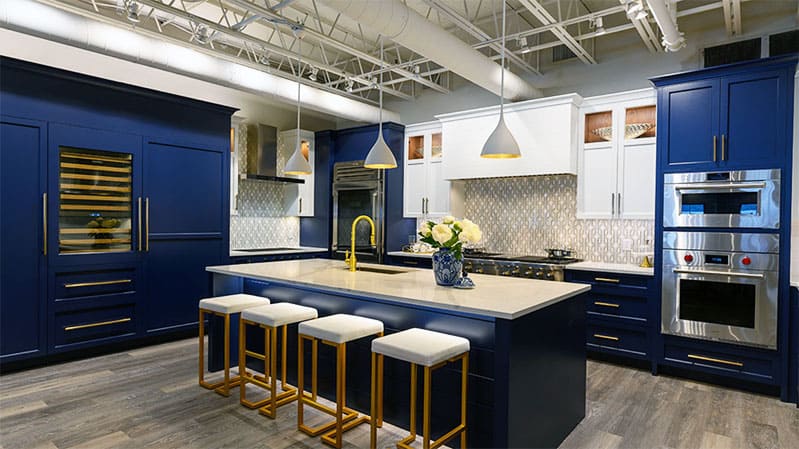 Sub-Zero and Wolf Kitchen at Yale Appliances in Hanover
The way to plan your kitchen is not to plan it as you would have in 2019, when you could have bought almost any appliance and had it within the month.
In this new era, the key is to start earlier.
If the lead times are 12 months on what you want, have your kitchen and appliances ordered well before.
You can start planning your kitchen before you even have a contractor.
In many ways, you should know what you want, and your project will be smoother.
We have plenty of other content based on planning your kitchen renovation so let me distill it and provide links for greater detail.
How to Start Your Kitchen Renovation
Start with your sink:

You are probably surprised I would advise you to start with your sink when my specialty is appliances. However, you use your sink the most, so you should try to centralize it.

Next, centralize the stovetop, sink, and dishwasher:

They are the most used appliances. You don't want to be more than a step or two from each.

Lastly, plan your main refrigeration and wall ovens:

They can be placed anywhere. It is not mission-critical for you to rush to your refrigerator. Likewise, you don't have to check your wall oven every 30 seconds like the food on your stove.
Other Kitchen Renovation Considerations
Wall Ovens and Cooktops Compared to Having a Range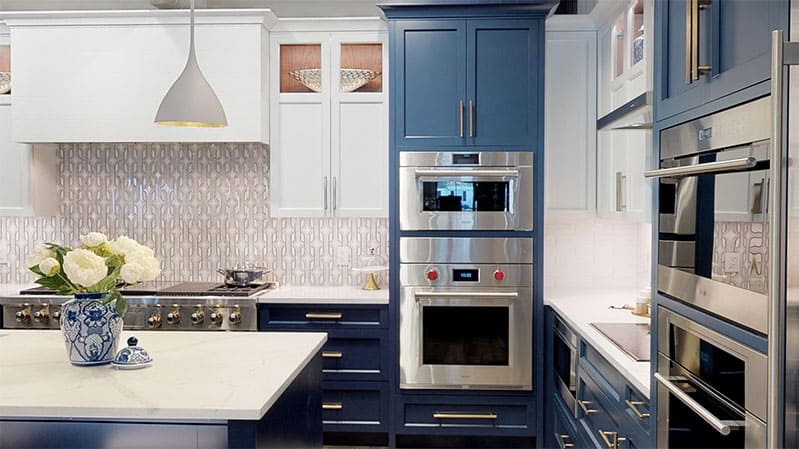 Wolf Steam Oven, Wall Oven, Cooktop, and Pro Range at Yale Appliance in Hanover
Ranges and cooktops should be centralized. However, wall ovens can be placed anywhere. You have more options with wall ovens than most stoves under 36 inches.
Steam ovens, speed ovens, microwaves, and warming drawers can be placed over a single oven.
Adding a specialty oven to your kitchen is a great way to match your cooking preferences or style, especially when choosing a wall oven and cooktop over a range.
Secondary Appliances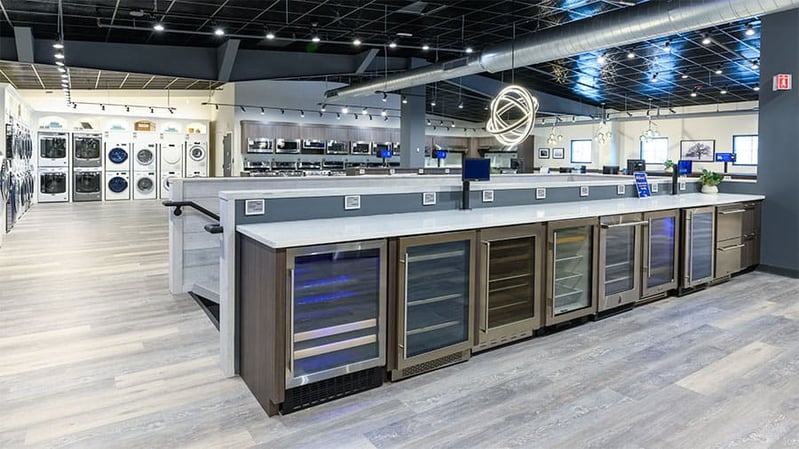 Undercounter Refrigeration at Yale Appliance in Hanover
I already mentioned considering specialty ovens. Other secondary appliances include wine refrigerators, beverage centers, secondary refrigerators, and smaller sinks (great if two people are cooking and working in the kitchen).
During two renovations, I centralized what I used the most, namely the cooktop, sink, dishwasher, and wall oven.
The lesser-used microwave is off to the side.
Key Takeaways
Your best chance for buying the appliances you want is to start early, even earlier than you may have planned.
If a Sub-Zero or another brand has a 12-month lead time, it shouldn't matter if you order before needing the appliances.
You can still plan your kitchen in the early stages but first, make sure you understand the basics of centralizing your sink, cooking appliances, and dishwasher first.
If you need appliances sooner, create a list of essential features and look for them with other available brands.
For more advice, check out our following articles below.
The first will show you in greater detail in planning your kitchen. The next article details alternate buying strategies.
Both articles include our most recent webinars on these topics.
Buying appliances is tough, but you can still accomplish it.
Additional Resources
Have questions on appliances? Read the Yale Appliance Buying Guide with the 10 most frequently asked questions, the best time to buy appliances as well as detailed profiles of all the brands. Well over 1 million people have read a Yale Guide.
Why Should You Trust Us?
It seems that every appliance review has nothing but glowing comments about almost every product, yet you read customer reviews and they are almost universally bad.
We are here to fill in the disconnect. We'll give you the best features, and the drawbacks as well, including reliability based on over 37,000 calls performed by our service team just last year. Our goal is to give you ALL the information so you know what's right for you.
Please consider subscribing or adding to the conversation in the comments below. We appreciate you stopping by.
Steve Sheinkopf is the third-generation CEO of Yale Appliance and a lifelong Bostonian. He has over 38 years of experience in the appliance industry, and he is a trusted source of information for consumers on how to buy and repair appliances.

Steve has also been featured in numerous publications, including the New York Times, Consumer Reports, The Boston Globe, Bloomberg Radio, the New York Post, The Wall Street Journal, and Entrepreneur, for his knowledge of how to buy appliances and appliance repair.

Steve is passionate about helping consumers find the best appliances for their needs, and he is always happy to answer questions and provide advice. He is a valuable resource for consumers who are looking for information on appliance buying, repair, and maintenance.

Despite being the worst goalie in history, Steve is a fan of the Bruins and college hockey, loves to read, and is a Peloton biker. The love of his life is his daughter, Sophie.
A Note About Pricing
Pricing on this blog is for reference only and may include time sensitive rebates. We make every attempt to provide accurate pricing at time of publishing. Please call the stores for most accurate price.