Should You Buy A Galley Workstation? (Reviews / Prices / Ratings)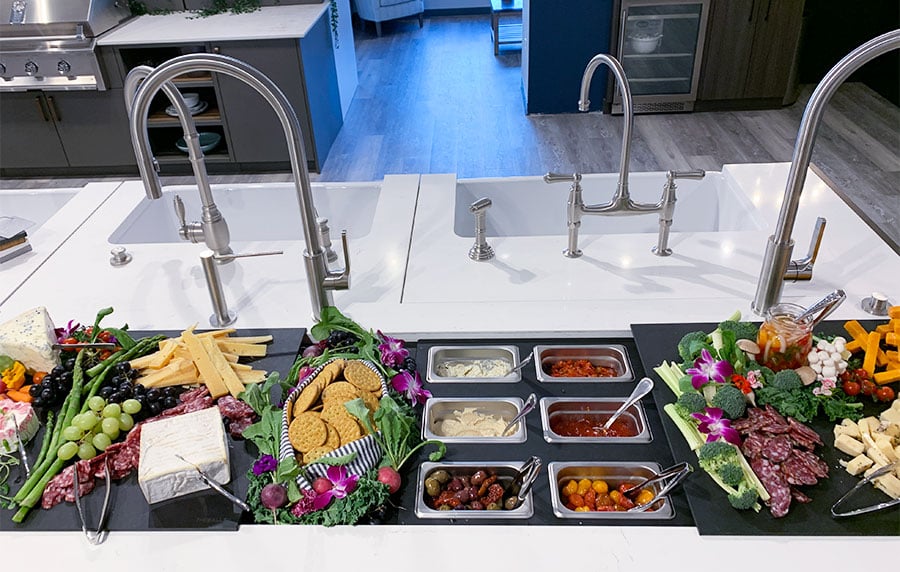 I walked into the store last week, and my team was making a big deal about this Galley Workstation display during our sales training. I thought it was odd because a sink is a sink, right?
Wrong. These are not sinks but workstations, allowing you to do way more than wash dishes, according to our Galley representative.
Now, you and I are both wondering, but isn't that what you do in a sink?
It turns out you can do way more with a Galley workstation than just wash and chop.
In this article, you will learn about what a Galley workstation is and why you may want to consider one for your renovation.
We'll also cover the many styles, accessories, and prices you can expect to see.
Let's get started.
What is A Galley Workstation?
A Galley workstation is a central hub over your sink reinventing your kitchen by allowing you to prep, cook, serve, entertain, and clean all in one workspace.
The Galley Workstation is still a basin with a faucet, but the accessories, both standard and optional, are truly unique.
It's ideal for your home if you have limited space and want to utilize your kitchen. It's also great for those who love to entertain.
The Galley workstations and accessories are designed, engineered, and tested in their headquarters located in Tulsa, Oklahoma.
The Galley Tap (faucet) is the only product outside of the rest of the line engineered in Switzerland and manufactured in northern Italy.
Short on time? Get our free Kitchen Plumbing Buying Guide
Galley Workstation Sizes
The Galley Workstation is available in a large range of sizes, starting at 20 inches to 80 inches.
In the larger sizes, the workstation is available as a single or a double-bowl, and the configuration of the culinary accessories is endless.
Galley Workstation Accessories
The Galley Workstation With Upper Grate, Serving Bowl, Colander, and Serving Boards
The base kit's the standard accessory package. This kit stays in the unit itself at all times. It includes a drying rack, a cutting board, a stainless steel bowl, and a colander.
These accessories are the most useful. You can buy additional accessories allowing you to do anything in your kitchen from organizing food to keeping drinks cold.
Additional workstation culinary tools include:
Countertop knife block
Half sheet pan
Garnish cutting station
Utensil caddy
Garnish board
Serving set
Wash set
Condiment serving board
Chef's block
Washer & serve set
Upper deck
Strainer baskets
Bottom grate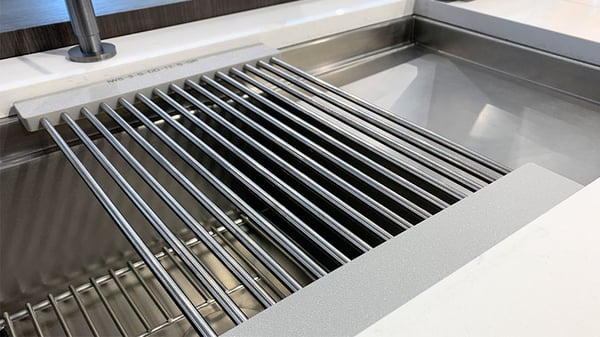 Upper and Lower Grates (left) with a DryDock (right)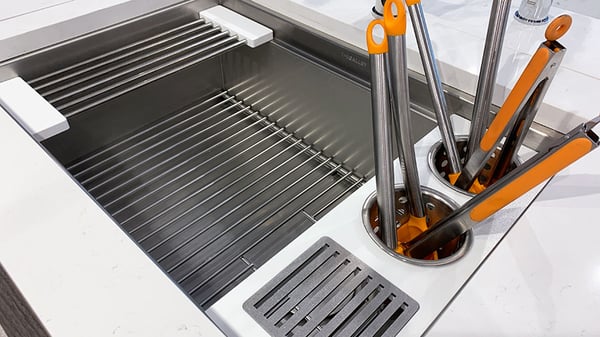 Utensil Caddy for the Galley Workstation at Yale Appliance in Hanover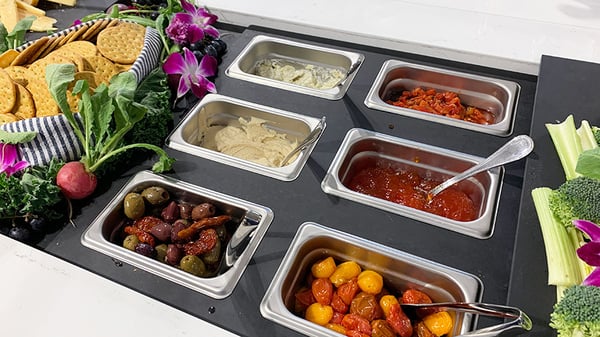 Condiment Serving Board at Yale Appliance in Hanover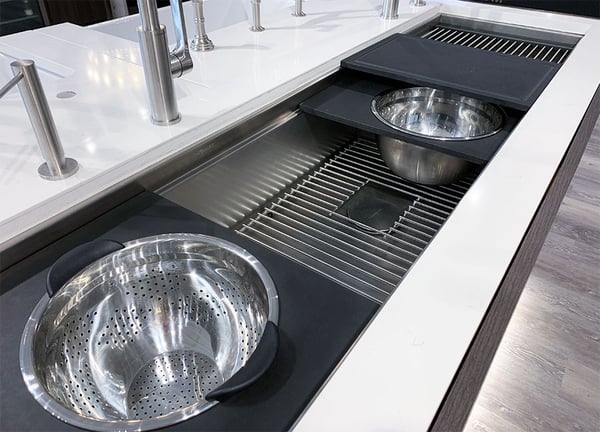 The Galley Workstation Wash & Serve Set at Yale Appliance in Hanover
Galley Workstation Finishes
One of the best features of The Galley Workstations outside of the moving pieces is it's "Angel finish."
Most sinks are 16-20 gauge steel. The Galley is the best marine-grade type 316 stainless and you can place it outdoors.
The Galley is one of the only marine-grade products we have ever seen in our history aside from Kalamazoo Grills and a few others.
This finish will resist water spots, most scratches, and it will never tarnish.
It's also incredibly easy to clean with a non-abrasive cleaner and a stainless steel spray to restore the stainless steel luster.
If the workstation is scratched, it can be restored by re-sanding using an orbital sander with 120-grit sandpaper.
As you know, scratches remain permanent with every other sink.
Accessory Finishes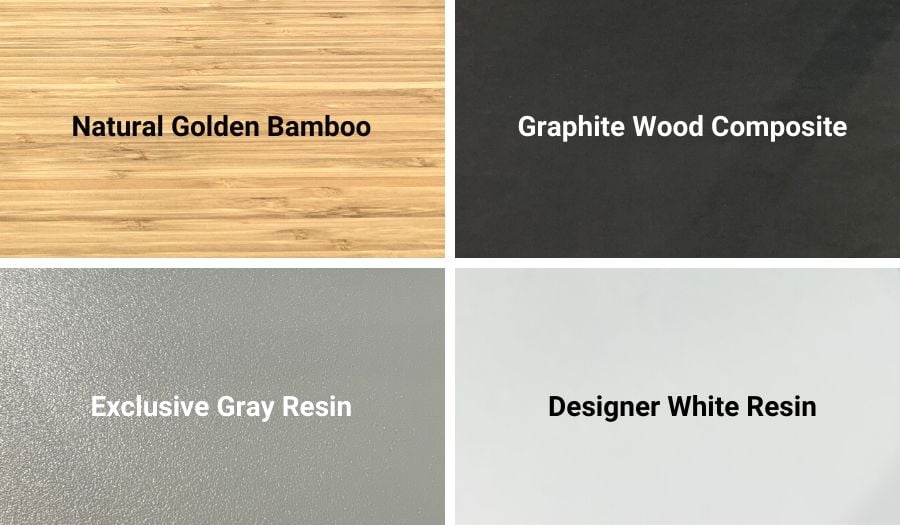 You can choose multiple finishes for your workstation accessories in either natural golden bamboo, graphite wood composite, exclusive gray resin, or designer white resin.
These finishes add a decorative accent to your kitchen.
Galley Workstations Vs. Sinks
As islands have become a standard in kitchens, you can face your guests while doing two different tasks - cooking or cleaning.
Using part of your island for cleaning is a better option because stoves are harder to vent from an island. You would buy either a less effective downdraft vent or a view obstructing island hood. We have written numerous articles about this topic.
However, with just a sink and no workstation, you lose space and functionality. Sinks are a place to drain water and mulch food in your disposer. That's all you can do. Larger sinks equate to bigger losses in counter space.
But, with a Galley, you have more functionality, and as you go up in size, you are not losing any working area or countertop space.
You're gaining more usable space.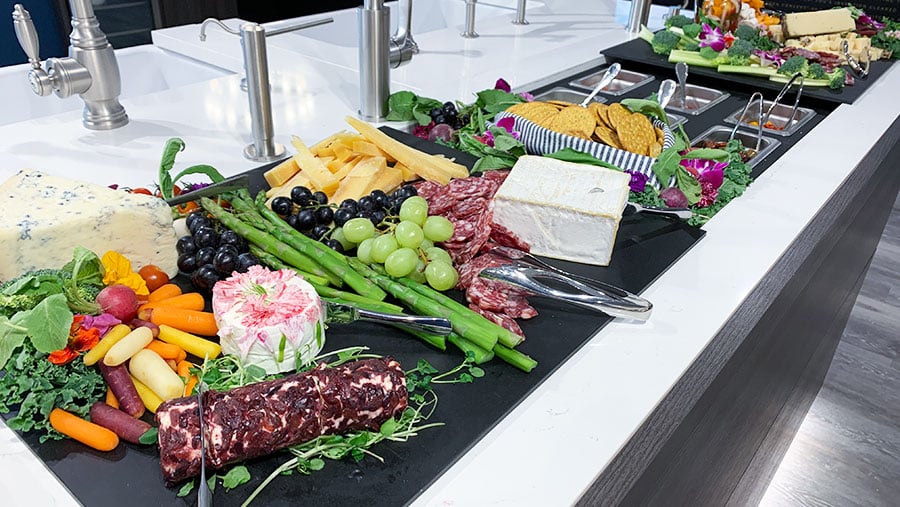 The optimal layout for a Galley is on an island with a 5-foot wide workstation facing your guests.
If you're looking at the Galley Workstation for the restaurant industry, a linear layout is best for multiple cooks to be in the kitchen and working together at the same time as opposed to the standard triangular layout.
Best Galley Workstations Products
The Galley Workstations cost about $1,000 per foot plus additional accessories. There are over 500 different pieces for every style to fully customize your workstation.
The Galley Workstation IWS 2C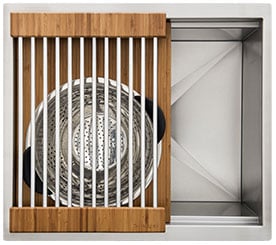 22" wide
1 person workstation - great for prepping
Double tier design - multi-level of accessories
5 piece culinary set - upper-tier cutting board, upper-tier drying rack, lower-tier platform, 11" colander & 11" bowl with lid
Additional accessories - chefs block, garnish cutting board, utensil caddy, etc
The Galley Ideal Workstation IWS 5

57.5" wide
1-2 person workstation - plenty of room to work together
Single or Double Bowl options - single vs double basin compartments
9 piece culinary kit included in both - dual-tier cutting boards, dual-tier drying racks, dual-tier platforms, 11" colanders, 11" bowls with lid
Additional accessories - knife block, serve set, condiment serving board, etc
These two sizes are the most common in homes today- the IWS 2 is great for one person to work and prep from or start doing dishes.
The IWS 5 is great for 1 or 2 people to be working simultaneously to prep for a party, big family meal or a catered event.
As you increase in size with Galley, you gain larger accessory kits. This base kit's designed to stay in the system as you add more accessories.
The Galley DryDock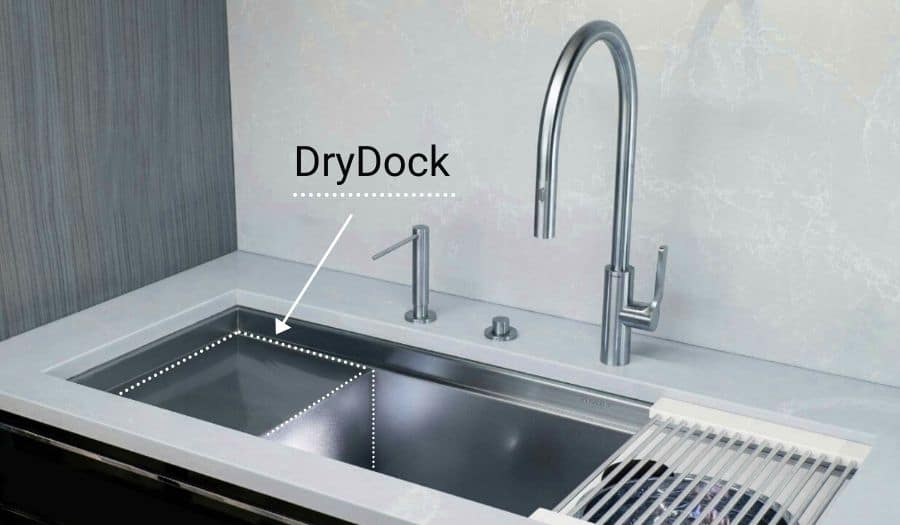 The Galley Workstation DryDock at Yale Appliance in Hanover
You can also extend the width of the Workstation without having to sacrifice under-counter storage by adding a DryDock.
The built-in DryDock is available in a 12 or 18-inch extension d to any one of the double or single bowl Workstations.
A DryDock kit will come standard with an Upper Deck as well as a Drying Rack, but there are many other accessories.
You can also use in a DryDock space such as a Chef's Block, a Condiment Serving Board or a Utensil Caddy (along with many others).
On the left side of this Workstation (pictured above), you can see the DryDock, which looks like an upper level to the basin and then drops off into the deeper part of the basin.
This picture demonstrates how you would not lose any under cabinet space by adding a DryDock and also utilize more countertop space at the same time.
The Galley Tap (Tap is Faucet), IWT D – about $3,000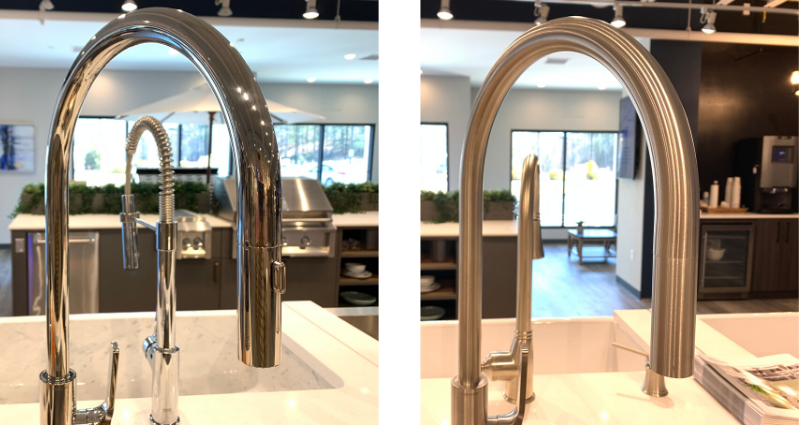 The Galley Taps at Yale Appliance in Hanover
PVD - the hardest and most corrosion-resistant coating to protect the tap for a lifetime
Rotating comfort feel Handle - rotates forward for ease of use
Magnetic docking - holds hand spray in place
11" center station projection - extends further, easier to fill tall pots
Slide switch - ergonomically friendly to select Laminar or Spray Ideal Flow
One of the best features of the Galley Tap is it's "suit of armor" or also known as the Physical Vapor Deposition process. This process vaporizes a solid metal to a plasma of atoms or molecules for protection.
PVD uses in aerospace and biomedical fields as it's the hardest and most corrosion-resistant material available.
The other key feature of the Galley Tap is its solid marine-grade 316L composition. Like the Work Station, there is nothing like it.
The design of the Galley Tap works in harmony with the Workstation and accessories You will never have to reach far to spray even the corner of the sink.
Quietness is considered a luxury, and with the Galley Tap, the ideal flow laminar feature allows for the quietest output on the market.
The Galley Tap also has its own line of additional products including a BarTap, a Galley Soap Dispenser, and a Galley Deck Switch for disposers.
We have been selling these switches for years to turn on disposers. It's a great idea because you don't have to bend under your sink for a switch.
The Tap, Soap Dispenser, and Deck Switch are also available in six beautiful stainless steel finishes. These finishes include Matte, Polished, PVD Gun Metal Gray, PVD Satin Black, PVD Brushed Gold, and PVD Rose Gold.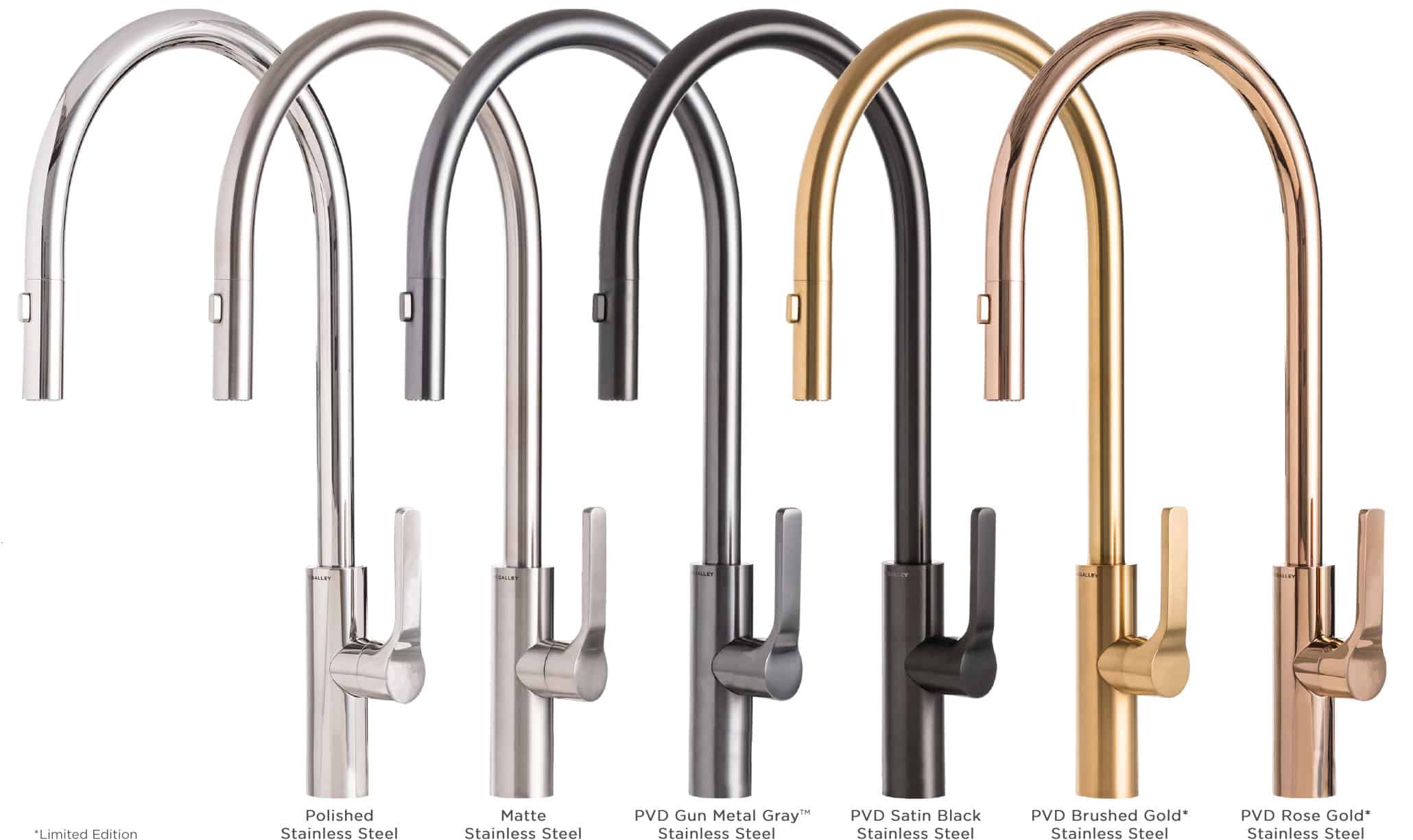 The most popular finish for the Galley Tap is the Matte Stainless Steel, followed by the PVD Satin Black Stainless Steel and PVD Brushed Gold Stainless Steel.
The Galley BarStation (IBS 18) – about $2,000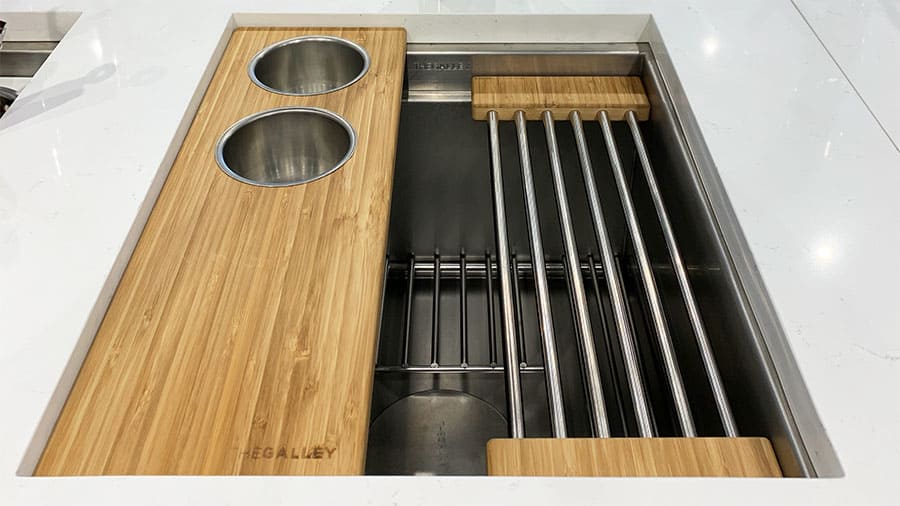 Double Tier Design - functional accessories that slide above and below each other
16-gauge stainless steel - made from one piece, no edges "TrueEdge"
Drying Rack - for lower-tier
Garnish Cutting Board - cut your garnishes & store them all in one spot
The BarStation is perfect for an additional working space, whether it's for garnishes or washing and drying.
It can act as a backup prep station or another focal and gathering spot for a cheese board or drink station.
The BarStation has with a mini lower-tier drying rack and a garnish cutting board.
Should You Buy A Galley Workstation?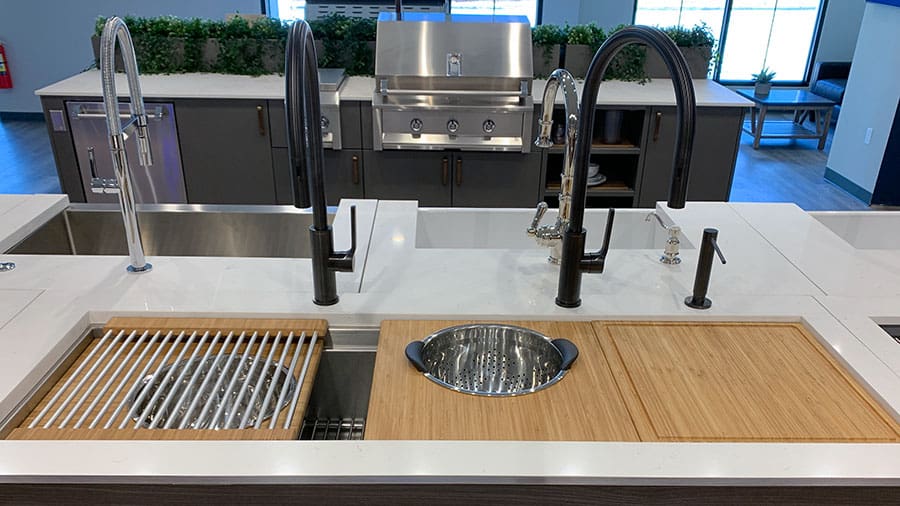 The Galley Ideal Workstation IWS 5 at Yale Appliance in Hanover
A Galley workstation would work well if you are looking to utilize your space more efficiently.
You should not buy a Galley workstation if space for storing additional accessories is an issue or if budget is a concern.
These workstations will start right around $1,000 a foot plus the faucet or additional accessories. You can buy a basic sink for much less money.
These workstations are great for those who live in the city with limited counter space but love to entertain.
The other benefit of putting a Galley Workstation in your home is the flexibility of using multiple serving boards.
You can quickly serve your guests while creating a buffet station or drink station with ease.
Key Takeaways
With marine-grade steel, the Galley is the best workstation you can buy. It's also a striking addition to its various finishes.
However, it's designed to add functionality other than just washing veggies. Unlike a sink, a Galley workstation is not dead space.
So you have to find value in the various accessories to help you prepare food and entertain your guests or need that space in a smaller kitchen.
That said, plan accordingly. The sinks are available in 20-80 inches. You may want to chalk or tape the various sizes on your counter before you buy it.
Remember, with the more functional Galley, so you can have a larger size than a standard sink.
With solid construction, beautiful design, and incredible flexibility, you should consider the Galley Workstation for your kitchen.
Additional Resources
Get the Kitchen Plumbing Buying Guide with a complete breakdown of different sink, faucet, and accessories available. It is a great way to start your kitchen remodel project. Over 620,000 people have read a Yale Guide.
Related Articles:
Why Should You Trust Us?
It seems that every appliance review has nothing but glowing comments about almost every product, yet you read customer reviews and they are almost universally bad.
We are here to fill in the disconnect. We'll give you the best features, and the drawbacks as well, including reliability based on over 37,000 calls performed by our service team just last year. Our goal is to give you ALL the information so you know what's right for you.
Please consider subscribing or adding to the conversation in the comments below. We appreciate you stopping by.
Taylor Ferry
Taylor Ferry is an Appliance Sales Consultant at Yale Appliance. She has been working at Yale Appliance for a year now and loves being part of the Yale team. Prior to Yale, Taylor worked as a registered dental hygienist in the South Shore as well as a bartender in Boston. After work, you can catch her at Harvard Stadium running stairs. On her days off, you can find her visiting her parents, traveling up north, and walking the Charles. She also loves discovering new restaurants to explore in Boston and sharing her experience.
A Note About Pricing
Pricing on this blog is for reference only and may include time sensitive rebates. We make every attempt to provide accurate pricing at time of publishing. Please call the stores for most accurate price.