The Most Important Appliance Delivery Checklist (Reviews)
Let's say you bought a whole suite of kitchen appliances - a 48-inch pro range, a dishwasher, hood, blower, refrigerator, wine cooler, washer, dryer, wall oven, sink, cooktop, bar sink, faucet, and finally a soap dispenser.
They were just delivered to your home, and you uncrate them (always in the presence of a delivery person, so damage can be noted, right?).
They look fine. The range waits in your kitchen (on Masonite hopefully because the heavy range will indent your floors if not supported).
Until your contractor installs your range, and it fries your electrical system. Why?
You bought a Thermador PRG486JDG. The appliance company delivered a PRD486JDG. Look at the two ranges.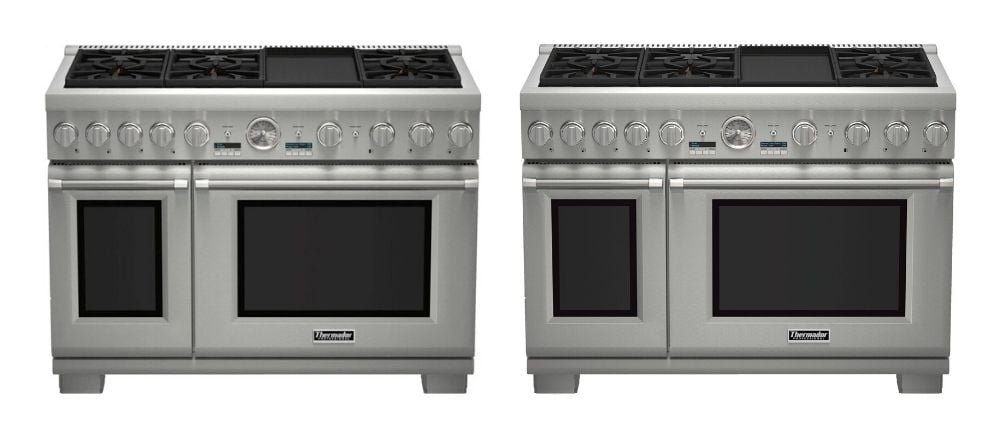 They look identical, but one is dual fuel and requires 50 amps of electricity. The other is all gas and requires only 20 amps. This will present a huge problem on many levels.
Would you have caught that mistake?
If you say yes, then this actually happened to a customer of an online appliance store a few years ago.
Because it was installed, they did not allow it to be returned.
Between the cost of a new range, time lost, and new electrical needs, you are looking at a mistake costing between $15-25,000 or more.
So, make sure you check every little detail before signing off on your delivery.
Once you sign, you lose your right to contest almost everything from damage to the wrong product when you shop most stores.
But most stores probably don't talk about delivery at the time of purchase for many reasons.
Delivery is a huge problem in our industry because delivering heavy, complicated products on increasing soft floors in narrow spaces often has issues.
In this article, you will learn what every issue is, how to avoid them, and have an acceptable delivery experience (you have about a 30% chance right now before reading this).
Everything You Need To Know About Appliance Delivery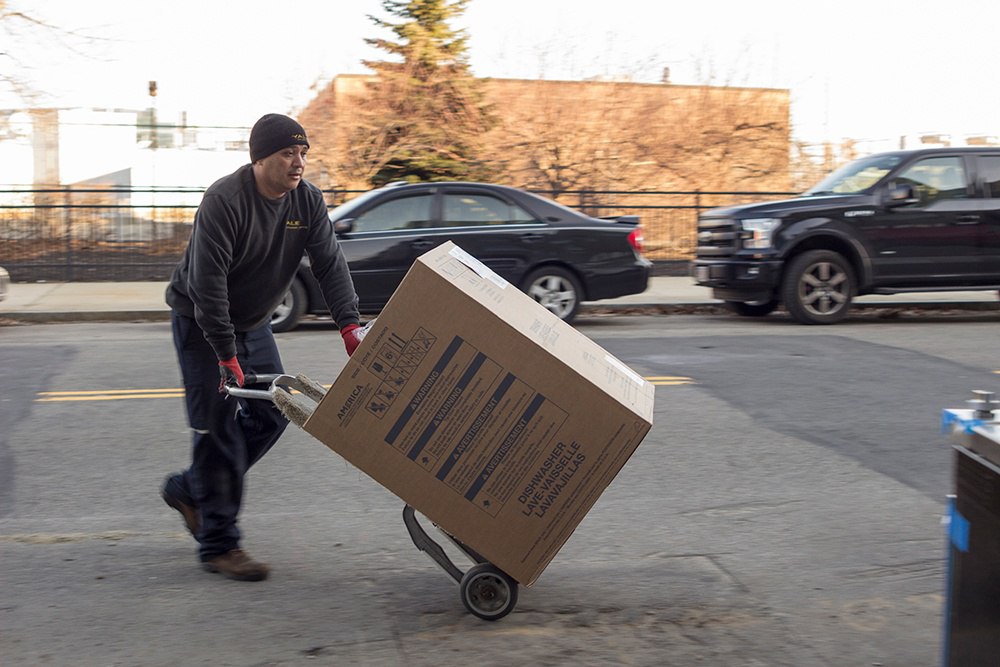 There are all kinds of appliance deliveries. However, it's the second most common complaint in our industry after service.
Most delivery policies are disappointing and somewhat deceptive. They focus on the "free" aspects at the time of purchase and have sneaky delivery charges later.
If you do not read any further, Google every store and pay attention to comments about delivery.
Most happy comments are about the purchase. The sale is always the easiest.
You want to read about what happens after that.
Here is everything you need to ask before you buy accept or pay for any appliance delivery.
What Does My Appliance Delivery Include?
I should say this every paragraph, but you should have every delivery detail in writing.
There are two different types of delivery:
Free Delivery: From internet companies, if you read their fine print, it is dropped on your door.
White-Glove/Platinum: These services include delivery in house.
Removal: You are probably replacing an old one. Is there a charge? Indeed, there is, for most companies, it's usually $15-25 per piece.
Installation: Will they hook up your electric stove, dryer, refrigerator, and washer? You should know beforehand.
Stairs: Brownstones and other houses in Boston/Brookline/Cambridge have tons of tough stairways. Will they deliver and to what floor.
We charge extra after two floors because it takes time and extra guys.
Asking first is better than negotiating later and spending much more money.
Does The Appliance Store Run CORI Checks?
CORI stands for Criminal Offender Record Information.
Easily, the worst day of my career was when one of our service techs, stole an engagement ring from a customer 25 years ago.
I hired a private investigator and spent a week recovering that ring.
Then I hired a lawyer to become CORI certified and have access to the criminal database before hiring someone walking into your home.
Now we can see who we are hiring by doing this simple criminal background check. We also have random drug screens and credit checks.
The point is: You should know who is in your house at the time of delivery and after the fact. A delivery person is walking through your house and can notice your valuables and always return later.
So be careful. You should ask if your delivery company has CORI. I wouldn't necessarily walk away if they weren't, but I would secure my valuables beforehand.
How Do They Prevent Damage to Your Home?
We have a system. The lead delivery team member will look at your home and will walk with you to point out any damages. Then he will video both before and after the delivery.
You should do the same.
Walk through your home before delivery. Watch the delivery and note every scratch left behind.
Do not sign for a good delivery when there is damage. Most third-party deliveries from an internet company or box stores will not compensate any losses after the fact.
How Do They Prevent Water Damage?
The second worst day of my career involved water damage. We serviced a house on the Cape before they closed out for the season.
Unfortunately, there was a water leak caused and found that spring. It wasn't pretty. I still remember from over 20 years ago.
Now we use leak detection paper after every washer, dishwasher, and every dispenser refrigerator.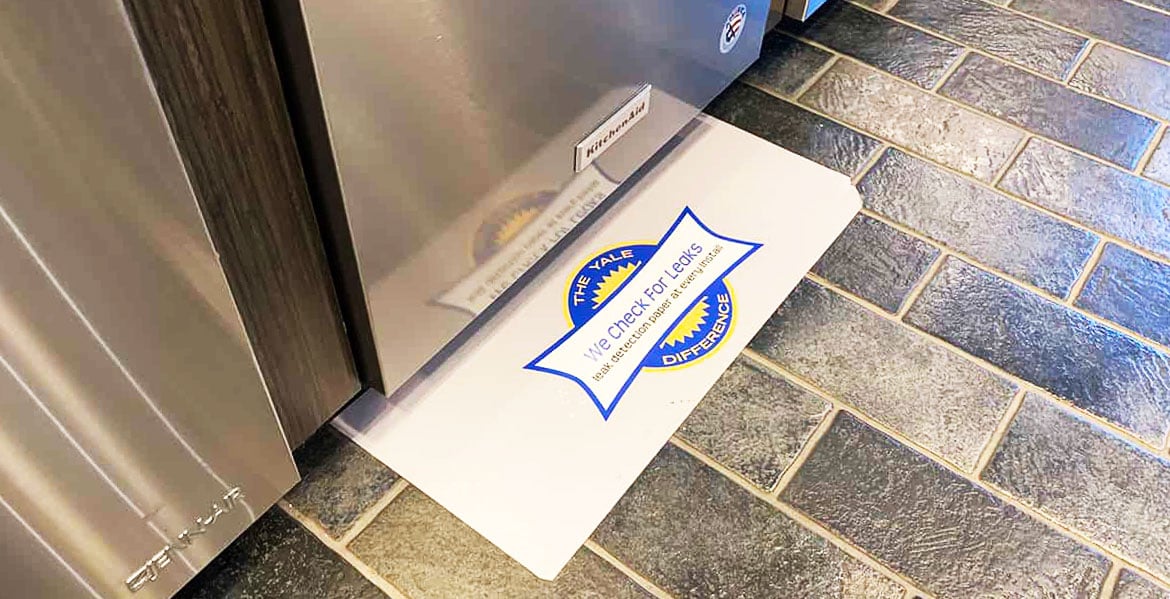 Most appliance companies do not. You should. Slow leaks can cost a fortune even more so if you are on a higher floor in a condominium tower
How Do They Prevent Floor Damage?
You just had a delivery of a Sub-Zero, Pro Range, or any refrigerator. The contractor left it in the middle of the kitchen for a few days before installing it.
Then you notice.
Your floor is indented. Then again, it should be. Most floors are soft, and appliances can weigh 600-800 pounds.
It's an easily solvable problem. Make sure someone buys Masonite.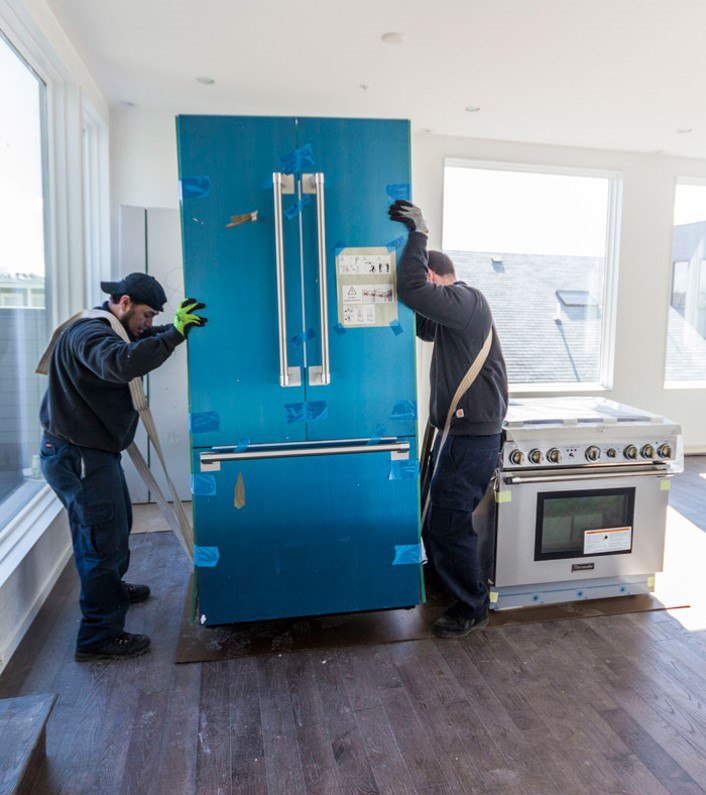 Place it under the heavier appliances to avoid indenting your floors.
Damage to Your Appliances
I have no idea why people still do this.
You accept delivery months before you need it. Perhaps there is a promotion requiring early delivery.
However, you didn't insist on uncrating and inspecting before signing as perfect.
The box may look perfect, but you didn't know the Samsung range traveled by container from Korea and stopped in 3 places before becoming your store's inventory.
From there, it was probably mishandled a few more times before being dropped in your garage.
We insist on uncrating every appliance because there is a certain amount of unavoidable damage in this industry.
You should, as well.
If There Is Damage, Should You Go Through Homeowners Insurance for Damages?
Most appliance stores will tell you to go through homeowners for their damages. If you signed for the product or premises as damaged, then absolutely do not go through your homeowners insurance.
Sure, it won't cost you anything this year, and you will get paid after a long struggle.
However, insurance is like short term loans. You will pay for the next 3-5 years in premium increases. Your carrier may (will) even drop you for an expensive incident.
Our Final Advice
You probably do not know all the nefarious ways appliance deliveries cannot work. So, we sat down and generated a checklist to help you.
Our Appliance Delivery Checklist covers everything from delivery scheduling, haul away, call ahead, and how to tell if your delivery person is a criminal.
You will be able to easily navigate your way through all the tricks and avoid the many, very real nightmares described above.
We learned from our painful experiences over 35 years, so you don't have to.
Always remember to:
Document everything and take pictures.
Never sign for anything that is less than perfect.
Watch the delivery from the time they take it out of the truck. Be watchful. You don't have to be on top of them, but it is your home and your products.
Negotiate the delivery upfront while you have to negotiate power. You will certainly pay more at the time of delivery.
Check reviews on the store's delivery specifically. It will give you a window on how you will be treated later.
You will probably spend time researching what appliances to buy. You should do the same with delivery.
Download our Delivery Checklist below and shop it to all the stores like your appliance order and save yourself a ton of hassle and pain later on.
Why Should You Trust Us?
It seems that every appliance review has nothing but glowing comments about almost every product, yet you read customer reviews and they are almost universally bad.
We are here to fill in the disconnect. We'll give you the best features, and the drawbacks as well, including reliability based on over 37,000 calls performed by our service team just last year. Our goal is to give you ALL the information so you know what's right for you.
Please consider subscribing or adding to the conversation in the comments below. We appreciate you stopping by.
A Note About Pricing
Pricing on this blog is for reference only and may include time sensitive rebates. We make every attempt to provide accurate pricing at time of publishing. Please call the stores for most accurate price.