Pro Appliance Tips for First-Time Kitchen Remodelers
Congratulations, you are about to embark on your first kitchen project or remodel.
Your kitchen adds more overall value to your home than any other room.
Whether you are a new home buyer or have always dreamed of upgrading your kitchen, this article will address your most important priorities.
Why Read This Article?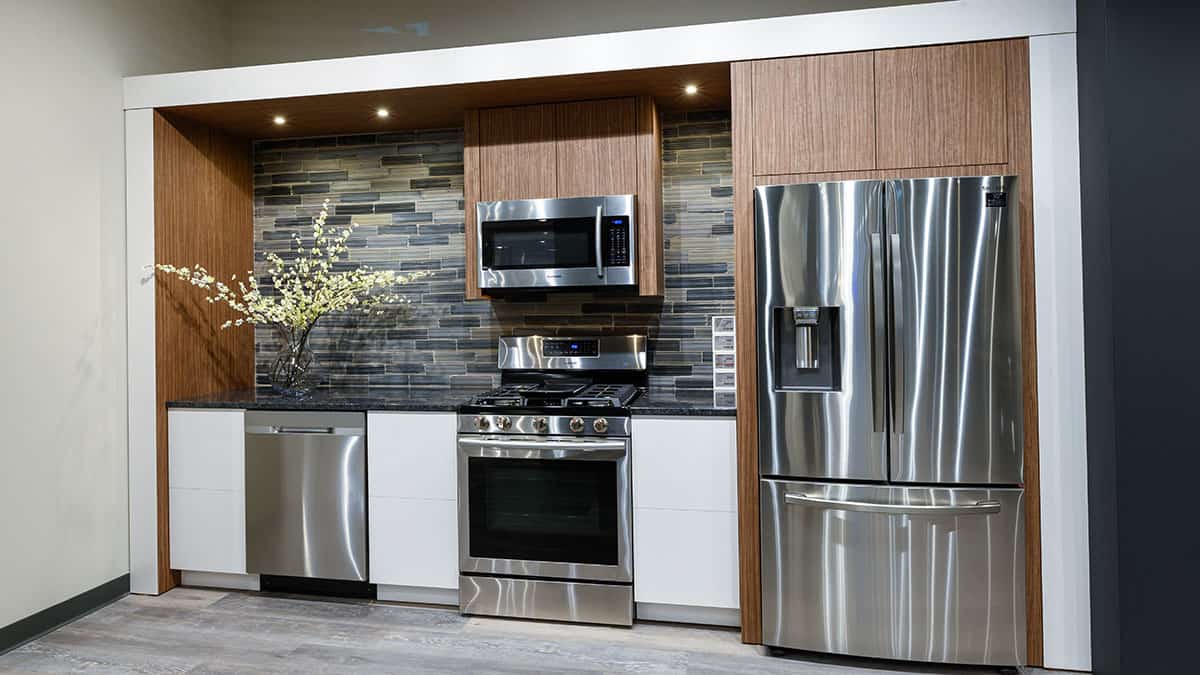 Samsung Kitchen Appliance Package at Yale Appliance in Hanover
I have a daughter now, moved into a new home designed from scratch, remodeled the Dorchester store, and built a new store in Hanover.
This article will cover what I learned and what I should have done.
I like most of my renovations, but I would have done other parts entirely differently.
So this article addresses those mistakes and adds a few wins. I think this will help you if you are just starting or in the weeds with a larger project.
Pro Appliance Tips for First-Time Kitchen Remodelers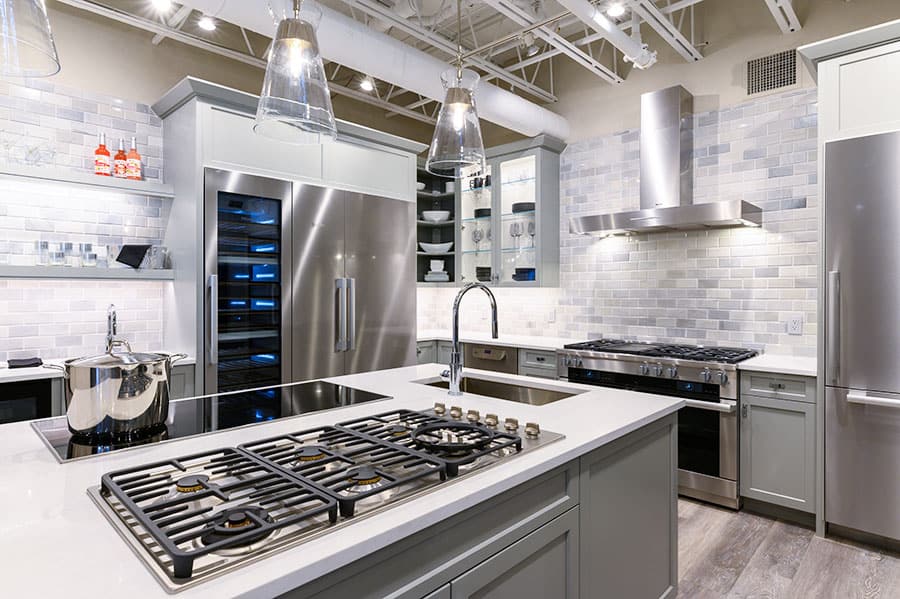 Miele Kitchen at Yale Appliance in Hanover
1. Have An Idea Of Your Lifestyle
Sounds logical, but think hard. I lived in a 4th-floor walk-up. Carrying a baby and all the associated accessories were baked into my head.
In my new place, I placed the kitchen in the basement so I can disembark quickly from the car into the house.
Think of all the nuances of how you live/will live before you start. Do you have kids? Are your kids going to college or returning?
Think of your new kitchen/house in those terms before you start your renovation.
2. Hire The Right People
How do people get this so wrong in the internet age?
You should be spending more time vetting the GC and the subcontractors than picking out materials.
If people have heard nightmare renovation stories, it's always about a bad contractor.
You will always have problems, but good contractors find a way to solve them.
Bad contractors make problems worse (when they are not creating them).
3. Buy Decent Cabinets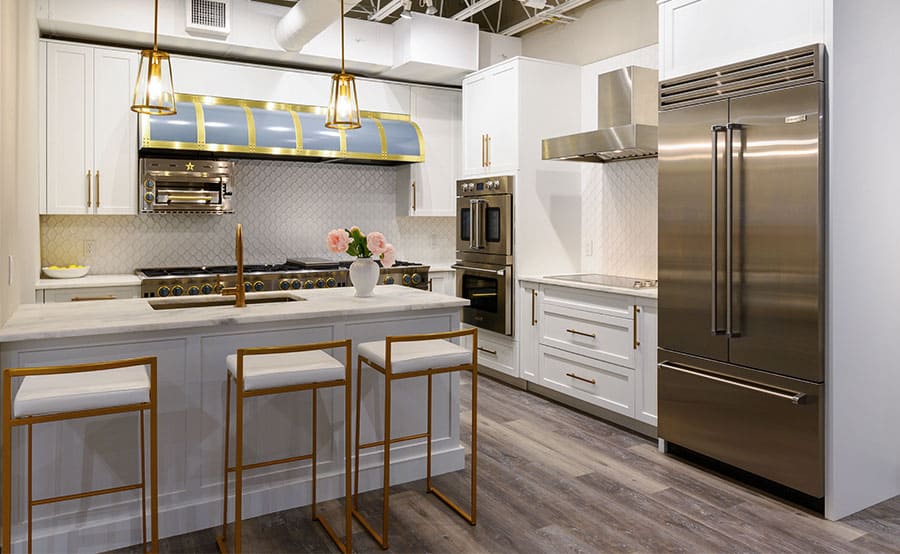 BlueStar Kitchen with 60-Inch Professional Gas Range at Yale Appliance in Hanover
When you walk into a house, can you tell the difference between premium and good cabinets?
Not likely.
However, you want to buy into a good cabinet designer. You want someone to incorporate your lifestyle into the design. That's important.
Buying the most expensive cabinets may be a mistake, spending the money on a great designer and design never is.
4. When Choosing Appliances, Start With Cooking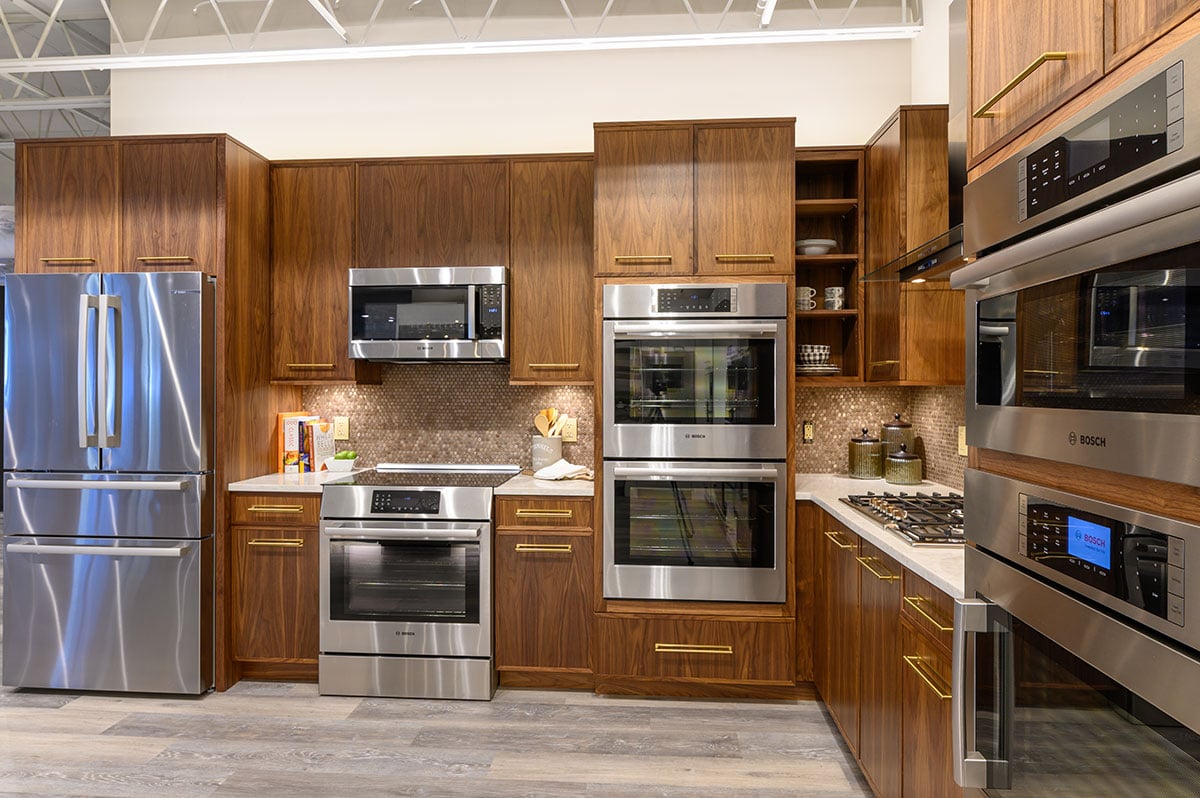 Bosch Kitchen Featuring An Induction Range, Wall Ovens, A Gas Cooktop, and Speed Ovens at Yale Appliance
Cooking is the only appliance with the ability to change your kitchen layout. It determines the scope of your ventilation as well.
The biggest decision is whether you will buy a wall oven with a cooktop or a full stove.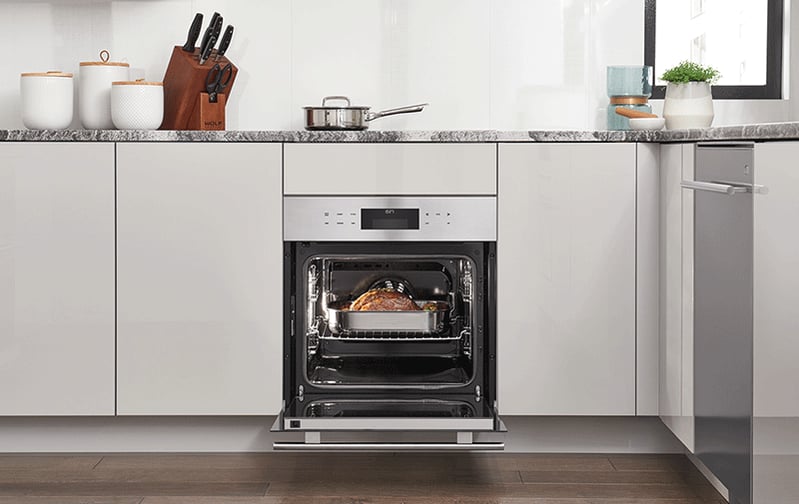 Induction Cooktop Over A Wolf Wall Oven
There are advantages to each:
The single stove centralizes your cooking in one place.
Wall ovens allow you to better customize your cooking with steam, microwave, speed ovens, and warming drawers.
You also do not have to bend down in a wall oven, unlike an oven.
Wall ovens can also be placed anywhere in your kitchen, whereas stoves should be placed in the middle.
Of all the appliances in your home, you should spend 80% of your time choosing the cooking.
Short on time? Get our free Appliance Buying Guide
5. Choose The Proper Ventilation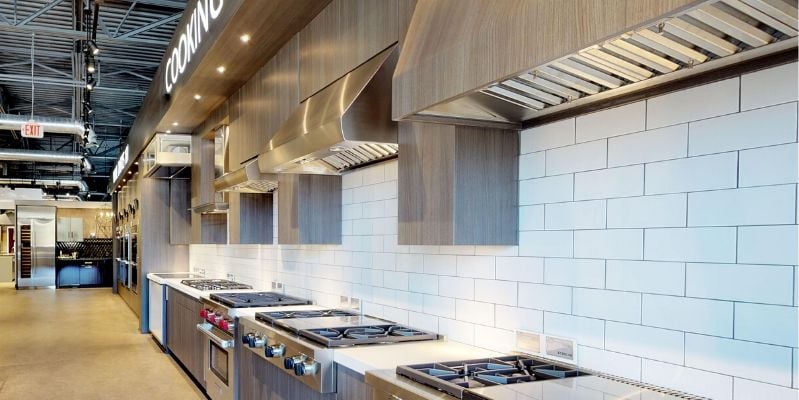 Hood Ventilation Over Gas Cooktops And Ranges at Yale Appliance in Framingham
About ten years ago, I was called to consult for a ventilation problem. It was a grill in a 3 season porch and was vastly underpowered.
I grilled sausages and watched the smoke billow in the room.
That problem cost the contractor $40,000 in buying a new hood and the layout of a new duct.
You do not want to choose the wrong vent.
We all know when a house is poorly ventilated. The kitchen smells like old fish or beef.
It is simple to avoid.
Choosing good ventilation comes down to three factors:
Hood power (measured in CFM or cubic feet per minute),
How a hood is ducted
Capture area
Your vent power or cubic feet per minute (CFM) is determined by how many cubes of air is exhausted per minute.
For example, a 600 CFM hood would vent 600 cubes of air in one minute.
Professional gas cooking needs a high CFM vent hood. Electric and induction cooking has less residual heat and, therefore, doesn't require as-powerful CFM hood.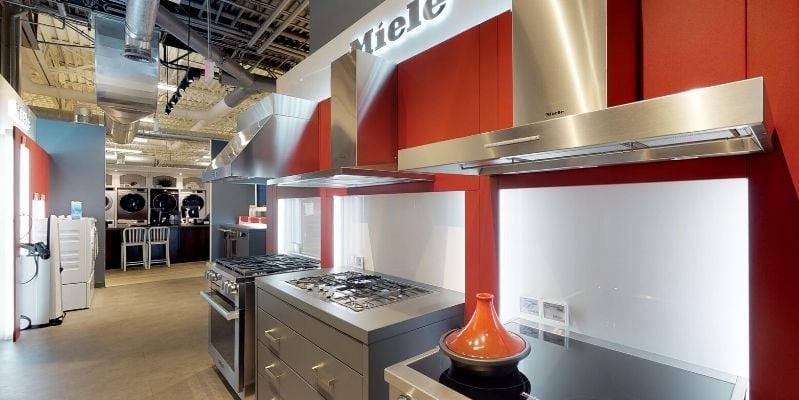 Range Hood Ducted Straight Up Over A Miele Induction Cooktop at Yale appliance in Framingham
How your hood is ducted is important. The best way to duct your hood is straight up or straight back.
Turning the duct 45 or 90 degrees reduces the static flow of the exhaust.
Noise
Don't consider noise as a factor in your decision.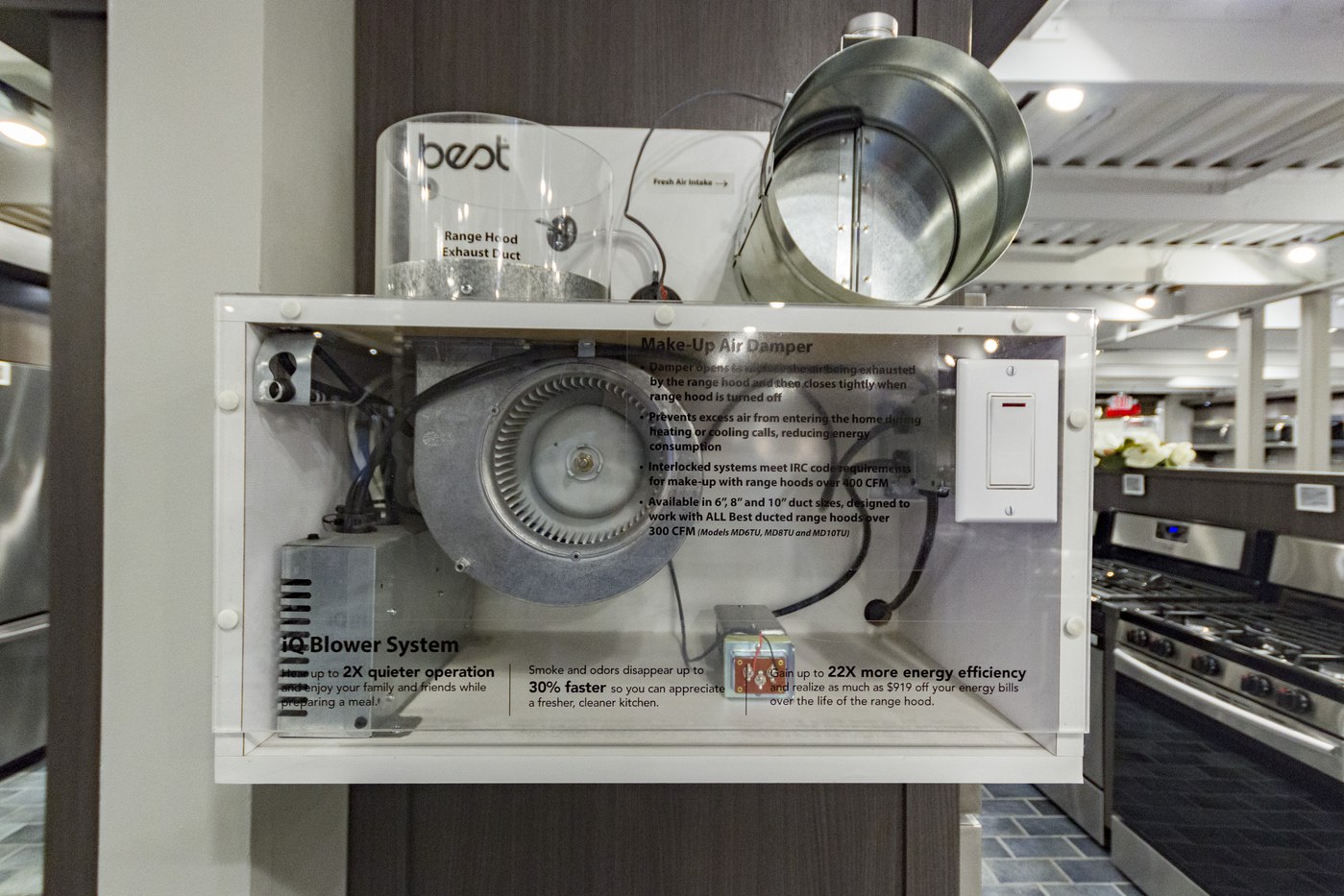 Blower and Ventilation System on Display at Yale Appliance in Boston
All hoods are loud because of suction and air movements. Even if you place the motor on the outside of the house.
Capture Area
Capture area is the amount of area on the hood above the cooking surface designated to capture smoke and grease.
It's the industry term for depth.
You want a depth of 24 inches or greater in-depth, so smoke doesn't bypass the hood.
Visually, this is the "baffles" or mesh filters that you physically see. The bigger the capture, the better the performance.
Capture area is key.
You can take a 400 CFM vent hood and a 400 CFM over-the-range microwave and run them side-by-side.
The hood will do a better job. Hoods have more surface area to capture than microwaves.
Over professional-style ranges, many people choose to oversize their hood for a better capture area.
Incredibly, this was one of my mistakes. I place a beautiful good over a pro cooktop. It had enough CFM but was only 22 inches deep.
So we cook mostly on the back burners. I should have known better.
Pro Tip: Kitchen cabinets accumulate about 4 gallons of grease per year without ventilation. It's pretty gross if you think about it. If you cook frequently, you should invest in good ventilation.
I recognize there are limitations to this. If you are in a condo association or live in a historic building in Boston, you may not be able to duct.
Understanding Makeup Air (For Massachusetts Residents)
Since 2007, the code states any hood over 400 CFM must have a "makeup" return of air.
In other words, new homes are built so tight. You need a fresh air return.
Inspectors in certain towns take this seriously.
Makeup air is easy to plan in the building stages, like incorporating it in your HVAC system, so be mindful.
It is much harder to execute after the fact.
6. Spend Wisely But Don't Make Compromises You Will Later Regret
I work with many people from all walks of life with different priorities and budgets. Before making a purchase, you will want to ask yourself the following:
How long do you want to stay in your house?
This is generally one of the first questions I ask new kitchen owners.
If you are planning to flip your property – invest in an appliance package that is attractive but doesn't break the bank.
Home Value
For example, if your house has 4+ bedrooms and you are planning to sell your home for over 1M, you shouldn't have an 18-cubic ft. Top freezer as your main refrigerator.
Some homes call for the top of the line, others you can scale back in certain areas and still get a high-end look.
Do you want all matching appliances, or do you want to pick specific products from assorted brands? There are costs and benefits for either decision.
Kitchen Appliance Packages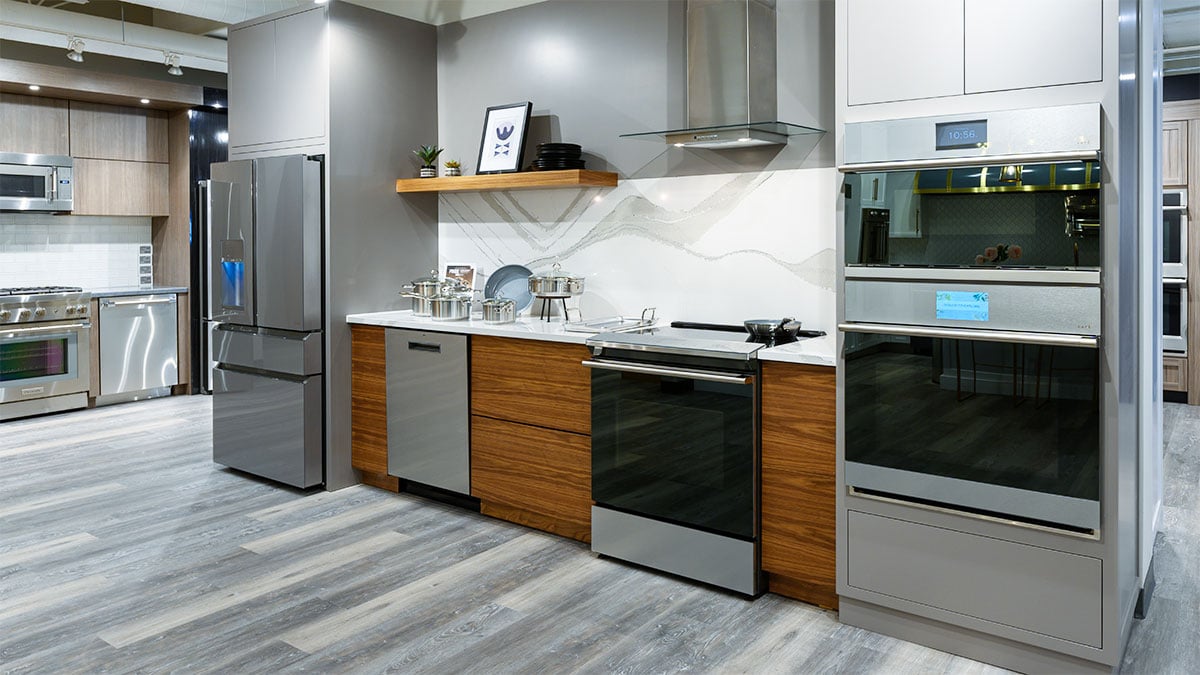 GE Appliances Kitchen Package on Display at Yale Appliance in Hanover

The Case For Matching Your Appliance Brands:
Typically, manufacturers incentivize you to stick with their brand across the board with rebates and promotions.
If you want your handles and stainless-steel appliances to match, stick with the same brand for everything.
The Case Against Matching Your Appliance Brands:
You can buy exactly what you want because there is no one best brand for every appliance.
Although manufacturers are better than ever at offering good products in each category, sometimes, you make compromises to stick with the same brand across the board.
This was another of my mistakes. I bought a refrigerator, rangetop, wall oven, and steam oven from the same brand.
We don't use the steam oven because it is not that intuitive. We should have purchased another brand. I do like and use the other three.
If you are planning to live in your kitchen long-term, you should invest in the products that will best suit your needs (it may not be the most cost-effective, but you will be happiest in the long-run).
For Contractors And House Flippers:
I have always been a bit of a contrarian.
During recessions in 1991-1995, 2001-2002, 2007-2010, I recommended buying better appliance brands as a point of difference between your property and your neighbors.
Your buyers won't know about the GAF brand shingle on your roof or the waterproofing treatments in your basement (they should).
People do understand Sub-Zero is a premium name. People understand brands, so go a bit higher in a recession.
In a hot market, the opposite is true.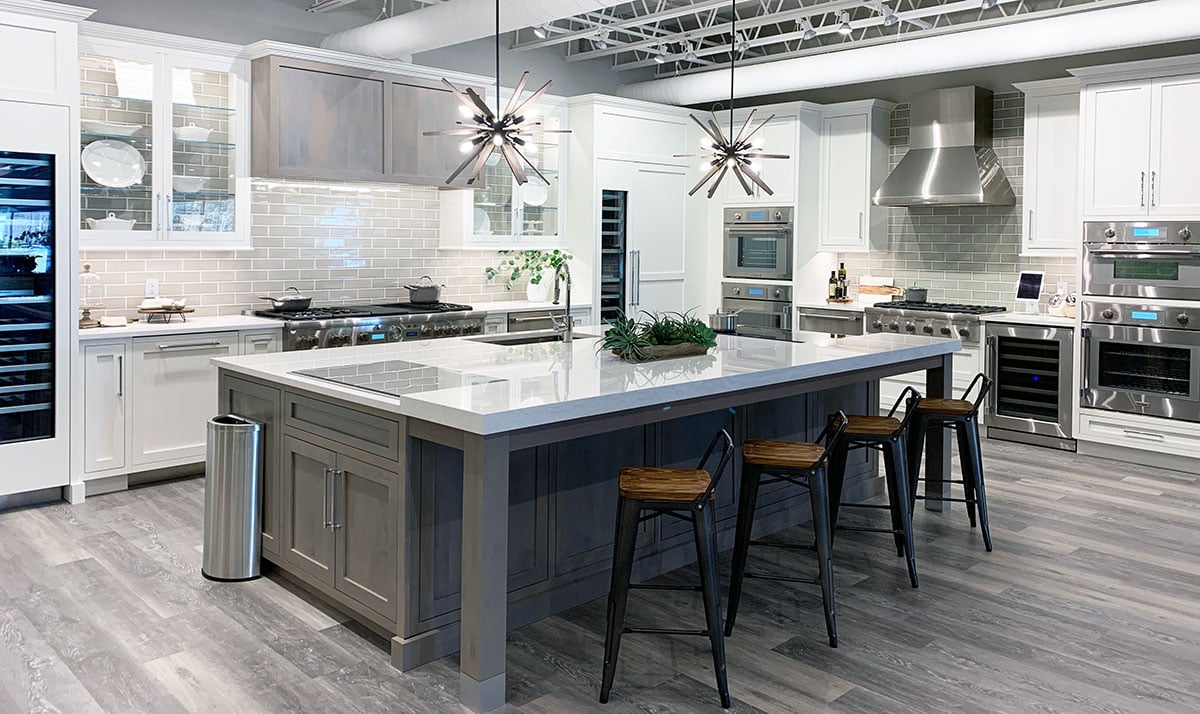 Thermador Kitchen on Display with Live Appliances at Yale Appliance in Hanover
Instead of that Sub-Zero, can you buy a good looking brand like Thermador or Jenn-Air instead and save some money?
Yes, you can and should.
7. Know Where To Turn For Service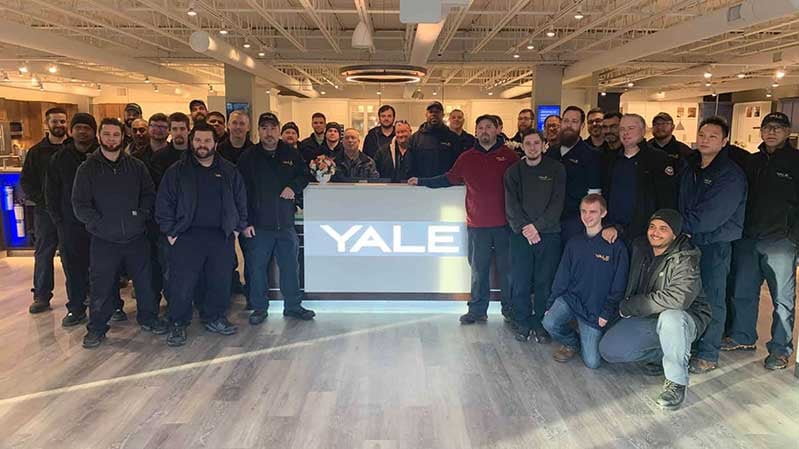 Yale Appliance Service Team Completed 35,256 Service Calls in 2019
In the distant past, you could buy a refrigerator or a washing machine and expect it to last 20+ years.
Today, the industry average life expectancy is 6-10 years with more service.
Buying your appliances is just the beginning; keeping your appliances running requires work.
It's unfortunate. However, the appliance industry believes their transaction with you ends with you handing over a check.
Delivery or rather great delivery, installation, and service is a part of very few retailers or direct to consumer manufacturers.
Your job along with finding great contractors is to find great suppliers with appliances being one.
Key Takeaways
Once again, your kitchen adds more value than any other room in your home, so take some time considering your options.
Take your time to plan your kitchen.
Think about how you'll use it over the years, whether it's just you, with a partner, or with children.
Then find the right people to help you build it.
Start with cooking and ventilation. The rest will fall in line.
Remember, check reviews and vet before you start your renovation.
Additional Resources
Have questions about appliance? Get the Yale Appliance Buying Guide with features, specs, and detailed profiles of all the major brands. Well over 800,000 people have read a Yale Guide.
Related Articles
Why Should You Trust Us?
It seems that every appliance review has nothing but glowing comments about almost every product, yet you read customer reviews and they are almost universally bad.
We are here to fill in the disconnect. We'll give you the best features, and the drawbacks as well, including reliability based on over 37,000 calls performed by our service team just last year. Our goal is to give you ALL the information so you know what's right for you.
Please consider subscribing or adding to the conversation in the comments below. We appreciate you stopping by.
A Note About Pricing
Pricing on this blog is for reference only and may include time sensitive rebates. We make every attempt to provide accurate pricing at time of publishing. Please call the stores for most accurate price.