How to Buy Appliances During a Supply Crisis
With Labor Day around the corner, you may be expecting to see motivating promotions.
With the current appliance supply crisis, seeing deals for appliances doesn't mean they're available anytime soon.
A few brands are suspending orders from retailers until the end of September, contributing to the supply chain's national issue.
Here is why this will be a problem for you.
Unlike the previous four recessions in my 34 years at Yale, the Coronavirus (COVID-19) pandemic hit product supply and demand.
Many factories and warehouses had temporary shutdowns due to contamination.
There is a historical increase in demand for appliances now after a recorded decrease in March and April, yet many companies have not recovered to handle the volume.
Refrigerators, laundry, dishwashers, and grills have the highest demand with lower output.
You may be waiting 3-6 months for your appliance.
In this article, you will learn about product shortages by the appliance manufacturers and what's contributing to the supply crisis.
Then I will show you how to navigate these problems to buy a decent set of appliances.
Pro Tip: Don't be completely brand loyal. Be feature loyal and flexible to many brands.
First, let's look at the problems contributing to the appliance supply crisis.
Short on time? Get our free Appliance Buying Guide
Problems in Appliance Supply Chains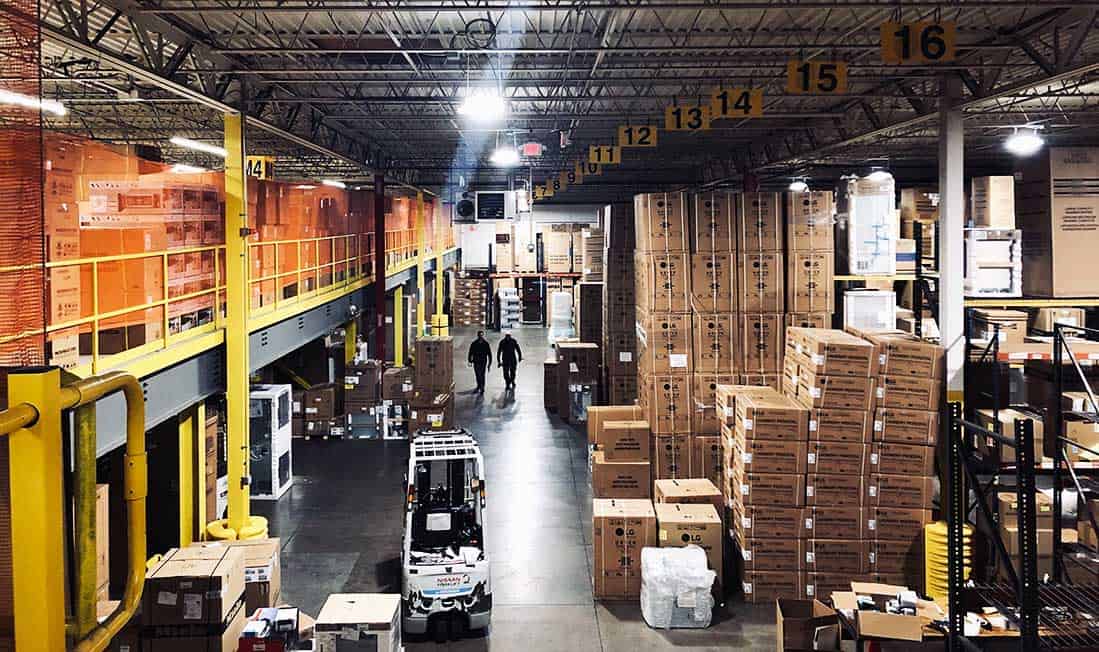 Yale Appliance Warehouse
We are now in month ten of the Coronavirus (COVID -19) pandemic since it started in China. It has hit the supply chain differently at dissimilar times.
Many factories and warehouses all over the world were shut down due to contamination.
Upon reopening now, they have to distance at 6 feet, decreasing production socially.
Bosch's dishwasher factory in North Carolina is running at far less capacity for that reason.
At this writing, much of the South and West are peaking.
Most appliances are manufactured in affected areas and the southern United States, such as Kentucky, Tennessee, and Arizona.
The Coronavirus has been a problem since early January in the U.S. and will probably continue to be for a while.
If you're shopping for anything that's a part of a global supply chain, you're going to have problems finding your appliance readily in stock.
Any imports will most likely be affected because California is the entry point for Asian appliance brands like Samsung, LG, and Haier.
There may be an indefinite backorder for some appliances or incredibly limited stock.
The New York Post wrote a story last week highlighting these issues. You can read it here.
Short on time? Get our free Appliance Buying Guide
Appliance Store Problems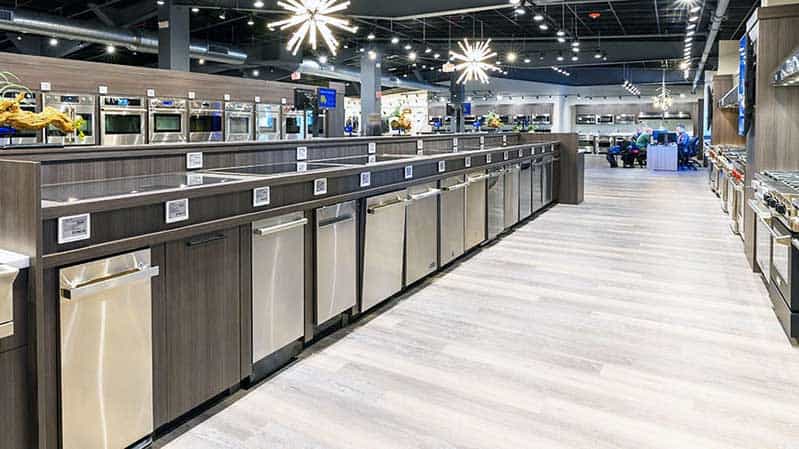 Dishwashers at Yale Appliance in Hanover
Added to supply problems is the nature of the unique structure of the appliance supply chain.
Many appliance stores or dealers operate on a just-in-time inventory basis, meaning you buy the appliance, then they pick it up locally and deliver it to you.
Given there is no local inventory anywhere, an appliance dealer now has a 6-month supply issue.
Many local and regional stores will have a hard time surviving this.
Larger stores and box stores also forecast and automate promotions.
However, automating around demand is problematic with no demand for three months and then adjusting for a spike in late July/August.
Many appliances arrive from containers like LG, Samsung, and some GE from Asia and Miele from Germany.
If those containers are canceled in March during the drop in demand, then 2-3 months later, during an increase, there will be an inventory issue, which most customers and stores are experiencing now.
Appliance stores also need aggressive purchasing and tons of warehousing along with certain flexibility across many brands.
That can't be built quickly.
To learn more about the appliance supply chain crisis and delivery wait times, click here for a recent interview with Bloomberg Baystate Business Radio. Skip to 45:10 for the appliance supply chain segment..
Appliance Promotions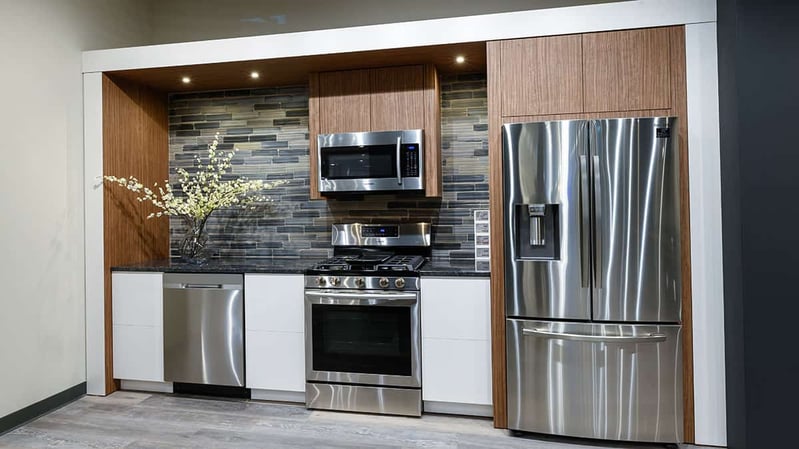 Samsung Appliance Kitchen Package at Yale Appliance in Hanover
Some brands are continuing regular promotions like Labor Day and instilling that you need to "buy now" yet can't deliver a product until winter.
It's like they've run out of food but keep inviting people over to dinner.
Their marketing seems to be disconnected from production. So be careful.
What to Expect for Labor Day Appliance Promotions
Many retailers are promoting, as well. Enticing you with "Labor Day" sales. As we mentioned earlier, if you're planning to shop for Labor Day Sales, you probably will not have your stove until Halloween.
Unfortunately, deals, sales, and products on their websites are not an indicator of a product's availability.
Always ask about deliverability and consider alternative products that have similar features if it's an urgent replacement.
Appliance Critical Supply Problems by Product Category: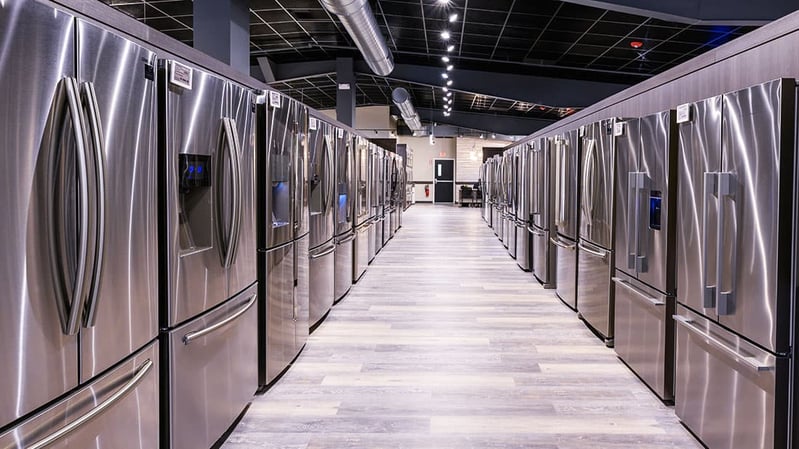 French Door Refrigerators at Yale Appliance in Hanover
While we see supply shortages in nearly every category, we are seeing these categories getting hit the worst.
Outdoor Grills: People are cooking more at home, and after months of being indoors, they just want to be outside. Grills are the perfect opportunity to be outside and still be productive.
Thirty-six-inch Full depth refrigeration, top mount refrigeration, and 33-inch refrigeration: People were shopping for food in bulk due to the pandemic. Hence, an increase in freezers, secondary refrigerators, or larger refrigerators has spiked.
Laundry all categories: Washers and dryers are a special case. Against faltering supply, there is skyrocketing demand. They are the third most popular product at Yale after grills and vacuums.
Appliance Supply Problems by Manufacturer:
Bosch
Dishwashers
Over-the-Range Microwaves
Wall Ovens
Electrolux (We don't sell Electrolux appliances)
GE
Refrigeration
Over-the-Range Microwaves
LG
Lynx
Samsung
Speed Queen
Sub-Zero & Wolf
Pro Ranges
Integrated Built-In Refrigerators
Thermador
Weber
Almost every grill is nearly out of stock nationally.
Whirlpool Corp.
Refrigeration
Electric Ranges
Laundry
Should You Repair Your Old Appliance Instead of Replacing It?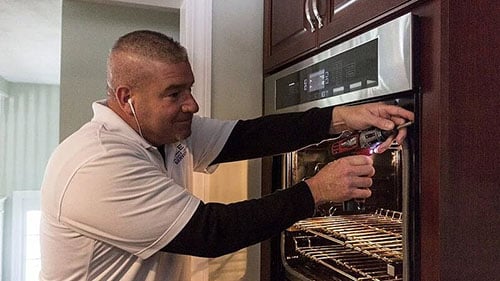 Yale Appliance Service Technician Repairing a Wall Oven
Repairing your old appliance could be an excellent option and normally is my recommendation - except now.
Any parts sent to the repair channel are now placed in the limited amount of new products.
That is a huge issue.
We have so many loaner appliances in the field. Let's say a few new products didn't work for whatever reason.
We can't fix it without parts. Then we couldn't replace it without an inventory of new products.
So we deliver loaners people can use in the interim.
How to Buy Appliances During a Supply Crisis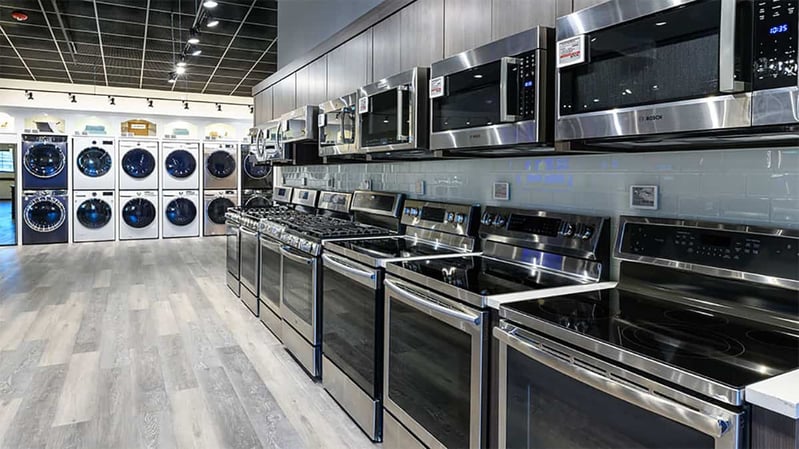 Appliances on Display at Yale Appliance in Hanover
Last week, I invited my staff to dinner and cocktails down at a local restaurant. We were quarantined together from early March until June.
We worked at 8 AM - 9 PM in two shifts. I figured that was worth a reward (plus I like them as people).
I was also looking forward to having some scallops or another fish dish. It's their specialty.
Anyway, there was no fish, but a pasta Bolognese, a chicken sandwich, and another entrée.
I asked about the fish.
"What's on the menu is what we could buy from our suppliers," they said.
I had the chicken.
Going forward, you should have the same mentality that most items are not in supply in every industry.
I want to show you a few reliability graphs to highlight your next purchase:
Dishwasher Reliability For 2020
| | | | |
| --- | --- | --- | --- |
| | Service QTY | Shipped QTY | Service Ratio |
| Asko | 103 | 190 | 54.21% |
| Jenn-Air | 188 | 493 | 38.13% |
| Bosch Benchmark | 25 | 70 | 35.71% |
| Fisher & Paykel | 56 | 193 | 29.02% |
| Miele | 185 | 903 | 20.49% |
| Maytag | 2 | 10 | 20.00% |
| Gaggenau | 16 | 104 | 15.38% |
| Thermador | 126 | 872 | 14.45% |
| KitchenAid | 90 | 688 | 13.08% |
| Café Appliances | 3 | 25 | 12.00% |
| Bosch | 398 | 3573 | 11.14% |
| Samsung | 134 | 1297 | 10.33% |
| LG | 5 | 81 | 6.17% |
| Cove | 2 | 44 | 4.55% |
| Ge Appliances | 1 | 37 | 2.70% |
| Whirlpool | 38 | 1471 | 2.58% |
| Grand Total | 1377 | 10166 | 13.55% |
Front Load Washer Reliability July 2019 to June 2020
| | | | |
| --- | --- | --- | --- |
| | Service Qty | Shipped Qty | Service Ratio |
| Maytag | 177 | 558 | 31.72% |
| LG Electronics | 164 | 1909 | 8.59% |
| Miele | 28 | 428 | 6.54% |
| Samsung | 37 | 658 | 5.62% |
| Whirlpool | 14 | 300 | 4.67% |
| GE Appliances | 19 | 424 | 4.48% |
| Grand Total | 448 | 4285 | 10.45% |
Gas Range Reliability For 2020
| | | | |
| --- | --- | --- | --- |
| | Service Qty | Shipped Qty | Service Ratio |
| Bosch Benchmark | 13 | 25 | 52.00% |
| Jenn-Air | 109 | 323 | 33.75% |
| Blomberg | 6 | 18 | 33.33% |
| Fisher & Paykel | 2 | 8 | 25.00% |
| KitchenAid | 55 | 237 | 23.21% |
| Café Appliances | 6 | 41 | 14.63% |
| LG Electronics | 3 | 24 | 12.50% |
| Bosch Appliances | 29 | 233 | 12.45% |
| Whirlpool | 22 | 197 | 11.17% |
| Premier | 2 | 24 | 8.33% |
| Samsung | 76 | 1170 | 6.50% |
| GE Profile | 2 | 71 | 2.82% |
| Grand Total | 352 | 2450 | 14.37% |
Electric Range Reliability For 2020
| | | | |
| --- | --- | --- | --- |
| | Service Qty | Shipped Qty | Service Ratio |
| Jenn-Air | 28 | 63 | 44.44% |
| KitchenAid | 31 | 89 | 34.83% |
| GE Profile | 2 | 18 | 11.11% |
| Café Appliances | 3 | 28 | 10.71% |
| Bosch Appliances | 10 | 154 | 6.49% |
| Samsung | 27 | 754 | 3.58% |
| Whirlpool | 12 | 1269 | 0.95% |
| LG Electronics | 0 | 62 | 0.00% |
| Premier | 0 | 19 | 0.00% |
| Blomberg | 0 | 17 | 0.00% |
| Avanti | 0 | 17 | 0.00% |
| Grand Total | 114 | 2513% | 4.54% |
You are looking at our reliability charts, or the amount sold divided into the amount serviced for the reliability percentage.
Many of you will debate about which brand to buy.
Many of the most common comparisons you would have chosen normally, for example, are LG Vs. Whirlpool laundry, KitchenAid Vs. Bosch dishwashers and Café Appliances Vs. Samsung gas ranges.
Many of these brands are similar in terms of overall reliability.
Don't be brand loyal unless you have plenty of time to wait.
Instead, be feature loyal across 3-4 brands with a few models to mitigate supply issues.
Pick the features you want the most, and then buy that brand.
Should You Buy Off-Brand Appliances?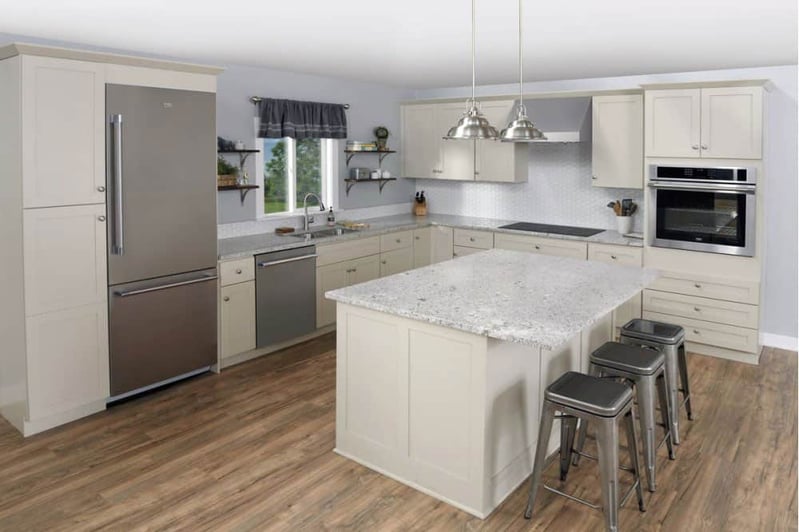 Beko Stainless Steel Kitchen Appliances
Probably not, unless they have decent reviews or can be repaired easily.
In some cases, they could be a useful purchase.
Do your research first. There are some good opportunities to buy decent appliances at more competitive prices, especially if the major brands are out of stock.
Beko is a brand worth exploring, for example.
They load a dishwasher with features for $499. Their refrigerators are modestly priced and won our Project Produce competition keeping food fresher for a longer period of time.
Their compact laundry is the most reliable so far this year.
Appliance Prices
In a scarce market, you would think prices will skyrocket. That hasn't happened per se.
However, these promotions of 10-35% around July 4th, Labor Day, and Black Friday has not happened either.
They may promote, but in many cases, they will not have the product to deliver.
Many of the lower-priced products will be scarce.
For example, top mount refrigerators are tough to find because manufacturers are placing the compressors in more expensive French door and side-by-side refrigerator styles.
It's the same compressor, but there is more revenue on the more expensive item.
With a whole kitchen package, always try to stay with one brand if you can to maximize your rebate potential.
Buying Appliances Online
By the way, just because you added that French door refrigerator to the cart online doesn't mean it's in stock.
If you buy online, call to schedule immediately. If you cannot schedule, then cancel it before being hit with a restocking charge.
Read reviews on each store before entering your card to buy an item. Use that logic to buy anything online.
How to Buy an Appliance During a Supply Crisis: Key Takeaways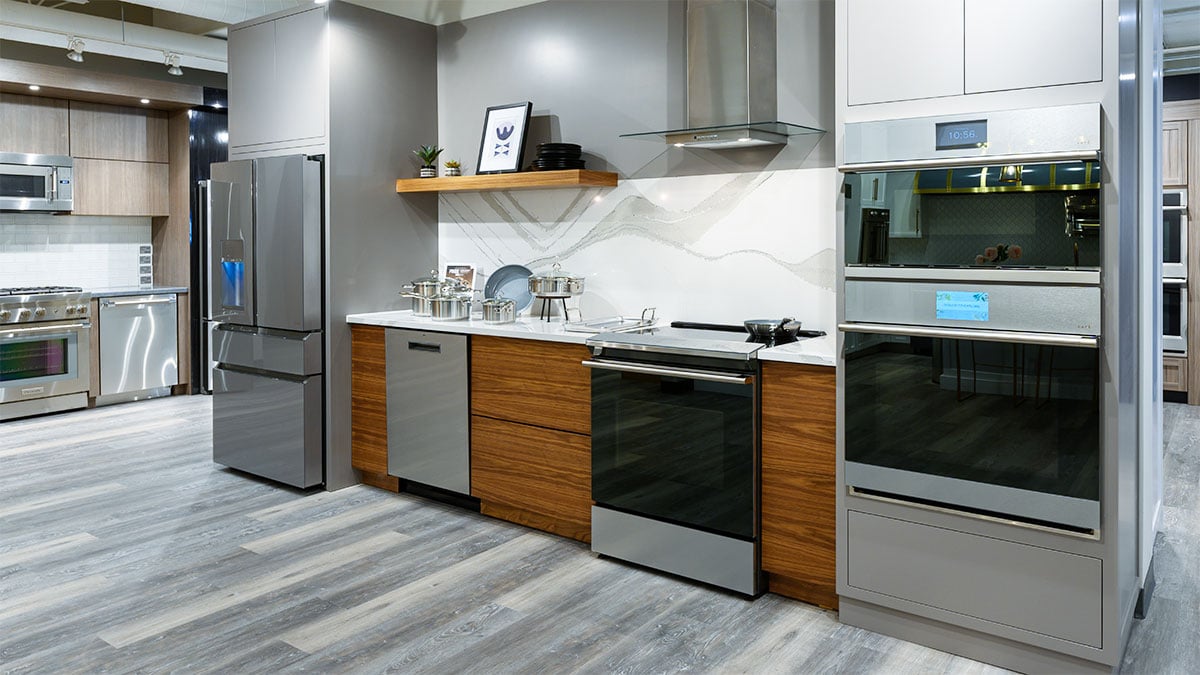 GE Kitchen Appliance Packages at Yale Appliance in Hanover
Like we said earlier, don't be brand loyal. Be feature loyal.
Buy the features you want from any reliable, available brand. If Samsung or Maytag doesn't have laundry units available, buy comparable GE, Whirlpool, or LG.
Off-brands have the potential to save you money. They usually have inventory because they are generally not in-demand items. Availability will probably change but do your research first.
Overall, if you are expecting fish for the next six months, you may end up with chicken.
Same with appliances, you may end up with a whole different package of brands. Instead of a Samsung or LG kitchen, you may end up with KitchenAid or GE.
If you pick the best features for how you live and use your appliances, you will not notice much of a difference.
One last comment: Just because that internet site accepted your credit card on an "in stock" item doesn't mean it will be delivered.
Call to confirm and be careful as always.
Additional Resources
Download the Yale Appliance Buying Guide covering all topics of appliances and lighting. Over 820,000 people have read a Yale Guide.
Related Articles:
Why Should You Trust Us?
It seems that every appliance review has nothing but glowing comments about almost every product, yet you read customer reviews and they are almost universally bad.
We are here to fill in the disconnect. We'll give you the best features, and the drawbacks as well, including reliability based on over 37,000 calls performed by our service team just last year. Our goal is to give you ALL the information so you know what's right for you.
Please consider subscribing or adding to the conversation in the comments below. We appreciate you stopping by.
Steve Sheinkopf
My goal has always been simple: I want Yale to be the best retail experience anywhere. I have tried to create a compelling environment for customers and employees alike.
A Note About Pricing
Pricing on this blog is for reference only and may include time sensitive rebates. We make every attempt to provide accurate pricing at time of publishing. Please call the stores for most accurate price.