Best Double Wall Ovens for 2019 (Reviews / Ratings / Prices)
You are researching wall ovens and have an abundance of options. There are over 40 wall ovens on display at Yale including the ones in our working kitchens.
They differ in configuration by their convection systems, control panels, and technology.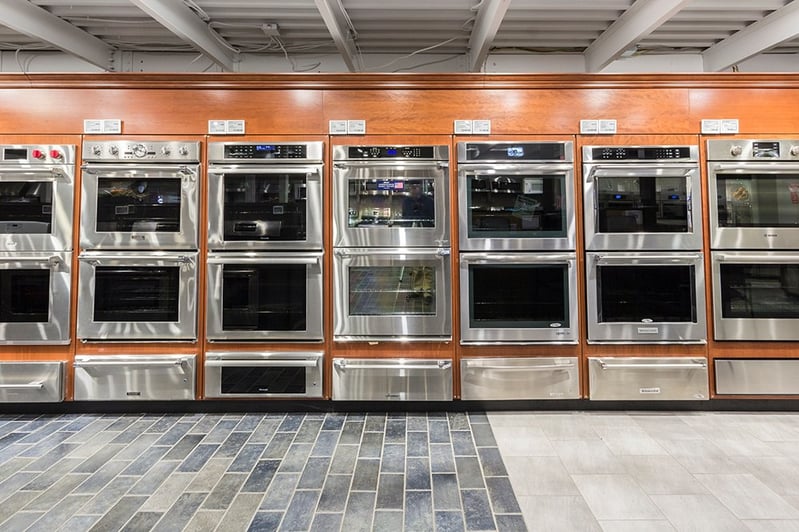 Of course, there is no best wall oven. You can have some with smart technology and pay more. You can also buy a simple convection wall oven for much less money.
In this article, you will learn about the basics of smart technology and then the best wall ovens to consider at all price levels.
There will be 7 different manufacturers, 3 videos along with reliability and service percentages of each brand. In the end, you will have a better understanding of wall ovens.
You can also download our Wall Oven Buyers Guide at the end of the article
Best Double Wall Ovens for 2019
Following are the ovens with incredibly good functionality.
For instance, when cooking a prime rib in the Wolf M series' gourmet program, it will tell you where to insert the meat probe and what rack to cook on with no preheat required. The oven will incorporate rest time and also inform you when the roast is done.
Miele's MasterChef technology offers over 100 programs, and its MasterChef plus program has a fully functional option to choose from to create 15 different types of bread. Unlike most ovens, Miele is simple to operate as well.
We will look at the 7 best wall ovens currently offered 5 regular and 2 with smart technology.
Wolf
The M series offers three distinctive styles, professional, contemporary, and transitional, however, all of them offer the same features.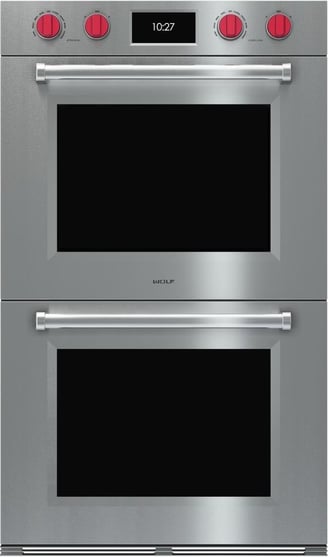 (This model has the option to have a stainless door).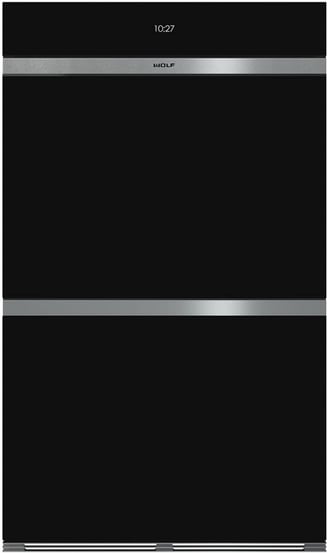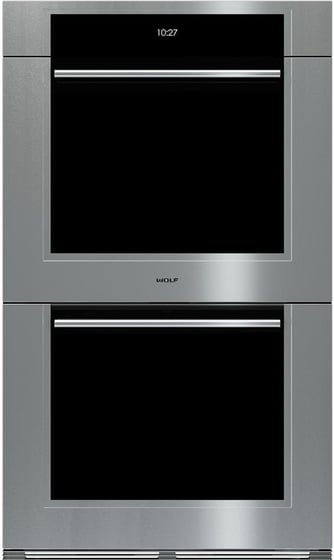 Features:
The rear oven is arched for more usable space and has two corner column fans with vertical heating elements that provide a perfect heat flow.
The Gourmet Feature offers a menu of almost 50 preset controls that automatically control the cooking.
Large oven capacity of 5.1 cubic feet
Color touchscreen for easy navigation
The M series ovens not only offer a variety of looks to match any style kitchen but also makes cooking easy and fun. Their Gourmet setting is foolproof from prime rib to lasagna to apple pie.
Wolf M-Series Wall Ovens
It will walk you through each step even telling you what rack to place the food on for best results. The arch in the rear of the oven allows more oven capacity for larger roasts or accommodating multiple dishes at the same time.
Wolf has made the largest strides in advanced convection technology by implementing corner column blowers. The blowers are more powerful than fans and with more even heat, top to bottom and side-to-side while maximizing usable space in your oven.
Features:
Master chef programs offer over 100 food types to cook to perfection
Wireless meat probe
Twin power fans provide optimum and even distribution of hot air
Soft open and soft close door
Touch controls
15 different types of bread recipes
Miele has a very distinctive look it's clean and modern and extremely dependable. Miele is an engineered and manufactured in the same factory creating an amazing quality control. Their MasterChef is like the Wolf Gourmet; however, it has a significantly larger library of recipes and extensive bread baking options.
Miele MasterChef M Touch H6780BP2 Video Review
The steam assist (moisture plus) is fantastic for creating moister roasts and helping vegetables retain their texture and creating a crispy crust and soft interior on bread.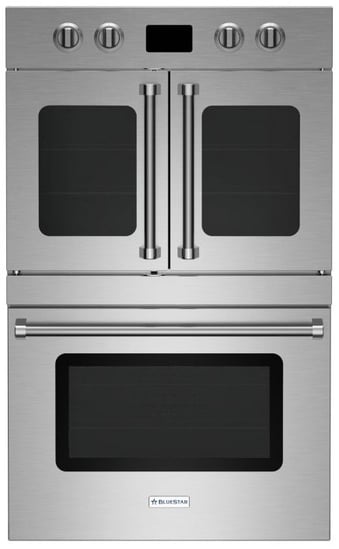 BlueStar does not make a wall double oven. However, you can customize a wall oven with one electric and one gas oven. People gravitate to electric most times, but gas is a moist heat for better roasting and their infrared broiler is the hottest and the best to sear.
Electric - $4,875
Features:
Electric oven which is better for baking
Integrated baking stone with precise temperature control
Knob combine with touch screen and 12 baking modes
Temperature probe
Gas - $4,095
Features:
A gas oven which is better for people who prefer to cook rather than bake.
Commercial grade infrared broiler great for searing
True European convection for a very even moist heat
Both Gas and Electric
French door design
Wide to fit a commercial cookie sheet
750+ ways to customize color and trim
100% made in the USA
BlueStar ovens are great for the chefs who love to bake in the electric oven with its wide commercial size opening or who love roast meats in the gas oven.
The gas heat has more moisture than electric and the infrared broiler on the gas oven is great for searing and broiling at 1850 degrees.
French doors are convenient as well because you do not have to lift a heavy turkey over an oven door.
The BlueStar ovens are extremely customizable with 750 colors. The disadvantage is basic controls with no interactive functionality.
This oven is tailored for the experienced home chef with a preference for roasting.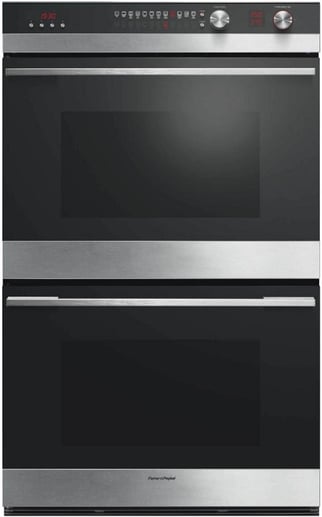 Features:
Cooking flexibility
Self-cleaning
Sized to suit
Safe and sound
Perfect results
Designed to match
Ok, now for something different.
Fisher & Paykel looks different with contemporary styling. It also has 11 different cooking modes with specialty baking, broiling and pastry options. Fisher & Paykel has other complementary products in cooktops and refrigeration to complete an unique look in your kitchen.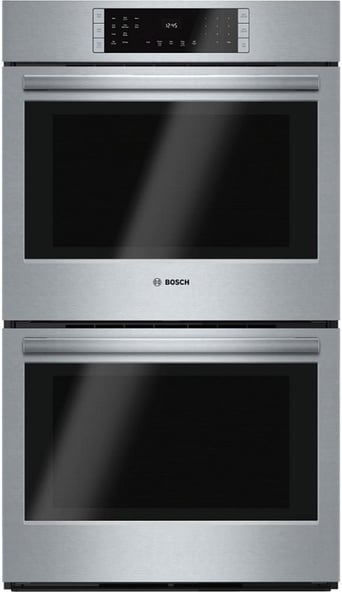 Features:
Dampened Hinges Softly and Quietly Guide the QuietClose Door Shut
A Full-Extension Telescopic Rack Offers Safe Access to the Oven Cavity
Touch Control with SteelTouch Buttons Makes Operating the Oven Easier
The Wall Oven is Designed to be Installed Flush with your Cabinetry
Bosch Wall Ovens are Compatible with Most Competitors' Cutouts
The Bosch has decent functionality with a meat probe, convection and a number of different cooking modes.
Bosch is clean looking and you can combine this oven for 10% off throughout the year.
Smart Wall Oven Technology
Smart ovens take the guesswork out of cooking, giving you programs that tell you what to do, from start to finish. A few years ago, smart ovens just calculated time and temperature based on your food type.
You would simply input what you were cooking, the level of doneness, and the oven would figures out the rest for you.
In 2018, wall oven Wi-Fi connectivity was available on from brands like Jenn-Air, Samsung, and Dacor. Presently, you can control these ovens remotely from an app on your phone but with limited functionality.
Jenn-Air is probably the most advanced allowing you to set basic functions and check your timer as well as oven temperature.
Jenn-Air is the also the first Alexa-enabled wall oven. Jenn-Air's vision in connection with Amazon's Home Connectivity is for you to one day press lasagna on your oven, the oven will scan the refrigerator for the ingredients to alert you what you still need, and then pre-program the correct cycle on your dishwasher.
Best Smart Double Wall Ovens for 2019
Features:
Twin convection
Wi-Fi Enabled
Culinary Center

7-Inch Full Color Touch-Anywhere LCD Display
A full-color LCD display allows you to touch anywhere on the screen and select your oven options. The display intuitively presents information to make it easy to get the most out of all of the oven's functions.
.10.0 Cubic Foot Total Capacity
With a combined oven capacity of 10.0 cubic feet, this double wall oven gives you the ability to perform different types of cooking methods at once and can accommodate a wide variety of cookware sizes.
Jenn-Air is simpler to operate. Like Wolf's and Miele's wall ovens, you can scroll through automatic cooking programs, but Jenn-Air is the only one to show you pictures of the finished product.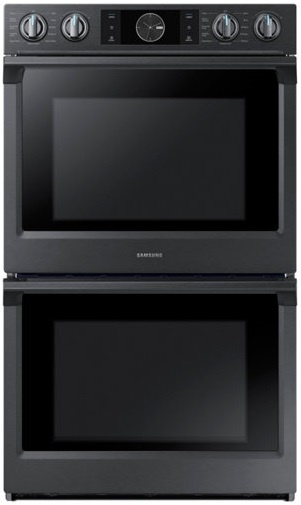 Features:
Steam Cook
Flex Duo
5.1 cu. ft. Capacity
Rapid Preheat
Wi-Fi Connectivity
Hybrid Self-Clean
Samsung has entered the wall oven market in less than 2 years of acquiring Dacor.
It has Flex Duo compartments allowing you to cook two separate items at different temperatures in the same oven.
The interface is beautiful, and at $3,599, the unit is affordable. You also have steam assist capabilities in the Samsung along with a beautiful, robust control panel.
Should You Buy a Smart Wall Oven?
Smart technology is the future of appliances without question.
Presently, the Apps are slow when they work, and the functionality is limited. Then there are compatibility issues. It is our recommendation to buy on other features, not just for smart technology...yet.
Wall Oven Reliability
In 2018, we had 34,687 service calls. We measure reliability by the number of our service calls divided by sales within the first year of the appliance.
| | | | |
| --- | --- | --- | --- |
| | Service Qty | Shipped Qty | Service Ratio |
| Fisher & Paykel | 0 | 9 | 0.00 % |
| Samsung Chef Collection | 0 | 2 | 0.00 % |
| LG Electronics | 0 | 1 | 0.00 % |
| Amana | 0 | 4 | 0.00 % |
| Maytag | 0 | 1 | 0.00 % |
| Bertazzoni | 1 | 15 | 6.67 % |
| Gaggenau | 3 | 38 | 7.89 % |
| Whirlpool | 6 | 71 | 8.45 % |
| Miele | 33 | 303 | 10.89 % |
| Bosch Appliances | 53 | 341 | 15.54 % |
| Kitchenaid | 23 | 138 | 16.67 % |
| Blomberg | 1 | 6 | 16.67 % |
| Wolf | 77 | 451 | 17.07 % |
| Samsung | 4 | 22 | 18.18 % |
| Bosch - Benchmark | 28 | 134 | 20.90 % |
| Thermador | 61 | 270 | 22.59 % |
| BlueStar | 2 | 8 | 25.00 % |
| Jenn-Air | 103 | 363 | 28.37 % |
| Dacor | 1 | 0 | |
| Grand Total | 402 | 2185 | 18.40 % |
Miele, Bosch, and Wolf would be amongst the most reliable on the high end.
Wall ovens have a repair rate of 18.40% within the first year or roughly 5% more than the average appliance.
Then again, most double ovens can be considered 2 appliances with far more complicated controls than any other appliance
That will be a problem for you. Wall ovens have smart controls, yet far few people around to fix these incredibly complex units
Before you buy, you need to know who will fix your new appliances. Extended warranties will not help you either unless they are backed by an actual service department
Most warranties are not backed by much of anything.
Which Wall Oven Should You Buy?
You are paying more for better functionality. Miele, Wolf, and Jenn-Air will figure out time and temperature for you versus you figuring it out for yourself.
Miele has the additional steam if you like to bake bread. Fisher & Paykel has a pastry only mode. BlueStar is a great oven for broiling and roasting.
Bosch has a lower priced wall oven and has reasonably priced appliances with discounts to finish the suite.
For builders and people looking to flip a home quickly, Frigidaire, Whirlpool, and GE have less expensive products under $2,500 without convection or self-cleaning options.
With wall ovens, you have way more feature and price differentiation than any other product. The best wall oven for you should be based on how you cook.
Best Wall Ovens
Additional Resources
Get the Yale Wall Oven Buying Guide with features, specs, and inside tips to all the brands. Well over 410,000 people have read a Yale Guide.
Related Articles
WHY SHOULD YOU TRUST US?
A few review sites have placed this at the bottom of their articles. So here is our take: Our mission is to find reliable products for you to buy. Other review sites may say this as well.
However, we don't love every product. Quite frankly, it costs us way too much money in repair costs to support less reliable brands.
In fact, we sell fewer brands than most appliance stores. Here is why:
We feel it is our responsibility to repair your appliances after you buy them.
We now have 30 service technicians, each averaging 8-10 calls a day Monday through Friday, plus another 110 on Saturday. That's over 30,000 service calls logged in one year.
The labor rates of fixing an appliance do not come close to the true cost in any product's warranty period.
That is why no major retailer has a service department. It costs too much labor, money and time.
Our Blog is a bit different than most others you will read. We cannot write glowing reviews of unreliable products.
Hopefully, the bloggers and organizations who write such glowing product reviews for every brand consider servicing these products first. Only then they will understand the consequences of their marketing.
Steve Sheinkopf
My goal has always been simple: I want Yale to be the best retail experience anywhere. I have tried to create a compelling environment for customers and employees alike.
A Note About Pricing
Pricing on this blog is for reference only and may include time sensitive rebates. We make every attempt to provide accurate pricing at time of publishing. Please call the stores for most accurate price.