Best Wall Ovens for 2020 (Reviews / Ratings / Prices)
You walk into your local appliance store and see this: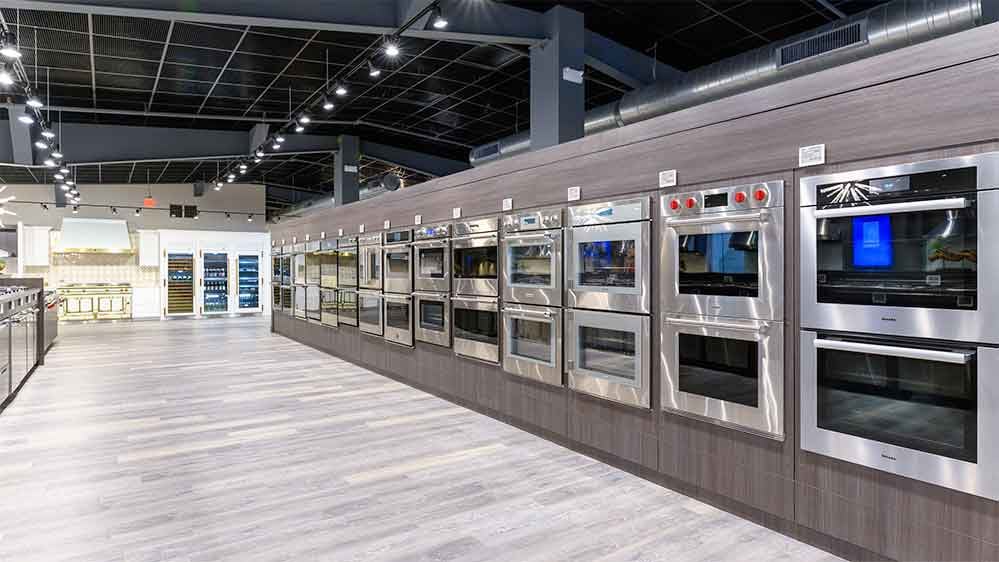 Wall Oven Learning Center at Yale Appliance in Hanover
There are over 20 wall ovens on display at every Yale store (Framingham, Boston, and Hanover), including the ones in our working kitchens.
They differ in the configuration by their convection systems, control panels, their features, and whether you need gas or electric. You can even buy wall ovens in different sizes.
Of course, there is no one best wall oven.
You can have some smart technology and pay more. You can also buy a simple convection wall oven for much less money. Some bake better, and others broil better.
In this article, you will learn the best wall ovens to consider at all price levels.
There will be 11 different manufacturers, along with several videos describing different the best brands and features.
You will also learn the reliability and service percentages of each brand based on 35,256 service calls logged by our service department last year.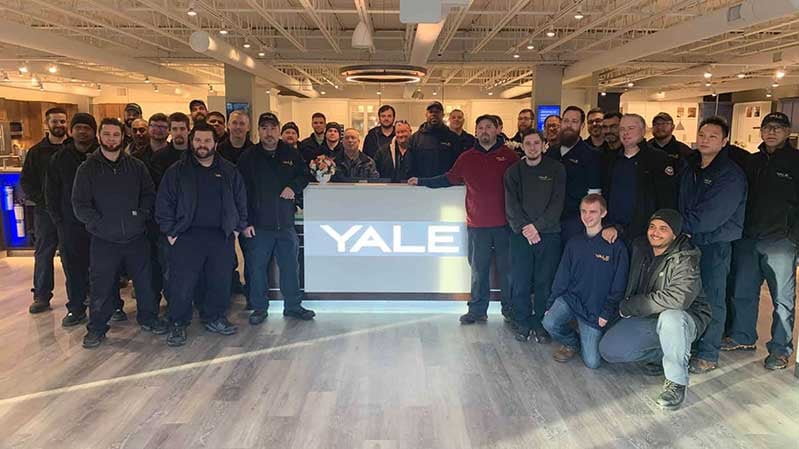 Yale Appliance Service Team
Unfortunately, appliances do break on occasion. If they didn't, we wouldn't need 35 of these guys.
In the end, you will have a better understanding of wall ovens.
You can also download our Wall Oven Buying Guide at the end of the article for even more detailed information.
How To Buy A Wall Oven
As we said initially, there is no single dominant wall oven. So you should match one of your particular cooking styles.
Let's cover the basics first.
Size
Wall ovens are available in 24, 27, 30, and 36 inches to fit the sizes of the standard cabinets. For new construction, 30 inch is over 90% of units sold nationally.
Twenty-four and 27 inches are mostly a replacement for existing ovens. 24 is most commonly gas, while 27 inches is more commonly electric.
Thirty-six inches is a specialty with premium brands like Gaggenau and Wolf.
Fuel Type: Gas Vs Electric
Electric is far more common, and over 95% of units sold. Gas is mostly replacement at 24 inches. There are only a few good gas wall ovens on the market, unlike ranges.
Gas is a moist heat and better for broiling and roasting. Electric is more consistent and better for baking.
That said, you will probably end up with electric because of the sheer selection.
Single Vs Double Wall Ovens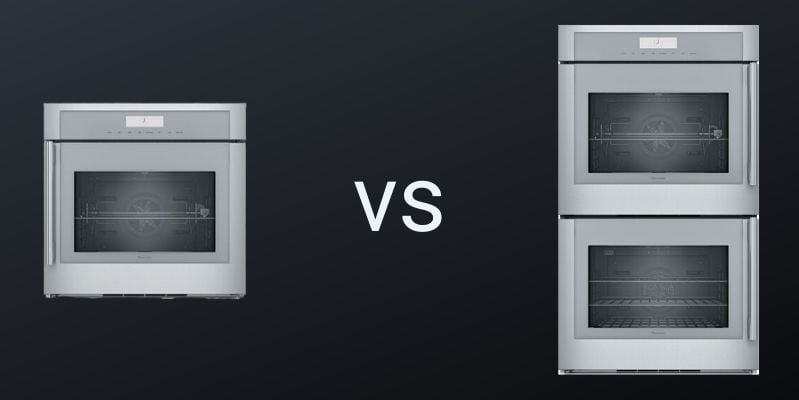 Years ago, you bought a single oven for under a counter and double oven for the wall.
However, you can now buy matching steam, speed, and microwaves, and place one over a single wall oven.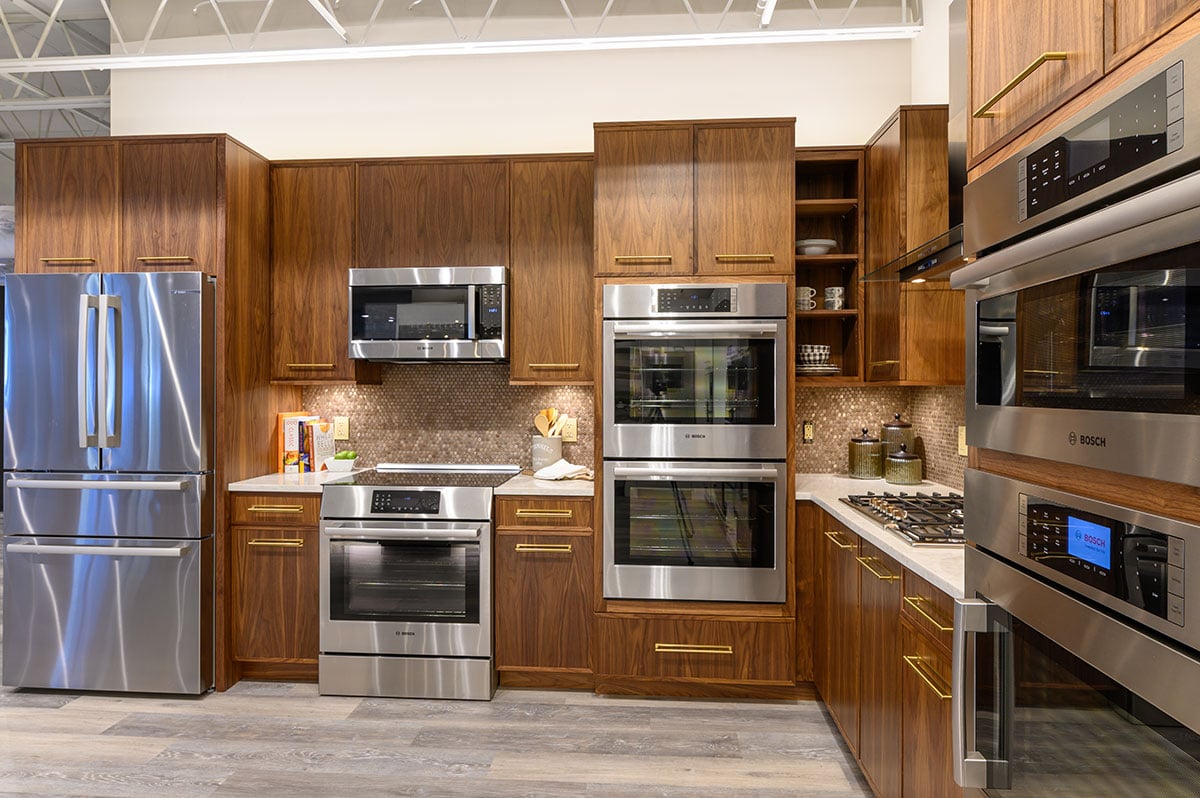 Bosch Kitchen Featuring Several Wall Oven Combinations at Yale Appliance in Hanover
To complicate this already difficult decision, brands like Thermador, Bosch, and KitchenAid have decent one-piece units incorporating every choice over a single wall oven.
So what you need to do is assess what you need, what you will use, and where it fits in your kitchen.
Now let's look at some wall ovens.
13 Best Wall Ovens for 2020
The best wall ovens for 2020 are:
Jenn-Air Double Wall Oven JJW3830IL
Thermador Double Wall Oven MED302LWS
Samsung Double Wall Oven NV51K7770DG
Gaggenau 400 Series Double Wall Oven BX480612
Wolf Professional Series Double Wall Oven DO30PMSPH
Wolf Contemporary Series Double Wall Oven DO30CMB
Wolf Transitional Series Double Wall Oven DO30TMSTH
Miele Double Wall Oven H6780BP2
Café Appliances Double Wall Oven CTD90FP2MS1
BlueStar Double Wall Oven BSDEWO30ECSDDDV2
Fisher & Paykel Double Wall Oven OB30DDEPX3N
Bosch Double Wall Oven HBL8651UC
GE Profile Double Wall Oven PTD7000SNS
We broke down each of these wall ovens by their best features so you can choose the best wall oven for your style and needs.
Best Smart Wall Ovens For 2020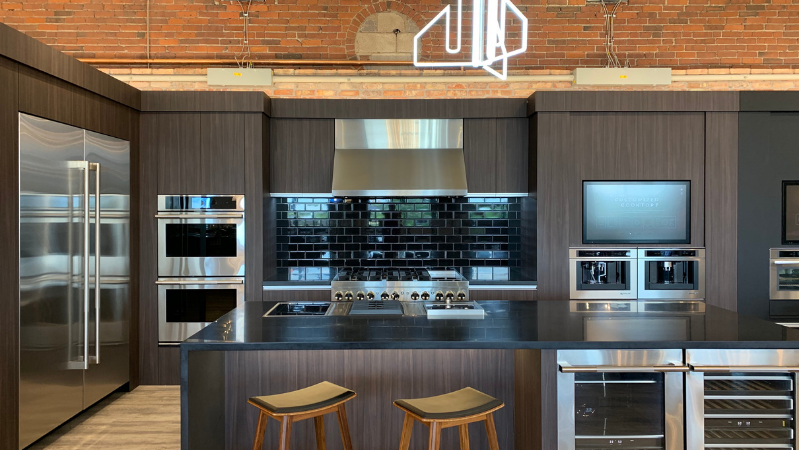 Jenn-Air Kitchen Featuring Smart Double Wall Ovens at Yale Appliance in Boston
In 2018, wall oven Wi-Fi connectivity was available from brands like Jenn-Air, Samsung, GE, and Dacor.
Presently, you can control these ovens remotely from an app on your phone with better functionality.
Jenn-Air is the most advanced allowing you to set basic functions and check your timer as well as oven temperature. You also have plugins with Yummly, their cooking app, for new recipes and ideas.
Thermador does the same with HomeConnect, their cooking app. However, their controls are nowhere as advanced.
GE has Scanned to Cook functionality. Almost GE's whole line is Wi-Fi enabled.
Smart controls do not mean better, BTW. Some of the best wall ovens do not have the smart capability yet.
Jenn-Air Wall Oven JJW3830IL - $5,599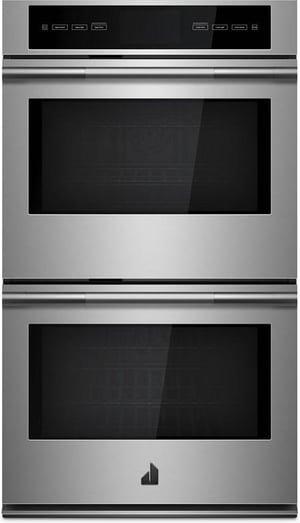 Features:
Twin convection
Wi-Fi Enabled
Culinary Center
7-Inch Full Color Touch-Anywhere LCD Display
Jenn-Air currently has four different looks. Pictured above is the Pro-style. The Pro-style and Euro-style look identical, although the handles between the two have a different look to effectively match other appliances in the kitchen depending on which style.
The newest look is on display in our showrooms is the Rise and Noir.
A full-color LCD display allows you to touch anywhere on the screen and select your oven options. The display intuitively presents information to access all of the oven's functions easily.
Jenn-Air is simpler to operate. Like Wolf's and Miele's wall ovens, you can scroll through automatic cooking programs, but Jenn-Air is the only one to show you pictures of the finished product before you cook.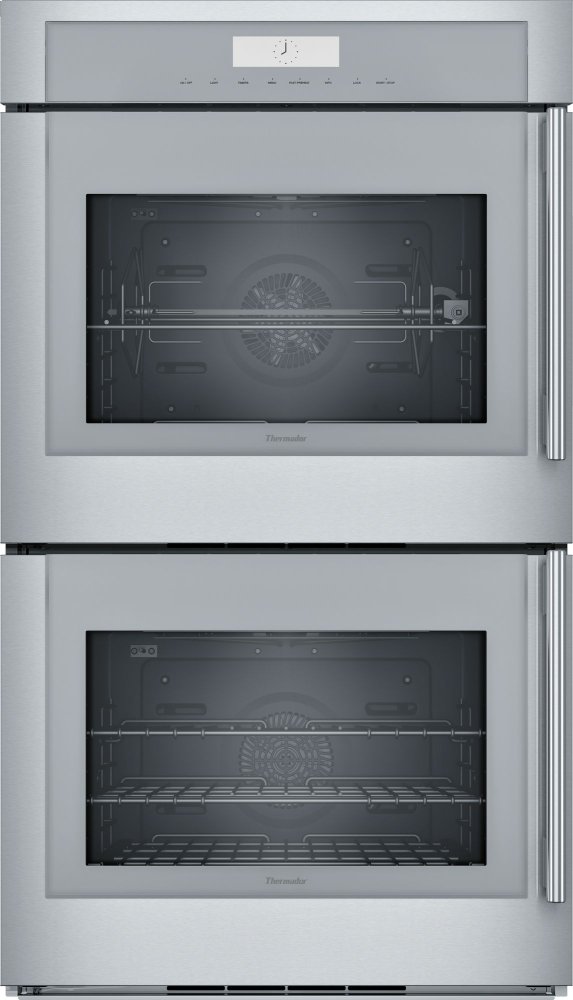 Features:
Side opening door, right or left hinged
Commercial style rotisserie with a 12-pound capacity
Multi-point meat probe for precise measurements
Telescoping glide rack can hold up to 45 pounds
2-hour self-clean
Thermador has been restyled and now has Wi-Fi functionality. You can buy it in any hinge swing, left, right, or conventional, with the oven opening down.
HomeConnect, their App, works well. However, the controls on the oven are not as intuitive as most other ovens at this price.
It's also single, not twin convection like most other premium brands.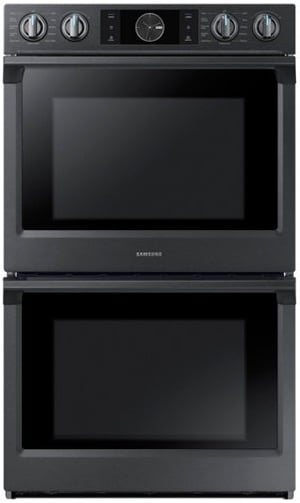 Features:
Steam Cook
Flex Duo
5.1 cu. Ft. Capacity
Rapid Preheat
Wi-Fi Connectivity
Hybrid Self-Clean
Samsung has entered the wall oven market in less than two years of acquiring the premium wall oven manufacturer, Dacor.
It has Flex Duo compartments allowing you to cook two separate items at different temperatures in the same oven.
The interface is beautiful, and at $3,599, it's affordable.
You also have steam assist capabilities in the Samsung along with a beautiful, robust control panel so that you can bake bread in this wall oven.
However, it's not as easy as the Miele MasterChef with 16 automatic recipes for bread. You have to figure it out with Samsung.
Should You Buy a Smart Wall Oven?
Smart technology is the future of appliances without question.
Presently, the Apps are slow when they work, and the functionality is limited.
There are some good features, especially the cooking app tie ins. However, Smart does not mean best. The controls on other non-smart ovens tend to be better.
Best Engineered Wall Oven for 2020
Gaggenau 400 Series Wall Oven BX480612 - $11,399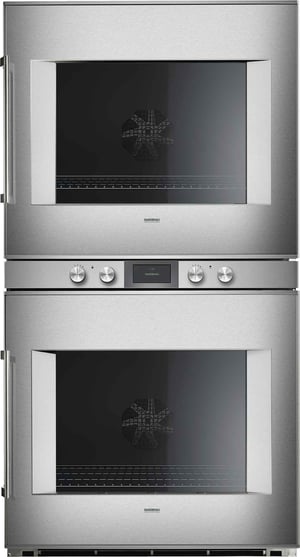 Features:
Unique, Stainless steel-backed full glass door
17 Heating methods, with 3 point core temperature probe
Side-opening doors, swing open up to 180 degrees
Rotary knob and TFT touch display operation
Baking stone outlet for creating your own best pizza in town
Rotisserie spit in the lower oven
Gaggenau is probably the single best oven and the most reliable as well. There is a mode for almost everything. However, the controls are basic. You need to figure them out. (we have chefs on staff to help).
It doesn't have steam. Wi-Fi will be available later this year. But if you like to bake, then ask for a demo because Gaggenau is the best.
Best Wall Ovens For Controls / Easiest to Use For 2020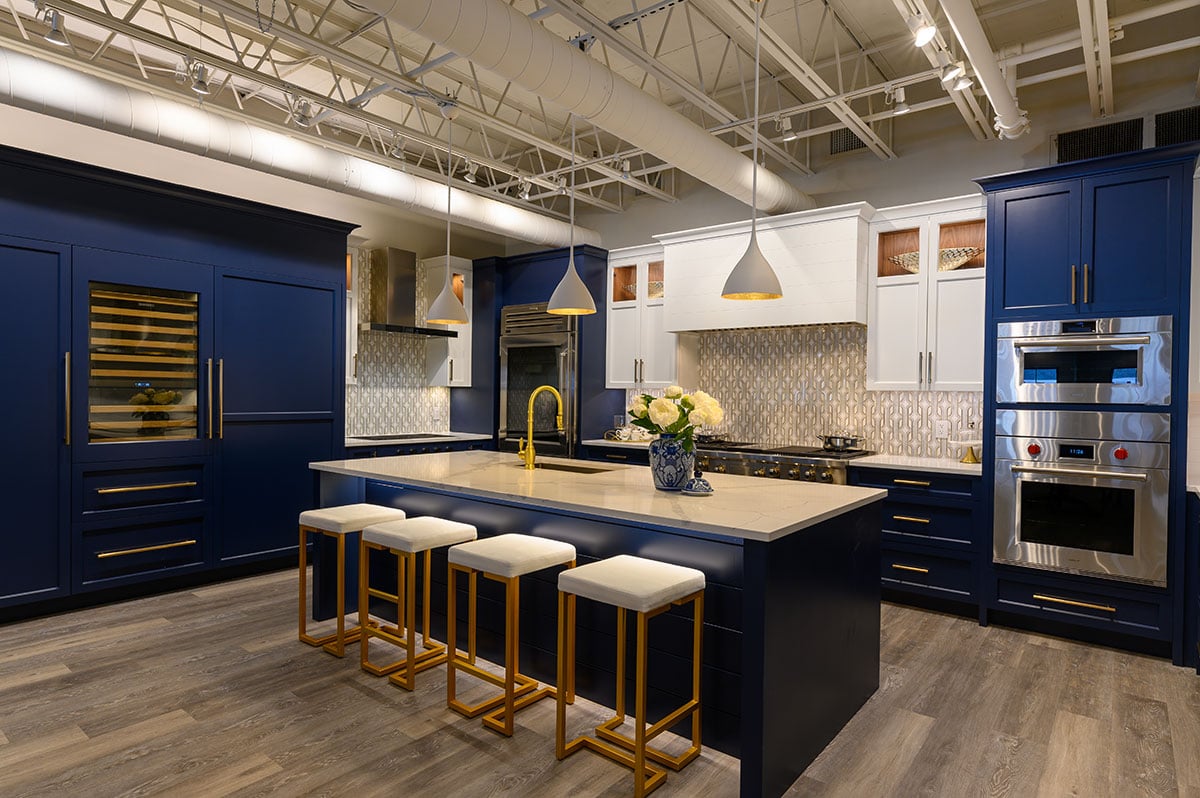 Sub-Zero and Wolf Kitchen Featuring Wolf Wall Ovens at Yale Appliance in Hanover
The following are the ovens with incredibly good functionality.
For instance, when cooking a prime rib in the Wolf M series' gourmet program, it will tell you where to insert the meat probe and what rack to cook on with no preheating required.
The oven will incorporate rest time and also inform you when the roast is done.
Miele's MasterChef technology offers over 100 programs, and its MasterChef plus program has a fully functional option to choose from to create 15 different types of bread.
Unlike most ovens, Miele is simple to operate as well.
I would put Jenn-Air in this category for functionality, but we placed it under Smart.
Let's start with Wolf.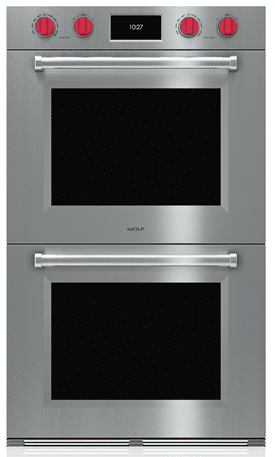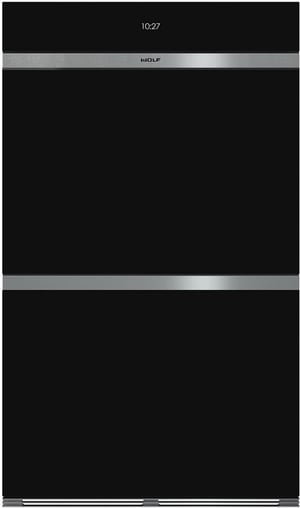 (This model has the option to have a stainless door).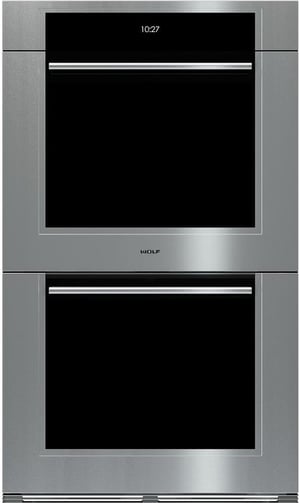 Features:
Large oven capacity of 5.1 cubic feet
10 cooking modes for predictably delicious results
Dual VertiCross convection for consistent heat across all racks
Gourmet feature for foolproof meals
Standard or flush inset installation
Color touchscreen for easy navigation
The M series offers three distinctive styles, professional, contemporary, and transitional. However, all of them offer the same features.
The rear oven is arched for more usable space and has two corner column fans with vertical heating elements that provide a perfect heat flow.
The Gourmet Feature offers a menu of almost 50 preset controls that automatically control the cooking.
The M series ovens not only offer a variety of looks to match any style kitchen but also make cooking easy and fun. Their Gourmet setting is simple to use from prime rib to lasagna to apple pie.
It will walk you through each step, even telling you what rack to place the food on for the best results.
The arch in the rear of the oven allows more oven capacity for larger roasts or accommodating multiple dishes at the same time.
Wolf has made the largest strides in advanced convection technology by implementing corner column blowers, coined as Verticross blowers.
The blowers are more powerful than fans and with more even heat, top to bottom and side-to-side while maximizing usable space in your oven.
WOLF M-Series Wall Ovens [VIDEO]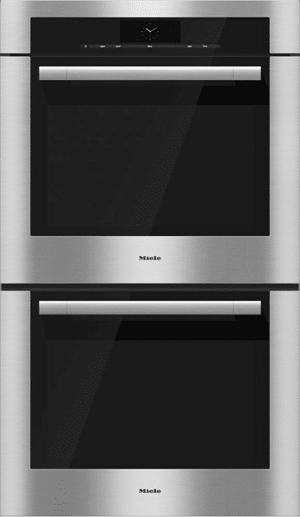 Features:
Master chef programs offer over 100 food types to cook to perfection
Wireless meat probe
Twin power fans provide optimum and even distribution of hot air
Soft open and soft close door
Touch controls
15 different types of bread recipes
Miele has a distinctive modern look. Miele is engineered and manufactured in the same factory creating amazing quality control.
Their MasterChef is like the Wolf Gourmet; however, it has a larger library of recipes and extensive bread baking options.
Miele MasterChef M Touch H6780BP2 Video Review
Miele also has steam assist for creating moister roasts and helping vegetables retain their texture.
Miele is the only oven with the ability to cook 16 kinds of bread, automatically creating a crispy crust and soft interior on bread.
Best French Door Wall Oven For 2020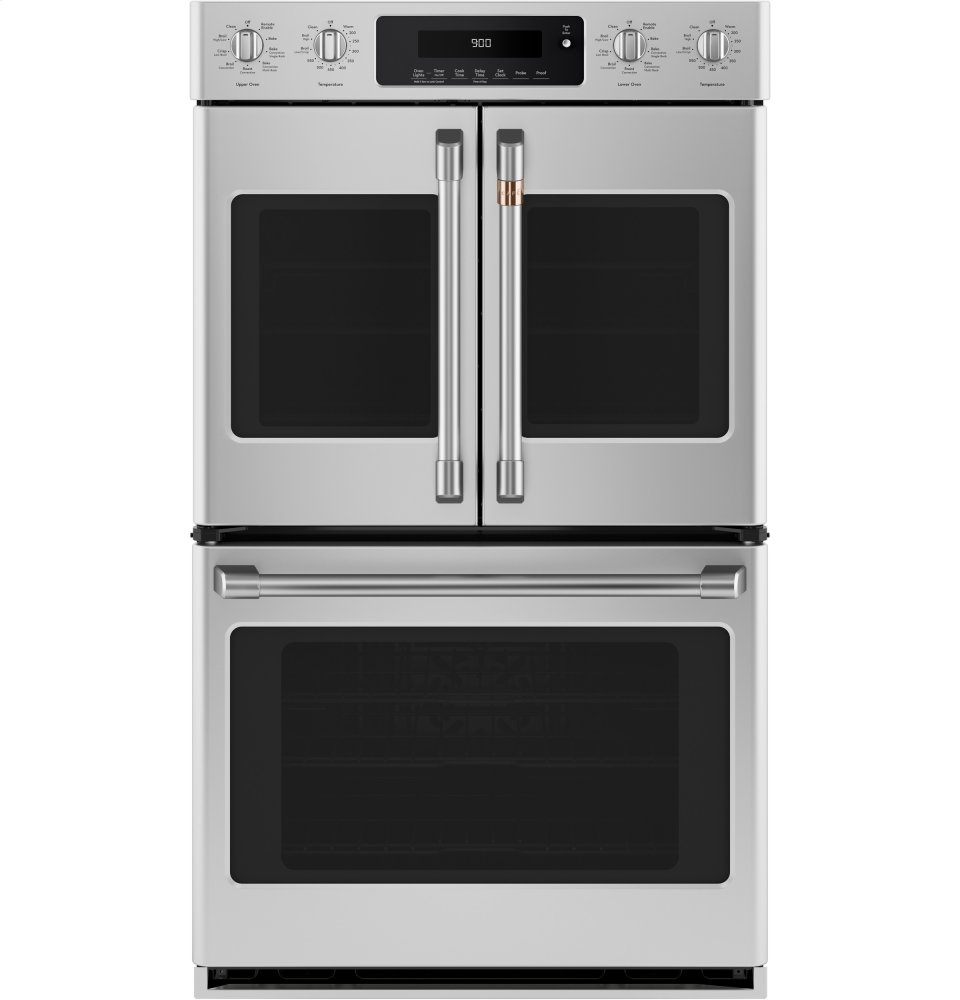 Features:
Stylish French door design
French doors can open single-handedly
Wi-Fi enabled, adjust temperature/modes with your smartphone
Self-Clean oven racks allowing you to leave racks in during the high heat self-clean
Ten passes dual broiler & bake element
The GE Café line up has created some very stylish options, configurations, and color choices to consider.
You have the option to choose handle/knobs in a variety of four different finishes.
French door ovens allow you to access your food better instead of reaching over a door. Many restaurants will use French doors for safety and access to larger items.
Best Gas Wall Oven For 2020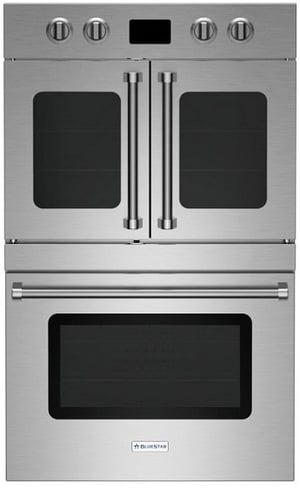 Features:
Extra-large oven with True European Convection
Powerful 2,500-watt bake element plus 1,800-watt heat assist for faster preheat\
Commercial-grade intense 5,000-watt Infrared broiler
Built-in artisan baking stone with precision temperature control (Top oven only)\
Eco-friendly Continu Clean feature continuously clean the oven cavity
Intuitive touch screen control with 12 cooking modes (Bottom oven: 10 cooking modes)
Available in 750+ colors and finishes, plus multiple door options
BlueStar ovens are great for the chefs who love to bake in the electric oven with its wide commercial size opening or who love roast meats in the gas oven.
With BlueStar, the option is there to have two individual wall ovens with one electric and one gas oven. People gravitate to electric most times, but gas is a moist heat for better roasting, and their infrared broiler is the hottest and the best to sear.
The gas heat has more moisture than electric, and the infrared broiler on the gas oven is great for searing and broiling at 1850 degrees.
French doors are convenient as well because you do not have to lift a heavy turkey over an oven door.
The BlueStar ovens are extremely customizable with 750 colors. The disadvantage is basic controls with no interactive functionality.
This oven is for the experienced home chef with a preference for roasting.
Best Value Wall Oven For Baking For 2020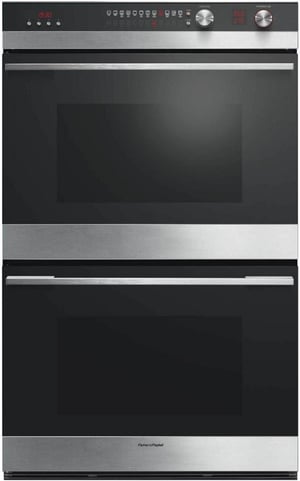 Features:
Cooking flexibility
Self-cleaning
Sized to suit
Safe and sound
Perfect results
Designed to match
Ok, now for something different.
Fisher & Paykel looks different with contemporary styling. It also has 11 different cooking modes with specialty baking, broiling, and pastry options.
Fisher & Paykel has other complementary products in cooktops and refrigeration to complete a unique look in your kitchen.
They also offer five-year warranties on most of their cooking appliances.
Best Wall Oven For Packages For 2020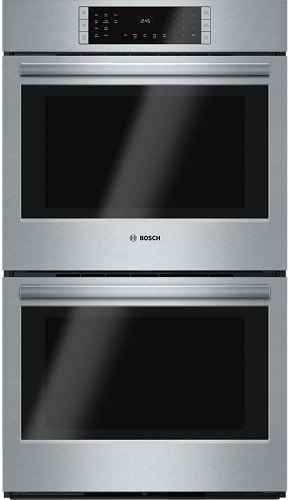 Features:
Dampened Hinges Softly and Quietly Guide the QuietClose Door Shut
A Full-Extension Telescopic Rack Offers Safe Access to the Oven Cavity
Touch Control with SteelTouch Buttons Makes Operating the Oven Easier
The Wall Oven is Designed to be Installed Flush with your Cabinetry
Bosch Wall Ovens are Compatible with Most Competitors' Cutouts
The Bosch has decent functionality with a meat probe, convection, and several different cooking modes.
Bosch has a clean look to it and will match well with any other Bosch appliances in the kitchen. They also have 15% off packages at different times of the year.
Best Convection Wall Oven For Price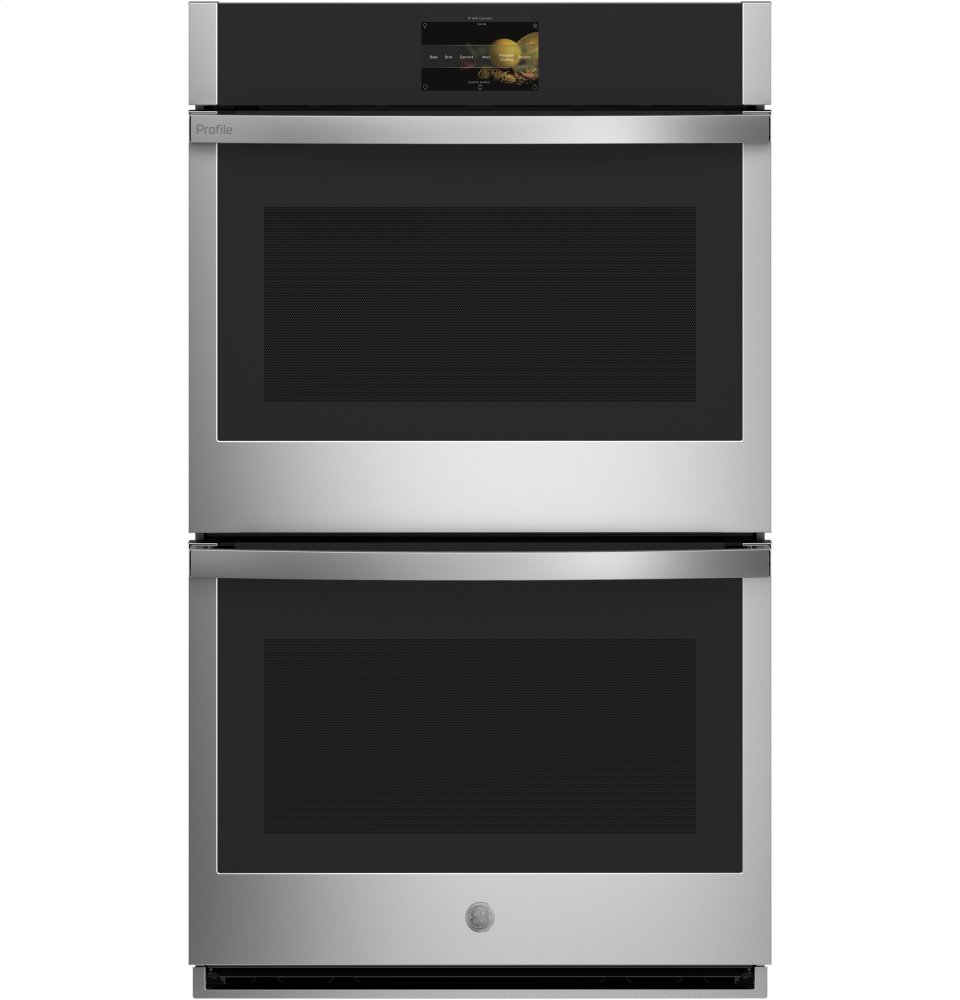 Features:
Brilliant touch 7" display
True European Convection with Direct Air
Never scrub, heavy-duty,smooth glide racks
Precision cooking modes
No preheat option
Hot air frying
Anywhere control with remote notifications
Scan-to-cook technology
The GE Profile has twin convection, temperature probe, and full-extension racks. Price is excellent at $2400 on promotion.
Wall Oven Reliability For 2020
| | | | |
| --- | --- | --- | --- |
| | Service Qty | Shipped Qty | Service Ratio |
| Blomberg | 0 | 68 | 0% |
| Gaggenau | 12 | 172 | 6.98% |
| Whirlpool | 9 | 109 | 8.26% |
| Bosch Appliances | 55 | 402 | 13.68% |
| Samsung | 10 | 71 | 14.08% |
| Fisher & Paykel | 3 | 21 | 14.29% |
| Miele | 38 | 258 | 14.73% |
| KitchenAid | 24 | 132 | 18.18% |
| Thermador | 81 | 356 | 22.75% |
| Wolf | 179 | 631 | 28.37% |
| Bosch Benchmark | 26 | 87 | 29.89% |
| Jenn-Air | 145 | 256 | 56.64% |
| Grand Total | 587 | 2620 | 22.40% |
In 2019, we had 35,256 service calls. We measure reliability by the number of our service calls divided by sales within the first year of the appliance.
Gaggenau is once again the most reliable with Miele, Samsung, and Bosch being reliable as well. Whirlpool is sold products to builders, so the problems are inherently less.
Jenn-Air and Wolf had a batch of bad control boards early in 2019, which are now corrected.
You should consider Wolf and Jenn-Air for 2020.
Wall Ovens Vs. Major Appliances For Reliability
Wall ovens need repair 9.3% more than the average appliance. Many issues are installation and customer education-oriented
Most double ovens are considered as two appliances with far more complicated controls than any other appliance as well.
That will be a problem for you. Wall ovens have smart controls, yet far few people around to fix these incredibly complex units.
I shot this video years ago. It still makes me laugh. This is a tech simply changing a light bulb.
Before you buy, you need to know who will fix your new appliances. Extended warranties will not help you either unless an actual service department backs them.
Most warranties are not backed by much of anything.
Which Wall Oven Should You Buy?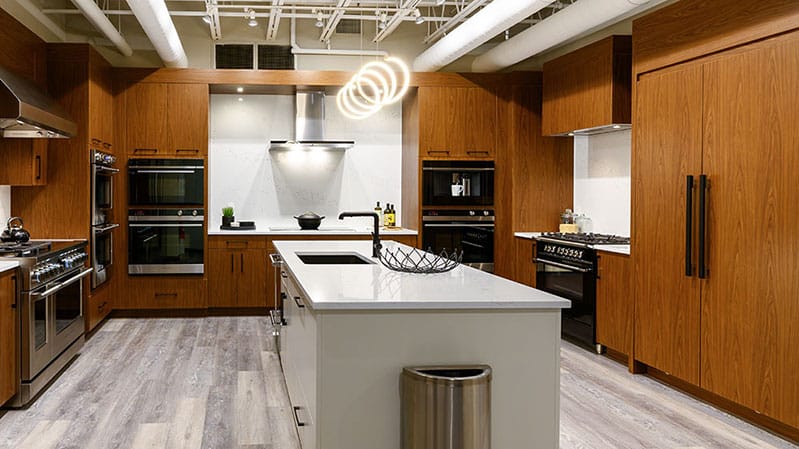 Fisher & Paykel Kitchen Featuring Double Wall Ovens in Three Styles at Yale Appliance in Hanover
You're paying more for better functionality. Miele, Wolf, and Jenn-Air will figure out time and temperature for you versus you figuring it out for yourself.
Miele has the additional steam if you like to bake bread. Fisher & Paykel has a pastry only mode. BlueStar is a great oven for broiling and roasting.
Bosch, Kitchen-Aid, and GE have lower-priced double wall ovens and have reasonably priced appliances with discounts to finish the suite.
For builders and people looking to flip a home quickly, Whirlpool and GE have less expensive products under $2,500 without convection or self-cleaning options.
With wall ovens, you have way more features and price differentiation than any other product.
The best wall oven for you is the one that best matches your cooking style. Ask for a demo at your local appliance store.
As I said in the beginning, there is no one best wall oven.
Frequently Asked Questions
1. Which is Better Wall Oven and Cooktop or Range?
This question starts with your kitchen project. It determines your ventilation and your overall kitchen layout as well.
First, we have an article co-authored by designers about how to layout your kitchen, but let me briefly answer.
Ranges centralize your cooking in one area, so you never have to move from oven to stove. It uses less space than a cooktop and wall oven as well.
You should spend less money with a range than a wall oven and cooktop.
Wall ovens are more ergometric, meaning you don't have to bend like a stove. You also have more choices and options like steam in a wall oven than a range.
Although I am not a fan of downdrafts, you can downdraft a cooktop far easier than a range.
You have different layout choices for both. You can place a wall oven anywhere in your kitchen, whereas you would need to centralize your stove.
2. How much do double ovens cost?
Double ovens start as low as $2,399 for a GE 30" with dual convection to $11,399 for the Gaggenau 30 inch electric double wall oven with 17 cooking modes and a look you will not find from any other manufacturer.
3. Who makes the best wall oven microwave combo?
For out of the box combos, Thermador and Bosch have the most. However, the better units are offered as separate products. Look at Miele for simplicity, Wolf and Jenn-Air are good options.
4. What is the best single wall oven to buy?
The double ovens mentioned below are ALL available as a single wall oven. There is no one best oven. Gaggenau, Wolf, and Miele are the best for functionality. GE and Samsung are more cost-effective
5. Is gas or electric wall ovens better?
Gas provides a moist heat source and is the preferred heating source for roasting. Electric ovens are better than gas when baking.
Additional Resources
Confused about Wall Ovens? Get the Yale Wall Oven Buying Guide with updated features, specs, and detailed profiles of the best brands like Miele, Wolf, Viking, Bosch, Thermador, and more. Over 680,000 people have read a Yale Guide.
Related Articles:
Why Should You Trust Us?
It seems that every appliance review has nothing but glowing comments about almost every product, yet you read customer reviews and they are almost universally bad.
We are here to fill in the disconnect. We'll give you the best features, and the drawbacks as well, including reliability based on over 37,000 calls performed by our service team just last year. Our goal is to give you ALL the information so you know what's right for you.
Please consider subscribing or adding to the conversation in the comments below. We appreciate you stopping by.
A Note About Pricing
Pricing on this blog is for reference only and may include time sensitive rebates. We make every attempt to provide accurate pricing at time of publishing. Please call the stores for most accurate price.