Can You Install a Downdraft Vent Behind a Range?
Many appliance companies promote using a downdraft vent for your range, especially if you plan to place a range in your kitchen island.
If you like to cook, a downdraft will not work.
Ranges have more output, and those high-output burners are in the front of the range. Yet downdrafts are placed in the back.
As much as you dislike hoods, downdrafts also lack the capture area to vent a range effectively. Venting improperly is a bigger problem than previously discussed because of the negative impact on the air quality inside your home.
In this article, we will look at the Cattura system, the reasons not to install it, and better options to consider. We'll also cover how to plan the ventilation for your kitchen. Let's get started.
Short on time? Get our free Ventilation Buying Guide
The Best Downdraft Vent System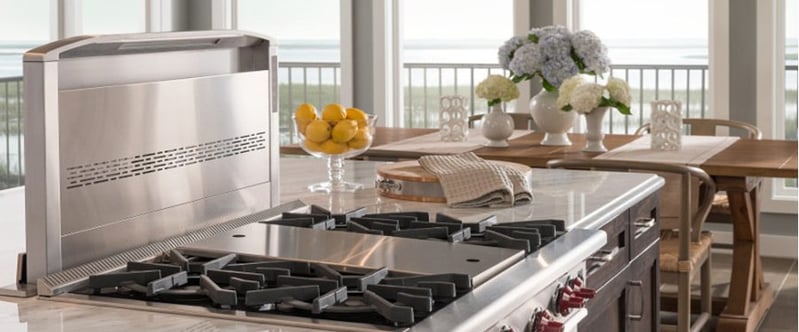 Previously, a range and downdraft could not fit because a vent duct attachment box was too big to accommodate both. Best, however, re-engineered their Cattura downdraft, eliminating much of the larger venting.
It looks like a downdraft with one important twist. The duct attachment box can be remotely installed under the floor or on the side, freeing up space for all those installations.
Now you can downdraft a range - in theory. You will still need 27 inches in depth. The average cabinet is only 24 inches, so this can only be used on an island or extra deep cabinets.
Now, you will learn how to install one of these. For new construction, you should redesign your plan.
Installing the Cattura Downdraft Vent
The FlexBlower system for the Cattura is installed in front of the downdraft, or you can install it under the floor in a side or rear cabinet. This allows you to incorporate ovens into your design or open cabinet space under your cooking surface.
You must buy the motor separately with options from 600 to 1500 CFM. If 1500 CFM sounds impressive, it still won't work.
Front Exhaust with Blower Attached: The blower can rotate left, right, or downward.
Front Exhaust: Duct transition in front of the downdraft when the blower is installed below the floor line.
| | |
| --- | --- |
| | |
| Front Exhaust With Blower Attached | Front Exhaust |
Side Exhaust in Cabinet: This has in-cabinet blower placement. You can see how most of the ducting is on the side in this installation.
Side Exhaust: Transition through the cabinet to blower installed below the floor line.
Rear Exhaust: Remote transition behind the downdraft blower installed above or below the floor line.
| | |
| --- | --- |
| | |
| Side Exhaust With Blower Placement | Rear Exhaust |
Here is a video of the Cattura downdraft system from our installers:
Downdraft Behind Range Installation [Video]
Pros and Cons of the Cattura Downdraft System, according to our Installers
Pros:
18-inch rise versus the typical 9-13 inches to capture more exhaust
Nine blower options with the option to exhaust either right, left, rear, front, and bottom. You can also choose to vent using two methods: the right to the left to maximize your CFM power using the optional duct adapters with a remote or external blower.
Recirculating Method
Can work with all cooking configurations. This includes cooktops, rangetops, wall ovens with a cooktop above, or ranges.
FlexBlower can be mounted on the unit or remotely in the adjacent cabinet.
LED lighting for convenience
30, 36, and 48-inch sizes
It's still the same depth as your traditional downdraft of 2 1/4 inches (frame depth)
Keeps an open line of sight when you are cooking and entertaining versus an island hood
Cons:
When used with a range, rangetop, or wall oven combination, the installation will require a minimum depth of 27 inches.
Careful planning is necessary as it pertains to the ductwork installation.
If right or left venting is required, you will lose the adjacent cabinet for the mechanical components.
Why Using a Downdraft Behind Your Range Is Such a Bad Idea
1. Downdrafts Cannot Vent High Output Ranges Properly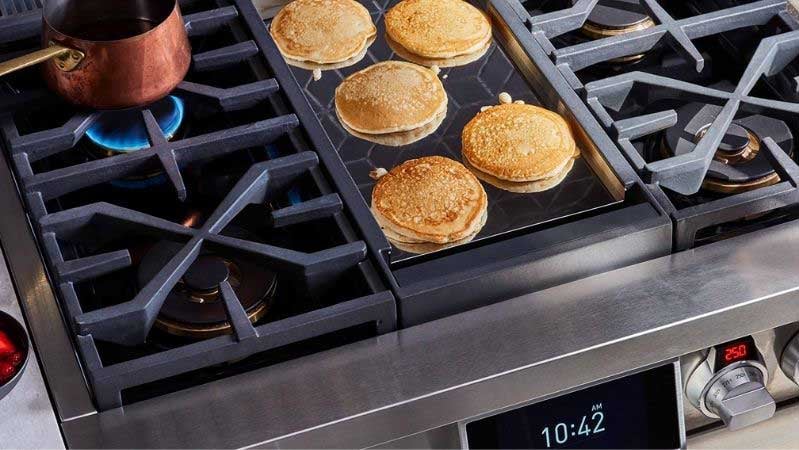 Gas Range with Powerful Front Burners and a Griddle
Gas ranges are now 50% more powerful than when I started at Yale. Almost every gas range has high output burners in the front.
In some cases, these front burners are more powerful than a professional range with outputs between 15,000 and 22,000 BTU (British Thermal Unit).
You have more output in the front while a downdraft is venting from the back of the range.
2. Downdrafts Have No Capture Area
Although plenty of CFM is available, downdrafts have no capture area for grease, smoke, and all the other gases emitted from your range top. Even with 1500 CFM, some air will not be vented.
Why Proper Ventilation Is Important
It turns out gas ranges emit more than smoke and grease. They also emit Cabon Dioxide, Carbon Monoxide, Formaldehyde, Nitrous Oxide, and Particular Matter.
In new energy-efficient construction, homes are now built with tighter tolerances so outside air cannot infiltrate your home. That mixture of gas stays in your kitchen and home longer.
Google "Are Gas Ranges Bad" and look at the answers. However, it's not exactly your range that's the problem. It's your ventilation.
Let's learn how to vent and then look at basic kitchen design to prevent needing a downdraft in the first place,
Read More: Why Are Gas Ranges Being Banned?
Planning Your Ventilation for Your Kitchen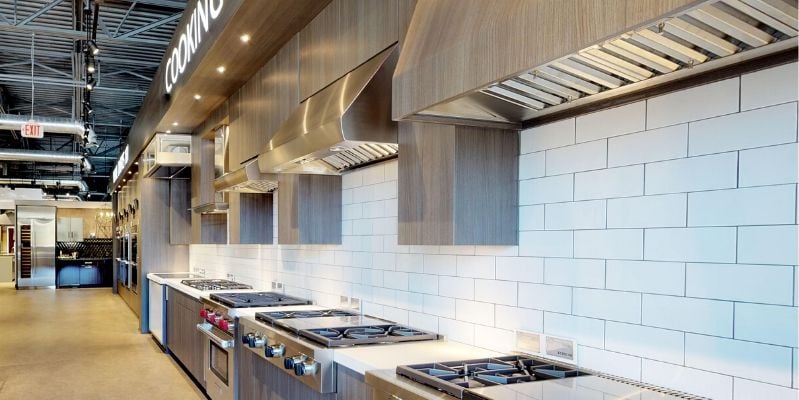 High CFM Range Hoods at Yale Appliance
Venting is quite simple (we cover this in our Ventilation Buying Guide). You want to exhaust the air straight up with its natural flow. Venting horizontally or straight back is also acceptable.
Refrain from using elbows to redirect the ducting as best you can. They reduce the airflow and efficiency of the blower.
CFM
You probably know a high CFM (cubic foot per minute) is better for exhausting air faster. A downdraft has the CFM but reverses the exhaust flow and then adds an elbow. You can buy blowers inside the hood, in line, in your duct, or outside your home.
Forget about all the old measurements of 1 CFM per BTU. If you like to grill, stir fry, or use a griddle inside, you need more CFM. It will keep your indoor air cleaner and does not affect the cost of your overall renovation that much.
However, the downdraft does not have one of the most crucial factors in ventilation - capture.
Capture
Capture is a fancy industry term for your hood's height, width, and depth. Smoke, especially if you cook a lot, is never immediately exhausted. It's "captured" by the hood and then exhausted by the blower.
For a professional range, you need a 27-inch-deep hood, not a two-inch slot of a downdraft. The Cattura is only used for most new construction at 27 inches deep, so planning the right hood should not be a problem.
Read More: How to Vent Your Kitchen Range
Alternative Options
1. Island Hoods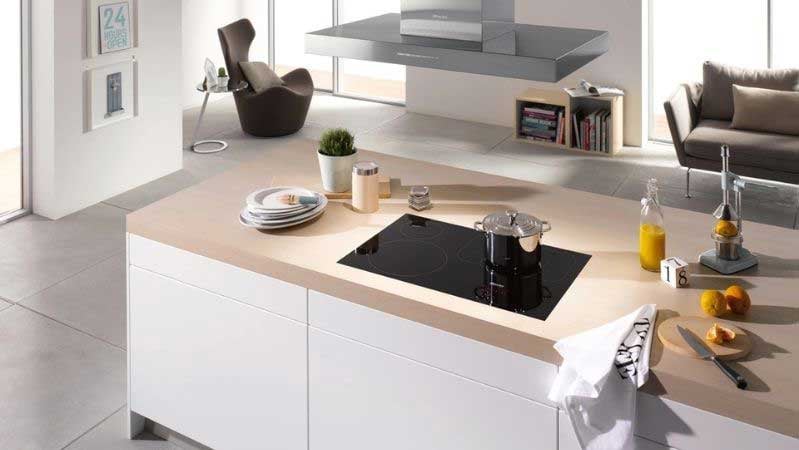 Island Hood Over a Cooktop
If you want a range or cooktop as part of your kitchen island, opt for an island hood instead of a downdraft. Island hoods are pretty nice. You can even enclose a blower with wood.
Entertaining is the best argument for placing cooking on an island. You want to face your guests. I get it, but you don't want to smoke them out of your house or splatter grease all over them.
2. Placing a Sink in Your Kitchen Island Instead of a Range or Cooktop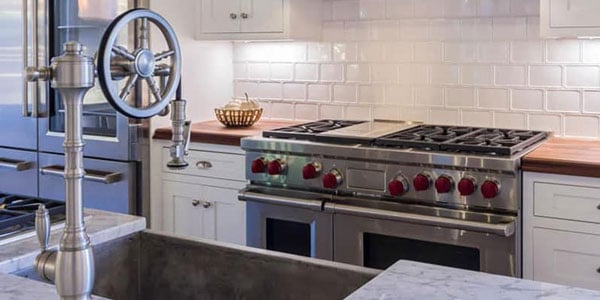 Kitchen Sink Placed in a Kitchen Island Across from Professional Range
Your other option is not to place your stove on your kitchen island. Your best option is to place a sink on your kitchen island instead. Think about it. You are at your sink more than any other appliance.
A sink also completes the "kitchen triangle" design of having your dishwasher, stovetop, and sink near each other.
They are the only appliances you must centralize in your kitchen. Not refrigerators, not wall ovens, just those three. If you want to entertain, try a Galley sink.
Can You Install a Downdraft Vent Behind a Range?
Yes, you technically can, but we strongly don't recommend it. I know some of you still want to downdraft because of an existing downdraft. You don't want the cost of remodeling.
Here are a few tips in case you still want to use a downdraft:
Use no more than one elbow.
Use an induction stovetop or range. It is more powerful than gas and does not emit as much heat and gases.
Keep your kitchen windows open. You will need outside air to eliminate the toxic fumes in your home.
Should You Place the Cattura in New Construction?
No, you should not use a cattura downdraft vent when remodeling or building a new kitchen. Place a sink on the island instead. You are centralizing the most used appliance in your kitchen. (Sink is an appliance)
Use an island hood if you still want a range or cooktop as part of your kitchen island. The Cattura downdraft is an extreme last resort.
I included several webinars and articles on kitchen design below to help you redesign your space. Leave comments below if you need some extra help.
Additional Resources
Download the Yale Ventilation Buying Guide with features like ducting, the proper CFM for professional ranges, downdrafts and much more. Over 1 million people have read a Yale Guide.
Related Articles:
Why Should You Trust Us?
It seems that every appliance review has nothing but glowing comments about almost every product, yet you read customer reviews and they are almost universally bad.
We are here to fill in the disconnect. We'll give you the best features, and the drawbacks as well, including reliability based on over 37,000 calls performed by our service team just last year. Our goal is to give you ALL the information so you know what's right for you.
Please consider subscribing or adding to the conversation in the comments below. We appreciate you stopping by.
A Note About Pricing
Pricing on this blog is for reference only and may include time sensitive rebates. We make every attempt to provide accurate pricing at time of publishing. Please call the stores for most accurate price.