What Is Make-Up Air? (Definitions / Solutions)
Let me explain why make-up air is important. It's important in Massachusetts because it's the law.
You are renovating your house. You have new energy-efficient windows, siding, perhaps a new ventless heat pump dryer.
Over the years, especially with LEED and Passive Home certifications, you now have tighter tolerances so air cannot infiltrate into your home.
Let's say you have a new high output professional gas range and turn on your high 1000 CFM hood.
CFM stands for cubes per minute. That's 1000 cubes of air leaving your home per minute or almost a small room of air every minute the hood is running.
Where is that air being made up?
In older homes, the air was made up through drafty windows and other areas where air could enter your home.
That's not the case for new construction.
Your high CFM hood (which is a smart choice given the range) has just created an unhealthy environment for you and your family.
The air will be made up from your furnace, heating system, or attic, or anywhere the air can find an opening in your house.
In this article, we will explain the make-up air laws as well as the best solutions. You will also learn the basics of ventilation.
Having a proper exhaust system is incredibly important. You don't want to have your house smelling like your last meal.
Now, let's get to it.
Short on time? Get our free Ventilation Buying Guide
What Is Make-Up Air?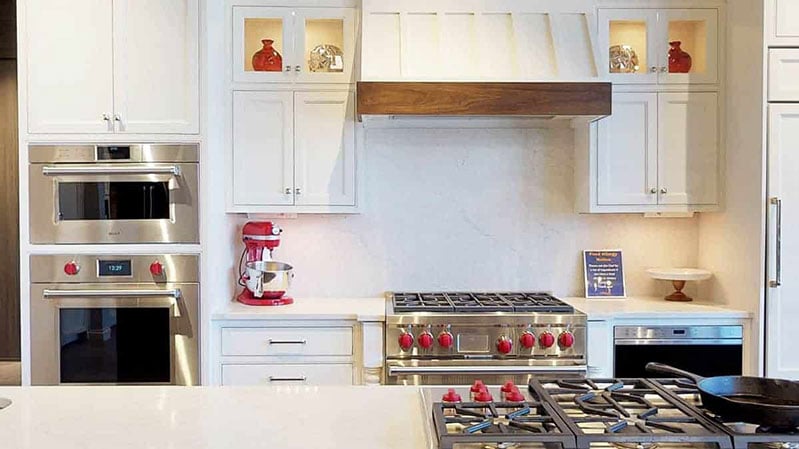 Professional Ventilation Hood at Yale Appliance in Framingham
Make-up air is fresh outdoor air sent back into your home "Made Up" when the air from inside is pushed out from a ventilation fan. Standard ventilation pushes inside air to the outside.
Make-up air and exhaust regulations have been a part of required building codes in Massachusetts since 2007 and probably should be elsewhere. Any vent over 400 CFM needs a fresh air return.
Here is the statute from UpCodes:
"Exhaust hood systems capable of exhausting more than 400 cubic feet per minute (0.19 m3/s) shall be mechanically or naturally provided with make-up air at a rate approximately equal to the exhaust air rate. Such make-up air systems shall be equipped with not less than one damper.

"Each damper shall be a gravity damper or an electrically operated damper that automatically opens when the exhaust system operates.

"Dampers shall be accessible for inspection, service, repair, and replacement without removing permanent construction or any other ducts not connected to the damper being inspected, serviced, repaired, or replaced.

"M1503.4.1 Location: Kitchen exhaust make-up air shall be discharged into the same room in which the exhaust system is located or into rooms or duct systems that communicate through one or more permanent openings with the room in which such exhaust system is located. Such permanent openings shall have a net cross-sectional area not less than the required area of the make-up air supply openings."
In the past, this wasn't a primary concern because most homes allowed air into the home naturally through windows and other spaces.
With newer codes for windows, doors, and insulation, homes are tightly built and don't allow outside air to infiltrate.
This is where you need to "make up" for the air loss when operating a higher CFM range hood.
Now you are probably thinking, "I will just put a 400 CFM hood over the range and be done with it."
Most gas ranges are more powerful than when you last purchased a range.
A 30-inch pro can have 66,000 BTU output as an average.
Thirty-six, 48, and 60-inch units can have up to 150,000 BTU.
It's even a good idea on a basic gas range. This inexpensive Whirlpool has two power burners of 15,000 BTU each.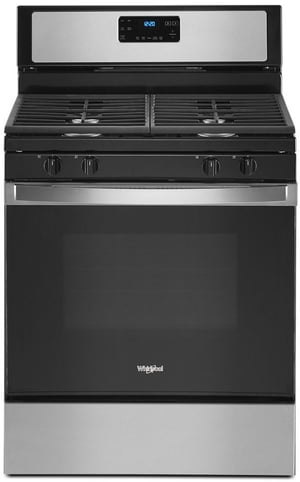 Whirlpool WFG515S0JS Gas Range
A 400 CFM hood cannot handle that type of BTU or most heavier uses for using a wok, griddle, or grill.
So, let's solve the problem.
Make-Up Air Solutions
First, if you are building a house, your contractor will handle this globally through the HVAC system. It will handle your bath fans, dryer, and stove.
For a kitchen remodel, you need a return of air past 10 feet from the vent so you don't recirculate vented air.
You would need the same size wall cap. It varies typically an 8 or 10 inch size for a pro range. Along with an automatic or smart damper opening when the hood is turned on.

The blower removes the air while the intake on the other side allows air back into the room.
Let's say for whatever reason you can't make up the air. The job is done. The house is sealed and it is too hard to place the cap and return into your house.
In Boston, the historical societies in some areas or even some condo associations will not allow a wall cap on the outside of a shared space.
Electric Ranges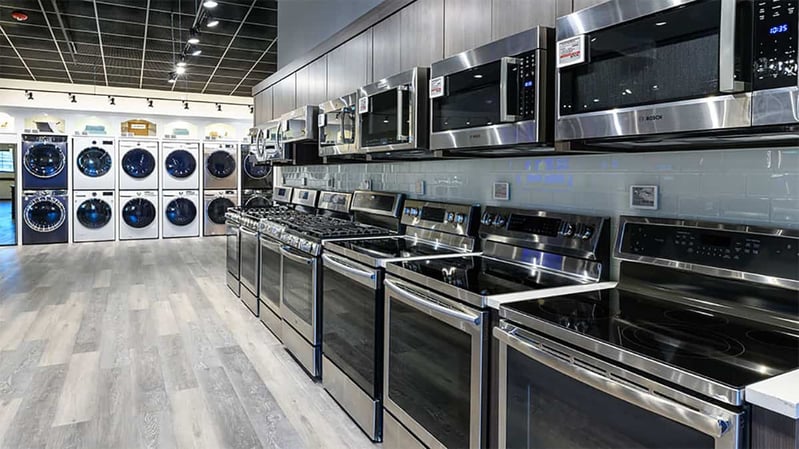 Electric Ranges at Yale Appliance in Hanover
Electric ranges do not emit heat like gas, so a 400 CFM will probably be adequate.
If you have cooked on gas ranges, then electric will be a tough adjustment.
Electric is slower than the instant-on gas as the burner heats the glass, then the pan, and finally your food.
It's slower to heat, simmer, and retains heat longer increasing the likelihood of burning yourself on a slower cooling top.
Induction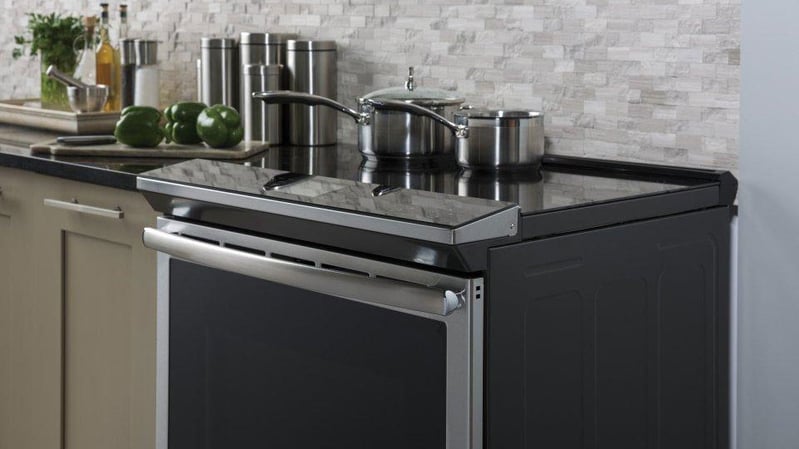 GE Profile Induction Range
Induction is another electric heating source, but it's powered by magnets. The magnets excite the metal molecules in your pan.
The pan then cooks your food bypassing the glass.
Induction is faster than gas with a better simmer as well. It does not have any residual heat problems either, so it is much safer.
In either case, you can probably be OK with a 400 CFM exhaust depending on how you cook.
Ductless Hoods
A ductless hood does not vent outside. The air recirculates through a charcoal filter. With no air vented out of your house, you do not need to make any up either.
It's an interesting solution. However, ventless hoods are not designed for a higher volume of air filtering.
It's always better to remove the bad air than a filter.
How to Vent Your Cooktop or Range
Hopefully, you are reading this article before you start your project. If so, let me show you how to vent.
Hood Blower (measured in CFM)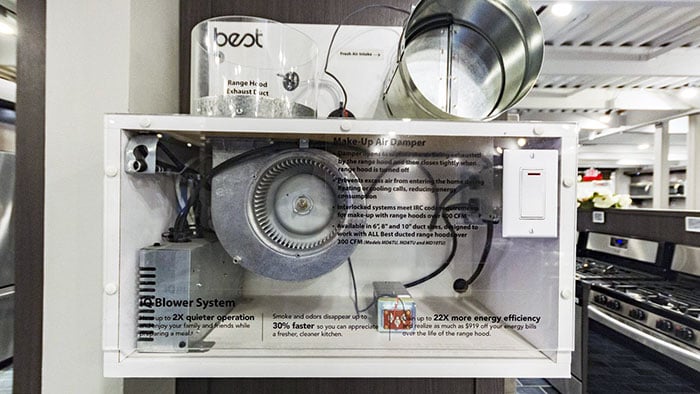 Your vent power (CFM) is the amount of air extracted per minute by the blower. Blowers can be internal, external, or inline.
Professional-style gas ranges will need a high CFM vent hood, electric, and induction cooking have less residual heat and therefore don't require as-powerful CFM.
For higher heat gas stoves of 30 inches, 600 CFM is sufficient. You want more power in the larger sizes or with grills.
The maximum CFM available residentially is 1500 CFM.
Capture Area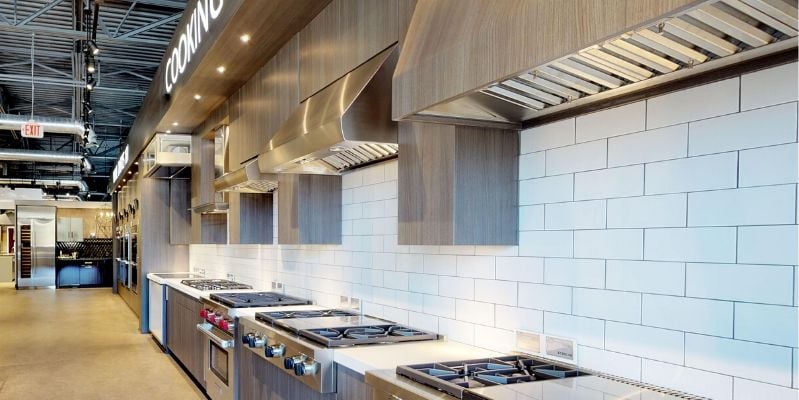 Professional Range Ventilation over Rangetops and Ranges at Yale Appliance in Framingham
To put this simply, the capture area is the height, width, and depth of the hood.
Visually, these are the baffles or mesh filters that you physically see - the bigger the capture, the better the performance.
Smoke is not immediately exhausted. It is captured, filtered, and then exhausted.
The capture area is key.
You can compare a 400 CFM vent hood and a 400 CFM over-the-range microwave and run them side-by-side. The hood will always exhaust better because it's deeper and taller.
Over professional-style ranges, many people choose to oversize their hood for a better capture area.
How a Hood is Ducted
How your hood is ducted is important. The best way to duct your hood is straight up or straight back.
You diminish your hood's effectiveness and static flow with each elbow or duct turn.
The sizing of the duct should be equal to or exceeding hood specifications and it should be steel not flex duct.
Pro Tip: Be sure to check how powerful your stovetop is and how far you are venting before deciding how much CFM you need.
What is ACT Technology?
Specific hoods have ACT Technology, limiting the airflow of the hood to meet local code requirements.
Hoods with ACT can have their power reduced to 590, 390, or 290 CFM to meet make-up air standards.
The Problem With ACT Technology
The problem with reducing your vent hood to a lower CFM is that some stovetops require more than 400 CFM for venting.
You can't "ramp" the hood to a higher setting either.
Should I Buy a Hood Under 400 CFM to Avoid Make-Up Air?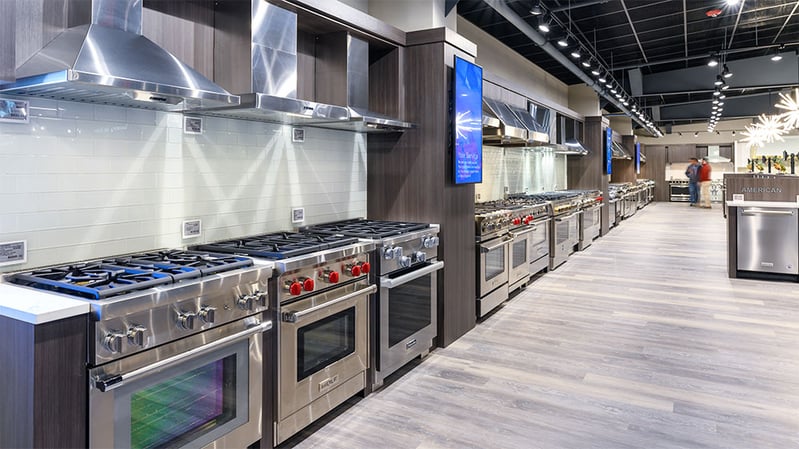 Range Hoods over Professional Ranges
It depends. If you are not installing a make-up air system, your selection of cooking products should be limited to electric, induction, or non-professional gas appliances.
If possible, don't skimp on good ventilation.
Kitchen cabinets accumulate about 4 gallons of grease per year without ventilation. It's gross if you think about it.
If you cook frequently, you should invest in good ventilation especially with a high output gas stove.
Local codes are stricter than ever on make-up air systems causing many people to buy low CFM range hoods.
Key Takeaways
Make-up air and good ventilation are the cornerstones of good indoor air quality.
You extract the bad air and "make up" cleaner air.
It's not hard to do in the planning stages with a similar return and an automatic damper and some ducting.
You have plenty of companies selling aftermarket options as well.
However, if for some reason make-up air is not possible, consider an electric or induction stove or a ductless hood as an option.
Additional Resources
Get The Yale Ventilation Buying Guide with features, specs and inside tips to every brand and hood type. Well over 820,000 people have read a Yale Guide.
Related Articles
Why Should You Trust Us?
It seems that every appliance review has nothing but glowing comments about almost every product, yet you read customer reviews and they are almost universally bad.
We are here to fill in the disconnect. We'll give you the best features, and the drawbacks as well, including reliability based on over 37,000 calls performed by our service team just last year. Our goal is to give you ALL the information so you know what's right for you.
Please consider subscribing or adding to the conversation in the comments below. We appreciate you stopping by.
A Note About Pricing
Pricing on this blog is for reference only and may include time sensitive rebates. We make every attempt to provide accurate pricing at time of publishing. Please call the stores for most accurate price.