10 Kitchen Appliance Remodeling Mistakes You Should Never Make
October 2nd, 2020 | 9 min. read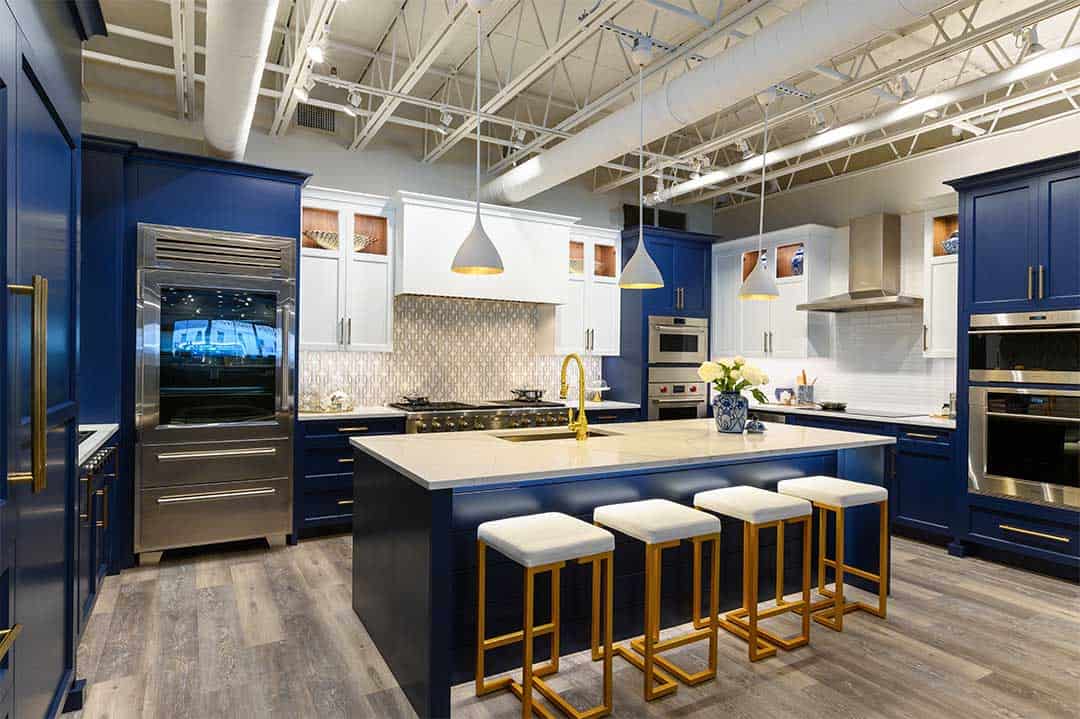 The renovation disaster.
Everyone has a story. You lose time and money.
If it's bad enough, you may lose your faith in human nature.
After 34 years of working full-time in home improvement and completing two home remodels, I have an idea of the significant remodeling problems people seem to be facing.
As a company, we have built two stores in the last five years.
If I look back on the four projects and homes, there are problems I wish I knew beforehand.
This post is designed to help you avoid those issues.
Before I talk about potential problems, let's talk about happiness with your appliances and your kitchen project. It may be elusive, but it's possible.
Happiness and Keeping Your Kitchen Remodel Stress-Free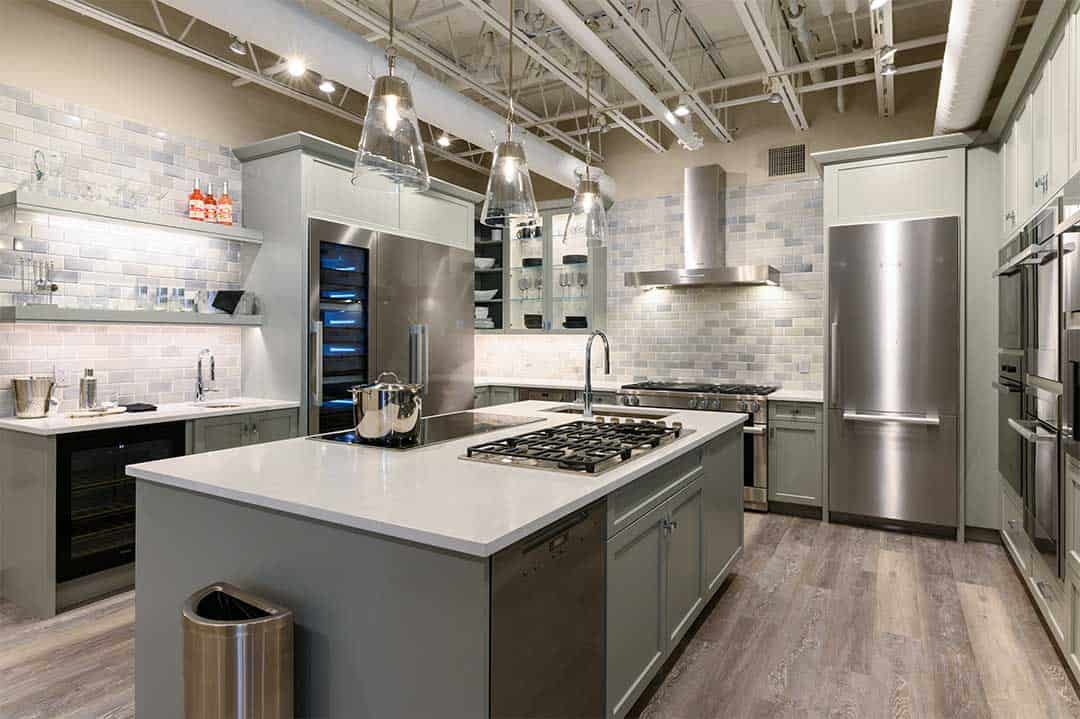 Miele Kitchen at Yale Appliance in Hanover
I was talking to our architect. He was all over the place with appliances and lighting between what brands, what products, and what styles.
My architect can design a 20,000 square foot showroom, but cannot pick five appliances for his own home.
I asked him one question after looking at speed, steam, and regular ovens: What does happiness with your purchase look like after one year?
Do the appliances support your lifestyle? In my opinion, appliances are only a part of it.
Good design and planning are your most important ingredients for a happier, less stressful kitchen remodel.
Your Lifestyle
One of the most important questions you can ask yourself, do you use your kitchen?
If you're renovating your house, how does that renovation fit your lifestyle?
Let me give you a couple of examples.
I renovated my apartment in 2014 and rebuilt the kitchen and master bath around my lifestyle.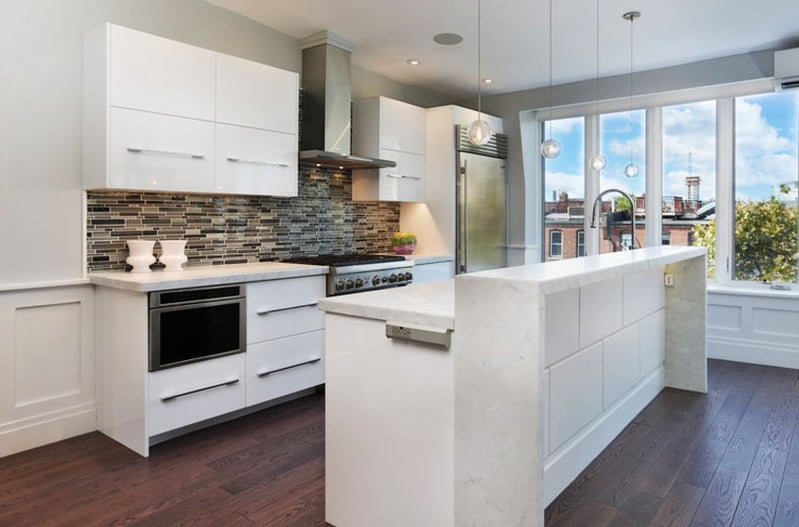 First Renovation
Then my daughter was born, and my lifestyle changed a bit.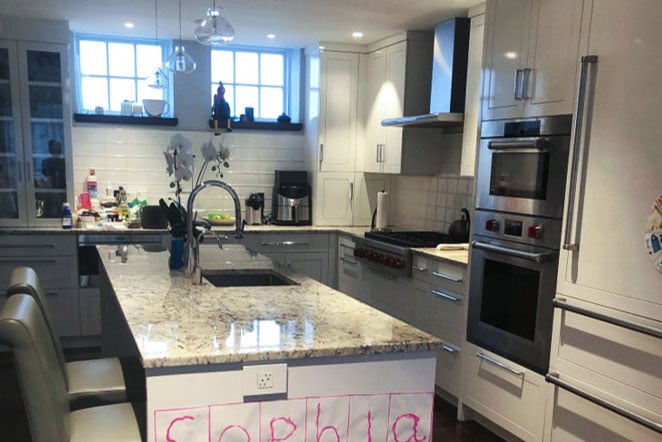 Second Renovation
When I renovated my brownstone across the street, my lifestyle became about convenience.
I placed the kitchen in the basement for accessibility so I didn't have to walk a baby and all the accessories up any stairs.
My Sister
At the same time, my sister's kids were leaving her house. She sold her home and cottage and moved on the water down the Cape.
Her lifestyle became about looking at the ocean from her kitchen. She put a TV in her hood so it would not impede her view.
My sister's finished kitchen renovation featuring a TV in the ventilation hood.
My sister's finished kitchen renovation featuring a TV in the ventilation hood
Here are some questions to ask:
What's your lifestyle like?
How will you use your space?
What appliances do you regularly use or not use?
Do you cook a lot?
You can't tell your contractor, cabinet people, and appliance store what you want until you know yourself.
Read More: How to Place a TV in Your Kitchen Hood
Choosing Appliances
There are only two places of concern when buying a kitchen of appliances - buying refrigeration and cooking appliances.
Cooking Appliances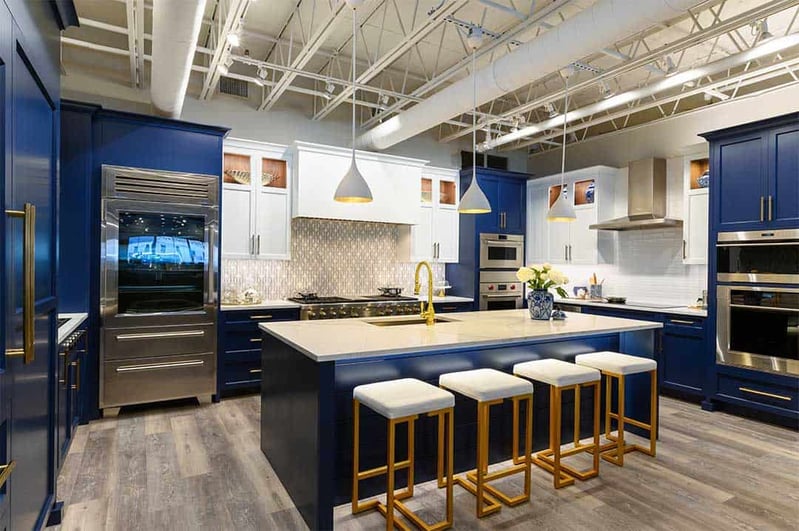 Sub-Zero and Wolf Kitchen Featuring Pro Range, Wall Ovens, and Steam Ovens at Yale Appliance in Hanover
Cooking has the most profound impact on your kitchen.
Most ranges are 30 inches, but professional ranges can be 36, 48, or 60 inches. Wall ovens are 30 inches, while cooktops and rangetops are sizes from 15-60 inches wide.
Most designers talk about "The Kitchen Triangle" or having the most used appliances near each other.
With that in mind, you can place wall ovens anywhere, but stovetops and ranges should be centralized.
Just think about cooking first, and the rest of your plan will formulate almost on its own.
Read More: How to Plan Your Kitchen Appliance Project
Refrigeration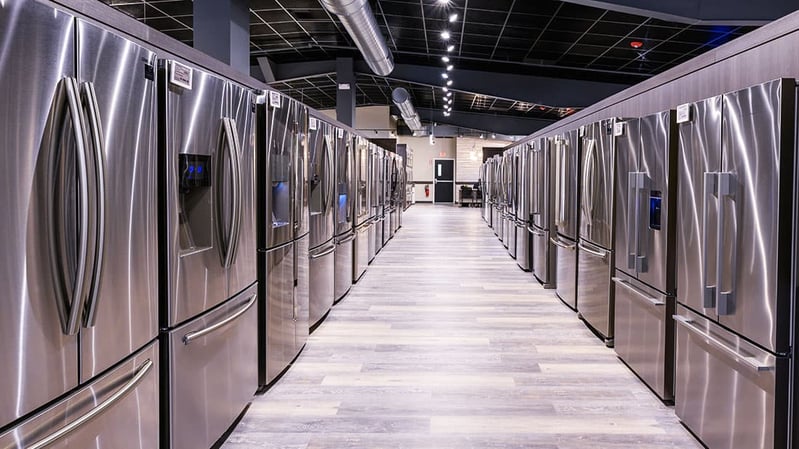 Refrigerators at Yale Appliance in Hanover
Your refrigerator size is probably 36 inches, but what does it look like? Are you buying a counter depth, professional, or integrated refrigerator?
This choice has a potential $9,000 swing on your budget.
You can do anything with refrigeration. For example, you can have all drawers for easy access.
Like wine? You can have as much wine storage as you want.
Refrigeration does NOT have to be centralized.
You are not in your refrigerator as much as you are cooking on the stove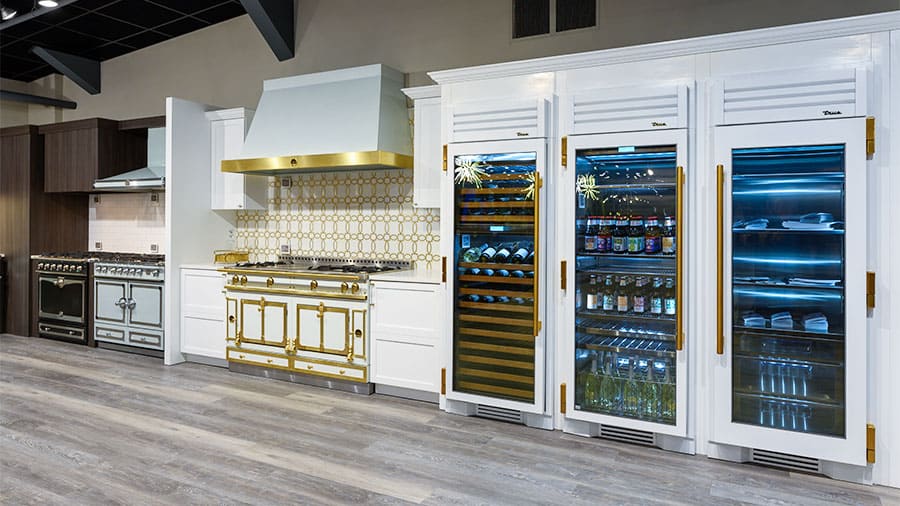 True Refrigeration on display at Yale Appliance in Hanover
Read More: How Much Clearance Does a Refrigerator Need?
How to Avoid the Biggest Remodeling Mistakes
You will learn about some real product problems in this article.
Planning first and hiring reputable companies is the best way to avoid and alleviate any future issues later.
It's way more expensive to fix a problem once it happens than having a good plan initially.
Take your time and do not rush.
Unfortunately, we have experience with this as well. Our second remodel in Framingham went over budget by 40% (ouch).
However, our Hanover store, our biggest Yale showroom yet, despite initial challenges, was opened in time and under budget.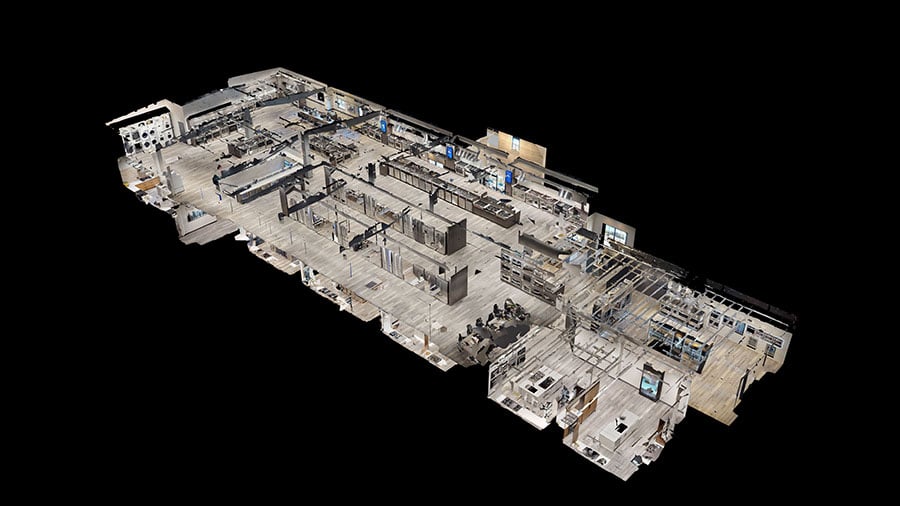 Dollhouse View of the Yale Appliance Showroom in Hanover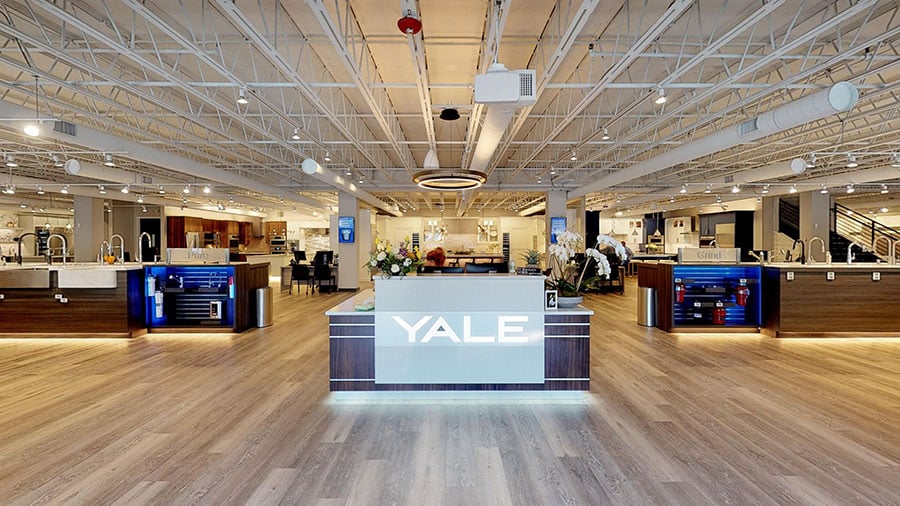 Yale Appliance in Hanover Front Entrance and Greeting Desk
The COVID-19 Problem & Supply Crisis
You now have an equally challenging problem of renovating during a pandemic. It's been 11 months since its discovery in China.
COVID-19 has impacted the Northeast in March through May. Then it was the South where most of the appliances are manufactured.
Also, Mexico, a hub of appliance parts and manufacturing, has been severely affected.
Not only are appliances scarce, but the parts to make them are scarce as well.
Factories have problems adjusting to social distancing guidelines and are working at 50% capacity.
You have to add an 8-12 week cushion because most other home improvement items have the same issue.
As a manufacturer's representative once told me, "If it takes 222 parts to make a dishwasher, and we have 219, we can't ship the dishwasher."
Manufacturing will probably not normalize until the middle of 2021.
So plan accordingly.
Now let's look at the worst kitchen remodel ideas and mistakes you should try to avoid.
They range from cost-ineffective to causing bigger problems later.
Read More: How to Buy Appliances During a Supply Crisis
10 Kitchen Appliance Remodeling Mistakes to Avoid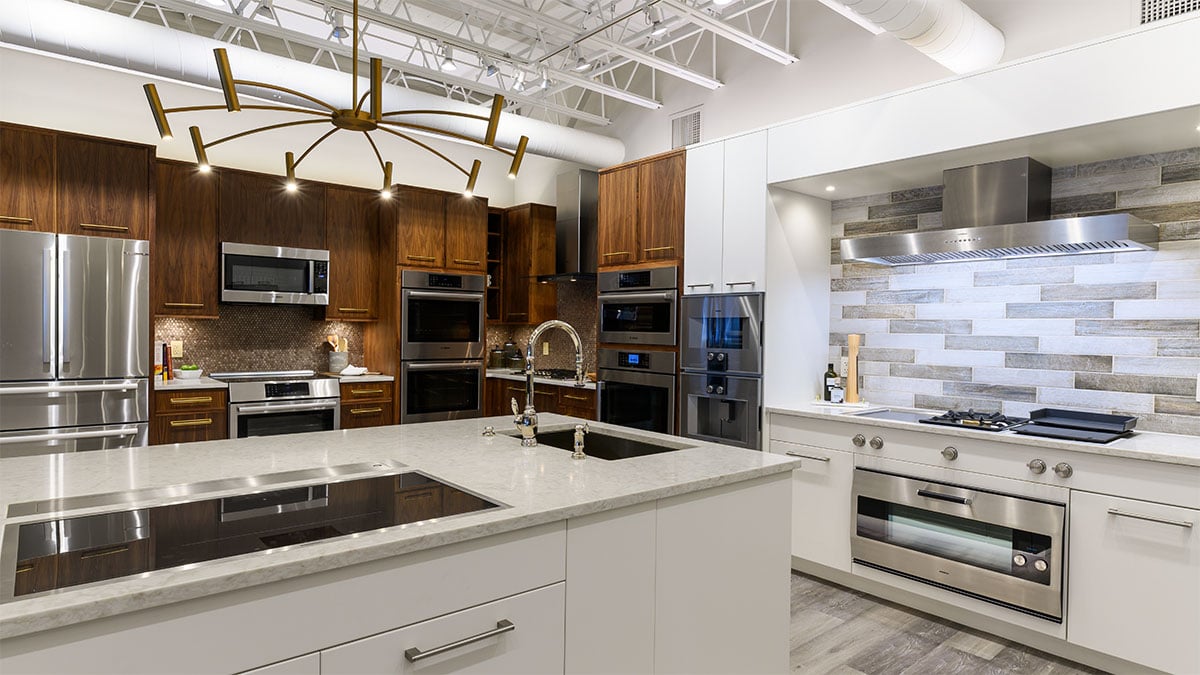 Bosch and Gaggenau Kitchen at Yale Appliance in Hanover
1. Washers Over 5 Cubic Feet
Look at these two washers from LG And GE: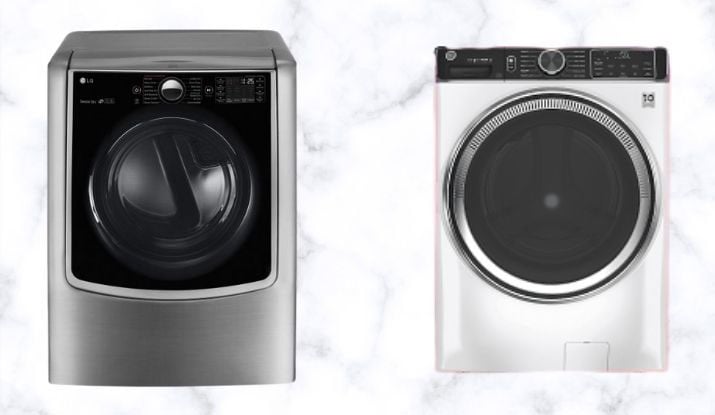 LG Mega Capacity Front Load Washer DLEX9000V| GE Smart Front Load Washer GFW850SSNWW
They are the largest front load washers at 9.0 cubic feet for LG and 5.0 cubic feet or GE with every conceivable cycle. It's $1,799 for LG's "mega" capacity machine.
GE's washer also comes with Microban anti-mold technology for $989.
Is $989 for 0.5 more cubic feet worth it?
Read More: How to Buy a Front Load Washer
2. Buying Extraordinarily Quiet Dishwashers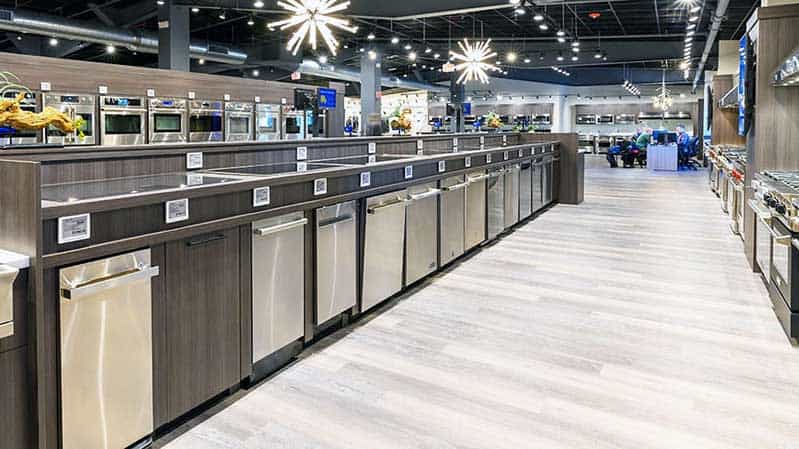 Best-Selling Dishwashers at Yale Appliance in Hanover
Folks, 44 DBs are quiet. 40 dB is noiseless. Some of our blog readers have commented about spending $1,000+ to buy a 37 DB dishwasher.
Any dishwasher from 40 dB to 44 dB will be quiet. You don't need to spend an additional $1000.
You will not notice the difference in quietness between the Bosch Benchmark and Bosch 800 series for $1000 less.
Learn More: Dishwasher Buying Guide
3. Combo (All-in-One) Washer and Dryers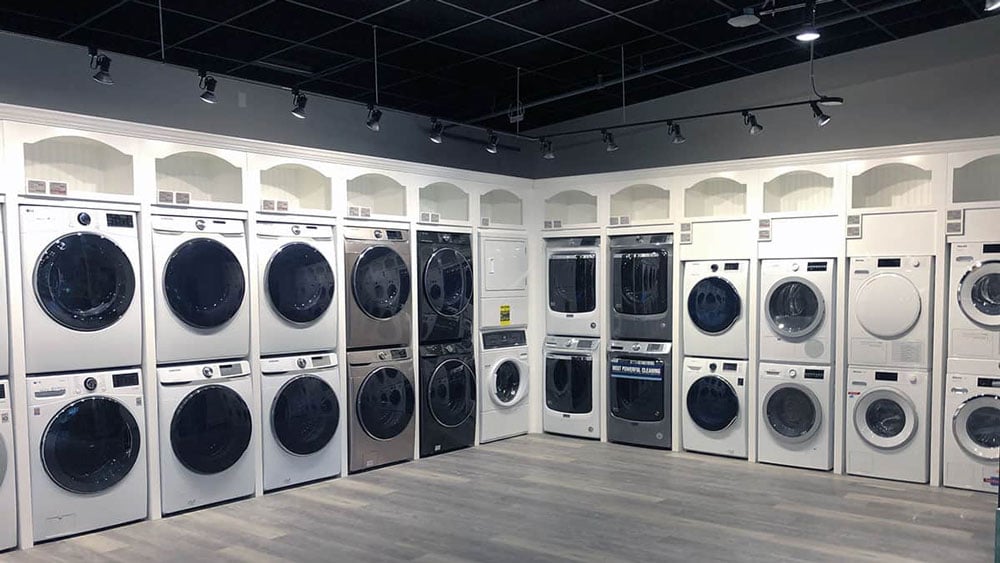 Front Load Washers at Yale Appliance in Hanover
This is my least favorite appliance.
I would love combos if they worked. However, between the long drying times and the endless amount of repair required, this machine is not with the aggravation.
As a corollary, these small "Thin Twin" washers and dryers need to be retired. They are incredibly small yet expensive.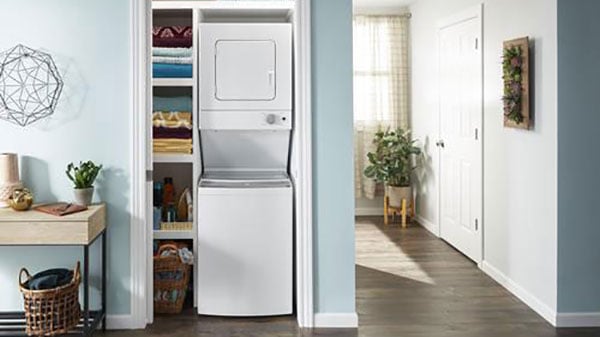 Whirlpool Electric Stacked Laundry Center
You can buy much better separate stacked compact washers and dryers with far greater capacity.
Read More: How to Buy a Stackable Washer And Dryer
4. Buying Black Stainless Steel Appliances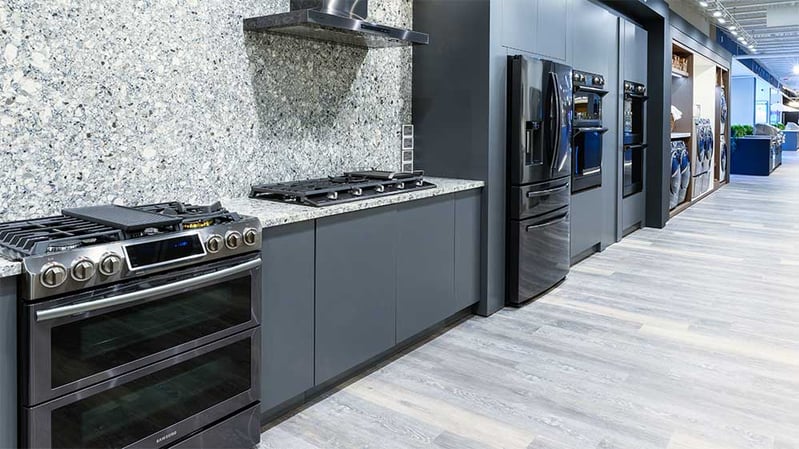 Samsung Black Stainless Steel Appliance Package
Black Stainless was at one time, 35% of all kitchen package purchases.
Black Stainless Steel Scratch Test [VIDEO]
That was well before, and people realized the oxide coating could scratch and reveal the shinier undercoating.
I would also like to see a new alternative to stainless. Just not this one.
Read More: Should You Buy Black Stainless Steel Appliances?
5. Buying Dual Fuel Ranges (Non-Professional)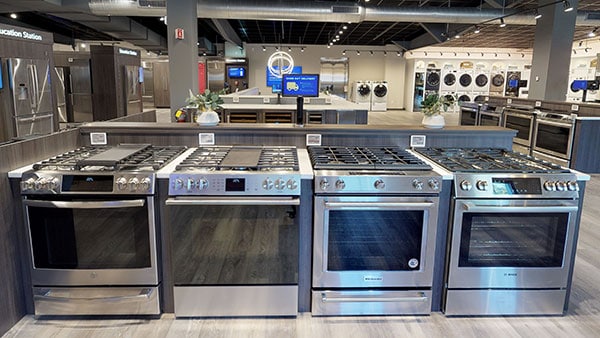 Gas and Dual Fuel Ranges at Yale Appliance in Hanover
Ok, when you tell me you want a dual fuel range, you want a faster top with a better baking oven. You are correct about the better baking part.
Electric is a drier heat, better for baking, whereas gas is moister and much better for broiling.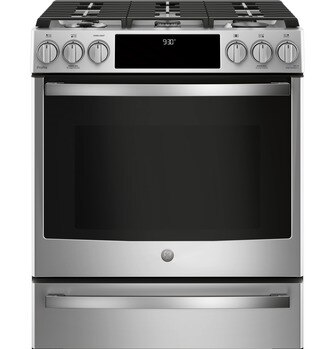 GE 30-Inch Dual Fuel Slide-In Range
However, the fastest and best cooking surface is induction. It even is faster to boil than the hottest 25,000 BTU pro range.
Induction is also the most child-safe, requires less venting, and is the best simmering range.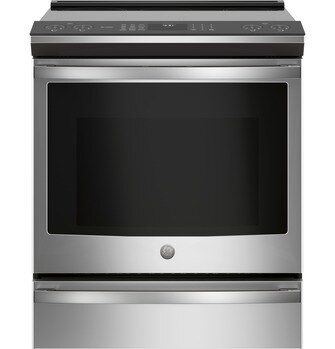 GE 30-Inch Induction Slide-In Range
So if you have kids, live in Massachusetts and have to worry about MakeUp air or simply want a faster stove, induction is far better.
You also do not have to run propane or a gas line to your house, either.
Read More: What's the Difference Between All Gas and Dual Fuel Professional Ranges?
6. Downdraft a Professional Range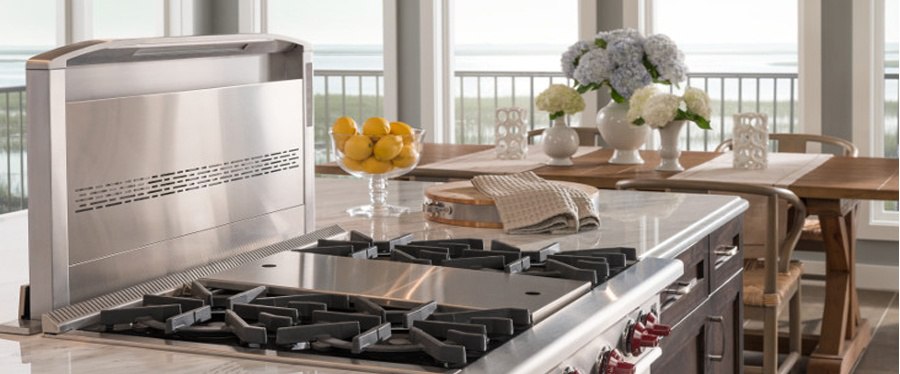 Downdraft for a Professional Range
Ventilation is about the capture area or size of the hood and CFM or speed of the blower.
Technically, CFM is about how many cubes of air are blown through the hood in a minute. However, you first need to capture the smoke. That's why pro hoods are so deep.
Smoke is captured, channeled, and exhausted.
Downdrafts have a 2-inch slot for capture area. Then smoke has to be reversed downward.
In other words: No capture, no channel, then no exhaust.
I do not care what downdraft "solutions" Viking and Best push. Their products will not exhaust a high-output range.
It is not possible.
Learn More: Pro Cooking Buying Guide
7. Underutilizing a Vent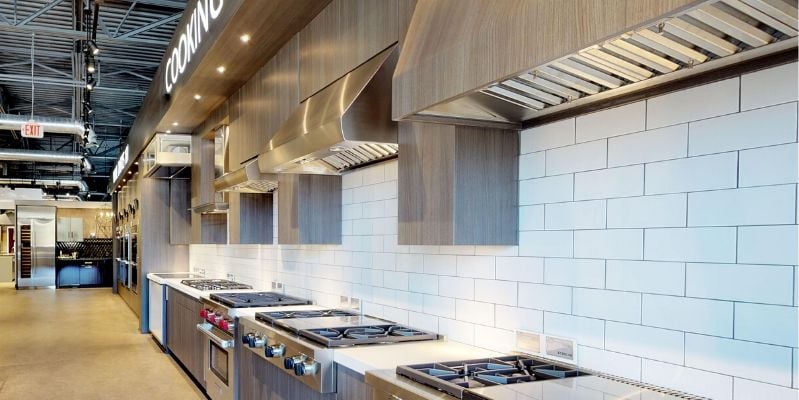 Ventilation for Professional Rangetops at Yale Appliance in Framingham
This one always perplexed me. The difference between a good and great vent is usually $200. Under-utilizing a vent will allow odors and grease to stay in your kitchen longer.
Broan has studies showing 4 gallons of grease can accumulate in a poorly vented kitchen in one year. Yuck.
8. Oversizing a Vent (Massachusetts Residents Only)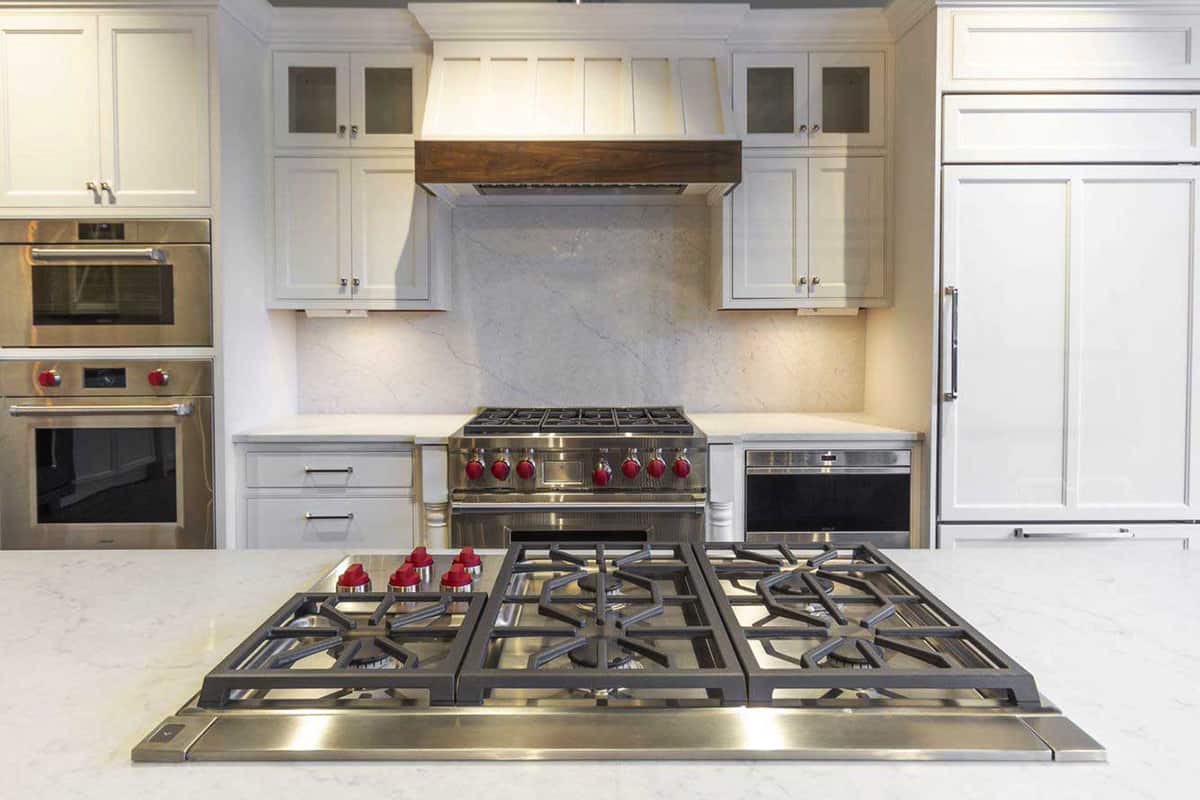 Wolf Professional Range with Ventilation Hood at Yale Appliance in Framingham
You have a Wolf range in a new kitchen. That is not the time to learn about the 2007 Mass MakeUp Air Regulations.
Over 400 CFM, you have to replace the air in your home.
Heres why: In new construction, you will have energy efficient products like windows and heaters. It will be more air tight than older homes
So you fire up that pro range and turn on your 1100 CFM hood. Thats 1100 cubes of air exiting an air tight home.
You need a return for the air or it will create an incredibly unhealthy environment.
It's easy to do through your HVAC during the planning stage.
It's not simple once you have finished your kitchen.
You will then have to tear into your wall/ceiling, replace the vent, and the outside wall cap.
Learn More: Ventilation Buying Guide
9. Stacking Wall Ovens
Stacking wall ovens in your kitchen is becoming more common, yet it's dangerous. You want to save space but not at the expense of safety.
Double-wall ovens with an appropriately mounted warming drawer are as high as you should go.
Look at this image. This one is installed at 84 inches tall - over 7 feet.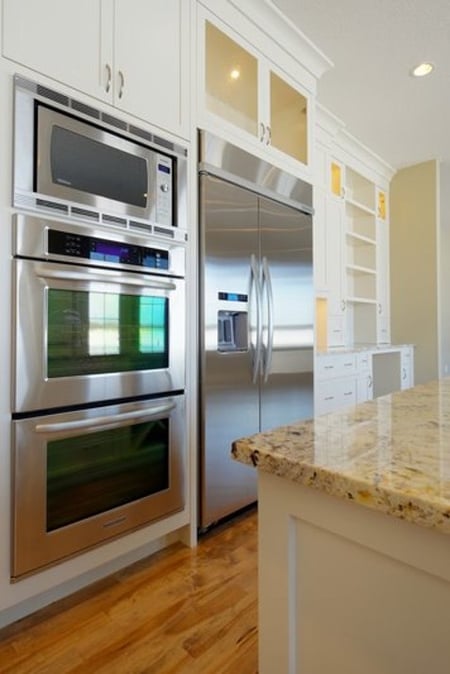 Stacked Wall Ovens
You will be taking a burning hot plate from over your head. Not smart.
You should place ancillary ovens anywhere from an island to under a cabinet.
Learn More: Wall Oven Buying Guide
10. Outside Grills Placed on the Inside of Your Home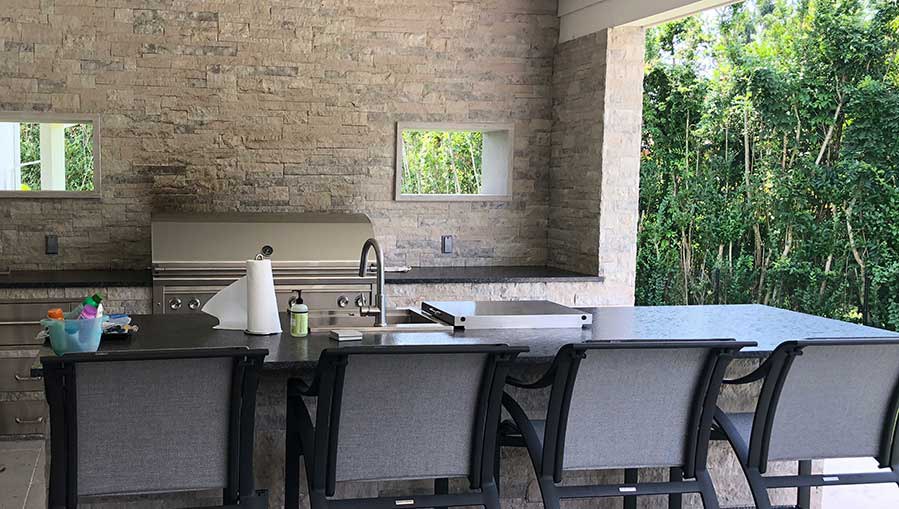 Customer Photo of a Grill Placed Indoors With No Ventilation
This is almost a guaranteed big problem, especially in Massachusetts. I have personal experience with this nightmare.
One of our best builders once had a previous customer who placed a Lynx grill (not our installation, thank heaven) on a three-season porch and needed advice.
I grilled some chicken sausage on the grill and watched the smoke billow past the hood.
The poor guy had to buy a commercial hood with an enormous commercial blower on the roof.
Plus, he had to reinstall a particular duct. Total cost $35,000 plus two months of planning and installation.
Now my point: A grill creates a ton of smoke. Place it outdoors and entirely outdoors.
If I have not discouraged you, then know many towns do not allow it by code.
If you are still unmoved, plan a huge vent. I mean HUGE deeper than 27 inches.
Residential vents cannot handle the smoke from an outside grill. Commercial vents are typically island style, because the stove is in the middle of the kitchen.
Please reconsider doing this
I still do not recommend doing this.
Bonus: Not Knowing Whom Will Fix Your New Appliances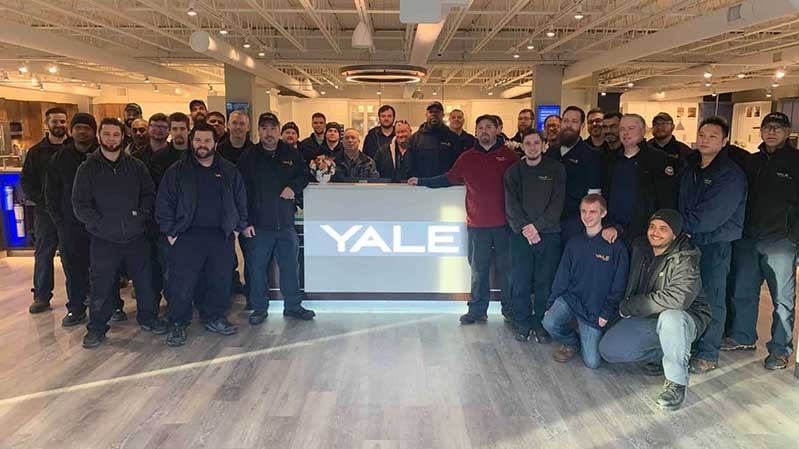 Yale Appliance Service Team at the Yale Appliance Hanover Showroom
Read the comments on this blog. Everyone hates everything with good reason.
Appliances have become more technical, yet there are very few dealers fixing them.
Appliances are unlike cars where every dealer will have a huge repair shop. Most dealers farm it to manufacturers who have also minimized the service.
This is the single biggest problem in choosing your appliances because, statistically, you will need service within the first year.
Here is a stat you should consider: Yale logged 35,256 service calls in 2019. We are based purely in Boston, so you have to believe there is plenty of service calls in your area.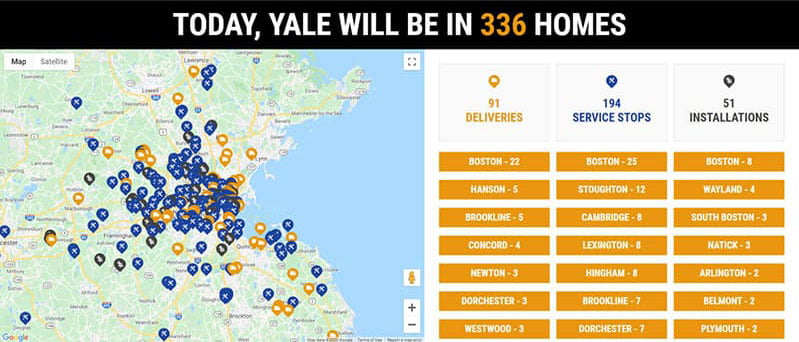 Do not buy those highly pitched extended service plans either without knowing who will fix the products.
Make this part of your buying research. It's easy nowadays. Google it or use Yelp, Angie's List, and the Better Business Bureau.
If you're spending a good deal of money on a renovation, at least check the people doing it, especially after the sale.
I could also mention delivery and installation as the number 2 and 3 problems as well.

How to Avoid Kitchen Renovation Mistakes Webinar
Below is a webinar on how to avoid the top kitchen renovation mistakes with myself and Stuart Elfland, President of Metropolitan Cabinets & Countertops.
Key Takeaways
The worst mistakes always involve planning or lack of planning.
Spend some time understanding your space so you can buy products to compliment your lifestyle.
Then hire the right people.
With COVID-19, add some time as a cushion because you will not find all the supplies needed as quickly pre COVID-19.
In terms of appliances, buy proven products and brands, but be flexible, because of limited availability.
Look at features and then choose from the brands available with that feature. You will have more selection being feature loyal than brand loyal
Choose your cooking first, then vent properly and stay away from the top 10 on this list.
Read reviews and vet every contractor, supplier, and especially appliance store.
Renovating is harder than ever. But, You can do this.
Additional Resources
Want more information on the worst renovation mistakes to avoid? Get The Book of Bad Renovations to learn how to avoid a renovation failure. Well over 1 million people have read and trusted a Yale Guide.
Related Articles
Why Should You Trust Us?
It seems that every appliance review has nothing but glowing comments about almost every product, yet you read customer reviews and they are almost universally bad.
We are here to fill in the disconnect. We'll give you the best features, and the drawbacks as well, including reliability based on over 37,000 calls performed by our service team just last year. Our goal is to give you ALL the information so you know what's right for you.
Please consider subscribing or adding to the conversation in the comments below. We appreciate you stopping by.
Steve Sheinkopf is the third-generation CEO of Yale Appliance and a lifelong Bostonian. He has over 38 years of experience in the appliance industry, and he is a trusted source of information for consumers on how to buy and repair appliances.

Steve has also been featured in numerous publications, including the New York Times, Consumer Reports, The Boston Globe, Bloomberg Radio, the New York Post, The Wall Street Journal, and Entrepreneur, for his knowledge of how to buy appliances and appliance repair.

Steve is passionate about helping consumers find the best appliances for their needs, and he is always happy to answer questions and provide advice. He is a valuable resource for consumers who are looking for information on appliance buying, repair, and maintenance.

Despite being the worst goalie in history, Steve is a fan of the Bruins and college hockey, loves to read, and is a Peloton biker. The love of his life is his daughter, Sophie.
A Note About Pricing
Pricing on this blog is for reference only and may include time sensitive rebates. We make every attempt to provide accurate pricing at time of publishing. Please call the stores for most accurate price.