Samsung vs. LG Convection Gas Ranges (Reviews/Ratings/Prices)
LG and Samsung are the fastest growing appliance companies in the US. It has been so recent, you probably didn't even think of either brand the last time you bought a range.
They were the first companies to understand you wanted not just a functional stove, but a good looking product as well. Maybe it has been all those years competing with Apple in their phone divisions.
The companies are very similar. Both are Korean and compete in the same industries. In this article, you will learn a bit about their companies and products.
Then you will see reliability percentages for both companies as well as the right time to get the best deal from either company.
Let's look at both companies first.
Samsung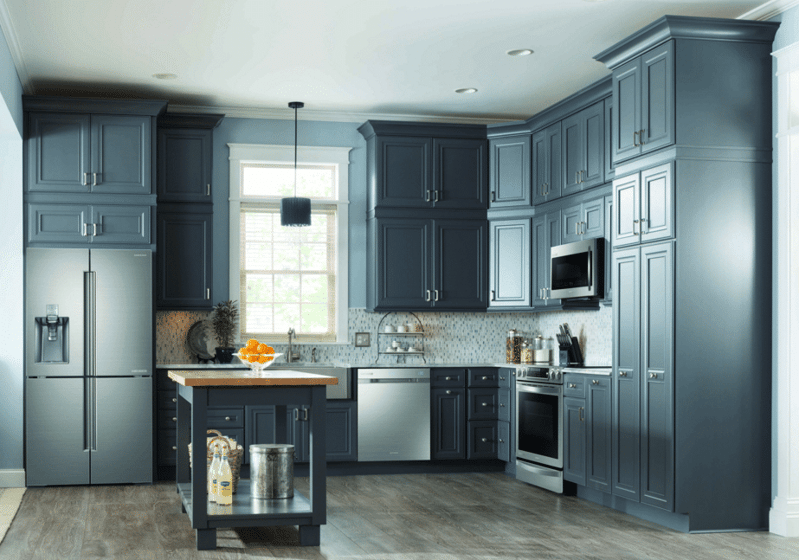 Samsung is a Korean based industrial company founded in 1938 by Byung-Chul Lee. They have been known for very innovative electronics such as televisions and cell phones.
Samsung is now one of the largest appliance manufacturers in the world and the number one brand in sales in the US.
Small Note: Their recent troubles with defective phones and top load washers do not extend into other product categories. Their repair percentages is 2-4% below the average in the appliance industry.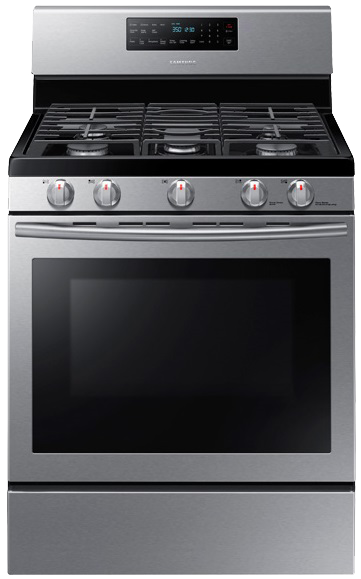 You can watch our VIDEO review for the Samsung NX58H5699SS by clicking here.
Features:
5.8 c.u. ft oven capacity
Convection
Self-clean
Continuous grates
Storage Drawer
Burner Output: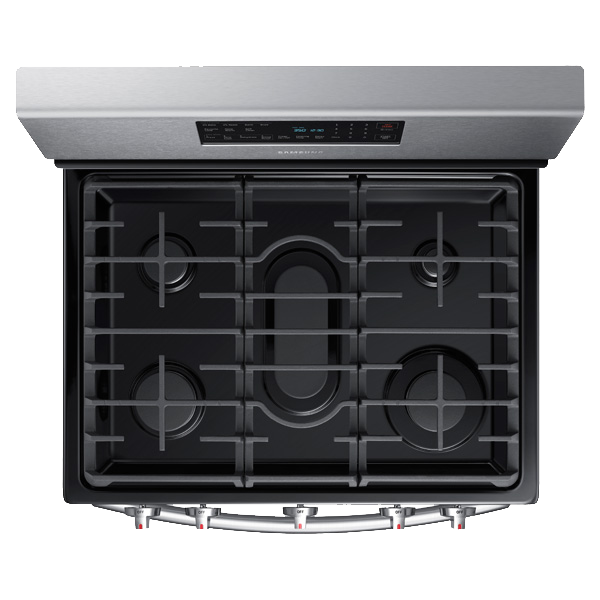 The Griddle burner and griddle are included in the burner outputs below.
Set 1 QTY: 1
Set 1 Output: 17,000 BTU
Set 2 QTY: 1
Set 2 Output: 15,000 BTU
Set 3 QTY: 1
Set 3 Output: 5,000 BTU
Set 4 QTY: 2
Set 4 Output: 9,500 BTU
This is a large oven,at a great price point. Seventeen thousand BTUs is a high output on the burners. It's high enough to sear, quick to boil, and has great wok control.
The included griddle fits perfectly on the griddle burner for pancakes, bacon, eggs, etc. The storage drawer is a great place to store cookie racks and sheet pans.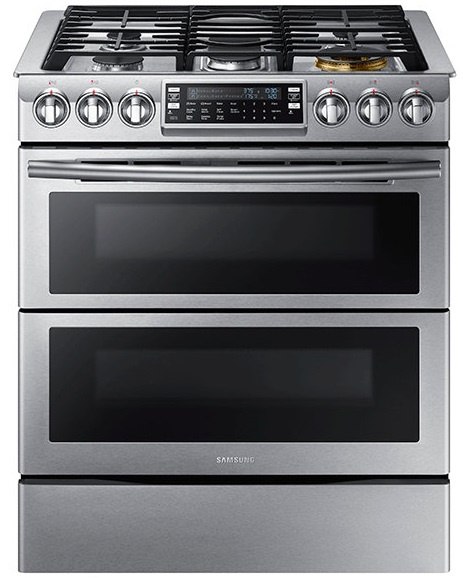 Features:
5.8 c.u. ft oven capacity
Dual True Convection
22K BTU Dual Power Burner
Reversible Grill/Griddle
Temperature Probe
Warming Drawer
Flex Duo Cooking with Split Door
Wi-fi Connectivity
Griddle/Griddle Burner
Wok Ring
Burner Output:
Set 1 QTY: 1
Set 1 Output: 22,000
Set 2 QTY: 1
Set 2 Output: 15,000
Set 3 QTY: 1
Set 3 Output: 5,000
Set 4 QTY: 2
Set 4 Output: 9,500
A slide-in range will overlap the counters on the sides to allow for easier cleaning and a sleeker look, so you can see your backsplash.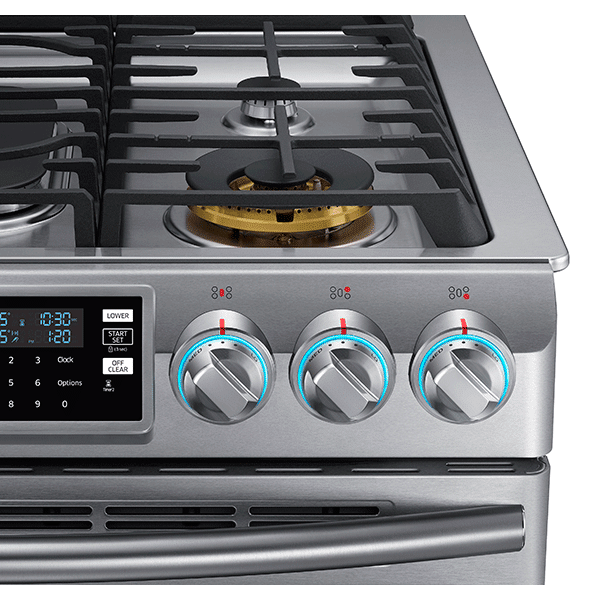 Samsung NX58K9850SG Convection Gas Range Controls
The oven has decent controls with a temperature probe to eliminate the guesswork to broiling meats.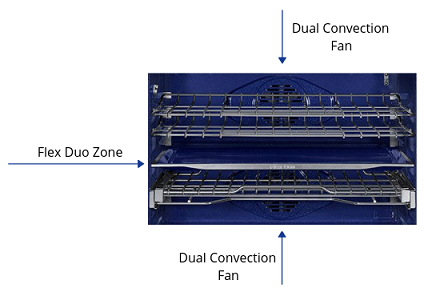 The Flex Duo oven is a removable divider that allows you to cook 2 items at different temperatures.
You can remove the divider and use the oven as one big oven as well. The split doors are great for just using the top oven when broiling.
Wi-Fi allows you to see what's going on with your oven while you are entertaining in the other room.
LG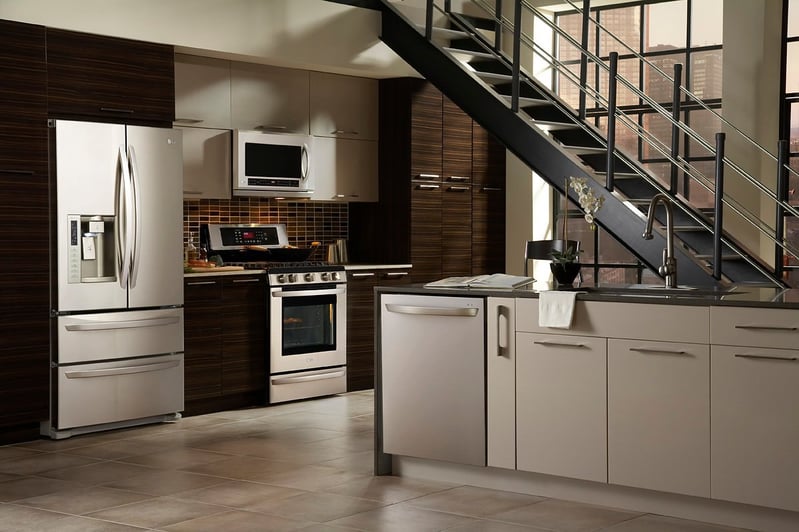 LG is also a Korean company founded in the late '50s as Goldstar. They branched into electronics and televisions acquiring Zenith in 1994. LG is widely credited for introducing technology into front load washers as well as French door refrigerators and creating the category.
LG LRG4113ST Freestanding Range - $1,299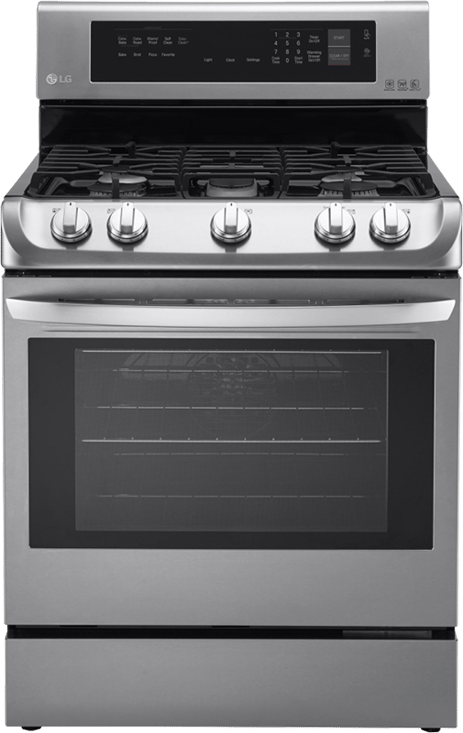 Features:
6.3 c.u. ft oven capacity
Pro Bake Convection
Griddle
Easy Clean
18.5K Power Burner
Storage drawers
Front tilt controls for easy visibility and use
Burner Output
Set 1 QTY: 1
Set 1 Output: 18,500
Set 2 QTY: 1
Set 2 Output: 12,000
Set 3 QTY: 1
Set 3 Output: 10,000
Set 4 QTY: 1
Set 4 Output: 9,100
Set 5 QTY: 1
Set 5 Output: 5,000
This range has a really big oven and 18.5k burner that will heat up just about anything at a great pace. Like Samsung, the griddle and burner are standard.
The 10 min easy clean cycle is convenient. Simply spray water inside the oven, run the cycle, and then wipe the oven clean. No bending down to see the front controls on this range with the tilt feature.
The Pro Bake Convection is truly an interesting feature. LG is one of two companies offering True Convection.
Regular convection has the fan in the back, but the heating element is below. The heat rises then the fan distributes the air.
True convection has the heating element in the back so the heat is blown in from the back for more even heat.
LG LTG4715ST Slide-In Range - $2,899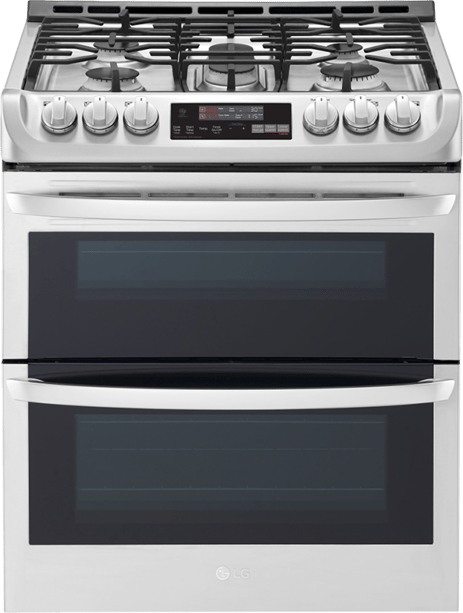 Features:
6.9 c.u. ft oven capacity (2.6 and 4.3)
18.5K BTU Power Burner
Slide Out Rack
Easy Clean
Temperature probe
Pro Bake Convection
Double Oven
Smooth touch oven controls
Wi-fi Connectivity
Burner Output
Set 1 QTY: 1
Set 1 Output: 9,100
Set 2 QTY: 1
Set 2 Output: 5,000
Set 3 QTY: 1
Set 3 Output: 12,000
Set 4 QTY: 1
Set 4 Output: 18,500
Set 5 QTY: 1
Set 5 Output: 10,000
This double oven range allows you to cook at 2 different temperatures in 2 different sealed cavities.
The top oven is thermal and has a broiler and the bottom oven(larger oven) has Pro bake convection. 18.5 BTU is plenty of power to sear, wok and quick boil.
Samsung vs. LG Convection Gas Ranges
| | | | | |
| --- | --- | --- | --- | --- |
| | Samsung NX58H5600SS | Samsung NX58K9850SG | LG LRG4113ST | LG LTG4715ST |
| Range Type | Freestanding | Slide-In | Freestanding | Slide-In |
| Oven Capacity | 5.8 c.u. ft oven | 5.8 c.u. ft | 6.3 c.u. ft | 6.9 c.u. ft |
| Convection System | Regular Convection | Dual True Convection | Pro Bake Convection (Pure Convection) | Pro Bake Convection (Pure Convection) |
| Wi-Fi Connectivity | No | Yes | No | Yes |
| Highest BTU Output | 17,000 BTU | 22,000 BTU | 18,500 BTU | 18,500 BTU |
| Double Oven | No | Yes | No | Yes |
| Price | $649 | $2,399 | $1,299 | $2,899 |
This is a very interesting comparison. The burners on the top are very similar.
The aesthetics on the Samsung seem more refined than LG.
In the freestanding, the LG has bit more power, although they both have high output burners. LG has the pro bake convection while the Samsung has regular convection.
The LG slide-in has dual ovens that would offer better temperature control while the Samsung has a removal Flex Duo divider. Samsung you can use convection in both ovens, LG just has it in the top one. Samsung also has better output in their slide-in.
Wi-Fi is interesting and is where the appliance industry is headed. Both LG and Samsung offer it for diagnosis and remote oven control.
LG has the Pro Bake feature. Oddly enough, the only other manufacturer offering pure convection is BlueStar.
Which Convection Gas Range Is More Reliable?
Most Reliable Gas Ranges for 2018
| | | | |
| --- | --- | --- | --- |
| | Service Qty | Shipped Qty | Service Ratio |
| Electrolux | 5 | 5 | 100.00 % |
| Bertazzoni | 1 | 1 | 100.00 % |
| Dacor | 2 | 4 | 50.00 % |
| Fisher & Paykel | 3 | 6 | 50.00 % |
| BlueStar | 10 | 20 | 50.00 % |
| Blomberg | 14 | 32 | 43.75 % |
| Summitt | 2 | 5 | 40.00 % |
| Jenn-Air | 138 | 365 | 37.81 % |
| Bosch Benchmark | 14 | 42 | 33.33 % |
| Frigidaire Professional | 20 | 94 | 21.28 % |
| Bosch | 50 | 313 | 15.97 % |
| KitchenAid | 53 | 366 | 14.48 % |
| Frigidaire Gallery | 21 | 193 | 10.88 % |
| Maytag | 4 | 46 | 8.70 % |
| Frigidaire | 16 | 195 | 8.21 % |
| Premier | 3 | 41 | 7.32 % |
| LG | 2 | 31 | 6.45 % |
| Samsung | 23 | 404 | 5.69 % |
| Whirlpool | 9 | 352 | 2.56 % |
| Amana | 2 | 80 | 2.50 % |
| Grand Total | 392 | 2600 | 15.08 % |
Both are excellent with Samsung being almost 1% better on a much bigger volume. You may ask why does Samsung outsell LG almost 20-1 for such similar products.
LG vs. Samsung Appliance Packages
Samsung is better in other key appliance categories, especially refrigeration and dishwashers. If you are buying an appliance package, you have a better mix of products with Samsung.
LG, on the other hand, has better laundry (not relevant in this comparison).
Which Convection Gas Range Should I Buy?
Depends on what you like. For broiling, both brands offer the ability to use a smaller top cavity for better heat retention, but LG may have better control there.. In the oven, LG has better capacity and convection delivery system.
The Flex Duo is a great idea, especially if you want to cook a large turkey you can take the divider out, LG you are limited to 2 smaller ovens. Samsung has better burners in a slide-in.
For packages, you should buy Samsung. For a single convection gas range, both have their compelling points.
When is the best time to buy Samsung or LG appliances?
Appliances are now sold like TVs. If you can wait, Black Friday, President's Day, Memorial Day, Labor Day, and July 4th are the best times to buy LG or Samsung appliances. You can save 10-35%.
Tariff Implications
Both were hit with punitive tariffs on laundry only. The industry is grappling with a 25% tariff on steel and another 10% on aluminum. If this is part of an overall remodel, ask your contractor about price volatility.
It is not clear whether higher prices are on the way or whether we have seen the worst of it. 2018 was a challenging year for any product comprised of steel like appliances.
LG/Samsung Service
Many dealers do not service LG/Samsung of the few actually servicing. There is nothing difficult or extraordinary about fixing either.
However, in certain parts of the country, it may be hard to find service for both brands.
You should know who will be fixing any appliance brand before you buy.
Additional Resources
Have questions about gas ranges? Get the Yale Pro Cooking Buying Guide with features, benefits, and detailed profiles of all the major brands. Well over 350,000 people have read a Yale Guide.
Related Articles
Why Should You Trust Us?
It seems that every appliance review has nothing but glowing comments about almost every product, yet you read customer reviews and they are almost universally bad.
We are here to fill in the disconnect. We'll give you the best features, and the drawbacks as well, including reliability based on over 37,000 calls performed by our service team just last year. Our goal is to give you ALL the information so you know what's right for you.
Please consider subscribing or adding to the conversation in the comments below. We appreciate you stopping by.
Todd Rourke
Todd Rourke is a Sales Consultant for Yale Appliance. He has worked in sales for over 17 years. He loves putting dream kitchens together for his customers. In his free time, Todd is a musician and an avid bass fisherman and prefers the Lakes Region in NH. Mainly, he is a Dadda to his 2 beautiful daughters and a housekeeper to his beautiful wife. They take up most of his free time nowadays, but he wouldn't have it any other way. HelloFresh and Blue Apron have saved his nights! Todd loves the outdoors and anything lighthearted and silly.

Schedule a showroom visit with me
A Note About Pricing
Pricing on this blog is for reference only and may include time sensitive rebates. We make every attempt to provide accurate pricing at time of publishing. Please call the stores for most accurate price.