Café Appliances vs. Thermador Gas Ranges
For years, you have been told pro ranges have the highest output and are much more expensive than an upscale regular gas range.
That hasn't been the case for years.
In this article, you will see a comparison between the popular Thermador Professional (Pro) range against the high-end front control Café Appliances gas range.
You will learn about the output, oven features, reliability, and compare prices of both Café Appliances and Thermador ranges.
In the end, you will understand the differences between high-end gas and pro ranges and what might be better for you.
Short on time? Get our free Gas Cooking Buying Guide
Café Appliances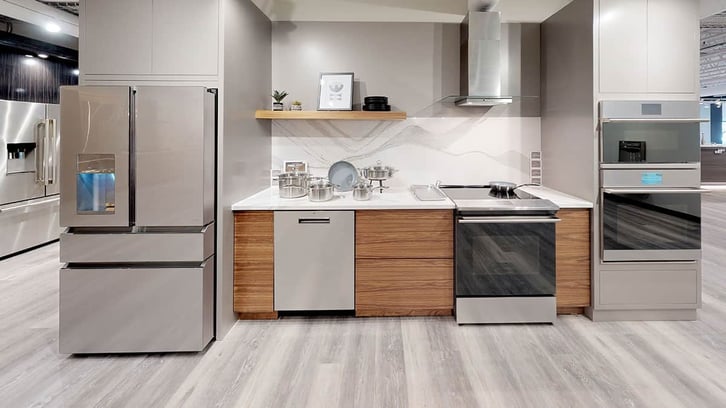 Café Appliances Kitchen Appliances at Yale Appliance in Hanover
Café Appliances is the high-end line of GE appliances. Of course, GE is now part of Haier, a Chinese company.
However, most of the appliances are still manufactured in the US.
Café is the only line accessorizing well with four finishes white, black, stainless, and mirrored as well as three trim packages stainless, brass, and copper.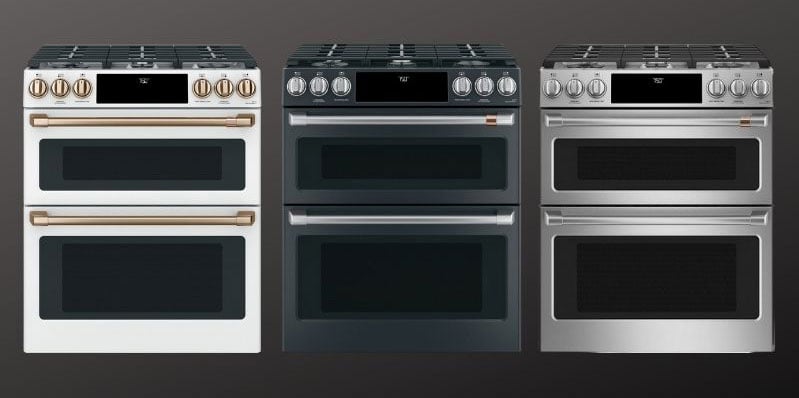 Styles of Café Appliances Gas Ranges
Café Appliances has two gas front control ranges, the CGS700 and CGS750.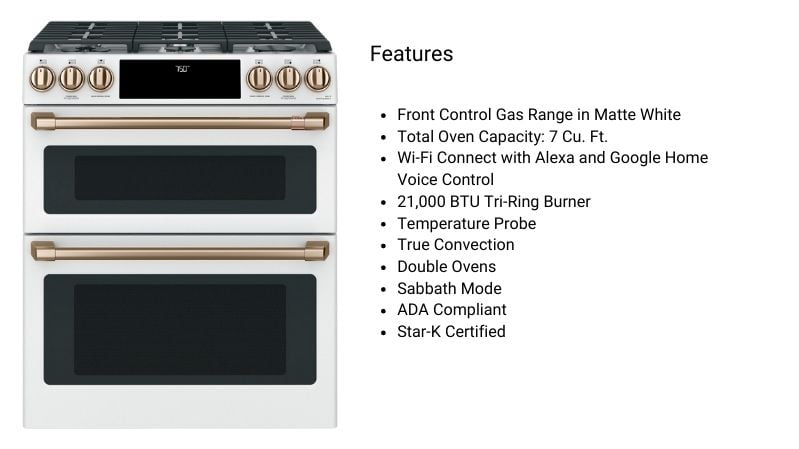 The 750 is more interesting with the double oven and will line up better for price comparison with Thermador.
Read More: Is the Café Appliances CGS750P4MW2 Gas Range Any Good?
Thermador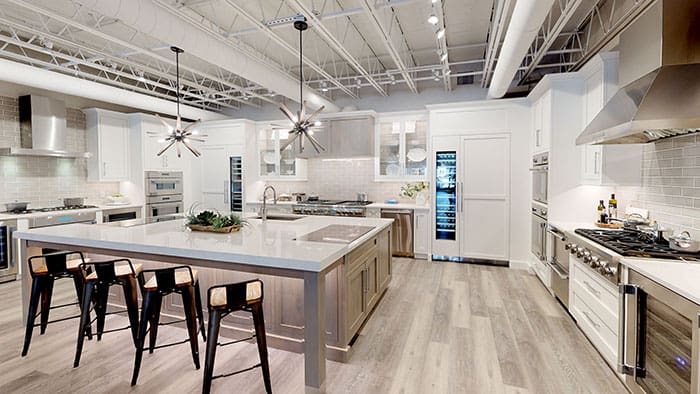 Thermador Kitchen at Yale Appliance in Hanover
Thermador is the high-end pro company of the German BSH company. Their pro ranges, as well as many other appliances, are made in the US.
Thermador was the first with downdrafts, wall ovens and was the first American-made premium appliance company.
There are two professional ranges to qualify for this comparison in 30 inches.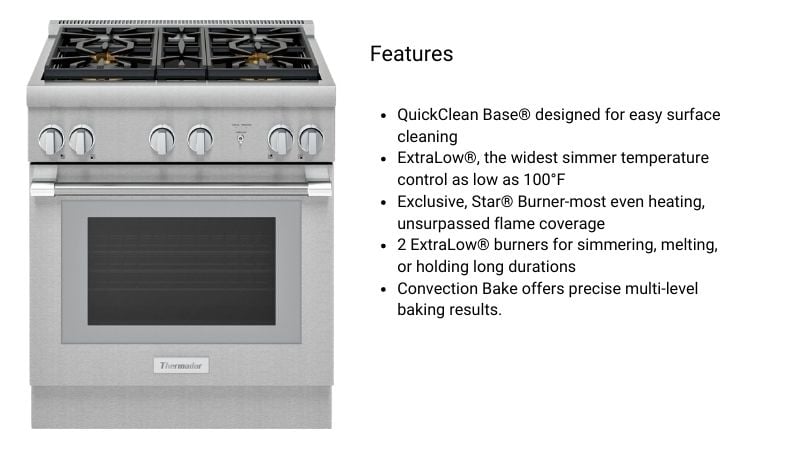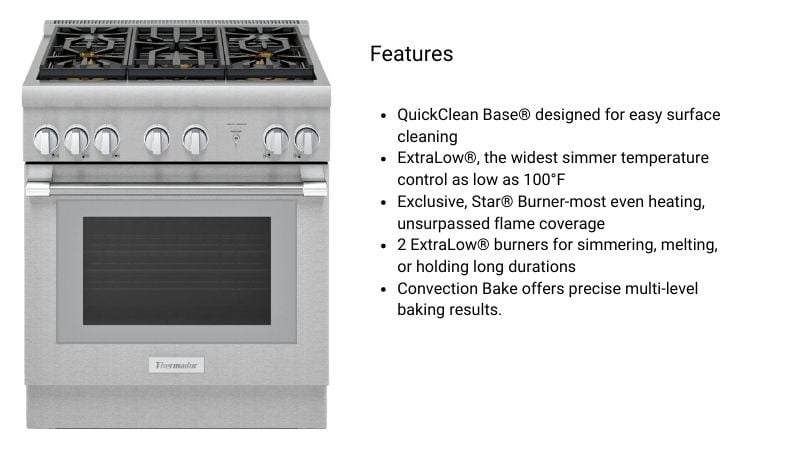 What's the Differences Between the PRG304WH and PRG305WH?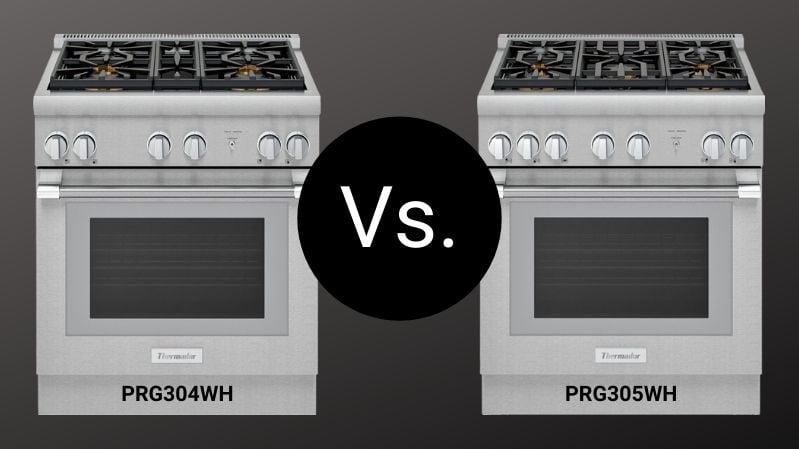 The difference is in the burner arrangement.
The PRG305WH has five burners at 18,000, 15,000, 10,000, 10,000 and 8,000.
PRG304WH has four burners, two at 18,000, and two at 15,000.
The PRG305WH costs $5,499 for that burner. You also do not need as much venting in theory with less powerful burners.
However, the PRG304WH is more powerful and more popular as well at $4,849. It also fits the more classic definition of a professional range and is better for this comparison.
Café Appliances vs. Thermador Pro Gas Ranges
What the CGS750P4MW2 and PRG304WH Have in Common
They don't have much in common at all.
However, they are both front control ranges, not slide-ins. Front control ranges fit existing spaces, whereas slide-ins overlap the sides for easier cleaning.
We have articles devoted to this comparison. This graphic will help to clarify the difference. I will also leave a link at the bottom for more information.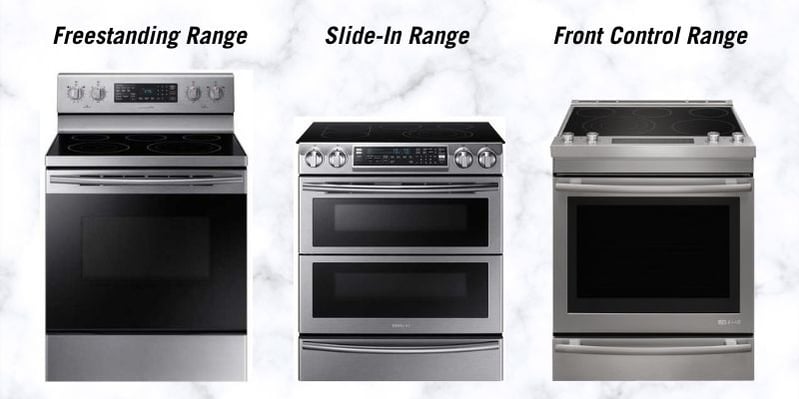 They are also both available in dual fuel or gas over an electric convection oven.
If you have the power for electric, you should buy induction instead of dual fuel.
Induction is faster, safer, better on the simmer, and requires less venting than gas. You have the same electric convection oven at the bottom of both.
We could (and probably will) compare induction models, but that's for another article.
Read More: What's the Difference Between Freestanding and Slide-In Ranges?
How the PRG304WH and CGS750P4MW2 Differ
Cooktop and BTU Output

These are completely different cooktops.
Thermador has 4 pro burners (15,000 or greater) 2 at 15,000 and 2 at 18,000.
The Café has six burners.
Burner profile of a Café is 2 Pro burners (1) 21,000, 91) 15,000 along with a 12,000, (2) 9500, and (1) 5000 BTU simmer burner.
Depending on how you use the cooktop, Thermador will have all high output with an ExraLow simmer on two burners.
They have the best gas simmer because 2 of the burners cycle on and off for a lower mean BTU of 100 BTU.
Café has one bigger burner at 21,000 to cook faster for some added power for woks and other high heat cooking.
They also have more burners, but it's not clear how useful a 9500 BTU burner is. Then again, you have 2 for power, 1 for simmer, and 3 for anything in between.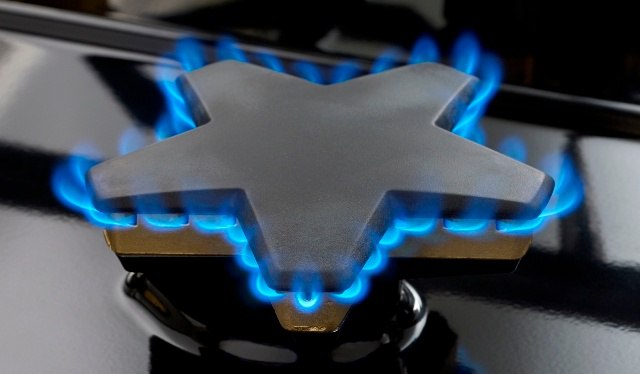 Thermador Star Burners for a Pro Gas Range
Thermador promotes its burners and their star shapes heavily. They say it heats up better due to better coverage of the pan.
I am not sure about that and haven't seen any studies proving it.
The Star Burner is better for cleaning because it is raised up from the base. You can clean under the burner instead of scouring around it like every other round burner.
Oven
Thermador has your standard single convection oven at 4.6 cubic feet. BTW, you don't have storage in Thermador or any pro stoves.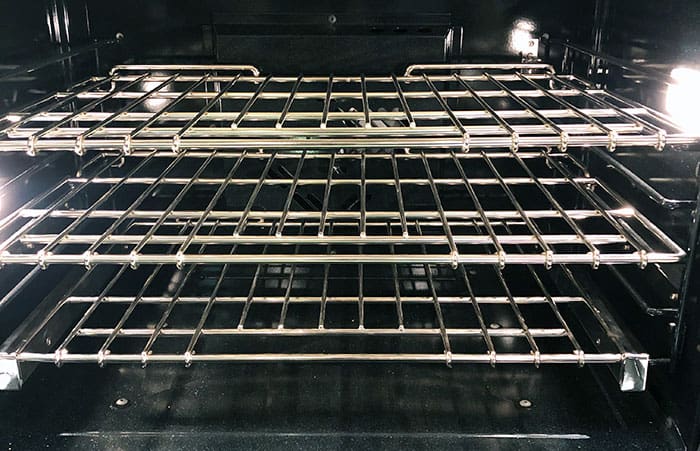 Thermador 48-Inch Professional Gas Range Oven
Café Appliances front control range is 6.7 cubic feet with a 2.4 cubic foot top oven and a main 4.3 cubic foot convection below.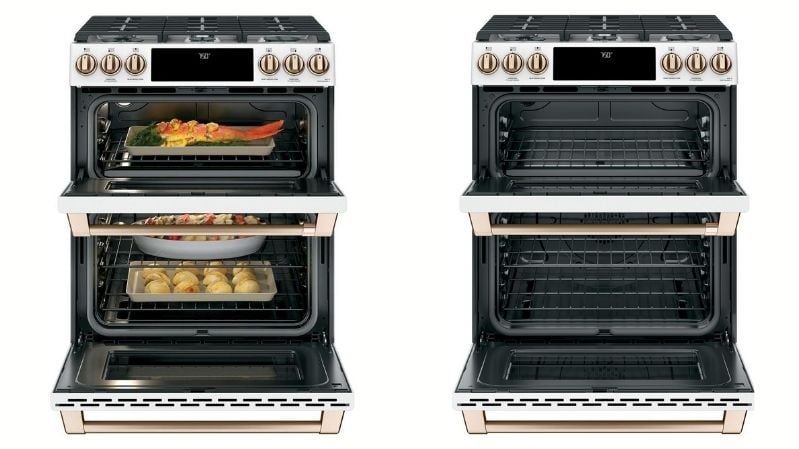 Café Appliances Gas Range Oven
It's a versatile product; you can bake or broil in both ovens. The top isn't convection, but you don't need much airflow in a smaller oven.
There are some downsides to this arrangement as well.
First, the larger oven is slightly smaller to the Thermador at 4.3 to 4.6 cubic feet.
Also, you do have to bend further with the oven almost at floor level.
Broiling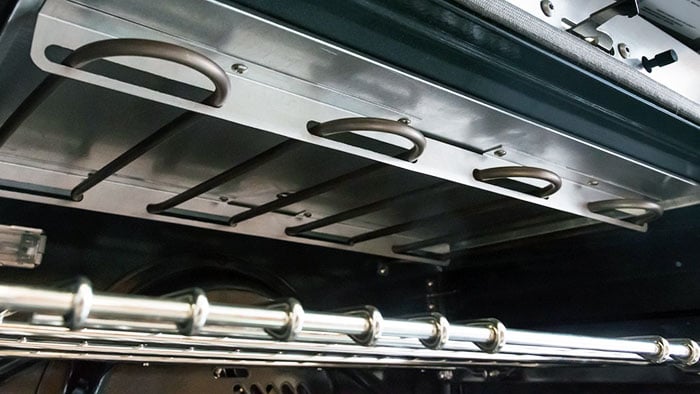 Thermador Broiler In A Pro Range
How come nobody ever talks about broiling? They compare BTU and move on. That's a mistake.
Thermador has an infrared burner versus a regular tube burner for the GE.
Infrared is intense, direct heat, whereas gas spreads the heat like a gas burner.
Regular gas heats the air as well as your food versus infrared heating, just your food.
For you, BBQ fans, the sear elements of the high-end Lynx, Heston, and DCS grills is simply an infrared burner (with some pretty good marketing).
Read More: Infrared vs. Traditional BBQ Grill Burners
Self-Cleaning
GE is a self-cleaning oven. Thermador is not.
Clock and Timer
Like a true restaurant range, Thermador does not offer a clock and timer.
The Café has a robust clock and timer. It even has convection conversion converting your recipes to convection automatically.
Style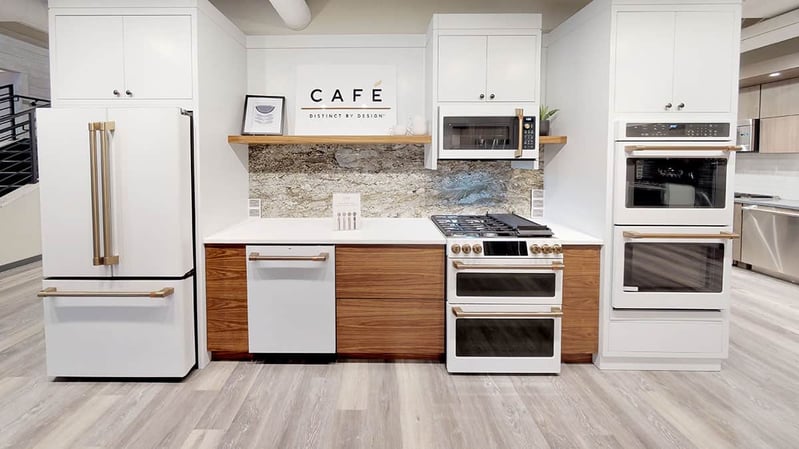 Café Appliances Kitchen Appliances in Matte White at Yale Appliance in Hanover
Café Appliances has four styles, 3 with different handle options copper, brass, and stainless.
Thermador has stainless only.
Wi-Fi
Both companies are at the forefront of Wi-Fi. Thermador has HomeConnect, their App connecting your range with different recipes.
Just inexplicably not on this range.
GE has Wi-Fi on all their products. You can even talk to your range through Alexa. It also has basic recipes and allows you the ability to turn on or off the oven remotely along with other basic features.
Price
Café Appliance's price starts at just over $3,000 to about $3,500 depending on the range and hardware.
Thermador is priced at $4,849. However, a $1,000 dishwasher is free with the purchase, so the price is $300-800 higher with the Thermador.
Reliability
Gas Range Reliability For 2020
| | | | |
| --- | --- | --- | --- |
| | Service Qty | Shipped Qty | Service Ratio |
| Bosch Benchmark | 8 | 14 | 57.14% |
| BlueStar | 9 | 18 | 50.00% |
| JennAir | 83 | 263 | 31.56% |
| LG | 3 | 12 | 25.00% |
| Blomberg | 3 | 12 | 25.00% |
| KitchenAid | 48 | 231 | 20.78% |
| Fisher & Paykel | 3 | 19 | 15.79% |
| Bosch | 33 | 241 | 13.69% |
| Café Appliances | 9 | 81 | 11.11% |
| GE Profile | 17 | 177 | 9.60% |
| Beko | 1 | 11 | 9.09% |
| Samsung | 76 | 1199 | 6.34% |
| Whirlpool | 11 | 239 | 4.60% |
| GE | 0 | 32 | 0.00% |
| Grand Total | 304 | 2549 | 11.92% |
Pro Range Reliability For 2020
| | | | |
| --- | --- | --- | --- |
| | Service Qty | Shipped Qty | Service Ratio |
| Miele | 15 | 21 | 71.4% |
| BlueStar | 30 | 42 | 71.4% |
| Wolf | 50 | 307 | 16.3% |
| JennAir | 15 | 103 | 14.6% |
| Thermador | 53 | 430 | 12.3% |
| Grand Total | 163 | 903 | 18.1% |
Café Appliances is excellent in terms of reliability, especially for such a high-end range with more burners and a second oven.
Thermador has the most reliable pro gas range. Its even lower than the average for appliances at 13.4%.
Still, these appliances are more sophisticated than most appliances.
You need to find a good service company for repair issues in the future on any advanced appliance or laundry.
Key Takeaways
First, the difference in prices between a high-end regular range and a pro has narrowed considerably, especially in Thermador and other pro companies like Jenn-Air and BlueStar.
The output of regular gas ranges versus pro has also narrowed over the years.
In fact, in many cases, you can buy regular ranges with a few higher output burners and higher overall BTUs.
The fundamentals of high-end range versus pro are still the same with all high output burners versus 2 with better oven functionality in the regular range.
For this particular comparison, Thermador does have a better burner in The Star as well as an excellent broiler in the infrared.
The Café has more styles, better oven functionality, and capacity as well as more burners.
So which is right for you?
The answer is different depending on what you like to do: bake or broil? Boiling needed on every burner versus just two, and do you need clocks, timers, and an easier oven interface
What do you think?
Additional Resources
Want to learn more about the latest gas ranges and technology? Read the Yale Gas Range Buying Guide with features, specs and detailed profiles of every major brand. Well over 800,000 people have downloaded a Yale Guide.
Related Articles:
Why Should You Trust Us?
It seems that every appliance review has nothing but glowing comments about almost every product, yet you read customer reviews and they are almost universally bad.
We are here to fill in the disconnect. We'll give you the best features, and the drawbacks as well, including reliability based on over 37,000 calls performed by our service team just last year. Our goal is to give you ALL the information so you know what's right for you.
Please consider subscribing or adding to the conversation in the comments below. We appreciate you stopping by.
A Note About Pricing
Pricing on this blog is for reference only and may include time sensitive rebates. We make every attempt to provide accurate pricing at time of publishing. Please call the stores for most accurate price.