Best Freestanding & Slide-In Gas Ranges (Reviews / Ratings / Prices)
August 9th, 2019 | 7 min. read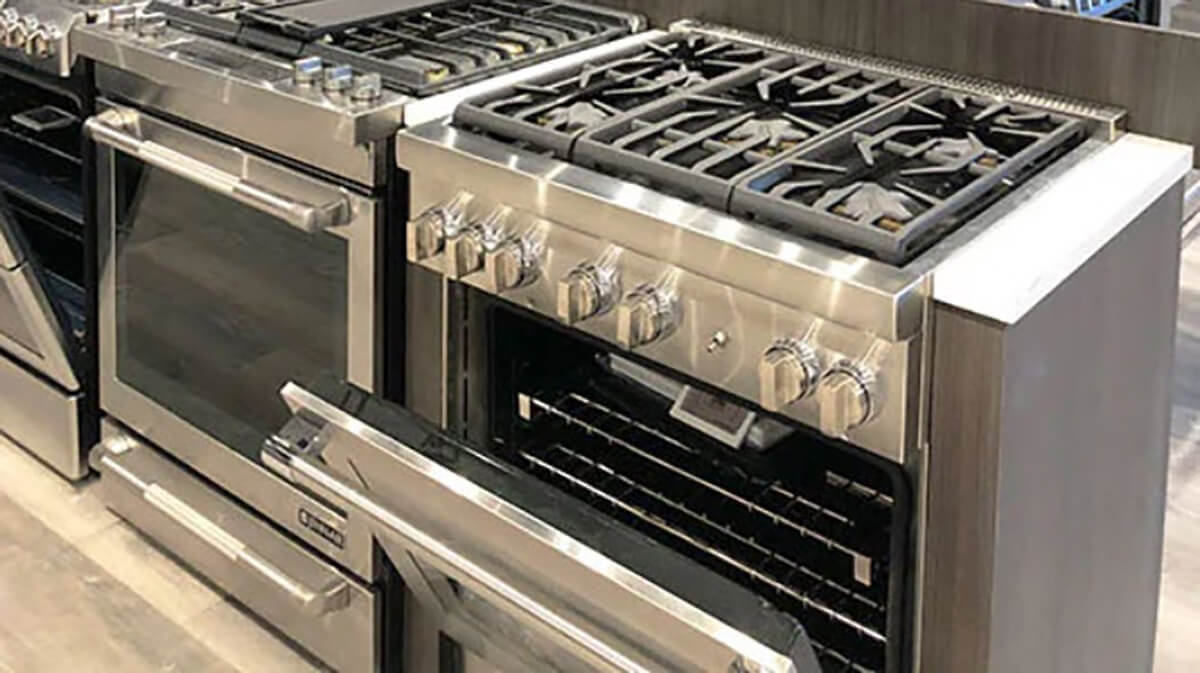 So you're in the market for a new gas range.
Gas ranges have changed a bit since the last time you bought a range. There are new product types as well as different features from new manufacturers.
If you haven't been in the market for a while, there is much more to consider.
In this article, you will learn about the best freestanding and slide-in ranges as well as the different types of gas ranges such as freestanding, front control, slide-in, and professional.
I will also show you reliability stats based on 34,687 service calls logged by our service department last year.
In the end, you ideally have the best ranges to consider at every price level out of the thousands you could possibly choose.
Now let's look at some unique products from the thousands of choices you might consider.
Best Freestanding Gas Ranges
Samsung NX58H5600SS - $599
Features:
Convection - Faster, More Even Cooking
5.8 cu. ft. Capacity - Lets You Prepare Multiple Dishes at Once
Stovetop Griddle - Versatile Cooking with the Removable Stovetop Griddle
Flexible Cooktop - Cook More, Faster on 5 Specialized Burners Simultaneously
I can't see why you would pay much more for a freestanding range. This unit has 5 burners, self-cleaning, convection, a griddle, and a wok burner. It has 17,000 BTU and 15,000 BTU power burners as well. It's a great range for the price.
Samsung NX58M6630SS - $749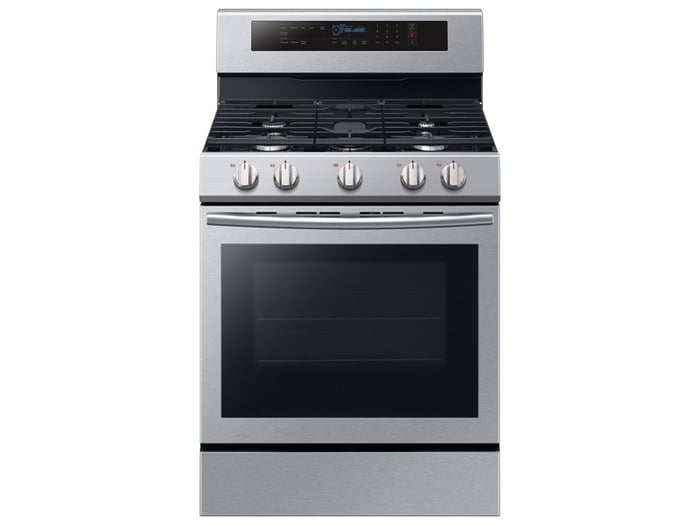 Features:
Blue LED Lights Illuminate when the cooktop is in use
True Convection - Faster, more even cooking
Another good option. This unit has hotter burners at 18,000, 16,000, and 10,000 BTU output compared to 17,000, 15,000, and 9,500. It also has true convection. True convection in an oven is when the heat is blown in from the back rather than having the heat blow upwards.
GE PGB911SEJSS - $1,259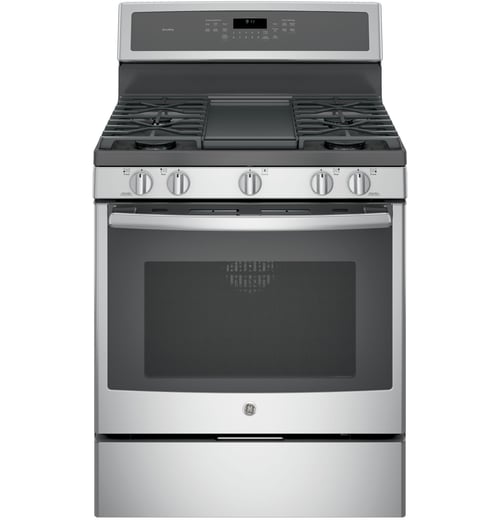 Features:
Edge-to-edge cooktop
Extra-large, integrated reversible cast iron grill/griddle
18,000 BTU Power Boil burner
Chef Connect
Two extra-large 18K Power Boil burners
Gas convection oven
3 oven racks
Center oval burner
Self-clean with Steam Clean option
First, we haven't carried GE in a while. Their Profile gas range offers an 18,000 BTU burner and has Chef Connect automatically syncing your GE compatible hood to your rangetop. Ranges have been a strength for GE. This model is their most popular freestanding range with two, 18,000 BTU burners and convection.
Best Slide-In and Front Control Gas Ranges
Samsung NX58H9500WS - $1,979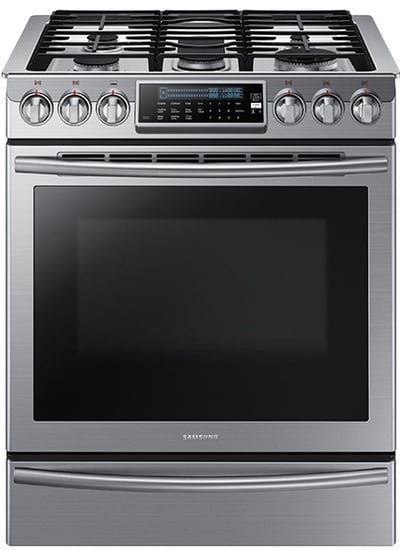 Features:
Slide-in Design - Get a Sleek, Built-in New Look for your Kitchen
5.8 cu. ft. Large Capacity - Allows You to Cook Multiple Dishes at Once
Flexible Cooktop - Cook on 5 Specialized Burners Simultaneously
True Convection - Faster, More Even Cooking
Samsung has good style, 5 burners with an 18,000 BTU high-output burner. As we've said in many of these articles, Samsung promotes heavily during holidays. At $1,979, this range includes two high output burners in a 5 burner configuration along with convection.
KitchenAid KSGG700ESS - $1,899
Features:
Even-Heat(TM) True Convection
Steam Rack
5.8 Cu Ft. Oven Capacity
5 Burners (5k, 8k, 9.2k, 15k, and 17k)
EasyConvect(TM) Conversion
FIT Guarantee
Aqualift(R)
Storage Drawer
Glass Touch Controls
Continuous Interlocking Grates
Side Trim Accessory Kit
KitchenAid has convection conversion and two power burners at 17,000 and 15,000 BTU.
Features:
Touch Control for Easier Operation of the Oven
Heavy-duty Metal Knobs for a Premium Look and Feel
Low-profile Design for an Integrated Appearance
Stainless Steel Maintop
9 Specialized Cooking Modes - Gourmet Cooking Made Easy
Standard Convection
Temperature Conversion for Convection Cooking
5 Burners Add Flexibility to your Cooking
One Oven Light to Better Monitor Cooking Progress
Kitchen Timer
Extra Large Door Window for Easy Monitoring of Cooking Process
Star-K certified. Temperature range: 100(degree) - 450(degree) F
Five burners with BTU's up to 18,000 and a pure convection oven are the highlights of this range. Bosch has good styling and whole package rebates of 10% when buying other Bosch appliances.
You have new worthwhile Bosch refrigerators if you're considering an appliance package.
Samsung NX58K9850SS - $2,599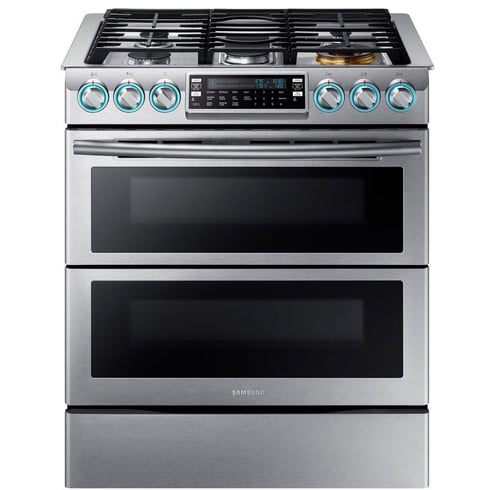 Features:
Flex Duo with Dual Door - Ultimate cooking flexibility
Blue LED Illuminated Knobs - Visually lets you know if your cooktop is on
Samsung offers a few unique features. First, you have the ability to cook with a 22,000 BTU burner on the top.
Their Flex Duo oven allows you to cook two different foods in 2 convection ovens. You can also cook one larger item by removing the flex divider.
This is the best design for 2 ovens because you can remove the divider for one large oven. In other brands with two ovens, the smaller oven is on the top, so you have to bend down to reach the smaller main compartment.
Unlike other double oven ranges, you also have a separate warming drawer.
Features:
DuraFinish™ Protection
19,000-BTU Dual- Stacked PowerBurner
Baking Drawer
True Convection
Telescoping Glide Rack
Brass Burners
Aqualift® Self-Cleaning Technology
JennAir is part of the most popular appliance package. It has the largest oven capacity
The range has two burners at 19,000 and 17,000 as well as a large convection oven. You can even bake in the lower drawer.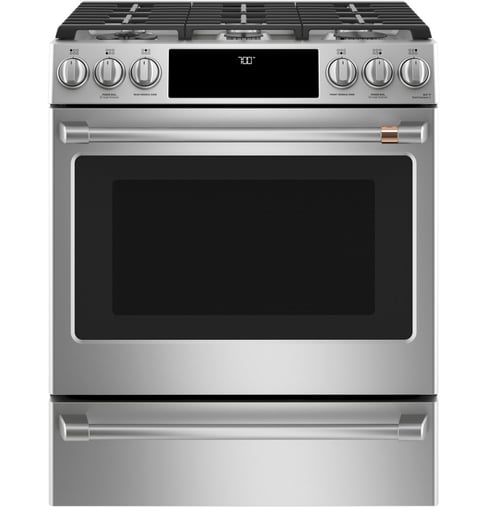 Features:
True Convection
Storage drawer
Slide-In
6 burners
Café Appliances is GE's best cooking line. This range is their most popular with two 18,000 BTU burners, a griddle, and a convection oven.
Best Professional Ranges
Many professional (pro) ranges are similar in price to a gas slide-in range after manufacturer rebates.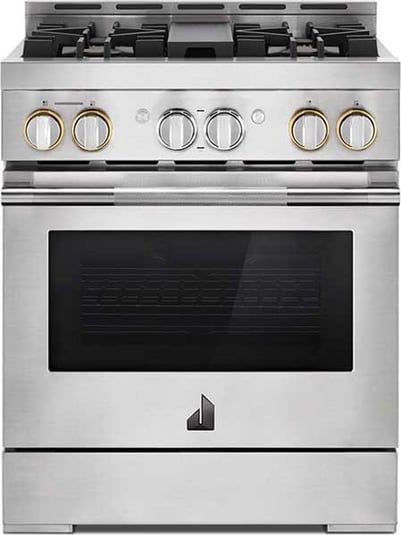 You have 2 powerful burners at 20,000. It has clock and timer functionality unlike most pro ranges along with self-cleaning and twin convection in the oven.
You also receive a free dishwasher with the purchase of this range.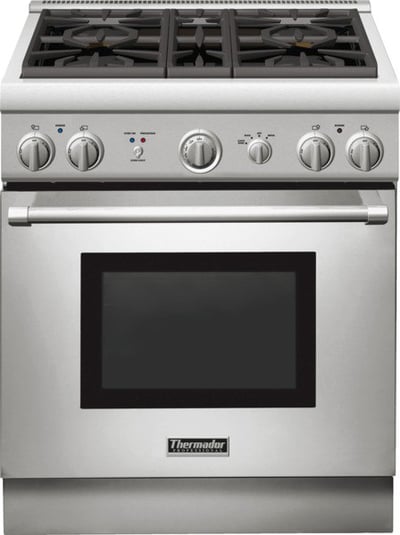 The Thermador is a true pro range with 4 power burners of 18,000. It also has the best simmer on two burners. The oven is convection but not self-cleaning.
The infrared burner is the best for searing meats quickly because of its direct heat. You also receive a $1,399 rebate with the purchase of this range.
Wolf has a very good simmer as well and three 15,000 BTU burners. Like Thermador, Wolf employs the infrared broiler.
When Is the Best Time to Buy a Gas Range?
As we have said throughout this blog, you should wait to buy appliances until there is a promotional holiday. Manufacturers always have the most heavily rebated appliances during the following holidays:
Presidents' Day
Memorial Day
July 4th
Labor Day
Black Friday
How Do You Choose a Gas Range?
There is a reason to buy any of these ranges starting at $549.
You should assess what you need. Do you use the burners more than the oven?
Would you use a warming drawer or a second oven?
Secondly, you should understand the differences between each of the range types because they impact not just performance but the overall look of your kitchen. We included the differences below along with a video of the major style differences.
Once you assess your needs, look at reliability for an indication of future performance. Just be aware the most reliable appliance manufacturers sometimes have the least amount of support with issues after the sale.
Lastly, every product will need some service within 5 years. You should check who can and will provide service after the sale.
What Are the Most Reliable Gas Ranges?
Whirlpool is number 1, but these ranges are basic and for builder jobs. Samsung is the most reliable for more featured products.

Samsung may be more reliable. However. Many dealers do not service Samsung, so it can be a problem in your area.
As a general rule, you want to investigate service before you buy, and not find out before Thanksgiving.
Most Reliable Freestanding and Slide-In Gas Ranges 2019
| | |
| --- | --- |
| | Service Ratio |
| Whirlpool | 2.80 % |
| Signature Kitchen Suite | 3.57 % |
| Amana | 4.35 % |
| Samsung | 5.51 % |
| LG Electronics | 5.88 % |
| Premier | 17.31 % |
| Bosch Appliances | 19.38 % |
| Kitchenaid | 20.90 % |
| Bosch - Benchmark | 28.57 % |
| JennAir | 32.06 % |
| BlueStar | 43.33 % |
| Blomberg | 76.00 % |
| Grand Total | 14.30 % |
What Are the Most Reliable Professional Gas Ranges?
Pro ranges require more service. The number 2 most serviced item is a gas ignitor. Pro ranges have more BTU, so the problem becomes more pronounced.
You should keep the igniters clean, but be careful not to get soap in the ignition system.
Most Reliable Professional Gas Ranges for 2019
| | |
| --- | --- |
| | Service Ratio |
| Samsung Chef Collection | 0.00 % |
| Fisher & Paykel | 20.00 % |
| Bertazzoni | 21.43 % |
| Thermador | 24.57 % |
| JennAir | 26.09 % |
| Wolf | 26.98 % |
| Miele | 50.00 % |
| La Cornue | 50.00 % |
| BlueStar | 55.56 % |
| Grand Total | 27.46 % |
Frequently Asked Questions
1. What's the difference between front control and professional ranges?
You used to buy the professional range for higher BTU output, but that is not the case anymore. High-end front control, slide-in, and freestanding ranges will offer 1 or 2 power burners versus 3-4 on a professional range.
All pro ranges are front control, not slide-in.
Regular (non-Pro) front controls all have self-cleaning ovens, whereas only half of the professional ranges do.
Features vary widely as well. The front control will have a warming or baking drawer, whereas some of the Pros will offer different features like an extra low simmer or twin convection for more even baking.
The prices after promotions are pretty similar as well between a high-end front control or slide-in vs a professional range.
Your choice will depend on what features you will use and how you cook as well as your budget.
2. What are the top features to consider when buying a range?
5 Burner: Usually an oblong burner designed for griddles.
Convection: Fan-forced heat for more even heat distribution and better baking. Most use a single, Miele and a few Samsung ranges have two.
Warming Drawer: Instead of storage, warming drawers can keep food warm for up to 3 hours of cooking and eating are at two different times.
Two Ovens: KitchenAid and Samsung (among others) offer two ovens. KitchenAid has a smaller oven on top whereas Samsung offers more flexibility with its Flex Duo system.
Power Burners: Most ranges will have one powerful burner of 15-21,000 BTU. The better units will have 2. Pro ranges will have 3 or more.
Wi-Fi: Wi-Fi has become popular over the last 2 years. You can control your range from an app on your phone. We would not recommend buying a range just for this feature until connectivity issues are solved.
6 Burners: GE Cafe will offer 6 burners on a 30-inch stove.
Infrared Broiler: Infrared is a more intense, direct heat. Regular broilers spread the heat, but infrared is more concentrated on the food itself for a faster sear. BlueStar is the most powerful. Wolf and Thermador employ an infrared as well.
Additional Resources
Want to learn more about the latest gas ranges and technology? Read the Yale Gas Range Buying Guide with features, specs, and detailed profiles of every major brand. Well over 510,000 people have downloaded a Yale Guide.
Why Should You Trust Us?
It seems that every appliance review has nothing but glowing comments about almost every product, yet you read customer reviews and they are almost universally bad.
We are here to fill in the disconnect. We'll give you the best features, and the drawbacks as well, including reliability based on over 37,000 calls performed by our service team just last year. Our goal is to give you ALL the information so you know what's right for you.
Please consider subscribing or adding to the conversation in the comments below. We appreciate you stopping by.
Steve Sheinkopf is the third-generation CEO of Yale Appliance and a lifelong Bostonian. He has over 38 years of experience in the appliance industry, and he is a trusted source of information for consumers on how to buy and repair appliances.

Steve has also been featured in numerous publications, including the New York Times, Consumer Reports, The Boston Globe, Bloomberg Radio, the New York Post, The Wall Street Journal, and Entrepreneur, for his knowledge of how to buy appliances and appliance repair.

Steve is passionate about helping consumers find the best appliances for their needs, and he is always happy to answer questions and provide advice. He is a valuable resource for consumers who are looking for information on appliance buying, repair, and maintenance.

Despite being the worst goalie in history, Steve is a fan of the Bruins and college hockey, loves to read, and is a Peloton biker. The love of his life is his daughter, Sophie.
A Note About Pricing
Pricing on this blog is for reference only and may include time sensitive rebates. We make every attempt to provide accurate pricing at time of publishing. Please call the stores for most accurate price.