Best Freestanding & Slide-In Gas Range Deals 2018 (Reviews / Ratings / Prices)
You do not have to buy a pro range for super hot burners anymore. Gas ranges are starting to perform more like professional ranges with at least one burner being super hot. You also have available features like griddle burners, warming drawers, or second ovens.
So if you haven't been in the market for a while, there is much more to consider than even five years ago. It can be a bit confusing, but we will describe each unit and feature below. You can determine the right product for your kitchen.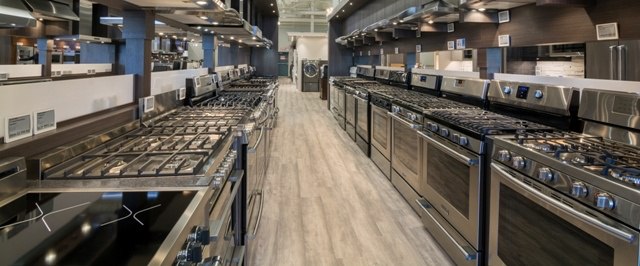 We will look at the best models, but first, we will describe the difference in freestanding and front control ranges. Professional versus front control ranges will also be explored.
Memorial Day is one of the best times to consider a major appliance due to manufacturer rebates.
Slide-In vs. Freestanding Ranges

vs. Front Control
Freestanding vs. Slide-In Ranges [VIDEO]
Slide-in ranges are units with the controls on the face of the range rather than the back guard like freestanding ranges do for a more streamlined appearance (read Slide-In vs Freestanding, it will pop up in another window).
There are two types of slide-ins, front control and traditional. Front control will fit in an in an existing space at 30 inch, but will have seams on either side.
A traditional slide-in will be more cleanable, because it's installed on the countertop, eliminating seams. However, it cannot replace a freestanding without some modification.
You will also see the custom tile and backsplashes without looking at oven controls like the freestanding units. Also, front control ranges are less expensive.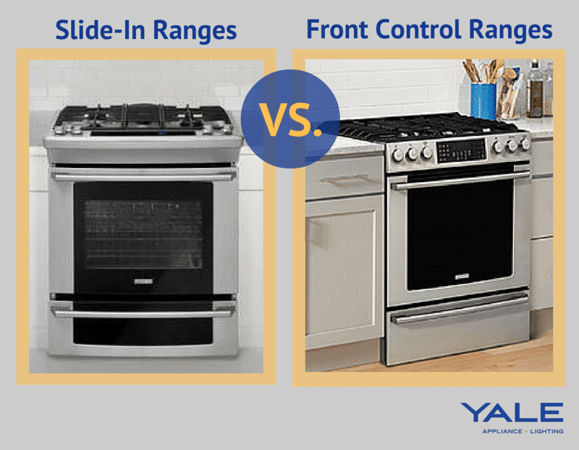 Front Control vs. Professional
You used to buy the professional range for output, but that is not the case anymore. High-end front controls will offer 1 or 2 power burners versus 3-4 on a professional range.
Front controls all have self-cleaning ovens, whereas only half of the professional ranges do.
Features vary widely as well. The front control will have a warming or baking drawer, but some of the Pros will offer an extra low simmer or twin convection for more even baking.
The prices after promotions are pretty similar as well. Your choice will depend on how you cook.
Best Freestanding Gas Ranges
Pricing updated for July 2018

Stylish 5-burner, non-self-cleaning. This range is good if you have an apartment or need an inexpensive product.
Features:
Flexible Cooktop - Various-sized burners for every cooking need
Large Capacity - Large enough to cook your entire holiday feast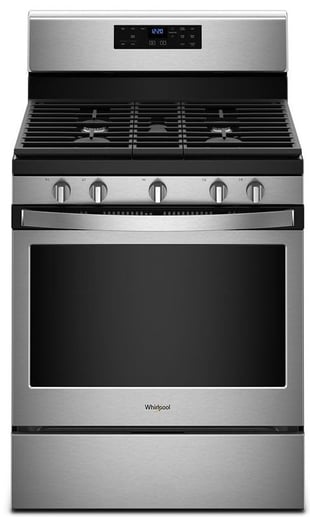 For an inexpensive range, this unit has two 15,000 BTU burners, self-cleaning, and a decent sized oven as well.
Features:
Frozen Bake(TM) Technology
SpeedHeat(TM) Burner
Temperature Sensor
Control Lock Mode
5.0 cu. ft. Capacity
Hidden Bake Element
Dishwasher-Safe Knobs
Upswept SpillGuard(TM) Cooktop
Sabbath Mode
Star-K Certified
Fingerprint-Resistant
5-burner, self-cleaning, griddle, and wok burner. It has an 18,000 BTU burner as well. Great range for the money.
Features:
Convection - Faster, More Even Cooking
5.8 cu. ft. Capacity - Lets You Prepare Multiple Dishes at Once
Stovetop Griddle - Versatile Cooking with the Removable Stovetop Griddle
Flexible Cooktop - Cook More, Faster on 5 Specialized Burners Simultaneously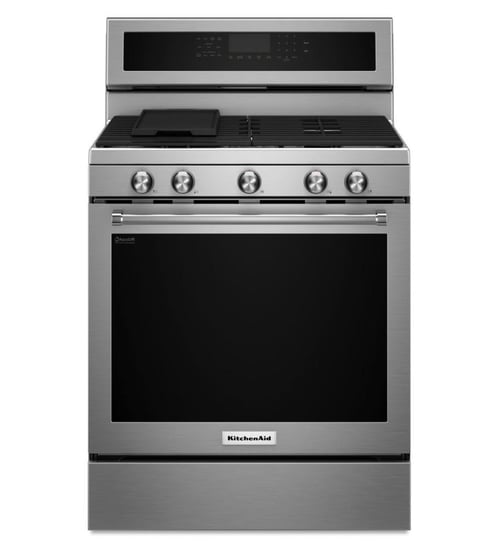 KitchenAid has the 5 burner configuration. Like Frigidaire and Samsung the power burner is 18,000. KitchenAid has convection conversion and the steam self-cleaning for faster cleaning at lower temperatures.
Features:
Even-Heat(TM) True Convection
5.8 Cu. Ft. Oven Capacity
Professionally-Inspired Design
5 Burners (5k, 8k, 9.5k, 15k, and 18k)
EasyConvect(TM) Conversion
Aqualift(R)
Storage Drawer
Hidden Bake
Stainless Steel Cooktop
This beautiful gas double oven range produces flawless cooking results with Even-Heat True Convection. The unique bow-tie design and convection fan ensure the inside of the entire oven is heated to, and stays at, the perfect temperature.
The oven is a combined 6.0 cu ft., providing a large capacity that's perfect for preparing multiple dishes at once. The cooktop has 5 burners ranging from 5,000 to 17,000 BTU, letting you go from a rolling boil to a delicate simmer.
Features:
Even-Heat(TM) True Convection
6.0 Cu. Ft. Total Capacity
Professionally-Inspired Design
5 Burners (17k, 10k, 7.3k, 5k, 5k)
EasyConvect(TM) Conversion
Glass Touch Controls
SatinGlide(R) Rack
Hidden Bake
Stainless Steel Cooktop
Best Slide-In and Front Control Gas Ranges
Self-cleaning front control range with large 5.0 cubic capacity along with two power burners of 15,000 BTU. The self-cleaning adjusts for different soil levels.
Features:
Frozen Bake(TM) Technology
SpeedHeat(TM) Burners
Edge-to-Edge Cast-Iron Grates
Adjustable Self-Cleaning
Temperature Sensor
5.0 Cu. Ft. Capacity
AccuSimmer(R) Burner
Keep Warm Option
Closed Door Broiling
Delay Cook
Sabbath Mode
Star-K Certified
ADA Compliant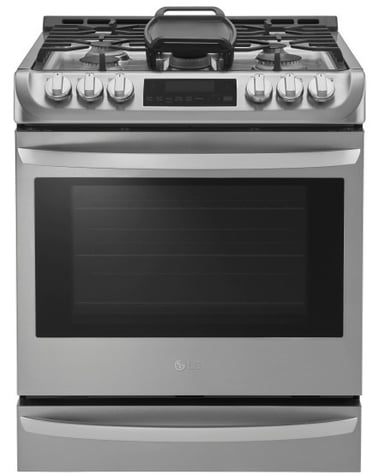 LG is the only range offering pure convection. It is blown in from the back rather than the bottom to maintain the evenest temperature. Pure convection minimizes taste crossover between racks as well.
The top features an 18,000 BTU burner. It's a great range for Memorial Day at $570 off.
Features:
ProBake Convection
EasyClean(R)
6.3 cu.ft. Large Capacity
UltraHeat 18.5K BTU Power Burner
Samsung has good style, 5 burners with an 18,000 BTU high-output burner.
Features:
Slide-in Design - Get a Sleek, Built-in New Look for your Kitchen
5.8 cu. ft. Large Capacity - Allows You to Cook Multiple Dishes at Once
Flexible Cooktop - Cook on 5 Specialized Burners Simultaneously
True Convection - Faster, More Even Cooking
KitchenAid has convection conversion and two power burners at 17,000 and 15,000 BTU.
Features:
Even-Heat(TM) True Convection
Steam Rack
5.8 Cu Ft. Oven Capacity
5 Burners (5k, 8k, 9.2k, 15k, and 17k)
EasyConvect(TM) Conversion
FIT Guarantee
Aqualift(R)
Storage Drawer
Glass Touch Controls
Continuous Interlocking Grates
Side Trim Accessory Kit
5 burners with BTU's up to 18,000 and a pure convection oven are the highlights of this range. Bosch has good styling and whole package rebates of 10% when buying other Bosch appliances.
Features:
Touch Control for Easier Operation of the Oven
Heavy-duty Metal Knobs for a Premium Look and Feel
Low-profile Design for an Integrated Appearance
Stainless Steel Maintop
9 Specialized Cooking Modes - Gourmet Cooking Made Easy
Standard Convection
Temperature Conversion for Convection Cooking
5 Burners Add Flexibility to your Cooking
One Oven Light to Better Monitor Cooking Progress
Kitchen Timer
Extra Large Door Window for Easy Monitoring of Cooking Process
Star-K certified. Temperature range: 100(degree) - 450(degree) F
Jenn-Air is part of the most popular appliance package. The range has two burners at 19,000 and 17,000 as well as a large convection oven. You can even bake in the lower drawer.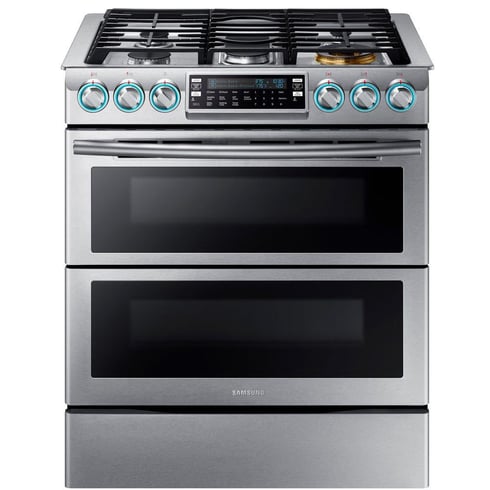 Samsung offers a few unique features. First, you have the ability to cook with a 22,000 BTU burner on the top.
Their Flex Duo oven allows you to cook two different foods in convection. You can also cook one larger item by removing the flex divider.
Features:
Flex Duo with Dual Door - Ultimate cooking flexibility
Blue LED Illuminated Knobs - Visually lets you know if your cooktop is on
SKS is LG's best appliance series. The finish is chromium infused and lighter than stainless for a clean modern look.
Like LG, SKS has pure gas convection. Pure convection is blown in from the back instead of the bottom to eliminate taste crossover between racks and helps to maintain consistent, even cooking. The SKS also features an 18,000 BTU burner.
SKS is also Wi-Fi enabled so you can control the basic functions of the range from your phone.
Want to see more Gas Ranges? Click here.
Have questions? Call us at 617-825-9253.
Additional Resources
Want to learn more about the latest gas ranges and technology? Read the Yale Gas Range Buying Guide with features, specs and detailed profiles of every major brand. Well over 310,000 people have downloaded a Yale Guide.
Steve Sheinkopf
My goal has always been simple: I want Yale to be the best retail experience anywhere. I have tried to create a compelling environment for customers and employees alike.
A Note About Pricing
Pricing on this blog is for reference only and may include time sensitive rebates. We make every attempt to provide accurate pricing at time of publishing. Please call the stores for most accurate price.