This is our 8th or 9th most reliable post. Gas ranges should have been one of the first as the category is over 60% of the market. We will reiterate the service formula, but reliability is a very elusive measurement in our industry.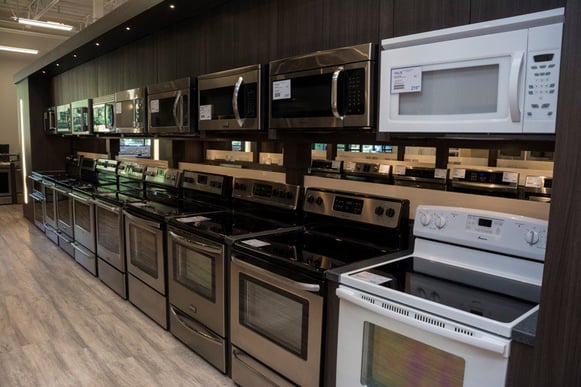 Yale Framingham Freestanding Ranges
Cars have JD Power rankings for quality. Appliances have Consumer Reports, but I have not ever understood the baseline measurement of that magazine. How can the same range with a different label perform so differently? It does not seem possible.
Anyway, let me show you the formula and then review the most reliable gas ranges.
Reliability Measurements
Every day, we have 23 service techs performing 8-10 service calls with another 110 or so on Saturday. We then look at sales in that period and divide for the percentage.
We do not scrub the data. Every time you have a technician visit, it will count as a service call. We do not include damage and phone resolutions as service calls.
I only cover the first year, because warranty service is free for the first year, so there is a greater and more accurate pool of data.
So, let's take a look.
Most Reliable Gas Ranges
| | | | |
| --- | --- | --- | --- |
| Brand | Units Sold | Units Serviced | Service Rate |
| Whirlpool | 259 | 7 | 2.70% |
| Amana | 54 | 2 | 3.70% |
| Frigidaire | 324 | 13 | 4.01% |
| Samsung | 112 | 6 | 5.36% |
| Frigidaire Gallery | 224 | 20 | 8.93% |
| Frigidaire Pro | 62 | 6 | 9.68% |
| Maytag | 28 | 3 | 10.71% |
| Bosch | 522 | 60 | 11.49% |
| KitchenAid | 161 | 21 | 13.04% |
| JennAir | 284 | 59 | 20.77% |
| Bosch Benchmark | 65 | 24 | 36.92% |
| Electrolux | 57 | 23 | 40.35% |
| Blomberg | 14 | 6 | 42.86% |
What is the Most Reliable?
Answering this question will require an explanation.
Before you buy a Whirlpool, Maytag or Amana range, most of these units were sold on jobs to builders. It is unclear if people are actually using these ranges just yet. I would wait and see for next year.
Whirlpool's upscale brands KitchenAid and Jenn-Air fared comparatively well given they both introduced newer products.
Samsung looks good, but many of these products were sold on Black Friday. That's not a year as of yet, but their whole line seems to be performing well.
Bosch is interesting. Their regular ranges have a respectable 11.49%, but their Benchmark is over 30%. Well, Benchmark is brand new to gas ranges, so it is somewhat expected with introductions. Their regular line was produced by Frigidaire.
Speaking of which, Electrolux has issues. They have lagged a bit while waiting for their failed merger with GE. Yet they manufacture Frigidaire, which seems to be the most regularly reliable product sold across all product lines.
Which One Should You Buy?
Everyone thinks I am a high-end guy, but Frigidaire (or anything that doesn't break) is probably my favorite line. Samsung is worth a look as is KitchenAid and Jenn-Air. Bosch will figure it out.
Lastly, you should be concerned when the products actually break. The best companies with the quickest turnarounds for parts are Whirlpool companies, Frigidaire/Electrolux and Bosch. The Korean companies, Samsung and LG, need more time.
Now all you have to do is find someone credible to actually send a technician to make repairs, which is almost a certainty in a new kitchen within the first year.
Most Reliable Appliances Series
Additional Resources
Need more information on Gas Ranges? Download the Yale Gas Cooking Buying Guide with specs, features and detailed profiles to all the brands. Well over 160,000 people have read a Yale Guide.