How to Buy a Gas Range (Reviews / Ratings / Prices)
You walk into an appliance store and see 100 or so gas ranges. Most look similar yet they are priced from $500-$15,000.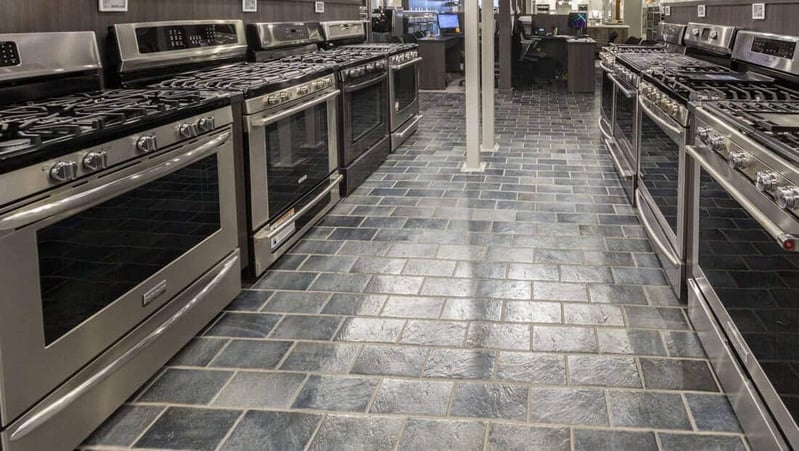 What do you gain by spending more or lose by spending less money?
In this article, we will look at sizes and features of freestanding, slide-in and professional ranges. By the end, you will know the features and benefits of each type of range.
However, the first question is when should you buy your new range?
The Best Time to Buy a Gas Range
You are wasting your time shopping store sales. As you may have guessed, most are not believable (if they ever were).
However, appliance manufacturers have followed electronics producers by dropping pricing on almost every major holiday.
Samsung and LG have virtually taken over the TV business and they are behind this new trend. Prices on commodity products can drop up to 40% during certain times of the year.
The best holidays to buy an appliance:
Black Friday…now all month of November
Labor Day
Presidents Day
Memorial Day
July 4th
Time your purchase if you can. It will be worth the wait.
Range Sizes
Ranges start at 20-inches wide, then 24-inch, 30-inch is the most popular, 36-inch is mostly pro and some high-end regular ranges, with 48-inch and 60-inch being larger more expensive professional ranges.
We will be concentrating on 30-inch ranges, but following are highlights of others.
20-inch and 24-inch Ranges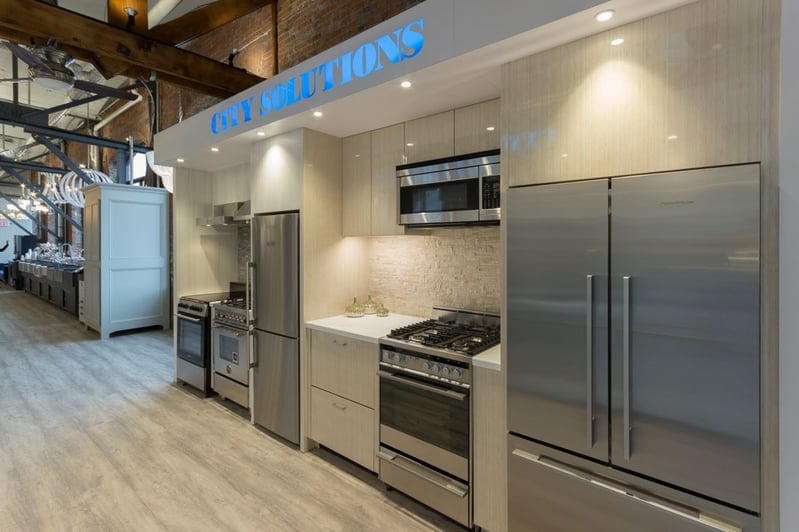 They tend to be basic, designed for apartments, but Premier has some upgrades as does Blomberg with BlueStar marketing a professional range with incredibly hot burners.
36-inch Ranges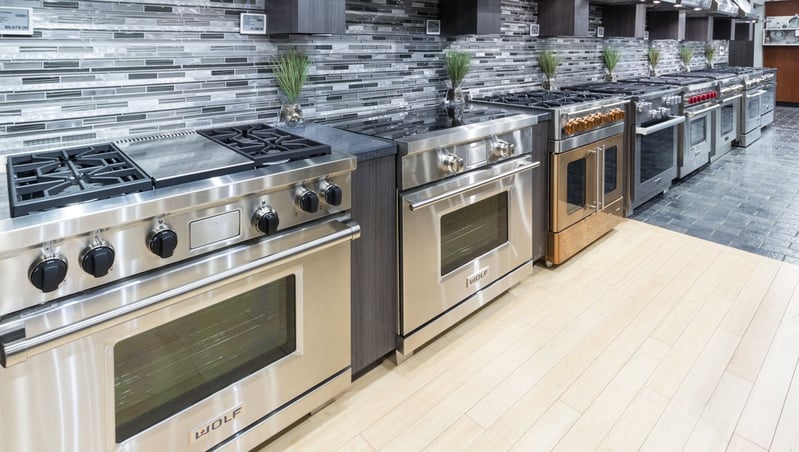 You have two types of ranges in this segment: The very attractive Italian types like Bertazzoni, Ilve and Verona versus the high powered professional types like Wolf, BlueStar and Thermador.
The difference is looks versus power and features of the pro at an added cost.
48-inch and 60-inch Ranges
These are exclusively high powered professional ranges. We cover these in some other articles like best 36-inch and best 48-inch ranges.
30-inch Ranges
As I said before, 30-inch is the most popular size by far. 85% of our sales are 30-inch.
You will have to choose between three types of ranges. Freestanding is the least expensive. Slide-in has no back guard for better aesthetics and then the Pro types with hotter burners.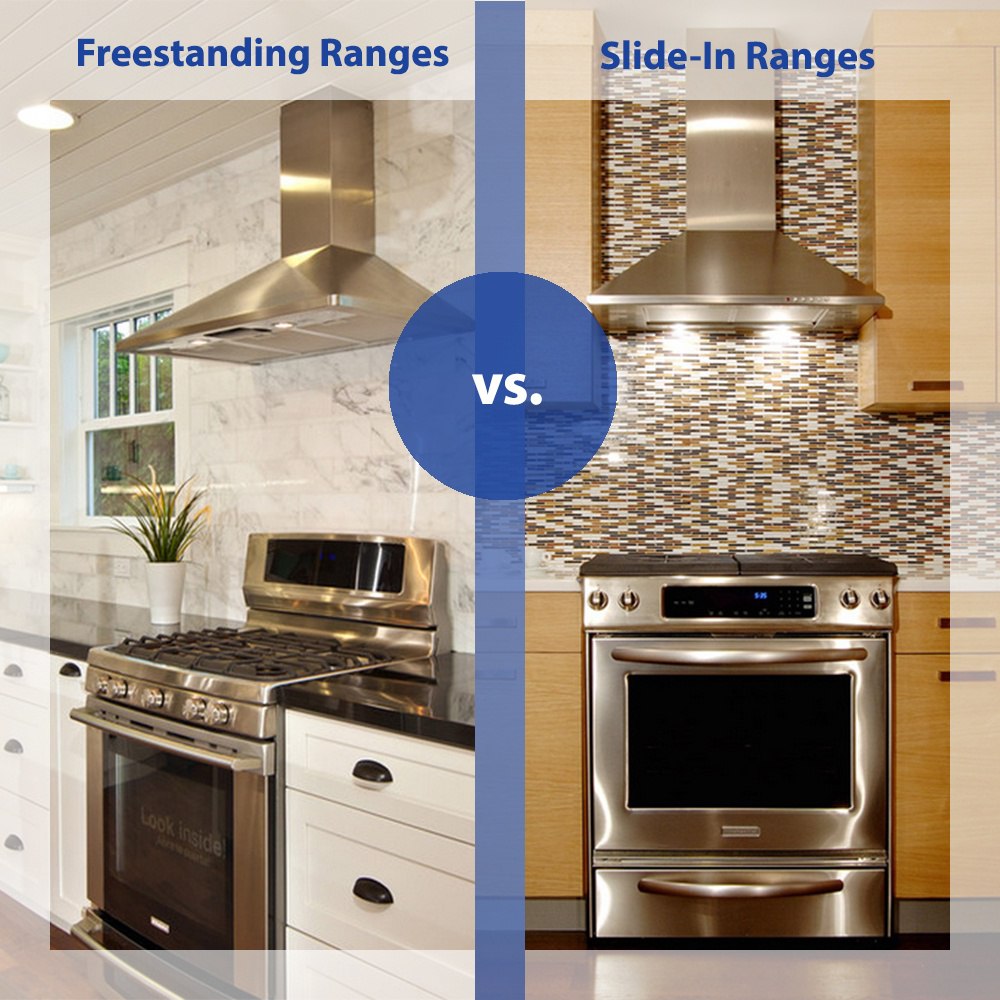 Freestanding Ranges
When I originally wrote this article in 2011, they were non-self-cleaning ranges. In 2017-18, there are only a few like this. Most are inexpensive, but instead of storage, the broiler is below.
Samsung NX58K3310SS $449-599
Self-cleaning
Self-cleaning is a heat cycle to incinerate the drippings, grease and spillovers inside your oven. You also have storage below.
However, many of these ranges also have power burners. The Whirlpool has two 15,000 BTU burners. As a reference, Wolf has 3 in their pro range.
Whirlpool WFG525S0HS $549-$699
Tip 1: You do not have buy an expensive range for decent output.
Convection with 5th burners from $599-999.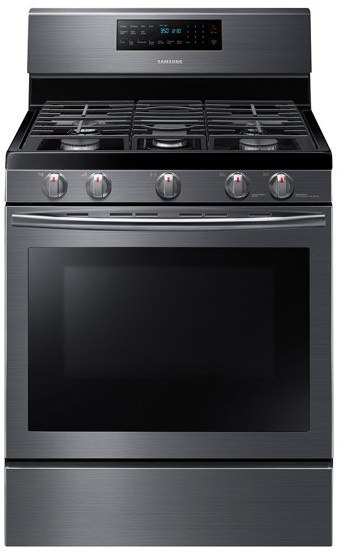 Samsung NX58K7850SS $599-$749
Convection uses a fan for more even heat distribution. There will be less hot/cold spots in a convection oven, so you will bake more evenly on all three racks. Also in many of these models, you will have a 5th burner for a griddle.
Double Oven
There is a certain segment with a warming drawer instead of storage in brands like Frigidaire and GE, but most manufacturers have gone to a double oven configuration. You have basic like Whirlpool to convection and Flex Duo oven like Samsung.
Slide-In & Front Control Ranges
Slide-ins and front control ranges allow you to see your custom backsplashes. Functionally, they are not the different in output and features than a freestanding.
Tip 2: Buy a Slide-in/Front control for aesthetic value only, because it will cost $300-1000 more than a comparably equipped freestanding range.
Difference Between Front Control and Slide-in Ranges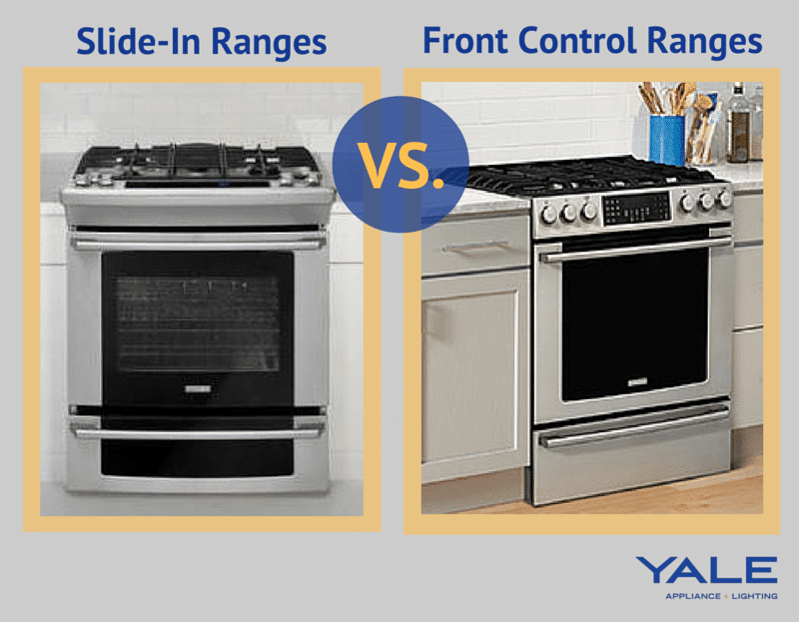 We cover this in other articles, but front control is a made to fit into a 30-inch space. Front controls are better for replacement whereas slide-ins are for new construction.
Slide-ins are customized to 30-inch and are easier to clean because they do not have seams on the sides.
Basic Whirlpool WEG515S0FS $849-$999
It has the same features with the 15,000 BTU burners as their freestanding non-convection range.
Convection KitchenAid KSGG700ESS $1499-$1799
This series adds convection, 5th burner and better controls for the additional money.
Double Oven Samsung NY58J9850WS $2699
Two distinct ovens is the upgrade. Samsung has the FlexDuo Door. So you have two smaller ovens or one larger.
Wi-Fi Enabled SKSUPSG3014ST $3500
The SKS range is the outer limits for a slide-in range. It has a faster self clean, but its all stainless look is more attractive.
Wi-Fi is a feature in some Samsung, LG, GE and SKS ranges. Controlling the range from your phone will be the future. However, there are only basic functions working on some platforms.
Also, there may also be some security issues. W-Fi is the future, just not now.
Pro Ranges
Originally, you would buy a pro range, because you needed the output. They were originally pricey. However, pro ranges have better promotions and can be less expensive than a slide-in range.
Conversely, regular ranges now have plenty of power in 1 or two burners.
Tip 3: Pro Ranges can be cheaper than slide-in ranges in a kitchen package.
Tip 4: You do not need to buy a Pro Range for power.
There are three types of Pro Ranges:
Basic with no controls and non-self-cleaning ovens like Thermador, Wolf and BlueStar.
Better with some features like Jenn-Air and Miele all gas with clocks, timers and self-cleaning ovens
Guided like the Miele M-Touch which can program based on your inputs
One last tip, in 30-inch ranges, some people will buy dual fuel (gas burners over electric oven). Gas is faster while electric is a better baking oven due to its drier, more precise heat.
Instead of dual fuel, buy induction. It is more powerful than even a 25,000 BTU burner with a better simmer and less venting. It is even the most child safe.
Tip 5: Buy induction instead of dual fuel in a 30-inch range of any kind.
Final Words
You start seeing a pattern when you look at ranges as they all have similar feature upgrades:
Self-cleaning, convection, double oven, slide-in, basic slide-in, convection slide-in, premium slide-in, basic pro, better pro, premium pro.
Keep in mind the 5 tips:
Tip 1: You do not have buy an expensive range for decent outpoint
Tip 2: Buy a Slide-in/Front control for aesthetic value only, because it will cost $300-1000
Tip 3: Pro Ranges can be cheaper than slide-in ranges in a kitchen package
Tip 4: You do not need to buy a Pro Range for power
Tip 5: Buy induction instead of dual fuel
Now wait until a holiday to buy any commodity lines like LG, Samsung, Whirlpool, KitchenAid, Maytag, Frigidaire, Electrolux or GE.
Additional Resources
Get our free Gas Cooking Buying Guide with buying tips, trends, and reviews of all the major brands. Over 250,000 people have already found answers in a Yale guide.

Editor's Note: This article was originally published on November 17, 2011 and has been updated for accuracy, freshness and comprehensiveness.
Steve Sheinkopf
My goal has always been simple: I want Yale to be the best retail experience anywhere. I have tried to create a compelling environment for customers and employees alike.
A Note About Pricing
Pricing on this blog is for reference only and may include time sensitive rebates. We make every attempt to provide accurate pricing at time of publishing. Please call the stores for most accurate price.