How to Buy a Gas Range: The Definitive Guide
September 2nd, 2022 | 14 min. read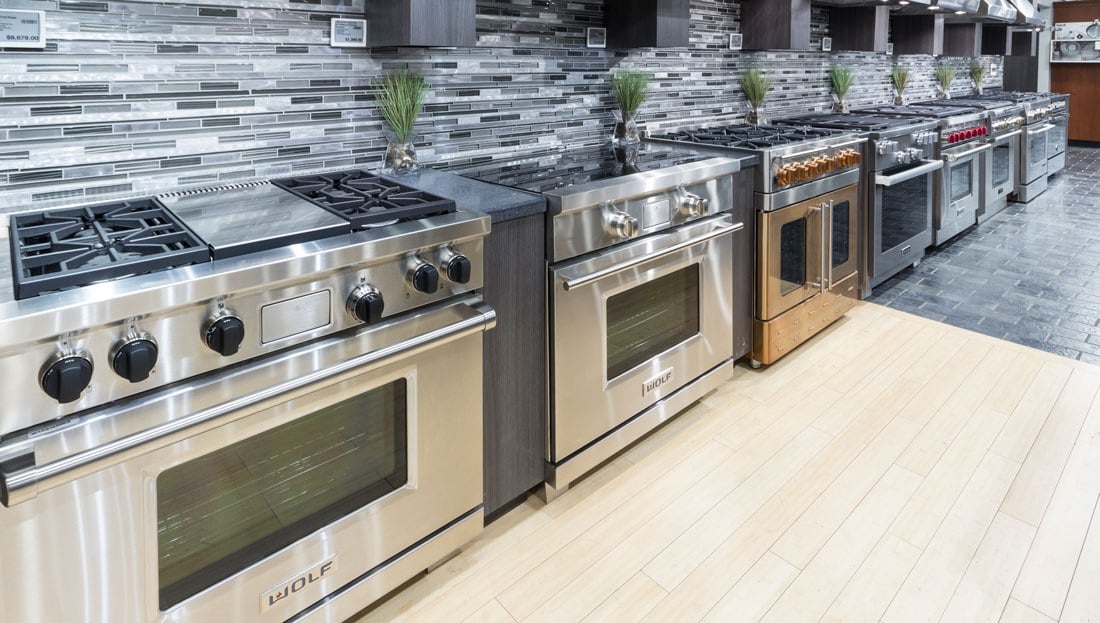 You walk into an appliance store and see 100 different gas ranges priced between $600-$125,000.
In this article, we will narrow down those 100 ranges to the best three to five models based on how you use your range.
The main deciding factors are size, style, and features, from basic to professional style ranges. We will walk you through each.
Then you will learn all about dual fuel, induction, the best brands, and reliability based on over 40,000 service calls completed by our service team last year.
It will be a lengthy article, but not boring. You will have plenty of videos and links to other articles to help along the way.
We will add some kitchen design tips because your stove choice is the only appliance to change your kitchen design, as you will see.
First, let's cover the basics.
How to Buy a Gas Range: The Definitive Guide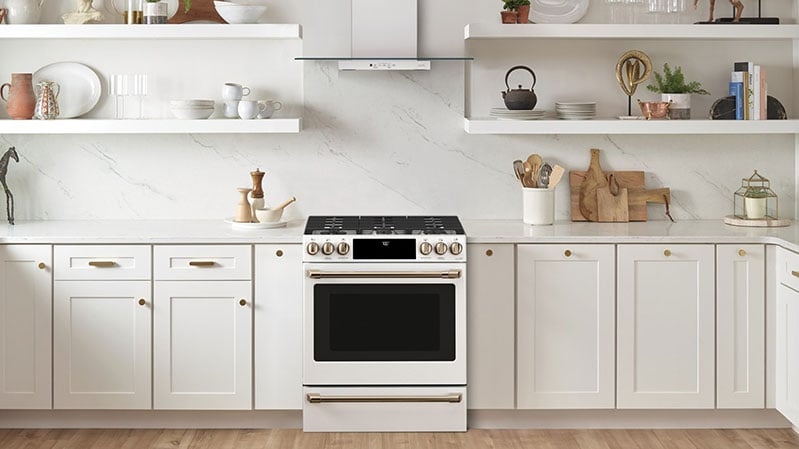 Café Gas Slide-In Range
Gas Range Sizes
Appliances follow cabinet styles, not the other way around. In other words, a 30-inch stove is designed to fit the standard 30-inch cabinet.
Ranges start at 20-inches wide followed by 24 inches, 30 inches, 36 inches, 48 inches, and 60 inches. Thirty inches is by far the most popular.
Thirty-six inch ranges are mostly professional and some high-end regular ranges, with the 48-inch and 60-inch being larger, more expensive professional ranges.
There are very few 27-inch drop-in ranges designed for 1950s homes.
We will focus more on 30-inch ranges for this article, but the following are highlights of others.
20-inch and 24-inch Ranges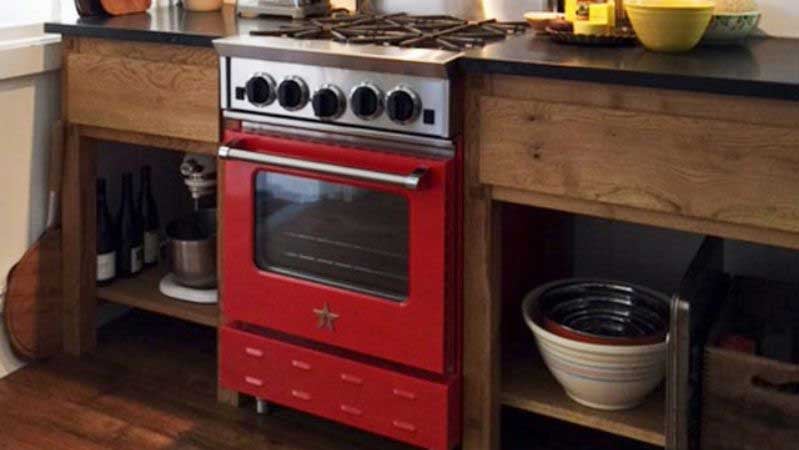 BlueStar 24-Inch Gas Range
They tend to be basic, designed for apartments, but Premier has some upgrades to their 20- and 24-inch ranges, as does Beko and BlueStar. BlueStar is marketing a professional range with incredibly hot burners.
Read More: The Best 24-Inch Gas Ranges
30-inch Ranges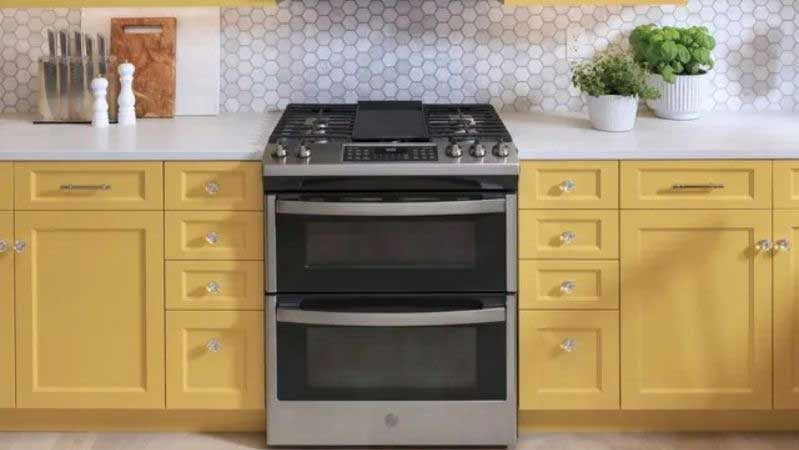 GE 30-Inch Gas Front Control Range
As I said, 30-inches is the most popular size, comprising over 90% of sales nationwide.
Read More: Best Gas Slide-In Ranges
36-inch Ranges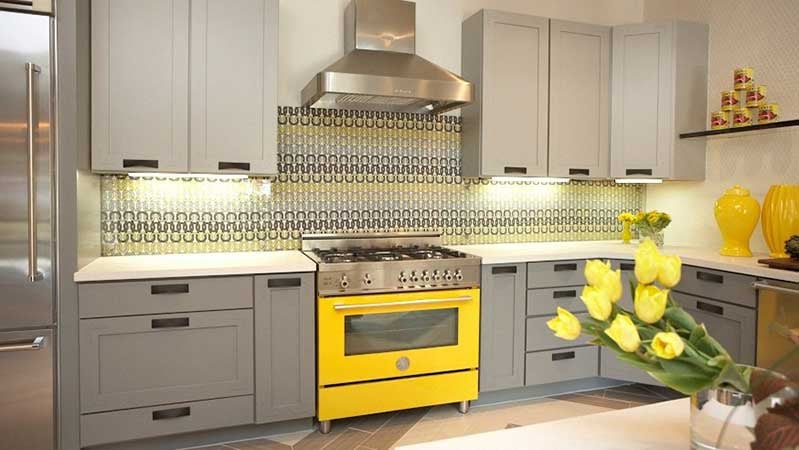 Bertazzoni 36-Inch Pro-Style Gas Range
You have two types of ranges in this segment - the extremely attractive yet less functional "Pro Style" Italian types like Bertazzoni, Ilve, and Verona versus the high-powered professional (pro) types like Wolf, BlueStar, and Thermador.
Read More: Best 36-Inch Professional Gas Ranges
Professional vs. Pro Style Ranges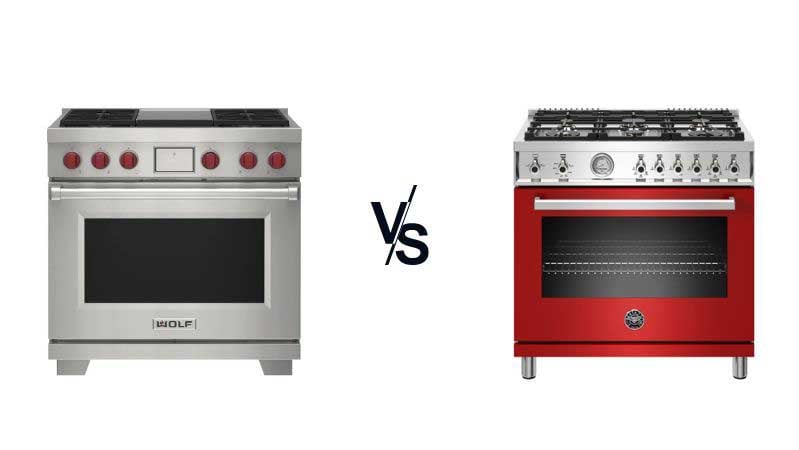 Professional Range (Left) vs. Pro-Style Range (Right)
It's an easy choice.
The pro style is less expensive with good color options but will only have one or two power burners, with the rest being simmer burners.
The broilers are underpowered with limited controls and oven functionality.
Pro ranges are more powerful with higher output burners and options like grills, griddles, and French tops.
Broilers are more powerful with the directed infrared style. You also have better oven functionality but higher prices.
48-inch and 60-inch Ranges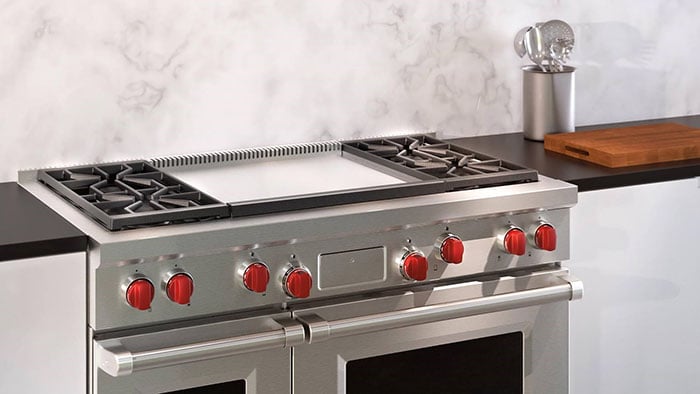 Wolf 48-Inch Pro Range
Although you have some larger non-professional ranges like Bertazzoni, these are mostly high-powered professional ranges.
In 48- or 60-inches range, you have different options of controls, two ovens, steam ovens, grills, and griddles.
We cover pro ranges in greater detail in other articles like the best 36-inch and 48-inch ranges and how to buy a pro range at the end of this article.
Read More: Best 48-Inch Professional Ranges
Gas Range Styles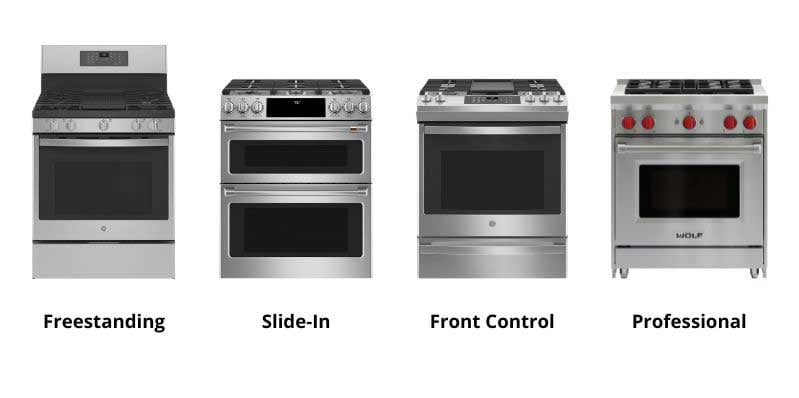 You should know the differences between the four styles of ranges. It's an important consideration for price and the overall look of your kitchen.
Freestanding ranges are the least expensive. Slide-in and front control ranges have no back guard so that you can see your backsplash.
Pro ranges have a higher output than a higher-end slide-in or front control but fewer features.
Freestanding Ranges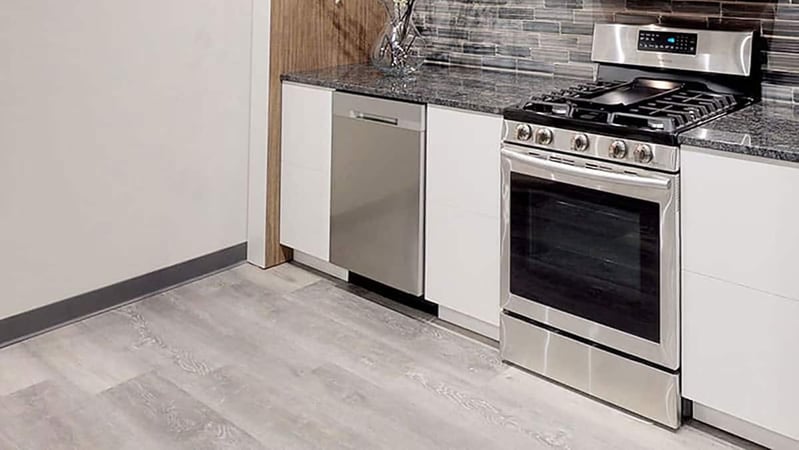 Samsung Freestanding Gas Range
Freestanding ranges have a backguard with oven controls and burner controls.
They also have finished sides, so they are a little more flexible with installation and can be placed anywhere in your kitchen.
Every manufacturer builds a freestanding stove. However, these ranges are harder to find due to supply challenges.
Slide-In and Front Control Ranges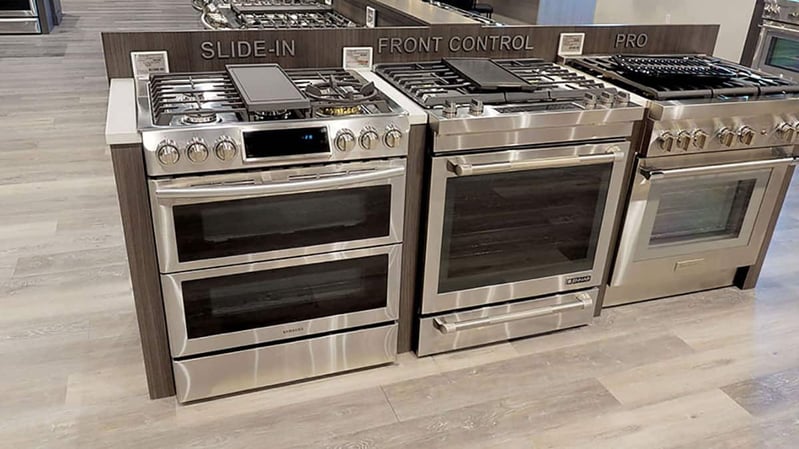 Design Differences Between Ranges at Yale Appliance in Hanover
Slide-in ranges feature the burner and oven controls upfront. They are also a little bit wider on top to overlap the countertop to create a built-in look.
Front control ranges are a mix of freestanding and slide-in. It does not have a backguard like a slide-in so that you can see your backsplash.
Front controls can fit in an existing 30-inch space.
Slide-ins and front control ranges (pro ranges are all front control) allow you to see your custom backsplashes.
Functionally, they are not different in output and features than freestanding.
Slide-ins and front control, unlike freestanding, are all self-cleaning with more advanced features.
What's the Difference Between Slide-In and Front Control Ranges?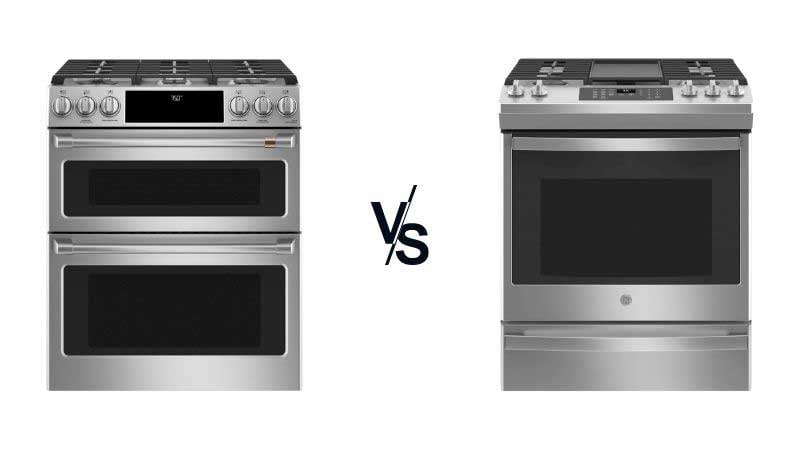 Slide-In Range (Left) and Front Control Range (Right)
We cover this in other articles, but a front control is made to fit into a 30-inch space.
Front controls can replace an existing freestanding and front control range without modifying the cabinet.
They also have finished sides, so you can place a front control at the end of the cabinets, whereas slide-ins have unfinished sides.
Slide-ins are customized to the countertop.
They are easier to clean because they sit on the countertop and eliminate the seams on the sides and back.
So, food and liquids cannot spill in the opening between the range and the cabinet.
However, slide-ins are not made to replace a freestanding range.
You can still install a slide-in range with some cabinet modification to the sides and back of the existing space.
Unless you like a particular range, slide-ins should be purchased for new construction, whereas front control is better for replacement.
Many brands offer both, so be sure you buy the right one before you schedule delivery.
Read More: What's the Difference Between Freestanding and Slide-In Ranges?
Professional Ranges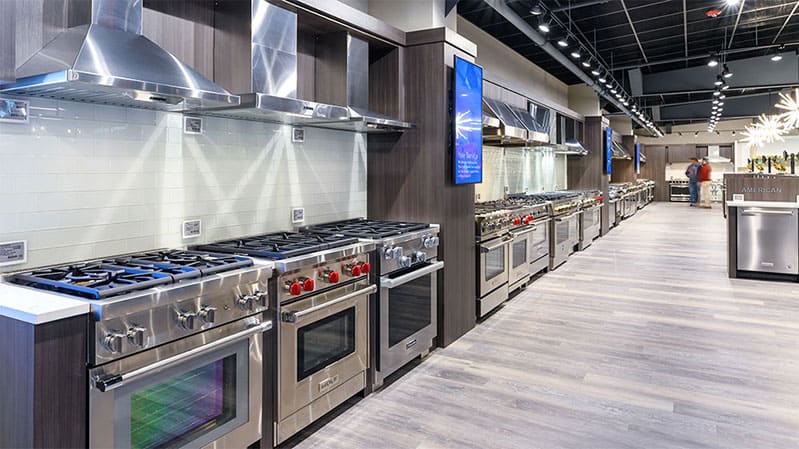 Professional Ranges at Yale Appliance in Hanover
Originally, you would buy a pro range because you needed the output, yet they were pricey.
However, pro ranges have better promotions and can be less expensive than a slide-in range in the most common 30-inch sizes.
Thermador, as an example, offers a free dishwasher with the purchase of their pro range for a lower price than many more premium slide-in and front control ranges.
Output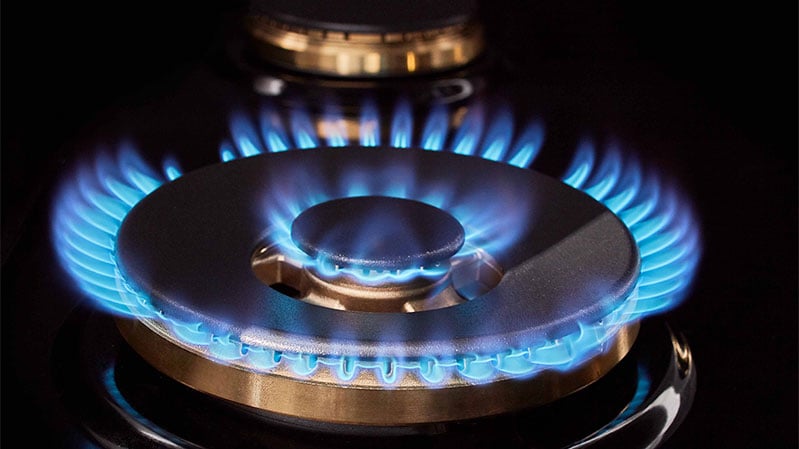 Signature Kitchen Suite Pro Range Burner
Conversely, regular ranges now have plenty of power in two burners up to 21,000 BTUs (British Thermal Unit) like in a Café range.
The BlueStar Platinum will have a 25,000 max burner output, but most pro ranges are 15,000-23,000 BTU burners on at least three.
Output is better, but not by that much.
Controls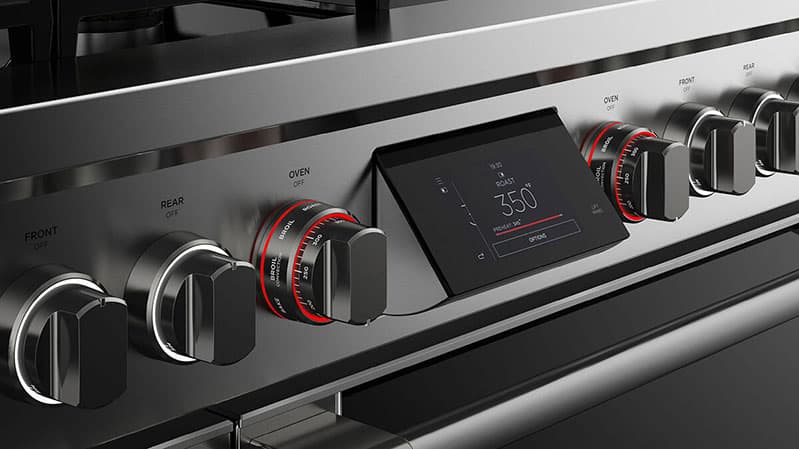 Fisher & Paykel Pro Range Controls
Most slide-in and front control ranges are easier to operate than pro ranges with better controls.
A basic professional range has no guided cooking controls or self-cleaning like the all-gas Wolf, Thermador Harmony, and BlueStar ranges.
Better pro ranges like the dual fuel Wolf, SKS (Signature Kitchen Suite), Fisher & Paykel, and Miele include clocks, timers, and self-cleaning in their professional ranges.
Miele and Wolf offer the best controls in their dual fuel ranges.
Ovens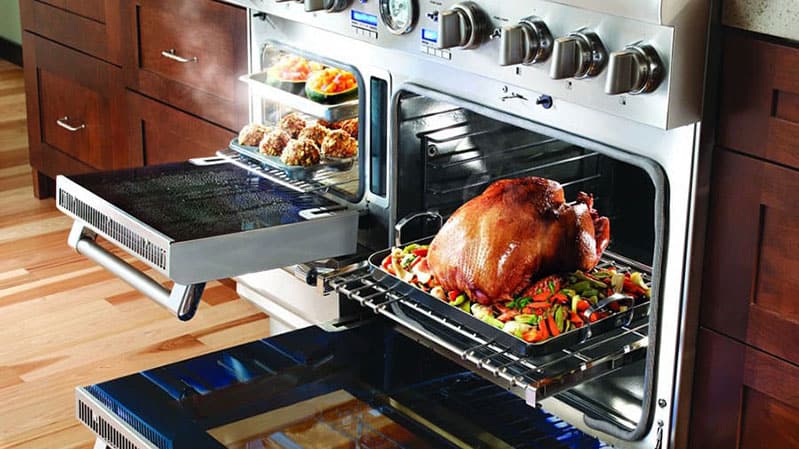 Thermador Pro Grand Range with Two Ovens
You will also have separate baking drawers below, two ovens, and a five or six-burner capability burner on a 30-inch freestanding or front control range.
Every high-end slide-in range is self-cleaning while JennAir, Thermador Pro Grand, SKS, and Miele in all gas pro ranges also have self-cleaning.
The convection systems vary in both. More pro ranges will have dual fan or two-fan convection systems.
Wolf has their blower-style convection in their dual fuel ranges.
Broiler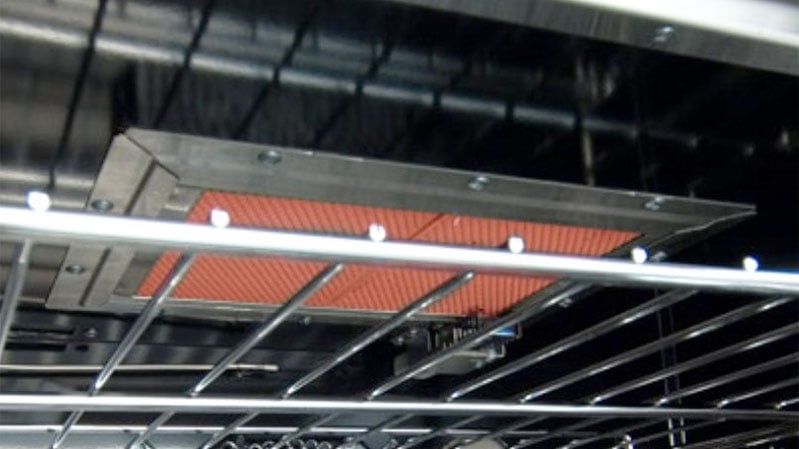 BlueStar Pro Range Infrared Broiler
Many of the all-gas pro ranges have a hotter infrared broiler for an intense directed heat versus a lower BTU regular gas broiler in the slide-in and front control types.
If you broil, you will like infrared.
Interesting Fact: Infrared broilers are used in restaurants to caramelize and sear food. The infrared is the same as the sear element on a professional Lynx, DCS, and Hestan grill.
Read More: How to Buy a Professional Range
Professional Gas vs. High-End Gas Slide-in Ranges
Wolf Pro Range vs. SKS High-End Slide-In Range
Many people, maybe even you, believe pro ranges are way more powerful and expensive. That is not always the case. Let's take a look.
Fuel Type: Gas or Dual Fuel?
Most people address this for new construction, renovations, and pro ranges. Most gas and dual fuel ranges look identical, except for Wolf and Miele.
Performance
However, their performance and installation are quite different.
Baking and Roasting
Dual fuel is better for baking because an electric oven has a more precise heat while gas is better for roasting.
Broiling
Also, gas broilers, especially infrared, are much better than electric broilers.
Price
Dual fuel typically is more expensive in pro or slide-in and front control ranges. Wolf, Thermador Pro Grand, and Miele offer added features like self-cleaning, steam, and better controls.
Amperage
Gas does not require the same electrical load as a dual fuel range. You will need 50-amp to power a dual fuel range compared to 12 amps for an all-gas range.
Now, if you're looking for high output on the top, dual fuel and gas aren't the most powerful or the best for low simmering anymore.
Read More: Professional vs. High-End Gas Slide-In Ranges
Dual Fuel vs. Induction Ranges
Dual Fuel Pro Range vs. Induction Pro Range
Only a few people consider these alternatives when reading about dual fuel, all gas, and induction.
I want to clear the misunderstanding of what each fuel type does.
Many people automatically think dual fuel is the best. That depends on how you use the cooktop.
This comparison of induction vs. dual fuel will be just about the stovetop because both will have electric ovens.
Burner Output and Venting
Induction is more powerful than a 25,000 BTU burner with a better simmer and less venting.
Safety
Induction is also the most child-safe because the magnetic burner must sense a metal pan to activate.
Cleanability
Induction is easier to clean because the top doesn't heat, so the food doesn't bake like gas or a regular electric surface.
Surface Options
However, you cannot buy induction with built-in grills, griddles, or French tops.
Reliability
Gas is one of the most reliable appliances at 6.4% service in the first year, whereas induction is about average at about 9.5%
Induction uses all the available amperage and can be prone to voltage spikes.
If you live in an area with frequent blackouts, you can light your gas cooktop and cannot with induction.
Range vs. Cooktop and Wall Oven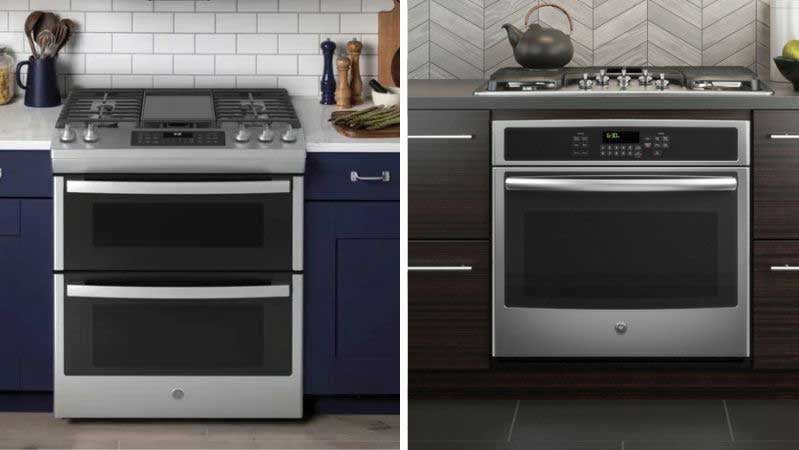 Gas Slide-In Range vs. a Gas Cooktop and Wall Oven
Other than where you place your sink, deciding on whether you want a range or a cooktop and wall oven is the most crucial decision determining the flow of your kitchen.
The following are the basics:
Range
Ranges centralize your cooking in one place. You also have more options on the cooktop, especially in pro ranges.
Wall Oven and Cooktop
You don't bend for a wall oven like a stove. The cooking options are unlimited in a wall oven with steam, speed, and warming drawers.
For many people, ranges are better in smaller spaces, while wall ovens will be better in larger kitchens, especially if you like having different oven options.
Best Features for Gas Ranges
These are the upgrades for gas ranges:
Self Cleaning
Self-Cleaning is a heat cycle to incinerate the drippings, grease, and spillovers inside your oven.
Power Burner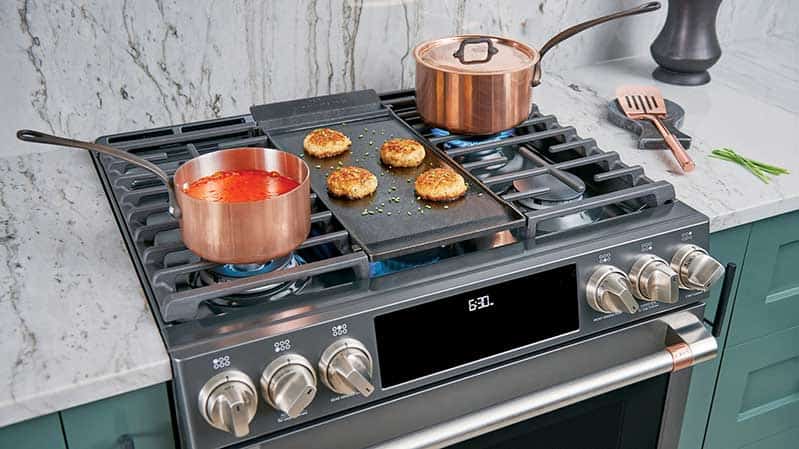 Café Gas Slide-In Range
Defined as a burner with a higher output of over 15,000 BTU. Most gas ranges will have at least two in the front varying from 15,000-21,000 BTU.
Convection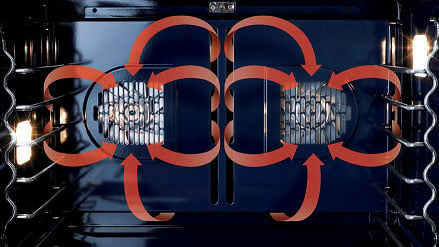 Twin Convection Fans
Convection uses a fan for even more heat distribution. A convection oven will have fewer hot and cold spots so that you will bake more evenly on all three racks.
LG and BlueStar will offer "pure" convection meaning the air is blown from the back behind the fan for more heat.
The heat in regular convection is generated by the baking element below and then distributed by the fan in the middle of the range.
Fifth Burners
Burners in the middle for a griddle. The Café has six burners for two under the griddle.
Controls
For slide-in and front control ranges, your controls are located on the front rather than the backguard.
Wi-Fi Compatibility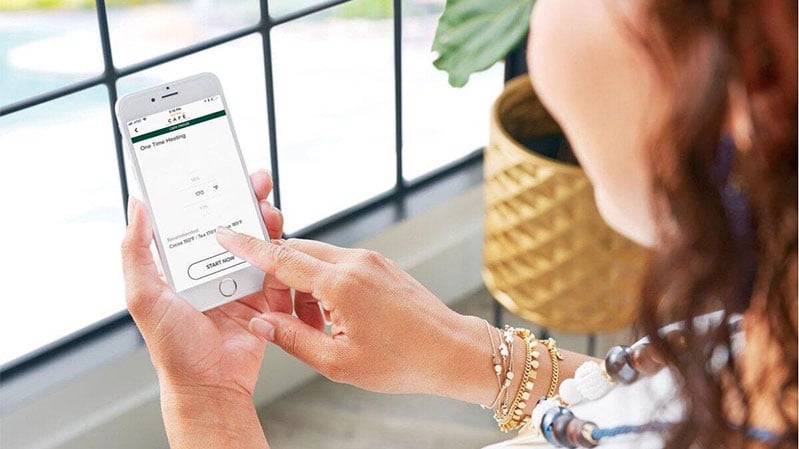 GE SmartHQ App on Smartphone
Wi-Fi is a feature in about every range. You are controlling the range from your phone or tablet.
You have the basic functions like showing time remaining, mode completion, and turning your oven on or off remotely.
Then you have a few with tie-ins to apps like Yummly and SideChef.
GE's SmartHQ and LGs ThinQ are testing service diagnostics, so the appliance will send an alert directly to a service agent.
That would prevent repairs and speed-up service.
Learn More: Smart Appliance Buying Guide
Best Premium Features for Gas Ranges
Air Fry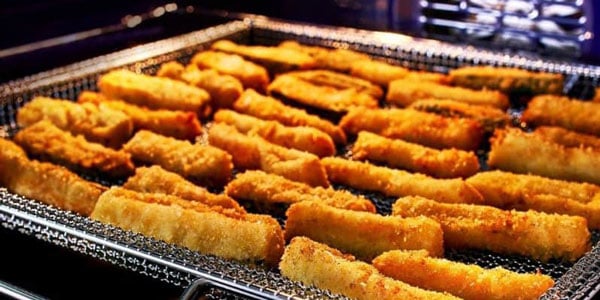 LG Air Fry Mode in a Gas Range
Newest feature uses high heat convection. Although it may work one day, we haven't been able to crisp anything in any brand.
Air Sous Vide
Sous vide is precision boiling in a bag. Air sous vide uses air, at least in theory. However, it's a two-hour cycle. Then you must finish it for texture.
Warming Drawer
Low-temperature drawer to keep food warm for up to three hours.
Double Ovens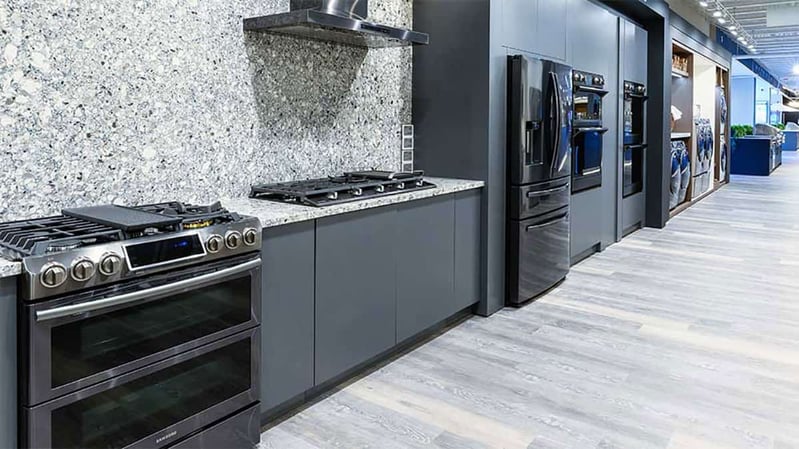 Samsung Double Oven Gas Range
Double Ovens are two types. Many like KitchenAid and JennAir have a larger oven and smaller baking drawer on the bottom.
Other types like Samsung and GE have the oven up top with the main oven below.
Colors
Ever since stainless became popular in the mid-1990s, it seems like your only choice is a stainless finish. However, you do have color options.
Café has three colors white, black and stainless, along with three trim options, copper, brass, and stainless, for a unique look.

Café Gas Range Finishes
Fisher & Paykel has red, white, black, and stainless. BlueStar has 1000 colors and ten trim options to choose from. If that's not enough, they will customize it for you.
La Cornue has 50 colors and eight trims. They will also customize a finish for you. Other brands like Bertazzoni will have six. Viking will have 17.
Black Stainless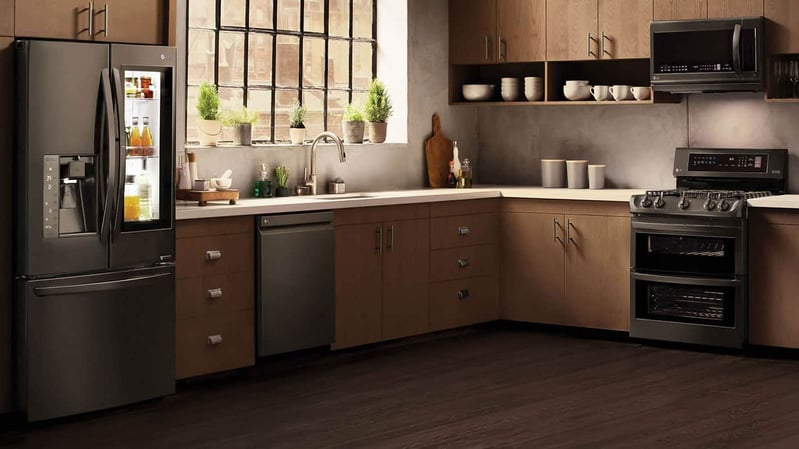 LG Black Stainless Steel Appliances
Don't buy black stainless. The oxide coating is easily scratched, revealing the shiny undercoating. You will have to live with it because manufacturers do not guarantee scratches.
Gas Range Reliability
We calculate gas range reliability by dividing the products we serviced by the products we sold.
For this article, we looked at the number of gas ranges sold and serviced from December 1, 2020, to October 31, 2021.
The following service rates are based on a minimum of 40 ranges sold and a total sample of over 1000 ranges.
Gas Range Reliability from December 2020 to October 2021
| | |
| --- | --- |
| | Service Rate |
| Whirlpool | 2.5% |
| GE Appliances | 4.4% |
| LG Electronics | 4.4% |
| Samsung | 4.5% |
| GE Profile | 7.6% |
| KitchenAid | 8.9% |
| Beko Appliance | 12.9% |
| JennAir | 15.4% |
| Fisher & Paykel | 17.7% |
| Grand Total | 6.4% |
The most reliable gas range is Whirlpool - sort of. Whirlpool has fairly basic gas ranges and is mostly sold to builders.
GE, LG, and Samsung are the most reliable brands for gas ranges with features.
However, be careful. The brands vary in terms of what happens when you have a problem.
Always Google service for each brand in your area. It will be time well spent.
Read More: Most Reliable Gas Ranges
How Much Should You Spend on a Gas Range?
This depends on size and style. A basic 20-inch range will cost around $500. A 60-inch pro range will be $15,000-$20,000.
The supply challenges of recent years have hurt availability in the lower-priced units.
It's hard to find a basic freestanding or front control range. Available freestanding gas ranges will start at about $900, with front controls starting at $1,700.
Pro ranges in the 30-inch sizes will start at about $5,000.
Should You Buy an Appliance Package to Save the Most Money?
Packages are a smart way to maximize rebates. Stay with one brand if you can. You can match styles and can take advantage of rebates.
What Are the Best Brands for Gas Ranges?
This varies between the categories. The best brands are Samsung, KitchenAid, Bosch, GE, and LG. For professional ranges, it is Thermador, JennAir, Wolf, BlueStar, and Miele.
Most Popular Brands for Freestanding Ranges
Beko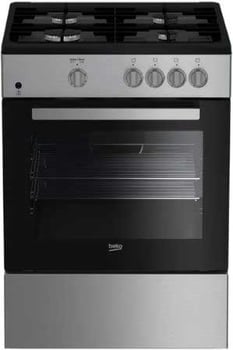 In many 24 inches, you are buying an unattractive or poorly made product. They have the feel of your children's toys.
Beko's SLGR24410SS 24-inch gas range is solid and a decent option.
BlueStar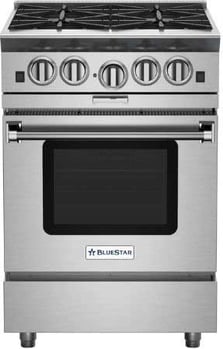 You can buy a superb range even in 24 inches with BlueStar's BSP248B 24-inch range. This range has 25,000 BTU burners, an infrared broiler, and pure convection along with 1000 color choices.
LG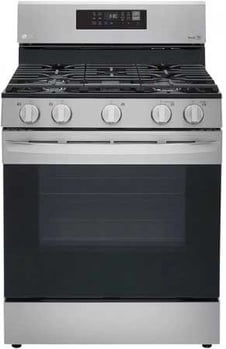 LG's best freestanding gas range, the LRGL5823S, has five burners on the stovetop with a griddle and a max output of 20,000 BTU.
It has a large oven at 5.8 cu. ft. with true convection. Lastly, LG's freestanding gas range has smart functionality.
Profile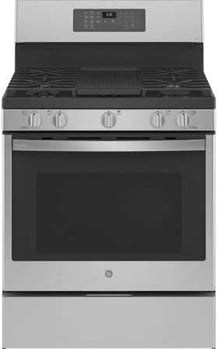 The Profile's best freestanding gas range, the PGB935YPFS, has two high output burners at 20,000 BTU and 18,000 BTU.
Profile also has an excellent service network with GE Appliances and a good smart experience. Both LG and Profile are testing service diagnostics as a new feature for the future.
Most Popular Brands for Slide-In and Front Control Ranges
Café Appliances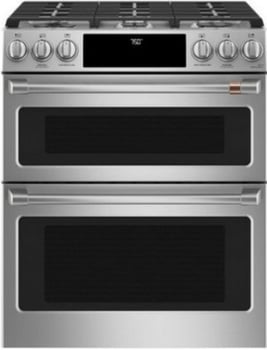 Café has the world's only 6-burner range with the CGS750P2MS1. The configuration makes sense with two burners under the griddle for a more consistent temperature throughout.
The two power burners are up front at 21,000 BTU and 17,000 BTU. You have two ovens as well as three color and trim options.
LG Studio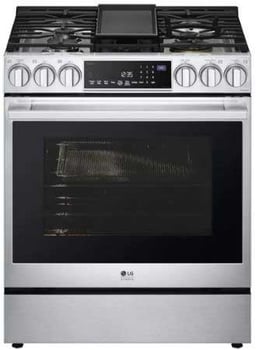 Studio is LG's premium line. The LSGS6338 has a 22,000 BTU and a 20,000 BTU burner along with three other burners. Additionally, you can tap the oven door to see inside with InstaView, another feature of LG's.
Beko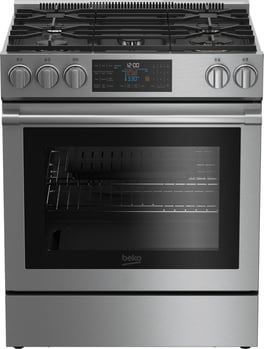 Beko's best slide-in gas range, the SLGR30532SS, only has one power burner, but you can buy it as part of a kitchen appliance package.
Beko's kitchen appliance package comes with a counter-depth refrigerator, dishwasher, and over-the-range microwave for under $6,000.
Most Popular Brands for Professional Ranges
JennAir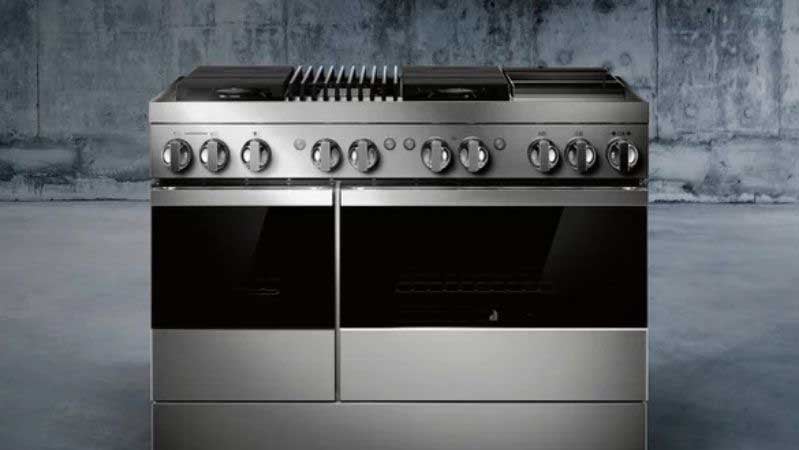 JennAir Noir 48-Inch Pro Range
JennAir's ranges have high output with two 20,000 BTU and one 18,000 BTU burner but have placed more emphasis on the cooking experience.
It is Wi-Fi enabled and compatible with Amazon's Alexa. JennAir added their Cooking Center interface for Wi-Fi.
Monogram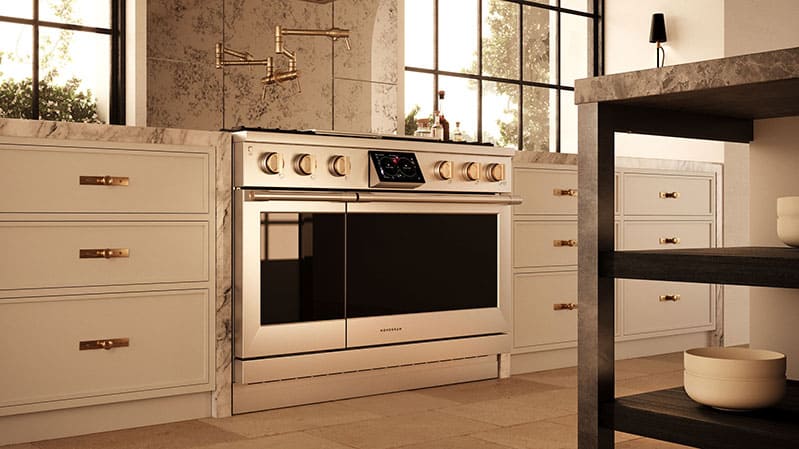 Monogram 48-inch Pro Range
The monogram is now at Yale. They have LCD touch controls and all high output burners. All of Monogram's ranges have smart functionality powered by SmartHQ.
Thermador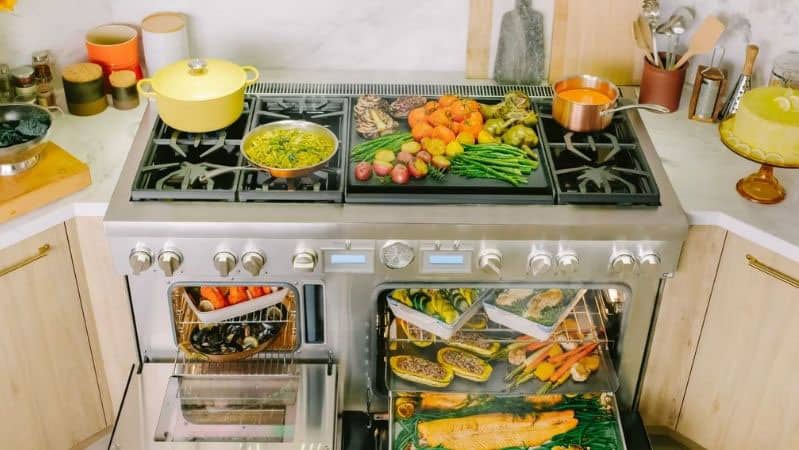 Thermador Pro Grand 60-inch Range
Thermador pro ranges can simmer at an unbelievable 100°. It turns on and off intermittently to achieve this temperature. Thermador introduced a new range with better styling and Wi-Fi through their HomeConnect app.
Thermador offers a free dishwasher (valued at $1,399) and a free hood promotion with other qualifying purchases.
Wolf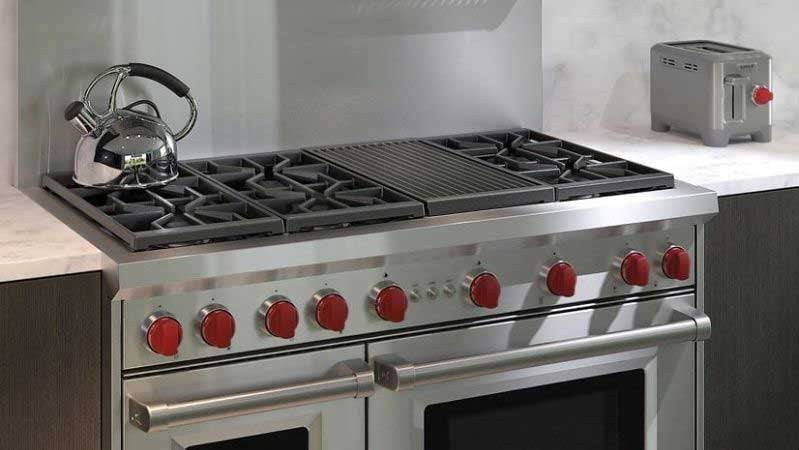 Wolf 48-inch Pro Range Range
Wolf has dual-stacked burners for a good simmer on each burner.
The oven is single convection, but their infrared broiler is powerful at 1800 degrees. Wolf, Thermador, and BlueStar do not have self-cleaning ovens in all gas.
Wolf excels with infrared in their grill, griddle, and French top burners. Their dual fuel range has higher output, VertiCross blower convection, and Wolf Gourmet.
With Wolf Gourmet, you can input the food and how you want it cooked. Then the Wolf Gourmet system will set the time, temperature, and recommend a rack position.
BlueStar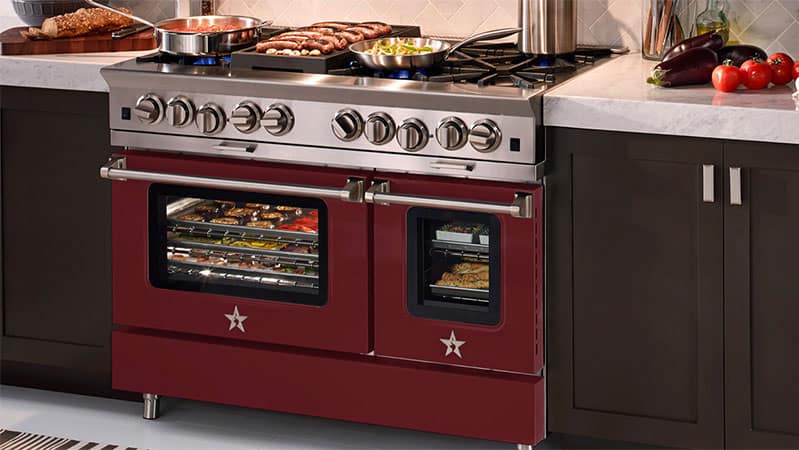 BlueStar Platinum Pro Gas Range
BlueStar platinum ranges have the highest heat output at 25,000 BTU on their highest burner. Their grates can be modified to fit a round-bottomed wok, which is great for high-heat cooking.
This range comes with an interchangeable "Charbroiler" and griddle for added cooking flexibility. BlueStar Platinum series ranges are offered in over 750 custom color and trim options for an added cost.
When Is the Best Time to Buy a Gas Range?
A lifetime ago, the best holidays to buy an appliance were:
Black Friday (Now all of November)
Labor Day (The last two weeks in August)
Presidents' Day (Two weeks in February)
Memorial Day (Two weeks in May into June)
July 4th (June into July)
However, with supply challenges, manufacturers are offering promotions less due to limited supply. You want to be able to buy a gas range and have it delivered in the near future.
For the next 6-12 months, buy what's available if it fits your needs.
How to Vent a Gas Range
You picked a gas range. That's great. You are about half dead.
Buying the right vent is crucial because you want to remove the heat, grease, and gases from your home.
It turns out cooking produces an unhealthy mixture of Carbon Monoxide, Carbon Dioxide, Nitrous Oxide, and Formaldehyde.
The following are the basics:
CFM (Cubic Feet Per Minute): How powerful is the exhaust? CFM is the amount of air being exhausted from your house every minute.
Capture Area: Capture area is the height, width, and depth of the hood. Capture is where most people make a mistake. Remember those powerful burners in the front? Most range hoods do not cover them. If you cook a lot, you want a 24-inch-deep hood to capture the stove emissions.
Duct Run: A duct run should go straight up or straight back. Adding bends with elbows or downdrafts reduces the static flow.
Duct Size: Use a rigid, not flexible duct, and always use the manufacturers specifications or greater.
Read More: How to Vent Your Kitchen Range
How Do You Choose a Gas Range
You start seeing a pattern when you look at ranges.
All the brands have similar feature upgrades such as self-cleaning, convection, and double ovens along with multiple tiers of ranges for basic slide-ins, convection slide-ins, premium slide-ins, basic pro ranges, better pro ranges with more controls, and premium pro ranges.
To choose the right range for your home, keep in mind the following tips:
You do not have to buy an expensive range for a decent outpoint.
Consider a slide-in or front control range for looks only because it will cost $300-$1000 less for a freestanding unit with similar features.
Know the difference between a slide-in and front control before you take delivery.
Pro ranges can be cheaper than slide-in ranges in a kitchen package with rebates.
You do not need to buy a pro range for power.
Buy induction instead of dual fuel if you want the best performing cooktop.
Vent properly, especially if you like to cook.
Be mindful of service before you buy any appliance. Do not wait until you have issues.
Additional Resources
Want to learn more about the latest gas ranges and technology? Read the Yale Gas Range Buying Guide with features, specs and detailed profiles of every major brand. Well over 1 million people have downloaded a Yale Guide.
Related Articles:
Why Should You Trust Us?
It seems that every appliance review has nothing but glowing comments about almost every product, yet you read customer reviews and they are almost universally bad.
We are here to fill in the disconnect. We'll give you the best features, and the drawbacks as well, including reliability based on over 37,000 calls performed by our service team just last year. Our goal is to give you ALL the information so you know what's right for you.
Please consider subscribing or adding to the conversation in the comments below. We appreciate you stopping by.
Steve Sheinkopf is the third-generation CEO of Yale Appliance and a lifelong Bostonian. He has over 38 years of experience in the appliance industry, and he is a trusted source of information for consumers on how to buy and repair appliances.

Steve has also been featured in numerous publications, including the New York Times, Consumer Reports, The Boston Globe, Bloomberg Radio, the New York Post, The Wall Street Journal, and Entrepreneur, for his knowledge of how to buy appliances and appliance repair.

Steve is passionate about helping consumers find the best appliances for their needs, and he is always happy to answer questions and provide advice. He is a valuable resource for consumers who are looking for information on appliance buying, repair, and maintenance.

Despite being the worst goalie in history, Steve is a fan of the Bruins and college hockey, loves to read, and is a Peloton biker. The love of his life is his daughter, Sophie.
A Note About Pricing
Pricing on this blog is for reference only and may include time sensitive rebates. We make every attempt to provide accurate pricing at time of publishing. Please call the stores for most accurate price.