How to Buy a Gas Range (Reviews/Ratings/Prices)
You walk into an appliance store and see 100 different gas ranges. They range in price from $500-$15,000.
What do you gain by spending more or lose by spending less on a gas range?
In this article, you will learn about the three most important deciding factors when it comes to buying a gas range - size, style, and features.
I will also show you the differences between gas, electric, dual-fuel, and induction, why infrared broilers are better, and when to buy a gas range for the best price at any store.
Often, you can save as much 35% by waiting a week or two. You will know those periods after reading this post.
You will also know the benefits of each type of range and the reliability of every major brand of gas ranges based on 34,687 service calls logged by our service department last year.
Let's start with sizes and styles.
How to Buy a Gas Range
Sizes
Ranges start at 20-inches wide, then 24-inch, 30-inch is by far the most popular, 36-inch is mostly pro and some high-end regular ranges, with 48-inch and 60-inch being larger, more expensive professional ranges.
We will be concentrating on 30-inch ranges for this article, but the following are highlights of others.
20-inch and 24-inch Ranges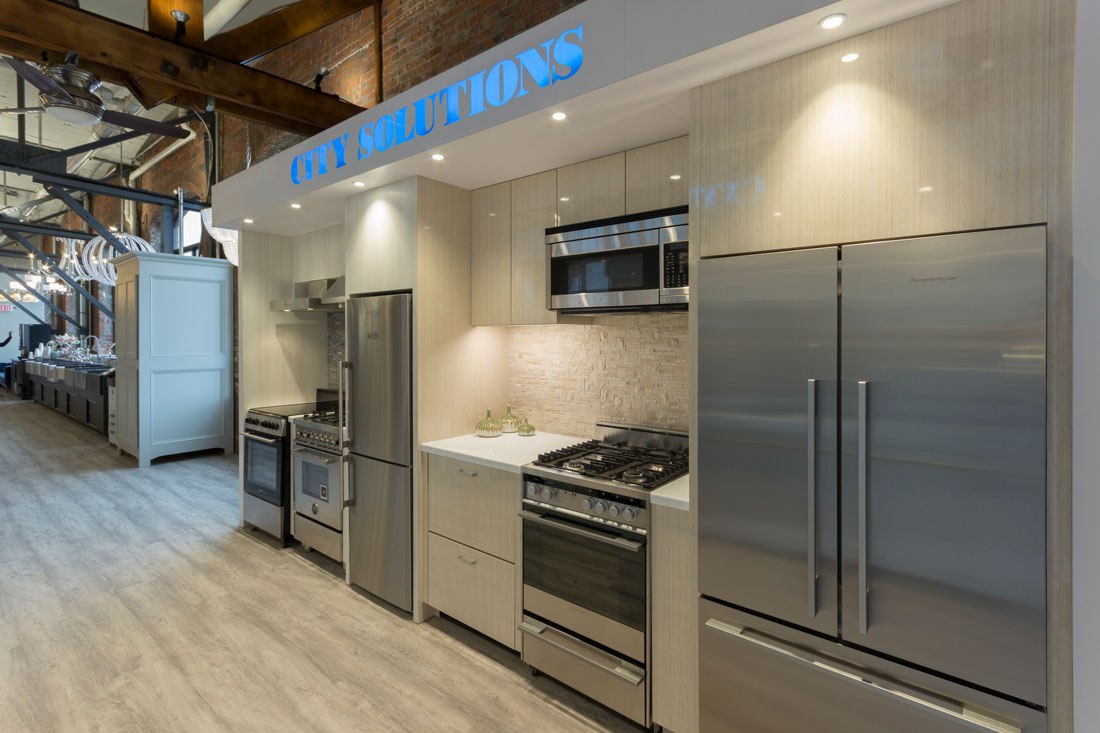 Small Kitchen Design Featuring Gas Ranges At Yale Appliance In Boston
They tend to be basic, designed for apartments, but Premier has some upgrades, as does Blomberg with BlueStar marketing a professional range with incredibly hot burners.
30-inch Ranges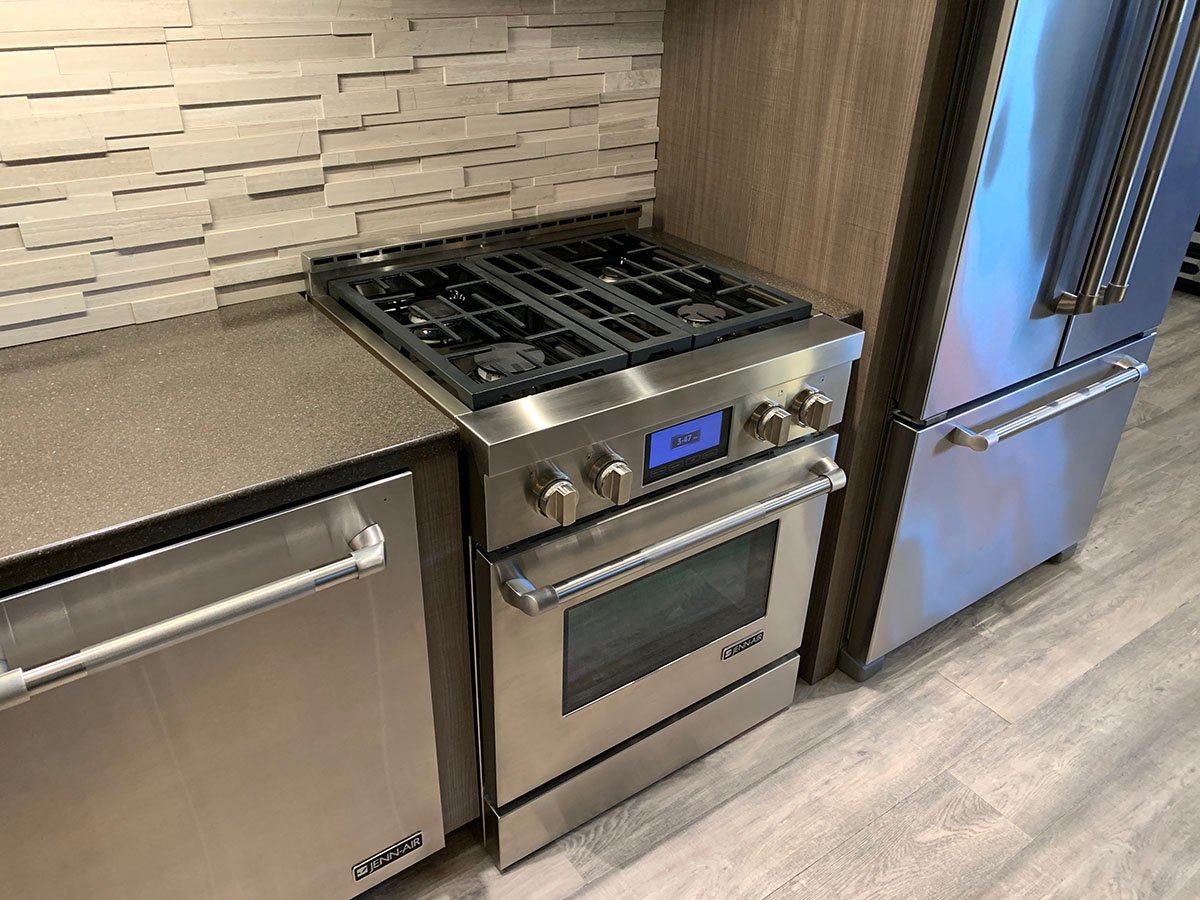 As I said before, 30-inches is the most popular size by far. Ninety of our most popular ranges are 30-inch ranges.
Short on time? Get our free Gas Cooking Buying Guide
36-inch Ranges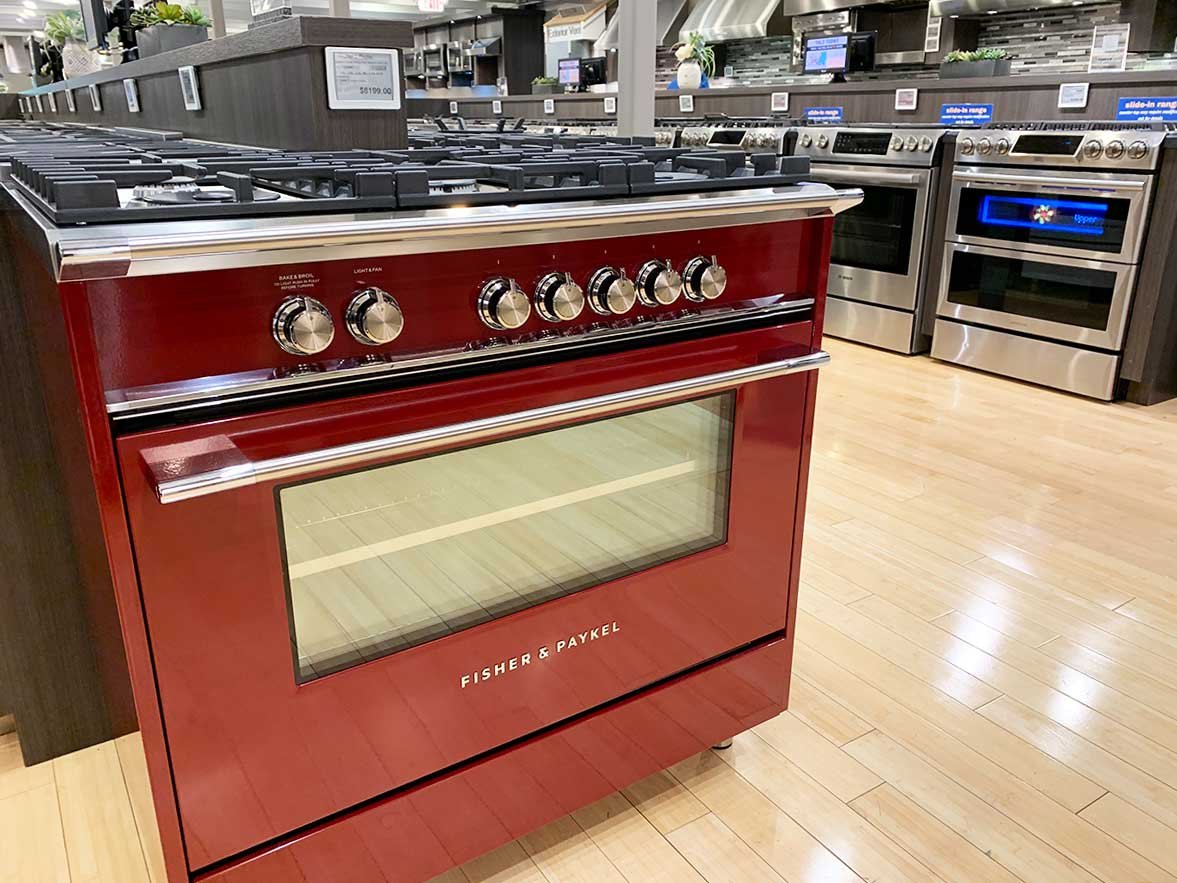 You have two types of ranges in this segment - the very attractive Italian types like Bertazzoni, Ilve, and Verona versus the high powered professional types like Wolf, BlueStar, and Thermador.
The difference is looks versus power and features of the pro at an added cost. The pro ranges also offer built-in grills and griddles as well as just burners on the top.
48-inch and 60-inch Ranges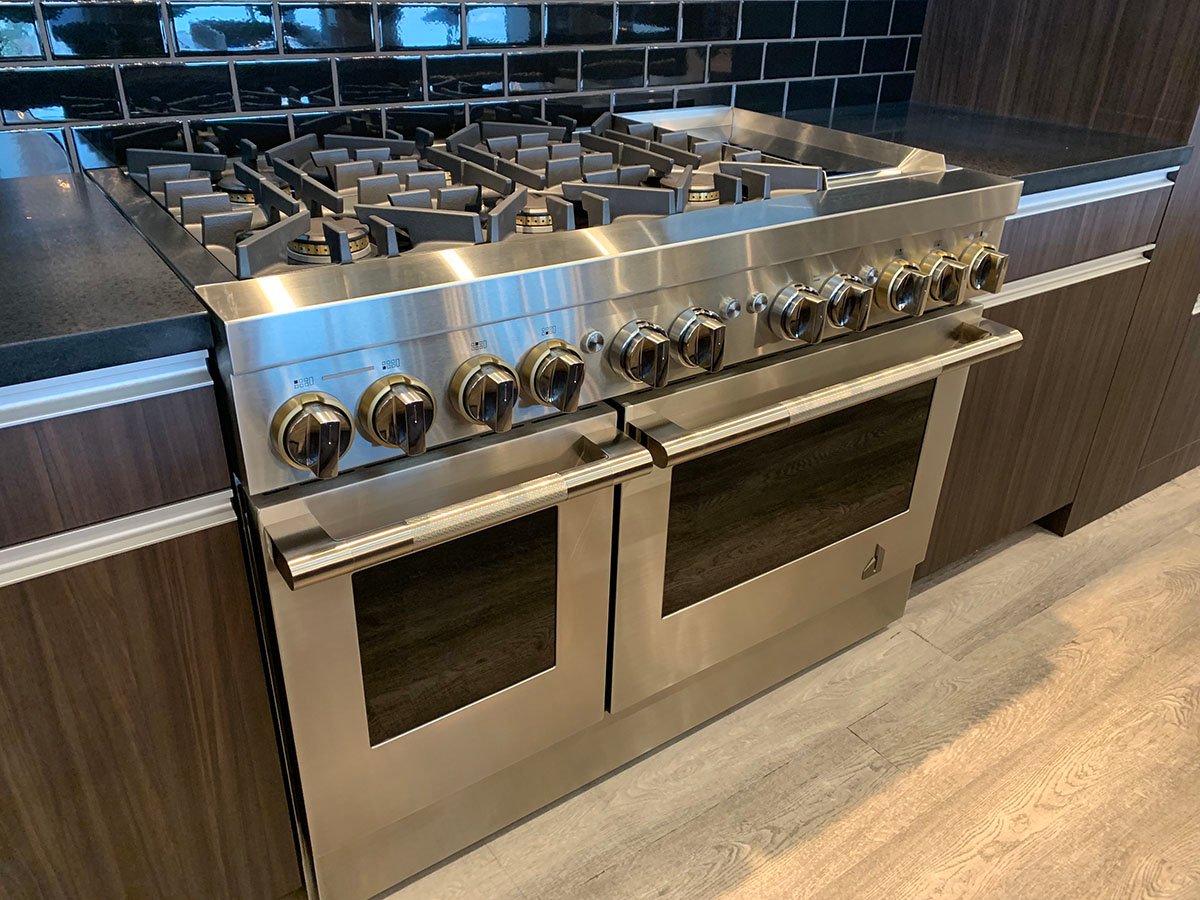 Although you do have some larger non-professional ranges like Fisher & Paykel and Bertazzoni, these are mostly high powered professional ranges.
In a 48 or 60 inches range, you have different options of controls, two ovens, steam ovens, grills, and griddles.
We cover these in greater detail in some other articles like best 36-inch and 48-inch ranges, as well as how to buy a pro range.
Style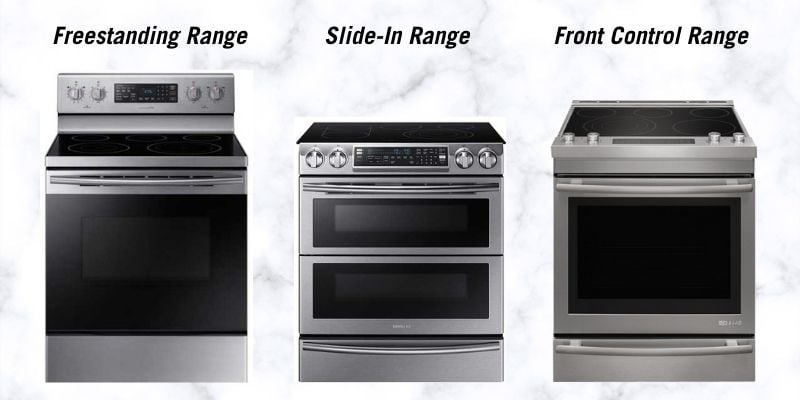 You should know the differences between the four styles of ranges. It's an important consideration for price and also the overall look of your kitchen
Freestanding ranges are the least expensive. Slide-in and front control ranges have no back guard so you can see your backsplash.
Pro ranges have a higher output than a higher-end slide-in or front control, but some fewer features as well.
Freestanding Ranges
Freestanding ranges have a backguard with the oven controls and burner controls.
They also have finished sides, so they are a little more flexible with installation and can be placed anywhere in your kitchen.
Short on time? Get our free Gas Cooking Buying Guide
Slide-In And Front Control Ranges
Slide-in ranges feature the burner and oven controls upfront. They are also a little bit wider on top to overlap the countertop to create a built-in look.
Front control ranges are a mix of freestanding and slide-in. It does not have the backguard like a slide-in so that you can see your backsplash. Front controls can fit in an existing 30-inch space.
Slide-ins and front control ranges (pro ranges are all front control, btw) allow you to see your custom backsplashes. Functionally, they are not different in output and features than a freestanding.
Slide-ins and front control, unlike freestanding, are all self-cleaning with more advanced features.
Difference Between Front Control And Slide-in Ranges
We cover this in other articles, but a front control is made to fit into a 30-inch space. Front controls can replace an existing freestanding and front control range without modifying the cabinet.
Slide-ins are customized to the countertop. They are easier to clean because they sit on the countertop and eliminate the seams on the sides. So food and liquids cannot spill in the opening between the range and the cabinet.
However, slide-ins are not made to replace a freestanding range. You can still install a slide-in range with some cabinet modification to the sides and back of the existing space.
Unless you like a particular range, slide-ins should be purchased for new construction, whereas front control is better for replacement.
Many brands offer both, so be sure you are buying the right one before you schedule delivery.
To learn more about the differences between freestanding, front control, and slide-in ranges, check out our free Gas Cooking Buying Guide.
Professional (Pro) Ranges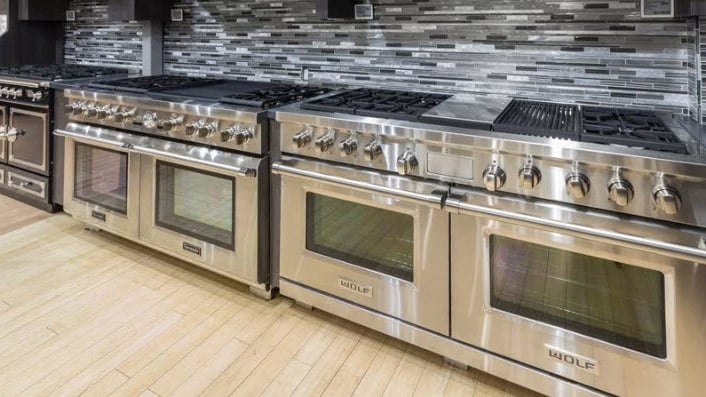 Originally, you would buy a pro range because you needed the output, yet they were pricey. However, pro ranges have better promotions and can be less expensive than a slide-in range in the most common 30-inch sizes.
Conversely, regular ranges now have plenty of power in 1 or two burners.
You do not need to buy a Pro range of power.
A basic professional range has no guided cooking controls or self-cleaning like Wolf, and BlueStar.
Wolf has their thermostatic twin convection in dual fuel. Both fans have independent controls to keep the ideal temperature.
The BlueStar Platinum will have 25,000 Max burner output and an infrared 1850 watt broiler. Infrared is the best broiler. It is intense direct heat, whereas regular gas spreads the heat out.
Better pro ranges like Miele include clocks, timers, and self-cleaning in their all professional gas ranges.
They may also include Wi-Fi with apps tied into cooking programs to enhance your cooking experience, like with JennAir's and Thermador's pro ranges.
Curious about which professional range might be for you? Use our Pro Range Configurator to narrow down the best brands based on your preferences.
Pro Gas Vs. High-End Gas Slide-in And Front Control Ranges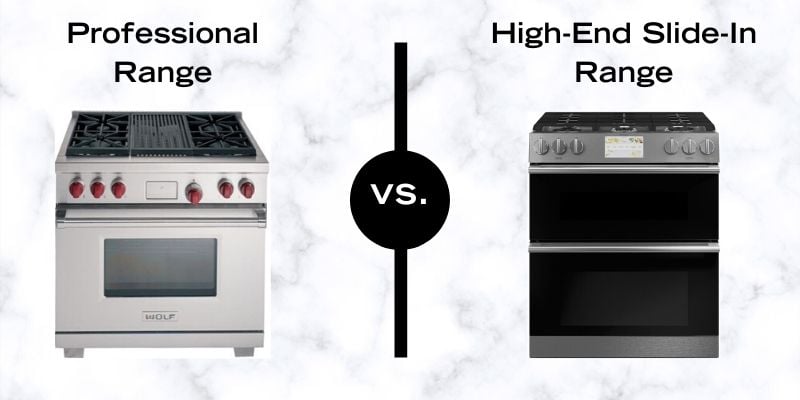 Many people perhaps even you believe pro ranges are way more powerful and more expensive
While most pro ranges will have 3-4 high output burners on a 30-inch range.
High-end slide-ins will have two power burners along with better clocks and controls typically.
You also will have separate baking drawers below as well as two ovens and 5 or 6 burner capability burner on a freestanding/front control.
Every high-end slide is also self-cleaning versus just JennAir, Thermador Pro Grand, and Miele in all gas pro ranges.
Pro ranges will be more powerful, as previously stated. Most have better broiling with the infrared as well.
It's the power of pro vs. the functionality of a slide-in and front control.
In terms of price, it is about even normally or even less for the pro, because of $1300 rebates or free dishwashers.
To see all of our freestanding, slide-in, front control, and professional ranges, click here for a virtual tour of our Framingham showroom.
Fuel Type: Gas Or Dual Fuel?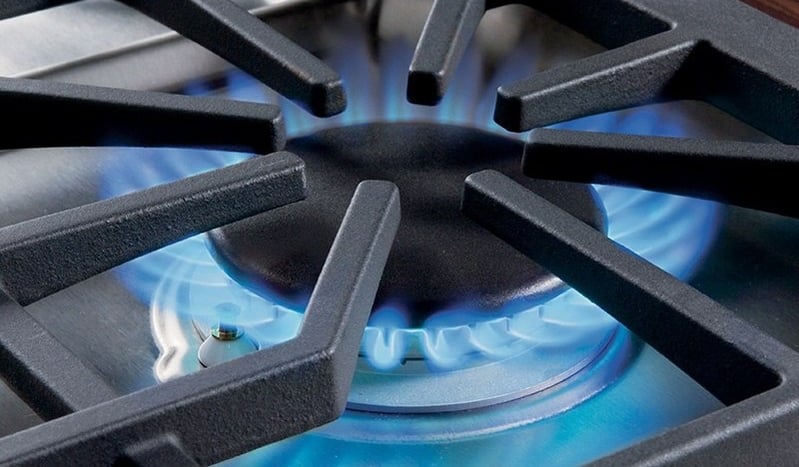 Gas Burner
Most people address this for new construction/renovation and usually for pro ranges. Gas and dual fuel range look identical. However, their performance and installation are very different.
Dual fuel or gas cooktop over an electric oven is better for baking because electric is a dryer, more precise heat.
Gas is a moist heat and better for roasting. Also, gas broilers, especially infrared, are better than electric broilers.
Dual Fuel is different on a regular freestanding, slide-in, and front control range where it is just a gas top instead of an electric top.
Dual fuel typically is more expensive in a pro range and offers more features like self-cleaning, steam, and better controls.
Gas is less expensive to buy and easier to install than electric in most cases. It does not require the same electrical load as a dual fuel range.
You will need 50 amp electric service to power a dual fuel range vs. 120 volts for an all gas range.
Now, if you're looking for high output on the top, dual fuel and gas aren't the most powerful or the best for low simmering anymore.
Dual Fuel Vs. Induction Ranges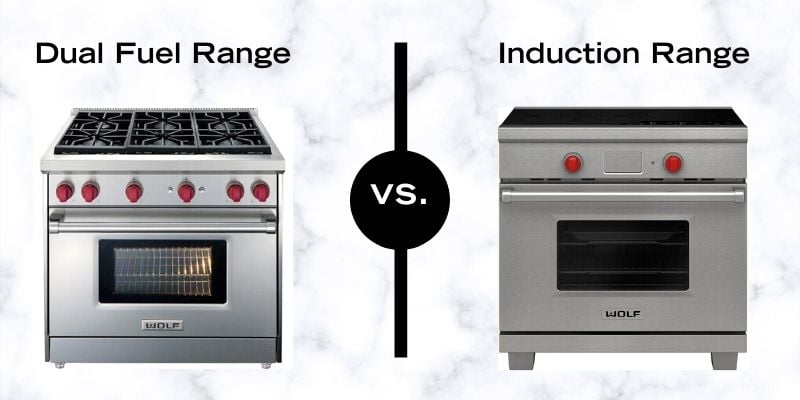 When you read about dual fuel, all gas, and now induction, only a few people consider these alternatives. I want to clear the misunderstandings of what each fuel type does.
Many people automatically think dual fuel is the best. That really depends on how you use the cooktop.
This comparison of induction vs. dual fuel will be just the top because both will have electric ovens. You still need 50 amps, either way, to power the oven in either style.
Induction is more powerful than even a 25,000 BTU burner with a better simmer and less venting. It is also the most child-safe and easiest to clean.
However, you cannot buy induction with built-in grills, griddles, or French tops in the larger sizes.
For speed, simmer, and baking, induction is better. Gas will have a grill, griddle in the larger sizes.
Consider induction instead of dual fuel in a 30 or 36-inch range for speed, simmer, safety with less venting required.
Click here to learn about which professional gas ranges have induction as an additional feature.
Best Features For Gas Ranges
These are the upgrades for gas ranges:
Self-Cleaning - Self-cleaning is a heat cycle to incinerate the drippings, grease, and spillovers inside your oven.
Power Burner - Defined as a burner with higher (over 15,000 BTU).
Convection - Convection uses a fan for more even heat distribution. There will be less hot/cold spots in a convection oven so that you will bake more evenly on all three racks.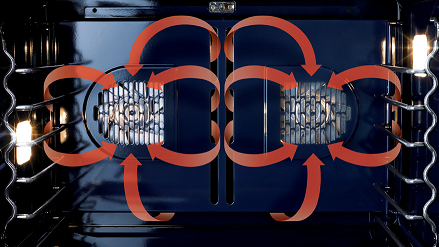 Oven Convection Fans
Fifth burners - Burners in the middle for griddle
Slide-in/front controls - Controls on the front
Wi-Fi Compatibility - Wi-Fi is a feature in some Samsung, LG, GE, and SKS ranges. Controlling the range from your phone, tablet, or hood will be the future. However, there are only basic functions like showing time remaining, cycle completion and turning on or off remotely.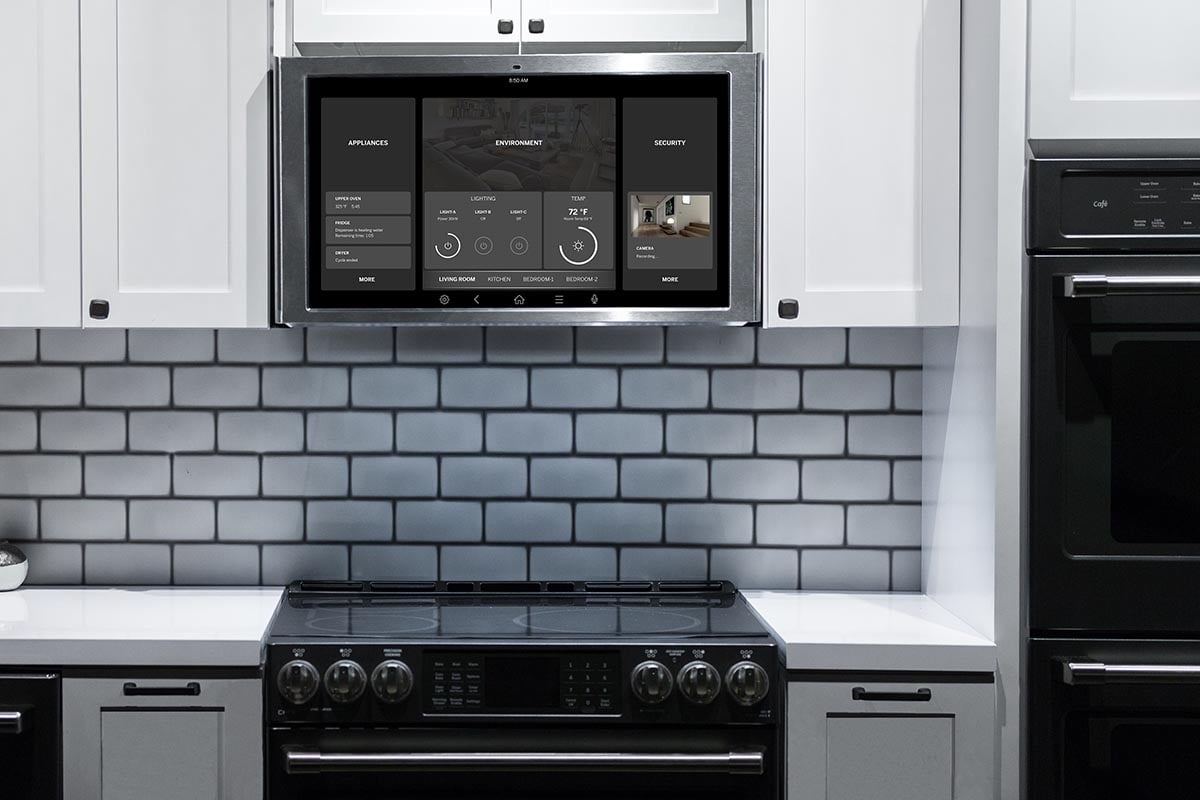 GE Smart Hub
Pro Ranges - Commercial looking range with high output burners
For a more in-depth look at the best features for gas ranges, click here to download our free Gas Buying Guide.
Reliability
Most Reliable Gas Ranges For 2019
| | | | |
| --- | --- | --- | --- |
| | Service Qty | Shipped Qty | Service Ratio |
| Whirlpool | 13 | 465 | 2.80 % |
| Signature Kitchen Suite | 1 | 28 | 3.57 % |
| Amana | 2 | 46 | 4.35 % |
| Samsung | 52 | 944 | 5.51 % |
| LG Electronics | 3 | 51 | 5.88 % |
| Premier | 9 | 52 | 17.31 % |
| Bosch Appliances | 44 | 227 | 19.38 % |
| Kitchenaid | 65 | 311 | 20.90 % |
| Bosch - Benchmark | 10 | 35 | 28.57 % |
| JennAir | 134 | 418 | 32.06 % |
| BlueStar | 13 | 30 | 43.33 % |
| Blomberg | 19 | 25 | 76.00 % |
| Grand Total | 383 | 2678 | 14.30 % |
The best and most reliable gas ranges to consider with good features are Samsung and LG. Whirlpool and Premier are basic builder grade products. If you are reading this part, you will typically buy better features for yourself than a landlord will for his/her tenants.
However, with new kitchen appliances, you will need service. Samsung/LG may be the most popular brand. Their popularity has strained their ability to service properly in some areas.
Check the service before you buy it.
Most Reliable Professional Gas Ranges
| | | | |
| --- | --- | --- | --- |
| | Service Qty | Shipped Qty | Service Ratio |
| Samsung Chef Collection | 0 | 1 | 0.00 % |
| Fisher & Paykel | 2 | 10 | 20.00 % |
| Bertazzoni | 3 | 14 | 21.43 % |
| Thermador | 85 | 346 | 24.57 % |
| JennAir | 36 | 138 | 26.09 % |
| Wolf | 75 | 278 | 26.98 % |
| Miele | 10 | 20 | 50.00 % |
| La Cornue | 1 | 2 | 50.00 % |
| BlueStar | 20 | 36 | 55.56 % |
| Grand Total | 232 | 845 | 27.46 % |
Pro ranges require more service than any single product.
For larger ranges, it is two appliances on the 48 and 60-inch sizes with more features and more to break.
However, the most common issues are igniters failing to spark. It's not a complete fail like the whole range not working.
There are also installation issues and some customer education, as well. The problems are not that bad to dissuade you from buying a pro.
However, you still need service to fix even minor issues.
How Much Should You Spend On A Gas Range?
This depends on size and style. A basic 20 inch will cost around $400. A 60-inch pro range will be $15-20,000.
Let's look at the 30-inch ranges. A freestanding range will be anywhere from $599-1299, depending on the features.
Slide-ins and front control ranges will price at $1099 to $3599 depending on features. Pro ranges will be $3799 to $7.000.
Should You Buy An Appliance Package To Save The Most Money?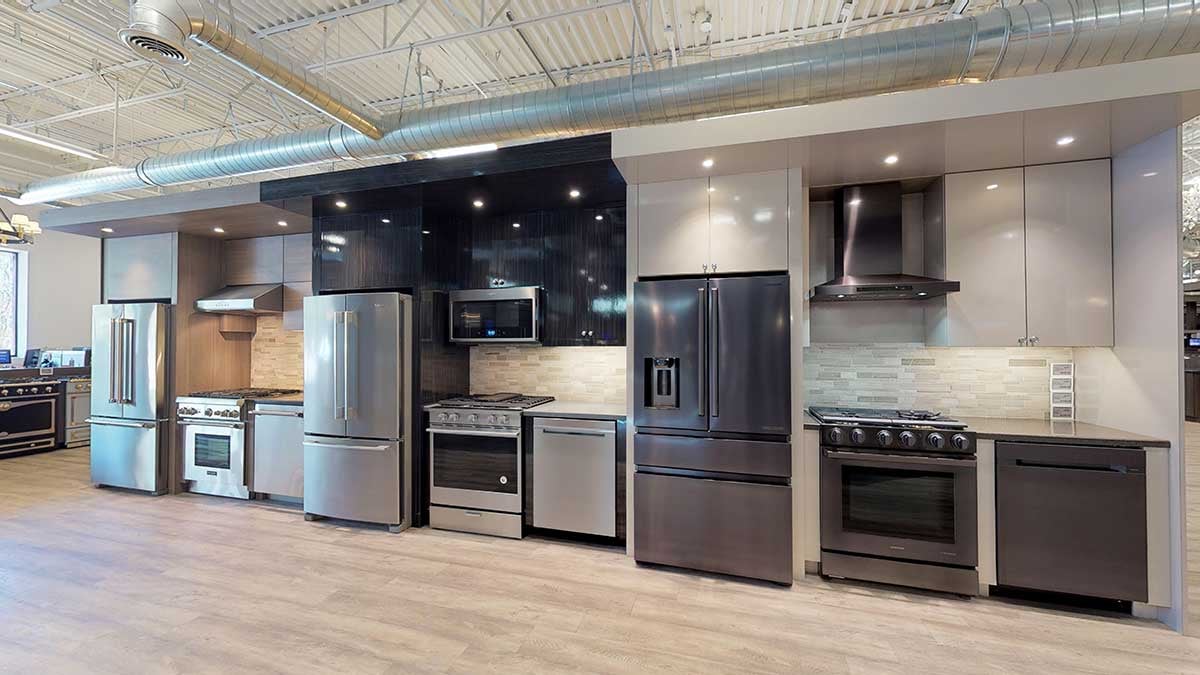 Kitchen Packages Featuring Gas Ranges At Yale Appliance In Framingham
Packages are a smart way to maximize rebates. Stay with one brand if you can. Buying a package during a holiday is the best way to buy appliances at the lowest price.
You will learn about holidays in detail later in this article.
What Are The Best Brands For Gas Ranges?
This varies between the categories. The best brands are Samsung, KitchenAid, Bosch, GE, and LG. For Pro, it is Thermador, JennAir, Wolf, BlueStar, and Miele.
Most Popular Freestanding Ranges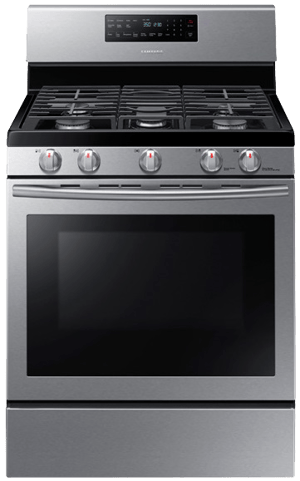 This unit has five burners, self-cleaning, convection, a griddle, andya a wok burner. It has 17,000 BTU and 15,000 BTU power burners as well. It's a great range for the price.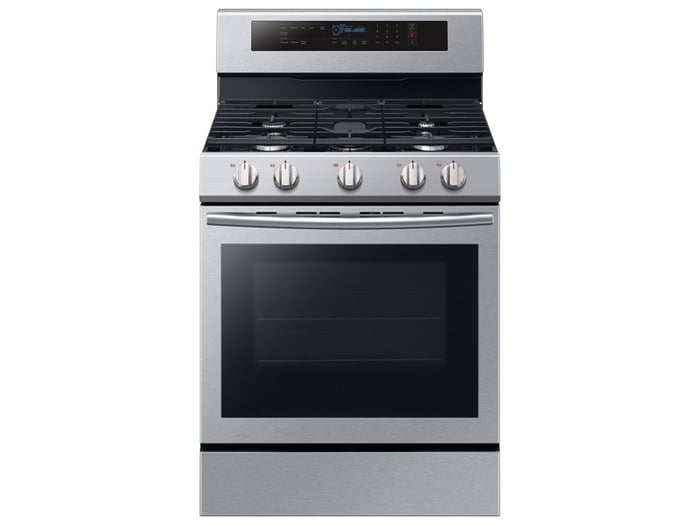 This unit has hotter burners at 18,000, 16,000, and 10,000 BTU output compared to 17,000, 15,000, and 9,500. It also has true convection. True convection in an oven is when the heat is blown in from the back rather than having the heat blow upwards.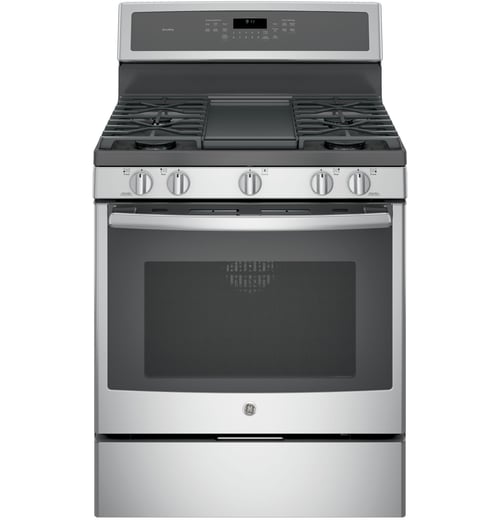 First, we haven't carried GE in a while. Their Profile gas range offers an 18,000 BTU burner and has Chef Connect automatically syncing your GE compatible hood to your rangetop. Ranges have been a strength for GE. This model is their most popular freestanding range with two, 18,000 BTU burners and convection.
Most Popular Slide-In And Front Control Ranges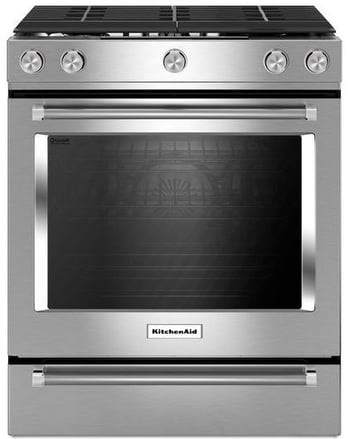 This series adds convection, 5th burner, and better controls for the additional cost. Like most high-end freestanding ranges, this slide-in has two power burners, one at 15,000 and 1 at 17,000 BTU.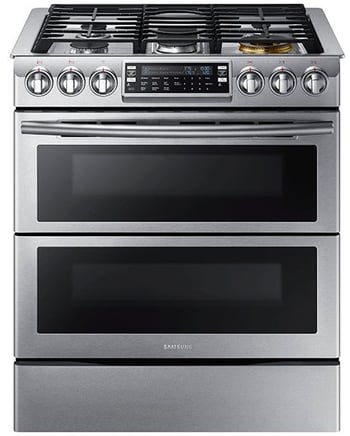 Two distinct ovens are one upgrade. Samsung has the FlexDuo Door. So you have two smaller ovens with their divider or one larger by taking the divider out.
Samsung also offers one of the highest BTU outputs for a sealed burner at 22,000 NTU.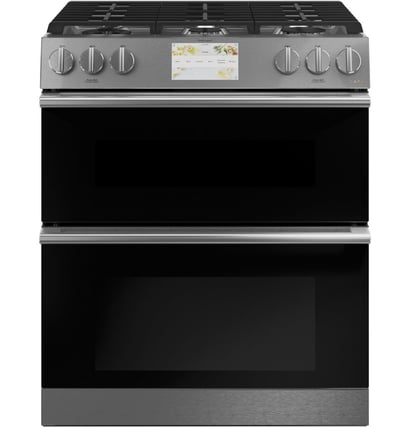 GE Café now has six burners in a 30-inch profile along with Wi-Fi. You can pick different finishes and handle types, as well.
Want to see all of our gas range options in our showroom? Click here to take a virtual tour of our Framingham showroom.
Most Popular Professional Ranges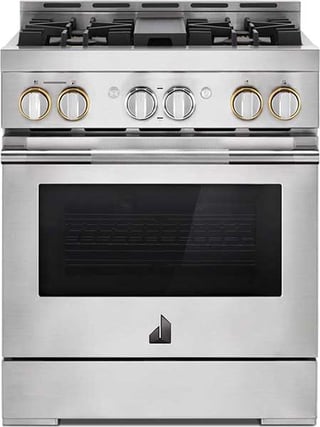 JennAir's ranges still have high output with two 20,000 BTU and one 18,000 BTU burner but have placed more emphasis on the cooking experience.
It is Wi-Fi enabled and compatible with Amazon's Alexa. JennAir added their Cooking Center interface for Wi-Fi.
Short on time? Get our free Gas Cooking Buying Guide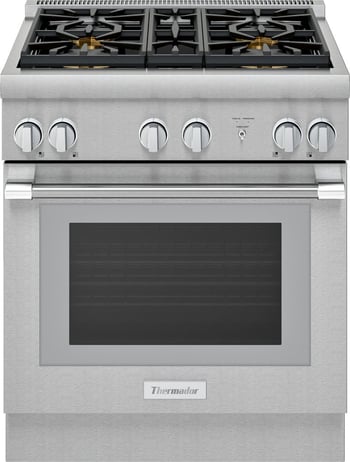 The Thermador can simmer at an unbelievable 100°. It turns on and off intermittently to achieve this temperature. Thermador introduced a new range with better styling and Wi-Fi through an app.
Thermador offers a free dishwasher (valued at $1,399) as well as a free hood promotion with other qualifying purchases.
Wolf has the dual-stacked burners for a really good simmer on each burner.
The oven is single convection, but their infrared broiler is powerful at 1,500 degrees. Wolf, along with Thermador and BlueStar, are not self-cleaning ovens.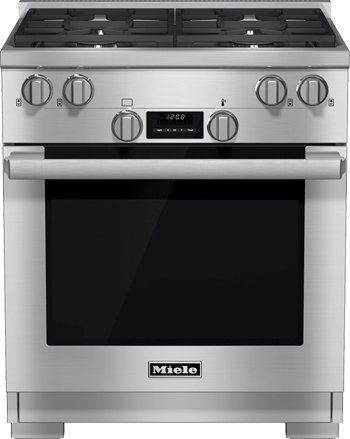 Miele has a really great output per burner at 19,000 BTU. They also offer the twin convection for even cooking. This range is also the most cleanable and is self-cleaning.
BlueStar BSP304B - $6,456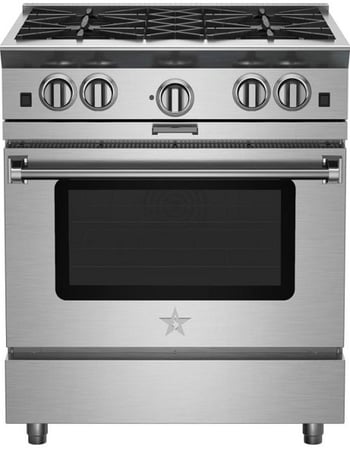 BlueStar platinum ranges have the highest heat output at 25,000 BTU on their highest burner. Their grates can be modified to fit a round-bottomed wok, great for high-heat cooking.
This range comes with an interchangeable griddle/charbroiler for added cooking flexibility. BlueStar Platinum series ranges are offered in 750+ custom color/trim options for an added cost.
When Is The Best Time To Buy A Gas Range?
You are wasting your time shopping store sales. As you may have guessed, most are not believable (if they ever were).
However, appliance manufacturers have followed electronics producers by dropping pricing on almost every major holiday.
The best holidays to buy an appliance:
Black Friday (Now all of November)
Labor Day (Last two weeks in August)
Presidents' Day (Two weeks in February)
Memorial Day (Two weeks in May into June)
July 4th (June into July)
Time your purchase if you can. It will usually be worth the wait. The savings can be 10-35%, depending on the brand. Buy a gas range in a package, as we said.
Then buy it during the holidays to save on each piece. Without question, this is the best way to buy appliances
How Do You Choose A Gas Range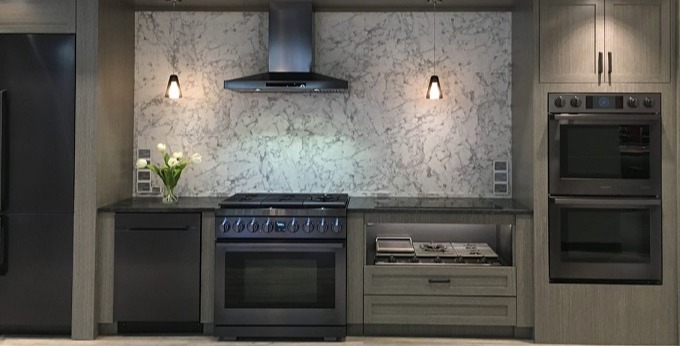 Samsung Gas Range At Yale Appliance In Framingham
You start seeing a pattern when you look at ranges as all the brands have similar feature upgrades - self-cleaning, convection, double oven, slide-in, basic slide-in, convection slide-in, premium slide-in, basic pro, a better pro with more controls, and premium pro ranges.
Keep in mind the following seven tips:
You do not have to buy an expensive range for decent outpoint.
Buy a Slide-in/Front control for looks only because it will cost $300-1000 for similar features to a freestanding unit. Know the difference between a slide-in and front control before you take delivery.
Pro Ranges can be cheaper than slide-in ranges in a kitchen package with rebates.
You do not need to buy a Pro Range for power.
Buy induction instead of dual-fuel if you want the best performing cooktop.
Wait for a holiday if you can.
Be mindful of service before you buy, not until you have issues.
Additional Resources
Want to learn more about the latest gas ranges and technology? Read the Yale Gas Range Buying Guide with features, specs and detailed profiles of every major brand. Well over 620,000 people have downloaded a Yale Guide.
Related Articles:
Why Should You Trust Us?
It seems that every appliance review has nothing but glowing comments about almost every product, yet you read customer reviews and they are almost universally bad.
We are here to fill in the disconnect. We'll give you the best features, and the drawbacks as well, including reliability based on over 37,000 calls performed by our service team just last year. Our goal is to give you ALL the information so you know what's right for you.
Please consider subscribing or adding to the conversation in the comments below. We appreciate you stopping by.
A Note About Pricing
Pricing on this blog is for reference only and may include time sensitive rebates. We make every attempt to provide accurate pricing at time of publishing. Please call the stores for most accurate price.