Jenn-Air JGS1450 Gas Range Review and Comparison (Reviews/Ratings/Prices)
This Jenn-Air appliance package is one of the best selling nationally. It has great style, plenty of features plus rebates so it becomes affordable.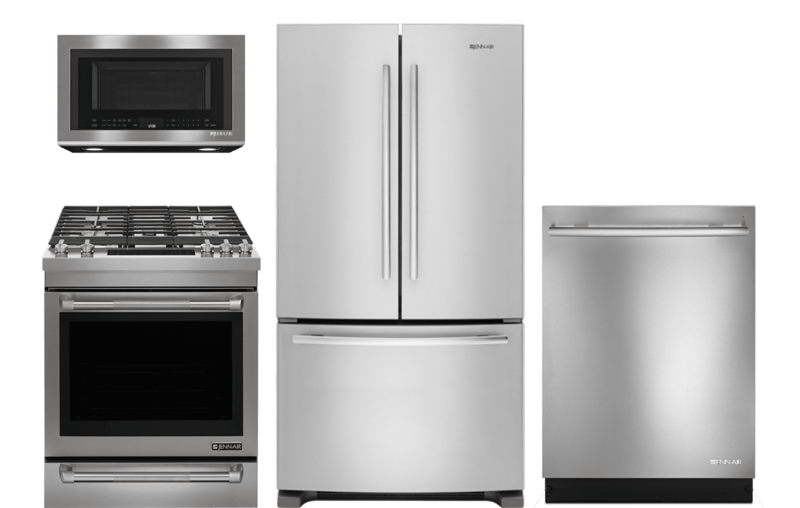 Jenn-Air Counter Depth Kitchen Package
The Jenn-Air JGS1450 has become popular as well. It is an interesting product because it is competitive with other high-end, slide-in ranges from Bosch, GE, and Samsung.
Professional ranges from Thermador and even the Jenn-Air Pro with higher BTUs are similarly priced as well, so you have plenty of choices in slide-in and pro ranges.
In this article, you will learn the features and reliability of the Jenn-Air along with comparisons to competitive brands.
Features:
DuraFinish Protection
19,000-BTU Stacked PowerBurner
Baking Drawer
True Convection
Telescoping Glide Rack
Brass Burners
AquaLift Self-Cleaning Technology
What You Should Like About The JGS1450 Range:
There are a ton of usable features with the Jenn-Air.
You have two power burners similar to a pro range along with a fifth burner for a griddle
The oven is the largest in the industry and is convection for more even cooking. You can even bake in the drawer below unlike most brands.
Short on time? Get our free Appliance Buying Guide
What is missing:
The cooktop is varied, but not as powerful as some of the other brands, especially the professional range brands.
Read Professional vs. High-End Slide-In Ranges for a better description.
Like most brands, it is single convection, not dual or pure convection. Once again, you will have to pay more for a better convection system.
The Jenn-Air JGS1450 Gas Slide-In Range [VIDEO]
How does the Jenn-Air JGS1450 Range compare to other popular ranges?
The Jenn-Air JGS1450 is most similar to the KitchenAid KSGB900ESS slide-in range other than a few convection features and a keep warm button. In some cases, KitchenAid's range may be a good alternative, and it's $370 cheaper.
However, if you are shopping for a kitchen appliance package, Jenn-Air has better package rebates. Only look at KitchenAid for the range.
Let's take a look at how it compares to other high-end slide-in ranges as well as a few professional ranges by their cooking surfaces, ovens, and reliability.
Cooking Surface
Jenn-Air has a competitive cooktop with a 15,000, 19,000, 9,000, 8,000 and simmer burner at 5,000. You have a griddle burner as well.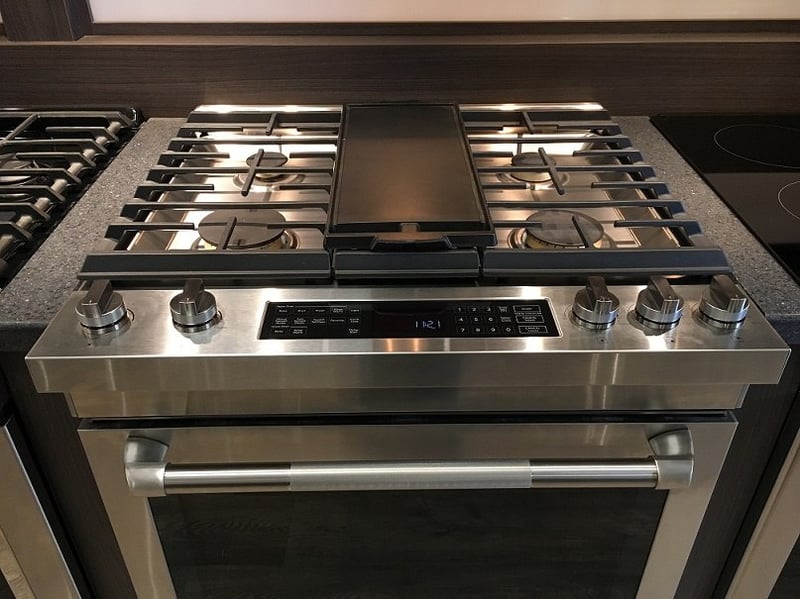 Jenn-Air Burners
In terms of other brands, it is slightly better than most gas slide-ins.
BTU Output Comparison
| | | | | | | |
| --- | --- | --- | --- | --- | --- | --- |
| | Jenn-Air JSG1450 | Bosch | Samsung | Jenn-Air Pro | Thermador | BlueStar |
| BTU Output per burner | 15,000, 19,000, 9,000, and 8,000 BTUs | 20,000, 15,000, 10,000, 5,000 BTU | 22,000, 15,000, 9,500, 9,500, 5,000 | 20,000, 15,000, 15,000, and 5,000 BTU | All 4 burners are 18,000 BTU | Each burner is 25,000 BTU |
Bosch is similar with a 20, 15, 10, and 5,000 BTU. As for professional ranges, it's still competitive to most.
The Jenn-Air Pro-Style Gas range has only 1 burner that is hotter than the JGS1450. You would think professional ranges have hotter burners, better features, and a heftier price tag. That is not always the case.
| | |
| --- | --- |
| | Jenn-Air Pro Style Gas Range Burners |
Thermador is more powerful with 4 18,000 BTU. Thermador is the only unit with an ultra low simmer at 100 BTU on 2 burners Versus 500 BTU on the others for one burner.
BlueStar has open burners maxing out at 25,000 BTU but is open, not sealed. It's a great choice but for a much higher price.
| | |
| --- | --- |
| BlueStar Open Burner | BlueStar Sealed Burner |
Oven Capacity
Jenn-Air is 6.4 cubic feet. It is way bigger than any other brand.
Convection System
They employ a standard convection fan, so the heat is generated from the broiler above or convection element below like most ranges.
Technically, there are two better convection delivery systems. SKS has true convection or heat blown in from the rear for more even temperature on all three racks.
Jenn-Air, Wolf, and Miele have twin convection on their gas pro ranges. Wolf is thermostatically controlled so each fan reacts separately to temperature.
Samsung is different with their twin vertical convection. Their "Flex Duo" allows you to cook two different items in convection by adding a divider. You can also remove the divider for larger items.
Broiler
Jenn-Air has the standard ceramic broiler. You can buy a much better infrared broiler. Infrared is a more intense direct heat to your food whereas the ceramic spreads the heat more.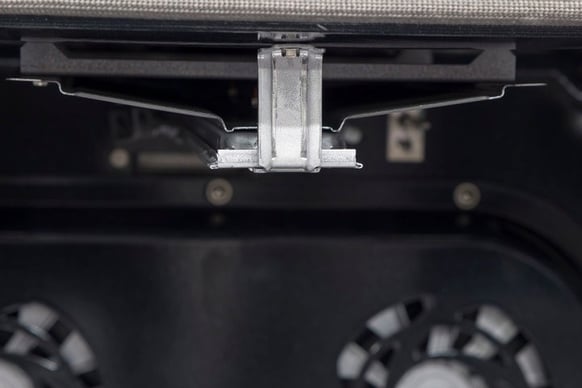 Jenn-Air Broiler
You can buy infrared in Wolf, BlueStar, and Thermador pro ranges.
Baking Drawer
You can bake in the Jenn-Air drawer. However it is shallow so the oven can be larger, so you aren't baking a high volume of food in the shallow drawer.
Most brands are just lower temperature warming drawers to simply keep food warm. Pro ranges have neither.
Reliability of Popular Gas Ranges
| | | | |
| --- | --- | --- | --- |
| | Service Qty | Shipped Qty | Service Ratio |
| BlueStar | 10 | 20 | 50.00 % |
| Jenn-Air | 138 | 365 | 37.81 % |
| Bosch | 50 | 313 | 15.97 % |
| KitchenAid | 53 | 366 | 14.48 % |
| LG | 2 | 31 | 6.45 % |
| Samsung | 23 | 404 | 5.69 % |
At first glance, Jenn-Air is fairly unreliable at 37.81% service in the first year. However, the identical KitchenAid is reliable at just over 14%, so the numbers should even out over time.
Many repairs are not major, but we always recommend knowing who will be fixing your range before you even buy one.
You can read our full article about the Most Reliable Freestanding Gas Ranges by clicking this link.
Final Thoughts
There are a ton of options to consider depending on how you cook.
First, if you just want a basic gas slide-in without convection, Whirlpool and Frigidaire have good basic ranges starting at $1,199. Samsung has a good basic unit with convection for about $1599-1999 depending on the promotion.
Other similar products would be GE Café, Samsung, Electrolux, and SKS as well as the Jenn-Air and Thermador pro ranges.
Thermador has the better simmer. Samsung has that two oven Flex Duo novelty.
If you love to broil, the more expensive BlueStar, Wolf, and Thermador ($4,149 with a free dishwasher) are decent considerations.
You may want to look at the Jenn-Air Pro as well with twin convection and a different configuration of burners with one dual stacked burner at 20,000 BTU.
Jenn-Air does have a decent overall range with a very large oven, convection and good output on the burners. It should be a consideration among many other options.
Additional Resources
Get the Yale Gas Cooking Buying Guide with features, specs, and inside tips to all the brands. Well over 350,000 people have read a Yale Guide.
Related Articles
Why Should You Trust Us?
It seems that every appliance review has nothing but glowing comments about almost every product, yet you read customer reviews and they are almost universally bad.
We are here to fill in the disconnect. We'll give you the best features, and the drawbacks as well, including reliability based on over 37,000 calls performed by our service team just last year. Our goal is to give you ALL the information so you know what's right for you.
Please consider subscribing or adding to the conversation in the comments below. We appreciate you stopping by.
A Note About Pricing
Pricing on this blog is for reference only and may include time sensitive rebates. We make every attempt to provide accurate pricing at time of publishing. Please call the stores for most accurate price.