Best Inexpensive (Cheap) Gas Ranges for 2020 (Reviews / Ratings / Prices)
We are writing a few articles to help you during these tough times. The focus will be on critiquing (how to buy) less expensive replacement appliances.
Less expensive does not mean without features or buying unreliable equipment.
These are reliable products. Some we do not even actively promote because many of you're reading this live outside Boston.
Most of these appliances are mentioned in our "Best" articles. One last thing: Stay healthy.
Best Inexpensive Gas Ranges For 2020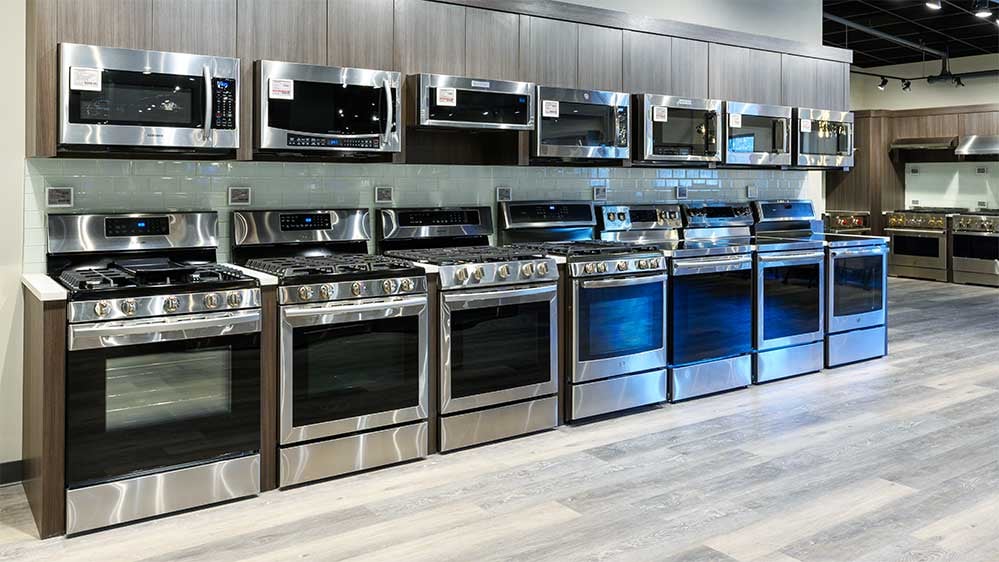 Freestanding Gas Ranges at Yale Appliance in Hanover
Your gas range can no longer keep temperature, or perhaps you are tired of relighting burners.
Either way, it's almost time to think about replacing your gas range.
Here is some good news: You do not have to pay a fortune for a full-featured gas range.
Good, basic ranges haven't changed much in price over the years.
In this article, you will learn the best manufacturers and products to consider for your next range.
You will also look at reliability numbers based on 35,256 service calls completed by our service department last year.
I will show you how to keep your purchase under budget, when to buy your new range for the best price, and how to buy a range.
Let's start there.
How To Buy A Gas Range
Freestanding Vs. Slide-In Vs. Front Control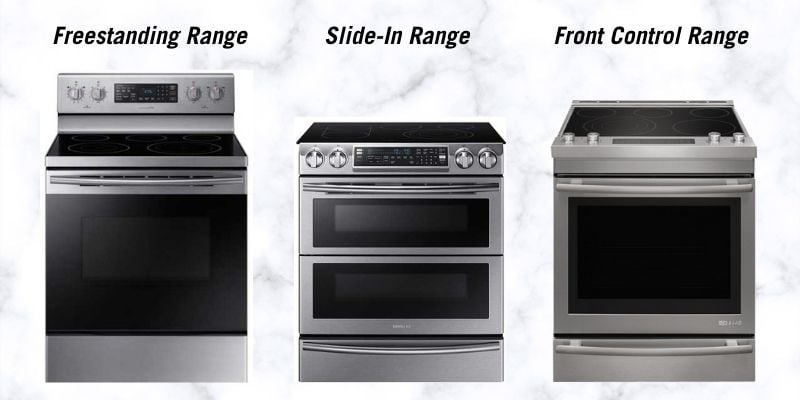 These ranges are different in appearance, but there is a big difference in price.
Let me describe each and then show you what is best for your budget.
A Slide-in range has controls on the front, and the cooktop sits over the counter. It is much easier to clean because there are no seams between the cabinet and the range.
Front control has the controls on the front but fits in a 30-inch space. You have the seams on either side.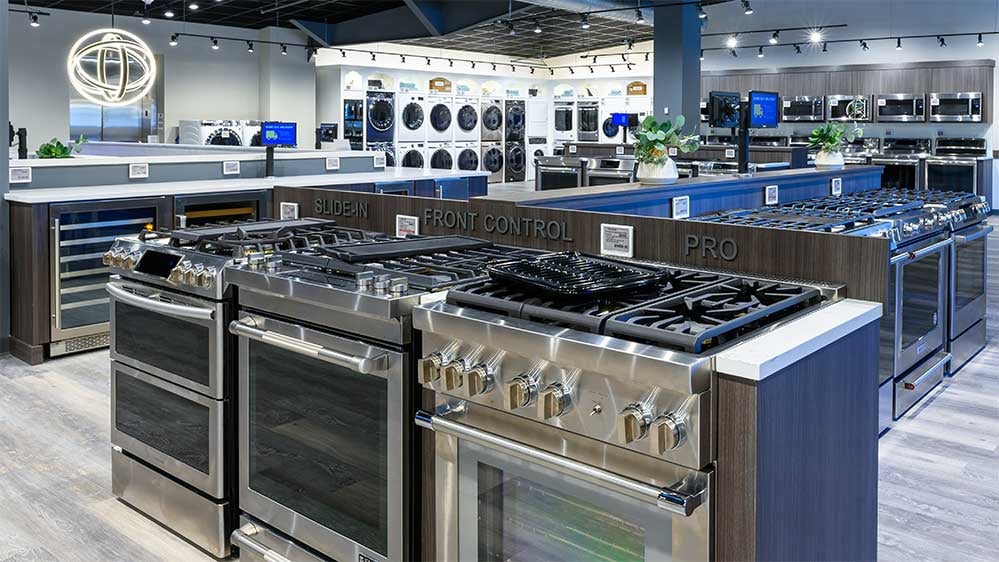 Education Center Featuring Slide-In, Front Control, and Professional Gas Ranges at Yale Appliance
The difference between front control and a slide-in is the installation. Slide-ins fit over the cabinet, whereas freestanding does not.
Typically people buy slide-ins for new construction and front controls to replace a regular 30-inch range.
Both look the same, so be careful before you buy.
Now, the least expensive type of range is freestanding. These ranges are the most widely sold and have the controls on the back versus the front on the other two types.
These ranges have similar features, but freestanding is the cheapest of the three.
So choose a freestanding range to keep your costs down.
Short on time? Get our free Gas Cooking Buying Guide
Self-Cleaning
Self-cleaning is more important in gas than electric. Gas ranges without self-cleaning broil at the bottom. Broilers located at the bottom of the oven are harder to clean.
Although you will save $50-100 on a range without self-cleaning, a gas range with self-cleaning has become the default over the last few years.
Convection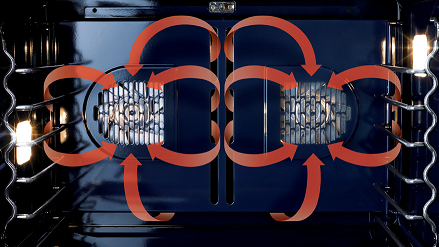 Convection Oven With Two Fans
Convection is a fan-forced heat and keeps a more even temperature than regular baking. Thirty years ago, convection was only available at the very high end with brands like Thermador and Jenn-Air.
Now its $100-150 more, convection ranges have been as low as $599 during Black Friday or Labor Day.
High Output
Viking introduced 15,000 BTU high output burners in gas ranges back in 1990. High output means faster boiling and wok cooking.
Surprisingly, several ranges of the list have at least one high output burner.
Cheapest Gas Range Finishes
Stainless used to be way more expensive, but its popularity has made it more affordable. Black and white still are nominally less expensive.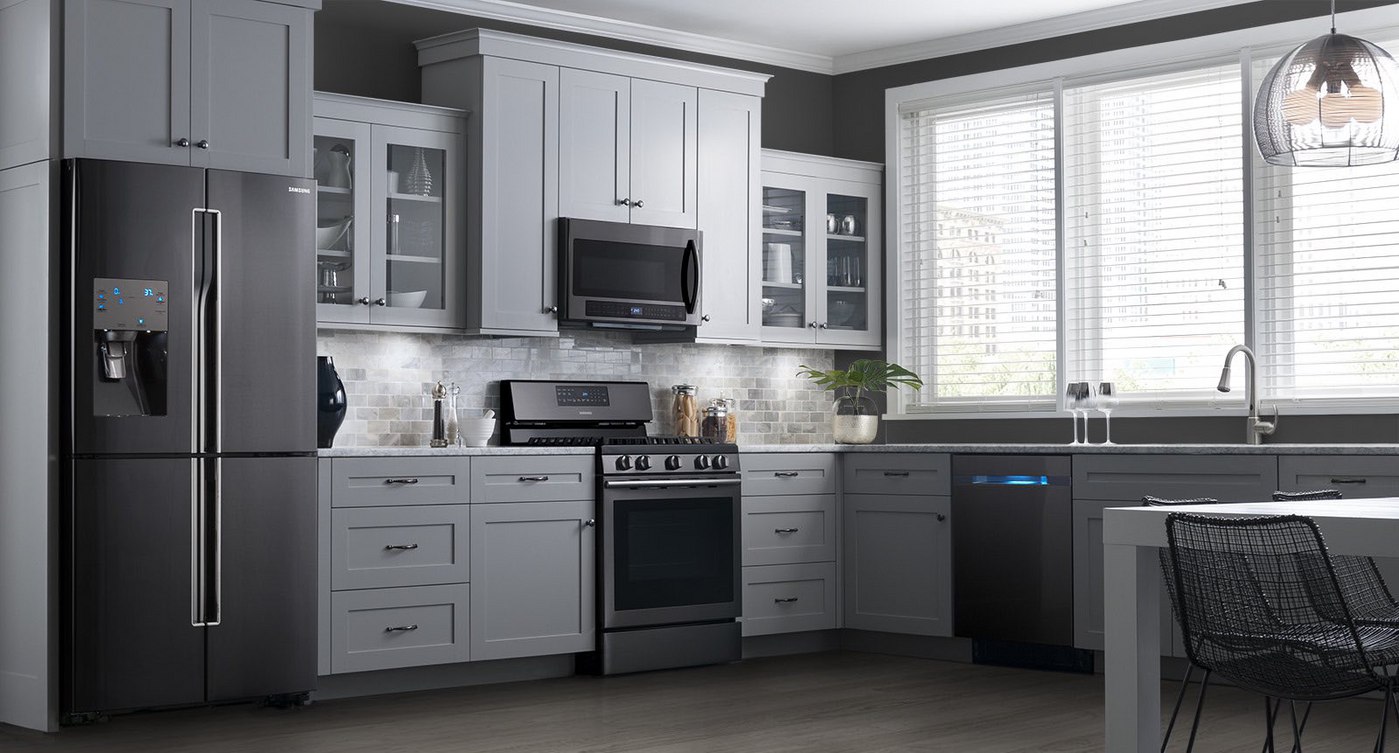 Samsung Black Stainless Steel Kitchen
Designer finishes like Black Stainless are 20-30% more. If you stay with stainless, white, or black, the pricing will be better.
Best Time to Buy an Appliance
Now you know what to buy. When to buy is important as well for any appliance purchase.
Appliances are typically 10-35% cheaper around holidays.
Here are the best times to buy an appliance
Presidents' Day - usually two weeks in February.
Memorial Day
July 4th
Labor Day - A great time to buy when combined with Tax-Free Weekend.
Black Friday - Now all of November.
Try to buy around one of these periods if possible.
Inexpensive Gas Range Reliability
We logged 35,256 service calls last year and over 100,000 over the last three years. Gas ranges are one of the most reliable appliances available.
Most Reliable Freestanding and Slide-In Gas Ranges for 2020
| | | | |
| --- | --- | --- | --- |
| | Service Qty | Shipped Qty | Service Ratio |
| BlueStar | 19 | 27 | 70.37% |
| Bosch Benchmark | 13 | 25 | 52.00% |
| Jenn-Air | 109 | 323 | 33.75% |
| Blomberg | 6 | 18 | 33.33% |
| Fisher & Paykel | 2 | 8 | 25.00% |
| KitchenAid | 55 | 237 | 23.21% |
| Café Appliances | 6 | 41 | 14.63% |
| LG Electronics | 3 | 24 | 12.50% |
| Bosch Appliances | 29 | 233 | 12.45% |
| Whirlpool | 22 | 197 | 11.17% |
| Premier | 2 | 24 | 8.33% |
| Samsung | 76 | 1170 | 6.50% |
| GE Profile | 2 | 71 | 2.82% |
| Grand Total | 352 | 2450 | 14.37% |
Of the brands, Samsung is probably the most reliable. GE is new to us. The reliability looks good, but we have only been selling GE since April of 2019.
Samsung does have an issue with service availability in different areas. You want to check before you buy it.
6 Best Inexpensive Freestanding Gas Ranges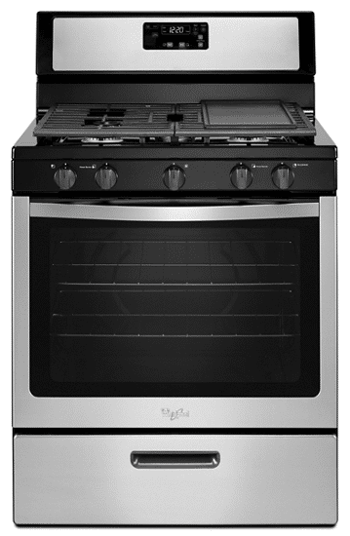 Whirlpool is sold mostly to builders looking for lesser expensive products. However, this range is well priced at $549, with 2 15,000 BTU burners.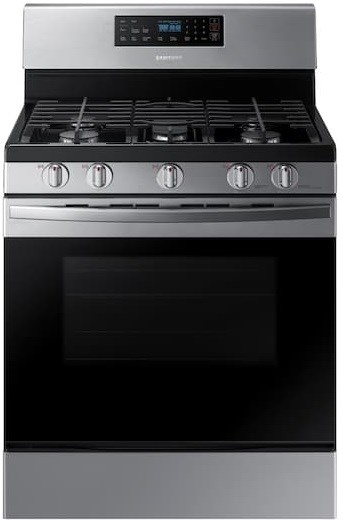 Samsung is similar to Whirlpool, except it has a 17,000 and 12,000 BTU burner. Stylistically, Samsung is a bit nicer looking with better reliability.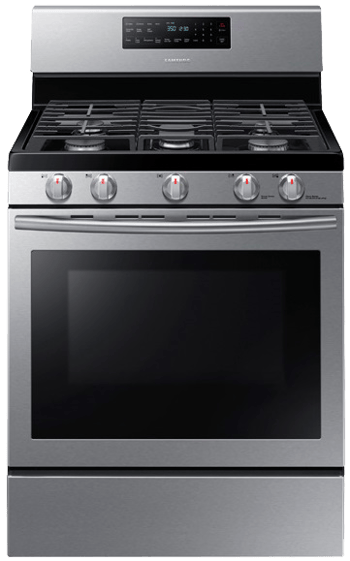 You may want to consider this range with better output at 17,000 and 15,000 BTU burners along with a convection oven for only $50 more.
You have to check Samsung pricing. It is especially good at promotion periods.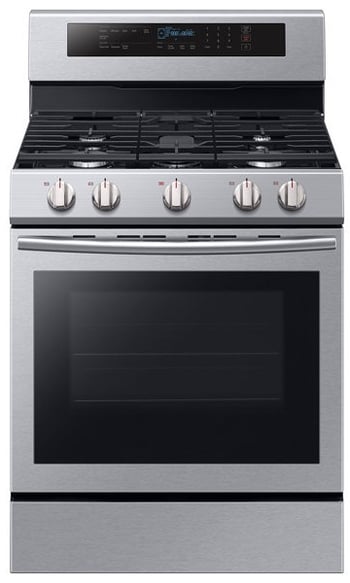 This range plenty of power with a 20,000 BTU output as well as a 15,000. The oven is convection, but you also have a warming drawer underneath to keep food warm up to 3 hours.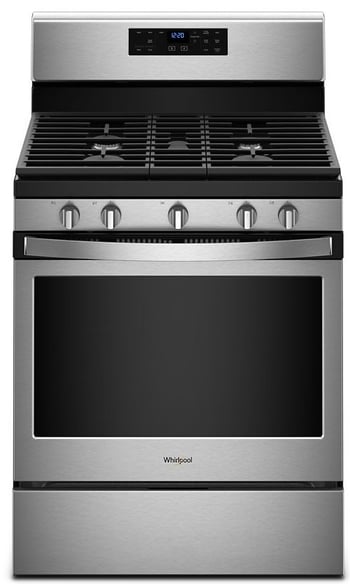 Much like the less expensive Samsung, this Whirlpool has the two enhanced burners plus convection on the inside.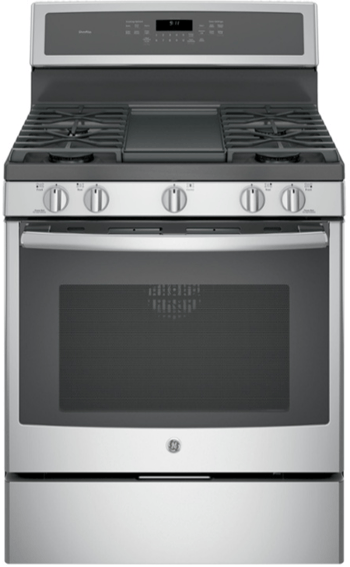 GE is another powerful range with two 18,000 BTU burners, convection, and a warming drawer. GE is also Smart, meaning you can turn it on or off and change the temperature through an app on your phone.
Which Gas Range Should You Buy?
First, freestanding will save you $400-600 from a slide-in or front control with similar features.
This will be your biggest savings.
Buying at the right time, especially around the holidays, will save another 10-35%.
After that, you look at features like convection, higher BTU output burners, and smart functionality.
You should be wary of reliability because the repair is a problem throughout the industry. Pick a reliable brand and check the repairs in your local area.
Additional Resources
Want to learn more about the latest gas ranges and technology? Read the Yale Gas Range Buying Guide with features, specs and detailed profiles of every major brand. Well over 680,000 people have downloaded a Yale Guide.
Related Articles:
Why Should You Trust Us?
It seems that every appliance review has nothing but glowing comments about almost every product, yet you read customer reviews and they are almost universally bad.
We are here to fill in the disconnect. We'll give you the best features, and the drawbacks as well, including reliability based on over 37,000 calls performed by our service team just last year. Our goal is to give you ALL the information so you know what's right for you.
Please consider subscribing or adding to the conversation in the comments below. We appreciate you stopping by.
A Note About Pricing
Pricing on this blog is for reference only and may include time sensitive rebates. We make every attempt to provide accurate pricing at time of publishing. Please call the stores for most accurate price.