Café Appliances Vs. Bosch Benchmark Slide-In Ranges (Reviews / Ratings / Prices)
We wrote this article originally in 2014, and so much has changed since then. Café Appliances is now part of the Haier company of China after years of being an afterthought in GE's industrial portfolio.
Their product has completely changed. Haier is an appliance only company with a radical focus on improving products.
Benchmark is the best division of the Bosch company, not including the premium Thermador and ultra-premium Gaggenau brands.
If you have shopped for slide-in ranges, these two names are probably (and should be) on your list.
It's a confusing process of choosing between two great brands with excellent products.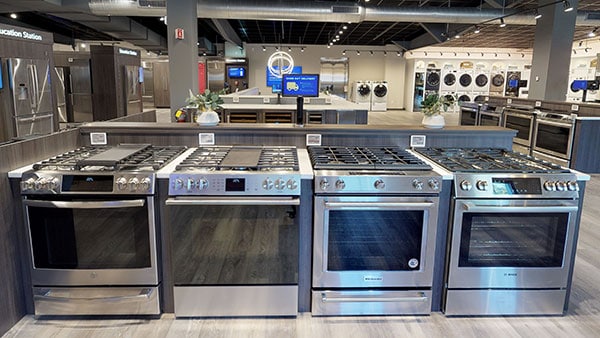 Gas Slide-In Ranges At Yale Appliance In Hanover
In this article, you will learn the differences along with the reliability of both based on real service calls completed by our service department.
In the end, you will know what is right for your family.
First, let's look at the products.
The Brands And Their Ranges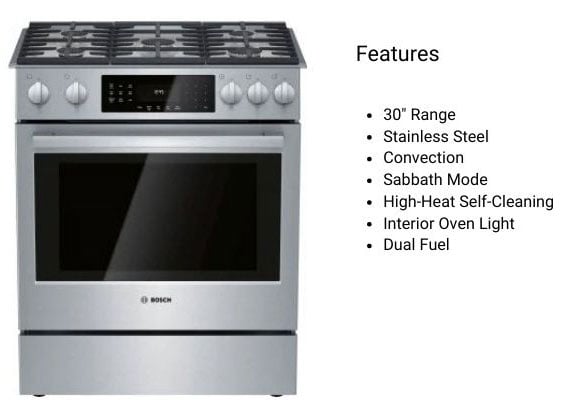 The Bosch Benchmark slide-in is a decent range. It is well styled with good output and convection. The key to buying this range is kitchen promotions around holidays like Black Friday, Labor Day, Presidents' Day, Memorial Day, and July 4th.
You could save 15% plus another exclusive rebate.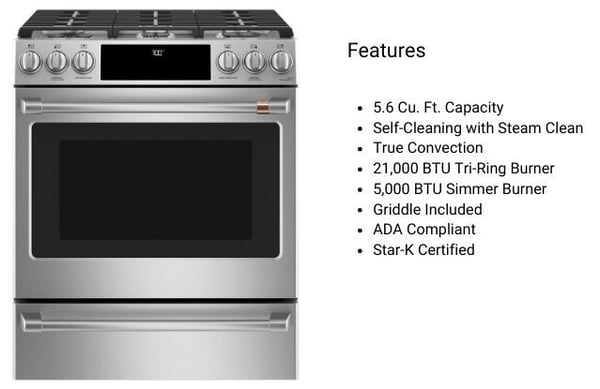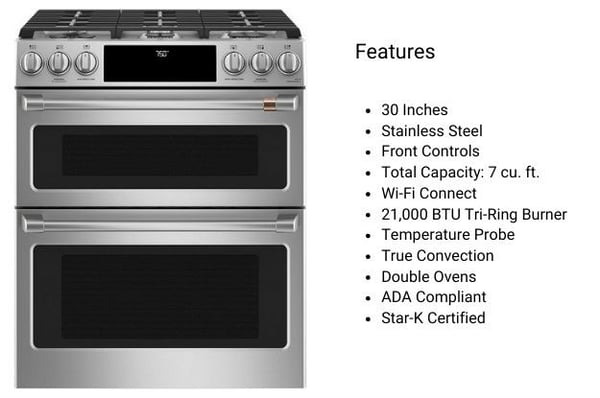 Café Appliances has two ranges, with several different styles and options.
Their six burners distinguish the range. That's right, six burners and a large convection oven. Their best model has a double oven with the smaller on the top and the larger below.
You also have style combos of white, black, stainless, and the 750 has the glass "Modern Glass." Then you can choose your accent for knobs and handles of stainless, brass, and copper.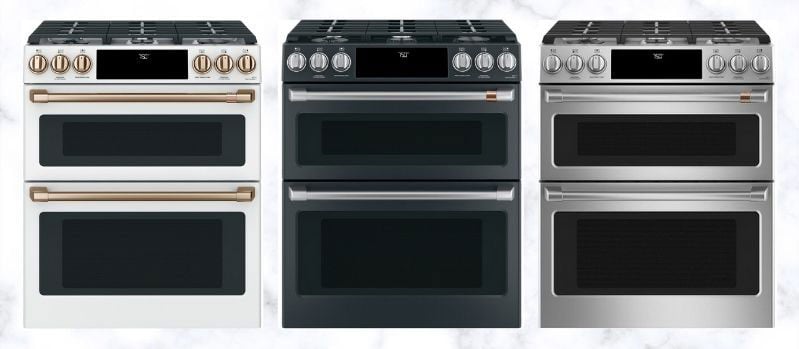 Café Appliances Double Oven Gas Range Styles
Café Appliances Double-Oven Range Video Review
To learn more about Café Appliances double oven range, click here.
Café Appliances Vs. Bosch Benchmark Slide-In Ranges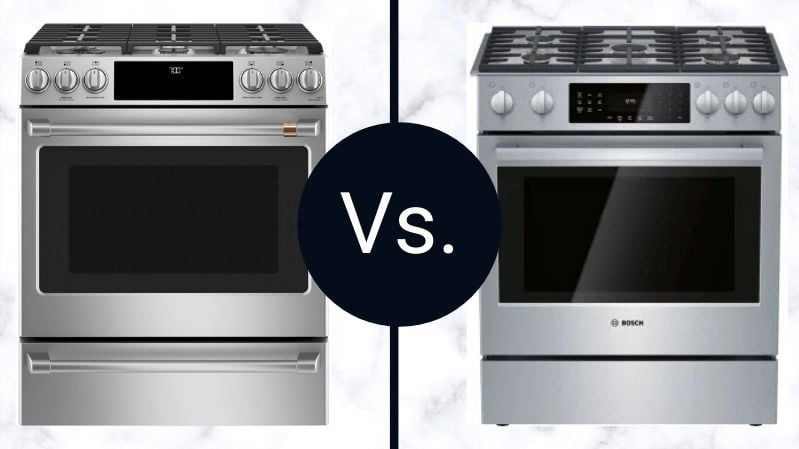 What Café Appliances' And Bosch Benchmark's Gas Ranges Have In Common
1. Burners
They have a bunch in stock. Let's start with the burners. You know Café Appliances has six, and Bosch has 5, but they are similar in output.
Café Appliances is 21,000, 15,000, 12,000, (2)9,500, and a 5,000 BTU
Bosch 20,000, 15,000, 10,000, (2) 5,000 BTU.
The two power burners are near identical. Bosch may be a bit better on the simmer with Café Appliances having a bit more power.
2. Convection And Self-Cleaning Ovens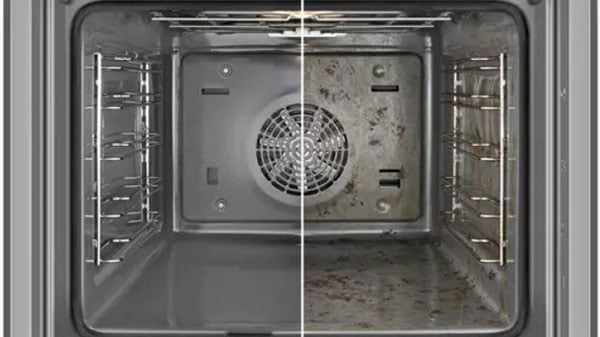 Bosch Benchmark Self-Cleaning Oven
Both ovens are convection with self-cleaning.
Where Café Appliances And Bosch Benchmark Differ
1. Reliability
Gas Range Reliability For The Past Year To Date
| | | | |
| --- | --- | --- | --- |
| | Service Qty | Shipped Qty | Service Ratio |
| Bosch Benchmark | 8 | 14 | 57.14% |
| BlueStar | 9 | 18 | 50.00% |
| JennAir | 83 | 263 | 31.56% |
| LG | 3 | 12 | 25.00% |
| Blomberg | 3 | 12 | 25.00% |
| KitchenAid | 48 | 231 | 20.78% |
| Fisher & Paykel | 3 | 19 | 15.79% |
| Bosch | 33 | 241 | 13.69% |
| Café Appliances | 9 | 81 | 11.11% |
| GE Profile | 17 | 177 | 9.60% |
| Beko | 1 | 11 | 9.09% |
| Samsung | 76 | 1199 | 6.34% |
| Whirlpool | 11 | 239 | 4.60% |
| GE | 0 | 32 | 0.00% |
| Grand Total | 304 | 2549 | 11.92% |
Café Appliances is excellent in terms of reliability, especially for such a high-end range. For comparison, look at Bosch as well as Benchmark. Café Appliances is 3% better than Bosch brands.
2. Configuration
Café Appliances is a front control range, so it's easier to fit an existing range. Bosch is a slide-in, so the cooktop fits over the cabinet eliminating the seam for easier cleaning.
3. Ovens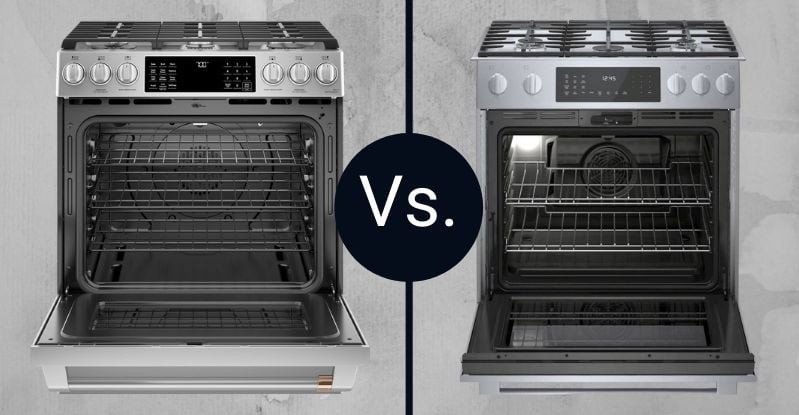 Café Appliances Compared To Bosch Benchmark Ovens
Bosch is 4.8 cubic. The base Café Appliances is bigger at 5.6 cubic feet. The double oven CGS750 is seven cubics with two ovens.
Warming Drawer Vs. Storage Drawers Vs. Two Ovens
Am I the only one who likes a warming drawer? Bosch can warm plates or keep food warm for up to three hours if you cook, and your family eats later.
The base Café Appliances is storage only while the better model has two ovens.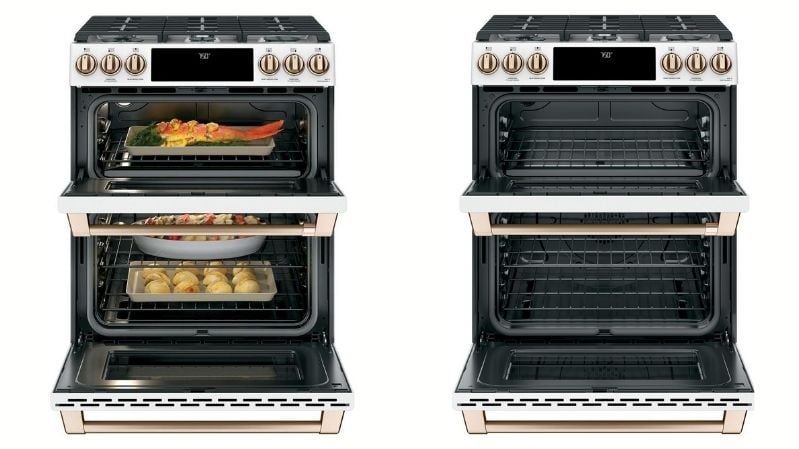 Café Appliances Double Oven Range
4. Proof Mode
Proofing is low-temperature baking. It's great for proofing dough or helping dough rise.
5. Wi-Fi
Wi-Fi will allow you to turn the range on and off as well as change the temperature remotely. Café Appliances has Wi-Fi, and it also responds to Alexa and Google Assistant.
At present, Wi-Fi is limited in functionality, but over time you will be able to connect recipes and cook better.
Café Appliances is ahead of Bosch for now. Bosch does have its HomeConnect App but not on this range.
6. Style
Café Appliances has four different styles versus just stainless for the Benchmark. For New Englanders, white with a copper or brass accent is great for a traditional home.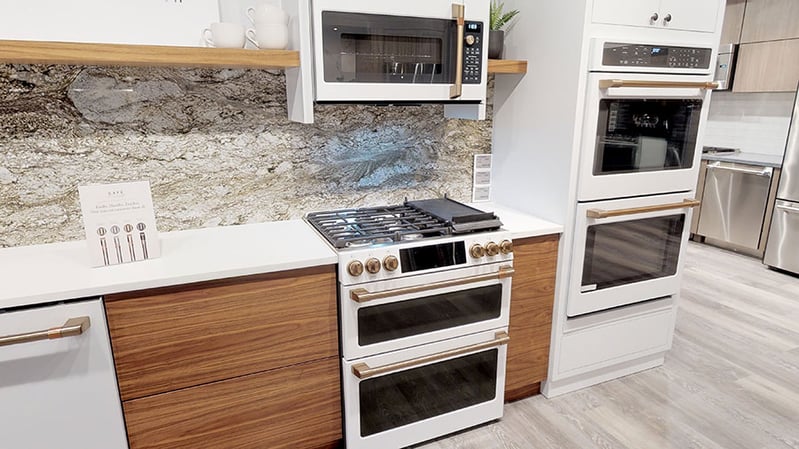 Café Appliances Double Oven Range In Matte White With Brass Accents
The mirrored finish is a different look as well.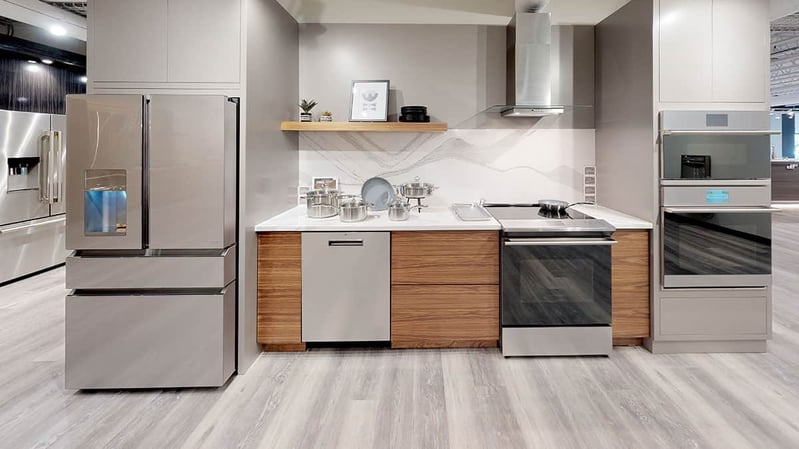 Café Appliances Kitchen In Modern Glass Finishes
7. Kitchen Package Options
Café Appliances has decent refrigerators with their best having a Keurig coffee dispenser.
Bosch hasn't changed much with this range over six years, but have improved every other product, including refrigerators and especially dishwashers.
Depending on when you buy a kitchen appliance package, Bosch may be better depending on features.
Café Appliances Vs. Bosch Benchmark Ranges: Key Takeaways
Café Appliances has radically changed its range over the last six years, whereas Bosch once the product leader has not.
That is not to say Bosch is not competitive. It still has great specs with a drawer, good output, and convection.
However, Café Appliances allows you to customize a great range with six burners and two ovens. It may be technically better.
However, in a package, you could end up with the Bosch.
Additional Resources
Want to learn more about the latest gas ranges and technology? Read the Yale Gas Range Buying Guide with features, specs and detailed profiles of every major brand. Well over 800,000 people have downloaded a Yale Guide.
Related Articles:
Why Should You Trust Us?
It seems that every appliance review has nothing but glowing comments about almost every product, yet you read customer reviews and they are almost universally bad.
We are here to fill in the disconnect. We'll give you the best features, and the drawbacks as well, including reliability based on over 37,000 calls performed by our service team just last year. Our goal is to give you ALL the information so you know what's right for you.
Please consider subscribing or adding to the conversation in the comments below. We appreciate you stopping by.
A Note About Pricing
Pricing on this blog is for reference only and may include time sensitive rebates. We make every attempt to provide accurate pricing at time of publishing. Please call the stores for most accurate price.