Differences Between Single, Twin, European and VertiCross Convection Ovens
If you've started considering a new oven purchase, chances are you will be faced with a choice to make; whether to go with a thermal oven or convection oven.
Thermal ovens offer the standard oven modes like bake, broil, and roast.
Convection is fan forced heat. However you have brands with fan assist, True or European convection and dual convection. Now, Wolf has invented the VertiCross convection employing blowers instead of fans.
So, we will describe each form of convection and their differences. Then we will look at how to actually use a convection oven effectively. First, let's look at the standard oven.
Different Types of Convection
Radiant/Thermal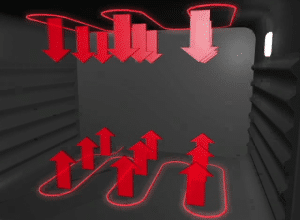 In a thermal oven, radiant heat is the main heat source used to cook the food. The heat comes from one of two locations: the bake element at the bottom of the oven; and the broil element at the top.
Bake elements provide more BTUs/watts than a broil element, so naturally there tends to be a higher concentration of heat toward the bottom of the oven. The majority of this heat ascends from the bake element and moves up and surrounds the food to cook.
Convection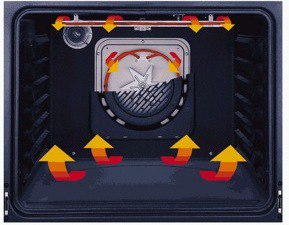 If you are considering a convection oven, this is a different animal. The term "convection" implies a fan is used to distribute heat evenly within the oven cavity. In the most basic terms, the fan blows hot air onto the food to facilitate faster cooking and browning; the forced hot air feels more intense, therefore produces faster results.
Convection ovens continuously circulate the heat to mitigate any hot or cold spots. In addition to the fan, convection ovens have a bake element and a broil element just like thermal ovens. However, when you start seeing buzz words like "convection fan," "European convection," "true convection," "twin convection" and "verticross convection," this is where the confusion sets in.
Single Convection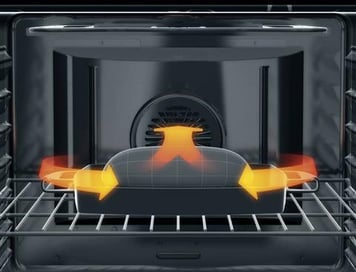 An oven with a "convection fan" is exactly what it implies - an oven with just a fan in the back wall. This fan does not have a heating element. The fan will assist movement of the radiant heat throughout the oven cavity. Typically, this is the type of convection system that we see in all-gas ranges.
True/European Convection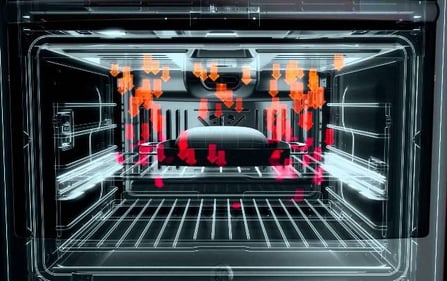 "True convection" and "European convection" are one in the same. The convection systems have gone one step further to include a heating element wrapped around or placed behind the fan.
To use the "true convection" setting would imply using only the cal-rod heating element around the fan and the fan itself; no other heating element would be operating at this time. True convection is only found in electric or dual fuel ovens.
Twin Convection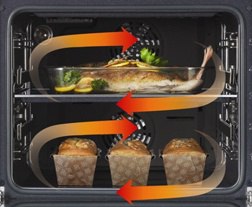 "Twin convection" is a derivative of true convection; the only difference is the addition of a second fan. Most often they are placed side by side horizontally; however, there are a few brands that offer vertical placement. From my experience, two fans don't always offer better performance.
You would think that two fans provide more power, or at least a more controlled flow of air. Sometimes their purpose is actually negated; the addition of a second fan sometimes creates a cool wind channel in the middle rack. Anything baking or cooking on the middle rack ends up lighter in color than the top and bottom racks.
VertiCross Convection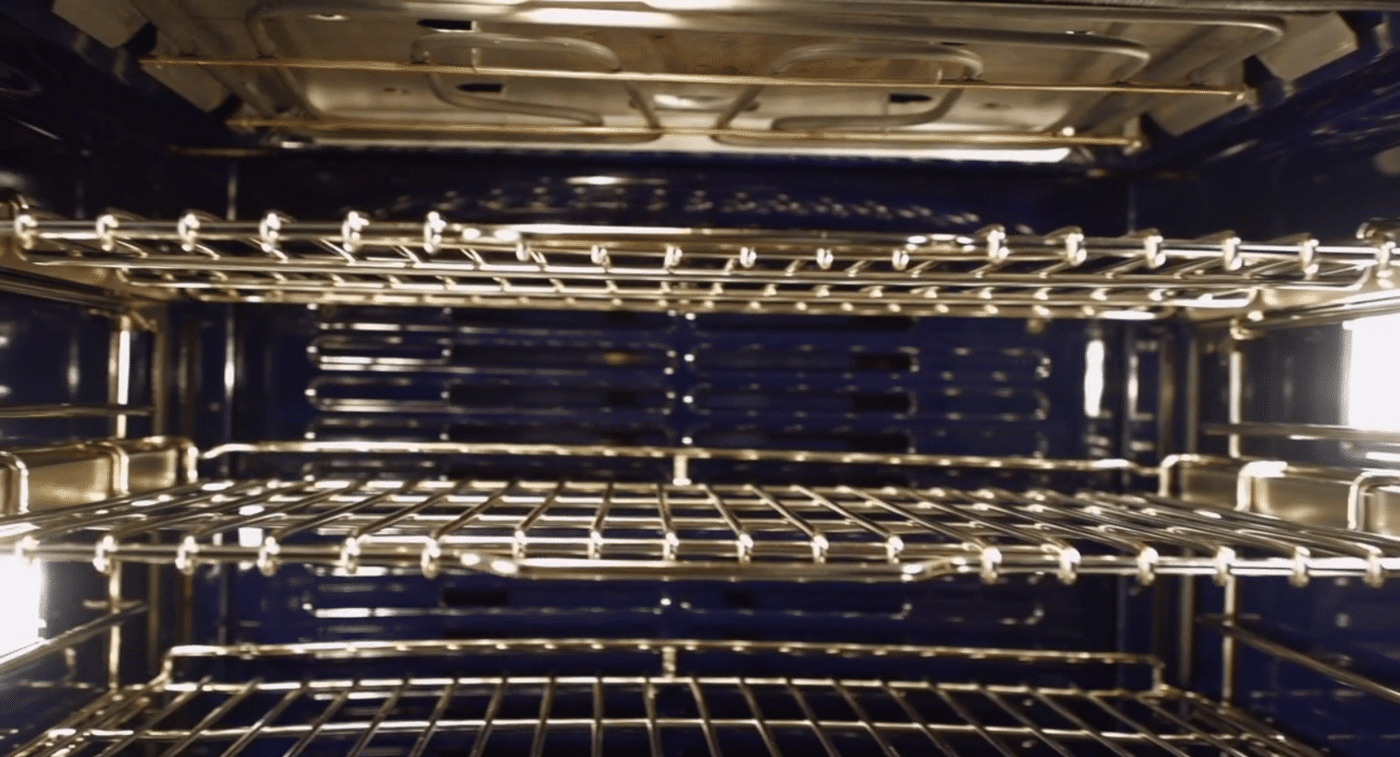 "VertiCross convection convection" is the newest convection system exclusive to Wolf. The VertiCross convection system is comprised of two columnar vertical blower fans located at the back corners of the oven.
Removing the fans from the traditional setting (center back wall) allowed for a curved back wall, creating more usable space. The columnar fans span from the top of the oven to the very bottom, allowing total air flow front to back and side to side. The heating elements have also been reconfigured to run parallel with the fans creating that "true convection" system.
When and How to Use Convection
Questions I frequently get asked are, "When do I use convection?" and "What is convection cooking good for?"
In the restaurant industry, convection ovens are most often the only ovens used because of their performance. The convection setting in an oven can be used to cook almost anything and it doesn't matter if it's one pan or three pans. So, to answer these questions, you can use convection most of the time and for almost anything. The only time you will ever encounter a problem is when you are baking something leavened by egg whites. Whipping egg whites creates a structure that lends itself to the height of the baked product. Using a convection system will agitate the whipped egg structure causing it to collapse or cave in during the baking process. So forget about using convection for sponge cakes, soufflés, angel food cakes, etc.
Key Differences
Consequently, you will notice the biggest difference in multi-rack baking/cooking and with large roasts; this is where convection cooking really shines. You may not notice a difference with one tray of cookies, but when there are three trays of cookies in the oven, rest assured they will all come out even in color. With large roasts, the differences will be reduced cook time, a crisper sear and even browning.
As for recommendations, with any type of convection, you can't go wrong, it just depends on the level of precision you want. If you tend to do a lot of roasting of proteins and vegetables, a single convection fan, whether true convection or not, most often will suffice. If you bake a lot, then consider a "true convection" system.
The dry heat from an electric oven will yield better baking results. As for true convection with dual fans, I personally like the vertically placed fans. I feel they are able to cook more evenly throughout.
Additional Resources
Get the Yale Wall Oven Buying Guide with new features from Dacor, Miele and Wolf, specs and inside tips to every worthwhile brand. Over 160,000 people have read and learned from a Yale Guide.

Related Articles
Nicole Parmenter
Nicole Parmenter is our resident Chef at Yale Appliance + Lighting; she has multiple culinary degrees and is an appliance expert. Chef Nicole can teach you how to use your new appliances and give you tips, recipes and honest opinions on products.

Schedule a showroom visit with me
A Note About Pricing
Pricing on this blog is for reference only and may include time sensitive rebates. We make every attempt to provide accurate pricing at time of publishing. Please call the stores for most accurate price.