Signature Kitchen Suite 36-Inch Professional Gas Range Review
Signature Kitchen Suite (SKS) is an interesting new range. Interestingly, they have added the best features of existing ranges and added a few of their own.
In this article, you will learn all about SKS professional gas ranges, their best features, and a few problems, along with comparisons to other ranges.
It is unusual to see a one-product article on the blog, but it will read more like a review of 36-inch gas ranges. First, you should know who SKS is.
Signature Kitchen Suite (SKS)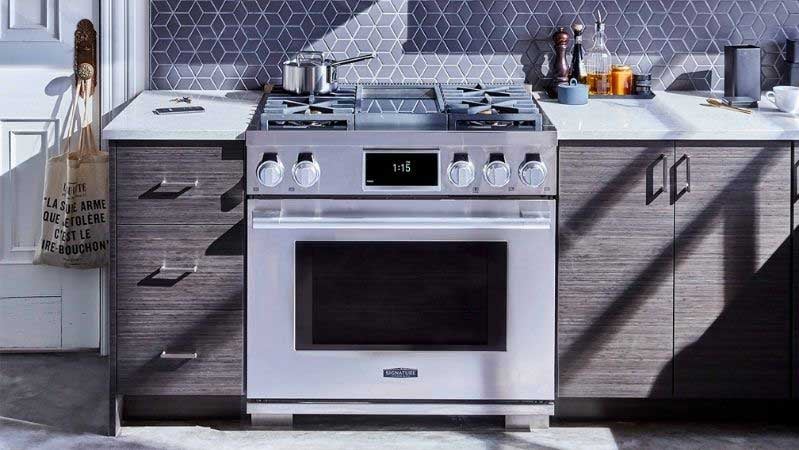 SKS 36-Inch Professional Gas Range with Four Burners and a Griddle
SKS is the premium division of LG, a Korean-based conglomerate with significant manufacturing in the US. LG has been the best shipping company and the most reliable appliance company throughout the pandemic.
Integrated manufacturing is the reason for the reliability. LG will manufacture more appliances than any other company except Miele.
Key components like their inverter motor are all produced in their factory. Less reliance on an unreliable supply chain has made LG the fastest growing appliance company since 2020 at Yale.
Short on time? Get our free Pro Cooking Buying Guide
Signature Kitchen Suite 36-Inch Gas Range Review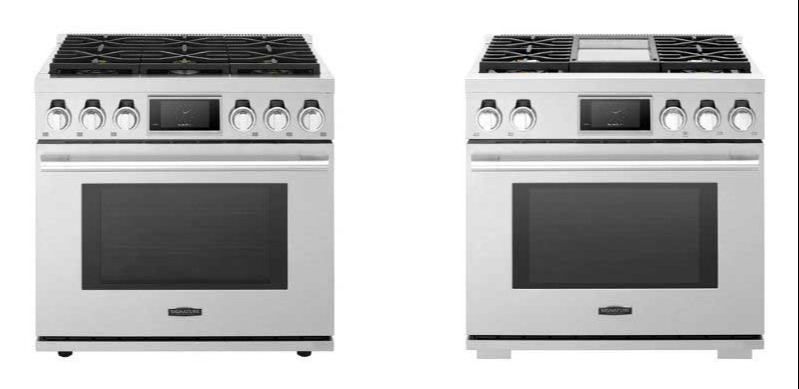 SKS Pro Gas Range SKSGR360S |SKS Pro Gas Range with Griddle SKSGR360GS
Gas Burner Output
You can buy the SKS professional gas range with six burners or four burners with a griddle (shown above).
Both ranges have a high output.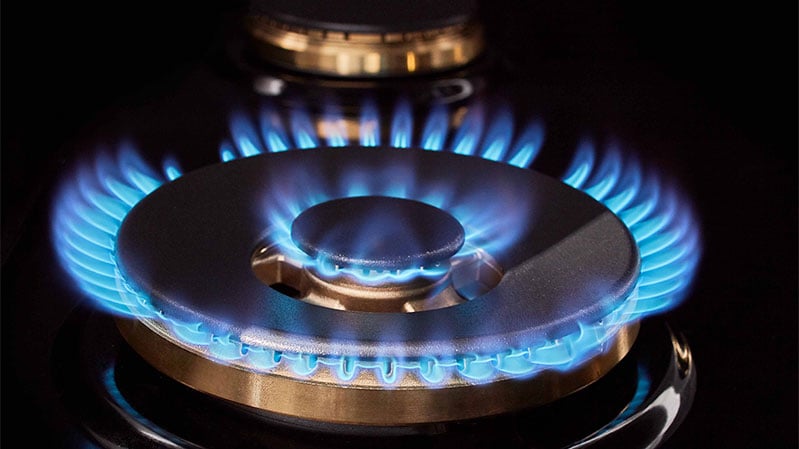 SKS Pro Gas Range 23,000 BTU Burner
With six burners, you have two 23,000 BTU (British Thermal Unit) burners, three 15,000 BTU burners, and 1 burner at 10,000 BTU.
With four burners and a griddle, you have two 23,000 BTU burners, two 15,000 BTU burners, and a griddle with a max output of 18,000 BTU.
For comparison, Thermador's professional gas range has three 18,000 BTU burners and three 15,000 BTU burners. Miele's range has three 19,500 BTU burners, one 9,000 BTU burner, and one 8,000 BTU burner. JennAir's range has three 20,000 BTU burners, two 18,000 BTU burners, and one 9,000 burner.
Twenty-three thousand is the highest output for a sealed burner by a major manufacturer (Hestan has 30,000 BTU, but you lose a burner in the process).
Only Bluestar's open burner at 25,000 BTU on their 36-inch gas ranges is higher.
Gas Simmer Burner Output
Simmer output is such a tough measure to find.
Thermador's "ExtraLow" simmer burner is considered the best at 100 BTU with an on/off low flame to keep foods warm or melt chocolate.
SKS's "UltraLow" burner is identical at 100 degrees and has four simmer settings. However, SKS maintains that temperature with a consistent flame. It is not intermittent like Thermador.
Griddle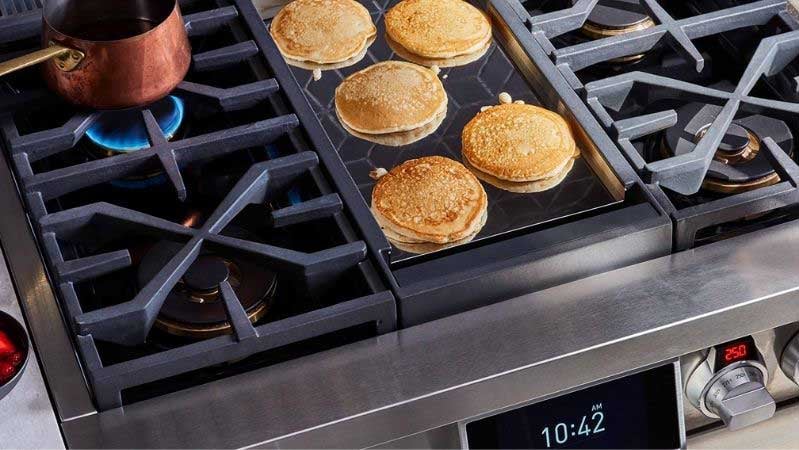 SKS 36-Inch Pro Gas Range Griddle
As I have said in past articles, you will like a griddle and should consider it. Then again, it could be a personal bias.
When I was a child working at Yale, there used to be a luncheonette across the street. I watched the chef cook everything on that griddle from hash browns, omelets, eggs, bacon, hamburgers, hot dogs, peppers, onions, and bread.
The SKS may be the best on the market. SKS's griddle has the highest output on the market at 18,000 BTU. Although Miele's and Wolf's griddles are close. Thermador's' griddle is electric, so it takes time to heat up.
Additionally, SKS's griddle is infused with chromium, so food does not stick on the surface and slides off. JennAir and Viking also employ chromium griddles.
Read More: Should You Buy a Griddle for a Professional Range?
Oven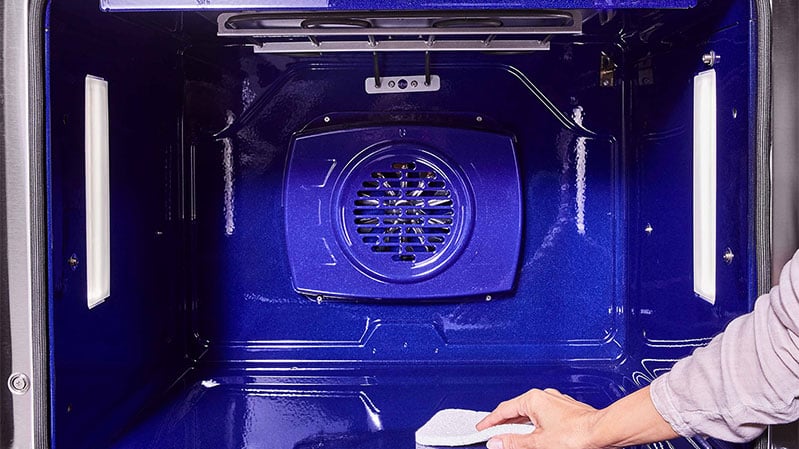 SKS 36-Inch Pro Gas Range 6.3 Cu. Ft. Oven
At a capacity of 6.3 cubic feet, SKS's oven is the largest on the market. BlueStar is five cubic feet, JennAir, Thermador, and Viking are 5.1 cubic feet, and Miele is 5.76 cubic feet.
SKS and BlueStar ovens have convection blown in from the rear for even more cooking. Most other brands of all gas are regular convection. The fan blows the heat from the baking element below.
Infrared Broiler
Infrared is the best broiler with its intense directed heat versus a regular gas broiler diffusing the heat like a gas burner. Except for JennAir, most competitive brands offer the infrared, with 18,000 being the average.
Controls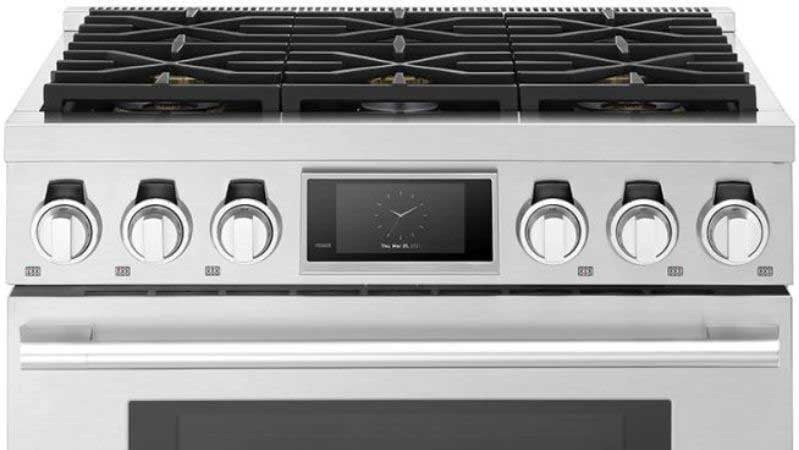 SKS 36-Inch Pro Gas Range Stovetop and Oven Controls
SKS has the most sophisticated controls for an all-gas range with 12 cooking modes. You can even proof the bread in the oven or convert your recipes to convection with the touch of a button. Many gas ranges do not have a clock or timer. SKS is the most sophisticated.
Self-Cleaning
SKS is self-cleaning and has a speed self-clean option using water.
Smart Functionality
Smart technology has been basic until recently. You can turn the oven on or off from your phone and see cycle times.
The light-up knobs can also be controlled on your phone (but you should always be in the room while using your stovetop).
At least the light-up part is unique. However, the SKS platform is one of the best. You can now download recipes from their partners right into the range with step-by-step instructions.
SKS and LG will be testing repair services, so their appliances will diagnose themselves and send for the correct parts before problems occur.
Learn More: Smart Appliance Buying Guide
This Range's Best Feature: Availability
Many popular brands now have a 6–15-month lead time, so SKS is your best option if you cannot wait.
Warranty
The warranty is excellent with three years of coverage. They also promise service within five days, which would be miraculous.
Problems with the SKS Professional Gas Range
No Grill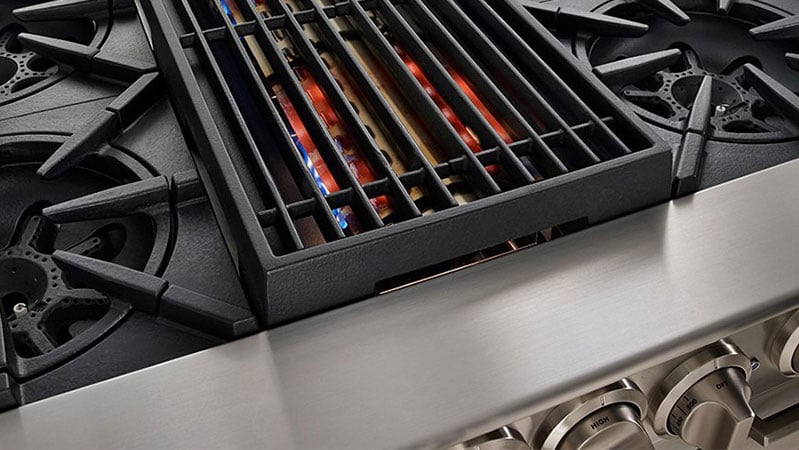 BlueStar Professional Range Grill
The griddle is more useful. But if you like professional range grills, you will not find it on SKS.
No Steam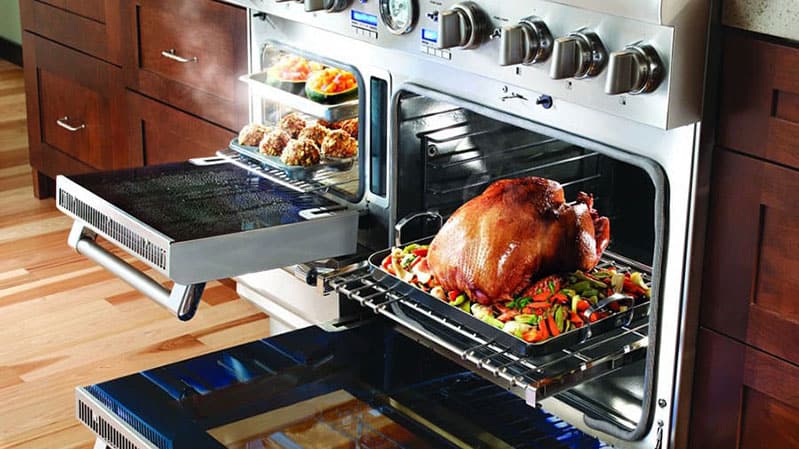 Thermador Pro Grand Range with Steam
Of course, only dual fuel professionals offer steam, but it could have been a differentiator.
Price
SKS is priced higher at $7,499, about the same as a Miele. Some of the better-known manufacturers like JennAir and Thermador are less expensive, plus include great rebates with qualifying purchases.
Should You Buy the SKS All Gas Professional Range?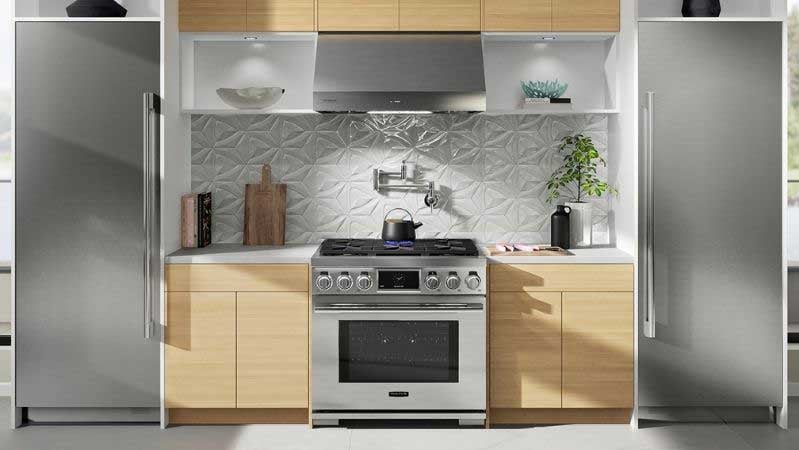 SKS 36-Inch Professional Gas Range
You should consider SKS and not just because you cannot buy more recognized names that have over a year lead time.
The range does lack a grill, so you will have to buy another brand for that feature. They could have placed a steam oven in the range, but only a dual fuel Miele pro range has that option at a much higher price.
However, the burners are excellent, with a good output and the best simmer output. You have the largest oven capacity, even larger than the extra deep Thermador Pro Grand. Their controls and smart functionality are more than what you would expect on a high-end stove.
SKS is not perfect but has a nice combination of output, capacity, modes, and functionality to be a decent option from a company that understands reliability and how to build an appliance.
Additional Resources
Looking for more information on pro ranges? Get the Yale Pro Cooking Buying Guide with features, specs, BTU Outputs, and detailed profiles of the major brands. Well over 1 million people have read a Yale Guide.
Related Articles:
Why Should You Trust Us?
It seems that every appliance review has nothing but glowing comments about almost every product, yet you read customer reviews and they are almost universally bad.
We are here to fill in the disconnect. We'll give you the best features, and the drawbacks as well, including reliability based on over 37,000 calls performed by our service team just last year. Our goal is to give you ALL the information so you know what's right for you.
Please consider subscribing or adding to the conversation in the comments below. We appreciate you stopping by.
A Note About Pricing
Pricing on this blog is for reference only and may include time sensitive rebates. We make every attempt to provide accurate pricing at time of publishing. Please call the stores for most accurate price.