What Are The Most Common Gas Range Igniter Problems?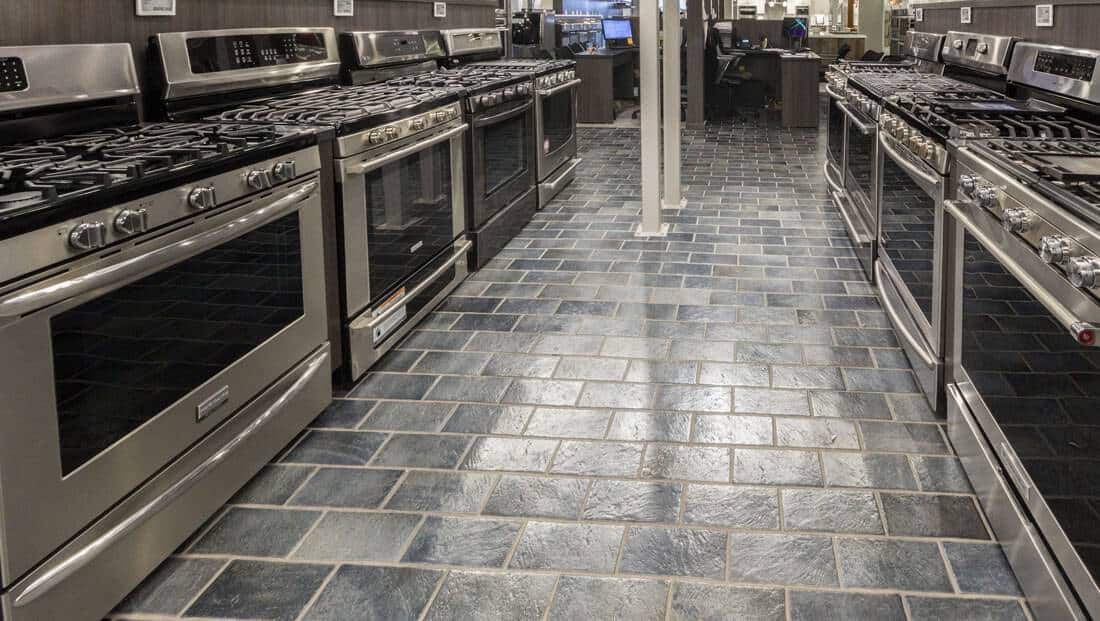 Imagine you are cooking your family Thanksgiving dinner. You turn on your stovetop to then discover two of your burners are not working.
It's not the time for an ignition issue.
Unfortunately, broken or malfunctioning gas range igniters are the second most frequent repair call in the appliance industry.
In this article, you'll learn about the most common gas igniter problems, why they happen, and how to prevent them.
Before you buy any gas range, you should know how to maintain your range proactively, so Thanksgiving dinner doesn't become a mad scramble.
Pro Tip: Before any holiday, use your self-cleaning mode and check every burner by turning them on. You don't want to call for repair the day before Thanksgiving.
We do not recommend that you attempt to replace spark igniters, switches, or modules yourself.
What Are The Most Common Gas Range Igniter Problems?
The most common issue with gas burners is trouble getting the spark to ignite the gas.
The issue can usually be attributed to a dirty igniter electrode, burner orifice, or porthole caused by a spill and general uncleanliness.
Last year, we serviced 14.3% of gas ranges. Most service calls were due to failed igniters.
Most Reliable Freestanding Gas Ranges
| | | | |
| --- | --- | --- | --- |
| | Service Qty | Shipped Qty | Service Ratio |
| Whirlpool | 13 | 465 | 2.80 % |
| Signature Kitchen Suite | 1 | 28 | 3.57 % |
| Amana | 2 | 46 | 4.35 % |
| Samsung | 52 | 944 | 5.51 % |
| LG Electronics | 3 | 51 | 5.88 % |
| Premier | 9 | 52 | 17.31 % |
| Bosch Appliances | 44 | 227 | 19.38 % |
| Kitchenaid | 65 | 311 | 20.90 % |
| Bosch - Benchmark | 10 | 35 | 28.57 % |
| Jenn-Air | 134 | 418 | 32.06 % |
| BlueStar | 13 | 30 | 43.33 % |
| Blomberg | 19 | 25 | 76.00 % |
| Grand Total | 383 | 2678 | 14.30 % |
Most Reliable Professional Ranges
| | | | |
| --- | --- | --- | --- |
| | Service Qty | Shipped Qty | Service Ratio |
| Samsung Chef Collection | 0 | 1 | 0.00 % |
| Fisher & Paykel | 2 | 10 | 20.00 % |
| Bertazzoni | 3 | 14 | 21.43 % |
| Thermador | 85 | 346 | 24.57 % |
| Jenn-Air | 36 | 138 | 26.09 % |
| Wolf | 75 | 278 | 26.98 % |
| Miele | 10 | 20 | 50.00 % |
| La Cornue | 1 | 2 | 50.00 % |
| BlueStar | 20 | 36 | 55.56 % |
| Grand Total | 232 | 845 | 27.46 % |
Most Reliable Dual Fuel Professional Ranges
| | | | |
| --- | --- | --- | --- |
| | Service Qty | Shipped Qty | Service Ratio |
| Jenn-Air | 17 | 57 | 29.82 % |
| Wolf | 70 | 215 | 32.56 % |
| Miele | 11 | 31 | 35.48 % |
| Fisher & Paykel | 3 | 8 | 37.50 % |
| La Cornue | 12 | 24 | 50.00 % |
| Thermador | 54 | 108 | 50.00 % |
| Grand Total | 194 | 573 | 33.86 % |
Below are the most common gas range igniter problems we see in the appliance industry.
Igniter Won't Light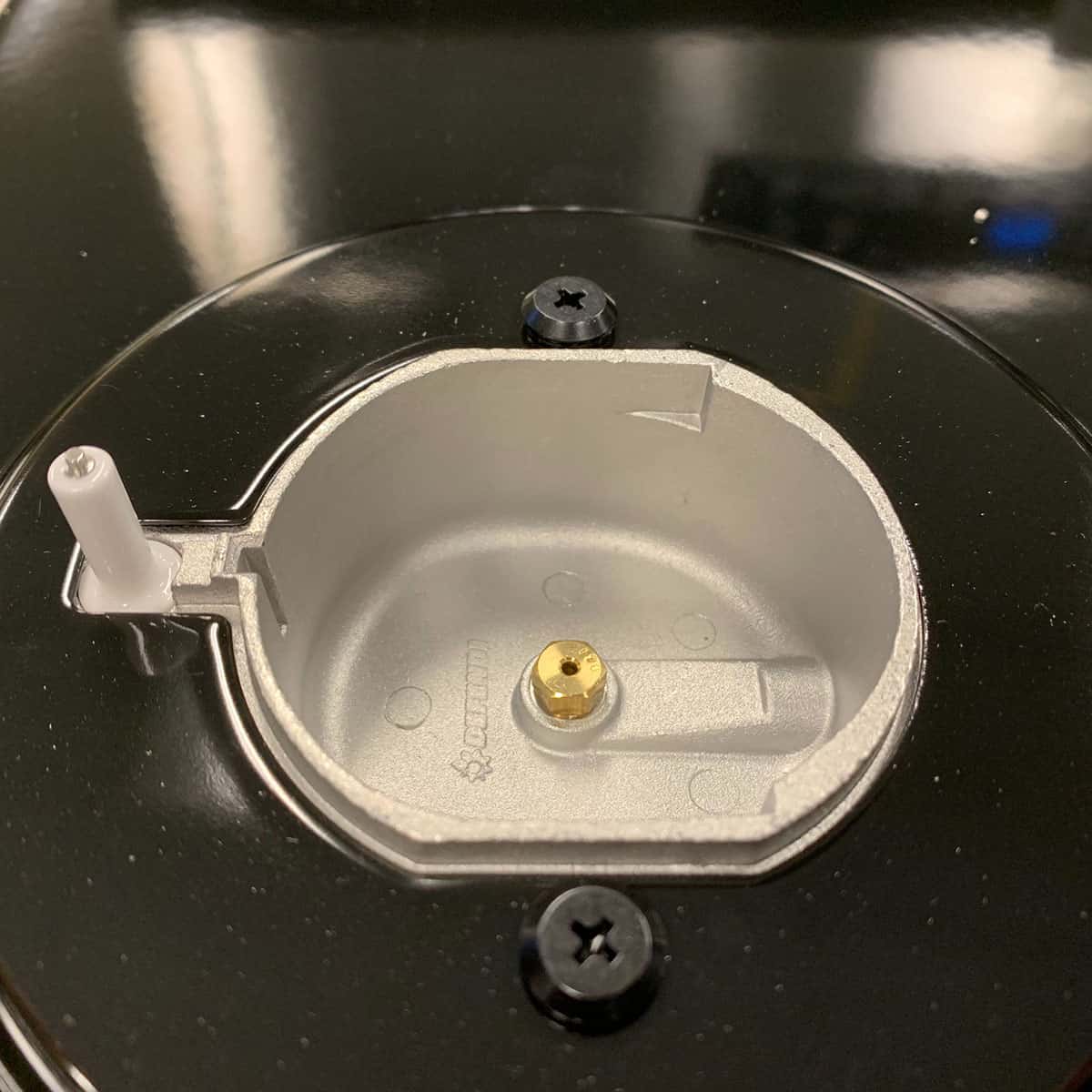 Gas Range Spark Igniter Electrode
A burner with a spark ignition may have trouble igniting after being cleaned, as left-over moisture may be on the igniter electrode.
If the spark igniter electrode has been moved out of its position, it also may not ignite the incoming gas and click continuously.
This can also happen if the burner cap or base is not in the correct position with the porthole facing the igniter electrode.
The gap between the igniter electrode and burner base should be about the thickness of two dimes.
If the burner is in the correct position, but the gas is still not igniting, check to make sure the porthole is clear by inserting a needle into the hole.
If the spark igniter lights the burner but does not stop clicking, the igniter electrode is likely dirty, and the metal rod of the electrode should be scrubbed clean.
We recommend using sandpaper or a fine steel brush to clean the electrode.
Spillovers can cause the igniter to develop a barely visible film on the metal of the electrode. It may still allow the burner to ignite, but not be able to sense that the flame is lit to stop the sparking.
For reference, here is a video of a functioning gas range igniter and electrode in slow motion.
Fully Functioning Direct Spark Ignition In Slow Motion [VIDEO]
Igniter Constantly Clicks
After being scrubbed clean, if the spark igniter is still clicking continuously, the electrical polarity at the outlet may be reversed, or the outlet may not be grounded; this would likely only be the case if the range is newly installed.
Ceramic Base Is Broken
A spark igniter electrode is made of metal, but the base of the igniter is ceramic. This ceramic base can withstand the high temperatures put out by the burners.
However, the ceramic is fragile and can be broken by a pot or surface grate. If you break the ceramic, you will have to replace the igniter.
Burner Color Changes
A properly operating spark igniter will produce about three to five blue sparks per second while igniting. If the sparks are very light in color, almost white, the igniter electrode may be weakened and will likely need to be replaced.
Short on time? Get our free Gas Cooking Buying Guide
Igniter Sparks Erratically
If the igniter is sparking slowly, there may be a wiring issue. Erratic sparking usually indicates a bad spark module.
However, cleaning the igniter electrode should always be the first course of action.
If you are getting no spark at the igniter, check the power going to the unit, it may be disconnected. This could also be the result of a bad spark module.
How To Prevent Gas Range Igniter Problems
Chances are, you will have an igniter issue at some point during the lifespan of your gas range.
The best prevention for igniter issues is to keep all parts of the igniter and burner clean.
What About My Gas Range Oven Igniters?
There is not much maintenance that can be done on the oven igniters of your range without having an experienced technician performing the service.
In most gas ovens, the bake igniter and gas orifices are hidden and not easily accessed.
The broil igniter may be exposed in the oven; these can be cleaned with sandpaper or a fine steel brush just like the cooktop igniters.
To keep the igniters and orifices clean in the oven, use the self-clean function if available.
Safety Disclaimer
Whenever performing any maintenance or cleaning on your range, be sure that the range is powered off and the gas is not flowing.
It is a good idea to disconnect the range's power at the circuit breaker.
Yale does not recommend that our customers attempt to replace spark igniters, switches, or modules themselves.
This service should be performed by an experienced technician. Service performed by an unauthorized individual may void any manufacturer/servicer warranty.
Always read reviews before calling any repair agency.
Frequently Asked Questions:
1. What Are The Different Types Of Gas Range Ignition Systems?
Modern residential gas ranges are fueled by either liquid propane or natural gas. With either fuel, an igniter is needed to create the flames at the burner. Over the years, there have been several types of igniters used in ranges, such as standing pilots and glow bars.
Now, almost all modern ranges utilize direct spark ignition. Some gas ovens still use glow bars for the bake and broil burners but will ignite the surface burners with direct spark ignition.
In a direct spark ignition system, a temperature control opens the gas valve of the range while simultaneously sending an electrical current to a spark module. This spark module produces a spark at the burner to ignite the incoming gas.
2. What Are The Most Reliable Gas Range Brands?
The most reliable freestanding gas range brands are Whirlpool, Signature Kitchen Suite (SKS), Amana, Samsung, LG, Premier, and Bosch.
Whirlpool: 2.8%
SKS: 3.57%
Amana: 4.35%
Samsung: 5.51%
LG: 5.88%
Premier: 17.31
Bosch: 19.38%
Our repair rates are based on the number of ranges we serviced divided by the number of ranges we sold in 2018.
You can read more about our most reliable freestanding gas ranges by clicking here.
Additional Resources
Want to learn more about the latest gas ranges and technology? Read the Yale Gas Range Buying Guide with features, specs and detailed profiles of every major brand. Well over 580,000 people have downloaded a Yale Guide.
Related Articles:
Why Should You Trust Us?
It seems that every appliance review has nothing but glowing comments about almost every product, yet you read customer reviews and they are almost universally bad.
We are here to fill in the disconnect. We'll give you the best features, and the drawbacks as well, including reliability based on over 37,000 calls performed by our service team just last year. Our goal is to give you ALL the information so you know what's right for you.
Please consider subscribing or adding to the conversation in the comments below. We appreciate you stopping by.
Benjamin Adams
Benjamin Adams is a customer service representative at Yale Appliance. Ben has years of experience in the appliance and HVAC fields. When he is not providing support to our customers and technicians, he can be found chasing snowstorms and skiing the mountains of Vermont and New Hampshire. Ben has studied journalism at UMass Amherst and combines his writing skills with appliance knowledge to author helpful blogs for the Yale website.
A Note About Pricing
Pricing on this blog is for reference only and may include time sensitive rebates. We make every attempt to provide accurate pricing at time of publishing. Please call the stores for most accurate price.