New Samsung 36-Inch Gas Cooktop NA36N6555TS (Review / Ratings / Prices)
In a short period, Samsung has become the number 1 brand of appliances at the expense of other manufacturers like Kenmore, Whirlpool, Maytag, and Frigidaire.
However, they have only sold commodity products like refrigerators, laundry, dishwashers, and stoves. They have not marketed built-in appliances until now.
Can Samsung sell products against some premium brands such as Miele, Wolf, Bosch, and Thermador? In this article, you will see the features of their 36-inch cooktop, the NA36N6555TS.
Then I will compare the Samsung versus the most popular gas cooktop brands both in features and price. In the end, you will better understand whether you should consider a Samsung built-in product.
The Gas Cooktop Market
Currently, different brands like Wolf, Thermador, Bosch, Jenn-Air, Miele, and Viking make up the gas cooktop market.
The built-in market has always skewed to higher-end brands to fit a more upscale consumer. In contrast, the larger manufacturers like GE, Whirlpool, Electrolux, LG, and Samsung control the more commodity appliances like washers and refrigerators.
All these cooktops from any brand have their advantages and shortcomings. Some have a decent output like Miele with two higher output burners. Others like Thermador and Wolf simmer better.
But they are all expensive, over $1,800 for really half a range. Samsung is 30-40% lower in most cases - it's worth noting.
Now you will see whether the features compare.
You will be learning about Samsung's 36-inch gas cooktop, the NA36N6555TS.
New Samsung 36-Inch Gas Cooktop Review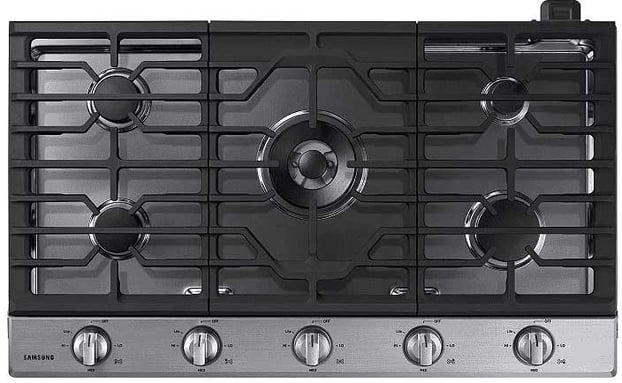 Features:
19K BTU power burner
Blue LED illuminated knobs
Wi-Fi connectivity
Griddle
Cast iron 3-piece grates
Sealed burners
Quickly boil water or maintain a low simmer
Blue LED lights illuminate when the cooktop is in use
Top Features Of The New Samsung Gas Cooktop
Wi-Fi Smart Connect
Allows you to monitor the operating status and the power level settings of the cooktop elements as well as change the timer settings. They were the first with Wi-Fi.
Blue LED Illuminated Knobs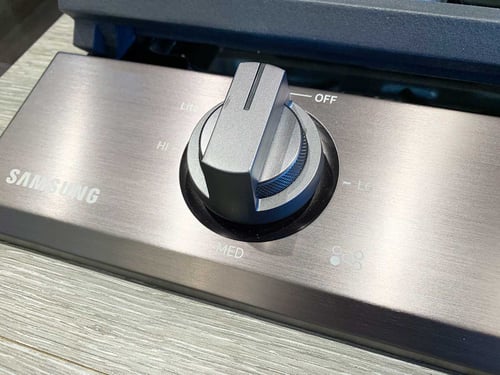 Easily identify which burners are in use. They are better than the surface indicator lights of another model. However, once the knobs are powered off, there is no way to tell if the burners/grates are still hot like every other gas unit.
Griddle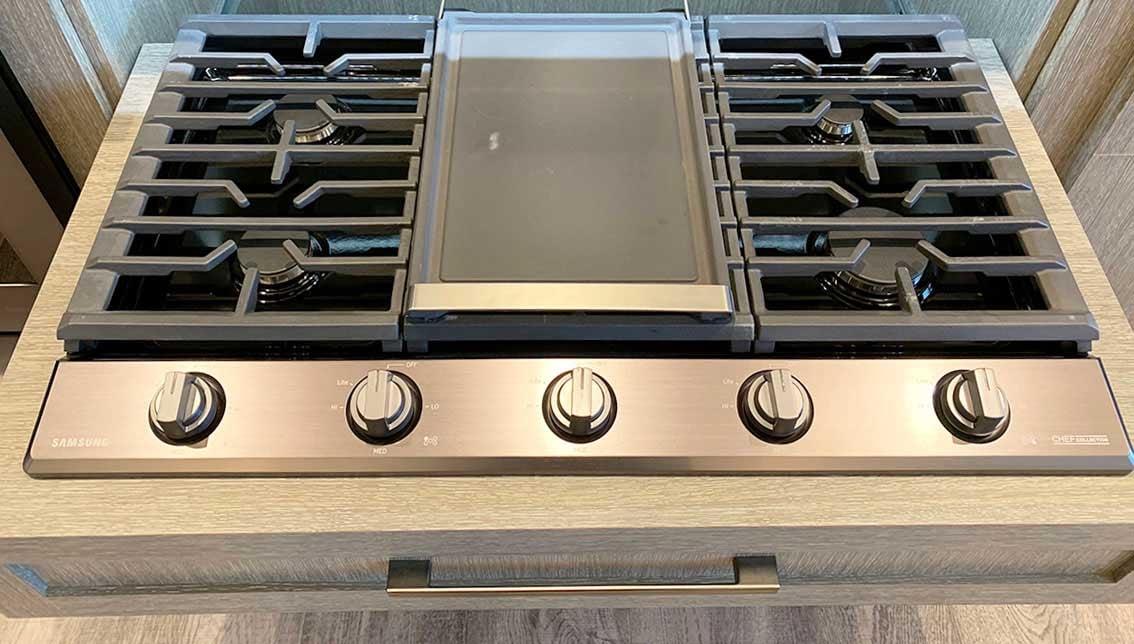 Features a griddle which is great for cooking breakfast, making sandwiches or sauteing vegetables. You can buy a freestanding griddle with any brand, but Samsung includes it with your purchase.
Burners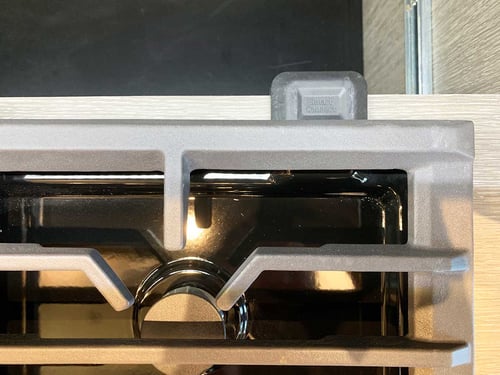 Two 9.5K, 5k, 13k, 19k dual, and its dimensions are 36" x 5 41/72" x 22 ⅓.
BTU Output
19K BTU (British Thermal Units) power burner has two rings - allows for two heating options: quickly bring water to a boil & maintain a simmer.
This gas cooktop offers a variety of burners with varying BTU power. The power burner in the center has a 19K BTU output and allows you to boil water rapidly and maintain a low simmer in the cases of sauces, gravies or even melted chocolate.
The other four burners offer some flexibility with different sizes for pots and pans as well as the option for griddle cooking with the included cast-iron griddle at least in theory.
This model is available in stainless steel and or a fingerprint-resistant black stainless steel.
A bonus with Samsung is their rebates; you can save $300 when you purchase 3 or more eligible appliances, or you can save $200 when you buy 2 of their available appliances.
Why You May Not Like This Cooktop
They don't publish a simmer rating, so that may be an issue. It has one powerful burner. Some have two.
Wi-Fi is good, but the connectivity is slow, and the functionality is limited (for now).
Service with Samsung can be an issue due to its popularity. You want to ensure this product can be fixed (the same could be said for most brands).
Why You Might Like This Cooktop
First, it is a nice looking design. Years of competing with Apple has taught Samsung the benefits of style.
Secondly, its less expensive than the premium brands and can be packaged with other products as well.
It does only have one power burner, but it's 19,000, not 15-17,000 like the other brands. You will cook quicker with that burner.
Short on time? Get our free Gas Cooking Buying Guide
How Does The New Samsung 36-Inch Gas Cooktop Compare To Other Premium Brands In The Market?
Let's take a look at how the new Samsung compares to the most popular gas cooktops in the industry.
Samsung vs. Miele Gas Cooktops
Samsung Gas Cooktop NA36N6555TS
Miele Gas Cooktop KM3475G

Total Power 56K BTU
Left Front (Power) 9.5K BTU
Left Rear (Power) 9.5K BTU
Right Front (Power) 13K BTU
Right Rear (Power) 5K BTU (Simmer)
Center (Power) 19K BTU (Dual)

12,000 BTU (1)
9,000 BTU(2)
15,000 BTU Double-inset Super Burner(2)



$1,099.99
$2,099
Miele has slightly more power compared to Samsung, but the burners are set up differently- more room for larger pots and pans because of the placement of the knobs.
Miele's two strongest burners are at 15,300 BTU are lower than in BTU output than Samsung's one power burner at 19,000 BTU's.
Samsung vs. Thermador Gas Cooktops
Samsung Gas Cooktop NA36N6555TS
Thermador Gas Cooktop SGS365TS

Total Power 56K BTU
Left Front (Power) 9.5K BTU
Left Rear (Power) 9.5K BTU
Right Front (Power) 13K BTU
Right Rear (Power) 5K BTU (Simmer)
Center (Power) 19K BTU (Dual)

Total BTU Load 58,200 / 45,200 BTU
Front Left Burner 9,100 / 6,000 BTU
Back Left Burner 12,000 / 9,100 BTU
Center Burner 16,000 / 15,000 BTU
Back Right Burner 9,100 / 6,000 BTU
Front Right Burner 12,000 / 9,100 BTU

$1,099.99
$ 1,699
Thermador uses their classic star burner design versus Samsung's more traditional circular sealed burners. Thermador is known for the best simmer at 100 BTU on two burners, but Samsung has more powerful burners.
Samsung vs. Wolf Gas Cooktops
Samsung Gas Cooktop NA36N6555TS
Wolf Gas Cooktop CG365P

Total Power 56K BTU
Left Front (Power) 9.5K BTU
Left Rear (Power) 9.5K BTU
Right Front (Power) 13K BTU
Right Rear (Power) 5K BTU (Simmer)
Center (Power) 19K BTU (Dual)

(3) - 9,200 BTU
(1) - 12,000 BTU
(1) - 18,000 BTU

$1,099.99
$2,230
Wolf's gas cooktop is very similar in power to the Samsung with an 18/12,000 BTU burner. Wolf has 3 9,000 BTU burners instead of the one 5,000. Wolf has a three-stage burner so that it can simmer at 500 BTU on each burner.
You also have more room for fitting larger pots and pans due to the knobs being placed on the far right front side of the cooktop.
Samsung vs. Bosch Gas Cooktops
Samsung Gas Cooktop NA36N6555TS
Bosch Gas Cooktop NGM8655UC

Total Power 56K BTU
Left Front (Power) 9.5K BTU
Left Rear (Power) 9.5K BTU
Right Front (Power) 13K BTU
Right Rear (Power) 5K BTU (Simmer)
Center (Power) 19K BTU (Dual)

Total BTU load 58,500 / 47,300
Front left burner 12,000 / 9,100
Back left burner 10,000 / 9,100
Center burner 19,000 / 15,000
Back right burner 5,500 / 5,000
Front right burner 12,000 / 9,100

$1,099.99
$1,129
Samsung's gas cooktop is slightly more similar to a Bosch gas cooktop in output and price. However, Bosch is more powerful and is lower in price.
Should You Buy The New Samsung 36-Inch Gas Cooktop?
It depends on where you are, who you are, and how you use this cooktop.
For homeowners, if you need power in 2 burners consistently, then Miele would be a better cooktop. Thermador simmers better, and Wolf has a better arrangement, and all the burners can simmer well.
But are you willing to spend $400-1000 more?
Bosch is a more competitive unit in terms of features and price. The Samsung wall oven (if you are buying both) has steam and more features than the Bosch at the same price.
For builders, a Samsung built-in package for a cooktop and wall oven with decent features will save $1,500-6000 per kitchen from a high-end Wolf, Miele or Thermador kitchen and will offer some better functionality than Bosch.
Lastly, you do have to figure out who will be fixing Samsung before you buy.
The cooktop is decent, not revolutionary, but the price with the features is pretty compelling.
Frequently Asked Questions
What are the best gas cooktop brands?
The best cooktop brands in terms of popularity are Jenn-Air, Thermador, Bosch, and Wolf.
What are the best gas cooktops to use with a downdraft?
You can use anyone's downdraft with anyone's cooktop. Downdrafts should be considered a last resort.
What are the most reliable gas cooktops?
| | | | |
| --- | --- | --- | --- |
| | Service Qty | Shipped Qty | Service Ratio |
| Kitchenaid | 1 | 41 | 2.44 % |
| Samsung | 1 | 9 | 11.11 % |
| Bosch Appliances | 14 | 123 | 11.38 % |
| Fisher & Paykel | 1 | 8 | 12.50 % |
| Wolf | 23 | 168 | 13.69 % |
| Jenn-Air | 22 | 137 | 16.06 % |
| Thermador | 22 | 130 | 16.92 % |
| Bosch - Benchmark | 5 | 26 | 19.23 % |
| Miele | 6 | 27 | 22.22 % |
| Gaggenau | 8 | 18 | 44.44 % |
| Bertazzoni | 1 | 1 | 100.00 % |
| Grand Total | 104 | 724 | 14.36 % |
Bosch has the most reliable gas cooktop. KitchenAid is sold mostly to builders, so the tenant/condo owner may not be calling us for service.
Wolf, Jenn-Air, and Thermador are also worth considering based on the numbers.
Additional Resources
Get the Yale Gas Cooking Buying Guide with features, specs, and inside buying tips to all the brands. Well over 580,000 people have read a Yale Guide.
Related Articles
Why Should You Trust Us?
It seems that every appliance review has nothing but glowing comments about almost every product, yet you read customer reviews and they are almost universally bad.
We are here to fill in the disconnect. We'll give you the best features, and the drawbacks as well, including reliability based on over 37,000 calls performed by our service team just last year. Our goal is to give you ALL the information so you know what's right for you.
Please consider subscribing or adding to the conversation in the comments below. We appreciate you stopping by.
Taylor Ferry
Taylor Ferry is an Appliance Sales Consultant at Yale Appliance. She has been working at Yale Appliance for a year now and loves being part of the Yale team. Prior to Yale, Taylor worked as a registered dental hygienist in the South Shore as well as a bartender in Boston. After work, you can catch her at Harvard Stadium running stairs. On her days off, you can find her visiting her parents, traveling up north, and walking the Charles. She also loves discovering new restaurants to explore in Boston and sharing her experience.
A Note About Pricing
Pricing on this blog is for reference only and may include time sensitive rebates. We make every attempt to provide accurate pricing at time of publishing. Please call the stores for most accurate price.