Slide-In vs. Freestanding vs. Front Control Ranges (Comparisons / Reviews / Ratings)
You now have three choices for a range. There is freestanding or a range with the clock, timer, and controls on the backguard.
You also have slide-ins and front control ranges with the clock, timer, and burners on the front of the range.
They look the same but are slightly different. It is very important to know this difference before you find out on delivery.
In this article, you will understand the difference between the three and the installation requirements of each.
Freestanding vs. Slide-In vs. Front Control Ranges
Short on time? Get our free Gas Cooking Buying Guide
What is a Freestanding Range?
Freestanding ranges have finished sides and can be placed anywhere in the kitchen.
Unlike slide-in ranges, they do not require countertops and cabinets on both sides to hide their unfinished sides.
Traditional freestanding ranges have a backguard with controls. The majority of traditional freestanding ranges are 30'' wide, however, some models are available in 40'', 24'' or 20'' widths.
90% of the ranges in the U.S. are freestanding with the main benefit being affordability
You will also have more features for less money for medium and higher end ranges.
Features:
5 Sealed Burners
5.0 cu. ft. True Convection Oven
Quick Pre-Heat
Effortless Temperature Probe
Auto Keep Warm
One-Touch Quick Self Clean
What is a Slide-in Range?
Slide-in ranges have the controls on the front. They sit on top of your counters and give your kitchen a built-in, more custom look. You are able to see your backsplash without being interrupted by the stove's controls.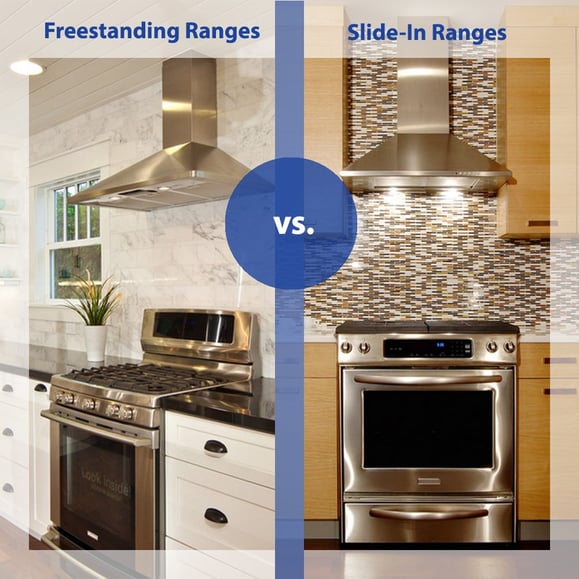 Slide-in ranges are only 30'' wide with unfinished sides so they are truly designed to be fit in between two cabinets. They are about 2" wider on top so they overlap your counter.
One of the main benefits to this overlap is cleanability. Food and crumbs can't drip down the sides like the other ranges.
Example: Samsung NE58F950SS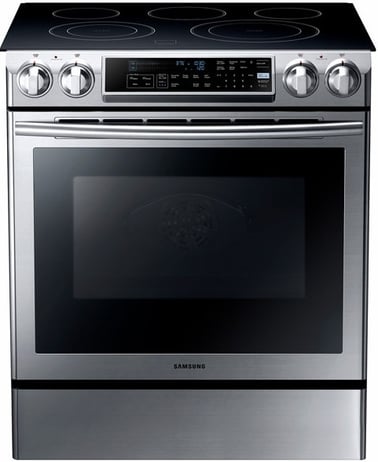 Features:
5 sealed gas burners
2 cubic ft True European Convection Oven
7 cooking modes
Self-cleaning
Luxury glide rack
Warming drawer
What is a Front Control Range?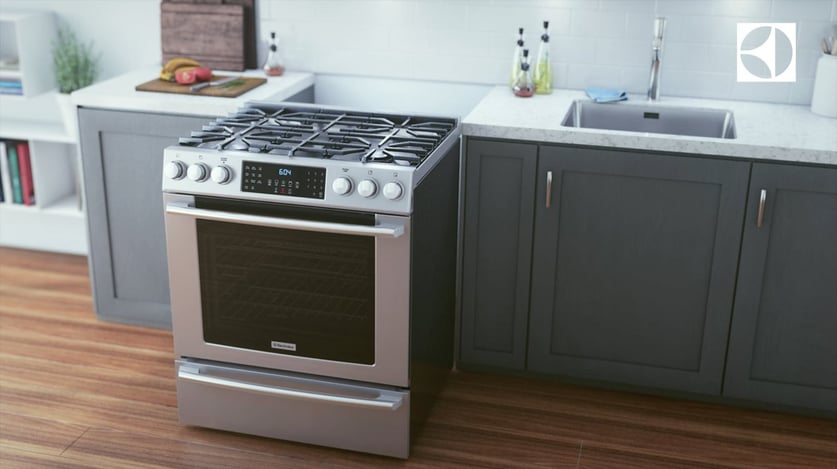 Front control ranges have the controls on the front and look like a slide-in range. However, they don't fit over the counter like a slide-in.
This type of range is typically 30'' wide and will fit into a cutout if you are replacing your 30'' freestanding range unlike a slide-in.
It may look like a slide-in, but the front control has the seam between the cabinets like a freestanding range. Food, liquids, and crumbs can drip down the sides.
Example: Jenn-Air Front Control JGS1450DS - $2,599.99
This hybrid has finished sides like a freestanding range. If you like the idea of the sides of the range overlapping the countertop, this range has an optional trim kit you can purchase to give the range this desired look.
5 sealed brass gas burners

19K BTU power burner
15 K BTU power burner
8200 BTU burner
2 x 8 K BTU simmer burners

Genuine European Convection
6 cubic ft oven capacity (main oven + drawer)
Full extension warming drawer with oven capability
Dampened hinges for smooth door closing
Why buy a Slide-in or a Front Control Range?
Both types place their controls on the front of the range rather than on a back guard. This configuration is better looking and gives you the freedom to design a decorative backsplash behind your range.
What are the Differences Between a Slide-In or Front Control Range?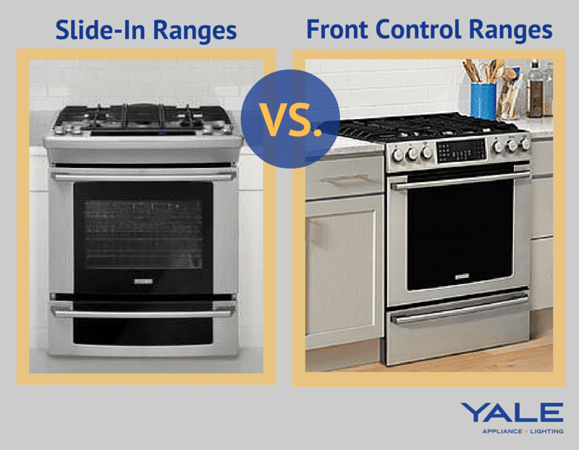 Slide-in ranges have unfinished sides and overlap the countertop on the sides and back of the range. Front control ranges are freestanding with controls on the front.
Front control ranges are easier to install when replacing a traditional freestanding range.
You do not want to order a slide in as a replacement without first cutting the sides and adding a strip in the back.
Slide-Ins are not designed as replacements for freestanding ranges.
For new construction, a slide-in is better because it doesn't have the gaps on either side.
For existing spaces, front controls are easier to install. For new construction, a slide-in is better.
Which Manufacturers Produce Slide-in or Front Control Ranges?
It is hard to tell the difference. Look for the overhang on either side to distinguish between the two.
Slide-In Manufacturers: Frigidaire (we stopped carrying them in 2017, so check), Bosch, and Samsung
Front Control: Whirlpool, KitchenAid, Jenn-Air, Signature Kitchen Suite (SKS), LG, and GE. Keep in mind, we do not carry GE. When we sold the brand in 2013, their GE Profile range was a slide-in with their Café model as a front control. Their current range specifications call for a trim kit, so it probably is a front control range at this time.
Professional (pro) Ranges: All pro ranges of every size are front control.
Which Range Should You Buy?
For the price, the freestanding range is still a good choice. The difference in price between a freestanding or front control and slide-in range with similar features is typically $500-1000.
You should consider front control ranges for a higher-end replacement. You have the similar look of a slide-in, but there will be less carpentry and cutting of your countertops (which is never fun and often problematic).
Front controls are the stove of the future because manufacturers can satisfy new and replacement installations with one range.
For new construction, you should consider the slide-in for looks and cleanability. If you were to boil over water or soup, there are no worries about it leaking down the side of the range.
Looking forward for future kitchen designs, you will most likely see more front control ranges and less slide-in ranges and freestanding products.
It's better looking, but the front control range is a huge up-sell (and more profitable) for manufacturers over the far cheaper freestanding ranges.
Additional Resources
Get the free Yale Gas Range Buying Guide with features, specs, and inside tips to all the brands. Over 355,000 people have read a Yale Guide.

Related Articles
Editor's Note: This article was originally published on May 7, 2015 and has been updated for accuracy, comprehensiveness, and freshness.
Steve Sheinkopf
My goal has always been simple: I want Yale to be the best retail experience anywhere. I have tried to create a compelling environment for customers and employees alike.
A Note About Pricing
Pricing on this blog is for reference only and may include time sensitive rebates. We make every attempt to provide accurate pricing at time of publishing. Please call the stores for most accurate price.