How Will the New Tariffs Affect Washer and Appliance Prices?
Last month, President Trump announced a tariff (a tax on imports) on Samsung and LG washers of 20% this year and 50% next year. Key machine parts and machine were also included.
So, it wasn't surprising to see this letter from Samsung.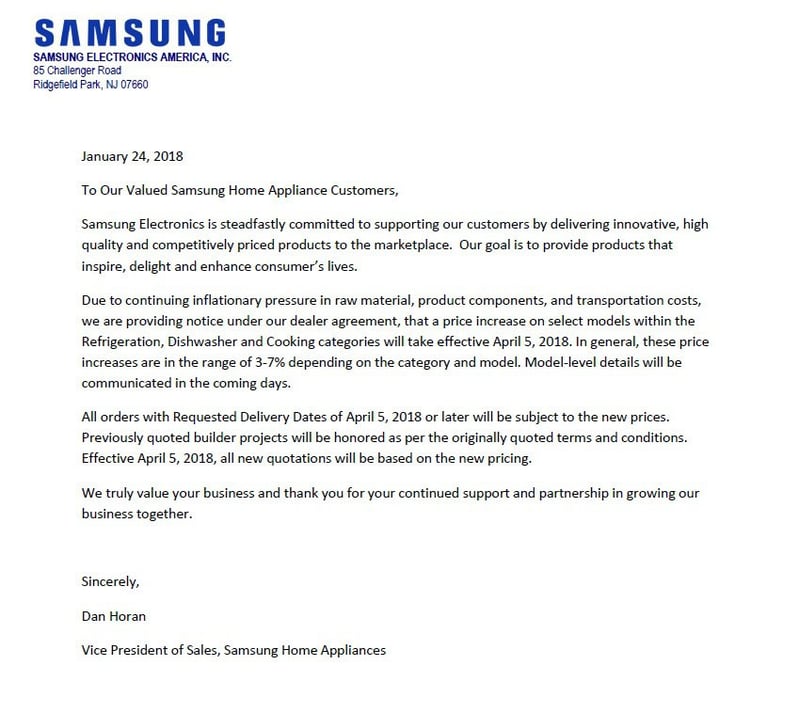 What was interesting about this increase was not tariff related. It was the cost of steel and transportation. Whirlpool announced a similar price increase last week as well.
You are probably wondering how much these tariffs will affect the cost of new appliances.
In this article, you will learn the potential impacts of the tariffs in the short and long terms plus the possible future of prices in 2019.
If you are buying appliances or commodity, make sure to check out our most recent update on the Steel and Aluminum Tariffs I wrote in July 2018. You can also listen to the 14 minute (a very long time when answering questions) clip about tariffs and industry trends.
First a bit about both LG and Samsung
Samsung and LG are the fastest growing appliance brands in the US. The most popular brand by units sold in the US is no longer Whirlpool. It is now Samsung.
Samsung's design and features, especially in washers, have changed the industry.
Their popularity and lower prices have caught the attention of US trade officials accusing both companies of dumping.
Dumping is selling products below your cost to wipe out your competition sometimes with government help.
Now both companies are looking at some expensive charges to import into the US. Following are the potential price impacts to your appliance purchases.
Short-Term Until July
You will see the impact of this small increase shortly. Most chains and larger retailers have already purchased their inventory until at least July 4.
Both Samsung and LG allow buys to stock for holidays. They are March, July, and September. I suspect there will be another buy-in before the tariffs are enforced.
Mid Term July 2018-January 1
You should see prices affected in a few areas. Both Samsung and LG promote heavily around the holidays with discounts of 10-35%. The heavier discounts may go away in favor of more consistent prices.
2019 and Beyond
You would think there would be heavy increases from both brands.
However, they are both building factories in the US and be exempted from the tariffs. It is unclear whether the imported parts will be built here, so there will be some exposure for every foreign as well as domestic appliance company.
Both brands can decide to absorb the additional tariff costs and wait for a party change in 2020.
Final Words:
In the short term, you should not be affected. I can tell you because we and many dealers have inventory from the last buy in.
You should consider buying your appliances before August if possible or wait until the American factories start producing appliances in 2019.
Additional Resources
Download our Appliance Buying Guide with features, specs and inside buying tips to every major brand. Well over 240,000 people have read a Yale Guide.
Related Articles:
Steve Sheinkopf
My goal has always been simple: I want Yale to be the best retail experience anywhere. I have tried to create a compelling environment for customers and employees alike.
A Note About Pricing
Pricing on this blog is for reference only and may include time sensitive rebates. We make every attempt to provide accurate pricing at time of publishing. Please call the stores for most accurate price.