Should You Buy A Samsung Slide-In Gas Range With Flex Duo? (Reviews / Ratings / Prices)
Ever read the fine print on anything? Whether it's your 16-page car leasing contract or your Apple subscription renewal.
Sometimes when there is an issue you wish you did. This may be one of those times. But you will learn about that later.
The Samsung NX58K9850SS with Flex Duo is an inspired appliance. It's good looking, functional, reliable, and has many features.
In this article, you will learn all the interesting aspects of this range.
Then we will briefly compare Samsung against its main competition, the Café Appliances range as well as JennAir's oven and baking drawer concept.
Nestled in all of that will be a section of the Samsung buying guide necessary to understand whether you should buy this range.
Your salesperson, friend, or online blog recommending you this range most likely hasn't read it.
But you will.
Samsung Slide-In Gas Range With Flex Duo Review
Samsung now offers two ranges with the Flex Duo feature: the newer NY60T8751SS and the NX58K9850. The NY60T8751SS is 0.2 cubic bigger with more output on two burners.
It also has the new Air Fry feature and more streamlined controls for $300-400 more.
Both are slide-ins, not front control ranges. They fit over the counters eliminating the seam between the counter and the range for easier cleanup.
However, slide-ins are harder for replacing an existing range.
Both ranges are Wi-Fi compatible.
Let's look at some features.
Samsung NX58K9850SS Features
Flex Duo Oven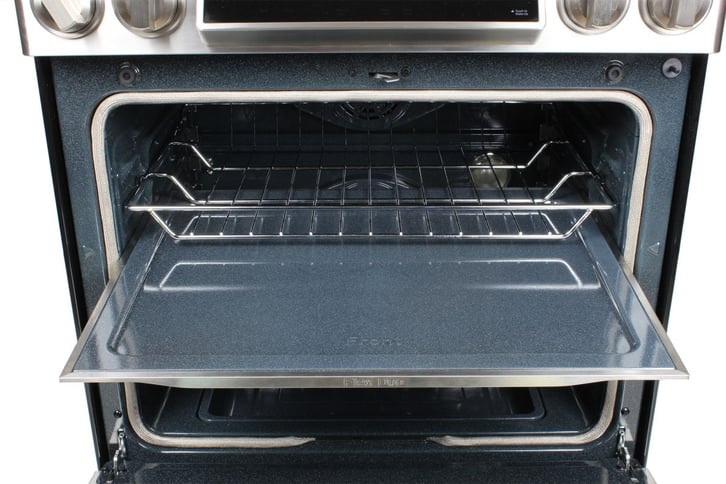 Samsung Flex Duo Oven With Dual Convection Fans
The Flex Duo feature is an interesting concept. It is twin convection with one on the top and bottom, rather than side-by-side like most units.
The unit can be one larger oven or "Flexed" by adding a Smart Divider in the middle of the oven for two smaller convection ovens.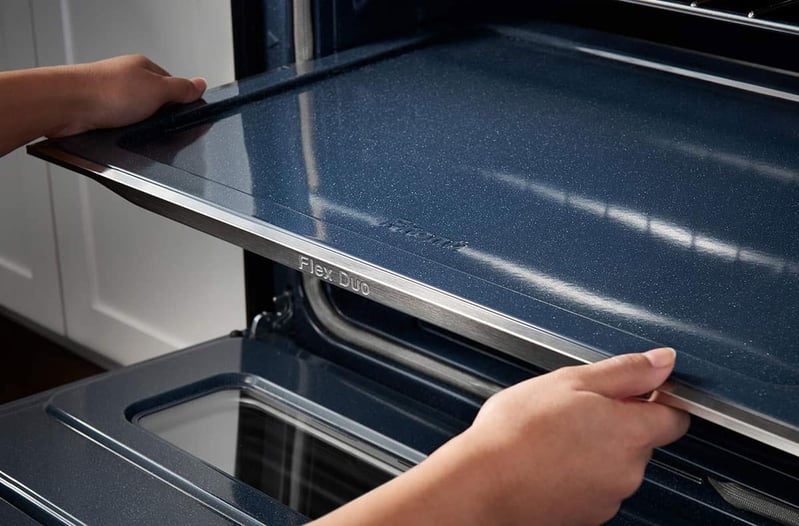 Samsung Slide-In Gas Range With Flex Duo
The Flex concept is different from other double ovens like Café with a permanent double oven. It has advantages like two convection ovens and problems as you will see
BTU Output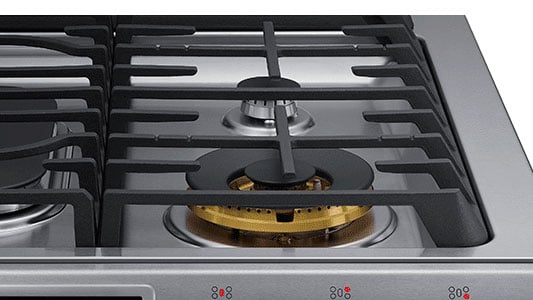 Samsung Slide-In Gas Range Burners
You have good output in both the NY60T8751 and the NX58K9850.
The power burners are 23,000 and 16,000 BTU in the NY60T8751 and 22,000 and 15,000 for the NX58K9850.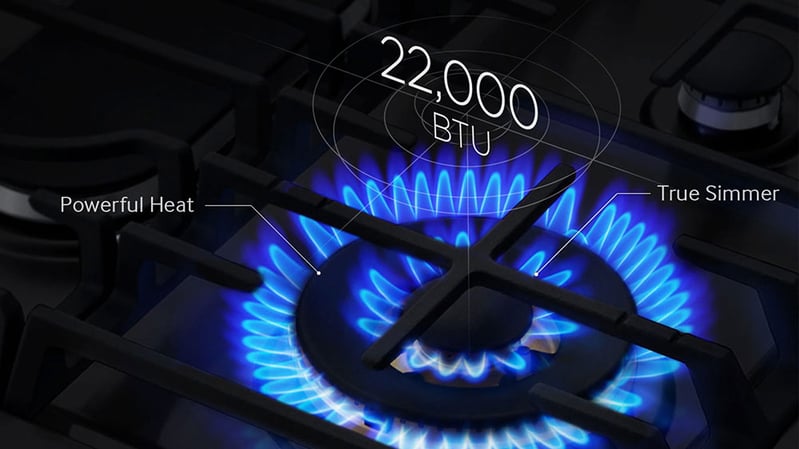 Samsung Slide-In Gas Range Burner
That's good output.
Only one pro range, BlueStar, has a hotter burner at 25,000 BTU. Pro ranges are all high output burners, but both ranges can boil quickly.
You also have a wok grate. The high output burner is designed for a wok because of its high heat.
You also have a griddle burner in the middle as well on the 10,000 BTU burner.
The other burners are lower-powered at 9500 BTU and a dedicated simmer burner at 5,000 BTU.
Samsung Gas Range Reliability
Gas Range Reliability For June 2019-July 2020
| | | | |
| --- | --- | --- | --- |
| | Service Qty | Shipped Qty | Service Ratio |
| Bosch Benchmark | 8 | 14 | 57.14% |
| BlueStar | 9 | 18 | 50.00% |
| JennAir | 83 | 263 | 31.56% |
| LG | 3 | 12 | 25.00% |
| Blomberg | 3 | 12 | 25.00% |
| KitchenAid | 48 | 231 | 20.78% |
| Fisher & Paykel | 3 | 19 | 15.79% |
| Bosch | 33 | 241 | 13.69% |
| Café Appliances | 9 | 81 | 11.11% |
| GE Profile | 17 | 177 | 9.60% |
| Beko | 1 | 11 | 9.09% |
| Samsung | 76 | 1199 | 6.34% |
| Whirlpool | 11 | 239 | 4.60% |
| GE | 0 | 32 | 0.00% |
| Grand Total | 304 | 2549 | 11.92% |
Samsung is one of the more reliable gas ranges. The Samsung NX58K9850SS will be a bit higher in percentage as we merge all their gas ranges in that number.
Café is all high end. I would suspect Samsung is similar to Café for reliability.
Now that I said Samsung is reliable let my bashing begin.
This is the part where previous Samsung owners comment on their service for good reason.
Samsung is the most popular single brand in the US. It happened in a short time as well.
Their main problem is the lack of service and logistics supporting the sales.
The same should be said for other brands, but Samsung is more popular with more units sold. We service what we sell with 30 techs, so we are somewhat immune to these types of issues
Before you buy Samsung or any other appliance, you should ensure it can be fixed promptly.
Samsung NX58K9850SS Slide-In Range With Flex Duo Problems
The range has good output, a novel approach to cooking, and is reliable. What's the problem?
You have to read pages 25 and 26 of the Owner's Manual (I can't believe I read this far).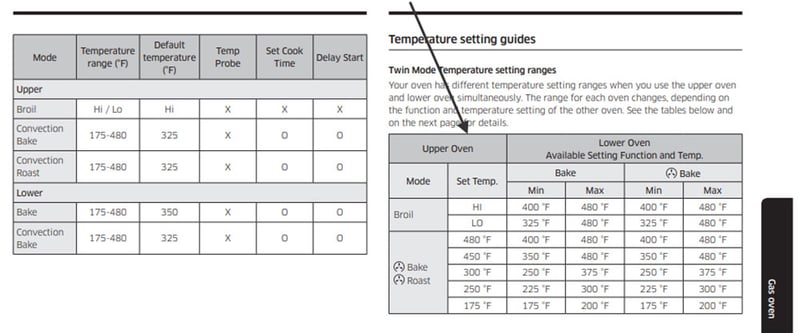 It shows what you cannot do in these ovens, depending on temperatures.
So what does this mean if you cook? Our chef tested the Samsung NX58K9850SS with these results:
Cooking With Samsung's Gas Range Flex Duo Feature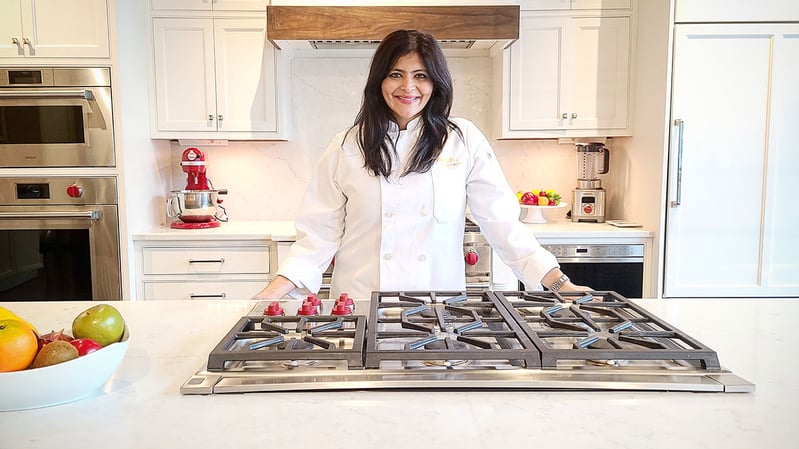 Yale Appliance Resident Chef Saba Wahid
We did some basic testing here is what we found:
First Test
The top oven was set to Convection Roast 450 F. The bottom oven was set to Convection Bake 350 F.
The skin on chicken breasts and vegetables (potatoes/carrots/onions) in the top oven, cooked unevenly.
I noticed the broiler went on as I placed the food into the oven, which ended up scorching the tops of the chicken and dried the chicken breast out a bit.
I initially put the chicken in to cook for 25 minutes, then added another 15 minutes, and finally another 10 minutes for a total cook time of 50 minutes.
This is significantly longer than electric convection ovens, which can cook the same dish in about 25 minutes.
The vegetables also took even longer. We put them back in for another 15 minutes to tenderize.
In conclusion, the roast mode relies on the broiler to produce the top heat, which is too direct to create any real convection in the oven.
The heat is concentrated and does not circulate in the oven. The fan also cycles on and off, making the air circulation even more inconsistent.
Cookie Test
In the bottom, oven, we did two racks of cookies. The heat impacted the heat in the Bottom oven from the top oven.
The cookies were only in for 13 minutes and ended up browning considerably, although I had set the timer for 15 minutes.
In other electric convection ovens, these same cookies cook perfectly between 15-18 minutes at 325 F.
We could not drop the temperature any lower than 350 F, unfortunately.
Third Test
For the second test, we set the bottom oven at Convection bake 480 F (this is the highest temperature the oven can go on Flex Duo mode).
It can get up to 550 F when the full oven is being used).
For this test, we made pizzas in the Bottom oven with an inverted sheet tray, which took the place of a traditional pizza stone.
We were able to get the oven hot enough to cook the pizzas pretty well.
The bottom heat could have been slightly hotter to achieve a crispier crust, but our results were satisfactory.
The cheese melted nicely on top, and the top crust had a nice color and texture. The pizzas took around 8 minutes to cook.
Pizza tested in the Samsung Slide-In Gas Range With Flex Duo at Yale Appliance
The top oven could not go below Convection Roast 400 F, and we were limited with what we could bake at this temperature.
The temperature was too hot for cookies, so we tried some frozen appetizers, which achieved a nice browning, and great texture. These took around 20 minutes.
In other words, there are temperature limitations. You can still cook in both ovens but in a specific and somewhat limiting way.
Samsung Vs. Their Competitors
Samsung Vs. JennAir Gas Ranges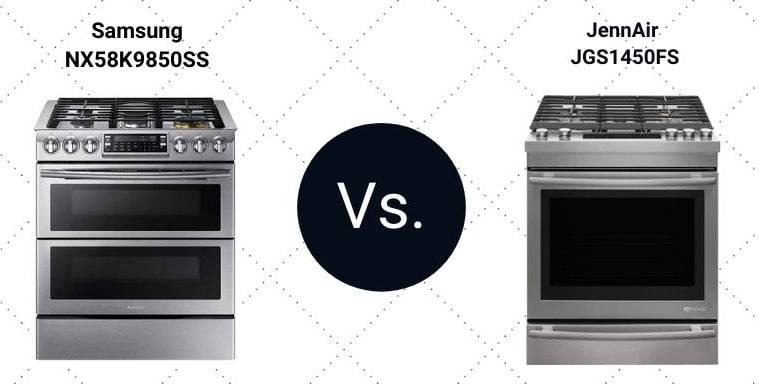 Many brands advertise two oven ranges. However, they are ovens with smaller baking drawers. It's not a bad concept.
You have a massive main oven and a smaller drawer just for baking. It is not dual convection with any other functionality.
JennAir is the most popular of that style.
Samsung Vs. Café Appliances Gas Ranges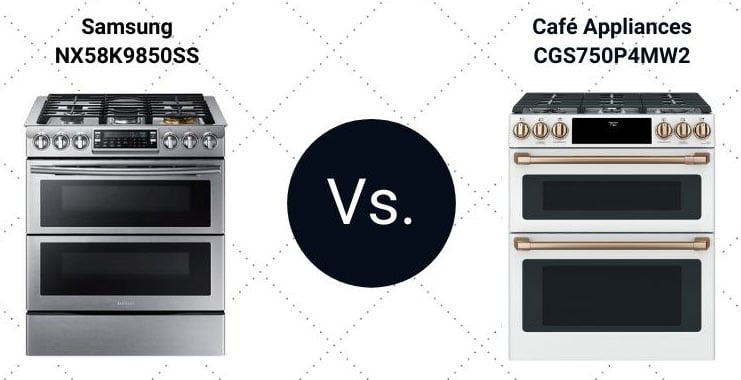 Perhaps the best double oven range is the Café. First Café is offered in 4 finishes mirrored, matte white, matte black, and stainless with three trim packages, copper, brass, and stainless.
Café does not have a divider like Samsung's Flex Duo range. It's a true double oven, so you don't have limitations like Samsung's Flex Duo feature.
There is no storage drawer in a Café either, so it is seven cubic feet versus 6 for Samsung.
The top oven is not convection, but I question whether you need air circulation in an oven that small.
However, the larger oven sits on the floor, so you have to bend with the Café for that roast or holiday turkey.
You don't have to bend as far in the Samsung because it sits on the storage drawer
Café is also $500-750 more expensive.
Should You Buy A Samsung Slide-In Gas Range With Flex Duo?
Samsung Slide-In Gas Range With Flex Duo Oven at Yale Appliance in Hanover
I liked this oven way more before I researched it.
The Flex Duo feature is still a good concept if you use the second oven sparingly or work around its limitations.
It has good output, reliability, and features.
I recommend reading pages 25 and 26 before you buy it and understand if it will affect the way you cook or use the range.
You do have other considerations for double ovens like Café or ranges with limited baking options only like KitchenAid and JennAir.
Additional Resources
Want to learn more about the latest gas ranges and technology? Read the Yale Gas Range Buying Guide with features, specs and detailed profiles of every major brand. Well over 800,000 people have downloaded a Yale Guide.
Why Should You Trust Us?
It seems that every appliance review has nothing but glowing comments about almost every product, yet you read customer reviews and they are almost universally bad.
We are here to fill in the disconnect. We'll give you the best features, and the drawbacks as well, including reliability based on over 37,000 calls performed by our service team just last year. Our goal is to give you ALL the information so you know what's right for you.
Please consider subscribing or adding to the conversation in the comments below. We appreciate you stopping by.
A Note About Pricing
Pricing on this blog is for reference only and may include time sensitive rebates. We make every attempt to provide accurate pricing at time of publishing. Please call the stores for most accurate price.