Signature Kitchen Suite (SKS) Slide-in Range (Reviews / Ratings / Prices)
Now, this is truly different. The SKS all gas range has a shinier chromium look than stainless steel. It also has a few unique features like pure convection and Wi-Fi.
However, at $3,599, it is a bit pricey and there may be better alternatives depending on how you cook.
In this article, we will detail each important feature and compare the SKS gas range to both slide-ins and professional ranges.
Who is SKS?
SKS, also known as Signature Kitchen Suite, is a new division of LG. LG is a South Korean, multi-national electronics company. Along with Samsung, LG has led the appliance industry into smart appliances and the connected home.
SKS is considered LG's high-end line with their most innovative features. They offer a limited selection of cooking appliances but are attractive in terms of design and their features. Now that you know who SKS is, let's take a look at our video.
Signature Kitchen Suite's All Gas Range
Best Features of the SKS Gas Ranges
Style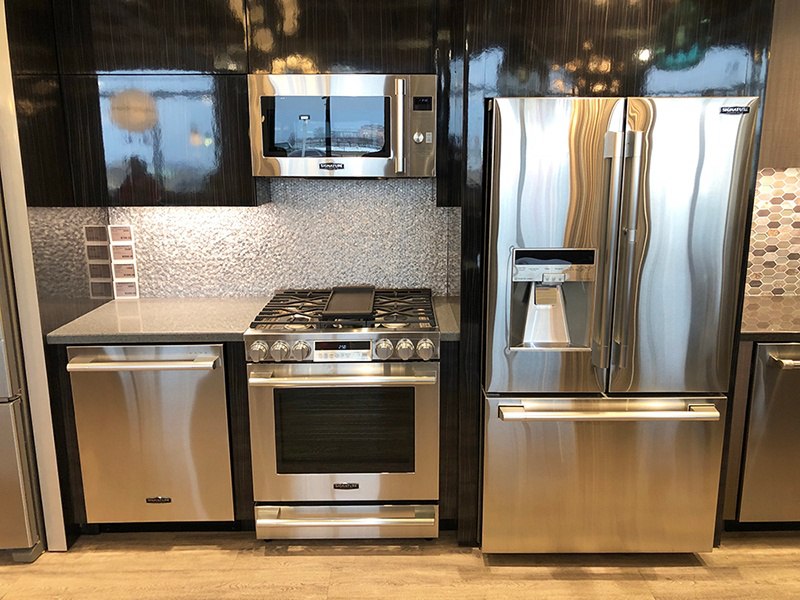 If you were to look at a row of stainless gas ranges, SKS would stand out. Its stainless-steel finish is lighter with an almost a chromium finish. If you don't like the look of stainless steel, the SKS gas range is a good alternative, especially in a kitchen package where all the appliances will match. Colors are limited to a few brands, including Black Stainless steel. Black Stainless is an oxide coating which can be peeled or scratched off.
Pure Convection
Most electric ranges are pure convection meaning air is blown in from the back of the range. In every gas range, except LG, BlueStar, and SKS, the air rises from the bottom and then blown around by the fan.
SKS Convection Oven
Pure convection is technically better because it lessens taste crossover between the racks. During a recent BlueStar cooking demonstration in our Boston showroom, the chef baked garlic rolls and chocolate chip cookies simultaneously in the oven.
Other than LG, SKS is the only other slide-in range with pure convection.
Short on time? Get our free Gas Cooking Buying Guide
Wi-Fi Connectivity
SKS, like Samsung and LG, have basic oven capabilities with Wi-Fi connectivity. What this means is that once you download their app that connects to your SKS range on your phone, you can adjust the temperature of your range and check the time remaining.

The Range's Shortcomings
Burners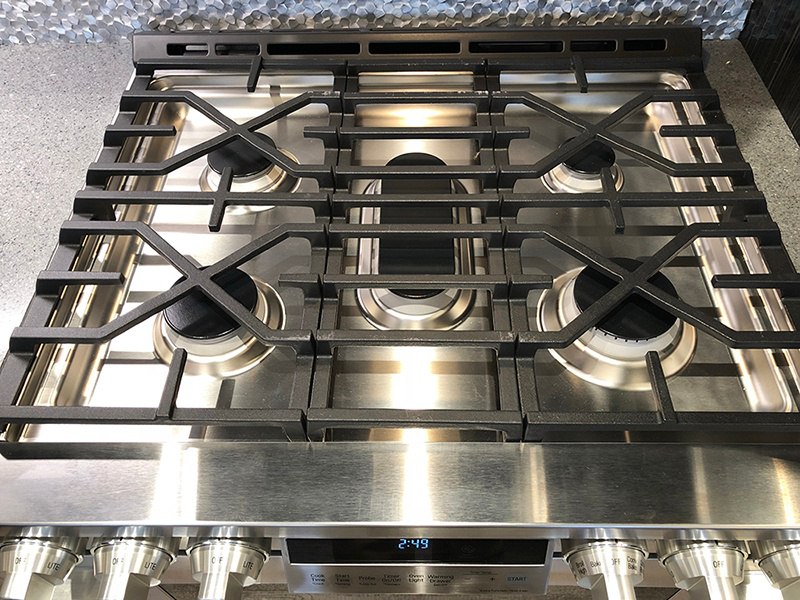 The top has just one power burner at 18,500 BTUs with the next being just 12,000 BTUS. You probably have a mixture of a 14,000 and a few 12,000 BTUs on a 10-year old stove.
Most other ranges will have two power burners. Even the base Whirlpool offers two power burners at 15,000 BTUs.
You can buy a pro range at around $3,999 - $4,149, like Jenn-Air and Thermador, with three or more power burners as well as a better simmer BTU output. Those brands also offer free dishwashers with their promotions.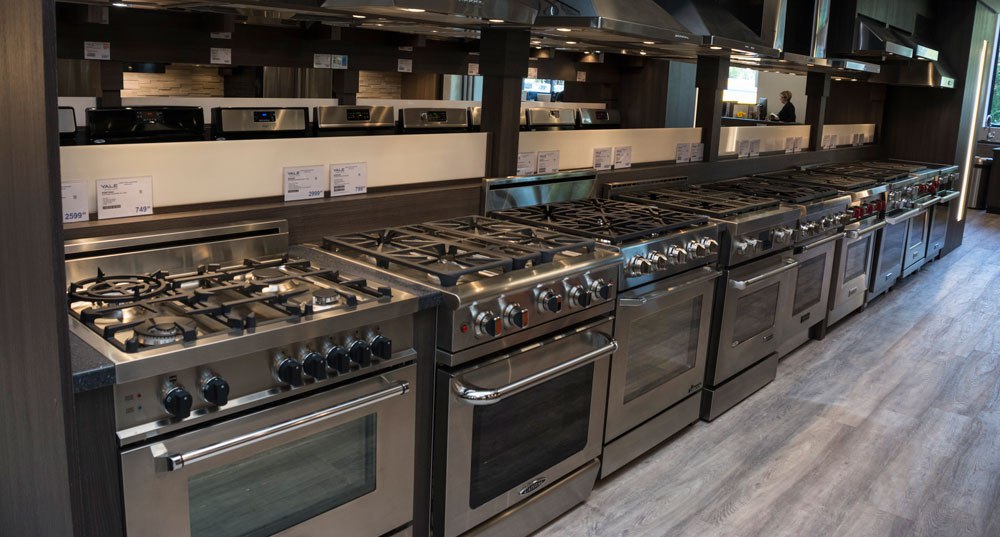 Professional Ranges
Warming Drawer
SKS offers a warming drawer to keep foods warm for up to three hours. However, they do not offer a second baking oven like Jenn-Air, Electrolux, and GE.
Size
Currently, the SKS all gas range is only available in 30 inches. Later on, they will have additional sizes such as 36 and 48 inches.
Price
As we said previously, $3,599 is pricey for a gas slide-in range. It is at least $700-800 more than a comparable Samsung, KitchenAid, and LG range.
Its price is also in the league of a professional range.
Conclusion
If you are looking for a powerful range or a less expensive slide-in range, then this is not the range for you.
However, if you truly like to bake and/or want a different looking product, the SKS should definitely be considered.
Additional Resources
If you are looking for appliances, you may want to download our Appliance Buying Guide with detailed information about brands, the 5 best times to buy an appliance, and problems you should be aware of before you buy. Well over 280,000 people have downloaded a Yale Guide.

Related Articles:
Steve Sheinkopf
My goal has always been simple: I want Yale to be the best retail experience anywhere. I have tried to create a compelling environment for customers and employees alike.
A Note About Pricing
Pricing on this blog is for reference only and may include time sensitive rebates. We make every attempt to provide accurate pricing at time of publishing. Please call the stores for most accurate price.