How to Choose Between a Wall Oven and Cooktop vs. a Range
No single decision will affect your kitchen design more than choosing a wall oven and cooktop or a range.
But which is right for you?
Centralizing your cooking appliances with a range is more convenient. However, cooking in an oven and cooktop are completely different and don't need to be centralized.
In this article, you will learn the pros and cons of both configurations.
It's not just about how much space you have.
I will include easy to follow kitchen design tips and definitions of similar appliances like cooktops and rangetops.
Ultimately, you will know what's right for you and your space.
Let's get started.
How to Choose Between a Wall Oven and Cooktop vs. a Range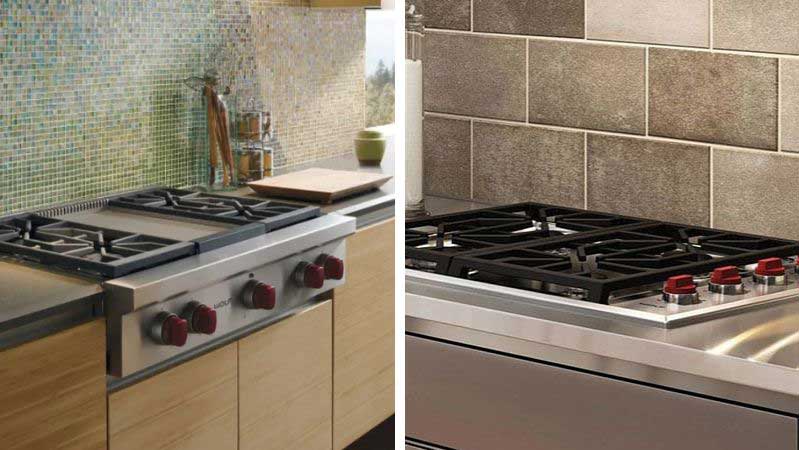 Rangetop and Wall Oven (Left) vs. a Pro Range (Right)
Basic Kitchen Design
If you were to design the perfect kitchen for functionality, you only have to look at the three most used appliances, your sink, stovetop, or rangetop, and dishwasher in my opinion.
Below is my version of the kitchen triangle: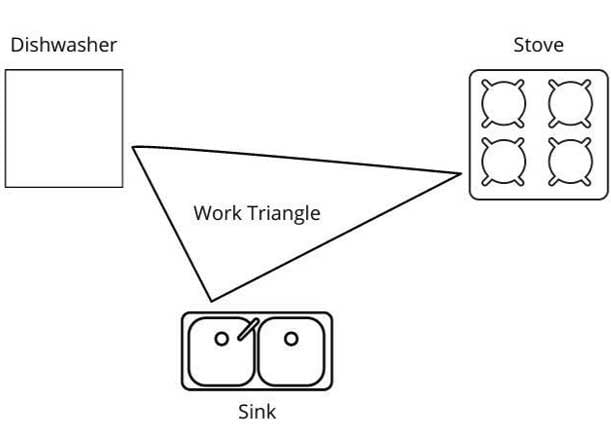 Typically, you start at your sink placing it with a focal point like a window or on your island.
Your stovetop and dishwasher should be no more than one or two steps away.
Like this picture:
It will also allow you to work more efficiently in your kitchen, and in case you burn some food on your stove or oven, the sink is nearby for safety.
Remembering the kitchen triangle is the best way to plan functionally.
However, aesthetically you may want some flexibility. You see a ton of aesthetically beautiful kitchens with limited functionality.
You don't want to sacrifice functionality for a beautiful design.
For example, it may be OK to have the sink a few steps away, but I wouldn't forget about ventilation.
Below is a beautiful kitchen with a major vent issue:
A ceiling blower is not going to ventilate a professional range.
What is Not Included in My Kitchen Triangle Design
Your refrigerator and wall oven are not part of the design.
Why? It's not mission-critical to be in your refrigerator immediately, so it doesn't need to be gobbling up space in the center of your kitchen.
You don't see a refrigerator in the center of this well-designed kitchen:
In larger spaces, you can also incorporate smaller refrigerator drawers or beverage centers on your island for tasks like chopping vegetables or storing food and beverages.
You also don't watch your turkey as often as you stir soup, so wall ovens can also be outside the central part of your kitchen.
Read More: How to Design Your Dream Kitchen With Luxury Appliances
How Appliances Fit in Your Kitchen
Appliances fit into cabinets like a square peg fits into a square hole. They are designed to fit in standard-sized cabinets, not the other way around.
For new construction, it's hard to make a mistake. For replacement, appliances may not fit mostly because of height and depth differences.
For example, dishwashers fit 18 or 24-inch cabinets, Refrigerators fit 18, 24, 28, 30, 33, 36, 42, and 48-inch spaces.
Ranges fit 20, 24, 30, 36, 48, and 60-inch sizes, while wall ovens fit 24, 27, 30, and 36-inch cabinets.
The most common is 30 inches on both ranges and wall ovens, especially on the wall oven. Ranges can vary a bit.
If appliances and cabinets are standard, then choosing a wall oven or range is the only real variable for appliances in your plan.
Rangetops vs. Cooktops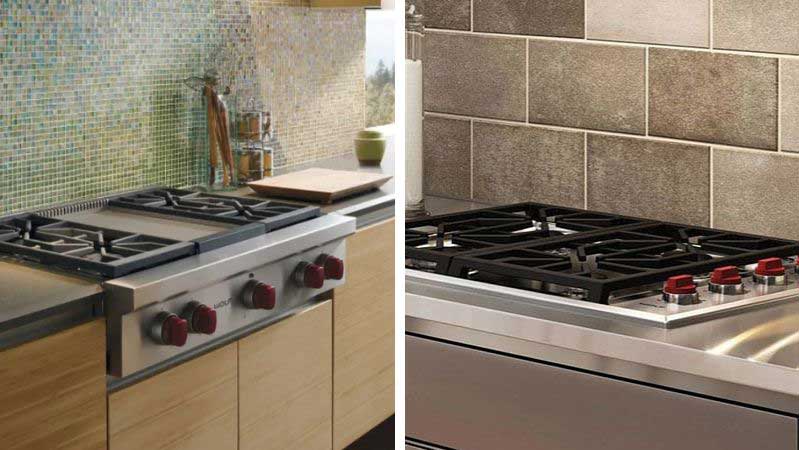 Rangetop (Left) vs. a Cooktop (Right)
People use these terms interchangeably, and they shouldn't.
The features and installation for cooktops and rangetops are completely different.
A cooktop is the top of a regular stove. It is installed on your countertop. A rangetop is the top of a pro range and is installed on your cabinet.
Feature Differences Between Cooktops and Rangetops
A cooktop is less expensive and is available in 12, 15-, 24-, 30-, and 36-inches widths, with 30 and 36 inches being the most popular.
Rangetop burners are more powerful, but you still have one to two power burners on a cooktop.
Rangetops are available in 24, 30, 36, 48, and 60-inch widths, with 36 and 48 inches being the most popular. Lastly, rangetops all have high output burners.
Now let's answer your question more directly.
When You Should Consider a Range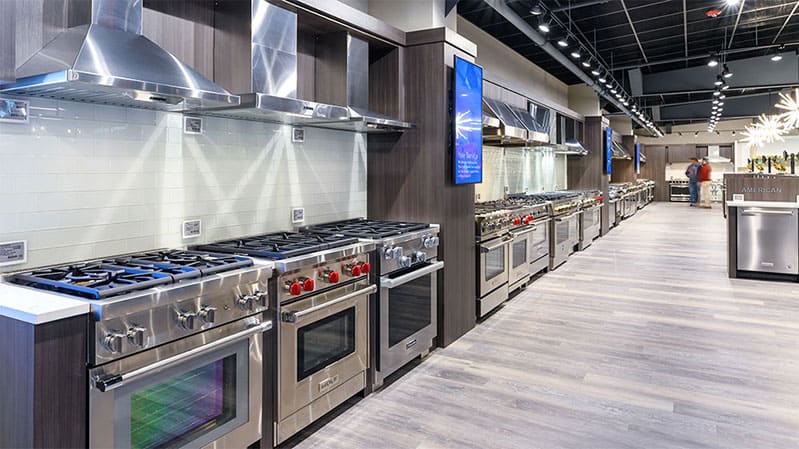 Professional Gas Ranges at Yale Appliance in Hanover
Your personal preference is to centralize your cooking in one space.
Maybe your recipes call for turning the food more frequently, or perhaps you just like that configuration.
In a smaller kitchen, a range will save you space.
The most common sized range is 30 inches with four burners and an oven. As a wall oven and cooktop with similar features, it would also be a 30-inch cooktop plus a 30-inch wall oven.
If You Like to Broil or Roast
Wall ovens are almost exclusively electric. You may have been told electric is a better way of cooking with more consistent temperatures. It is better for baking.
You can buy ranges in dual fuel with a gas stovetop and an electric oven or induction with faster magnetic heat and an electric oven.
However, a range is also available in all gas. A gas oven is better for roasting.
However, the real advantage is broiling.
Gas is far better than electric. Most pro ranges have an upgraded infrared broiler and a more intense directed heat.
You Have More Choices for the Stovetop in Larger Sizes
Wolf, Miele, Thermador, and Monogram have more combinations on the stovetop in ranges than on rangetops.
You have the choice of several stovetop configurations such as having a grill, griddle, French top, or induction combinations.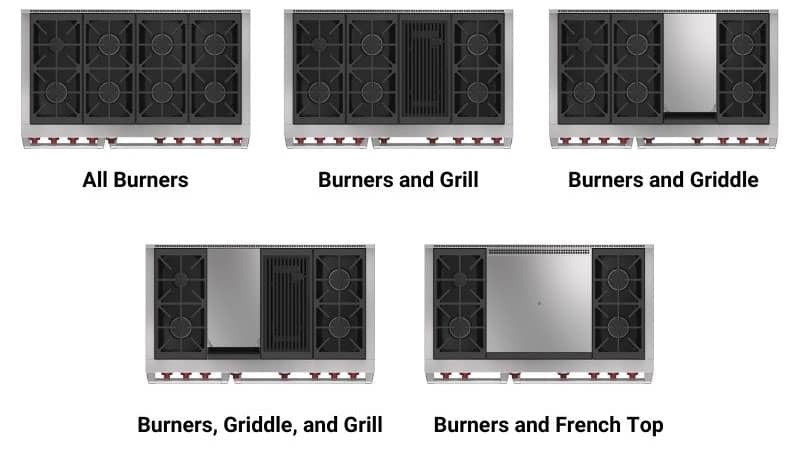 For example, a Wolf dual fuel 48-inch pro range has the option of having all burners, a grill, griddle, griddle and grill, or a French top (shown above).
Read More: How to Buy a Professional Range
When You Should Consider a Wall Oven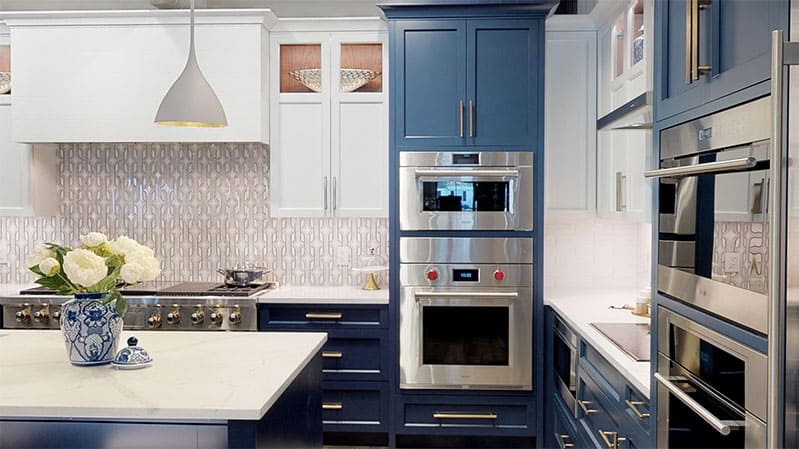 If You Have Space
You need at least 30 inches of extra space for a wall oven and cooktop versus just the equivalent range.
If You do Not Want to Bend Down to Reach Your Food
You can mount a wall oven waist high to never have to bend down again and lift that holiday roast.
French Door and Side Swing Ovens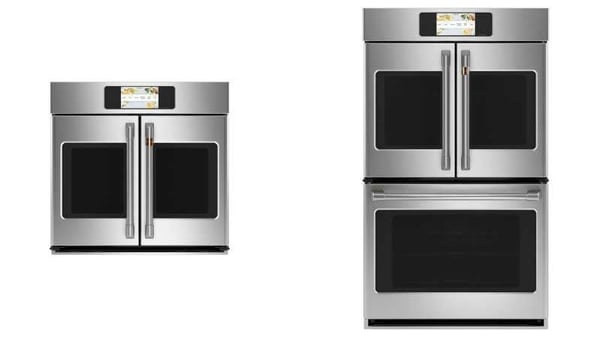 Café CTS90FP2NS1 French Door Wall Oven
French door and side swing ovens allow you to access the heavier holiday roast or turkey rather more easily than lifting that bird over a door.
Monogram, BlueStar, Gaggenau, Thermador, and Viking offer a side swing or French door oven.
Only BlueStar offers a French door in a 36-inch range.
Read More: Best French Door and Side Swing Wall Ovens
Better Cooking Options in the Oven
Wall ovens have the most advanced features for appliances. You can customize a wall oven to fit your style of cooking as well, far better than even a large pro range.
Double Ovens
Double ovens are common for a wall oven in a 30-inch cabinet, but 60 inches for similar ovens in a range will be needed.
Read More: Best Wall Ovens
Steam
Steam adds moisture and is the healthiest way to cook. You have far more options in wall ovens than ranges.
Miele does have steam assist in their pro ranges to bake bread and caramelize the tops of food.
Thermador and SKS have steam in 48 and 60-inch sizes.
However, every brand offers a decent steam oven to fit over their wall ovens in the more standard 30-inch size.
Read More: Best Steam Ovens
Speed Oven
Speed ovens allow you to cook microwave and oven to save half the time without the rubbery microwave texture.
You can buy a speed oven of almost every brand to fit over your wall oven, while only Miele offers speed ovens in their larger 48-inch sizes.
Read More: Best Speed Ovens
Warming drawer
Warming drawers are great because they can keep food warm for up to three hours. A warming drawer is a decent option if your family eats at different times.
You can place a wall oven easily under a double oven or a single oven with a speed or steam oven above.
Miele and Thermador are the only companies to offer a warming drawer in their 48-inch range.
By the way, you don't have to stack steam, speed, or warming drawers. You can have double ovens and a separate oven on an island.
Can You Incorporate Both a Wall Oven and Range Effectively?
Anything is possible in a larger space. However, it possibly doesn't mean it should always be done.
Think about what you use regularly and incorporate it into your design. The following are three different examples of what you could do.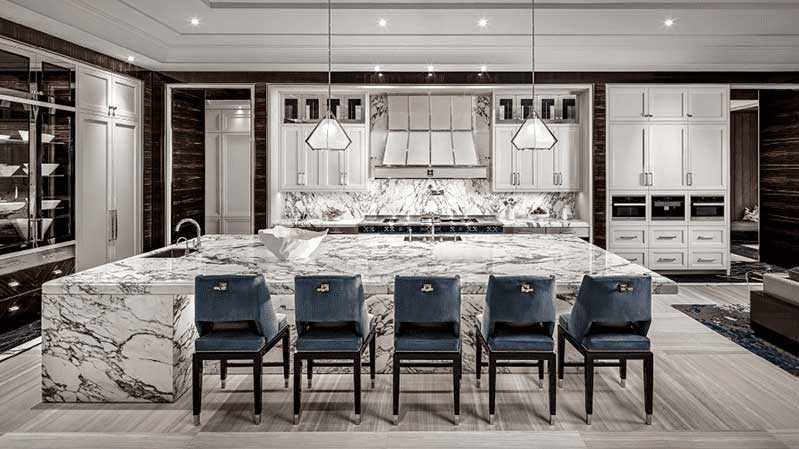 I keep returning to Drakes's kitchen (shown above) in webinars and presentations because of its smart layout.
He has a La Cornue Château Suprême with its customizable top of the grill, griddle, and French top.
Then he has a Miele speed, steam, and coffee system on the wall to the right. He doesn't have to stack in a larger kitchen, so he doesn't and never bends for anything.
Note where the refrigerators are way off to the left. The sink is one foot away from the island, with a pot-filler faucet right over the stove so he can fill a large pot at the stove.
This picture shows the Thermador six-burner range and their wall oven with a speed oven on the top.
The sink and dishwasher are a bit far, but otherwise, they are not bad.
You are looking at a 48-inch Wolf dual fuel with a Wolf single oven and speed oven to the left.
I love the sink placement. The refrigerator is not in the picture because it doesn't need to be centralized.
Again, you can incorporate wall ovens and ranges with a larger space.
Then again, you can buy the range and separate wall oven pieces and place them on your island.
Key Takeaways
In smaller spaces, ranges will be better because they are more compact.
You only need 30 inches for burners and an oven versus 30 inches for a cooktop and another 30 inches for a cabinet.
However, in midsize or larger kitchens, it's up to you.
Most of these articles revert to one question:
What's important to you, and how do you use your burners and ovens?
Ranges have more options on the cooktop and are available in all gas if you like to roast or broil.
With a wall oven, you don't have to bend down as often.
Remember: Ranges are centralized in a kitchen, while wall ovens can be placed anywhere.
With that in mind, you can always incorporate them both in your kitchen.
You can use your traditional double wall oven and range or split up the wall oven around your island and other parts of the kitchen.
Additional Resources
Want more information on the worst renovation mistakes to avoid? Get The Book of Bad Renovations to learn how to avoid a renovation failure. Well over 1 million people have read and trusted a Yale Guide.
Related Articles:
Why Should You Trust Us?
It seems that every appliance review has nothing but glowing comments about almost every product, yet you read customer reviews and they are almost universally bad.
We are here to fill in the disconnect. We'll give you the best features, and the drawbacks as well, including reliability based on over 37,000 calls performed by our service team just last year. Our goal is to give you ALL the information so you know what's right for you.
Please consider subscribing or adding to the conversation in the comments below. We appreciate you stopping by.
A Note About Pricing
Pricing on this blog is for reference only and may include time sensitive rebates. We make every attempt to provide accurate pricing at time of publishing. Please call the stores for most accurate price.