Top 5 Best French Door And Side-Swing Wall Ovens for 2020 (Reviews / Ratings / Prices)
If you walk into a restaurant, the appliances are more basic than what you would put in your home.
Many of the ovens you would find in a restaurant look like this.
In a busy kitchen, you want to save as much space as possible. Cutting the door in half saves space.
Yet, there are few French door wall ovens on the market.
In this article, you will learn the benefits of French door and side swing wall ovens, their features, and the best wall oven brands to consider.
You will also see reliability based on real service data. We logged over 35,256 service calls last year and 100,000 over three years.
Benefits of French Door & Side Swing Wall Ovens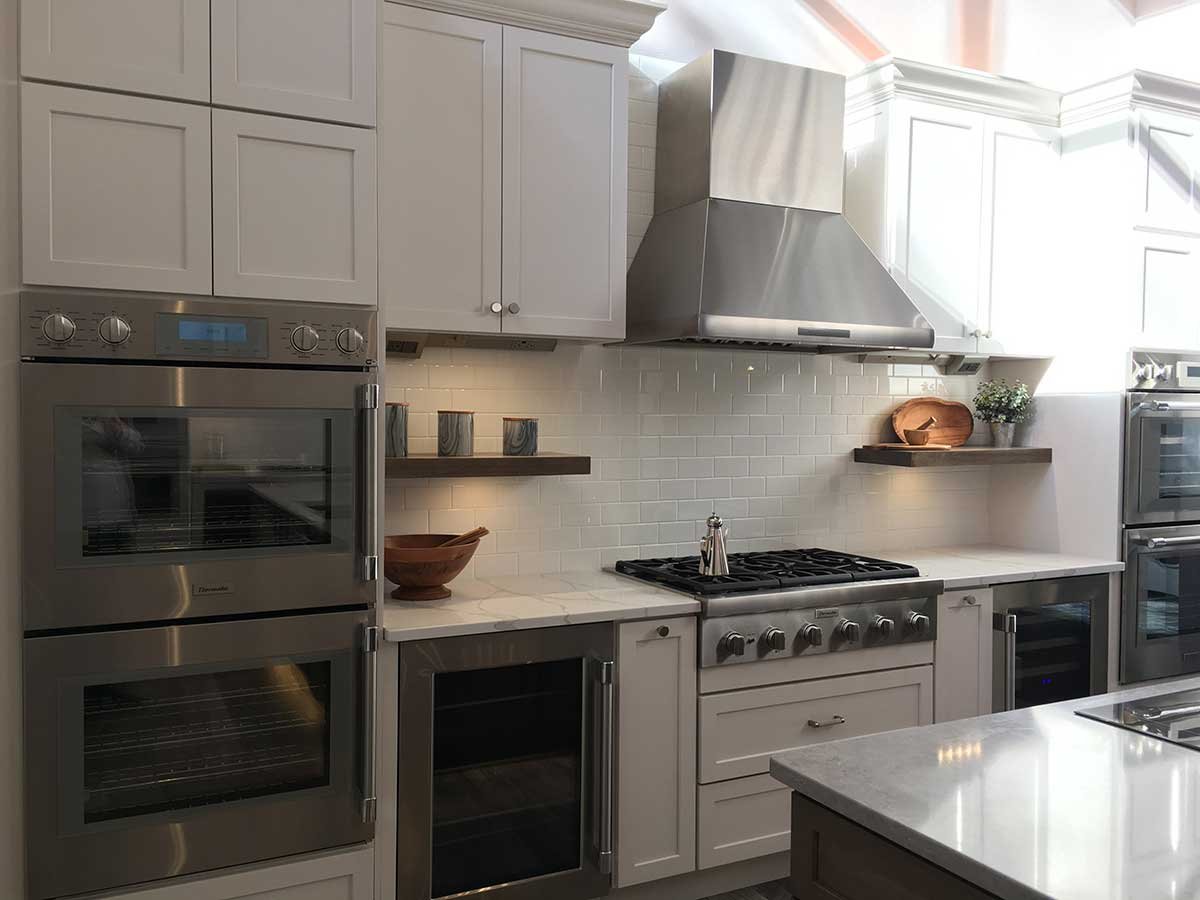 Thermador Side Swing Wall Ovens Stacked On Display at Yale Appliance in Boston
French door ovens have doors with two hinges like a French door refrigerator. There are two main benefits:
1. You save space.
Commercial kitchens are like ant hives with a frenzy of activity (little known fact: I was a dishwasher). This allows more room than one big door opening down.
Kitchens with islands have the same issues. It's hard to maneuver between the island and a larger oven door.
2. You don't have to lift a heavy roast over a door.
You open the oven and are almost in the oven. It is much easier handling your food, especially larger dishes.
Short on time? Get our free Wall Oven Buying Guide
Wall Oven Reliability
Most Reliable Wall Ovens for 2020
| | | | |
| --- | --- | --- | --- |
| | Service Qty | Shipped Qty | Service Ratio |
| Blomberg | 0 | 68 | 0% |
| Gaggenau | 12 | 172 | 6.98% |
| Whirlpool | 9 | 109 | 8.26% |
| Bosch Appliances | 55 | 402 | 13.68% |
| Samsung | 10 | 71 | 14.08% |
| Fisher & Paykel | 3 | 21 | 14.29% |
| Miele | 38 | 258 | 14.73% |
| KitchenAid | 24 | 132 | 18.18% |
| Thermador | 81 | 356 | 22.75% |
| Wolf | 179 | 631 | 28.37% |
| Bosch Benchmark | 26 | 87 | 29.89% |
| Jenn-Air | 145 | 256 | 56.64% |
| Grand Total | 587 | 2620 | 22.40% |
Wall ovens are now the most complicated appliances in your kitchen. Many of these are Smart. Most wall ovens have intricate circuit boards and are tough to repair.
It is crucial to find a good, local repair company before you consider any wall ovens and/or sophisticated appliances.
One other small point: Many reviewers point out a "better warranty" is indicative of a better product.
That is extremely bad advice.
First, companies with poor reliability mask this by adding extra years to a standard warranty to bolster the product and calm your fears of purchasing.
What's worse than the still fundamental unreliability is finding a company to fix your products.
Warranty labor rates are notoriously low. So finding a company to fix this product will be near impossible to find.
If you are curious, try calling in a service call on an extended manufacturer warranty. It will be entertaining (or horrifying).
Click here to learn more about the most reliable wall ovens brands.
Sizing
Wall ovens are available in 24, 27, 30 and 36-inch widths. 90% of new wall ovens are sold in at 30 inches.
French doors are only available in this size. You can buy side-swing ovens in the 24 and 27-inch sizes as well as 30 inches.
Best French Door & Side Swing Wall Ovens for 2020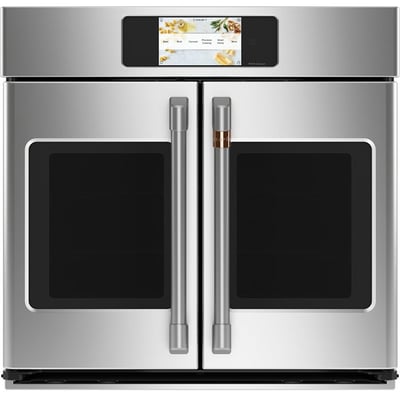 Features:
Wi-Fi
12 Hour Shut Off Capability
Self-Clean
True European Convection
Available in white, black, or stainless
Review:
Café Appliances is one of your best choices for a French door wall oven.
Café Appliances parent company, Haier has made Smart capability a priority.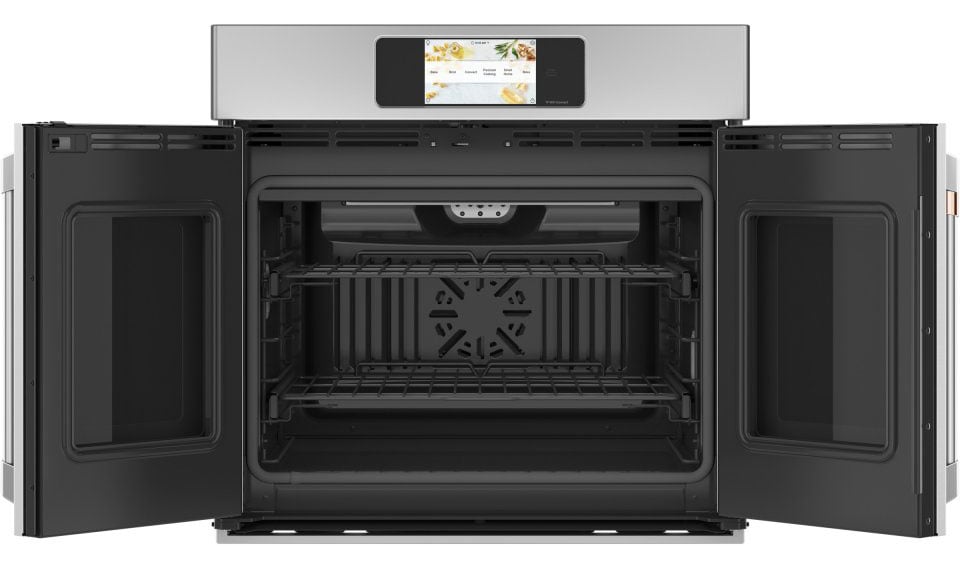 This wall oven can be operated on your phone through an app. You also have the ability to control through your voice attendant like Alexa and Google.
In terms of reliability, Café Appliances is above average, statistically.
The Café Appliances wall oven is electric with convection, so it bakes well. Broiling in any electric oven is just ok. You can't get the heat and intense flame of an infrared in an electric broiler.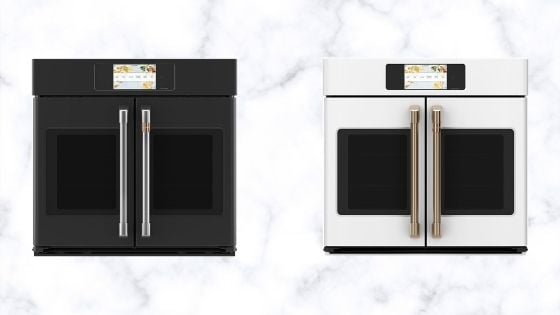 You also have three styles of colors (white looks good) and three handle styles as well in copper, bronze, and stainless steel.
Best Gas Wall Oven: BlueStar French Door Wall Oven BWO30AGS - $4,895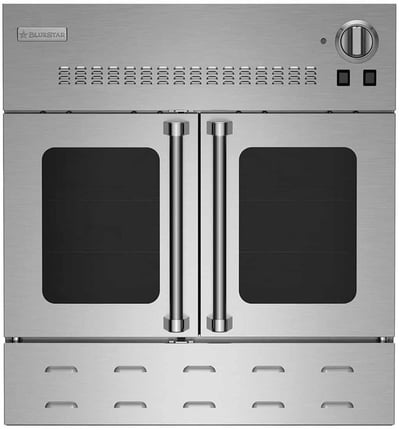 Features:
Powerful 25,000 BTU burner with 3,000 BTU heat assist
True European Convection
1850° Infrared Broiler
Accommodates a full size 18" x 26" commercial baking sheet
Available as two single ovens stacked
Review:
If you thought to have some selection of finishes was good in GE, you have 750 color options in BlueStar along with eight knob and trim packages.
They will even customize your own color as well.
BlueStar is available in electric like the GE, but also available in gas.
You would think gas would be more of an option, but BlueStar is one of the only manufacturers producing a gas wall oven.
Gas is great for roasting due to its moist heat, but also especially broiling. BlueStar is the best and hottest with its 1850 degree infrared gas broiler.
Want to caramelize the top of your Crème Brulee? The infrared is direct heat, intense heat, and can sear the top of that dessert.
Speaking of searing, infrared is the sear element on that high-end grill as a reference to its power. BlueStar is the only wall oven with that capability.
However, BlueStar is "boxier" and protrudes more than any other wall oven, while Café Appliances sits more flush. It also lacks the Smart capability.
Only two French door models are on the recommendation list.
There are plenty of side swing models available. You don't save the space like a French door, but you don't have to lift the turkey over the door, either.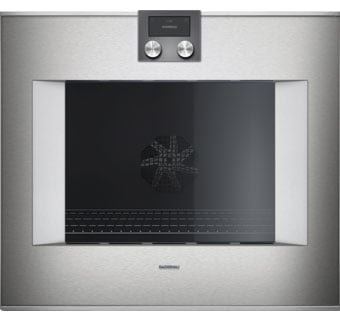 Features:
Handleless door / automatic door opening
17 heating modes, with meat probe, rotisserie spit and baking stone operation
TFT touch display
Electronic precision temperature control
4.5 cu.ft. Oven Capacity
Review:
Gaggenau is the best oven you can buy with the most reliable premium wall ovens.
Gaggenau is without question the best for reliability for premium wall ovens as well.
It also is the best for cooking with four heating elements inside the oven. You can cook anything better in this oven.
You have convection behind the fan, but also top and bottom elements. So if you wanted to bake a quiche, you would use the convection and the bottom element.
When the quiche is mostly cooked, you will finish it with the bottom element for the crust to be perfect.
The top and bottom elements are finishing modes, so you have an incredible array of cooking possibilities.
Honorable Mentions: Thermador and Bosch
Oddly enough, Thermador, Bosch, and Gaggenau are all part of the same company yet made in different places.
Thermador has the most choices for side swing ovens.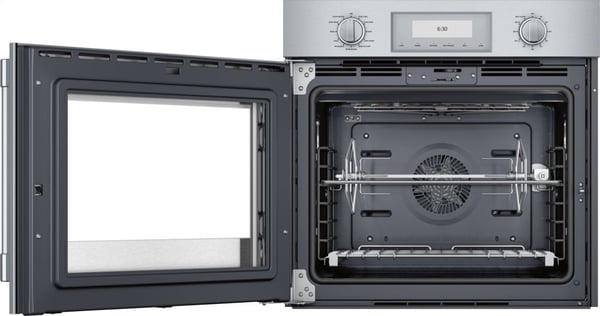 Features:
Thermador Connected Experience
Multi-point meat probe
Commerical-style rotisserie with 12 pound capacity
Flush and standard installation options
Review:
Thermador offers some interesting features, including Wi-Fi. Their system, HomeConnect, allows you to control your oven remotely from your phone through an app.
You can also use their recipes to enhance your cooking experience.
Other features include a fast preheat of 7 minutes and a better 4800-watt broiler. (vetter for electric, still not as good as gas)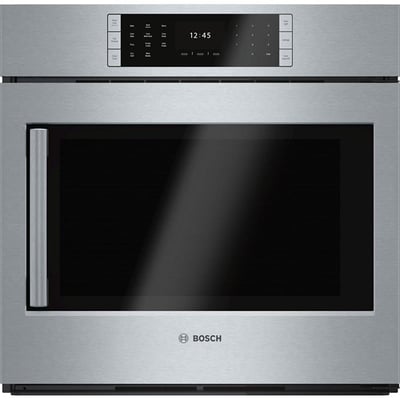 Features:
Color TFT Touch Control
14 Specialized Cooking Modes
European Convection
Temperature Conversion for Convection Cooking
AutoProbe
Star-K certified
4.6 Cu Ft. Oven Capacity
Review:
Bosch started manufacturing side swings before Thermador. It is more of a basic convection oven.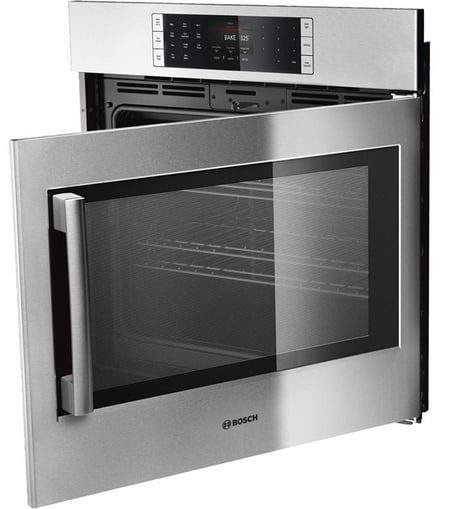 With Bosch and Thermador, you can incorporate steam, speed, and other matching ovens.
Should You Buy A French Door Or Side Swing Wall Oven?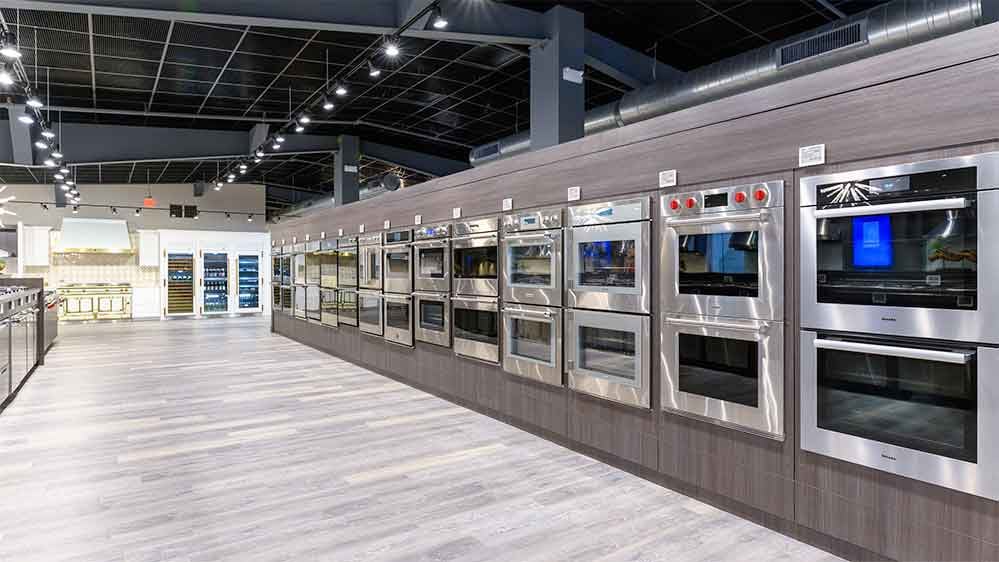 Wall Ovens at Yale Appliance in Hanover
The design allows you to be more effective in handling food in and out of the oven.
For the French door, you have more room, especially if you have an island in the middle of your kitchen. You can maneuver around two split doors better than one larger one.
There is a certain cool factor to both types as well.
However, the best wall ovens, other than Gaggenau, like Wolf, Miele, and Jenn-Air, are regular ovens.
All are more intuitive with easier controls than all the others on this list.
The French door is a cool concept, but to a certain degree, limits your access to choices among the best cooking products.
Additional Resources
Read the Yale Wall Oven Buying Guide with specs, features, and insider tips on how to buy the right wall oven (for you). 800,000 people have already read a Yale Guide.
Related Articles:
Why Should You Trust Us?
It seems that every appliance review has nothing but glowing comments about almost every product, yet you read customer reviews and they are almost universally bad.
We are here to fill in the disconnect. We'll give you the best features, and the drawbacks as well, including reliability based on over 37,000 calls performed by our service team just last year. Our goal is to give you ALL the information so you know what's right for you.
Please consider subscribing or adding to the conversation in the comments below. We appreciate you stopping by.
A Note About Pricing
Pricing on this blog is for reference only and may include time sensitive rebates. We make every attempt to provide accurate pricing at time of publishing. Please call the stores for most accurate price.