The Best French Door and Side-Swing Wall Ovens (2023 Update)
July 5th, 2023 | 9 min. read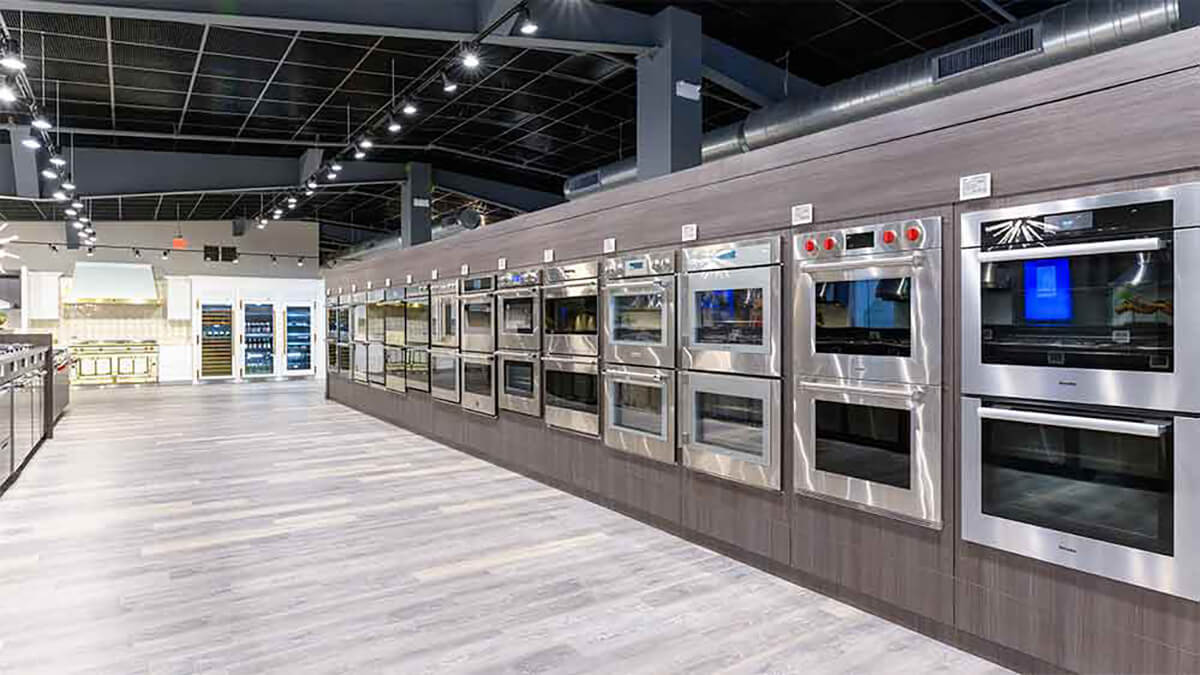 French door and side swing ovens present several advantages over conventional wall ovens.
However, only a few manufacturers produce either type.
In this article, you will learn the best brands for both types, including reliability based on real service calls.
Let's start with a story:
It's Thanksgiving (or pick your favorite holiday), and your kitchen is a blizzard of activity from spouses, kids, relatives, and neighbors all "helping" you prepare for the big meal.
Now, it's about time to eat. You have a 40-pound roast fully cooked and ready to be plated.
In a conventional drop-down oven, you must lift your roast over a hot oven door.
A classic kitchen design with an island in the middle and a drop-down door doesn't leave much room for you, your roast, and other people. You have a better option.
French doors and side swing ovens are better designed, so you don't have to lift a bird over a door. Cutting the door in half saves space.
However, French door wall ovens are not as commonly found in the market. So, let's dive into the top contenders.
The Best French Door and Side Swing Wall Ovens for 2023
Café Appliances CTS90FP2NS1
Café™ Professional Series 30" Stainless Steel Single Electric Wall Oven
Café Appliances CTD90FP2NS1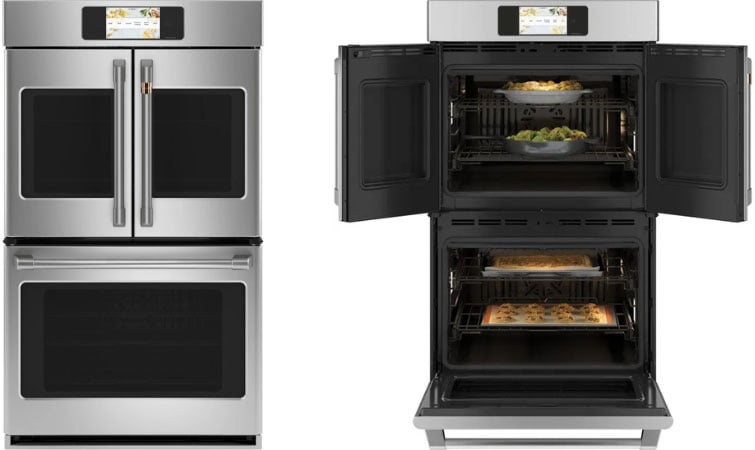 Café™ Professional Series 30" Stainless Steel Double Electric Wall Oven
Café Appliances is one of your best choices for a French door wall oven in single or double ovens.
Café Appliance's parent company, Haier, has made smart capability a priority through their SmartHQ platform.
This wall oven can be operated on your phone through an app. You also can control it through compatible voice attendants such as Amazon's Alexa or Google Voice.
Wi-Fi enabled appliances have become worthwhile. In 2020, GE wirelessly sent all the Café users a new "Turkey" mode, complete with a "gobble gobble" end-of-cycle signal.
You are also starting to see the merging of appliance companies and recipe apps like Yummly and Innit. You can scan to cook an item and have the oven set the time and temperature of the recipe while you have step-by-step instructions.
They are also testing a service where the wall oven will self-diagnose problems and send parts to be fixed automatically. Smart diagnostics would save a huge amount of time and expense when it's successful.
Of course, I said that last year. Let's hope it happens before the next time I rewrite this article.
In terms of reliability, Café Appliances is above average, statistically.
The Café Appliances wall oven is electric with convection. Broiling in any electric oven is just OK. You can't get the heat and intense flame of an infrared broiler in an electric broiler.
You also have three styles of colors (white looks good) and four handle styles as well in copper, bronze, black, and stainless steel.

The Difference Between Café and GE Monogram Wall Ovens
GE also has the professional Monogram series available in a single ZTSX1FPSNSS or double the ZTDX1FPSNSS for roughly $1,200 more.
I pored through the specifications, and the only major difference is Monogram has twin convection while Café has single convection. Single vs. double convection is debatable in a 30-inch space, but two fans should be technically better.
The styling is a bit different, and Café is available in three colors and handles styles, whereas Monogram is just stainless.
Best Gas Ovens: BlueStar
BlueStar BWO30AGSV2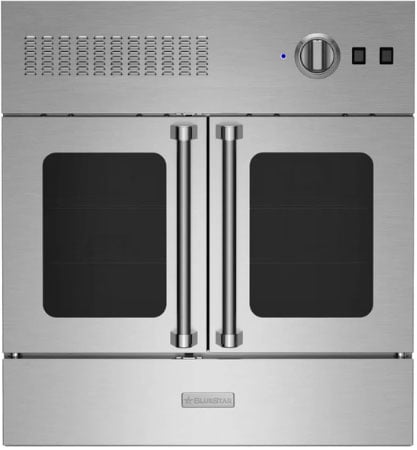 BlueStar® 30" Color Match Single Gas Wall Oven
BlueStar BWO36AGSV2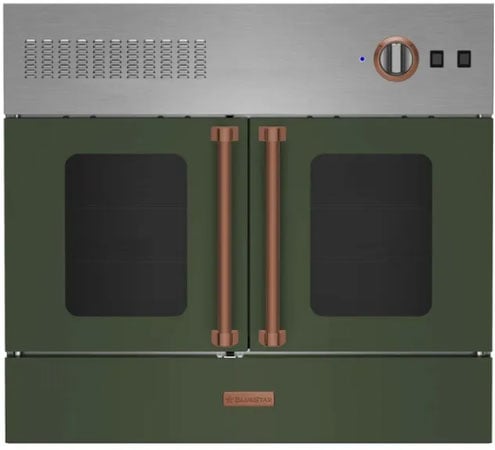 BlueStar® 36" Color Match Single Gas Wall Oven
If you thought having some selection of finishes was good in GE, you have 1000 color options in BlueStar along with ten knob and trim packages. They will even customize your own color.
BlueStar is available in electric-like GE but is also available in gas. You can buy BlueStar in a 36-inch size, but not in a double oven.
You would think gas would be more of an option, but BlueStar is one of the only manufacturers producing a gas wall oven. Gas is great for roasting and broiling.
BlueStar has an 1850-degree claim, but the BTU output is 15,000 BTU, about 5,000 BTU less than other gas professional ranges. Of course, none of those companies produce a gas wall oven, so BlueStar is the best by default.
Infrared is great for searing. Want to caramelize the top of your crème brûlée? The infrared is direct intense heat and can sear the top of that delicious dessert.
Speaking of searing, infrared is the sear element on that Lynx high-end $9,000 grill. That sear element is 23,000 BTU but on a much larger space. BlueStar again is the only wall oven with that capability.
BlueStar is a good option if you want a matching gas and electric wall oven or a unique color. They have both options available.
Drawbacks
However, BlueStar is a "boxier" wall oven and protrudes more than any other, while Café Appliances sits flush.
It also lacks smart capability.
Only two French door models are on the recommendation list. Then again, there are only three available. Viking has the VSOF7301SS at $7,799, but we don't sell Viking appliances at Yale.
Best Side Swing Ovens: Gaggenau
Gaggenau BOP250612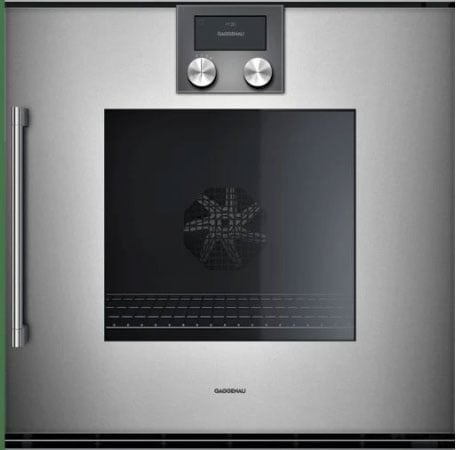 Gaggenau 200 Series 24" Metallic Single Electric Wall Oven
Gaggenau BX480612
Gaggenau 400 Series 30" Stainless Steel Frame Electric Built In Double Oven
There are plenty of side swing models available. You don't save the space like a French door, but you don't have to lift the turkey over the door, either.
Gaggenau is the best side swing wall oven if you truly like to cook. It has four heating elements inside the oven. You have convection behind the fan, but also top and bottom elements.
As an example, if you wanted to bake a quiche, you would use the convection and the bottom element. When the quiche is mostly cooked, you will finish it with the bottom element for the crust to be perfect.
The top and bottom elements are great for finishing modes, so you have an incredible array of cooking possibilities with 17 modes.
If you are a cooking enthusiast, Gaggenau is the ultimate appliance brand to consider. With their specialized modes, you can prepare any dish.
Bang & Olufson, a Danish high-end electronics company, designed Gaggenau to be unique. The look is distinctive from every other company.
Drawbacks
Gaggenau is expensive, and you also must know what you are doing. The interface is not intuitive like archrival Miele, but it's pretty easy to figure out. One knob controls the mode while the other knob controls the temperature.
Gaggenau currently does not have smart functionality. Their parent company Bosch has a good smart platform for their other brands.
Honorable Mention: Thermador
Thermador POD301LW

Thermador® Professional 30" Stainless Steel Electric Built in Single Oven
Thermador POD302LW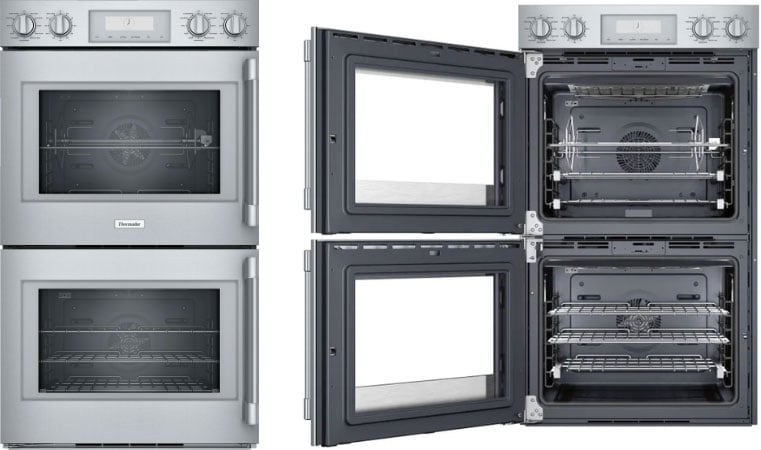 Thermador® Professional 30" Stainless Steel Electric Built in Double Oven
Thermador, Bosch, and Gaggenau are all part of the same company yet made in different places. Thermador has the most choices for side swing ovens.
You can buy a side swing oven in their Professional series. The real difference is in the control panel aesthetics.
Thermador offers some interesting features, including Wi-Fi. Their system, HomeConnect, allows you to control your oven remotely from your phone through an app. You can also use their recipes to enhance your cooking experience, like GE.
Other features include a fast preheat of seven minutes and a better 4800-watt broiler. Thermador also features a rotisserie for 12-pound roasts.
Drawbacks
Thermador has been hit hard by overwhelming demand against massive supply chain issues. While it's a great option, you may have to wait 8-12 months for delivery.
Most Affordable Side Swing Wall Ovens: Bosch Benchmark and GE Profile
Bosch Benchmark HBLP451RUC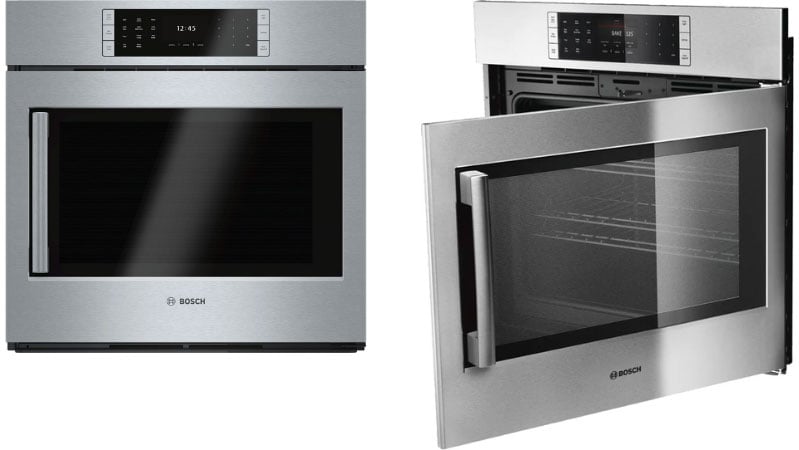 Bosch Benchmark® Series 30" Stainless Steel Electric Built In Single Oven
Bosch Benchmark HBLP651RUC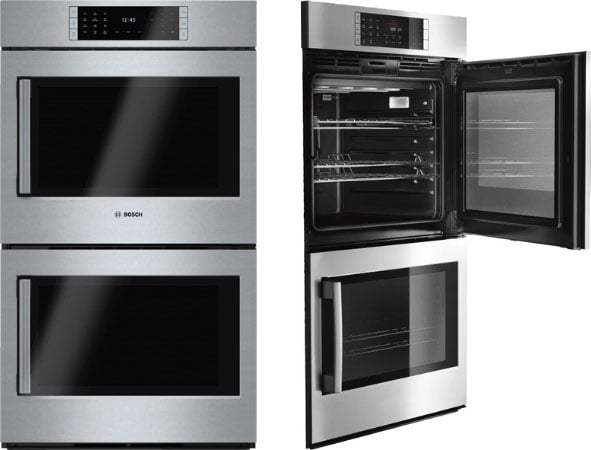 Bosch Benchmark® Series 30" Stainless Steel Electric Built In Double Oven
Bosch started manufacturing side-swing wall ovens before Thermador. The Bosch Benchmark wall ovens offer a sleek industrial design and a sturdy TFT display, making them a reliable choice for those seeking a more basic convection oven.
With the inclusion of Bosch and Thermador wall ovens in your kitchen, you have the opportunity to create a double oven setup that incorporates steam, speed, and other matching ovens.
GE Profile PTS700RSNSS

GE Profile™ 30" Smart Built In Convection Single Stainless Steel Wall Oven
GE Profile PTD700RSNSS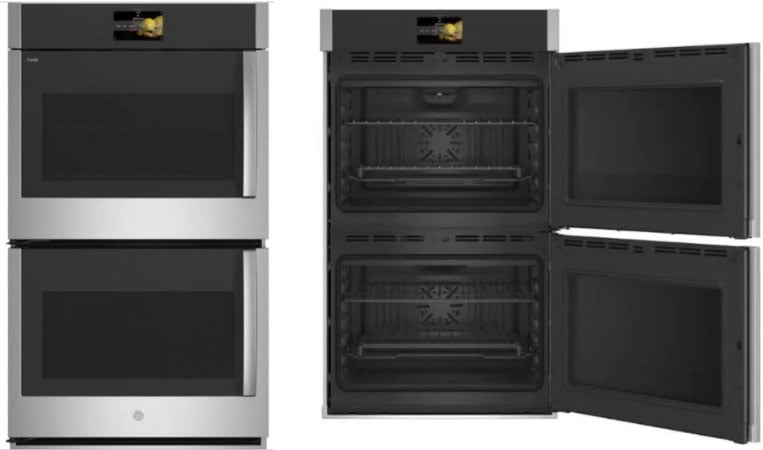 GE Profile™ 30" Smart Built In Convection Stainless Steel Double Wall Oven
Years ago, GE changed the name of their best appliances from GE to Profile. For many products, you can opt for a less expensive yet similar alternative to a Monogram piece at a less high price.
Drawbacks
The profile is similar to Café with the same smart functionality, but without the custom colors and options just in a swing door versus a French door.
Should You Buy a French Door or Side Swing Wall Oven?
The design allows you to be more effective in handling food in and out of the oven. For French door wall ovens, you have more room, especially if you have an island in the middle of your kitchen. You can maneuver around two split doors better than one larger one.
There is a certain cool factor to both types as well as it is unique from a conventional oven. However, you will pay more for both types.
The best wall ovens other than Gaggenau, like Wolf and Miele, are regular ovens only. All are more intuitive with easier controls than others on this list.
The French door is a cool concept and certainly better, but it limits your access to choices among the best cooking products.
Benefits of French Door and Side Swing Wall Ovens
French door ovens have doors with two hinges like a French door refrigerator. There are three main benefits:
You save space: Commercial kitchens are like ant hives with a frenzy of activity (I used to wash dishes for a caterer and later as a volunteer for the Pine Street Inn). This allows more room than one big door opening down. Kitchens with islands have the same issues. It's hard to maneuver between the island and a large oven door.
You don't have to lift a heavy roast over a door: You open the oven and you're almost standing in the oven. It is much easier handling your food, especially larger dishes.
It's Unique: Sometimes you don't want your kitchen to be like the others. You look at mostly identical kitchens in magazines. Having a French door wall oven is somewhat distinctive.
Wall Ovens Reliability
Wall ovens are the most complicated appliances in your kitchen and have a service rate of 5.9% within the first year.
The following service rates are based on a minimum of 50 wall ovens sold and over 1,200 total pieces from January 1, 2022 – December 31, 2022.
| | |
| --- | --- |
| | Service Rates |
| Café Appliances | 3.3% |
| Bosch | 4.2% |
| Miele | 5.7% |
| Thermador | 6.0% |
| KitchenAid | 8.0% |
| JennAir | 15.9% |
| Grand Total | 5.9% |
Many wall ovens are Wi-Fi enabled and have intricate circuit boards making them tougher to repair. It is crucial to find a good, local repair company before considering any wall ovens and sophisticated appliances.
Many reviewers point out that a "better warranty" indicates a better product. That is extremely bad advice.
First, companies with poor reliability mask this by adding extra years to a standard warranty to bolster the product and calm your purchasing fears.
Read More: Most Reliable Wall Ovens
Wall Oven Sizing
Wall ovens are available in 24, 27, 30, and 36-inch widths. Ninety percent of new wall ovens are sold at 30 inches.
French doors are only available in this size. You can buy side-swing ovens in 24-inch, 27-inch, and 30-inch widths.
Read More: How to Buy a Wall Oven
Wall Oven Pricing
While side swing and French door wall ovens offer good functionality, they come with a higher price tag, despite offering the same features as traditional drop-down door ovens.
PreHeader
FAQs
Answers to the most commonly asked questions about wall ovens.
What is a French door oven?
What is a side swing oven?
What are the advantages of a French door oven?
What are the advantages of a side swing oven?
Are French door ovens and side swing ovens available in different sizes?
Do French door and side swing ovens come with self-cleaning features?
Are French door and side swing ovens available in both electric and gas options?
Do French door and side swing ovens come with convection cooking?
Are French door and side swing ovens more expensive than traditional ovens?
Can I retrofit my existing oven with a French door or side swing door?
Additional Resources
Confused about Wall Ovens? Get the Yale Wall Oven's Buying Guide with updated features, specs, and detailed profiles of the best brands like Miele, Wolf, Viking, Bosch, Thermador, and more. Over 1 million people have read a Yale Guide.
Related Articles
Why Should You Trust Us?
It seems that every appliance review has nothing but glowing comments about almost every product, yet you read customer reviews and they are almost universally bad.
We are here to fill in the disconnect. We'll give you the best features, and the drawbacks as well, including reliability based on over 37,000 calls performed by our service team just last year. Our goal is to give you ALL the information so you know what's right for you.
Please consider subscribing or adding to the conversation in the comments below. We appreciate you stopping by.
Steve Sheinkopf is the third-generation CEO of Yale Appliance and a lifelong Bostonian. He has over 38 years of experience in the appliance industry, and he is a trusted source of information for consumers on how to buy and repair appliances.

Steve has also been featured in numerous publications, including the New York Times, Consumer Reports, The Boston Globe, Bloomberg Radio, the New York Post, The Wall Street Journal, and Entrepreneur, for his knowledge of how to buy appliances and appliance repair.

Steve is passionate about helping consumers find the best appliances for their needs, and he is always happy to answer questions and provide advice. He is a valuable resource for consumers who are looking for information on appliance buying, repair, and maintenance.

Despite being the worst goalie in history, Steve is a fan of the Bruins and college hockey, loves to read, and is a Peloton biker. The love of his life is his daughter, Sophie.
A Note About Pricing
Pricing on this blog is for reference only and may include time sensitive rebates. We make every attempt to provide accurate pricing at time of publishing. Please call the stores for most accurate price.