Should You Buy a Double Wall Oven or Specialty Oven and Wall Oven?
You walk into an appliance store and see tons of double wall ovens. If you cook in both ovens frequently, then it's a good purchase.
However, if that second oven is only used at Thanksgiving, you may want to consider a single wall oven with a specialty oven to complement your cooking style.
You can combine your wall oven with a steam oven, speed oven, or even warming drawers.
The most important differences between having a double oven or a specialty and wall oven combo are capacity and functionality.
The double wall ovens will give more space, but the single wall ovens, along with the specialty ovens, will give you more cooking options.
In this article, you will learn the pros and cons of each style. We'll also cover the most reliable wall oven brands to consider, potential problems, and the best models to consider.
Let's get started.
Short on time? Get our free Wall Oven Buying Guide
Double Oven vs. Specialty Oven and Wall Oven Combo
Double Wall Ovens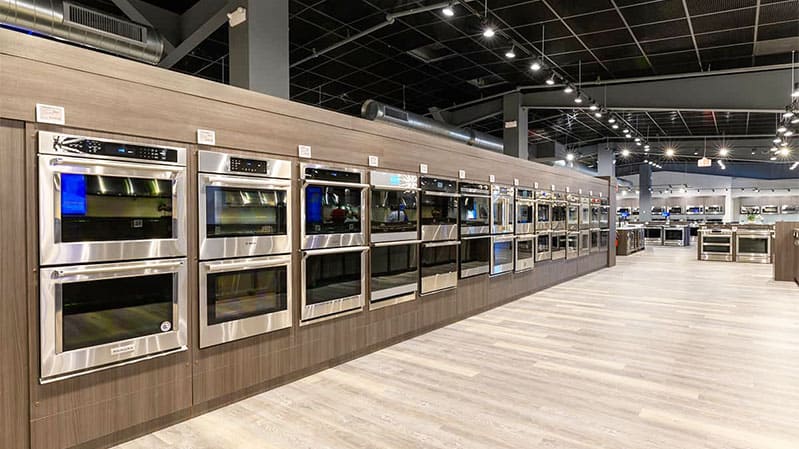 Double Wall Ovens at Yale Appliance in Hanover
One of the main benefits of having a wall oven is never having to bend to retrieve a dish like you would with a range.
Many brands have added steam and automatic cooking programs like the Miele MasterChef, Wolf Gourmet, and JennAir Cuisine Centre.
You also have two real ovens in a 30-inch space. In a double-oven range, you have 2.5 cubic foot ovens. The GE and Samsung range advertised as double are hardly that.
They are more like 1 and 18% of another.
If you like to cook and need two large ovens, then a double wall oven is an excellent choice.
Having a double wall oven will provide ample space to cook for the holidays, especially if you are cooking more than one protein, this will give you plenty of room for sides and desserts too.
Pros
You have the flexibility of choosing the exact appliance(s) and style you want to suit your needs and placement in the kitchen.
Wall ovens have better functionality than most ranges with automatic cooking programs.
In a kitchen plan, wall ovens can be anywhere because you are not checking every 30 seconds like a cooktop. However, ranges are typically centralized for that reason.
Not having to bend constantly or stoop over is an extremely important factor when compared to ranges.
You can avoid kitchen crowding. The oven and cooktop will be in two separate kitchen areas, leaving ample space for more than one person to work comfortably in the kitchen.
You can splurge and get a high-end oven and cheaper cooktop if most of your kitchen work involves baking, roasting, and broiling instead of stovetop cooking.
Cons
Many people buy a double oven as a reflex without thinking about alternatives. It's a mistake, especially if you never use that second oven or use it sparingly.
You lose the opportunity to enhance your cooking with a steam or speed oven. Both steam and speed ovens can add another dimension to the way you cook.
The cooktop or stove is a separate purchase, which will cost more money than just a single range.
You will need enough space in your kitchen to support this and potentially sacrifice extra counter space.
Wall Ovens and Specialty Wall Ovens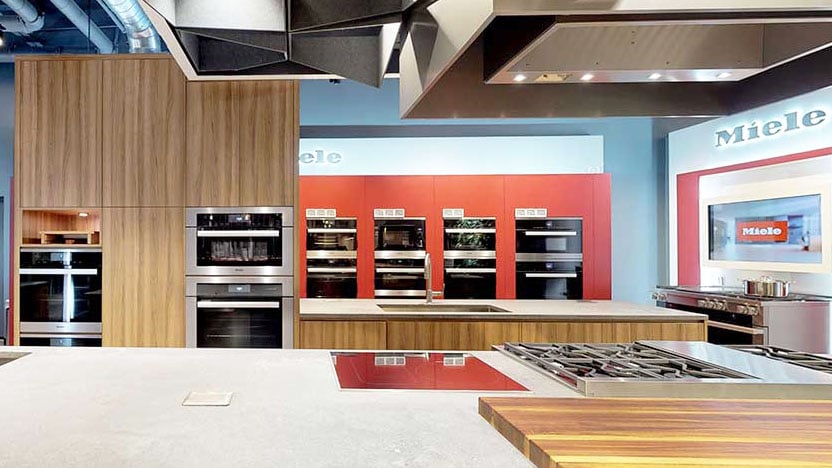 Specialty Wall Ovens at Yale Appliance in Framingham
You now can cook differently with a smaller, specialty oven. Let's look at your best options.
Speed Ovens
Speed Ovens are ideal for families with young children who need to get meals out quickly.
It operates as either a straight microwave, a convection oven, or a combination of microwave and convection.
You can combine the two heat sources, convection, and microwave, for better results than a straight microwave oven.
For example, a convection microwave baking cycle will be 70% convection bake and 30% microwave to save roughly half the time without the rubbery microwave texture.
Convection Steam Oven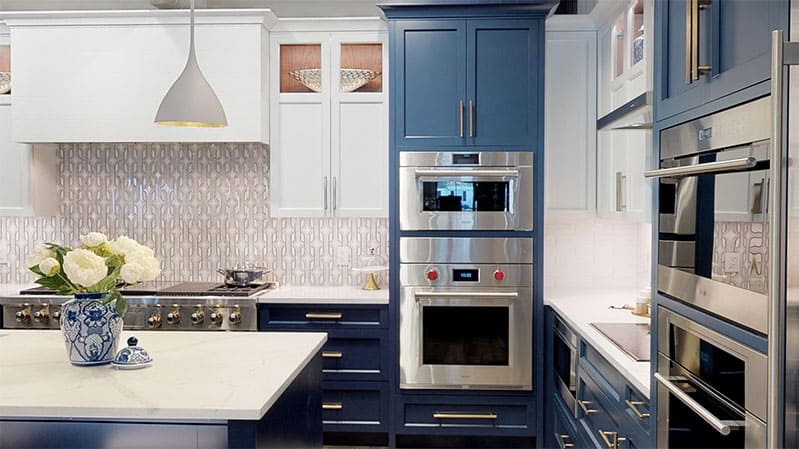 Wolf Convection Steam Oven Over a Wall Oven
Convection steam ovens can be used as a steam oven, convection, or a combination of microwave and convection oven.
Convection steam ovens or combi-steam ovens are an extremely versatile appliance.
You can use various modes and apply several techniques to your everyday at-home cooking.
You can steam vegetables, lobster, and grains. You can also make your yogurt and even sous vide.
There are a lot of options with this oven.
Steam Oven
A classic steam oven is not as popular now because the CSO offers steam, plus so much more.
However, this was one of the earlier generations of specialty ovens and is still available under the Miele brand.
Convection Microwave
Convection microwaves can be used as a microwave or as a microwave with convection.
Convection microwaves are microwaves with an added convection element.
You have the ability to use convection with the microwaves to enhance your microwave cooking, but this cannot be used exclusively as a convection oven, unlike speed ovens.
Pros
You customize your cooking experience with various appliances. Double-wall ovens only offer additional space but not additional modes. With specialty ovens, there are more modes and cooking styles to choose from.
You can mix and match which models and brands you like. Some people might not like this option aesthetically, but you have more flexibility in the ovens/brands that you could potentially pair in your kitchen.
Specialty ovens will most likely be built into the wall or under the counter, which makes it convenient when you don't want to bend down for your food.
You will have enough oven space for the holidays and entertaining. Although you won't have a second 30" wall oven, you will still have ample space to prepare large holiday meals and multirack cook in your kitchen. It will require a little bit of strategy and timing, but space and options are there.
Cons
You would have to choose one of the specialty appliances unless your space and budget allowed for more.
It will cost more to invest in the additional specialty appliance.
There is a slight learning curve for understanding the specialty appliance.
There could be more potential maintenance should anything go wrong.
Are Wall Ovens Reliable?
Based on 37,061 service calls, 10.06% of wall ovens will require some maintenance within the first year of use shown in the figures below.
Wall Oven Reliability from December 2019 to November 2020
| | |
| --- | --- |
| | Service Ratio |
| Samsung | 3.08% |
| KitchenAid | 7.17% |
| Miele | 8.90% |
| Bosch | 9.30% |
| Thermador | 10.72% |
| Bosch Benchmark | 11.32% |
| Café Appliances | 13.56% |
| JennAir | 17.24% |
| Grand Total | 10.06% |
The figures above are based on a minimum of 50 wall ovens sold and over 2000 total pieces from December 2019 to November 2020.
Maintenance is inevitable with all appliances. However, this comes down to brand reliability and the type of appliance you are purchasing.
In some scenarios, built-in steam ovens will require more maintenance than a non-plumbed version.
The most common wall oven problems are:
Faulty temperature reads
The oven is not calibrated.
The oven completely shuts down.
Power issues, lighting, and the display isn't working
The convection or heating element is broken
The baking element is broken.
The broiler element is broken.
Problems with the wiring.
The oven door won't unlock.
These are not unusual problems, but they will require a technician or repair expert to resolve them.
As for speed ovens and steam ovens, their most common limitation is the capacity, which only matters if you plan to use both ovens for cooking your larger items, like the 25 lb. turkey.
Should You Buy a Double Wall Oven or Specialty Oven and Wall Oven?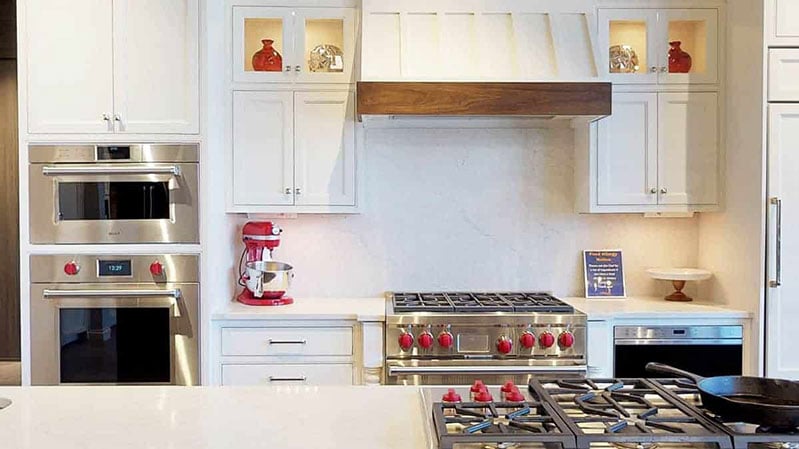 Wolf Steam Oven Over a Wall Oven at Yale Appliance in Framingham
Everyone's cooking needs are different, which means everyone's appliance demands are different.
The decision to shift from a double wall oven to a single wall comes down to this:
If you use both ovens at the maximum capacity frequently for large roasts or multirack purposes, then the double wall oven is the right purchase for you.
If you hardly use either of the ovens a speed oven, a convection microwave, or a large capacity combi-steam oven could be the ideal investment.
Best Speed Ovens to Consider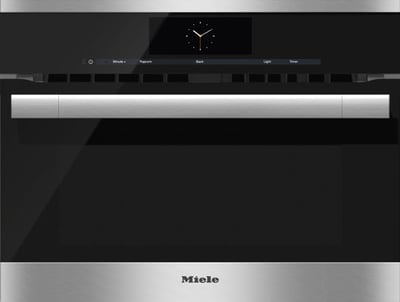 This is the most advanced in terms of technology and interface. Miele also has MasterChef guided cooking programs. This is considered the most sophisticated speed oven on the market.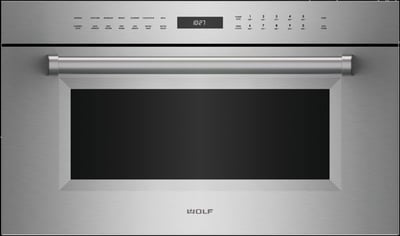 Available in a 24" or 30 "profile like many specialty ovens, you can install this appliance anywhere you want in your kitchen. There are several one-touch cooking modes plus unique one-touch modes exclusive to Wolf, such as Micro Roast and Microbake.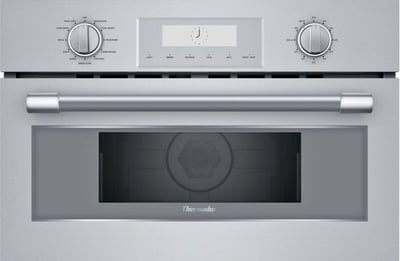 They offer two very different looks, professional and commercial, but the technology is the same in both. Additionally, there are 36 cook smart automatic cooking programs plus ten levels of microwaveable power.
Best Steam Ovens to Consider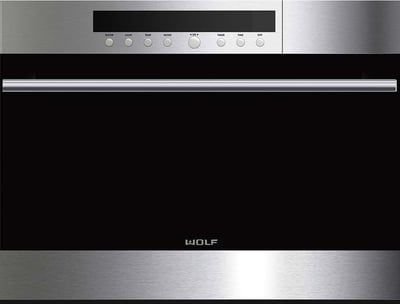 Wolf offers the most style, design, and size options for steam ovens. The interface is simple and easy to use. They only come in a non-plumbed version, which could make installation much easier.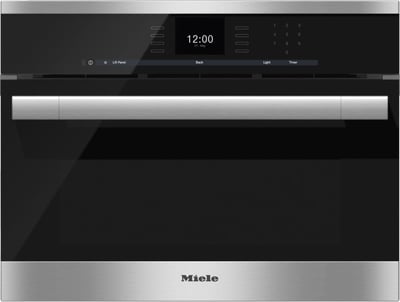 Miele offers the most sophisticated technology when it comes to Combi-Steam Ovens.
The interface is sleek and modern, similar to a smartphone, and includes MasterChef guided cooking programs along with Menu cooking. They also offer the XXL version, which is almost as big as the Thermador.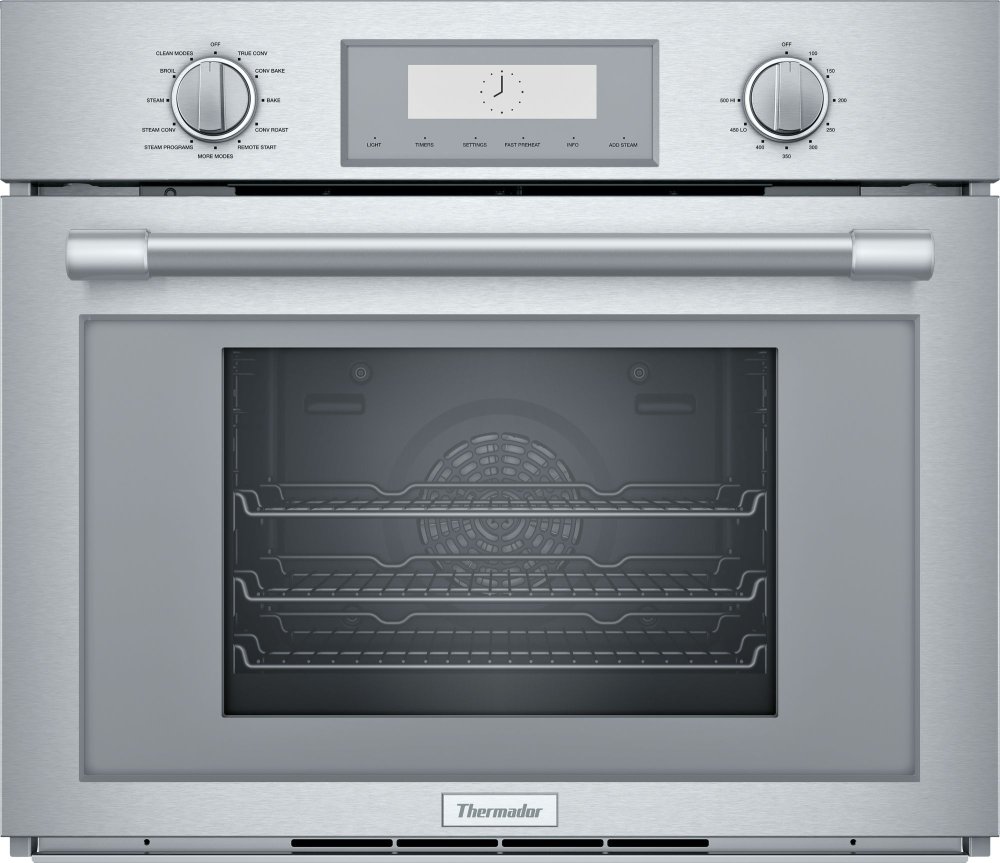 This is the Largest capacity steam oven on the market and is available as a single unit or can come as part of a double wall oven, with a regular oven on the bottom.
This unit also has a broiler which is only available in Miele and Gaggenau Steam ovens as well. This unit is only available as a non-plumbed option.
Additional Resources
Confused about Wall Ovens? Get the Yale Wall Oven's Buying Guide with updated features, specs, and detailed profiles of the best brands like Miele, Wolf, Viking, Bosch, Thermador, and more. Over 900,000 people have read a Yale Guide.
Related Articles
Why Should You Trust Us?
It seems that every appliance review has nothing but glowing comments about almost every product, yet you read customer reviews and they are almost universally bad.
We are here to fill in the disconnect. We'll give you the best features, and the drawbacks as well, including reliability based on over 37,000 calls performed by our service team just last year. Our goal is to give you ALL the information so you know what's right for you.
Please consider subscribing or adding to the conversation in the comments below. We appreciate you stopping by.
Saba Wahid
Saba is the resident Chef at Yale. She will teach you how to use your new oven, cooktop, or range. She is skilled in every new feature, including steam, induction, convection of all types, air frying, and sous vide. Saba is also the reigning Chopped Grand Champion crowned by Martha Stewart herself. Saba is incredibly versatile with all different types of cuisine. After just one session with her, you will be a better chef.

Saba has also been featured in numerous publications such as Mashed, Eater Boston, the Boston Herald, and the Framingham SOURCE.
A Note About Pricing
Pricing on this blog is for reference only and may include time sensitive rebates. We make every attempt to provide accurate pricing at time of publishing. Please call the stores for most accurate price.