BlueStar vs. Monogram French Door Wall Ovens: Which Is Better?
French door wall ovens are extremely popular in restaurants. There are thousands of options to choose from.
In a busy restaurant with tight spaces, you can't have an oven door drop down in the middle of a kitchen.
French door ovens make sense when considering your kitchen design with an island in the middle. You lose the operating room in your kitchen with a conventional oven. Yet few manufacturers produce a French door oven.
The two bests are Monogram and BlueStar French Door wall ovens. In this article, we will compare both features.
You want to assess how you cook to determine which oven may be right for you because neither is designed for every type of cooking style.
Short on time? Get our free Wall Oven Buying Guide
BlueStar French Door Wall Oven Review
BlueStar was founded in 1880 and has been in restaurants under the Garland name for years.
They have been relatively recent in residential homes since 2003. BlueStar is focused primarily on cooking and especially professional (pro) ranges with five different types.
They also manufacture decent built-in refrigeration. BlueStar is still a family-owned company manufacturing in Pennsylvania.
Let's look at BlueStar's best wall oven.
BlueStar BSEWO30SDV3 - $7,095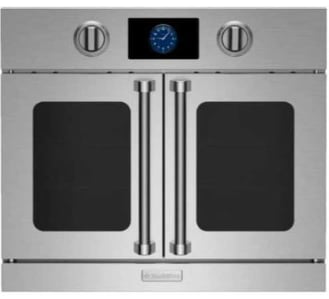 This BlueStar product has a clean stainless-steel finish and a touch-control 7-inch liquid crystal display (LCD) with 12 different cooking modes.
It has three shelves, five possible rack positions, and a baking stone base wide enough for an 18" x 26" pizza cooking surface. One of the oven racks is on roller glides, which comes in handy for large items like a turkey.
BlueStar Wall Oven Features
Baking Stone
The baking stone heating element over the bottom can be used for pizza especially, which can be cooked right on top of the baking stone for restaurant-style results.
Color Options and Customization

One distinguishing feature of all BlueStar appliances is the 1000 different finishes and colors to choose from. You can customize your oven in any color and this oven has ten trim options for hardware.
Summary of Features:
Oversized, intuitive, Full-color touchscreen
4.6 Cubic ft oven capacity
A built-in temperature-controlled bake stone
9 Cooking modes
Temperature probe
It fits commercial size sheet pan
Full extension glide rack
Convection
It comes in gas or electric
Choose from 1,000 + colors and ten metal finishes or custom colors
Halogen Lighting
BlueStar Wall Oven Pros:
Tons of options
Available in gas and electric
Baking stone
Color options
BlueStar Wall Oven Cons:
They had problems with their LCD screen. It has recently been replaced.
The oven is "boxy" and protrudes noticeably out of the cabinet.
Lacks Wi-Fi and smart cycles
Monogram French Door Wall Oven Review
GE Monogram is the luxury line of GE Appliances. They are now owned by Chinese conglomerate Haier. Haier has restyled much of the old GE appliance division, adding style and features.
Let's look at their best French Door wall oven.
Monogram ZET1FHSS - $5,800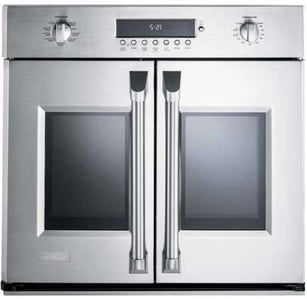 The Monogram is a single oven with a simple stainless finish, but this oven is available in GE's less expensive Café line.
You can also buy Monogram in a double wall oven with a drop-down door (which defeats the purpose of a French door wall oven).
What's the Difference Between Monogram and Café Appliances?
Their Café line is available in white, black, and stainless with four handle options in brushed stainless, brushed copper, brushed black, and brushed bronze (shown below).
Monogram has one more rack and better smart features. Monogram costs more but has a significant rebate program if you buy more than one appliance.
Pro Tip: For a single purchase, buy the Café. You will save $1,500. If you're buying more than one Monogram appliance, buy all Monogram.
Monogram Features
Display
It uses backlit knobs and electronic buttons for control, with a backlit LCD.
Twin Convection
Monogram features a twin or two fan convection system instead of the standard single fan convection system.
Rack Rollers
It is fitted with three racks and six total configurations for the racks. Two of the racks are on roller glides for heavy items. All have a coating for self-cleaning so that the oven racks can be left in during the self-cleaning cycles.
Steam Self Cleaning
This French door wall oven also features steam cleaning. You can use steam self-cleaning for a shorter cleaning cycle at a lower temperature.
However, you have to remember to run the steam cleaning cycle right after you cook.
Scan to Cook
Monogram has a barcode reader to cook many packaged foods perfectly.
Wi-Fi
One modern and very cool essential feature of the Monogram French door wall oven is its Wi-Fi connectivity.
I have deemed smart features as trivial in the last few years, but smart functionality for appliances is starting to evolve.
Monogram's app platform, SmartHQ, is one of the best, allowing you to stop and start the oven remotely.
However, you also have integrations with Amazon Alexa and Google Home to activate voice control and cooking apps.
Summary of Features:
7" LCD
Wi-Fi-powered SmartHQ
Voice control
Precision cooking modes
No, preheat the Air fry
Scan to cook
Twin convection with direct air
5.0 Cubic ft capacity
Self-clean
Two full extension racks, one standard
Monogram Wall Oven Pros:
Twin convection
Racks that can be left in self-cleaning
Best smart functionality
Monogram Wall Oven Cons:
Limited to one wall oven
Not available in gas
No color options
BlueStar vs. Monogram French Wall Ovens: Which Is Better?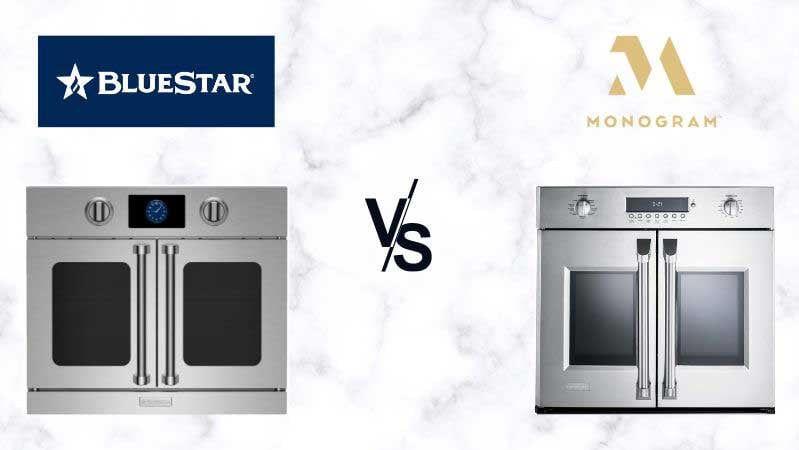 How They Roast and Broil
If you like to broil or roast, both are pretty similar. However, BlueStar is the best option due to its gas wall oven and infrared broiler.
Gas is always better for roasting and broiling. BlueStar's infrared broiler is excellent for broiling and perhaps the best for wall ovens.
How They Bake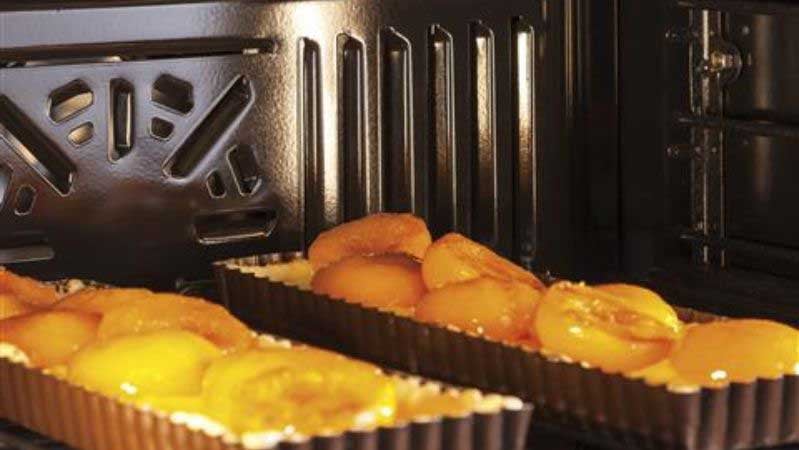 Monogram French Door Wall Oven with Twin Convection
Monogram has more wattage and a twin convection system, so it should be better than BlueStar's 2500-watt single convection system.
Twin convection is more advantageous in a larger 36-inch pro range than a 30-inch wall oven. However, BlueStar has a built-in baking stone at the bottom and low-temperature Proof mode to cook pizza or bread.
Reliability and Service
Both will probably need to be repaired.
We just started carrying Monogram after 15 years of not selling GE appliances and need insight into their reliability. Overall, the GE line has been excellent.
We need to sell more BlueStar French door ovens to determine whether they are reliable.
In this case, it depends on where you buy BlueStar. Monogram offers its own service department, while BlueStar does not.
Good service is crucial, especially for wall ovens. Often, you have to pull it from the cabinet. As always, it's worth checking service before you buy any appliance.
Cost
BlueStar is $7,095 vs. $5,800 for the Monogram. If buying other qualifying Monogram appliances, you also have $3,000 in additional rebates.
Appearance
I don't normally write about looks because it's completely subjective. Style and what you may like is your call.
Most of the time, in these comparisons, the products look similar aside. In BlueStar vs. Monogram French door wall ovens, both are profoundly different.
It would help if you looked at both of them installed at your local dealer's showroom before you decided on one.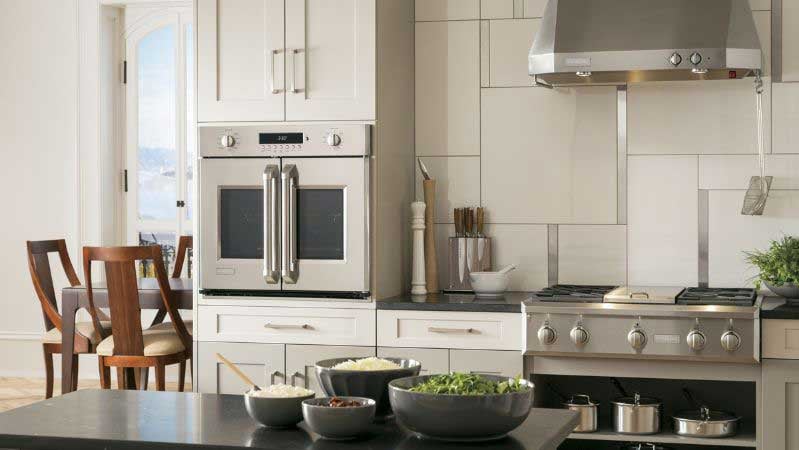 Monogram French Door Wall Oven Installed
The Monogram is more European looking and does not protrude far outside the cabinet. BlueStar is more commercial looking and will stick out further and be more noticeable.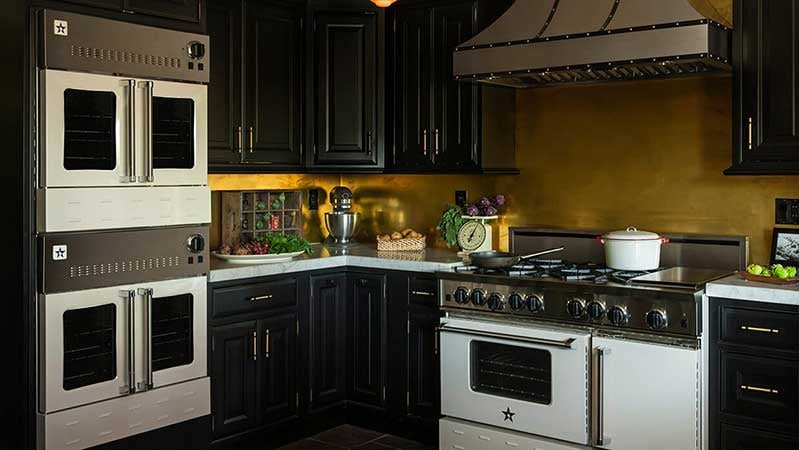 BlueStar Kitchen with French Door Wall Ovens Installed
As for color options, BlueStar wins by default because they have 1000 colors, ten trims, and the ability to customize your appliance.
Monogram's appliances are all stainless. It's GE's Café line that has three finishes. Then again, most brands like Wolf, Miele, Thermador, and JennAir offer stainless finishes only.
Capacity
Both are about the same size. Monogram is 5.0 cu. Ft., whereas the BlueStar is 4.6 cu. Ft. Yet BlueStar claims to have the largest usable capacity at 3.5 cubic feet.
Controls and Smart App Integration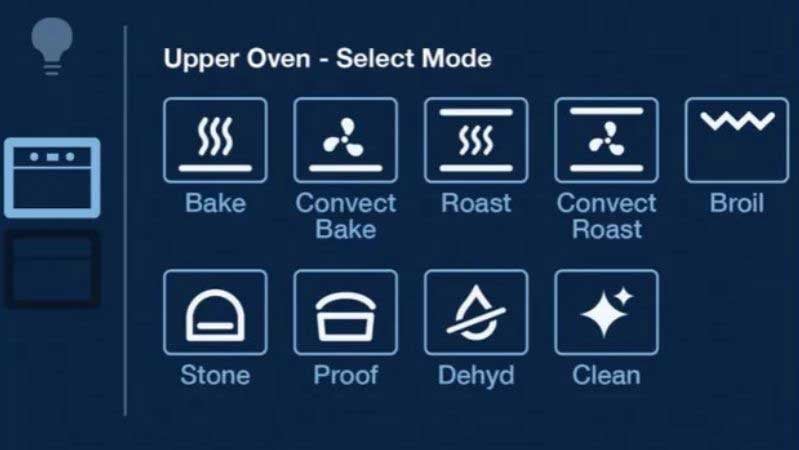 BlueStar French Door Wall Oven Controls
Both have 7-inch LCD screens, yet Monogram is a bit more user friendly.
Monogram has the most advanced platform, while BlueStar has no smart functionality.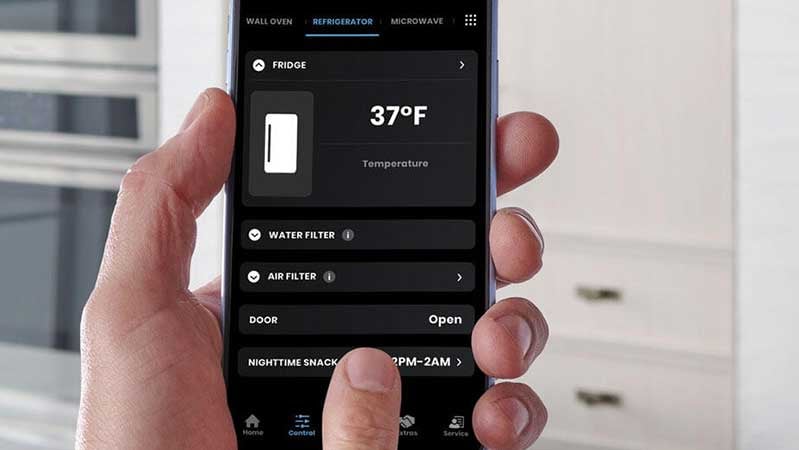 Monogram SmartHQ Integration
Wi-Fi connectivity is not essential at this point, but it will evolve to be a must-have feature.
How They Compare Overall
Monogram has a better baking element, and the Wi-Fi connectivity is very convenient because you can cook from your office or soccer field.
Twin convection is an advantage, but BlueStar has the pizza stone and ability to proof. BlueStar has the better broiler and the ability to customize any color and trim.
They both look different, and that may be a reason to buy or not buy either.
BlueStar vs. Monogram French Door Wall Ovens: Key Takeaways
BlueStar has the default for gas and color.
In terms of buying an electric single wall oven, both have advantages. Baking would be slightly better in a Monogram, whereas broiling is better in a BlueStar.
However, this comparison may be decided by how you like the looks of each wall oven and which brand can offer better service.
Have any questions? I will be happy to answer them in the comments below.
Additional Resources
Confused about Wall Ovens? Get the Yale Wall Oven's Buying Guide with updated features, specs, and detailed profiles of the best brands like Miele, Wolf, Viking, Bosch, Thermador, and more. Over 1 million people have read a Yale Guide.
Related Articles
Why Should You Trust Us?
It seems that every appliance review has nothing but glowing comments about almost every product, yet you read customer reviews and they are almost universally bad.
We are here to fill in the disconnect. We'll give you the best features, and the drawbacks as well, including reliability based on over 37,000 calls performed by our service team just last year. Our goal is to give you ALL the information so you know what's right for you.
Please consider subscribing or adding to the conversation in the comments below. We appreciate you stopping by.
Chris Tavares
Chris Tavares is an Appliance Sales Associate at Yale Appliance and has been with Yale for over 17 years. When not helping clients, Chris is a huge Patriots fan and enjoys cooking.

Schedule a showroom visit with me
A Note About Pricing
Pricing on this blog is for reference only and may include time sensitive rebates. We make every attempt to provide accurate pricing at time of publishing. Please call the stores for most accurate price.