Samsung vs. LG Counter-Depth Refrigerators (2023)
November 23rd, 2022 | 6 min. read
LG and Samsung manufacture the most interesting and compelling refrigerators.
Both are at the forefront of technology and have unique features you will like and appreciate.
However, both have had serious, equally compelling issues. In this article, you will learn about these serious problems, then the best features and models for each brand.
Ultimately, you will know whether you should consider LG, Samsung, or another brand for your refrigerator.
Short Story of Why LG and Samsung Are Successful Brands
I don't get out much and rarely visit factories. Seriously, what value can I add? (Except for sharing service data).
Anyway, I traveled to Chicago (I love that place) about eight years ago and met some unnamed marketing people.
This unnamed refrigerator brand manager from an unmentioned appliance company told me, "I don't think technology is a feature for refrigeration."
My reply: "Do you know who you are competing against?"
Eight years later, your only option is to buy a refrigerator with advanced technology, such as high-tech cooling features or nanotech.
LG and Samsung refrigerators do look similar, as many articles and other blogs have suggested. However, the two have crucial differences, each with their unique problems.
Samsung vs. LG Counter-Depth Refrigerators (2023)
Overview of Samsung Refrigerators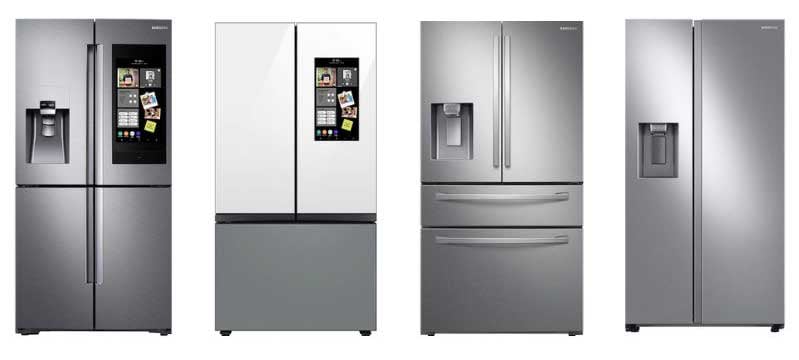 You may be familiar with or own Samsung products like a Samsung TV or smartphone. Samsung is a huge conglomerate based in South Korea.
Their appliances are primarily imported from Korea, although they manufacture in South Carolina.
Most of what they market are side-by-side refrigerators with ten models and French door refrigerators in 35 varieties, such as the traditional three-door style, a French door with two drawers, or a four-door model.
When available, their top and bottom mounts are also popular, with six models each, along with kimchi models. Kimchi is a fermented superfood popular in Korea (I like sauerkraut better).
How Samsung Refrigerators Cool
Samsung is powered by an often slandered yet promising inverter compressor. Inverters use fewer parts, so they should be more reliable than the standard. You will learn later whether that is true.
Samsung refrigerators have twin evaporators, so the warmer, moist air of the refrigerator doesn't blend with the drier, colder air of the freezer.
Sub-Zero has made that claim since the 1960s with its two compressor refrigerators.
Samsung "4-Door Flex" refrigerators have twin compressors and a third evaporator, making each refrigerator zone convertible to refrigerator or freezer space.
They also have "Metal Cooling," stainless steel panels to keep your food colder, especially when placed next to the metal.
Unique Features of Samsung Refrigerators
FlexZone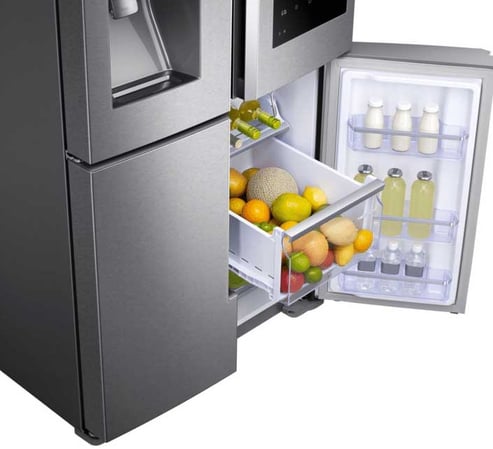 I like the idea of the FlexZones, depending on whether you convert that drawer or the fourth door.
Family Hub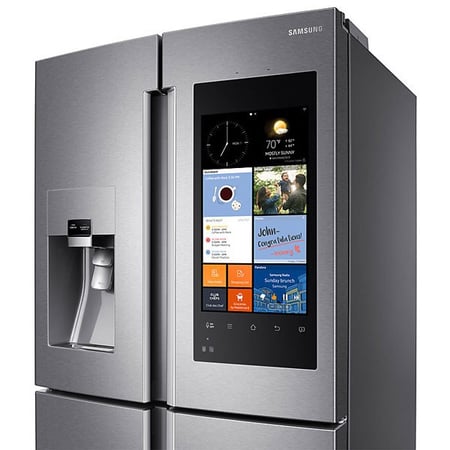 I have watched a few videos about liking or disliking the Family Hub. The Hub is a tablet on your refrigerator. We will look more closely at the Samsung Family Hub later in the article.
Bespoke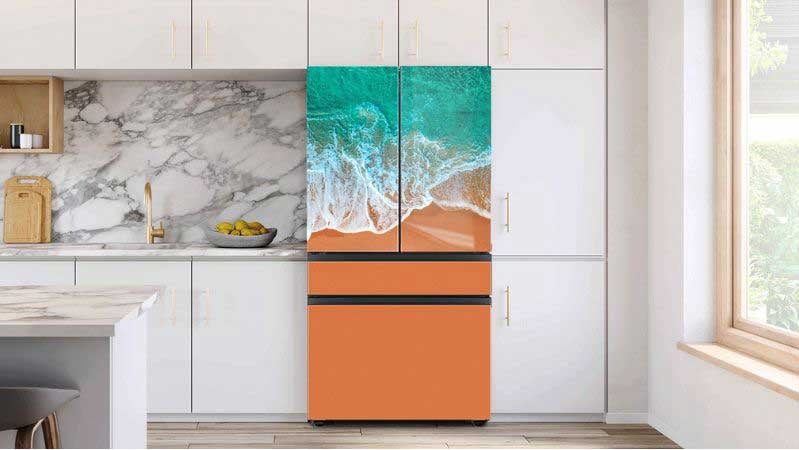 Bespoke is a new line of appliances with tons of color options. We all want options from the ubiquitous stainless steel. It's a good idea.
However, the classic kitchen design centralizes your stove, not the refrigerator. That's where the line somewhat fails, with many refrigerator options and few on the stove.
Read More: Best Samsung Counter-Depth Refrigerators
Overview of LG Refrigerators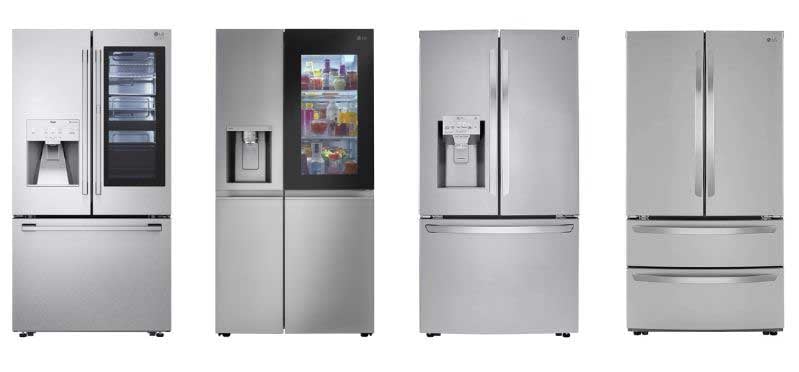 LG, Like Samsung, is based out of Korea. You also probably know LG, although to a lesser extent than Samsung.
LG imports appliances mostly from Korea, but LG will eventually produce most of its U.S. production in Tennessee.
LG is more appliance-focused than Samsung. They produce more of the appliance than any other major manufacturer instead of outsourcing numerous components.
Consequently, they have been less affected by supply issues than the others.
LG has a broader portfolio than Samsung in top freezer refrigerators, especially in smaller sizes, with 11 models from 7 to 24 cubic feet.
You have six bottom freezer models along with 20 side-by-sides, 41 French doors, and special Kimchi models.
Their Studio, Signature, and SKS (Signature Kitchen Suite) lines offer more premium wine and pro-style refrigerators.
How LG Refrigerators Cool
LG uses an inverter motor and twin evaporators, depending on the model. A single evaporator is used in many LG refrigerators.
LG has been at the forefront of inverter technology for a quieter, more reliable refrigerator. They don't have FlexZones like Samsung.
However, the better LG refrigerators have Smart Cooling Plus. When you open the door, a curtain of cold air drops from the top to the bottom, so you don't lose temperature. It's like when you walk into a store in the summer, and the cold air spills over you at the entrance.
Unique Features of LG Refrigerators
InstaView Window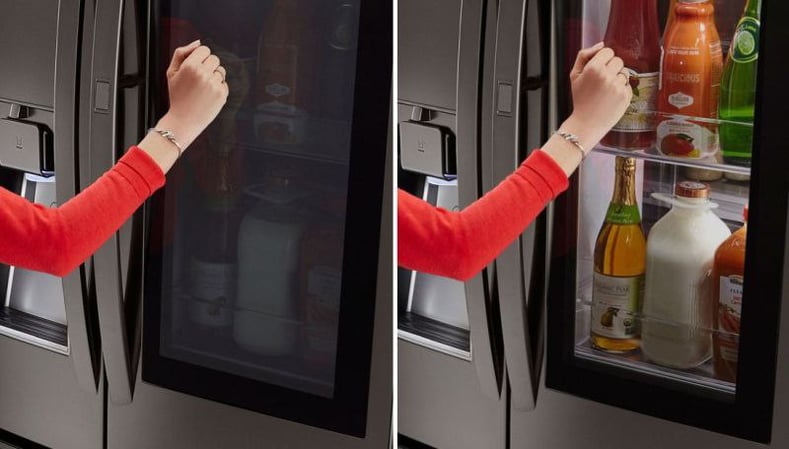 Knock three times to see the inside of your refrigerator. If you have a six-year-old like me, knock three more times to darken the window.
Three Ice Makers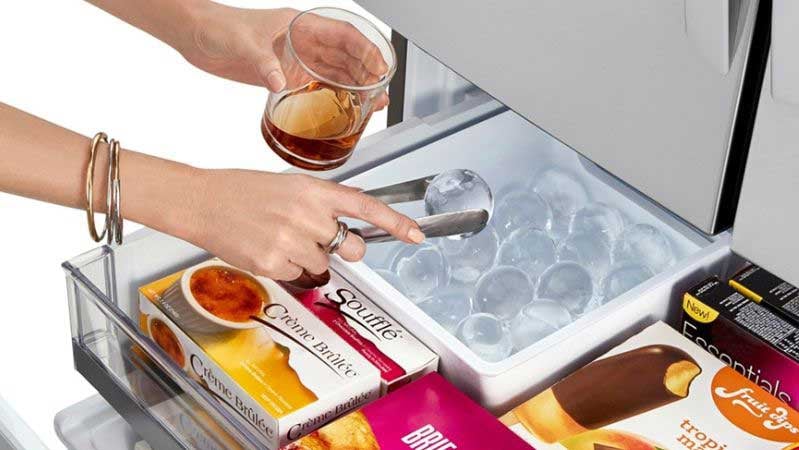 You have three icemakers in an LG refrigerator. One produces Craft Ice, slow-dissolving round cubes for fine cocktails.
Automatic Door Opening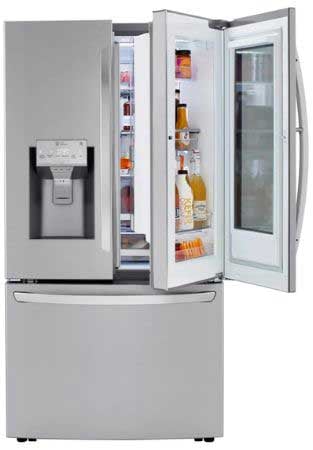 LG's best counter-depth refrigerators will automatically open if you stand in front of the refrigerator.
What Samsung and LG Refrigerators Have in Common
Inverter Compressors
Both are powered by similar technology.
Innovative Designs
Both have metal cooling to cool your juice and milk rapidly.
Smart Water Dispensers
LG has several presets from glasses to pitchers at 4,8,16, or 32 ounces, while Samsung has the smart pitcher design.
Door-in-Door Refrigerator Panel
Both have a second door, so you can more easily access your milk, juice, and sundries on the door without opening the main refrigerator.
Wi-Fi
Both have excellent Wi-Fi and smart capabilities. You can change the temperature remotely. Both have a door alarm as well.
Additionally, Samsung has the Family Hub and can look inside your refrigerator.
LG is trying to roll out Smart Service Diagnosis, where the refrigerator diagnoses itself and sends the parts to the service agent.
Learn More: Smart Appliance Buying Guide
Large Capacities
Both have refrigerators up to 31 cubic feet. Their side-by-side refrigerators are massive at 27 cubic feet.
Custom Panels
You have several options, styles, colors, and configurations. However, Samsung and LG are not designed to handle your custom panels.
Best Samsung and LG Refrigerators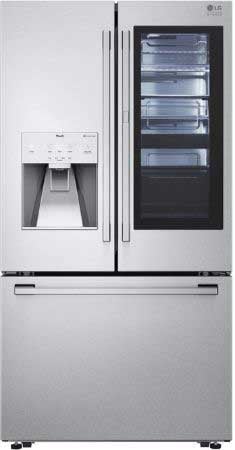 This unit has all of LG's key features, including the InstaView window.
By knocking two times, the refrigerator will illuminate the interior, giving you a full view of what's inside without letting any cold air out.
You have three types of ice cubes: Crescent-shaped, Cube-shaped, and Craft Ice for slower dissolving ice cubes.
The refrigerator has a Door-in-Door panel for easier access to the items on your door, along with a metal interior.
This refrigerator is huge for a counter-depth model at 24 cubic feet. Next year, LG will be producing a 26 cubic-foot counter-depth refrigerator making it the largest counter-depth refrigerator on the market.
Samsung RF23BB8900AW - $3,298
Samsung has its unique Family Hub. It's a smart tablet that also allows you to see inside your refrigerator by a camera. If you are at the store, for example, you can see what you have in the refrigerator.
You will never again have three jars of Grey Poupon mustard in your refrigerator (like me, right now).
The FlexZone feature allows you to convert any drawer to a refrigerator or freezer.
Bespoke allows you to customize your refrigerator in several ways as well. You also have many options for all three in all sorts of configurations.
Samsung RF18HFENBSR - $1,399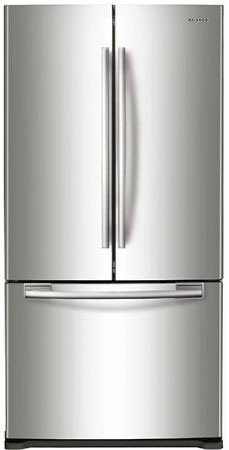 There is nothing extraordinary about this refrigerator unless you have a 33-inch opening. If you live in Boston or have a smaller kitchen, then Samsung is one of your best and only options.
Read More: Best 33-Inch Refrigerators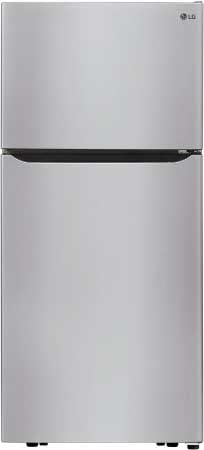 LG is one of the only brands with multiple refrigerator options if you have a small space.
Samsung and LG Refrigerator Reliability
Most Reliable Counter-Depth French Door Refrigerator Brands for 2022
The following service rates are based on a minimum of 90 refrigerators sold and a total sample of over 2500 products.
| | |
| --- | --- |
| | Service Rate |
| LG | 4.5% |
| Samsung | 8.4% |
| GE Profile | 10.2% |
| Café Appliances | 12.6% |
| Bosch | 14.9% |
| JennAir | 15.8% |
| GE Appliances | 16.5% |
| KitchenAid | 17.0% |
| Beko | 32.6% |
| Grand Total | 15.5% |
LG and Samsung were the top two most reliable counter-depth refrigerator brands sold at Yale last year based on over 40,000 service calls.
Despite their low service rates, this masks a central problem: Service Availability.
LG and Samsung Problems
Both have a problem after the sale. LG settled a class action lawsuit in 2019 about their now reliable compressors. Samsung has a few ongoing issues, including with their ice makers. LG has been better, at least lately, especially in service, but that depends on the area.
Fifteen years ago, you would not have bought an LG or Samsung refrigerator. Now they are among the top-selling brands for appliances. I don't think either was prepared for the logistics of handling service problems on such a large scale.
Read More: Most Reliable Counter Depth Refrigerators
The Best Time to Buy a Samsung or LG Refrigerator
Both companies are almost over their supply woes. With both ramping up production, you should wait until a promotional holiday to buy either if you can.
The savings pre-pandemic was 10-35%. You could expect their larger promotions to start again in 2023.
Samsung vs. LG Counter-Depth Refrigerators: Key Takeaways
For all the sameness reported all over the internet by experts and bloggers, these refrigerators and companies are different.
Samsung has more configurations, especially with the 4-door Flex refrigerators. Bespoke is interesting if you want some color in your kitchen (you should consider adding a pop of color to your range first).
LG has better ice makers, good reliability, service diagnostics, and will have larger refrigerators in 2023.
Again, all the product info is good, but prices swing widely for both brands. The price could be a mitigating factor if you are looking for a standard French door.
Lastly, check the service in your area. You want to be sure the appliance store can fix your Family Hub or Craft Ice refrigerator promptly.
What do you think?
Additional Resources
Want some more information about counter-depth refrigerators? Get the Yale Appliance Counter Depth Buying Guide with features, specs, and detailed profiles of the major brands. Well over 1 million people have read a Yale Guide.
Related Articles:
Why Should You Trust Us?
It seems that every appliance review has nothing but glowing comments about almost every product, yet you read customer reviews and they are almost universally bad.
We are here to fill in the disconnect. We'll give you the best features, and the drawbacks as well, including reliability based on over 37,000 calls performed by our service team just last year. Our goal is to give you ALL the information so you know what's right for you.
Please consider subscribing or adding to the conversation in the comments below. We appreciate you stopping by.
Steve Sheinkopf is the third-generation CEO of Yale Appliance and a lifelong Bostonian. He has over 38 years of experience in the appliance industry, and he is a trusted source of information for consumers on how to buy and repair appliances.

Steve has also been featured in numerous publications, including the New York Times, Consumer Reports, The Boston Globe, Bloomberg Radio, the New York Post, The Wall Street Journal, and Entrepreneur, for his knowledge of how to buy appliances and appliance repair.

Steve is passionate about helping consumers find the best appliances for their needs, and he is always happy to answer questions and provide advice. He is a valuable resource for consumers who are looking for information on appliance buying, repair, and maintenance.

Despite being the worst goalie in history, Steve is a fan of the Bruins and college hockey, loves to read, and is a Peloton biker. The love of his life is his daughter, Sophie.
A Note About Pricing
Pricing on this blog is for reference only and may include time sensitive rebates. We make every attempt to provide accurate pricing at time of publishing. Please call the stores for most accurate price.