New Bosch Counter Depth Refrigerators (Reviews / Ratings / Prices)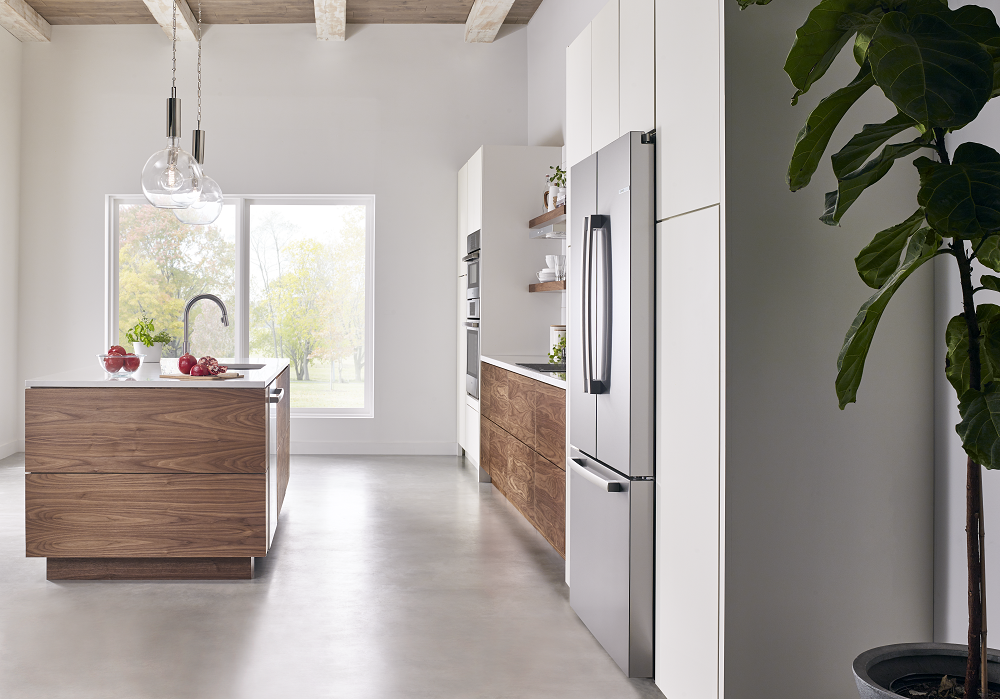 Bosch has a new line of refrigeration this year. The B36 series are their best refrigerators. In this article, you will learn about the features of the new Bosch refrigerator, why you should consider it, and any potential issues to look out for.
Freestanding refrigeration is new to Bosch. They have always outsourced refrigeration to other companies and labeled it with their brand, unlike their dishwashers and ranges.
Bosch manufactures the new Bosch's, but like the old ones, they are still produced in China.
Being new has its advantages and pitfalls. The advantages of being new products have the latest features like Wi-Fi connectivity and advanced styling.
New Bosch Counter Depth Refrigerator Review [VIDEO]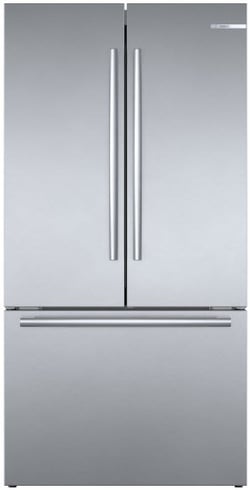 General Specifications:
Capacity: 21 cubic feet
Width: 35 5/8 inches
Required Cut Out Size: 72 x 36 x 25 inches
Silence Level: 40 dBA
Features:
LED Lightning - Brightens up the interior of your refrigerator so you're able to quickly spot what you want. Every company has LED.
Ice Maker - An ice maker in the freezer keeps plenty of ice on hand. Ice makers have been around for awhile.
VitaFreshPro™ - Automatically balance BOTH temperature and humidity.
Dual Compressors and Evaporators - Precise cooling and humidity control, while reducing odor transfer. A great feature.
MultiAirFlow™ - Allows gentle, even cold air currents to arise at all stages of the chilling and freezing region. Temperature fluctuations are minimized and cooling times decreased which helps your products maintain their aroma for longer.
Capacity- 21 cu. Ft. Total Capacity with flexible storage features like FlexBar™. Good for wine storage.
Adjustable Shelves - Every company has adjustable shelves. The interior shelves are designed with high-quality glass and stainless steel. Every fridge since 1995 has adjustable glass shelves.
Home Connect™ - Remotely control and monitor your appliance to efficiently manage your day
Stainless Less Exterior - Similar to LG and Samsung
FreshProtect™ - Filters ethylene gas to keep food fresh longer.
Wi-Fi Connectivity - Allows you to wirelessly control the settings from your smartphone and integrate Amazon's Alexa.
Touch Control Panel
UltraClarityPro™ Water Filter
AirFresh® Filter
Bosch Refrigerator Exterior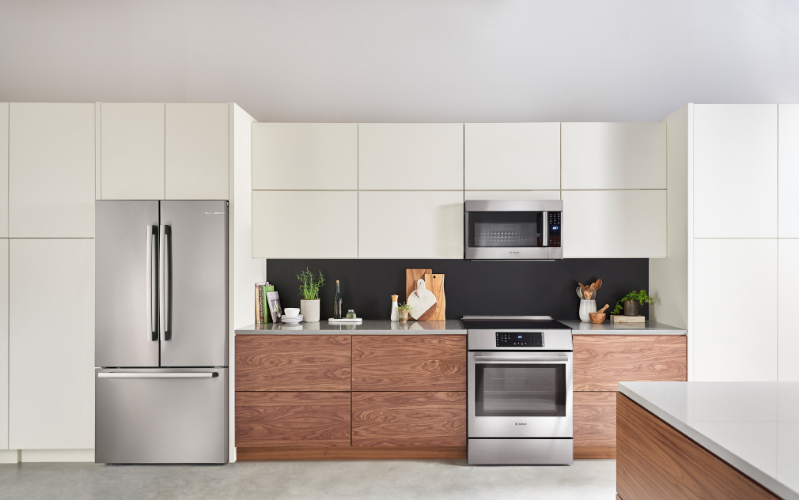 Bosch Refrigerator Exterior
It's a nice looking refrigerator. In my opinion, the Europeans have always designed products well.
The handleless design also allows you to buy any competitive products without worrying about matching handles.
They do have models with Bosch and Thermador handles as well.
French door refrigerators with separate drawers have become popular over the last five years. It's a great place to store your children's snacks.
They can reach in without wreaking havoc in the main refrigerator compartment (I have a kid now, I get it).
Bosch Refrigerator Interior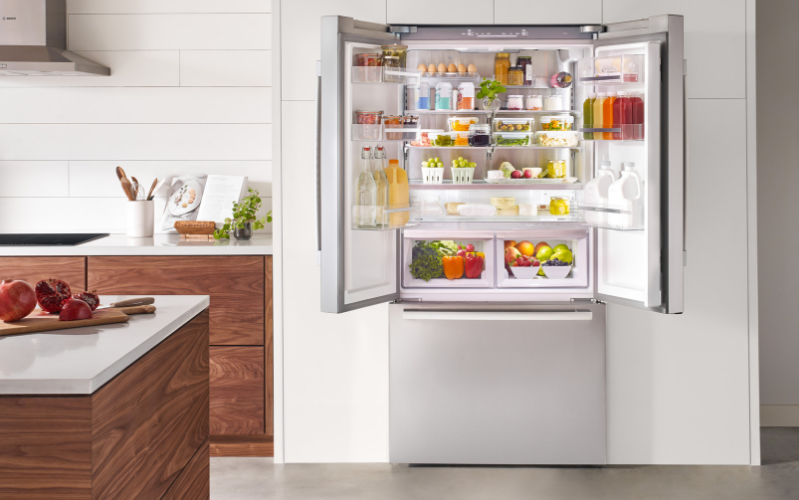 Bosch Refrigerator Interior
It's similar to most refrigerators with a few exceptions. The stainless back wall is a benefit because stainless absorbs cold faster than plastic.
If you want an item more frozen more quickly, then place it against the back. Samsung has advertised "metal cooling" for years with its stainless interiors.
The shelf in the back is convenient for wine and other items, and you can remove when necessary.
Interior water and icemaker…..Torn between internal and external. Dispensers are easy but require more repair than interior water and ice.
Sending a frozen cube through a warmer refrigerator is an issue.
Short on time? Get our free Counter Depth Refrigerator Buying Guide
Bosch's Top Refrigerator Features
First, it has dual compressors AND evaporators and is the only freestanding refrigerator with this feature.
Dual compressors are initially a feature Sub-Zero made famous by separating the air of the refrigerator and freezer compartments, so the moist air of the refrigerator won't be trapped in the freezer - think stinky cheese odor in your ice cream. Eww.
Many brands like Samsung and LG have two evaporators, but two compressors are more precise for temperature and notably better for humidity control.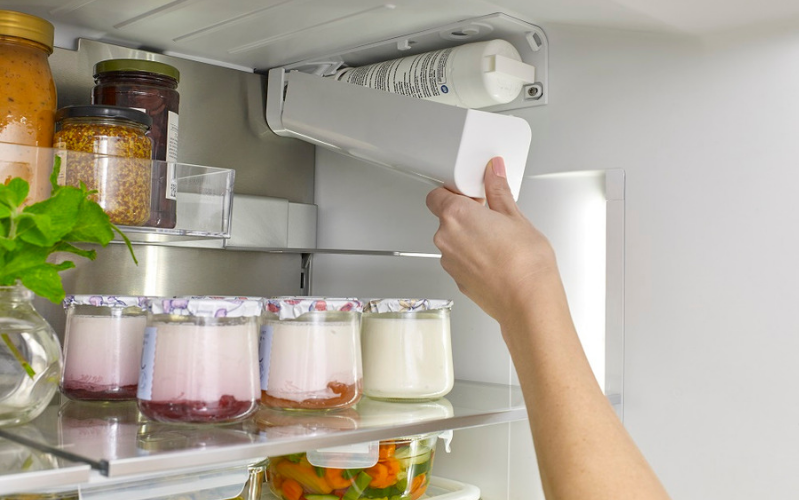 Bosch Refrigerator UltraClarity Pro Water Filter
Bosch also has copied another feature from Sub-Zero with its ethylene filter. Like Sub-Zero, Bosch filters the ethylene gases off spoiling foods to keep food fresher longer. This also prevents cross-contamination with other foods.
The pitfalls of being new do not know how it will perform in your home.
Then again, refrigeration is the most repaired appliance at 26.85% as a category in the first year according to our 34,687 service calls logged last year.
Take a look:
Most Reliable French Door Counter Depth Refrigerators
| | | | |
| --- | --- | --- | --- |
| | Service Qty | Shipped Qty | Service Ratio |
| Signature Kitchen Suite | 2 | 33 | 6.06 % |
| LG Electronics | 6 | 71 | 8.45 % |
| Samsung | 133 | 1051 | 12.65 % |
| Fisher & Paykel | 41 | 261 | 15.71 % |
| Whirlpool | 7 | 44 | 15.91 % |
| Maytag | 1 | 5 | 20.00 % |
| BlueStar | 3 | 14 | 21.43 % |
| Bosch Appliances | 105 | 408 | 25.74 % |
| Jenn-Air | 270 | 780 | 34.62 % |
| Liebherr | 6 | 15 | 40.00 % |
| Amana | 3 | 7 | 42.86 % |
| Kitchenaid | 152 | 334 | 45.51 % |
| Blomberg | 25 | 30 | 83.33 % |
| Frigidaire Professional | 23 | 6 | 383.33 % |
| Electrolux | 4 | 1 | 400.00 % |
| Frigidaire Gallery | 11 | 1 | 1,100.00 % |
| Grand Total | 807 | 3062 | 26.36 % |
If you're choosing a new refrigerator, you should consider reliability as a determining factor.
Check out our free counter depth refrigerator buying guide featuring all the best models, their differences, reliability, and the best tips for prolonging the life of your refrigerator.
Bosch Vs. Samsung Counter Depth Refrigerators
| | |
| --- | --- |
| Bosch Counter Depth Refrigerator | Samsung Counter Depth Refrigerator |
| | |
It's $500-1000 more than a comparable Samsung depending on when you buy it.
Pro Tip: Buy around promotional holidays if you can for the best price.
Bosch does have twin compressors versus one compressor and two evaporators for Samsung. Both will do an excellent job on airflow, but Bosch will be technically better especially on humidity.
The Samsung drawer can be a refrigerator or freezer, whereas the Bosch can only be a refrigerator.
Samsung also has an external ice and water dispenser compared to just an icemaker in the Bosch. Ice dispensers are a convenient feature, but they are also the number 1 repair call of our company.
The price difference becomes less during promotional periods in a Bosch package – up to 15% off, but still, you are looking at a $100-500 difference between the two brands even after that.
Should You Buy A New Bosch Refrigerator?
First, it's a good-looking refrigerator and becomes more affordable when including it in a Bosch kitchen package.
It is the most advanced refrigerator of its type for keeping and maintaining temperature and freshness.
However, it's expensive at over $3,000, which may be worth it only if Bosch proves more reliable than the competitive brands. We'll have to see.
And of course, make sure you know who will be there to repair your refrigerator before you buy it.
Why I Typically Don't Recommend New Products
In 1989, GE decided to manufacture its compressor and place it in their best Profile units. Although the engineers never told the CEO about the many design flaws, they launched the product anyway.
The recall was swift and cost GE 2 billion dollars.
I worked in customer service back then. It was crazy.
GE isn't the only appliance company to launch faulty products. Maytag had their Neptune washer, and the fallout cost Maytag their company.
Bosch doesn't concern me as much as most, because they have to develop this product forever. They are also redesigning a fridge, not revolutionizing it as GE did almost 30 years ago.
Plus they are a great company and probably the best for customer support.
We also now have 35 techs on the road, so we will know about problems before they become serious issues.
Additional Resources
Download the Yale Counter Depth Refrigerator Buying Guide with features, specs, and inside buying tips for regular, pro, and integrated counter depth refrigerators. Well over 580,000 people have read a Yale Guide.
Related Articles
Why Should You Trust Us?
It seems that every appliance review has nothing but glowing comments about almost every product, yet you read customer reviews and they are almost universally bad.
We are here to fill in the disconnect. We'll give you the best features, and the drawbacks as well, including reliability based on over 37,000 calls performed by our service team just last year. Our goal is to give you ALL the information so you know what's right for you.
Please consider subscribing or adding to the conversation in the comments below. We appreciate you stopping by.
A Note About Pricing
Pricing on this blog is for reference only and may include time sensitive rebates. We make every attempt to provide accurate pricing at time of publishing. Please call the stores for most accurate price.