Best 33-Inch Counter Depth Refrigerators (Reviews / Ratings)
When we first wrote this article four years ago, there was a shortage of 33-inch counter depth refrigerators.
You could not buy a professional (pro) type with a compressor on the top like Sub-Zero or Viking.
You also could not buy an integrated refrigerator, a popular trend where the refrigerator fits within the cabinet. Neither products are offered in 33-inch models.
The choices are better in almost every dimension, with the 36-inch size is the most popular.
30 inch has improved considerably as well. You can buy pro refrigerators as well as some cool niche brands like Beko, Liebherr, and Miele.
In 33 inches, there are three choices: Samsung, GE, and Fisher & Paykel.
It's not all bad. Samsung is an excellent refrigerator, and one of the least expensive to buy
In this article, you will learn about the three best 33-inch counter depth refrigerators, their features, and reliability based on real service data.
Short on time? Get our free Counter Depth Refrigerator Buying Guide
Best 33-inch Counter-Depth Refrigerators
Here are the best five 33-inch counter depth refrigerators.
(White $1,149)
Features:
Counter Depth - Sleek Design Adds Style and Allows for More Workable Space
18 cu. ft. Capacity - Spacious Fridge Provides Food Storage Flexibility
Twin Cooling System ® - Keeps Perishable Fruits and Vegetables Fresher
Automatic Ice Maker in Freezer
Review:
Samsung is the largest and most popular at 18 cubic feet.
This refrigerator is one of the most popular searches on our website for any product.
It is a French door refrigerator with a pull out bottom freezer like most brands.
Unlike most brands, this unit has twin cooling, so the warmer refrigerator air doesn't mix with the colder, drier freezer air for better-tasting frozen food.
Think fresh fish odors from your refrigerator in your ice cream. A two evaporator refrigerator prevents that from happening.
Samsung is number 2 for reliability at 12.65% in the first year based on 35,256service calls we completed last year. However, their service lags in their sales.
It's important to know how the product is fixed before you buy it. Not to just pick on Samsung, the same could be said for many other brands.
Samsung has a bigger logistical problem because it is the number 1 sold brand in the US.
Still, at $1249, this refrigerator dominates the category. You also have good cooking and dishwasher options to complete your kitchen with style at an affordable (under $3,000) price.
Samsung 33-Inch Counter-Depth Refrigerator Review [VIDEO]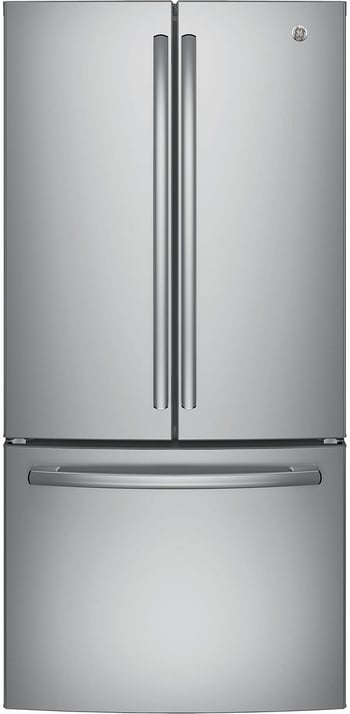 Features:
Counter-depth design
LED lighting
Multi-level freezer baskets
Quick Space shelf
Fits 33" openings
Internal water dispenser
Factory-installed icemaker with water filtration system
Two humidity-controlled drawers and full-width adjustable-temperature drawer
Turbo Cool setting
Review:
Haier has revived GE after years of dormancy.
Like Samsung, they have twin cooling. They also have some pretty cool settings like TurboCool for added cool to just added groceries.
GE is also Smart so that you can monitor from an App on your phone.
3. Fisher & Paykel Counter-Depth Refrigerator RF170WDRUX5 - $2,599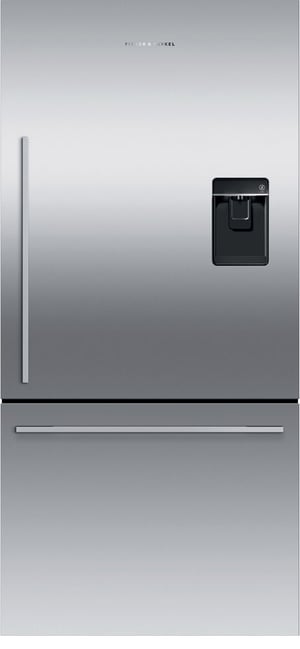 Features:
ActiveSmart Technology - Keeps food fresher for longer
Ice Maker
Water Dispenser
Spacious Freezer
Review:
Fisher & Paykel has the aesthetics and bunch of different options including water through the door.
However, other than the contemporary styling, it is hard to justify the price given the Samsung option.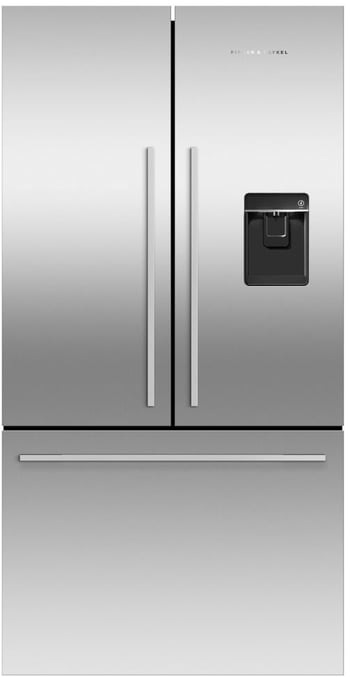 Features:
Design quality
Water on tap
Clever energy
Ice maker
Designed to match
Easy cleaning
Review:
The RF170A series comes as a French door with a bottom freezer and a water dispenser.
They do have the option of no ice and water or without the dispenser on the door for a lower price. The RF170ADX4 without ice and water is $2,099.
Lastly, if you like a single door model, Fisher & Paykel offers a 33-inch single door counter depth refrigerator. The right hinge single door model, RF170BRPUX6 with ice and water, is $2,049.
5. Frigidaire Counter-Depth Refrigerator FGRU19FQF - $1,703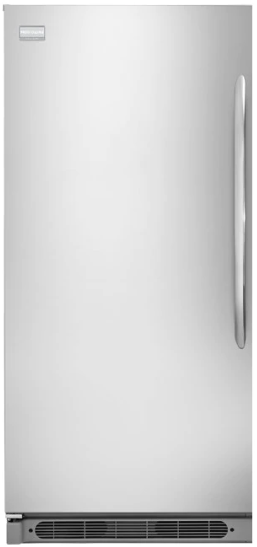 Features:
Energy Effiecient
Smudge-Proof Stainless Steel
18 Cu. Ft. Capacity
Review:
Frigidaire and Electrolux offer a 33 inch wide as a single door. You would then buy the freezer for a matched set under $3500 rather than spending almost triple that for a pro-type unit.
However, 36-inch units are far more common and less expensive.
You also do not have to worry as much about replacement in case they discontinue this series.
Short on time? Get our free Counter Depth Refrigerator Buying Guide
Are Counter-Depth Refrigerators Reliable?
Most Reliable Counter-Depth Refrigerators for 2020
| | | | |
| --- | --- | --- | --- |
| | Service Qty | Shipped Qty | Service Ratio |
| BlueStar | 23 | 36 | 63.89% |
| Jenn-Air | 308 | 595 | 51.76% |
| KitchenAid | 103 | 239 | 43.10% |
| Whirlpool | 6 | 17 | 35.29% |
| Bosch Appliances | 135 | 422 | 31.99% |
| LG Electronics | 10 | 46 | 21.74% |
| Samsung | 248 | 1220 | 20.33% |
| Fisher & Paykel | 31 | 192 | 16.55% |
| GE Profile | 9 | 59 | 15.25% |
| GE Appliances | 5 | 35 | 14.29% |
| Café Appliances | 2 | 41 | 4.87% |
| Grand Total | 916 | 2932 | 31.24% |
Overall, reliability on refrigerators is 31.24% or about 13% higher than the average appliance.
Samsung and Fisher Paykel are better than the average. However, you will probably need service within five years on any brand.
Which 33-Inch Counter-Depth Refrigerator Should I Choose?
If this is a new kitchen, you should also consider a 36-inch refrigerator.
You will have tons of affordable, pro, and integrated options of all types and price ranges.
You can always choose a 30-inch refrigerator where the choices have a nice mix of exclusively high-end and affordable luxury brands like Sub-Zero, Miele, Thermador, Bosch, or Beko.
However, if you are replacing a 33-inch refrigerator, Samsung is your best option and the most affordable counter depth sold. It may be the best value of any size.
However, you must be sure your dealer can fix any issues.
Frequently Asked Questions
1. What's the difference between standard depth and counter depth refrigerators?
Counter depth refrigerators will line up exactly to your countertop usually at 24" depth vs. "standard" can be more than 28"+ depth. The funny thing is "standard" depth units are not standard at all. Depends on the manufacturers they can be as deep as needed. Standard depth refrigerators can store more food almost as much as 10-20%.
Counter Depth vs. Professional vs. Integrated
A counter depth refrigerator does not protrude from the cabinet except for the doors and handles.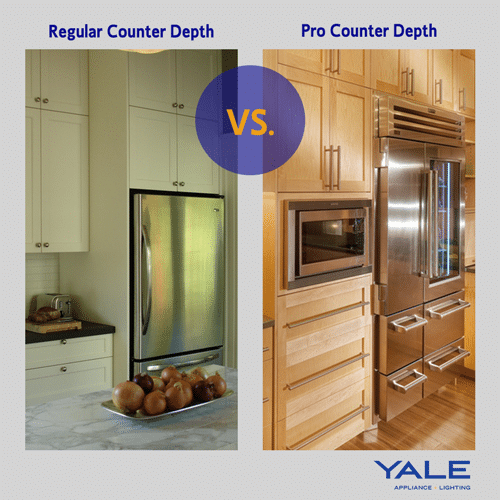 A professional counter depth like Sub-Zero or Viking is similar but has the compressor on the top. An integrated counter depth refrigerator does not protrude from the cabinets including the doors.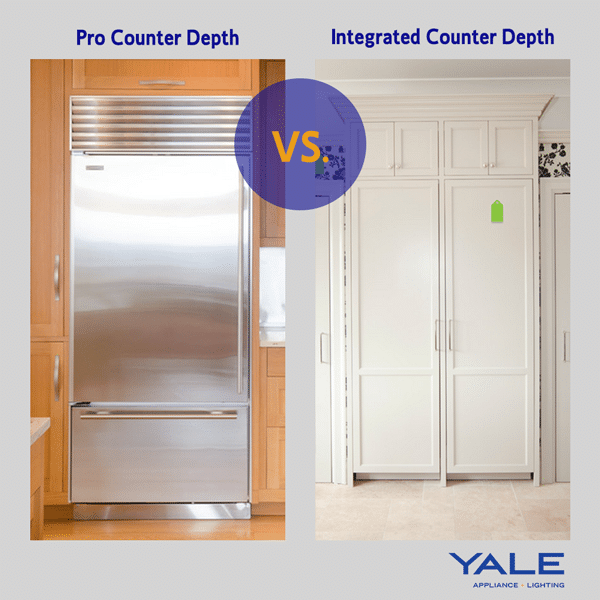 Counter Depth, Professional + Integrated Refrigerator Differences [VIDEO]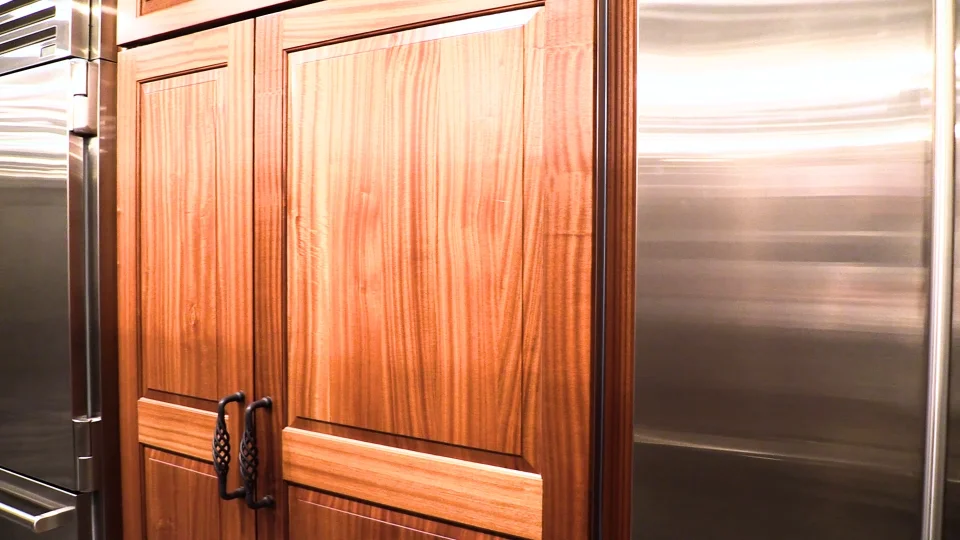 2. Are counter depth refrigerators more expensive?
Yes, counter depth refrigerators tend to cost more than standard depth because it's more popular with kitchen designs. Manufacturers react to what marketing is trending. Therefore it cost due to higher demands.
3. What is the standard size of a counter depth refrigerator?
It is roughly 18 cubic feet depending on the brand.
4. Should I buy an extended warranty on a 33-inch refrigerator?
From the math, yes. You will need repair within five years.
But the real answer is no. Extended warranties are guaranteed to give you fits when you need service.
I have written articles on this.
The only way you should buy a warranty is from a company with a real service department.
That's easy advice. The only hard part is finding one.
Additional Resources
Get the Yale Counter Depth Buyers Guide with features, specs of counter depth, professional counter depth, and integrated refrigerators as well as inside tips to all the brands. Well over 410,000 people have read a Yale Guide.
Related Articles
Editor's Note: This article was originally published on March 19, 2015 and has been updated for accuracy, freshness, and comprehensiveness.
Why Should You Trust Us?
It seems that every appliance review has nothing but glowing comments about almost every product, yet you read customer reviews and they are almost universally bad.
We are here to fill in the disconnect. We'll give you the best features, and the drawbacks as well, including reliability based on over 37,000 calls performed by our service team just last year. Our goal is to give you ALL the information so you know what's right for you.
Please consider subscribing or adding to the conversation in the comments below. We appreciate you stopping by.
Steve Sheinkopf
My goal has always been simple: I want Yale to be the best retail experience anywhere. I have tried to create a compelling environment for customers and employees alike.
A Note About Pricing
Pricing on this blog is for reference only and may include time sensitive rebates. We make every attempt to provide accurate pricing at time of publishing. Please call the stores for most accurate price.