May 1st, 2023 | 11 min. read
How to Buy a Counter-Depth Refrigerator for Less
Last year, availability was an issue, but now every major company offers [available?] refrigerators, creating a dilemma: should you buy now or wait?
You should wait.
Let's face it. We are in a recession. However, you are in control, at least in buying appliances.
Buying appliances from 2020 to 2022 was a hassle.
Factories shut down, and supply chains were disrupted. Then demand for appliances skyrocketed as people started remodeling.
But now the tables have turned.
Manufacturers have overproduced to lesser demand.
To exact revenge, follow the 2019 playbook when brands were killing each other for your hard-earned dollars.
Wait for a holiday, especially a promotional one, and you could save 10- 35%.
The best holiday to wait for is Black Friday, but other good ones include Tax-Free Weekend, July 4th, Memorial Day, Columbus Day, and Presidents' Day.
In a struggling economy, new holidays may emerge, so keep your eyes peeled for additional opportunities to save.
Best Counter-Depth Refrigerators for 2024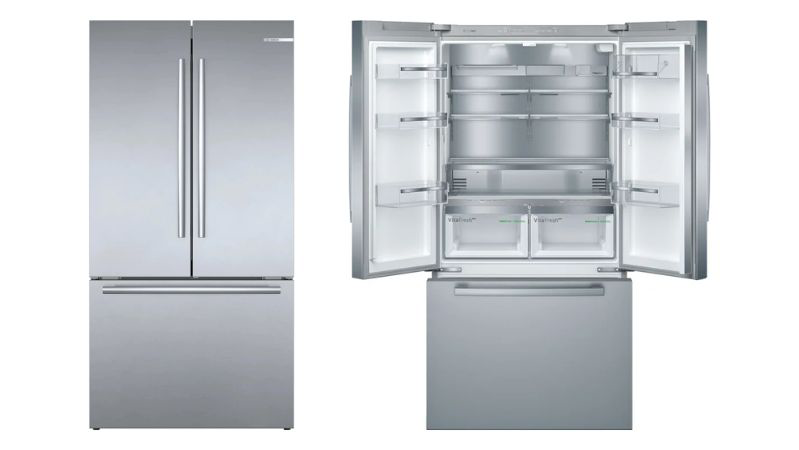 This Bosch counter-depth refrigerator is brand new and built by Bosch rather than outsourced.
Bosch is the only counter-depth refrigerator with two compressors for the refrigerator and freezer.
The warmer, moister air of the refrigerator does not blend with the drier, colder air of the freezer.
Sub-Zero pioneered the twin compressor years ago.
Beko, Samsung, GE, and LG, except for the Counter Depth MAX refrigerator, have two evaporators to separate the air. Two compressors maintain temperature better.
It also has metal on the back wall of the refrigerator.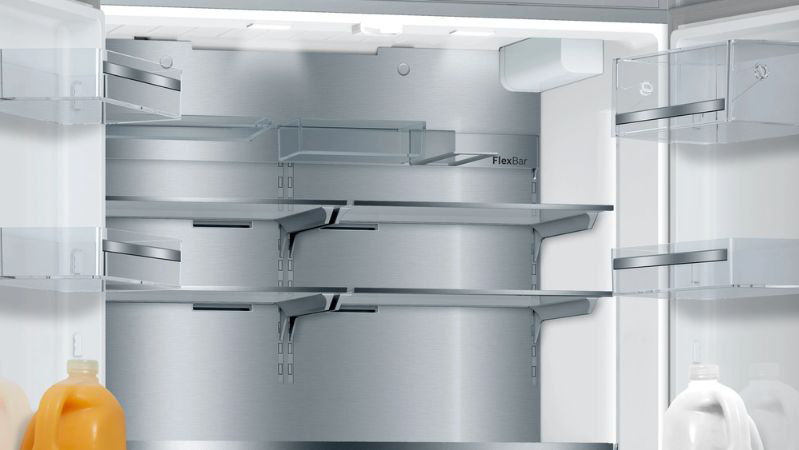 Bosch B36CT80SNS Refrigerator Interior with Stainless Back Wall
With a metal back wall, this refrigerator is designed to increase cold retention. To make the most of this feature, storing items like milk and juice in the back of the fridge where it is coldest is best.
Bosch also features an ethylene filter. Spoiled foods will emit ethylene gas. This gas can cross-contaminate other foods.
Through their HomeConnect app, you can control the temperature of your refrigerator on your phone.
Bosch also offers this refrigerator with different handles. The design is well done, and it is a good-looking appliance.
Pros
Bosch is the only counter-depth refrigerator with two compressors for the refrigerator and freezer, which maintains temperature better and prevents moisture and odor transfer.
The metal back wall of the refrigerator is designed to increase cold retention, and the ethylene filter helps prevent cross-contamination of foods.
The HomeConnect app allows you to control the temperature of your refrigerator on your phone, and the refrigerator comes with different handle options.
Cons
The cubic footage is slightly smaller than the average. The price is high, and they don't typically promote it. That said, there is up to $500 off when you combine it with other Bosch appliances.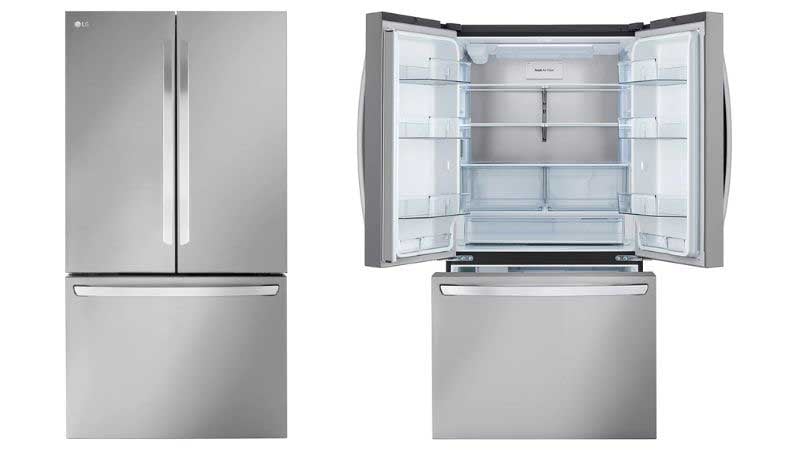 You are looking at the largest counter depth refrigerator at 26.5 cubic feet - over four cubic feet more than the average.
That space is the equivalent of a college dorm refrigerator.
With this refrigerator, you no longer choose between the size of a standard-depth model and the sleek style of a counter-depth one.
The Counter Depth MAX refrigerator offers size with a counter-depth look.
The Counter Depth MAX refrigerator features:
Linear Compressor - Linear compressors use fewer parts and have fewer problems now. I say now because, in 2019, there was a class action suit against LG due to the compressor. Many brands and products now feature the linear compressor.
Temperature Control - The Counter Depth MAX refrigerator uses nine sensors throughout the refrigerator to maintain a consistent temperature. For perspective, some brands use just two.
Cool Guard - Like the Bosch, the Counter Depth MAX refrigerator features a metal back to absorb cold better.
Door Cooling Plus - Ever walked into a store in the summer, and the air conditioner is just blasting you in the face? Cool guard operates the same way. A blast of frigid air is sent from the top down, so the refrigerator temperature stays unaffected by the warmer air.
Pros
The Counter Depth MAX refrigerator is the largest counter-depth model available, providing over four cubic feet more space than the average. It also features advanced temperature control with nine sensors, a metal back for better cold absorption, and Door Cooling Plus to maintain a consistent temperature.
Cons
The Counter Depth MAX refrigerator is designed with thinner walls than most refrigerators. The government sets energy standards, so it will not use more energy.
However, the Counter Depth MAX refrigerator lacks some of LG's signature features, like Craft Ice and the Door-in-Door panel. It also has a single compressor with one evaporator.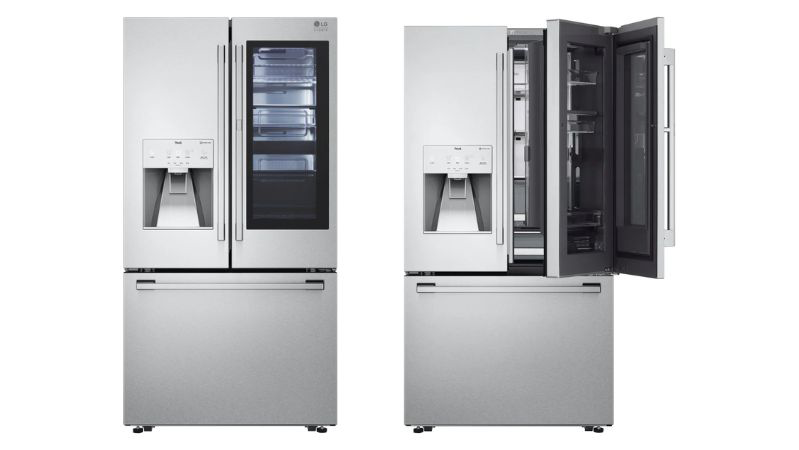 This refrigerator is the most well-featured for a 36-inch counter-depth.
You have the features mentioned previously, like Door Cooling Plus, linear compressor, and stainless-steel back.
The LG Studio SRFVC2416S best features:
Door-in-Door - It features Door-in-Door, a fancy term for an extra door on the refrigerator side to access your milk and juices.
InstaView Door - You can see into your refrigerator or tap the glass, which becomes opaque.
Twin Evaporator Nine Sensors - Like the Counter Max, the Studio features nine sensors to maintain temperature. However, you have two evaporators to keep the air in the freezer separate from the refrigerator.
Craft Ice - "Craft Ice" are larger, slower dissolving ice cubes, perfect for premium cocktails. You see many of these cubes in high-end restaurants.
Dispenser - I shudder when I write this. Dispensers have the most problems, but due to leaking, no breakdowns of the refrigerator. On the flip side, they are convenient.
My neighbor has a refrigerator with an ice dispenser, and the ice is convenient versus reaching the freezer for cubes.
That said, LG is the most reliable of the dispensers.
Pros
The LG Studio SRFVC2416S has impressive features such as a Door-in-Door panel, InstaView, and Craft Ice. Additionally, the refrigerator's temperature control ensures your food stays fresh for longer periods.
Cons
The LG Studio SRFVC2416S has unique features, but it comes with a high price tag of over $4,000.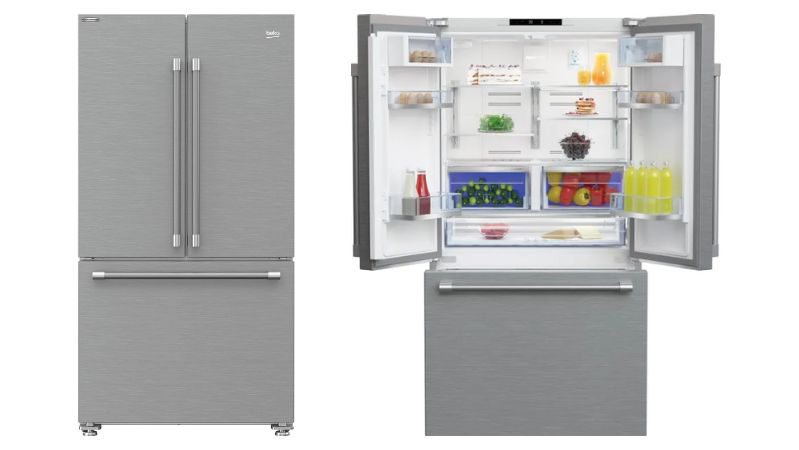 Beko's 36-inch counter-depth refrigerators are available in three and four doors.
They have some unique claims for keeping food fresh longer.
The crispers have blue lighting mimicking sunlight to keep food fresh. Sunlight does render blue on the Kelvin scale.
Their "EverFresh+" crispers are gasketed to keep air and moisture out. The refrigerator directs the airflow into the crispers through four ports in the back.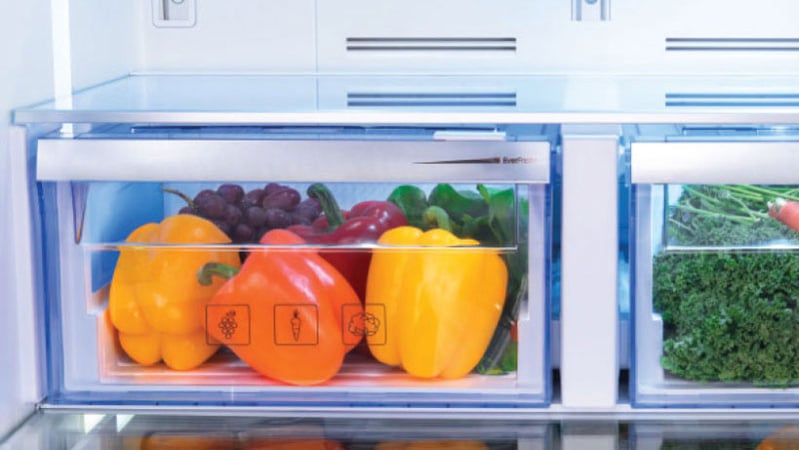 Beko EverFresh+ Crisper Drawer
Beko has two evaporators, like GE, so the refrigerator's warmer moisture air does not blend with your freezer's dryer, colder air.
Beko also has an ion generator called IonGuard. It sends negative ions to counteract positive ions of odors for a fresher-smelling refrigerator.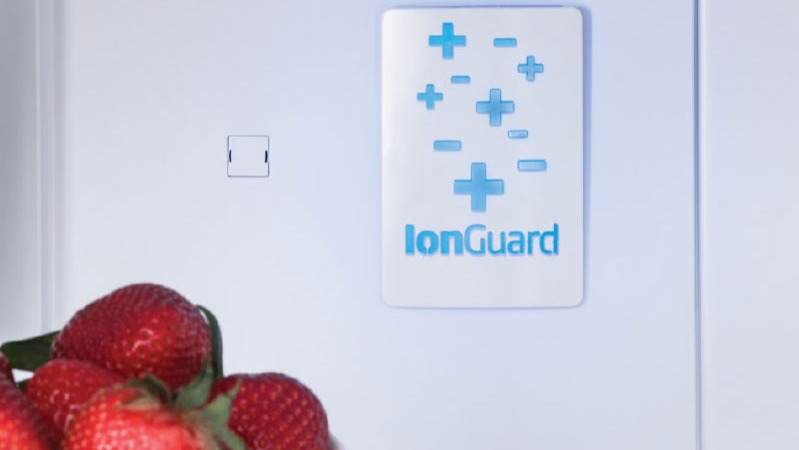 Beko IonGuard Refrigerator Technology
So, your pudding doesn't attract odors from your fresh tuna or salmon.
I imagine you are skeptical as I was.
However, we tested it against Sub-Zero, Thermador, Bosch, and Samsung. Beko was the best of the freestanding refrigerators for our Project Product test.
Pros
Beko's 36-inch counter-depth refrigerators offer unique features to keep food fresh longer, such as blue lighting in the crispers to mimic sunlight and gasketed "EverFresh" crispers. The refrigerator also has an ion generator to counteract odors, and it outperformed Sub-Zero, Thermador, Bosch, and Samsung in a test of freestanding refrigerators.
Cons
If Beko does have an issue, at 19.86 cubic feet, it is one of the smaller counter-depth refrigerators.
You must also check for service in your area.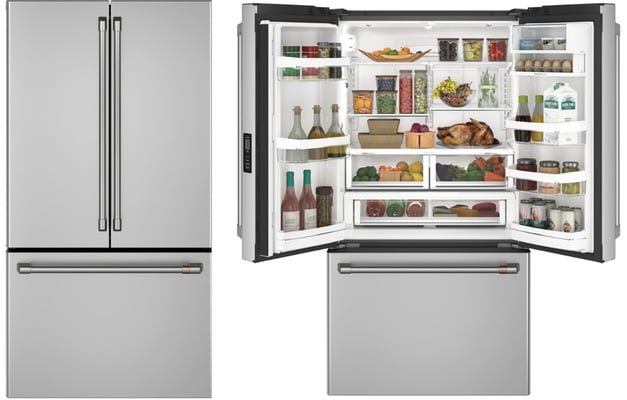 Café's two-evaporator refrigerator keeps the refrigerator and freezer air in their respective compartments with the Turbo Cool and Turbo Freeze features to maintain even temperatures.
The refrigerator also has a digital icemaker, which has the ability to make coffee. With Wi-Fi, you can program the coffee to be dispensed when you wake up on the dispenser model.
Café offers great customization options with three base color options and six handle styles, with more colors like green and gray coming soon.
Have a look at Café White and Brass: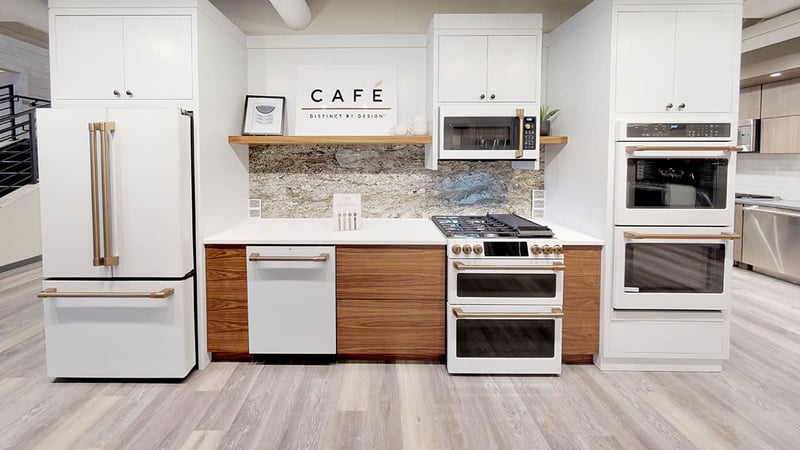 Café Appliances White and Brass Kitchen at Yale Appliance in Hanover
How about black and copper: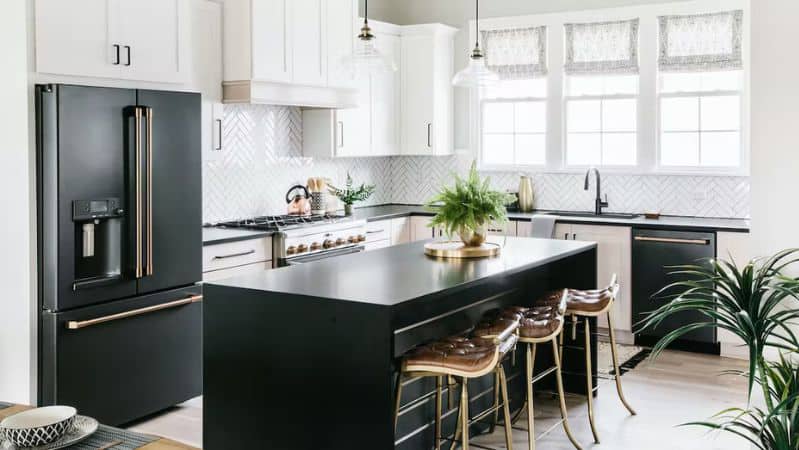 Café Appliances Black and Copper Appliances
Pros
The Café refrigerator features two evaporators to maintain an even temperature and separate cold and frigid air compartments. It also has a digital icemaker, the ability to make coffee, and comes in various colors and handles styles for customization.
Cons
You are paying a premium over the Profile model for customization and a few features.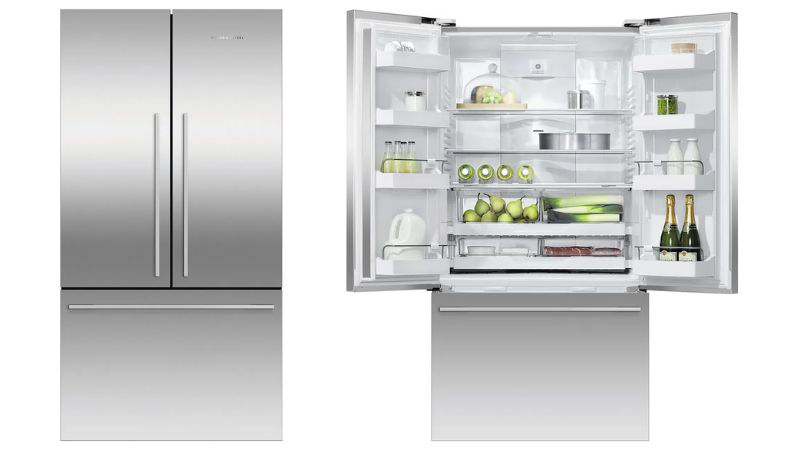 Fisher & Paykel was the most reliable refrigerator brand in 2022, according to our internal service data based on 33,000 service calls logged by our service team just last year.
How could this company be the most reliable?
Look at all their refrigerators. Do you see what is missing?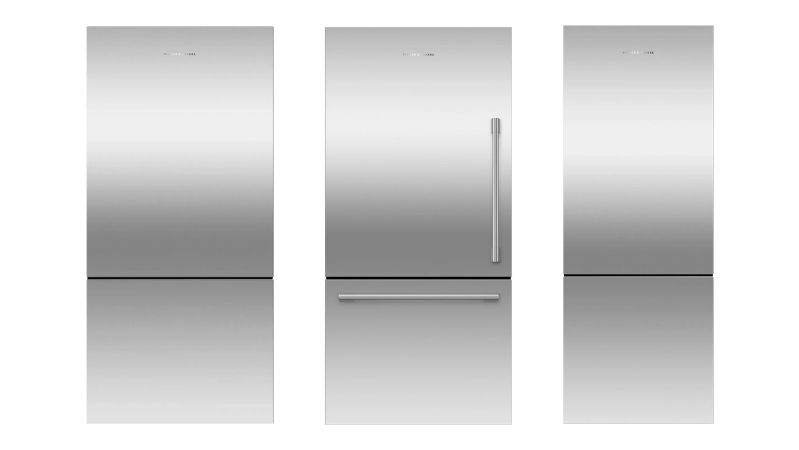 None of them have ice dispensers through the refrigerator door. An ice cube through a warm refrigerator is the number repair problem due to leakage.
Fisher & Paykel also has a unique style and looks good with other unique Fisher & Paykel appliances.
The refrigerator is based on ActiveSmart technology.
Fisher & Paykel's ActiveSmart technology provides optimal food storage conditions by intelligently adapting to daily usage.
It combines sensors, microprocessors, and algorithms to continuously monitor and adjust the temperature, humidity, and airflow within the fridge.
Key components of ActiveSmart technology include:
Temperature sensors - These sensors constantly monitor the temperature inside the fridge and freezer compartments, sending data to the microprocessor.
Microprocessor - This central processing unit uses temperature data to determine the most efficient cooling strategy, adjusting the compressor's operation accordingly.
Variable-speed fans - The microprocessor adjusts to distribute cool air evenly throughout the compartments.
Humidity control system - This system maintains optimal humidity levels in the fridge by managing the airflow and condensation. It helps to prevent food from drying out or becoming too moist.
Adaptive defrost - The defrost cycle only starts when detecting usage patterns and conditions inside the fridge, reducing energy consumption and ensuring optimal cooling efficiency.
Pros
Fisher & Paykel is the most reliable refrigerator brand in 2022, based on 35,000 service calls logged by their service team. This is due to their ActiveSmart technology, which monitors and adjusts the temperature, humidity, and airflow within the fridge for optimal food storage conditions.
Cons
Smaller sizes at higher prices. With any unique brands, make sure service is available.
Coming soon: Samsung Bespoke Refrigerator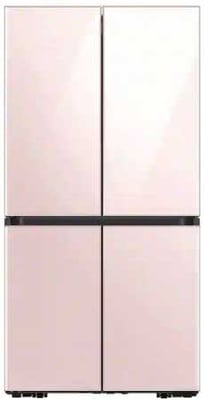 The LG Mood UP and Samsung Bespoke refrigerators, expected to be available in late 2023 and 2024, are among the best-looking refrigerators to buy in the future.
I am not a fan of the current Bespoke line. It focuses too much on the refrigerator with limited options on the other appliances.
However, the new refrigerator will allow you to update your favorite pictures at the front of the refrigerator through an app on your phone.
Love your kids, your cat, or a picture of you skiing the slopes?
It can be the front of your new refrigerator.
Coming soon: LG MoodUP Refrigerator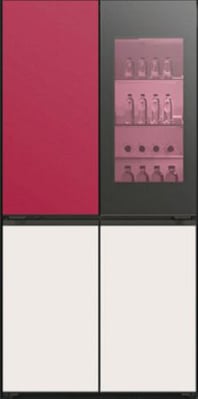 The new LG will allow you to scroll through 60 color options for each panel on your phone. It even has a Jukebox mode to change colors to music.
As exciting as these refrigerators are from both manufacturers, you have limited color options on the rest of your appliances.
How to Buy a Counter-Depth Refrigerator
Last year, my advice was to buy based on availability. This year, you can wait for a holiday to save money.
At the same time, consider what features work best for you and your family.
Service availability should be a feature of refrigerators because you will need it eventually.
Size
Refrigerators follow the size of cabinet widths.
The standard sizes for refrigeration and cabinets are 24, 30, 33, 36, 42, and 48 inches, with 30 and 36 inches being the most popular.
However, heights and depths have changed as refrigerators have become taller. If you are replacing a refrigerator, measure the space, not the existing refrigerator.
You also want to measure all the doorways and entry points before delivery because your hallways and doorways may need to accommodate a new refrigerator.
Here is our free appliance delivery checklist to help you with other aspects of delivery.
Counter-Depth Refrigerator Types
The most popular counter-depth refrigerator is a French door with the refrigerator on the top and the freezer on the bottom.
There are many types, such as two-drawer, French doors, four-doors, and five drawers. Before choosing a type, you must assess how much freezer versus refrigerator space is needed.
Top mounts are inexpensive and have a good usable size. Side-by-side refrigerators have more freezer capacity and are less expensive than counter-depth French door refrigerators.
Counter-Depth Refrigerator Reliability
The following service rates are based on at least 100 refrigerators sold and a total sample of over 3000.
| | |
| --- | --- |
| | Service Rate |
| Fisher & Paykel | 5.0% |
| LG | 6.9% |
| Café Appliances | 9.9% |
| Bosch | 10.7% |
| Thermador | 15.6% |
| GE Profile | 16.5% |
| GE Appliances | 19.6% |
| KitchenAid | 25.5% |
| Beko | 25.9% |
| Grand Total | 14.7% |
GE is the best if you are looking for a technical product with an ice dispenser.
GE has great service in many areas, but you must ask who will fix your new refrigerator before buying it.
Beko seems high, but most of these issues relate to handling issues and inaccurate service data, not the actual refrigerator.
We calculated our reliability based on how many French door counter-depth refrigerators were sold and serviced by brand.
With 35 techs in the field, we logged over 33,000 service calls from January 2022 to December 2022.
However, reliability varies between brands. You must be aware of potential problems before you buy any product.
We have stopped selling any brands with a disproportionate amount of service.
Counter-depth refrigerators have ice dispensers in the warmer refrigerator instead of the freezer, like a side-by-side refrigerator.
At a 14.7% service rate, your refrigerator may need to be repaired within five years.
Reliability is now the biggest issue because appliance replacement parts are even worse than new product availability.
It is conceivable you could wait 60 days for a repair.
What about Beko? Beko is at 25%. However, their problems were minor. They had a handling issue which was corrected last year.
The directions on the icemaker were wrong, adding to unnecessary service calls.
Beko is the most responsive and sensitive to the problems of all the manufacturers.
Along with Bosch, they are also the most reasonable with issues.
If you are asking, I would buy one now.
Read More: The Most Reliable Counter-Depth Refrigerators
When Is the Best Time to Buy a Counter-Depth Refrigerator?
Best Times to Buy Kitchen Appliances:
Presidents' Day: February
Memorial Day: May
July 4th: July
MA Tax-Free Weekend: August
Labor Day: September
Black Friday: All of November
Read More: How to Buy a Refrigerator: The Ultimate Guide
Counter Depth Refrigerator
FAQs
Learn answers to the most frequently asked questions about counter-depth refrigerators.
What is a counter-depth refrigerator?
What's the difference between standard depth and counter-depth refrigerators?
Do counter-depth refrigerators cost more than a standard depth?
How do I measure my space for a counter-depth refrigerator?
What's the difference between counter-depth, integrated, and professional refrigerators?
What's the real difference between two compressors and one compressor with two evaporators?
Additional Resources
Download the Yale Counter Depth Refrigerator Buying Guide with features, specs, and inside buying tips for regular, pro, and integrated counter-depth refrigerators. Well over 1 million people have read a Yale Guide.
Related Articles
Why Should You Trust Us?
It seems that every appliance review has nothing but glowing comments about almost every product, yet you read customer reviews and they are almost universally bad.
We are here to fill in the disconnect. We'll give you the best features, and the drawbacks as well, including reliability based on over 37,000 calls performed by our service team just last year. Our goal is to give you ALL the information so you know what's right for you.
Please consider subscribing or adding to the conversation in the comments below. We appreciate you stopping by.
A Note About Pricing
Pricing on this blog is for reference only and may include time sensitive rebates. We make every attempt to provide accurate pricing at time of publishing. Please call the stores for most accurate price.