3 Reasons to Never Buy a Counter-Depth Refrigerator
As you are reading this, you are probably considering a counter-depth refrigerator.
And why not?
I say in many videos and webinars that counter-depth refrigerators are the easiest way to improve the overall look of your kitchen.
You don't see the textured sides of your refrigerator because the refrigerator cabinet covers it.
It does look better.
However, there are three reasons NOT to buy a counter-depth refrigerator. In this article, you will learn all three.
At the end of the article, you will learn about kitchen design and incorporating a larger refrigerator to look like a counter-depth refrigerator.
3 Reasons to Never Buy a Counter-Depth Refrigerator
1. Capacity
The first significant issue is capacity.
You may be storing more since the pandemic and counter depths do not hold as much because you reduce the depth.
The cubic foot of a refrigerator is measured by height, width, and depth. Reducing the depth cuts the internal capacity.
The most important dimension for a refrigerator is width.
Any larger freestanding refrigerator from every manufacturer will fit a 36-inch cabinet. It is the only standard dimension and the most popular cabinet type.
As you know from our webinars, appliances follow cabinet sizes, not the other way around. You don't see a 37 or 38-inch cabinet because they do not exist.
Most regular depth refrigerators are between 26 and 28 cubic feet.
You can also buy them as large as 30 cubic feet by adding height up to 72 inches and depth to about 35.5 inches deep.
Counter-depth refrigerators are usually about 20 – 23.8 cubic feet. That's a big difference.
The height and width of a standard and counter depth refrigerator can be the same, but the depth can differ by almost 8 inches.
What does this mean for actual storage?
The shelf is reduced from 17-20 inches in depth for a standard to 13-14 inches for a counter depth.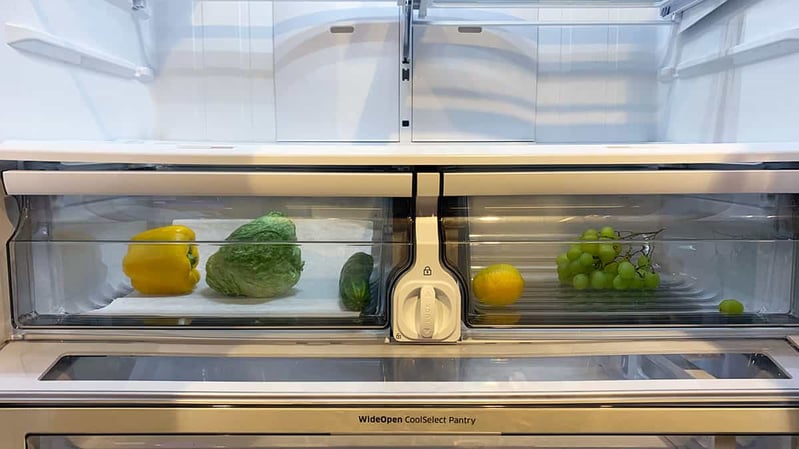 Samsung Counter Depth Refrigerator Shelving
A chef's pan is 16 inches deep, and some larger platters could be deep as well.
It's not possible to store these larger pans and platters in a counter-depth refrigerator.
So, size in counter depths could be an issue for a certain type of pan and how much you store in a refrigerator.
I always recommend bringing in your odd-shaped pans to your appliance store when buying a dishwasher. You should consider the same idea when buying a refrigerator to see if it will fit.
2. Price
You would think that a counter-deep refrigerator with less capacity would be less expensive.
However, the opposite is true.
Not only are you losing space in your refrigerator, but you are paying more for it.
Depending on the brand, the price difference can be as much as hundreds of dollars or more.
For GE, it's $530 less to buy a 26 cubic foot at $2,499 than a 23 cubic foot counter depth at $3029.
For Samsung, their signature four-door flex refrigerator (shown below) is $3,999 for a 22 cubic counter depth, yet it's $200 cheaper for a much larger 29 cubic foot.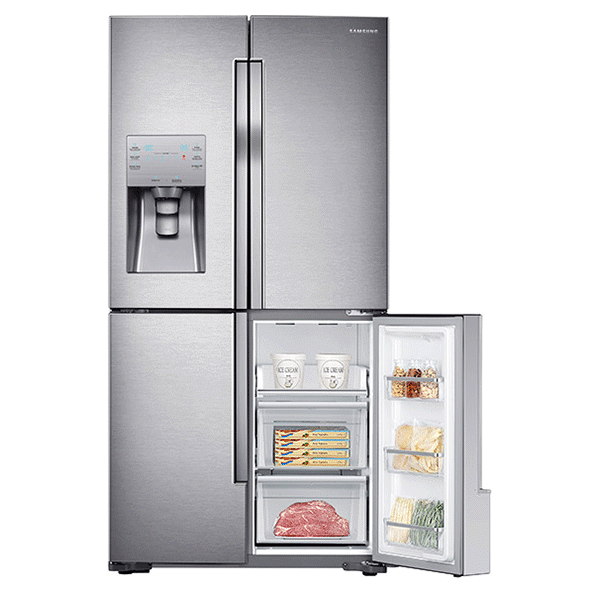 LG is the most reasonable. Their 22 cubic counter depth at $2,699 is only 100 more than their 26 cubic foot at $2,599, but again you are paying $100 more for four fewer cubic feet.
In terms of price for a refrigerator, you can always buy a less expensive, less featured refrigerator in full depth.
With counter-depth refrigerators, you seldom can choose a less expensive option.
3. Features and Configurations
Every brand has more configurations and feature options in standard depth.
For example, KitchenAid's signature five-door refrigerator (shown below) is only a standard, not a counter depth refrigerator.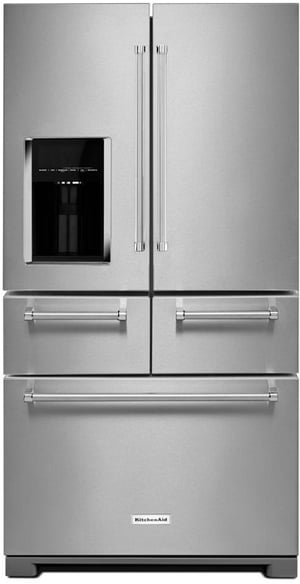 You will find that in addition to larger cubic footage and lower prices, there are twice as many models for standard versus counter depth refrigeration.
Kitchen Design Solutions
The main attraction to a counter-depth refrigerator is not seeing the less than attractive sides.
What you can do, especially in new construction, is to build the cabinet out.
A normal refrigeratior cabinet is 24 inches deep.
You can have the cabinet built out to match the added depth of a standard refrigerator, so it looks more like a counter depth.
This standard refrigerator (shown below) is a perfect example.
It looks like a counter-depth refrigerator, but the capacity is 26 cubic.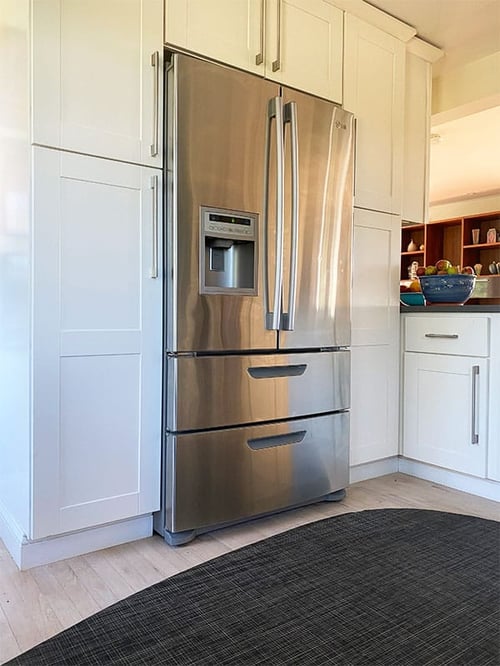 My friend's kitchen. It looks like a counter-depth refrigerator
because of the deeper cabinet.
In higher-end kitchens, you see this a lot when you want a counter depth to look even shallower as an integrated refrigerator.
Basic Kitchen Design
If you have a larger kitchen, put your fridge off to the side or in a pantry. I know that seems like sacrilege, but refrigerators don't need to be central in your kitchen.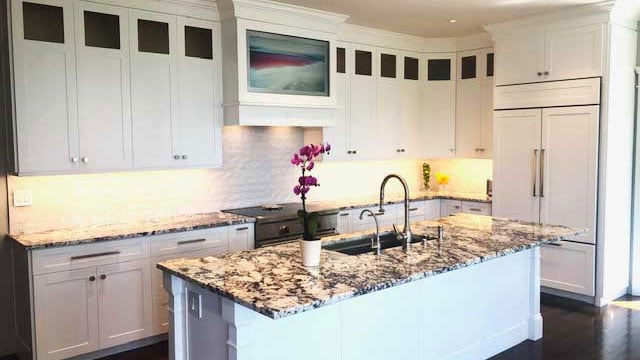 You want the most used appliances like the sink, stovetop, and dishwasher in the middle of your kitchen design.
You are only in your refrigerator a few times a day when you think about it.
Retrieving an item out of your refrigerator is not as critical as stirring your food on a stove.
A refrigerator can be anywhere.
Think about alternate places, and you can have a larger refrigerator with the ability to store more.
Read More: How to Plan Your Kitchen Project
Why You Should Buy a Counter-Depth Refrigerator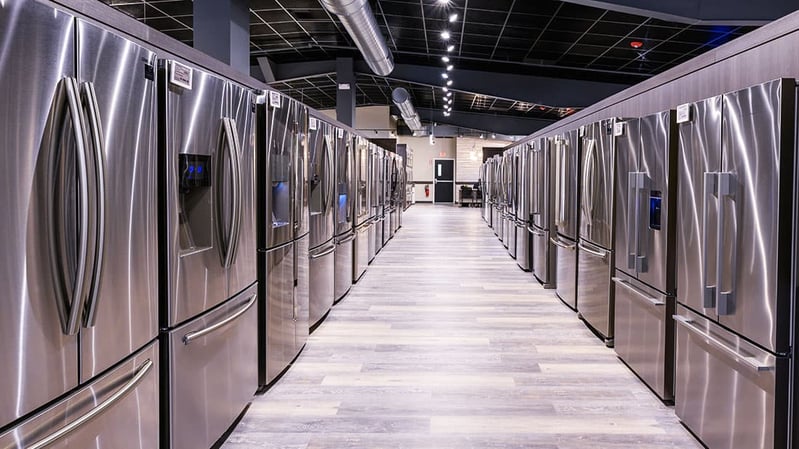 Counter-depth is easy, especially in an existing space. You won't see the sides, and it is seamless to the cabinet.
Your kitchen will look better, as I said before.
Counter-depth refrigerators are especially great options in smaller, galley-style kitchens or with an island as they save space, especially between the island and the refrigerator.
They also work well in kitchens with the refrigerator positioned in the middle.
If you need a larger counter depth, you can buy a taller one, which is 23.8 cubic feet. However, you will pay much more for that size, anywhere from $3,000-4,200.
Read More: Best Counter Depth Refrigerators
Key Takeaways
There are several reasons to consider buying a counter-depth refrigerator, and in some instances, it's the only option to achieve that neater, more seamless look.
Although counter depths do improve the look of your kitchen, you can buy much larger refrigerators less expensively.
In many cases, it's the equivalent of buying a seven cubic foot refrigerator for free with that extra space.
Just think of where you will place your refrigerator in your kitchen without compromising the aesthetics.
Update: I wrote this article to make you think about capacity constraints. I probably should not have used the word "never" judging by the reaction.
Additional Resources
Download the Yale Counter Depth Refrigerator Buying Guide with features, specs, and inside buying tips for regular, pro, and integrated counter-depth refrigerators. Well over 800,000 people have read a Yale Guide.
Related Articles
Why Should You Trust Us?
It seems that every appliance review has nothing but glowing comments about almost every product, yet you read customer reviews and they are almost universally bad.
We are here to fill in the disconnect. We'll give you the best features, and the drawbacks as well, including reliability based on over 37,000 calls performed by our service team just last year. Our goal is to give you ALL the information so you know what's right for you.
Please consider subscribing or adding to the conversation in the comments below. We appreciate you stopping by.
A Note About Pricing
Pricing on this blog is for reference only and may include time sensitive rebates. We make every attempt to provide accurate pricing at time of publishing. Please call the stores for most accurate price.