The LG Counter Depth MAX French Door Refrigerator (2024 Review)
November 9th, 2023 | 10 min. read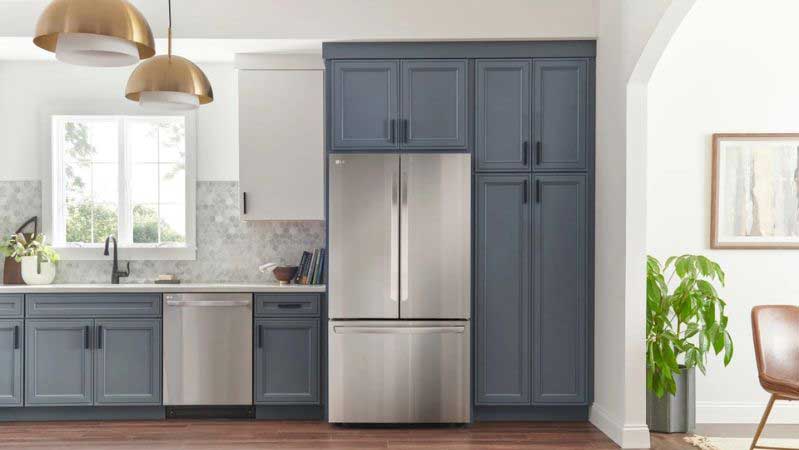 The LG Counter-Depth MAX French door refrigerator, with its record-setting 26.5 cubic foot capacity, significantly improved the space offerings of counter-depth models without sacrificing the sleek, built-in look of not protruding past kitchen countertops.
The LG Counter-Depth MAX French door refrigerator, with its record-setting 26.5 cubic foot capacity, significantly improved the space offerings of counter-depth models without sacrificing the sleek, built-in look of not protruding past kitchen countertops.
But is it worth buying one year later, or should you steer clear?
In this article, we will address the features of the five different models of the Counter-Depth MAX, its problems, and its reliability since its introduction, based on real service calls.
Read to the end for comparisons to new and larger competitive models from Samsung and other manufacturers.
Let's get started.
Key Takeaway: The LG Counter-Depth MAX has size, but you have better features than other refrigerators.
[inlineCTA]
The LG Counter Depth MAX French Door Refrigerator 2024 Review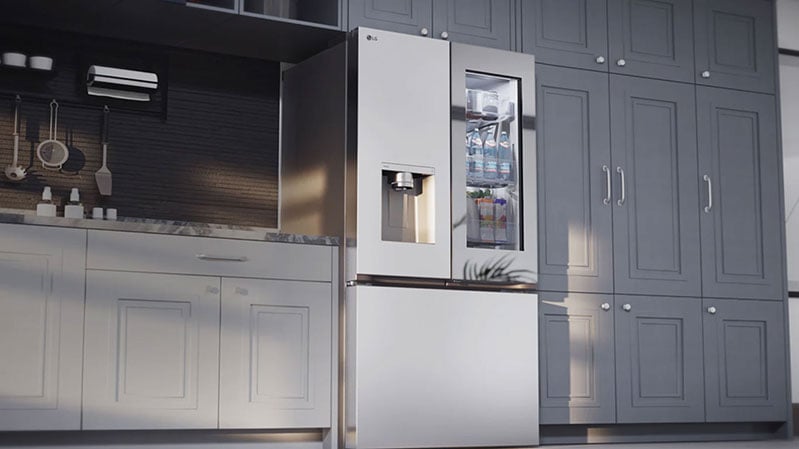 How Big Is the LG Counter-Depth MAX French Door Refrigerator?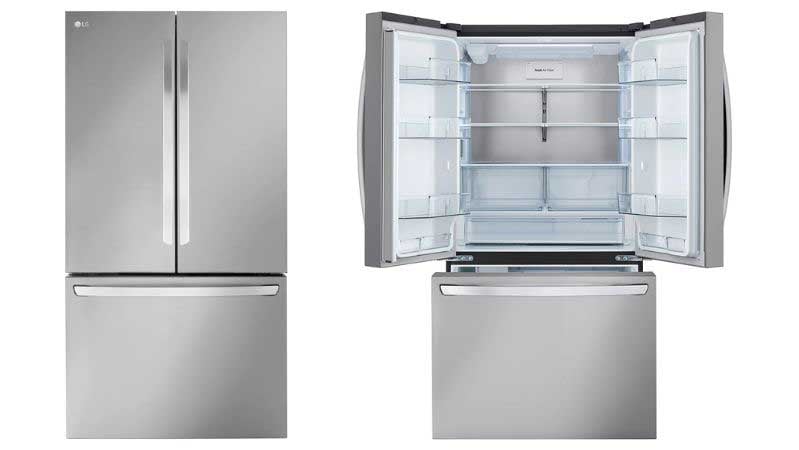 The LG Counter-Depth MAX French door refrigerator is 26.5 cu. ft.
For context, the new Counter-Depth MAX is equivalent to a Sub-Zero 42-inch professional counter-depth refrigerator: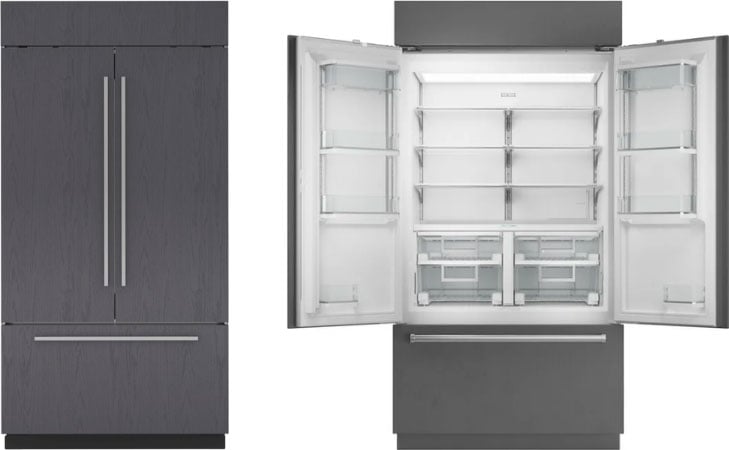 It is four cubic feet more than the average counter-depth refrigerator on the market. Four cubic feet is about the equivalent of a dorm refrigerator or mini fridge.
I remember packing tons of cold cuts and other junk (literally) into mine in school.
Size or not compromising for a smaller counter-depth refrigerator is the best feature of the Counter-Depth MAX.
Let's look at this refrigerator's other best features.
Best Features of the LG Counter-Depth MAX French Door Refrigerator
Door Cooling+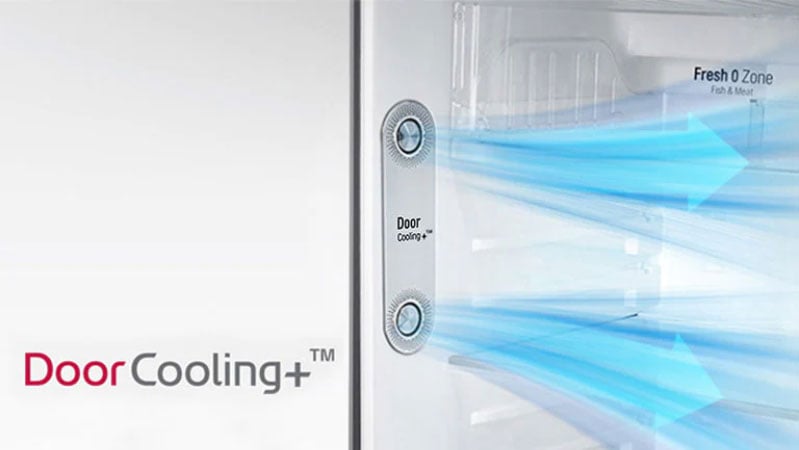 Door Cooling+ is such a good feature. LG employs vents on the top of the freezer and refrigerator.
Cold air is blown from top to bottom and the back to keep the temperature consistent, which is especially important when you open the door.
It should remind you of entering a store on a hot day and feeling that initial blast of air conditioning.
Stainless Back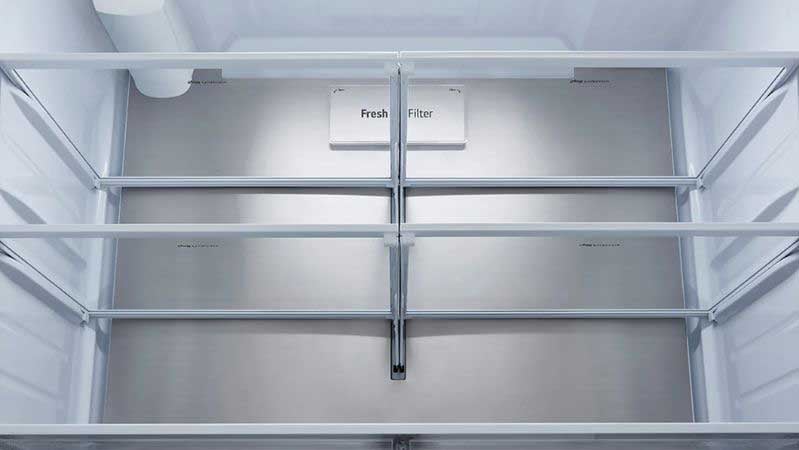 When you pull out a frozen dinner at Wegmans or Whole Foods, the refrigerator or freezer is always stainless.
Stainless steel is not only more hygienic but also more efficient at absorbing cold.
Therefore, for items that you want to keep extra cold, place them next to the stainless-steel surfaces.
Counter-Depth MAX Price
When you buy the Counter-Depth MAX on a holiday, it is amongst the least expensive counter depth refrigerators on the market, starting at just $1,799 for 26.5 cubic feet of storage space.
The size and price of the Counter-Depth MAX are propelling the popularity of this refrigerator.
There is now a range of five Counter-Depth MAX models to choose from priced from $1,799-$2,799.
Even the most featured Counter-Depth MAX model is less expensive than other brands.
You should expect to pay $2,300-$3,700 for a counter-depth refrigerator with fewer cubic feet than the Counter-Depth MAX.
This new refrigerator should end the standard vs. counter depth refrigerator battle because you now have a counter depth's aesthetics and the standard's size.
Pro Tip: Buy appliances during holidays like Black Friday, Presidents' Day, July 4th, Memorial Day, and Labor Day.
LG Counter-Depth MAX Refrigerator Reliability
Since January, the Counter-Depth MAX has maintained a service rate of only 10.5% based on more than 30 logged service calls.
It is better than the average of 14.7% for French Door counter-depth refrigerators in general based on real service calls performed by our service department just last year.
Counter-Depth Reliability with LG Overall
The following service rates are based on a minimum of 100 refrigerators sold and a total sample of over 3000:
| | |
| --- | --- |
| | Service Rate |
| Fisher & Paykel | 5.0% |
| LG | 6.9% |
| Café Appliances | 9.9% |
| Bosch | 10.7% |
| Thermador | 15.6% |
| GE Profile | 16.5% |
| GE Appliances | 19.6% |
| KitchenAid | 25.5% |
| Beko | 25.9% |
| Grand Total | 14.7% |
The good news is that there have been no cooling issues since they were introduced, more minor issues.
The cooling system may not be elaborate, but at least in year one, it seems to work.
It will be interesting to see the reliability of all manufacturers in 2024 with all their new supply chain partners.
We will be publishing reliability for 2024 shortly.
Read More: The Most Reliable Counter-Depth Refrigerators
Counter-Depth MAX Refrigerator Warranty
LG had issues with their compressors sold between 2014-2017, ending in a class action lawsuit in 2019.
However, they now have the best warranty for freestanding refrigerators: a full five-year warranty covers all aspects of the appliance, and there's a ten-year warranty for parts only on the hopefully reliable compressor.
This warranty is better than other brands, which typically offer a one-year full warranty and a five-year parts-only warranty on the compressor.
3 Counter-Depth MAX Problems
While the LG Counter-Depth MAX refrigerator has several great features, there are issues. Let's take a look.
1. Cooling System
The Counter-Depth MAX has thinner walls and a different cooling system than the other LG refrigerators.
It has one evaporator with one sensor in the refrigerator and freezer, like a basic Whirlpool or KitchenAid refrigerator.
This contrasts with better or more advanced LG refrigerators that feature dual evaporators and nine sensors,
The benefit of two evaporators is the warmer air of the refrigerator and colder drier air in the freezer don't mix.
You have less defrosting and generally better-tasting food.
We did a produce test comparing all the twin evaporator refrigerators last year.
A test of LG's Counter-Depth MAX refrigerator compared to more elaborate cooling systems will be on the docket for next year.
2. Thicker Door
The Counter-Depth MAX has a thicker door, so it's important to measure your space before investing in the LG model.
Although the body of the refrigerator is counter-depth, the thicker door may protrude further than you might like.
A protruding door could be an issue at the end of the kitchen.
Note: We had six LG Counter-Depth MAX refrigerators returned for that reason, about 3-5% of total sales.
3. Missing Features
The Counter-Depth MAX is just a straightforward French door refrigerator. It lacks some of the features found in LG's premium models.
It doesn't have a double drawer for extra organization or the ability to convert crisper drawers into additional refrigerator or freezer space.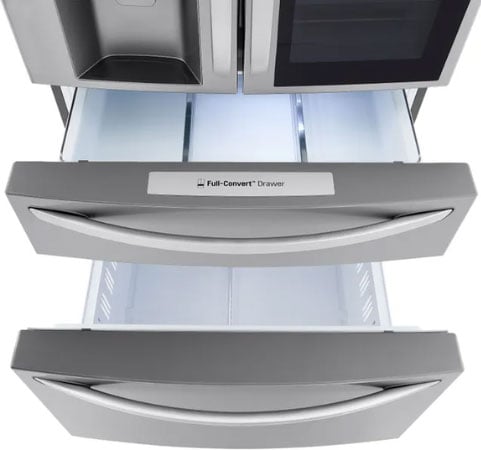 You also don't have the "Door-in-Door" panel, which is a separate hidden compartment within the refrigerator door.
This feature allows for quick access to frequently used items without opening the full refrigerator, helping to keep the cold air in and reduce energy usage.
If you're not discouraged from buying an LG Counter-Depth MAX refrigerator, here is how to buy one. Remember, wait for a holiday to save up to 30-35% if you can.
Click here to subscribe to our blog and gain access to exclusive insights, in-depth reviews, and valuable resources on home appliances. Don't miss out on the latest trends and expert advice that will help you make informed decisions for your household.
How to Buy the LG Counter-Depth MAX French Door Refrigerator
LG Counter-Depth MAX Refrigerator Line-Up
You now have five choices of Counter-Depth MAX Refrigerator models:
The LG LRFLC2706S is the least expensive at $1,799, with an internal water dispenser.
The LRFXC2606S adds the ice and water dispenser, plus has dual ice makers, one in the refrigerator and one in the freezer, for $200 more.
The LRFOC2606S offers an outside water dispenser and the InstaView window. Just knock twice to see inside your refrigerator and knock twice more to darken it again.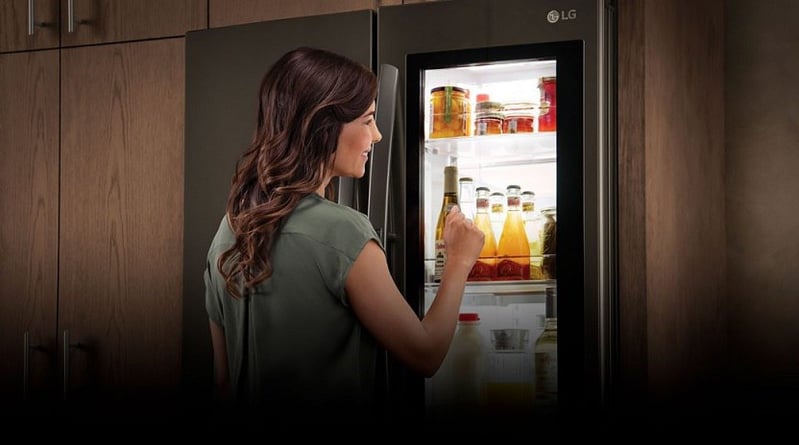 In addition, LG has added two new models to the LG Counter-Depth MAX collection.
The LRYXC2606S now offers four different style cubes. You have cubed and crushed, but also smaller cubed ice for soft drinks.
Craft Ice is slower dissolving spheres of ice designed for drinks where you want less water from a dissolving ice cube.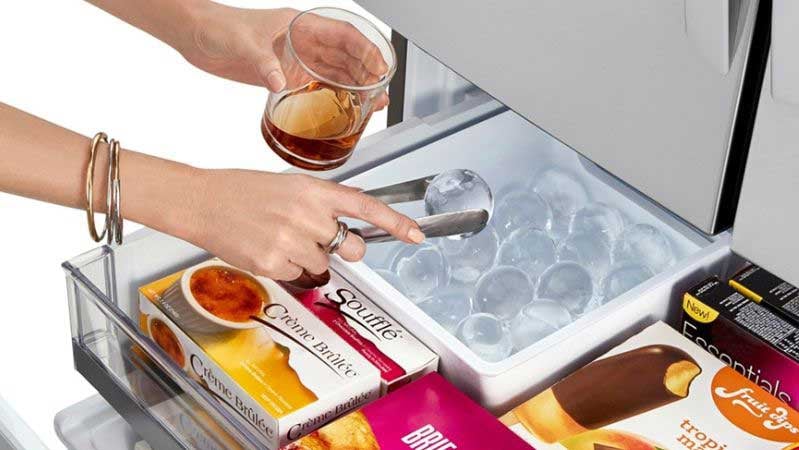 The LRYKC2606S has the Smart Mirror for a more updated version of the InstaView Panel.
The dispenser is their new UVnano Ice & Water Dispenser, which cleans the dispenser automatically using UV light.
They also have a Counter-Depth MAX SRFB27S3 under the LG Studio name at $2,799, which is eerily like the regular Counter-Depth MAX you can buy at $1,799.
How Does the Counter-Depth MAX Compare to Other Brands?
What's interesting about all these comparisons is you get the size at around the same price or lower than smaller counter depth refrigerators from 19-23 cubic feet.
LG Counter-Depth MAX vs. LG LRMVC2306S Refrigerators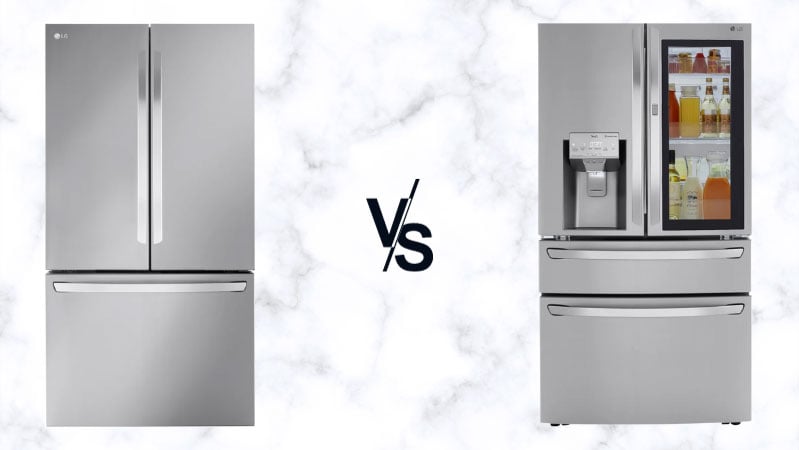 The LRMVC2306S has more features than the Counter-Depth MAX, with a twin evaporator and sensor cooling system.
This LG also features the Door-in-Door panel. You can open the inside door to access your sodas without opening the main compartment.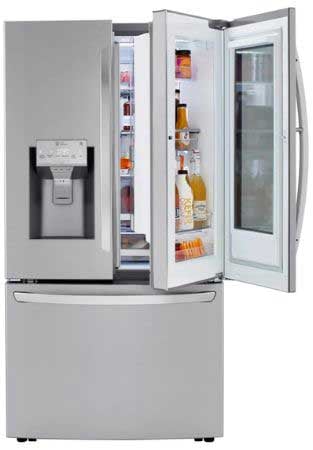 Other smaller LG models also feature French doors with drawers instead of the classic three-door French door. The drawer can be switched to a refrigerator or freezer for better flexibility.
However, the Counter-Depth MAX is bigger than the traditional LG refrigerators by 2-4 cubic feet.
Counter-Depth MAX vs. GE, GE Profile, Café Appliances Refrigerators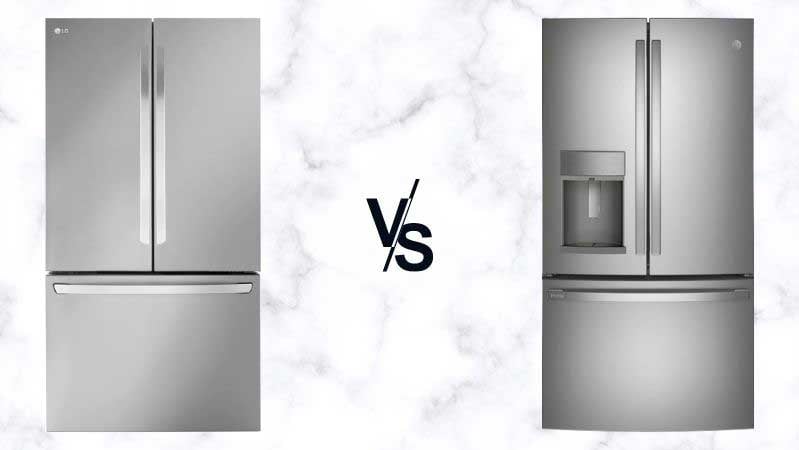 Once again, the Counter-Depth MAX will be much bigger than the GE units at 26.5 cubic feet compared to 22.3 cu. ft. for the GE.
GE does have other features. First, they have multiple finishes to choose from such as white, black, mirrored, and stainless, with different hardware and handle options of brass, copper, black, and stainless.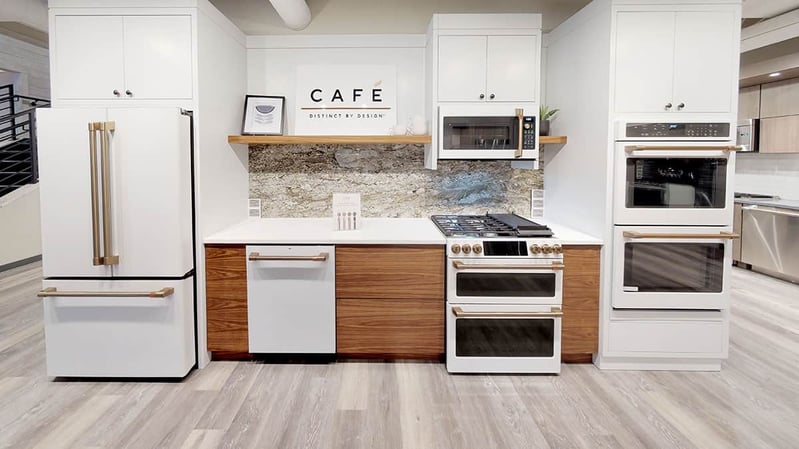 In their Café models, you can have your Keurig Coffee machine built into the dispenser and program it to brew as you wake.
GE also has a large service network, which you will need for a refrigerator, especially if you are buying from a store without service.
Which you probably will.
Counter-Depth MAX vs. Samsung Refrigerators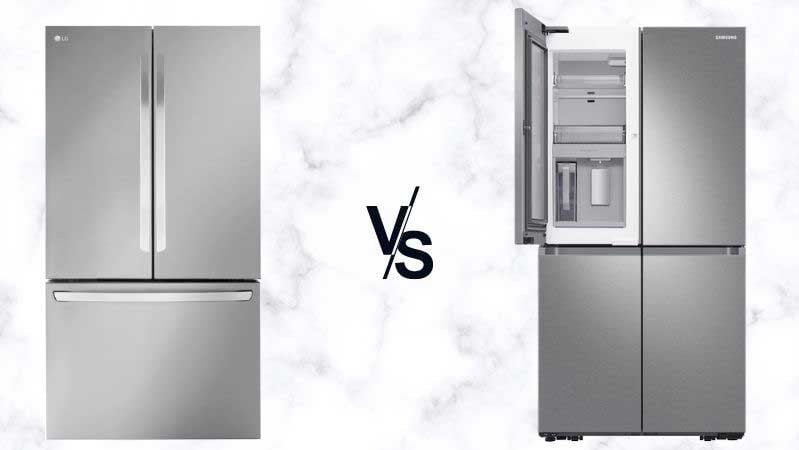 Samsung brought technology to their refrigerators with their FamilyHub android tablets and four-door units.
They have multiple color options, and now they are 27 cubic feet with two compressors and dual ice makers.
LG has the metal back and more models with ice dispensers and InstaView panels, and LG's reliability, especially on ice, seems to be better than Samsung's, but it is worth a comparison.
However, you must be especially mindful of service for both brands, especially with Samsung's ice makers.
Do You Need the Counter-Depth MAX French Door Refrigerator?
Should you buy a Counter-Depth MAX refrigerator or a smaller refrigerator with a better cooling system, features like drawers, or colors like the Café?
Not to mention, how much refrigerator storage space do you need? Everyone has their own unique needs and preferences when it comes to choosing a refrigerator.
To understand how much storage capacity you need, ask yourself the following questions:
1. How many people are in your family?
The cubic foot increases per person. Growing up, we had a family of five with an Amana 23 cubic-foot refrigerator and a 20 cubic-foot freezer that we didn't need.
I could never understand why my parents never used that behemoth in the basement except for the occasional party.
2. How often do you shop?
You need less capacity if you are shopping more frequently. People who shop daily do not need much storage space in their refrigerators.
My neighbor has two teenagers, works long hours, and shops only on Fridays. Her 28 cubic-foot refrigerator looks pretty packed.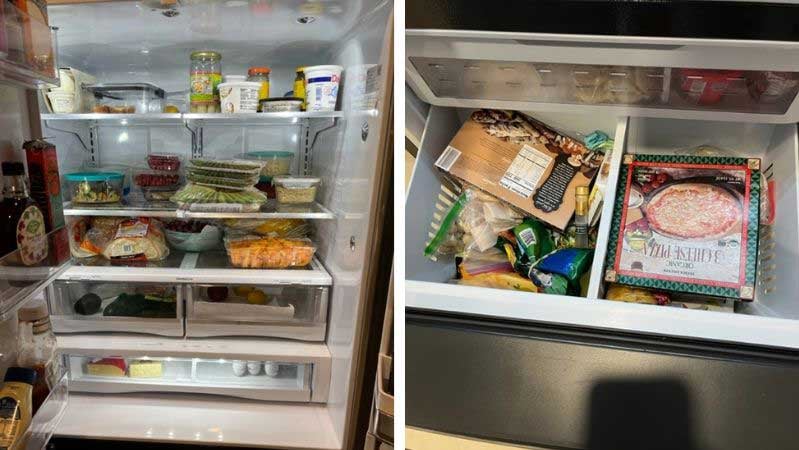 3. Do You Meal Plan?
I prepare meals on Sundays and have someone preparing meals on Tuesdays, so my counter-depth refrigerator is full for my 7-year-old and myself: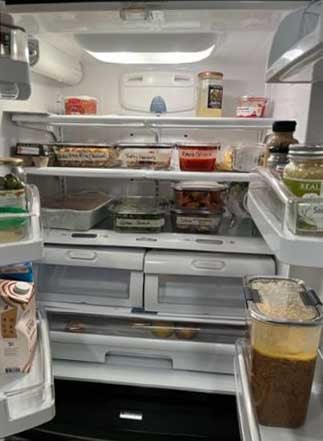 You won't need extra storage with the LG Counter-Depth MAX French door refrigerator. However, you can always add a separate under-counter refrigerator in your kitchen.
Still, the LG counter depth MAX French door refrigerator will be more affordable than buying a counter depth and a separate smaller refrigerator.
Should You Buy the LG Counter-Depth MAX French Door Refrigerator?
The LG Counter-Depth MAX French door refrigerator is large enough to eliminate the need for a standard depth refrigerator.
You have size while maintaining the counter depth aesthetic at an affordable price.
In 2024, you also have better features.
However, do you choose a refrigerator with a better cooling system or better features?
Counter-Depth Refrigerators
FAQs
Answers to the most commonly asked questions about counter-depth refrigerators.
What is a counter-depth refrigerator?
What are the benefits of a counter-depth refrigerator?
What are the size dimensions of a counter-depth refrigerator?
Can I fit as much food in a counter-depth refrigerator as a standard one?
Do counter-depth refrigerators have the same features as standard models?
Are counter-depth refrigerators more expensive than standard models?
Do counter-depth refrigerators have sufficient freezer space?
Can I retrofit my kitchen with a counter-depth refrigerator?
What brands offer counter-depth refrigerator options?
Do counter-depth refrigerators come in different styles and finishes?
What's the energy efficiency of counter-depth refrigerators?
What warranty options are available for counter-depth refrigerators?
Additional Resources
Download the Yale Counter Depth Refrigerator Buying Guide with features, specs, and inside buying tips for regular, pro, and integrated counter-depth refrigerators. Well over 1 million people have read a Yale Guide.
Related Articles
Why Should You Trust Us?
It seems that every appliance review has nothing but glowing comments about almost every product, yet you read customer reviews and they are almost universally bad.
We are here to fill in the disconnect. We'll give you the best features, and the drawbacks as well, including reliability based on over 37,000 calls performed by our service team just last year. Our goal is to give you ALL the information so you know what's right for you.
Please consider subscribing or adding to the conversation in the comments below. We appreciate you stopping by.
Steve Sheinkopf is the third-generation CEO of Yale Appliance and a lifelong Bostonian. He has over 38 years of experience in the appliance industry, and he is a trusted source of information for consumers on how to buy and repair appliances.

Steve has also been featured in numerous publications, including the New York Times, Consumer Reports, The Boston Globe, Bloomberg Radio, the New York Post, The Wall Street Journal, and Entrepreneur, for his knowledge of how to buy appliances and appliance repair.

Steve is passionate about helping consumers find the best appliances for their needs, and he is always happy to answer questions and provide advice. He is a valuable resource for consumers who are looking for information on appliance buying, repair, and maintenance.

Despite being the worst goalie in history, Steve is a fan of the Bruins and college hockey, loves to read, and is a Peloton biker. The love of his life is his daughter, Sophie.
A Note About Pricing
Pricing on this blog is for reference only and may include time sensitive rebates. We make every attempt to provide accurate pricing at time of publishing. Please call the stores for most accurate price.