How to Buy a Counter-Depth Refrigerator: The Definitive Guide
August 4th, 2022 | 10 min. read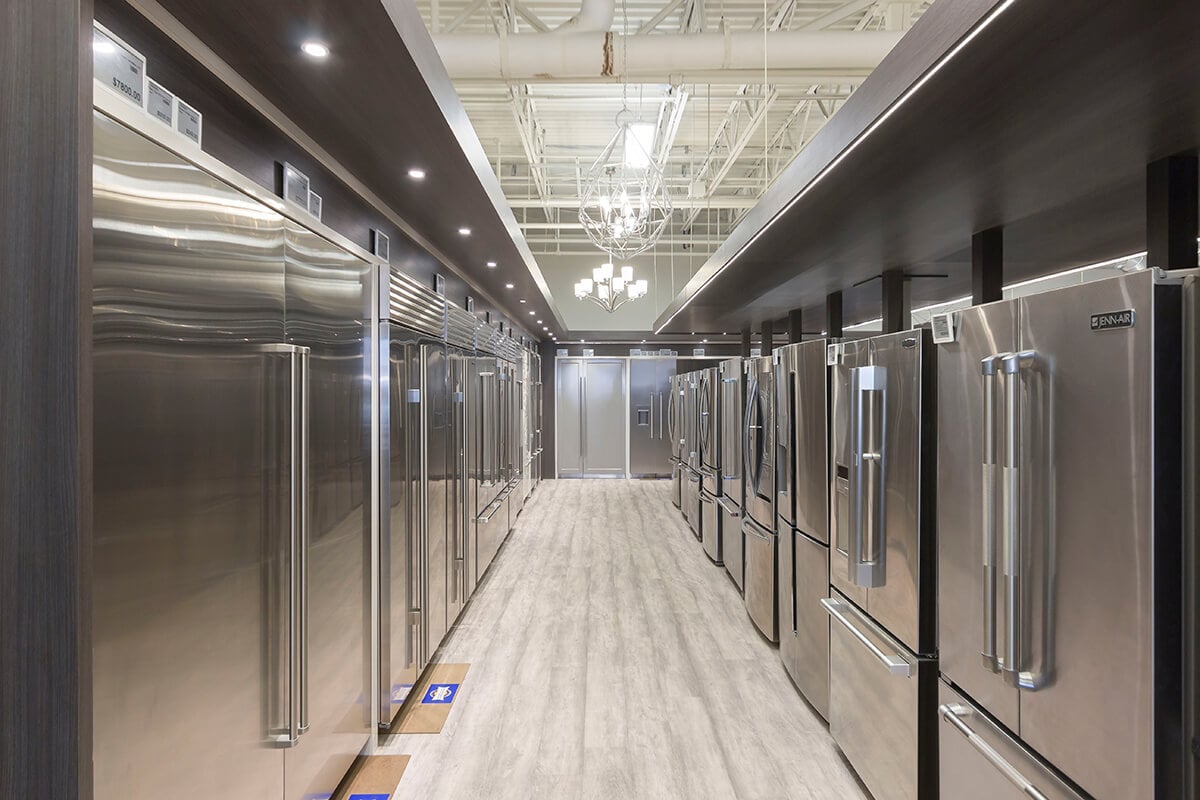 Counter-depth refrigerators are one of the easy ways to improve the look of your kitchen.
You don't see a refrigerator protruding into your kitchen with unfinished textured sides.
However, you have three distinct types of counter-depth refrigerators to consider with different prices and features.
Choosing between the three will change the look of your kitchen.
This article will show you the differences, features, and what brands and models to consider.
By the end of this article, you'll be able to choose the right counter-depth refrigerator for you and your family.
Don't worry. You will have plenty of pictures and videos to help you along the way.
How to Buy a Counter-Depth Refrigerator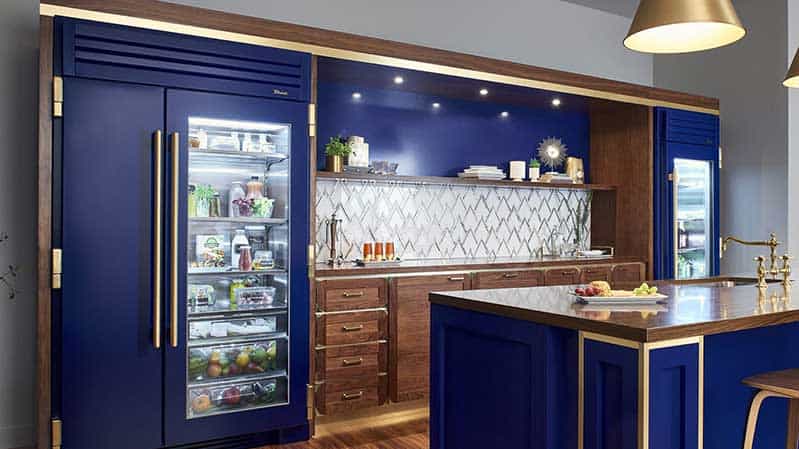 True Professional Counter-Depth Refrigeration
The most singularly affected appliance throughout the pandemic and supply crisis is refrigeration.
Like other appliances, you had the same broken supply chain problems such as traffic at shipping ports, lack of available trucking and warehousing, component issues, and overwhelming demand.
However, in 2021, a freak ice storm and then a hurricane hit Dallas, Texas, the main area for refrigerator insulation products in the US.
Now, many of the popular refrigerators take eight months to one and a half years to order.
Read through this article but be prepared to pivot to another brand if you cannot wait the long lead time to have your refrigerator delivered.
Read More: Appliance Prices, Shortages, and Final Mile Issues
Types of Counter-Depth Refrigerators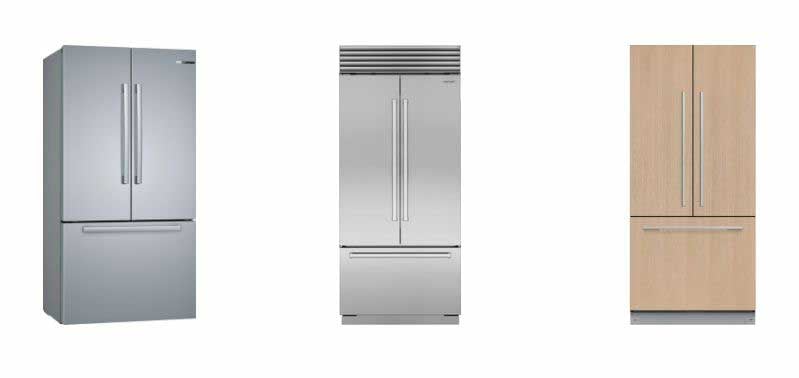 There are three types of counter depth refrigerators: freestanding, professional, and integrated. We will go over each in detail.
Freestanding Counter-Depth Refrigerators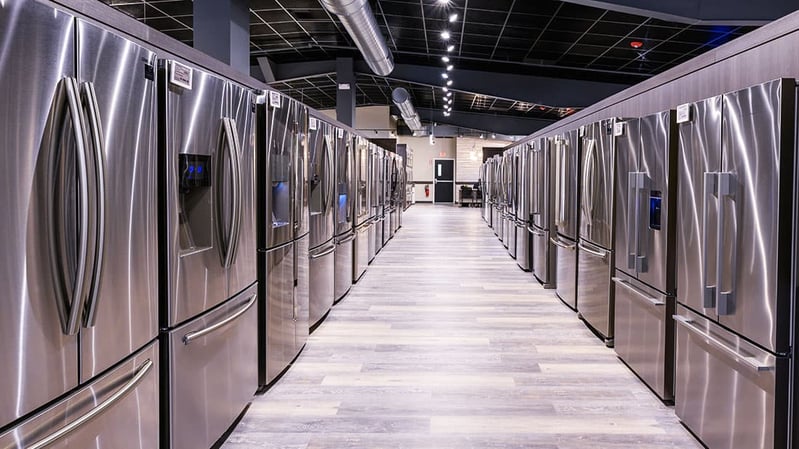 Freestanding Counter-Depth Refrigerators at Yale Appliance in Hanover
Freestanding counter-depth refrigerators are quite simply shallower than regular refrigerators. Of the three types, freestanding is the least expensive.
Price
Freestanding counter-depth refrigerators range from $1,800-$5,000.
Brands
The most popular freestanding counter-depth refrigerator brands are JennAir, Bosch, GE, KitchenAid, Whirlpool, Samsung, LG, Electrolux, Dacor, Beko, Fisher & Paykel, Maytag, SKS, Profile, Café, and Frigidaire.
Sizes
The sizes fit regular standard cabinets of 24, 28, 30, 33, and 36 inches, with 36 being the most popular.
Look at the brands with taller models (over 70 inches) for larger cubic footage.
Quick Tip: Appliances fit cabinets, not the other way around. Refrigerators, stoves, and dishwashers are designed to fit specific cabinet types.
Configurations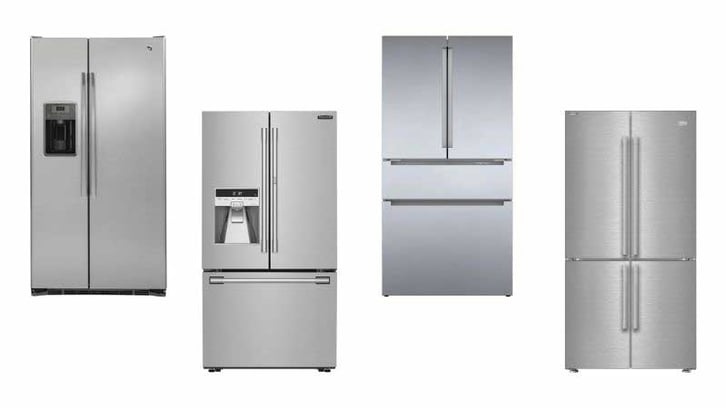 Side-by-side, French door, a French door with a drawer, and four doors are all common freestanding counter-depth refrigerator styles.
Side-by-side refrigerators were the premium unit until French door refrigerators became more popular 15-20 years ago.
Side-by-side refrigerators made a modest return during the pandemic because of the larger freezer space.
French doors with drawers and four-door types can have adjustability from freezer to refrigerator.
Read More: French Door vs. Side-By-Side Counter Depth Refrigerators
Best Features of Freestanding Counter-Depth Refrigerators
Twin Evaporators
About half the brands offer a twin evaporator versus a single evaporator.
The refrigerator doesn't cycle air from the refrigerator to the freezer and back, so the temperature is more constant with less defrosting.
Your food, especially in the freezer, should taste better.
Bosch is a bit more advanced with two compressors.
Food Preservation
You have several different types of food preservation stories.
Beko has their Active Fresh Blue Light technology simulating sunlight to extend the life of fruit and vegetables, as well as their EverFresh crispers.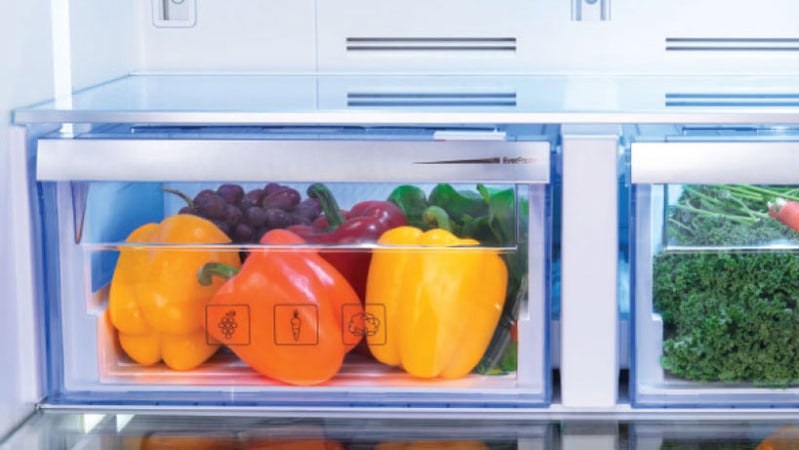 Beko ActiveFresh Blue Light Crisper Drawers
KitchenAid, JennAir, and Bosch have carbon filters.
LG employs six sensors to maintain temperature.
Smart Technology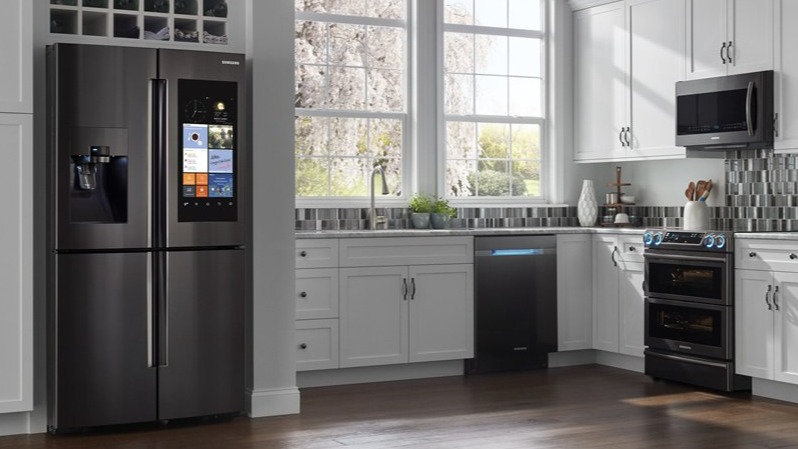 Samsung Family Hub 4-Door Counter-Depth Refrigerator
Smart technology has some value in a refrigerator. It will send an alert if you leave the door open.
You will also be alerted to change your filter in addition to being able to change the temperature from an app on your phone.
On the Café refrigerator models, you can brew coffee automatically and have it brewed the next morning using their SmartHQ app.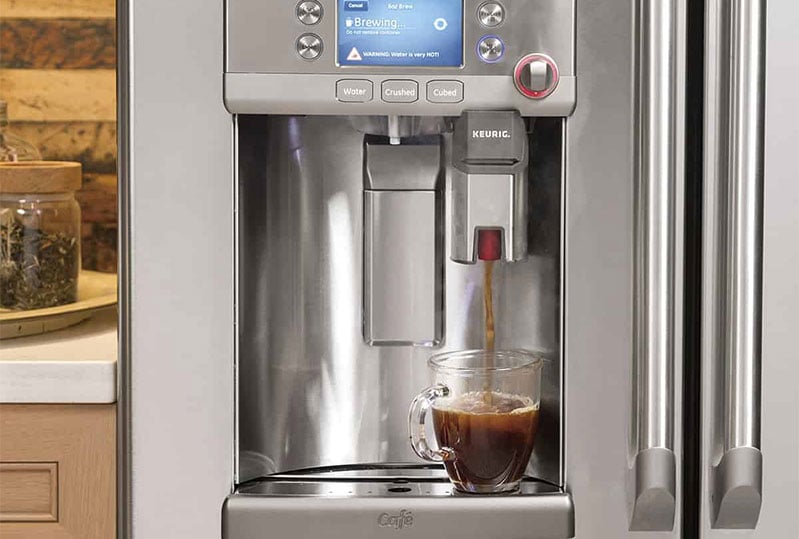 Café Smart Counter-Depth Refrigerator with a Built-In Keurig
Samsung allows you to look inside the refrigerator from the grocery store with internal cameras (so you don't buy that extra bottle of mustard).
Read More: 4 Best Smart Refrigerators for 2022
Door-in-Door Panels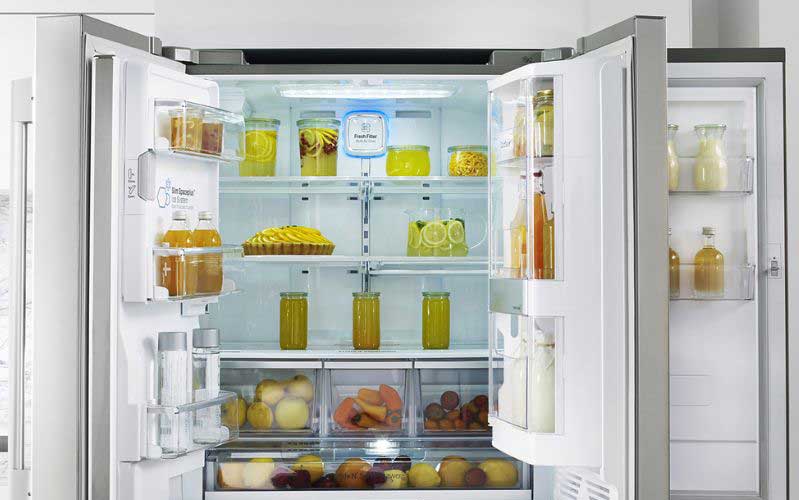 SKS Counter-Depth Refrigerator with Door-in-Door Panel
The door inside a door allows you to easily access milk, juice, and other items on your door without having to open the main door.
Dispenser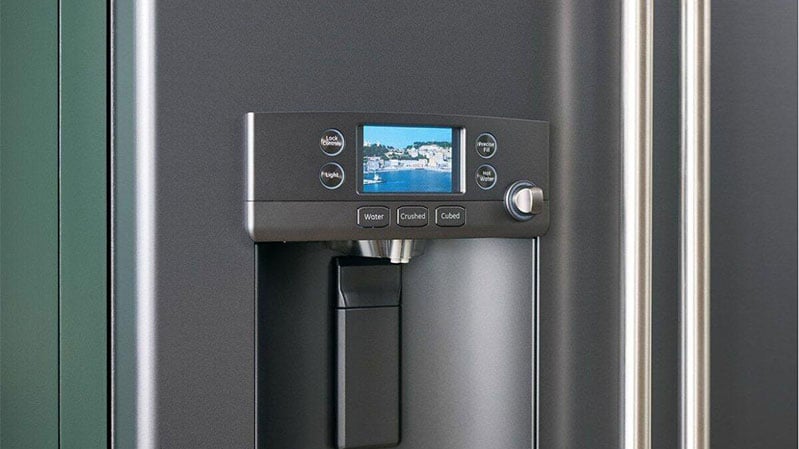 Café Refrigerator External Water Dispenser
Typically, water and ice will be either internal or external. The new dispensers can dispense premeasured amounts of water and accommodate sports bottles.
Stainless Interiors
Many better refrigerators like Bosch, SKS, LG Signature, and KitchenAid will offer some stainless on the back to absorb the cold air better.
Best Freestanding Counter-Depth Refrigerators to Consider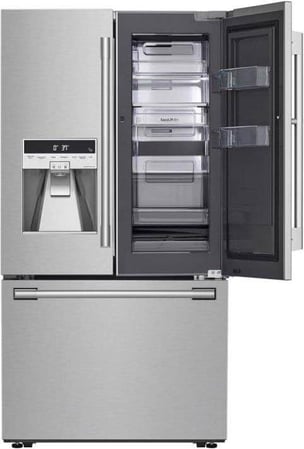 This model checks all the boxes with Door-in-Door, twin evaporators, craft ice, and a stainless back. Also, it's one of the largest at 24 cubic feet.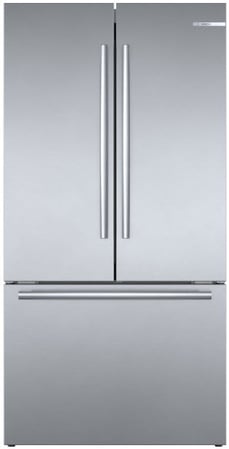 Bosch is the only manufacturer with two compressors, the same as a Sub-Zero.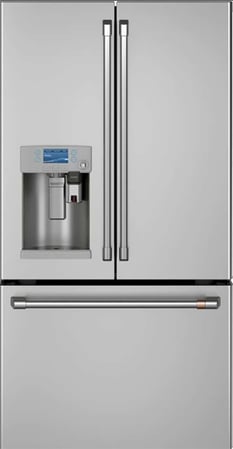 Café has the most advanced smart functionality, but you can choose between three finishes with three accents for a unique look.
Look at their Profile and GE series for a good but more basic counter-depth refrigerator.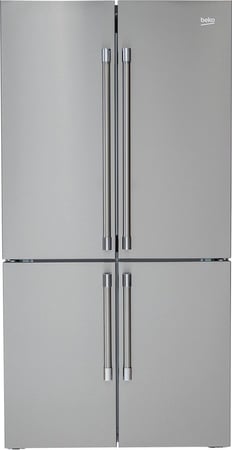 Beko has the best availability these days (which may be the best feature). But their unique features work.
Beko's Active Fresh Blue Light does work because it does emulate sunlight.
They have an ion generator to pulse negative ions to counteract the positive ions of odors.
That, too, works.
You also have decent kitchen packages under $6,000 with Beko.
Read More: Best Counter-Depth Refrigerators

Many people, and perhaps yourself, have a 33-inch cabinet which is the most underserved product.
You can only find a more expensive Fisher & Paykel or an unavailable Samsung in a 33-inch width size.
Read More: Best 33-Inch Counter-Depth Refrigerators
Professional Counter-Depth Refrigerators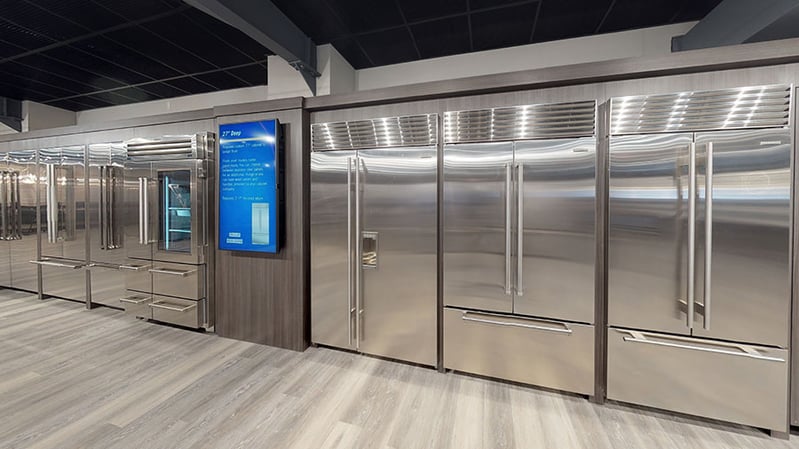 Professional Refrigeration at Yale Appliance in Hanover
Brands
Sub-Zero, Thermador, JennAir, GE Monogram, Liebherr, Viking, Beko, LG, True, Samsung, BlueStar, and KitchenAid are the most popular professional counter-depth refrigerator brands.
Professional counter depths look like restaurant refrigerators with compressors on the top. They are also taller at 84 inches in height.
Sizes
Professional refrigeration is available in 30, 36, 42, and 48-inch widths.
Configurations
Professional refrigerators are available as bottom mount, French door, and side-by-side styles.
Price
Professional counter-depth refrigerators range from $9,000 to $19,000.
Differences Between Freestanding and Professional Refrigerators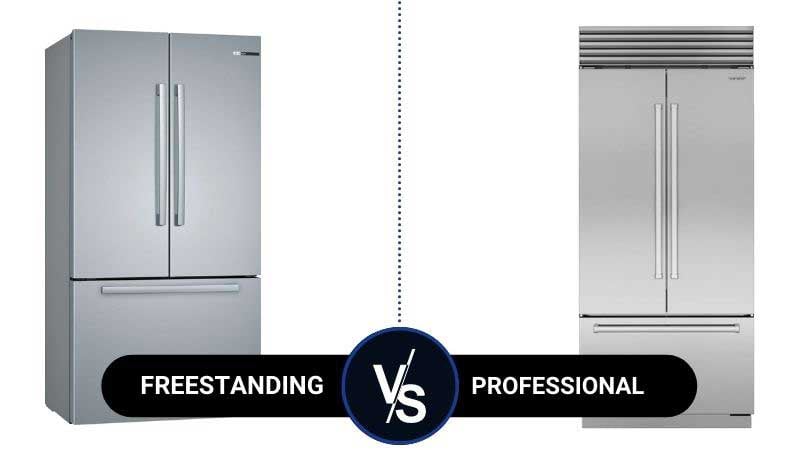 You may think size if the main difference because the pro is taller and available in larger sizes.
However, the internal capacities are similar within the same widths.
You can add custom cabinet fronts easier on the pro as well.
People talk about "build quality."
It's an ambiguous term to make you feel better about buying the more expensive item.
On the better professional refrigerators, you have vacuum seals and magnetic crispers designed to keep food fresh longer.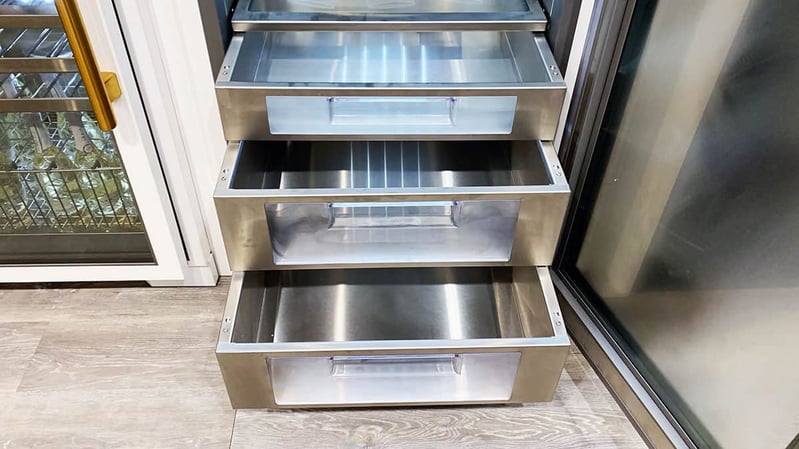 True Refrigerator Shelving and Crispers
If you look at the shelving and crispers of a True or Sub-Zero, you'll notice the components are better than a freestanding counter depth refrigerator.
The temperatures can all be set in one-degree increments.
Best Features of Professional Counter-Depth Refrigerators
Two Compressors
The best professional refrigerators have two compressors for better temperature management.
Wi-Fi Enabled
Sub-Zero, Monogram, and Dacor by Samsung have smart functionality.
Learn More: Smart Appliance Buying Guide
Air Scrubbers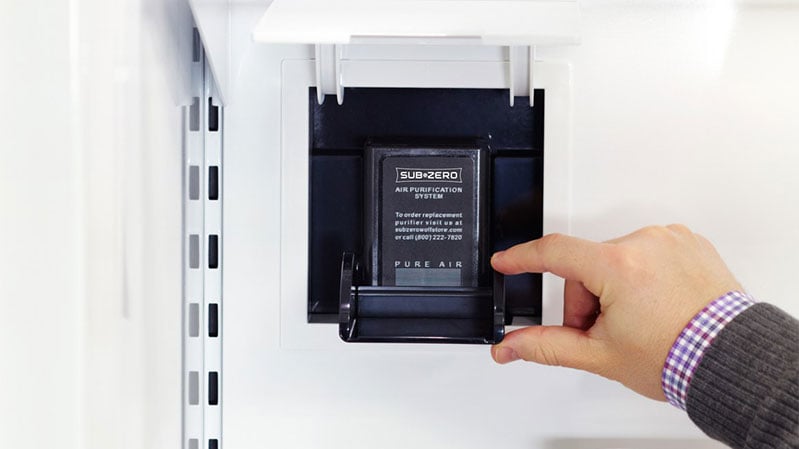 Sub-Zero Air Purification System
Sub-Zero has a scrubber to slow spoiling by "scrubbing" ethylene gasses off foods and preventing cross-contamination.
All Stainless Interiors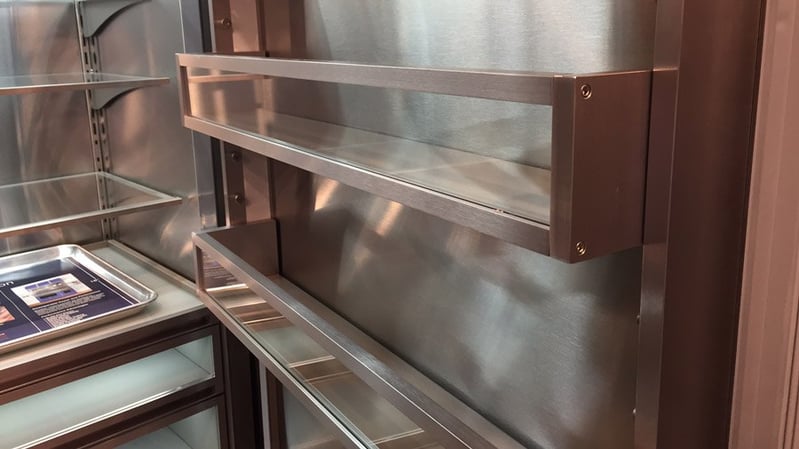 BlueStar Refrigerator with an All Stainless Steel Interior
Stainless, as we said, absorbs cold better. True, BlueStar, and the Sub-Zero Pro Series feature all stainless interiors.
Quick Tip: Want to get your milk colder more quickly? Place it against the stainless interior.
Finishes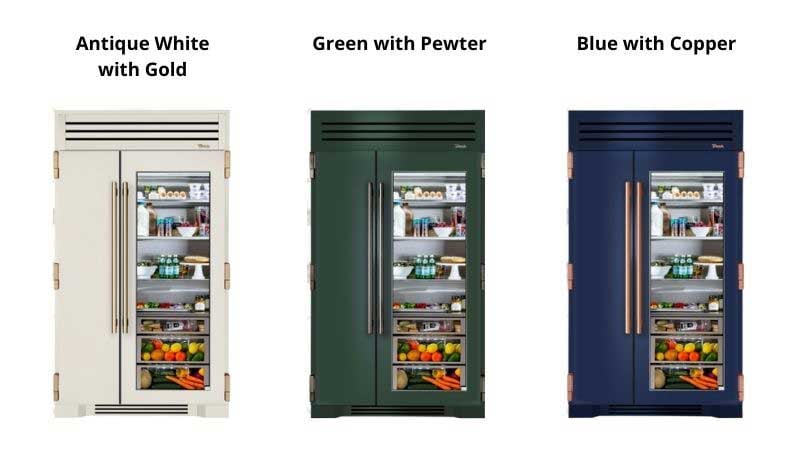 Three Examples of True Refrigeration with Colorful Finishes
Besides cabinet fronts, True has 11 colors with six hinge accents for a truly unique look. Viking has 17 finishes plus brass accents. BlueStar has 1,000 plus 10 trims.
Nanotechnology Shelving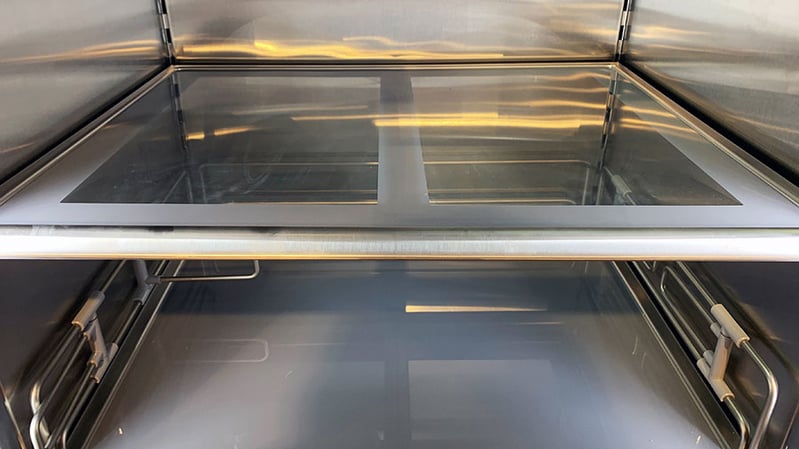 Sub-Zero Refrigerator Shelving Made with Nanotechnology
Nanotechnology slows and congeals the spread of spills. Sub-Zero offers nanotechnology in all their refrigerators.
Columns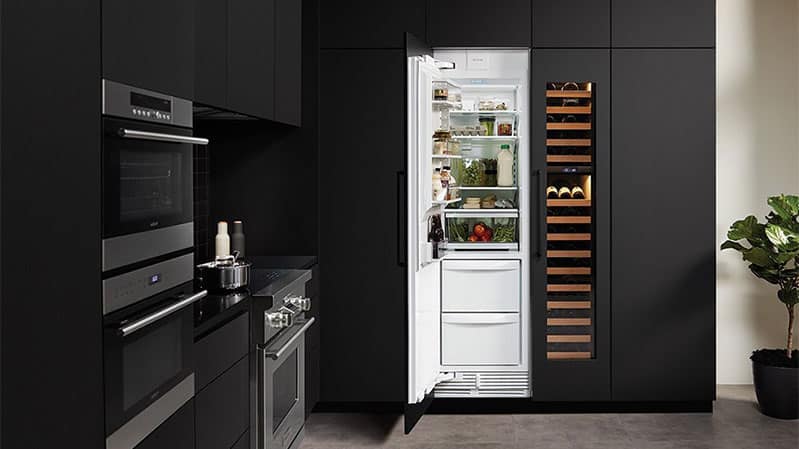 Sub-Zero Column Refrigeration
You will see more about columns in the integrated section.
A column is loosely defined and varies.
For professional refrigerators, a column means either all refrigerator or freezer.
BlueStar offers a professional column in all refrigerator or freezer in 18, 24, and 30-inch sizes.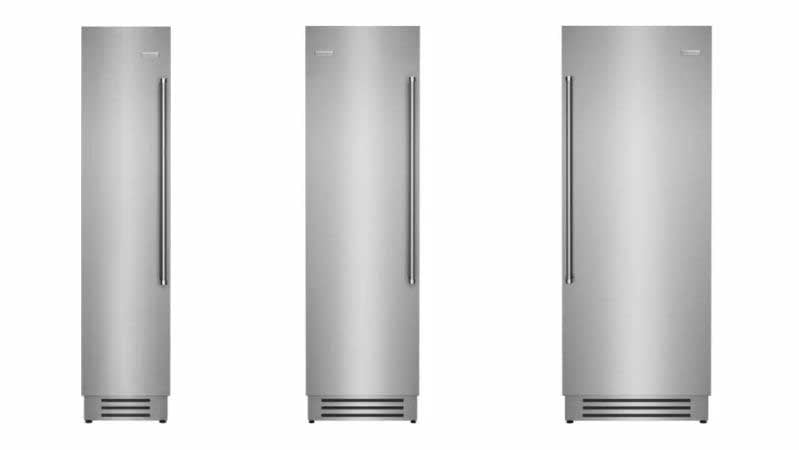 Sub-Zero does as well in 36 inches, while True offers theirs in 30 and 36-inch sizes in the refrigerator, freezer, beverage, or wine cooler.
True is the more professional style with the compressors on the top.
Outdoor Rated
True is UL approved to be outside.
Best Professional Refrigerators to Consider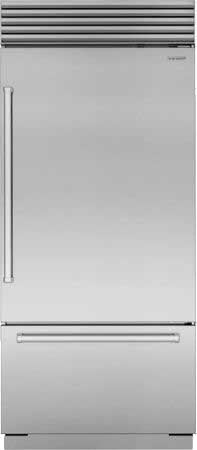 Sub-Zero's 36-inch bottom mount is still their most popular. They have an air scrubber, nanotechnology shelving, a vacuum-sealed door, and magnetized crispers to keep food fresh the longest.
You can also buy it in a French door, the CL3650UFD/S/P. Both are available in stainless or can be paneled as well.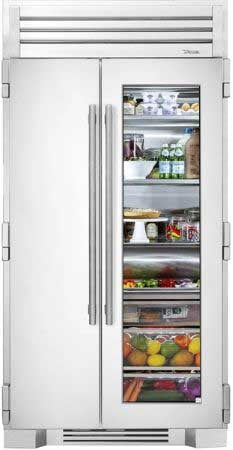 Sub-Zero is the largest family-owned American appliance company while True is the largest family-owned American commercial refrigerator company.
If you have pulled a frozen dinner out of a Wegmans or Whole Foods, it was from a True Freezer.
The refrigerator is solid, from an all-stainless interior and the solid thick glass shelving to the heavy crispers.
What's more, you can buy it with a glass door.
Go to their website and play around with their color and hinge choices.
Read More: True vs. Sub-Zero Professional Refrigeration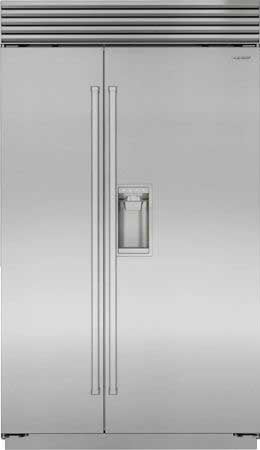 You have all the largest sizes plus all the advantages of a Sub-Zero. It's one of the only professional refrigerators with a dispenser.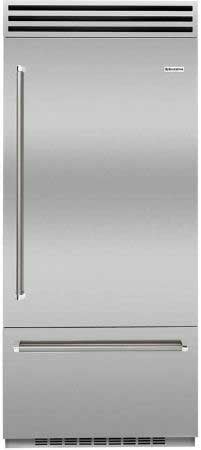 Bluestar finishes our American family-owned appliance businesses listed.
Although not as well-known as the other brands, BlueStar is the only company to fit a full-size chef's pan in a 36-inch size.
You also have an all-stainless interior and 1,000 different colors to choose from.
Integrated Counter-Depth Refrigerators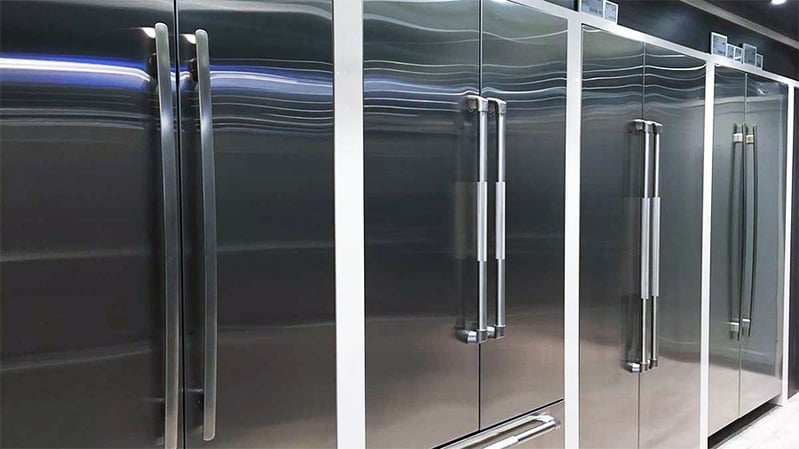 Integrated Refrigerators at Yale Appliance in Boston
An integrated refrigerator sits flush with the cabinet and becomes seamless to the cabinet itself.
Brands
Thermador, Sub-Zero, Gaggenau, Miele, Bosch, Jenn-Air, Dacor, and Monogram offer integrated refrigerators.
Sizes
Integrated refrigerators are available in 18, 24, 30, 36-inch widths
Integrated Refrigerator Configurations
Many integrated refrigerators are purchased as an all refrigerator or freezer "column."
That column can be all refrigerator or all freezer in one unit or with drawers.
You can also buy an integrated refrigerator in a combination unit with drawers or French doors.
Selection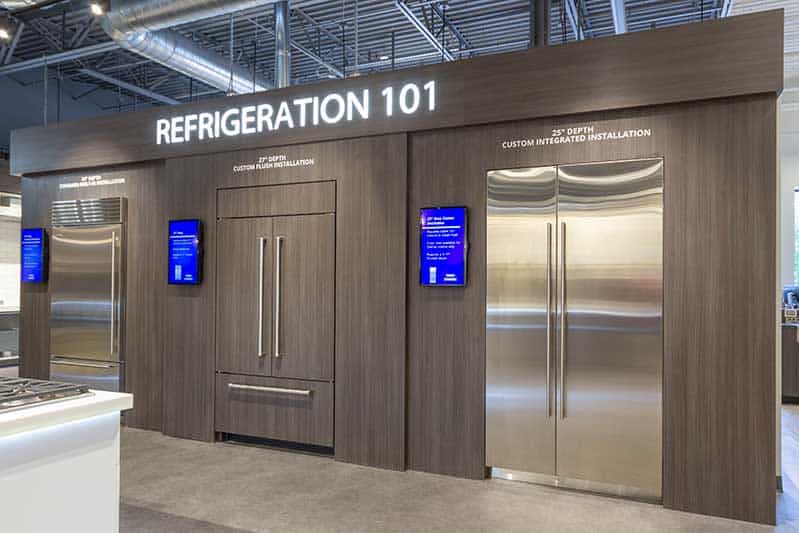 Sub-Zero Integrated Refrigeration at Yale Appliance in Framingham
Many more brands offer integrated because they can easily pass energy efficiency standards, unlike the larger professional types.
Differences Between Integrated and Professional Refrigerators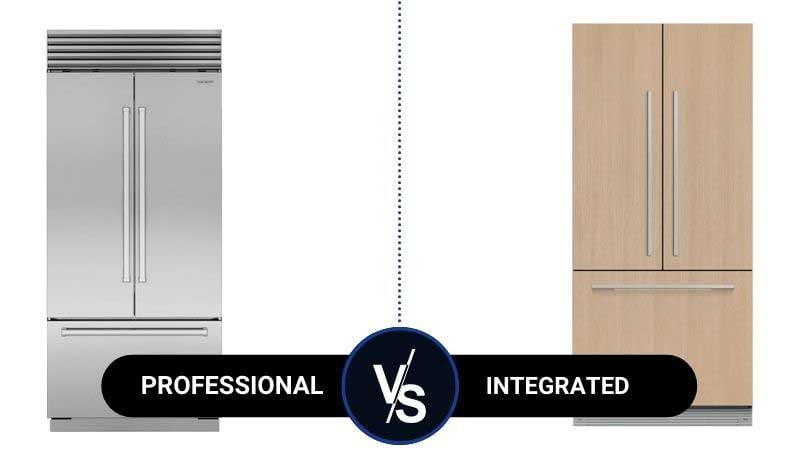 Integrated is different than a professional refrigerator because the door doesn't protrude into the kitchen like the other two types.
The pro is almost distinctive, whereas the integrated is designed to be hidden.
Quick Tip: The Pro looks better in stainless, but the integrated is better panelized.
Pros are purchased in sizes 36, 42, and 48 inches.
The integrated refrigerators are purchased frequently in smaller sizes of 18, 24, and 30 inches.
The advantage of buying smaller independent units is placement.
You can place a 30-inch refrigerator and 18-inch freezer anywhere in your kitchen versus placing a 48-inch unit in one or two spots.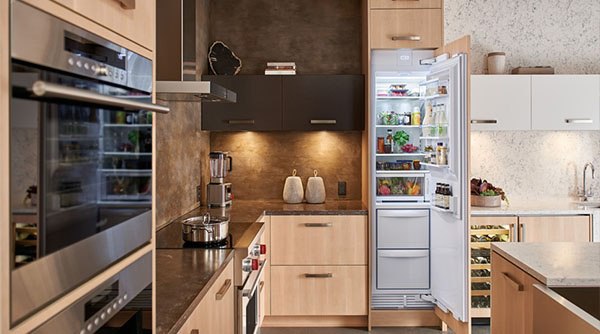 Sub-Zero Column Refrigeration
Overall, you have more possibilities in your kitchen.
Due to a shallower depth, an integrated is a bit smaller by about 5-7%.
Best Features of Integrated Refrigerators
Many of the features offered in the better professional refrigerators are mirrored in an integrated.
All have stainless interiors, Wi-Fi, advanced temperature settings, and twin compressors.
Push to Open Door
Let's say you have a plate of food. You can push the door open rather than pulling on a handle.
Best Integrated Refrigerators to Consider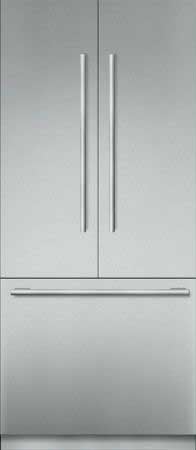 Thermador was one of the first manufacturers to produce an integrated refrigerator.
Their newest models have stainless interiors, Wi-Fi, and a robust temperature management system.
The T36BT915NS is one of the only French door integrated refrigerators available.
Like most integrated refrigerators, it's small at 19.4 cubic feet and cannot fit bottles on the door.
Thermador has packages with free hoods and dishwashers when you buy their refrigerator and qualifying cooking products.
Sub-Zero DET3650CI/R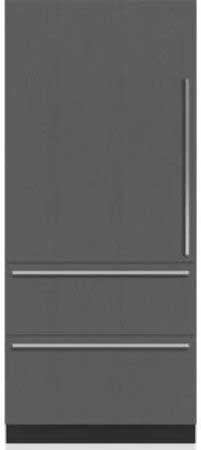 Sub-Zero created the first integrated refrigerator at the now discontinued 27-inch width.
The DET3650CIID has a refrigerator with two drawers below and an ice dispenser in the refrigerator.
Once again, Sub-Zero addresses food preservation by temperature control, air scrubbing, two compressors, and magnetic crispers designed to keep air out of your refrigerator.
SKS is the upscale division of LG.
This refrigerator is interesting, with two compressors and many of the best features available.
You can set that middle drawer to be either refrigerator or freezer.
Also, the refrigerator is incredibly quiet at 39 decibels.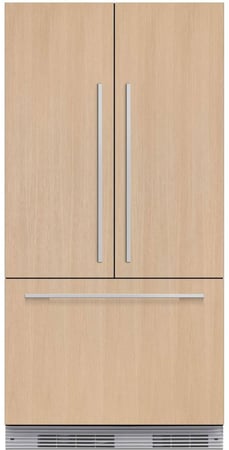 Fisher & Paykel offers a lower-priced integrated French door refrigerator.
Their "ActiveSmart" technology uses sensors throughout the refrigerator to monitor and keep the temperature consistent.
Read More: Best Integrated Refrigerators
Counter-Depth Refrigerator Reliability
We calculated our reliability based on how many French door counter-depth refrigerators were sold and serviced by brand.
With 35 techs in the field, we logged over 40,000 service calls from December 2020 to October 2021.
The following service rates are based on a minimum of 90 refrigerators sold and a total sample of over 2500 products sold.
Reliability for Counter-Depth French Door Refrigerators for 2022
| | |
| --- | --- |
| | Service Rate |
| LG | 4.5% |
| Samsung | 8.4% |
| GE Profile | 10.2% |
| Café Appliances | 12.6% |
| Bosch | 14.9% |
| JennAir | 15.8% |
| GE Appliances | 16.5% |
| KitchenAid | 17.0% |
| Beko | 32.6% |
| Grand Total | 15.5% |
Refrigerators need service about 15.5% of the time within the first year.
Appliances average about 9.5% in the first year.
Most problems are not compressor failures or the ability to keep food cold.
Dispensing ice through a warmer refrigerator in a French door has caused leaks.
Installation is part of the problem on the high-end pro and integrated units.
However, refrigerators are tougher to fix because a technician should have specialized knowledge of refrigerators and refrigeration.
They are hard to find.
Read More: Most Reliable Counter-Depth Refrigerators
Counter-Depth Refrigerator Installation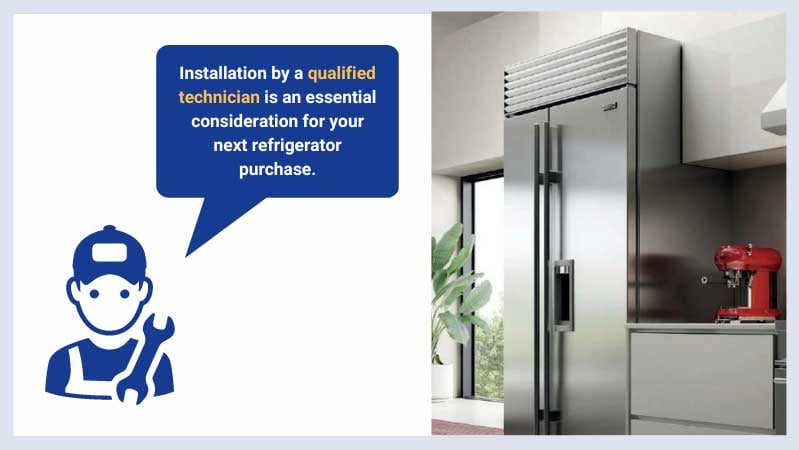 With the lack of skilled labor available, the installation must be part of your consideration.
Especially for the higher-end units, the electrical and water must be located properly.
Installing panels on an integrated refrigerator takes skill and patience. For a first-time installer, the installation will take 3-4 hours.
For professional refrigerators, all the weight is on the top, so you must anchor the unit properly.
Service and installation are prime considerations for purchasing your next refrigerator.
This brings up a good argument.
Read More: How Much Clearance Does a Refrigerator Need?
Should You Buy a Counter-Depth Refrigerator?
Counter depths improve the look of your kitchen by fitting in with your cabinets.
The sides are unfinished in a regular refrigerator, so not seeing an unfinished black side is a plus.
However, you lose 6-8 cubic feet from a standard depth refrigerator and pay more for the counter depth.
What if you could have the added cubic footage of a standard depth with the aesthetics of a counter depth unit?
In other words, how do we turn this:
Into this:
You can place the refrigerator at the end of the kitchen (it belongs there anyway) and build the enclosure out to the doors of the refrigerator.
You will then have the capacity and the look of a counter-depth refrigerator.
Read More: 3 Reasons Not to Buy a Counter Depth Refrigerator
How to Buy a Counter-Depth Refrigerator: Key Takeaways
As with any appliance, you have pros and cons to each type.
The freestanding style is available in many configurations at a much more affordable price.
The cons are the lack of color choices and the ability to panel.
Freestanding is not as good-looking as the other two.
A professional refrigerator is probably built the best and looks great in stainless with the ability to add a custom panel.
The downside is selection. True and Sub-Zero are your best choices. BlueStar is interesting. The monogram may be a good lower priced alternative.
A pro refrigerator is more expensive than a regular counter-depth refrigerator as well.
If you have really good cabinets, then integrated will accentuate the look.
The smaller units can be placed anywhere, opening up the design possibilities.
However, integrated units are also smaller on the inside and are most likely the most expensive per cubic foot.
Upcoming Webinar: How to Buy Counter-Depth and Undercounter Refrigeration
Don't miss our upcoming webinar on choosing the right counter-depth and undercounter refrigeration for your kitchen!
In this free webinar, you'll learn the following:
The three types of counter-depth refrigerators
The best brands and models to consider
One new counter-depth refrigerator worth considering
We'll also cover the basics of wine storage and undercounter refrigeration, like beverage centers, drawers, and ice makers.
Sign up for free today by clicking here.
Additional Resources
Download the Yale Counter Depth Refrigerator Buying Guide with features, specs, and inside buying tips for regular, pro, and integrated counter-depth refrigerators. Well over 1 million people have read a Yale Guide.
Related Articles
Why Should You Trust Us?
It seems that every appliance review has nothing but glowing comments about almost every product, yet you read customer reviews and they are almost universally bad.
We are here to fill in the disconnect. We'll give you the best features, and the drawbacks as well, including reliability based on over 37,000 calls performed by our service team just last year. Our goal is to give you ALL the information so you know what's right for you.
Please consider subscribing or adding to the conversation in the comments below. We appreciate you stopping by.
Steve Sheinkopf is the third-generation CEO of Yale Appliance and a lifelong Bostonian. He has over 38 years of experience in the appliance industry, and he is a trusted source of information for consumers on how to buy and repair appliances.

Steve has also been featured in numerous publications, including the New York Times, Consumer Reports, The Boston Globe, Bloomberg Radio, the New York Post, The Wall Street Journal, and Entrepreneur, for his knowledge of how to buy appliances and appliance repair.

Steve is passionate about helping consumers find the best appliances for their needs, and he is always happy to answer questions and provide advice. He is a valuable resource for consumers who are looking for information on appliance buying, repair, and maintenance.

Despite being the worst goalie in history, Steve is a fan of the Bruins and college hockey, loves to read, and is a Peloton biker. The love of his life is his daughter, Sophie.
A Note About Pricing
Pricing on this blog is for reference only and may include time sensitive rebates. We make every attempt to provide accurate pricing at time of publishing. Please call the stores for most accurate price.