Miele vs. Electrolux Dishwashers (Prices/Reviews/Ratings)
If you are looking for a premium dishwasher, you are probably considering Miele and Electrolux. They are both European companies, but that is where the similarities end.
They are both good dishwashers, but they have two very different value propositions and are very different companies.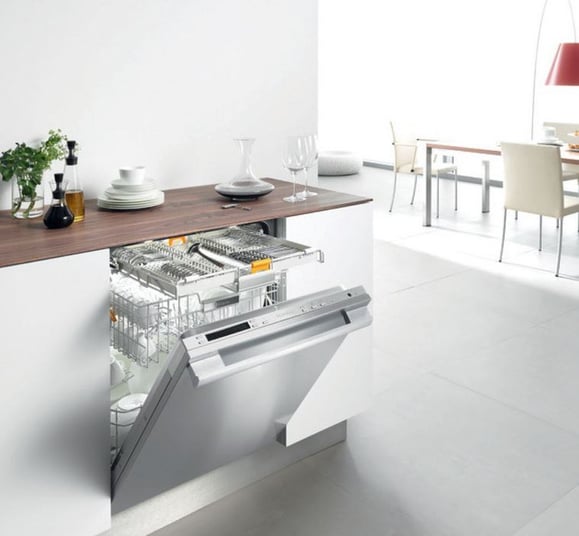 We will look at both companies, both products and then compare at the end.
Short on time? Our free guide helps you choose the right dishwasher
Get the Dishwasher Buying Guide »
Miele
Miele is the largest family owned appliance manufacturer and based in Germany. The company was founded in 1898 by Carl Miele and Reinhard Zinkann. Miele originally made cream seperators, and in 1911 they produced their first washing machine.
In a world of outsourcing, Miele engineers, designs and manufactures all their products to the component level. In fact, 96.8% of all the components except for the rollers in the dishwashers are manufactured by Miele.
Because of their manufacturing process and quality control, Miele is the most reliable dishwasher sold in the appliance industry.
Electrolux
Electrolux is a Swedish company founded in the early 1900's by Sven Carlson. They actually started out by manufacturing kerosene lamps. In 1912, they produced their first vacuum cleaner in 1921 and soon after started producing refrigerators.
You know Electrolux through their Frigidaire division. They are the second largest appliance company in the world after Whirlpool. About 10 years ago, Electrolux started marketing appliances under their own name in the U.S.
Unlike Miele, they operate factories around the world. Their dishwashers are manufactured in the U.S.
The Products
Features:
Hidden Control Panel
Clean Touch Stainless Steel
46db
Fan Assisted Condensation Drying
Cutlery Tray
5 Wash Cycles
Express Cycle
Fully Integrated
Fan Assist Dry
Outstanding Quality Control
Features:
Fast Wash
45db
Integrated Controls
3rdRack For Cutlery
Silverware Basket
9 Wash Cycles
Wave Touch Controls
Heated and Non-Heated dry Options
Target Wash Zones
Satellite Spray Arm
Electrolux vs. Miele Dishwashers
They do have a few similarities. The quietness is virtually identical with Electrolux being 10% quieter. They both have a third cutlery rack and are integrated dishwashers with the hidden controls on the top.
That is where the similarities end.
Style
Electrolux is an American style dishwasher. It is has a larger interior, but will protrude from the cabinet. Miele will sit flush and sleek in your kitchen (read more about American vs. European Dishwashers here).
Features
Electrolux has more cycles and their "Satellite" wash system, which will provide the most water coverage. The Satellite is basically another wash arm on the main wash arm.
Electrolux Satellite Spray Wash
Both brands have dry cycles. Both use condensation drying, but Electrolux has a heated dry with an element. Miele has an air port to draw air to the side of the dishwasher. The heated air is attracted to the colder side and then disapated. It is a better system than the Electrolux.
Reliability
The other difference is statistical reliability. Miele is the most reliable dishwasher sold at about 3-4% service rate within the first year. Electrolux is still good, but is at 18% service rate within the first year.
So it is features versus reliability...which do you like?
Additional Resources
Confused about Dishwashers? Get The Yale Dishwasher Buying Guide with features, specs and inside profiles to all the brands. Over 135,000 people have read a Yale Guide.
Related Articles
Todd Rourke
Todd Rourke is an Appliance Sales Consultant at Yale Appliance + Lighting. In his spare time, Todd professionally plays music and competes in fishing competitions.

Read more about Todd here.
A Note About Pricing
Pricing on this blog is for reference only and may include time sensitive rebates. We make every attempt to provide accurate pricing at time of publishing. Please call the stores for most accurate price.