American Style vs. European Style Dishwashers (Reviews / Ratings)
For the longest time, American dishwashers were noisy with plastic tubs but loaded with bells and whistles.
About 20 years ago European dishwashers started to hit the market like Asko, Bosch and Miele. They offered virtually noise free models with stainless steel tubs, but were expensive and with limited features.
20 years later, American dishwashers have now become much quieter and offer stainless steel tubs. The Europeans can have more features and are more aggressively priced.
Short on time? Get our free Dishwasher Buying Guide
American vs. European Dishwashers
So, the Europeans have become more American in price, and the Americans have become more European in quietness and stainless options.
The question is: Which would you buy? The answer is a bit complicated, based on price and features. Let's look at each.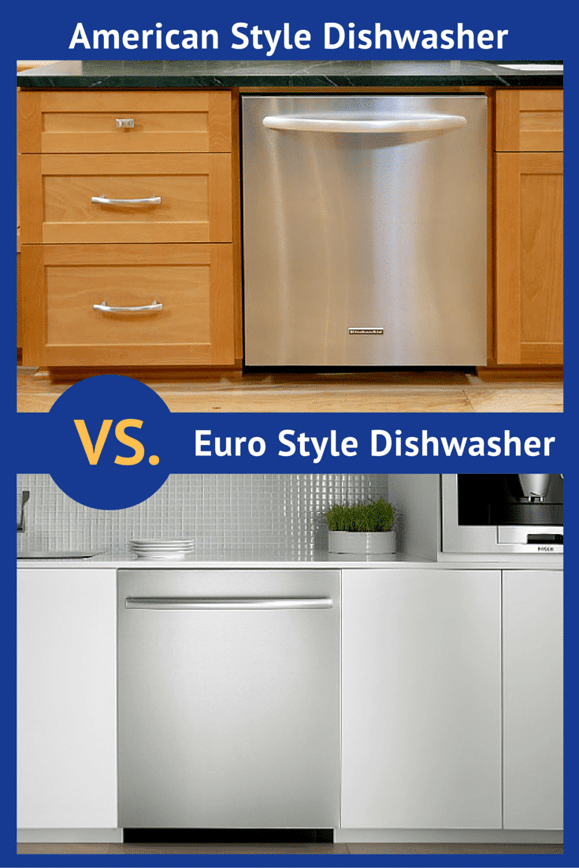 European Style Dishwashers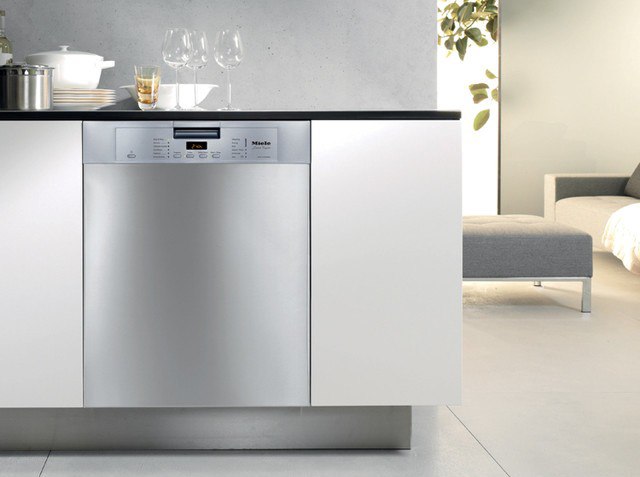 Brands: Asko, Bosch, Miele
European dishwashers will sit flush in a 24'' deep cabinet. This is an attractive feature because the door will not protrude from the cabinets, if you are placing a panel on the front of your dishwasher in a 24'' deep cabinet, I would strongly advise that you choose a European model such as Bosch, Miele, Asko, Thermador, or Gaggenau so that the cabinet door will line up with your remaining cabinetry.
European dishwashers are known for being very quiet. They are quiet because they have a filter at the bottom of the dishwasher designed to catch food particles instead of a hard food disposer at the bottom of many American models.
European dishwashers use less energy and water than American dishwashers. On average the European dishwasher will use 3.5 gallons of water per cycle, European dishwashers use condensation to dry the dishes, the hot water from the cycle will stick to the stainless steel sides of the dishwasher, the dishwasher does not use any energy to heat the air in the dishwasher to dry dishes.
Favorite European Dishwashers
American Style Dishwashers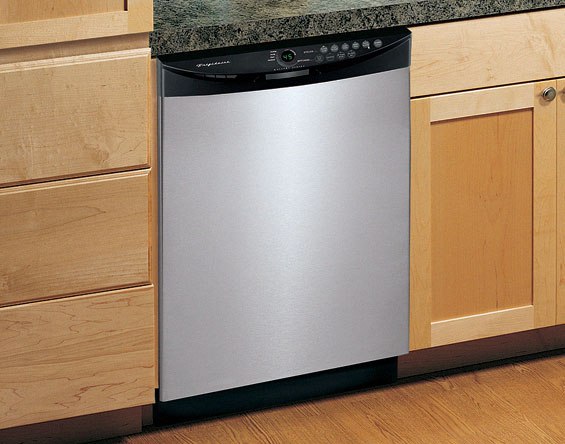 Brands: KitchenAid, GE, Whirlpool, Maytag, Kenmore, Frigidaire
American dishwashers have a large capacity. The door will protrude 2-3 inches from a 24'' deep cabinet to accommodate a greater capacity than many American-style models, if you want to put a panel on your dishwasher, an American-style model will look best installed in an island or a deeper than 24'' cabinet.
Many American dishwashers usually have a hard food disposer; this disposer is designed to get rid of large food particles on your dishes for easy maintenance. However, many of the higher-end American models like KitchenAid are adding the filter system to compete with the quiet ratings of the European models.
American dishwashers usually use a heated dry cycle, the heated dry cycle is a coil at the bottom of the dishwasher designed to heat the air inside the dishwasher to dry the dishes.
Favorite American Dishwashers
Some considerations on how to choose:
Prices?
American models can be purchased at lower prices with Frigidaire starting at $299. European models, specifically Miele and Bosch Benchmark offer dishwashers over $1,200. Both are competitive between $599 and $1,000 especially the Bosch and KitchenAid brands.
What are the basic differences?
American dishwashers have a heated dry cycle and a grinder at the bottom for leftover food while European dishwashers have a filter but tend to be quieter, more efficient and use an internal water heater to boost temperatures for a deeper clean. KitchenAid has deployed a filter on some of their dishwashers lowering the decibels.
Putting on a wooden panel?
If you are, you must choose a euro model. American models are simply too deep and will not be flush with cabinetry. Jenn-Air now offers a model with european depth such as the JDB9600CWS which is actually manufactured by Bosch.
I'm doing a package, should I match brands?
If it's free, then Thermador and Jenn-Air both offer free dishwashers in certain bundles. Bosch even has a 10% savings rebate if it's part of a 3 piece package.
I need a model with the most place settings
American models are typically larger on the inside, but the settings are similar. It all comes down to how you load them too.
I want something quiet and energy efficient
Due to new energy guidelines almost all models are going to be efficient. I suggest using 46 decibles as your loudest guideline for something quiet. Most European dishwashers and KitchenAid are less than 46 decibles.
Read: Quietest Dishwasher by Decibel Rating
Which Should You Buy?
As I said, they both have started to mimic each other. It really depends on features and price. You can still buy a really good American dishwasher under $700 and a decent one under $400. You can buy a truly awesome European dishwasher over $1,200.
In the KitchenAid vs. Bosch debate at $600-$1,000, I like them both. However, Bosch is more reliable in terms of incidents of service (Read Most Reliable Appliance Brands). At the end of the day, both will wash your dishes. Bosch will require less maintenance.
Additional Resources
Read about dishwasher features, specs and service ratings in our Dishwasher Buyers Guide. Over 150,000 people have read our appliance and lighting guides so far.
Related Articles
Rick Medeiros
Rick Medeiros has over 10 years of appliances sales experience and is in the appliance sales department at Yale Appliance + Lighting. He enjoys travelling, live music and learning to play the guitar.

Read more about Rick here.
A Note About Pricing
Pricing on this blog is for reference only and may include time sensitive rebates. We make every attempt to provide accurate pricing at time of publishing. Please call the stores for most accurate price.