Miele Dual Fuel vs. BlueStar 36 Inch Professional Gas Ranges (Reviews / Ratings / Prices)
Pro ranges are more different than ever. There are the high-tech versions like Miele, Jenn-Air, and the dual fuel Wolf. On the opposite spectrum are the low tech ranges like the equally respectable Thermador, Viking Brigade and BlueStar
As you are about to discover, a low tech does not mean bad. There are advantages to both Miele and BlueStar. However, they have zero in common. Seriously, after you read this article, you will choose one direction or the other for many reasons.
So we will look at both companies, their products then compare.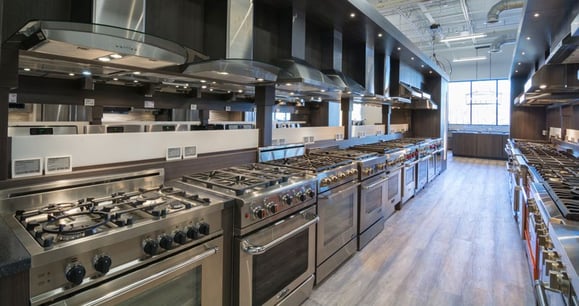 Miele
Miele is the largest family owned appliance manufacturer based in Germany since 1899. Their motto "Immer Besser" or Forever Better is a design and manufacturing philosophy and vision.
In an age of outsourcing, Miele builds 96% of their parts and pieces and products manufactured in their German factory. They test every single unit, so their quality control from start to finish is remarkable.
They are new to this niche since only 2014.
Miele HR1934DFX - $8,499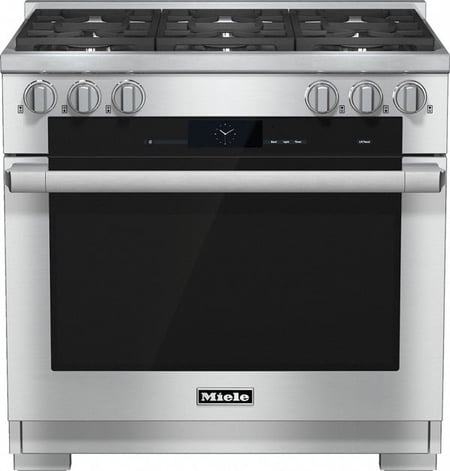 Features:
M Touch controls and backlit knobs
M Pro dual stacked burner system with TrueSimmer
ComfortClean dishwasher-safe grates
TwinPower Convection fans
21 Operating modes including
Self-Clean
Moisture Plus
MasterChef and MasterChef Plus
Automatic Programs
Wireless Roast Probe
Soft Close and Soft Open
Clean Touch Steel™ front
Miele Pro Range Features (48-inch)
Thanks for reporting a problem. We'll attach technical data about this session to help us figure out the issue. Which of these best describes the problem?
Any other details or context?
message
BlueStar
BlueStar ranges originated in Reading, PA in 1880 from Prizer-Painter Stove Works, a manufacturing company of residential and commercial ranges, hot water heaters, furnaces, and heating stoves. Prizer-painter Stove Works continued to manufacture high-end cooking products for over a century.
In 2002, Prizer introduced the BlueStar line, restaurant-quality ranges designed for the residential market.
BlueStar BSP366B - $8,069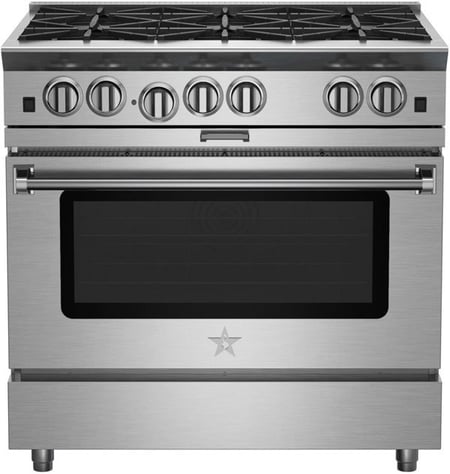 Features:
Two searing PrimaNova™ 25,000 BTU burners for maximum high, concentrated heat
Plus UltraNova® 22,000 BTU, SupraNova™ 18,000 BTU, Nova™ 15,000 and 130° simmer burners
2-in-1 Griddle Charbroiler
PowR Oven™ for faster preheating and enhanced efficiency
Convection oven cooking
Extra-large oven capacity
Ceramic infrared broiler
Sleeker new design
Easier to clean range top
5 position rack slide, with a full extension rack
Larger oven window for increased visibility
Available in over 750+ colors & finishes
BlueStar Pro Gas vs. Miele Dual Fuel Range Comparison
Other than higher output burners, there is almost nothing in common between these ranges. Let's look at the controls, oven, and burners.
Controls
The Miele dual fuel range has digital controls with clock and timer and the MasterChef controls which have 21 preset cycles plus a steam option. The controls also eliminate guesswork from cooking by automatically programming the right time and temperature for you by simply hitting a button. The temperature probe is even wireless.
The BlueStar range, on the other hand, has simple knob controls to control the temperature in the oven.
Oven
You are comparing a professional gas range with a professional dual fuel range. The Miele oven is self-cleaning twin convection electric whereas the BlueStar is straight manual gas pure convection.

Miele dual fuel range with dual convection

BlueStar gas range oven interior with convection
Self-cleaning aside, electric is better for baking, whereas the pure convection gas is a moister heat and better for roasting.
Miele is the only brand with a steam function, which is essential for hardening crusts. As I said, you have automatic programs just for bread by hitting a button.
Burners
The Miele range has 6 sealed burners with five having 19,000 BTU's and one having 12,000 BTU's. The BlueStar range has six open burners with one having 25,000 BTU's, two having 22,000 BTU's, one at 18,000, one at 15,000 and the remaining at 9,000 BTU's. As you can see the BlueStar range has plenty of power with the PrimaNova burner deliver an intense 25,000 BTU flame for maximum high.
The BlueStar range also has an interchangeable grill and griddle, so you can have 6 burners and grill or griddle. However, the Miele infrared grill and griddle models are better, because they are thermostatically controlled for even heating.
If you like to grill, the Miele infrared gives you the intense sear and is easier to clean, because infrared burns the drippings off.
Finishes
The Miele range is only available in stainless steel but the BlueStar range can be ordered in 750 different colors as well as custom colors.
Final Thoughts
As I said in the beginning, this is an interesting comparison. Your choice would be based on personal preference. Do you like to roast or bake? Do you want restaurant hot burners and how much do you grill and/or griddle? Will you use the technology and is steam even appealing? Or do you want to make a fashion statement with a unique color and trim.
So the question is do you want the range that can cook for you or do you want to cook?
Additional Resources
Want more information about professional ranges? Download the Yale Pro Cooking Buying Guide with features, specs and detailed profiles of all the brands like Wolf, Miele, BlueStar, Thermador, Viking, Jenn-Air and more. More than 195,000 people have read a Yale Guide.
Recommended Reads
William Hanley
William Hanley is an appliance sales consultant at Yale Appliance + Lighting. Before joining Yale, William worked for twenty years in jewelry sales and is a lifelong Patriots and RedSox fan.

Read more about Bill here.
A Note About Pricing
Pricing on this blog is for reference only and may include time sensitive rebates. We make every attempt to provide accurate pricing at time of publishing. Please call the stores for most accurate price.