Hestan vs. Wolf Professional Dual Fuel Ranges
August 11th, 2021 | 8 min. read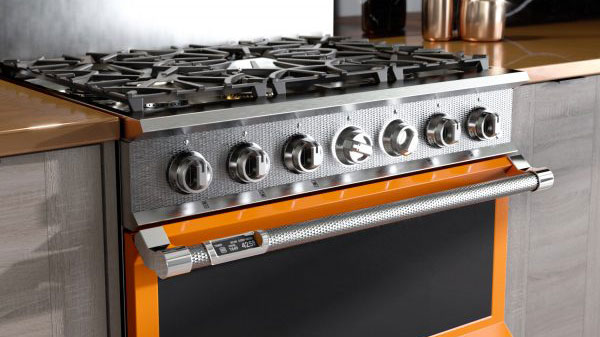 If you're buying a professional range, you will have problems.
I know it's not the best introduction especially since we are around to sell them.
Availability is an issue. Some brands are now quoting six months to a year for a normally in-stock product.
Selection is another consideration. You now have an infinite amount of choices.
You have the older brands like Wolf, Viking, Miele, Thermador, and JennAir.
You also have interesting brands like Signature Kitchen Suite (SKS), Hestan, Fisher & Paykel, and BlueStar. Each of these brands has different value propositions and features to consider as opposed to the more seasoned brands.
In this article, you will read a comparison between Wolf and Hestan for a professional dual fuel range.
Both have new ranges with vastly different burners, controls, ovens, and overall appearance. We will compare every aspect of both Wolf and Hestan.
It will be a good article if you are looking for a pro range as I will also add some comparisons to other brands.
It will be like shopping for a pro range without going to a store.
First, you should understand the differences between gas and dual fuel ranges before you make a decision.
We have videos on this, so it will be brief.
If you have any questions, please leave them in the comments below.
Are Dual Fuel Professional Ranges Better Than All Gas?
Many believe dual fuel is way better than gas. It depends on the brand and how you like to cook.
Technically, dual fuel or gas with an electric oven is better for baking with its consistent dry heat.
However, gas is better for roasting with its moist heat. Broiling is way better in gas as well, especially with the intense direct heat of an infrared broiler.
Dual fuel vs. gas is way more complicated than just the fuel types.
Almost all manufacturers add features to their dual fuel ranges except for Viking and JennAir.
Wolf's dual fuel ranges are especially notable.
Wolf just updated their dual fuel ranges recently, adding Wi-Fi and Smart functionality, touch screen controls, and their new Verticross blower convection system.
From the last update, they added higher output burners with two 20,000 BTU burners along with an 18,000 and 15,000 BTU burner.
Their all-gas range has not been updated and has their original 15,000 BTU max output along with single convection, non-self cleaning oven.
The only similarities are the gas grill, griddle, and French top options on their larger 36, 48, and 60-inch ranges.
Hestan's dual fuel ranges only change from their gas ranges with added "Marquise" controls. Their all-gas model has self-cleaning as well.
Let's look at each brand and then compare at the end.
Read More: What's the Difference Between All Gas and Dual Fuel Professional Ranges?
Wolf
Wolf is the largest family-owned American appliance manufacturer based out of Wisconsin. SubZero is the refrigerator line, with the recent Cove name being the dishwasher line.
Wolf has been around for years but was acquired by Sub-Zero 20 years ago.
It is the most preferred upscale brand in the US for many reasons (which you will see next).
Wolf updated their professional ranges and have many new features.
Let's look at their best features.
Best Features of Wolf Professional Dual Fuel Ranges
Sizes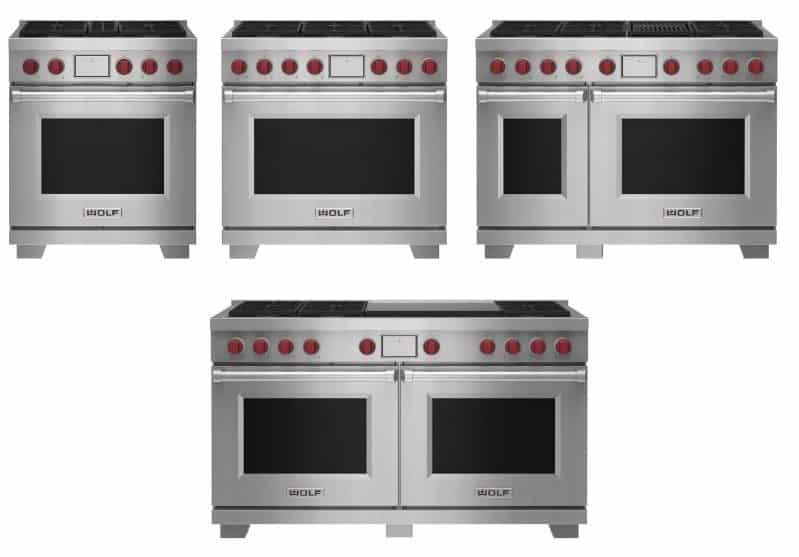 Wolf's dual fuel ranges are available in 30, 36, 48, and 60-inch sizes.
Burners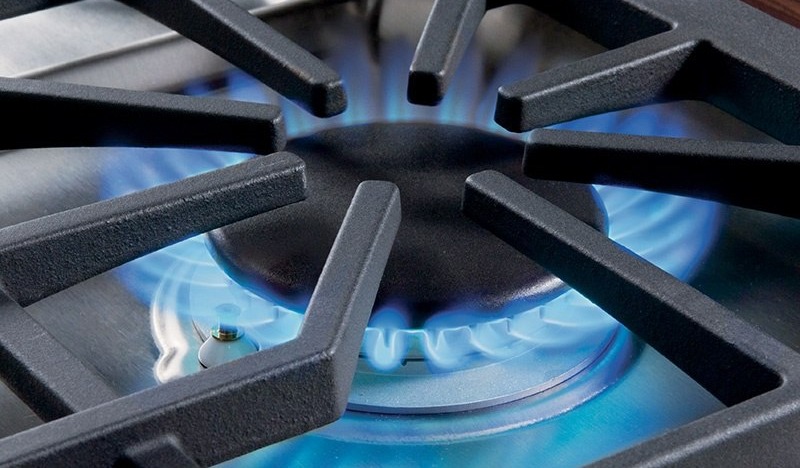 Their burner outputs are decent, with one or two at 20,000 BTU and a combination of 18,000 BTU, 16,000 BTU, and 15,000 BTU with one simmer at 9200 BTU depending on the size.
BlueStar, with its multiple 25,000 and 22,000 BTU burners, has more output. SKS and Fisher & Paykel have multiple 23,000 and 15,000 BTU burners.
Hestan has the most, but you will see their detailed breakdown later.
Simmering Capability
You will see a test later in the article. Wolf's simmer has always been effective, employing a three-stage burner to maintain low heat.
It's just as effective as the Thermador XLO or SKS UltraLow with their simmers of 100 degrees.
Grill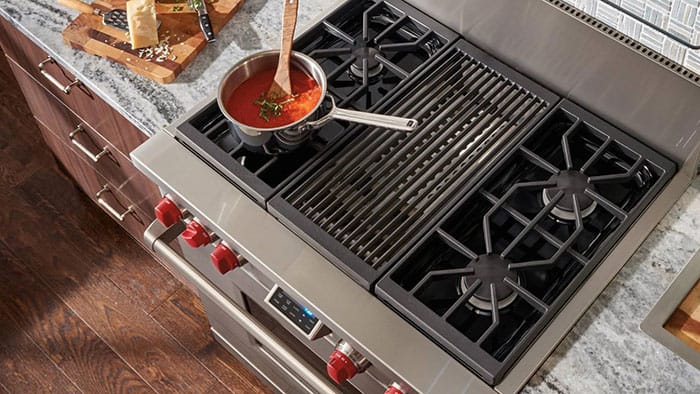 Their infrared grill is excellent. It's better than BlueStar's and Viking's all gas grill and certainly better than Thermador's electric.
Infrared is a directed heat for a better sear.
Infrared is the sear element to a Lynx grill. You can grill a steak incredibly quickly on that Lynx. It's 23,000 BTU.
The Wolf is smaller but still powerful at 16,000 BTU.
Gas grills diffuse the heat and are much harder to clean than infrared because of infrared burners off the drippings.
Wolf improved the grill by adding three settings for different types of foods.
Griddle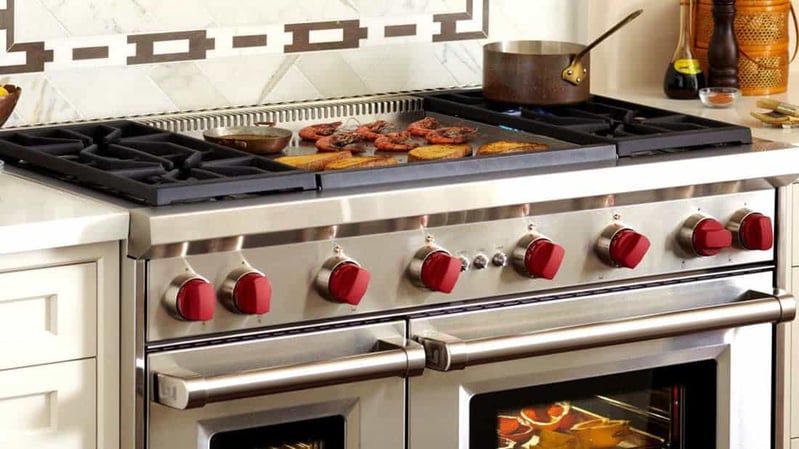 Once again, 15,000 BTU infrared heat powers the griddle and is the best for consistent directed heat.
The only problem with this griddle is that the griddle is not chromium like JennAir or SKS, so it's a bit harder to clean.
Read More: Professional Range Built-In Griddles vs. Grills: Which is Better?
French Top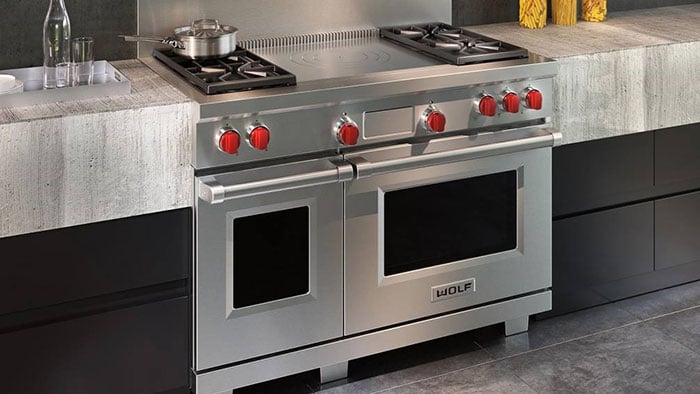 Wolf has the option of adding a French top to your professional range.
French tops look like a griddle but are the direct opposite. You leave the food in the containers instead of placing it directly on the surface.
The heat in a French top is concentrated in the middle and spreads outward so you can cook in multiple temperatures at the same time.
A griddle is a consistent heat, whereas the French top is designed to vary.
Read More: What Is A French Top Range And Should You Buy One?
Oven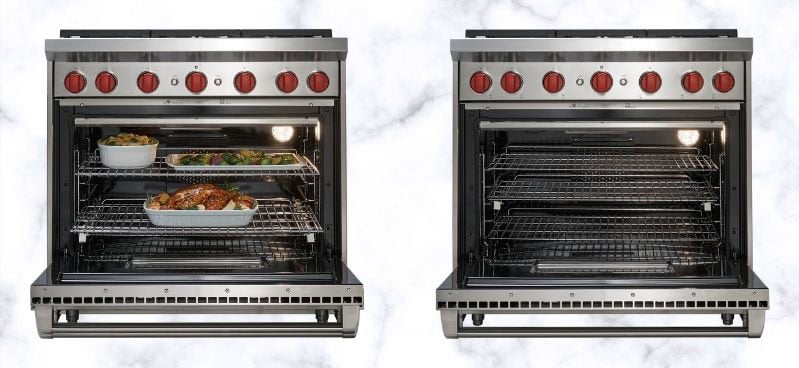 Wolf's oven before was the best in the industry with twin dual convection. Unlike other ovens, Wolf used two thermistors, so the fans worked independently.
Now Wolf added their Verticross convection system using blowers instead of fans. It's been in their wall ovens for years.
Blowers deliver more air than fans for more consistent heat and add space in the back as well.
Gourmet Mode
Gourmet mode is another pre-existing feature from Wolf's M series wall ovens.
You input the food and weight. The oven will calculate time, temperature, and even rack position.
You also have 50 preprogrammed recipes as well.
The only competitive controls are the Miele MasterChef with 100 recipes and steam functionality for bread and hardening foods.
JennAir has their Culinary Centre Cuisine Center showing you pictures of how the food will look before its cooked.
Neither will let you know the best rack position.
Read More: Miele MasterChef vs. Wolf Gourmet vs. JennAir Culinary Center Wall Ovens
Touchscreen
The new dual fuel ranges have touchscreen controls instead of the old clock and timers. It flips up when not in use.
Wi-Fi
Wolf officially entered the smart age with a fully functional system you can control on your phone with an app.
You can preheat your oven, change modes, adjust temperatures, and turn on or off your oven from your phone.
Newer pro ranges like SKS and Fisher & Paykel have similar Wi-Fi functionality.
They lack the recipe tie-ins of the Thermador HomeConnect or JennAir Apps.
Finishes
You have a choice of one finish - stainless steel. Like many other manufacturers, stainless steel has been the only option for your appliances.
BlueStar has the most custom finishes at 1000. La Cornue has 50, and Viking has 19.
Hestan
Hestan has an interesting origin based in California. The name is a combination of the owners' names Stanley and Helen.
Hestan started as a winery, and its website harkens to its origins.
However, they started manufacturing commercial ranges. Hestan manufactures all types of commercial ranges as well as cookware.
The selection is endless on the website. Over the years, They have developed a base of customers from high-end restaurants.
In many ways, it's the opposite of Wolf that started from commercial and is mostly residential.
Thomas Keller of French Laundry fame is a spokesperson for the brand.
In 2016, they started producing grills for your home featuring high output burners, sear elements, and solid grates.
In 2019, they started manufacturing professional ranges with some interesting features.
Best Features of Hestan Professional Dual Fuel Ranges
Sizes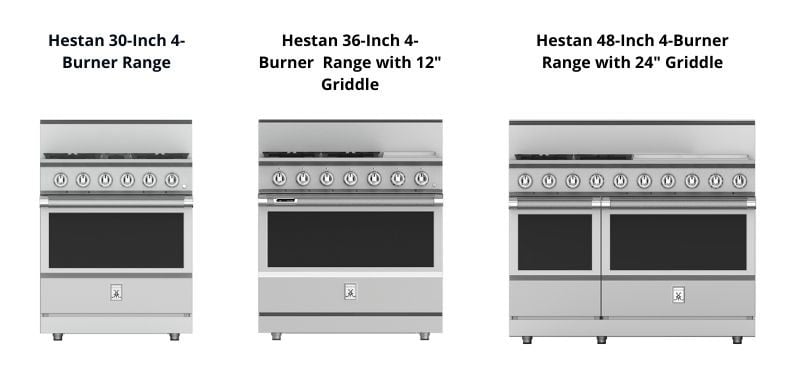 Hestan manufactures ranges in the 30, 36, and 48-inch sizes. The configurations are limited to all burners or a griddle.
Burners and Output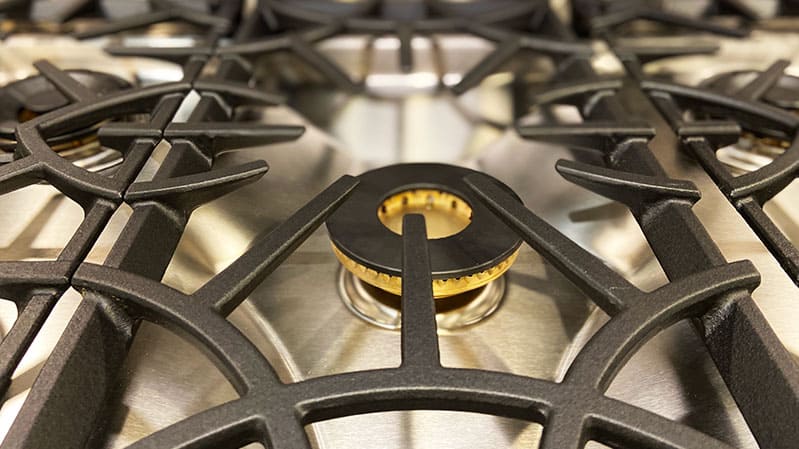 Hestan's are sealed like every other manufacturer except BlueStar.
Their "CircuFlame" delivers 30,000 BTUs on their five-burner ranges. Their other burners rate at 23,000 and 15,000 BTU for an incredibly powerful range.
Thirty thousand is the most you can buy residentially, a full 5,000 more than the next highest output.
Hestan uses a more durable brass under the burners and for the ignitors. It's pretty impressive looking. We will see about reliability in the future.
Thermostatically Controlled Griddle
You can cook by temperature on your griddle versus the one or two settings by most manufacturers.
Wolf and Hestan are similar, whereas many have one or two settings.
PureVection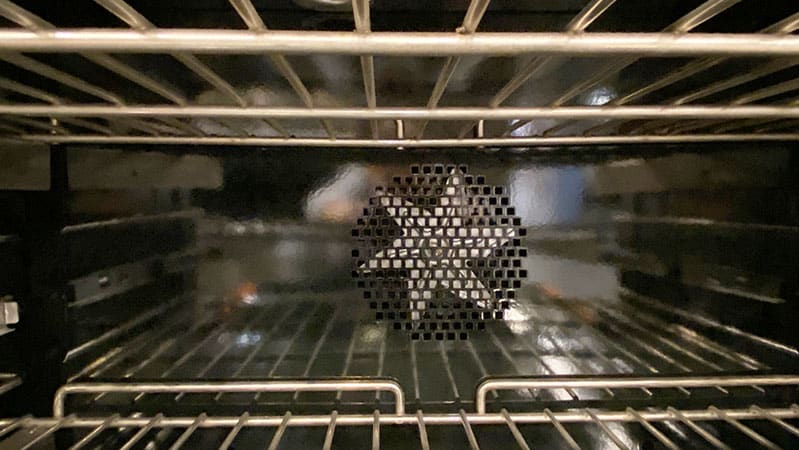 Many of the brands claim twin convection is the best, most even way to cook. Wolf recently upgraded to blowers.
Hestan calls theirs "PureVection," or a system to change fan speed and temperature to maintain an even temperature.
Is it single convection? Would Thomas Keller's soufflés not be their best using a less efficient way to cook?
"Marquise" Controls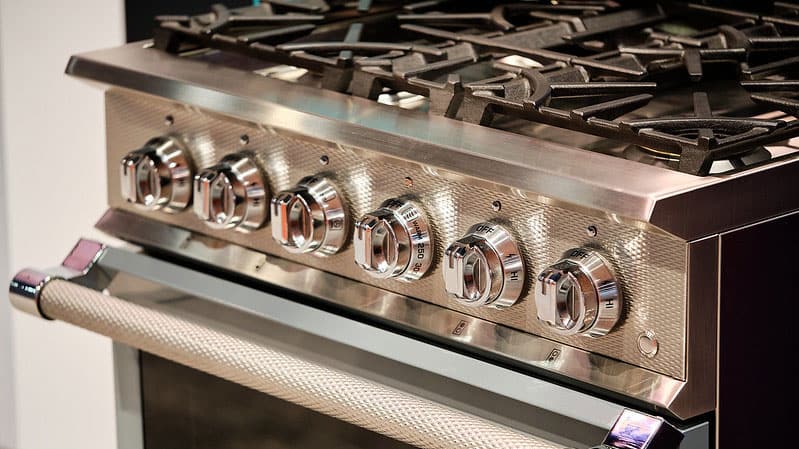 Hestan has controls on the towel bar for different modes. It works like your smartphone by swiping through the different settings and modes.
Colors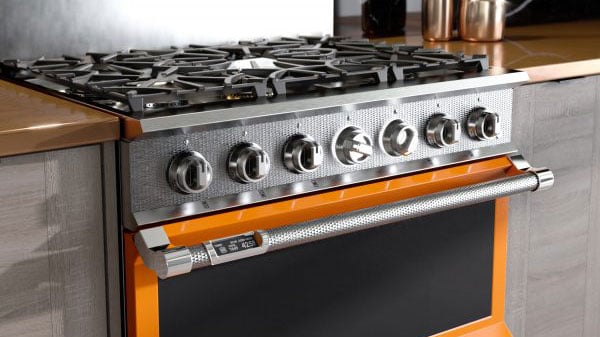 Hestan has 12, which is 11 more than Wolf with cool names like Steeletto, Sol, and Citrus.
It's not customizable like BlueStar, but the prime colors are covered.
Hestan vs. Wolf Professional Dual Fuel Ranges
Where Wolf Is Better by Default
60-Inch Ranges: Wolf has different 60-inch ranges while Hestan does not.
Grills and French Top Options: Hestan does not have either option. It should be noted Wolf has tons of configurations like double grills and double griddles.
Wi-Fi: It's interesting because the Hestan Cue induction cooktop is incredibly sophisticated, yet the range does not have Wi-Fi functionality.
Where Hestan Is Better by Default
Custom Finishes: Custom finishes are becoming more and more popular. 75% of the ranges sold in the BlueStar line are a color. Almost 100% of La Cornue is in a specialty color.
Then again, stainless does dominate as a finish.
Read More: Best Color Alternatives to Stainless Steel for Kitchen Appliances
How Hestan and Wolf Professional Dual Fuel Ranges Differ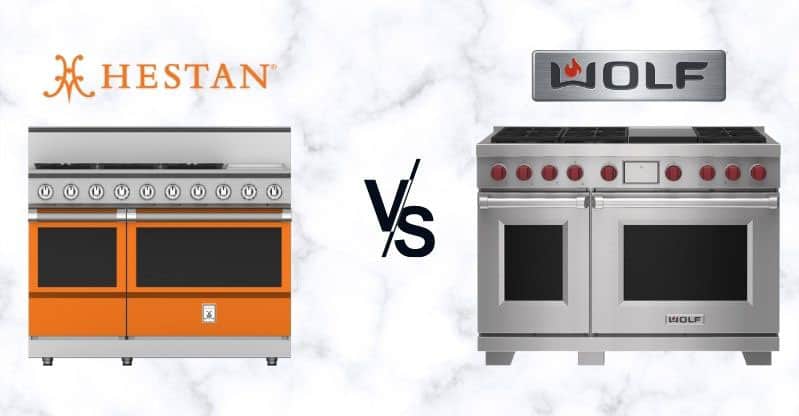 Burners
If we were to look at a 36-inch all-burner range, their output differences are significantly different.
Hestan 30,000 BTU, two at 23,000 BTU, two at 15,000 BTU
Wolf with two at 20,000 BTU, two at 18,000 BTU, two at 15,000 BTU
So Wolf will have more burners, but Hestan has the most output.
For larger pots and woks, the five burners may be better for spacing than 6
Simmer Capability
Both are good. Wolf now simmers as low as 300 for probably the best simmer. It is probably better than the Thermador XLO on and off simmer at 100 degrees.
Hestan is decent at a consistent 500 BTU simmer.
PureVection vs. Verticross Convection Ovens
Now for the supreme test, which bakes better?
According to our Resident Chef Saba Wahid, Wolf's new Verticross convection oven outperformed Hestan's PureVection oven.
During a cooking test for both ranges, Chef Saba Wahid said, Hestan's PureVection oven was pretty good, but the Wolf Verticross browned chicken more evenly (shown below).
Wolf VertiCross Convection Test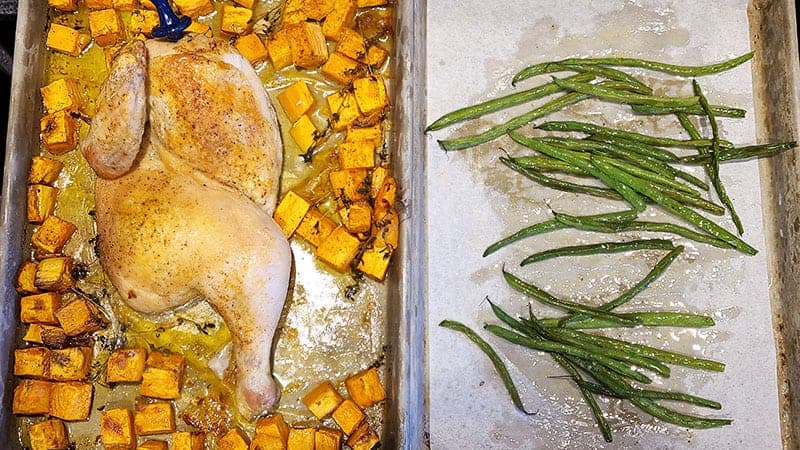 Hestan PureVection Convection Test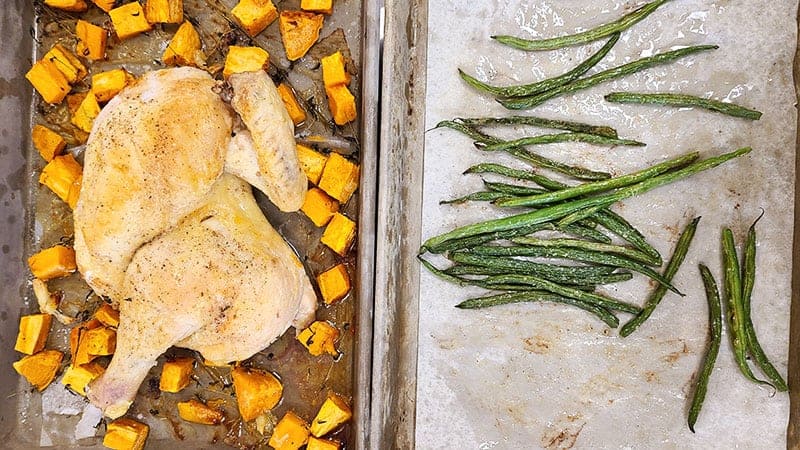 Broiling
At first, our Chef thought the Hestan must have had a gas broiler. The results (shown below) were very good for an electric broiler.
Hestan places a sheet of glass over their calrod heating elements to focus the heat.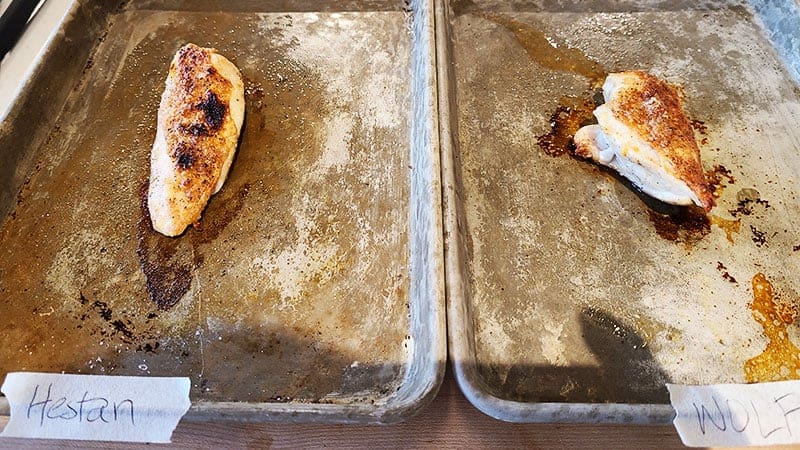 Controls
The Marquise controls are basic swipe and intuitive to the handle. However, Wolf is now the easiest (or second easiest to the Miele MasterChef).
You have the touchscreen along with the presets and the Wolf Gourmet, so you know the time, temperature, and even rack position.
Overall Construction
Last year Wolf was rated as one of the most reliable brands. They were the only premium brand on that list.
Hestan is probably the most well-constructed range with brass burner caps and ignitors.
We will see how that translates into reliability.
Availability
For specialty products of any type, that's a tough question. If you like both, then that may be the deciding factor.
Six months to 1 year could be your quoted lead time, depending on the product.
Key Takeaways
It's funny.
Even with products this different, my conclusion is the same.
You are not looking for what a salesperson or a store considers their best range.
That's when you buy what won't work for you.
First, you have to decide or understand what features are right for you.
Hestan is the more powerful top. If you have larger pans or like to make stir fry and use a wok, then it's a good consideration.
Wolf has more options with grills and French tops.
Their Gourmet is an excellent time-saver setting the proper time, temperature, and even rack position based on the food.
The right range is the one better designed for the way you cook.
Then again, you can download our free Pro Range Buying Guide for information on every major manufacturer and see if another brand may have better features for you.
Additional Resources
Get our free Pro Cooking Buying Guide for tips, trends, and reviews of all the best brands. Over 800,000 people have already found answers in a Yale guide.
Related Articles:
Why Should You Trust Us?
It seems that every appliance review has nothing but glowing comments about almost every product, yet you read customer reviews and they are almost universally bad.
We are here to fill in the disconnect. We'll give you the best features, and the drawbacks as well, including reliability based on over 37,000 calls performed by our service team just last year. Our goal is to give you ALL the information so you know what's right for you.
Please consider subscribing or adding to the conversation in the comments below. We appreciate you stopping by.
Steve Sheinkopf is the third-generation CEO of Yale Appliance and a lifelong Bostonian. He has over 38 years of experience in the appliance industry, and he is a trusted source of information for consumers on how to buy and repair appliances.

Steve has also been featured in numerous publications, including the New York Times, Consumer Reports, The Boston Globe, Bloomberg Radio, the New York Post, The Wall Street Journal, and Entrepreneur, for his knowledge of how to buy appliances and appliance repair.

Steve is passionate about helping consumers find the best appliances for their needs, and he is always happy to answer questions and provide advice. He is a valuable resource for consumers who are looking for information on appliance buying, repair, and maintenance.

Despite being the worst goalie in history, Steve is a fan of the Bruins and college hockey, loves to read, and is a Peloton biker. The love of his life is his daughter, Sophie.
A Note About Pricing
Pricing on this blog is for reference only and may include time sensitive rebates. We make every attempt to provide accurate pricing at time of publishing. Please call the stores for most accurate price.