So, you're looking for a gas cooktop.
I have a 30-inch gas rangetop, and I am quite happy with it. It does everything it's supposed to do, which allows me to cook for my family.
It's a far cry from my old electric range. You have to wait for the burner to light, then heat the glass, then the glass has to heat the pan.
Turning it to a simmer was repeating the process. You have to wait for the burner to cool, then the glass to cool for a decent simmer.
So gas is way better.
However, choosing a gas cooktop is tricky.
Recently I find myself thinking about what I would do when I renovate my kitchen.
Which cooktop should you put in your new kitchen?
Do you want a cooktop with a lot of power for that giant soup pot or a gas cooktop with the good simmering capability to melt chocolate?
If you have been looking for the best gas cooktop inspired by your cooking style, you will quickly realize you have many options.
They vary from high-end brands with the best of features down to budget-friendly options with basic features.
In this article, you will find that not all cooktops are created equal. I will break down the best options based on the main features that best fit your cooking needs.
As usual, we will be happy to answer any questions in the comments below.
Before you learn about the best cooktops, many clients confuse cooktops with rangetops. They are completely different and are installed differently.
Let's start there.
Short on time? Get our free Gas Cooking Buying Guide
What's the Difference Between a Cooktop and a Rangetop?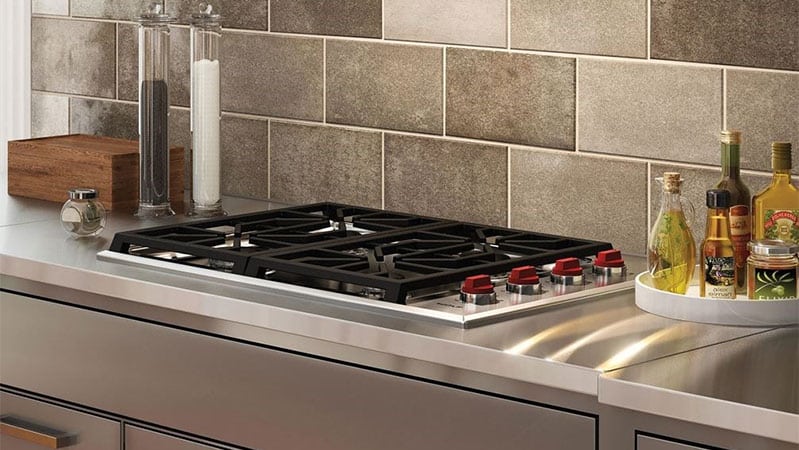 Wolf 30-Inch Gas Cooktop
Cooktops are available in smaller sizes, like 12 and 24 inches and the standard 30 and 36 inches.
Cooktops are cut into the counter, whereas rangetops are built onto a cabinet - totally different installation requirements.
It's incredibly hard to change a rangetop for a cooktop or vice versa, so don't mix up the two.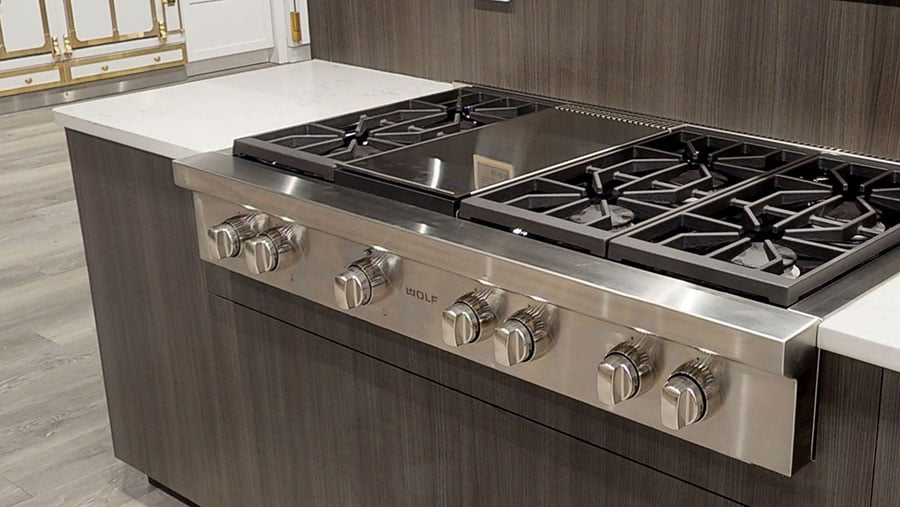 Wolf 48-Inch Rangetop
Rangetops have a few at 30 inches but are mostly larger at 36, 48, and 60 inches.
Rangetops have all high output burners from 15-25,000 BTU. Cooktops, however, will have at least two high outputs between 15-22,000 BTU.
Rangetops will have integrated grill, griddle, or French top options. Cooktops do not.
Best 30-Inch Gas Cooktops for 2021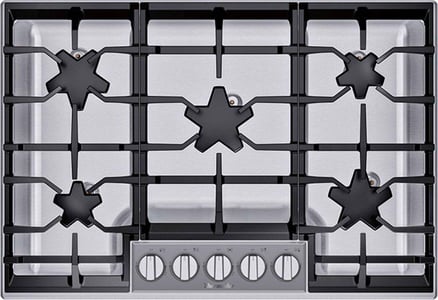 Thermador's Star Burner's unique shape isn't just for show. It creates a perimeter that is 56% longer than a standard circular burner.
Due to the extra length, it allows the inclusion of more flame ports. The result is simply more flame coverage and reducing cold spots, making it an idea for any size pans.
The average circular burner has 28 ports, and a Thermador's Star Burner has 35.
They are also known for their extra low burner.
It cycles on and off to maintain temperatures as low as 100 degrees, perfect for simmer sauces and reheating food without the worry of scorching it.
You have two simmer burners. Wolf simmers at 500 on all burners with a continuous flame.
Unlike the Wolf and the JennAir cooktops, the Thermador's control knobs are located in the front.
I keep mentioning the location of the knobs because it could be a make-it-or-break-it feature, depending on how you cook.
Features:
Star Burners

- Patented Star Burners provide superior flame coverage for faster and more even heating

Two Extra-Low Select Burners

- Select simmer burners provide precise simmering capabilities.

Quick Clean Base

- Reduces food build-up near the base and contains liquid spills for quick and easy cleaning

Electronic Reignition

- Electronic reignitions will automatically reignite the burners when the flames go out

Continuous Grates

- This allows you to move pots and pans from one burner to the next with ease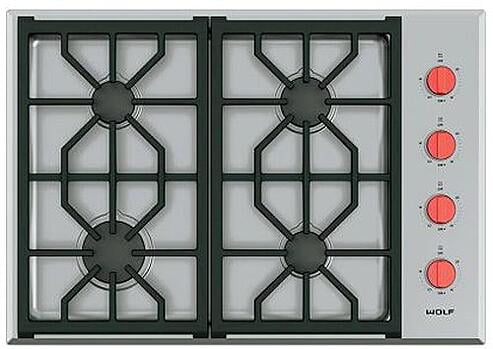 Wolf is one of the most respected brands on the market.
Their dual-stacked burners are perfect for handling a wide range of tasks, from the powerful 18,000 BTU capability down to 500-degree simmer temperatures perfect for melting chocolate.
The variety of burner sizes allow you to use various size pots, while the continuous grates allow you to move your pots and pans around with ease.
Every burner has a sensor that detects if the flame has gone out while cooking and automatically reignites it electronically.
The only downfall with this cooktop is the location of the knobs. You might have to get used to them being on the right side if you are left-handed.
It also squeezes the burners together side to side.
Features:
Patented Dual-Stacked Burners

- With two-tiered flame ports, it delivers the right amount of heat for the task at hand

18,000 BTU Burner

- The most powerful burner for a Wolf gas cooktop, it boils a large pot of water 25% faster than their earlier models

Simmering and Melt

- Capable of maintaining ultra-low BTUs, you need to melt chocolate or cheese

Porcelain-Coated, Cast-Iron Burner Grates

- Continuous cast-iron grates with a matte-black porcelain finish that allows you to slide pots on and off heat. Or from one burner to the next with ease

Individual spark ignition system

- Each burner has a sensor that detects if the burner has gone out while you are cooking and will reignite it automatically.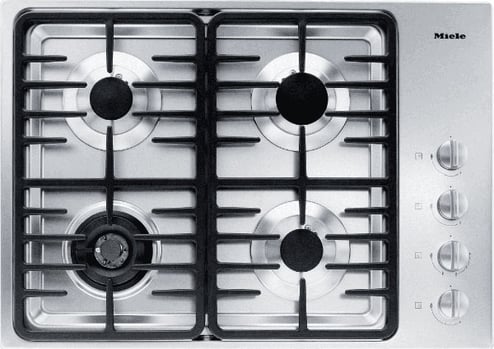 This Miele gas cooktop offers the best cooking experience and comes packed with various features making it fit almost any cooking style.
This cooktop comes with four sealed burners, giving you plenty of space and the ability to cook multiple dishes at once.
The simmer function system enables you to prepare your favorite sauces to perfection. The continuous grate design makes moving heavy pots easy and safe.
Features:
Sealed Burners

- Four fully sealed burners contain spills and allow easy cleaning and maintenance

Fast Ignition System

- No need to press or hold the control: convenient rotary electronic controls switch the burners on

Continuous Grates

- Allows pots to move effortlessly from one burner without lifting

Stainless Steel Knobs

- Provides improved performance, giving the cooktop and luxurious look and feel

Ignition Safety Control

- The gas shuts off automatically in case of an excessively long operation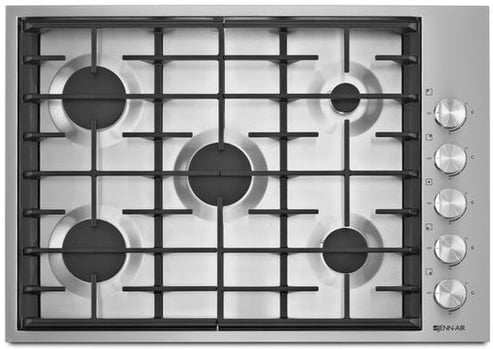 A sleek and modern cooktop comes with five sealed brass burners with one PowerBurner with a 20,000 BTU down to a burner with simmering capability at 6,000 BTU.
This unit is perfect for looking for a cooktop with a low profile that can be integrated into the counter nicely.
Features:
20,000 BTU Power Brass Burner

- This allows you to achieve those high-power cooking techniques whether searing a steak, rapidly boiling water or stir-frying vegetables

Low-Profile Design

- With an extremely low design, you can achieve that minimal look-nearly flush with the countertop; for an integrated transition to the cooktop

Single Point Electronic Ignition and Flame Sensing Reignition

- A spark occurs and automatically reignites the extinguished burner if a draft accidentally blows out the flame

Euro-Style Stainless Design

- Designed with elegance in mind, this stainless steel suite combines modern aesthetics and classic flair to a timeless, upscale look

6,000 BTU Brass Simmer Burner

- This allows you to achieve the perfect melted chocolate or butter or simmer sauces just below boiling.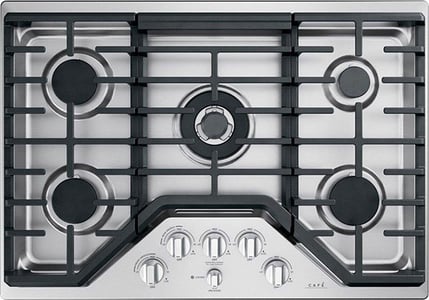 The 20K BTU middle burner will allow you to enjoy different cooking methods, whether it's searing your favorite piece of steak and frying that piece of chicken.
Enjoy peace of mind with a touch of style thanks to white LED-backlit, heavy-duty knobs that let you know when a burner is activated at a glance.
Get the most from your cooktop and eliminate the need for extra cookware with an extra-large, integrated cooktop griddle.
When you're updating your kitchen, attention to detail is a priority.
That's why Café cooktops are guaranteed for an exact fit, or Café Appliances will pay up to $100 toward modifications.
Cook several dishes at once on a 30" cooktop with five sealed burners that provide multiple heat levels.
Always get your hollandaise just right with a simmer burner that provides low, even heat.
Easily move heavy cookware across the surface without worry, thanks to continuous cast-iron burners. Prevent unintended burner activation with control lock capability.
Keep your kitchen sparkling, even when there's a spill, with sealed cooktop burners that contain messes for easy cleanup.
Enjoy the party without worrying about clean up, thanks to dishwasher-safe grates.
Features:
20K BTU Triple Ring Burner - Sear, fry, sauté on a 20K BTU triple burner
5 Sealed Burners - Cook several dishes at once on the five sealed burners that provide multiple levels of heat and allows for an easy cleanup
Simmer Burner - Melting your chocolate or get your hollandaise just right with a simmer burner that provides low, even heat
Child Lock - prevents unattended burner activation
Dishwasher-Safe Grates - Enjoy the party without worrying about the cleans thanks to the dishwasher-safe grates
Extra-Large Integrated Cooktop Griddle - This allows you to get the most from your cooktop by eliminating the need for additional cookware
Which Gas Cooktops Are the Most Reliable?
Gas Cooktop Reliability from December 2019 to November 2020
| | |
| --- | --- |
| | Service Ratio |
| Thermador | 1.8% |
| Bosch | 2.6% |
| Wolf | 6.5% |
| JennAir | 7.1% |
| Miele | 13.0% |
| Average | 4.5% |
The figures above are based on a minimum of 20 products sold and over 500 total pieces.
Cooktops require roughly half the service of major appliances at 9.7% within the first year.
The number jumps in years 2-5, especially on the ignition.
So whatever you buy, make sure it can be serviced in your area.
Which Gas Cooktop Is the Best?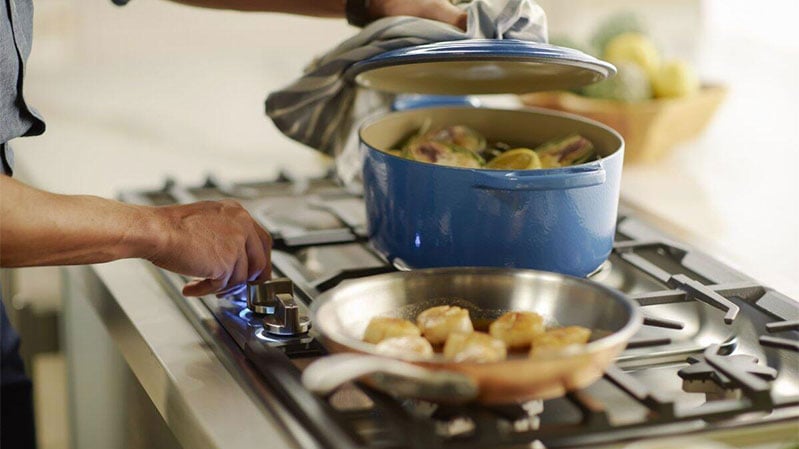 Thermador 30-Inch Gas Cooktop
The best cooktop will depend on what type of cooking you do.
All the options have at least one burner with a high BTU output.
All options have good simmering capability, although the Thermador simmer's setting can go as low as 100 degrees.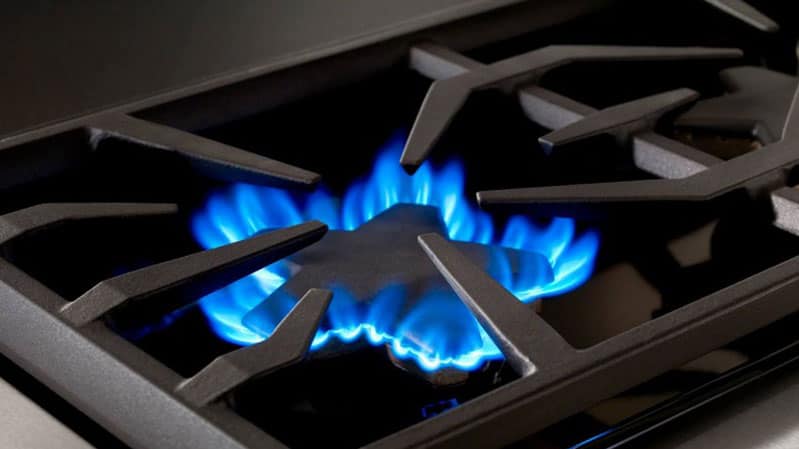 Thermador Star Burner
One of the main differences is the Thermador's Star Burner which will give you more flame coverage.
Their burners being on a pedestal (model specific) will also make cleaning up spills a breeze.
The front control knobs might be appealing to everyone.
When Is the Best Time to Buy a Gas Cooktop?
This topic is a little tricky since we are going through a pandemic.
Before COVID-19, many manufacturers typically have some sort of sale around the major holidays. These days, the demand exceeds the supply.
People are staying at home more, working from home, utilizing their appliances, so appliances are breaking down more.
You can always go down the repair route if you can even get parts in. Manufacturers are going through a multi-week (becoming monthly) back-ordering issue.
The worst thing to hear now is "that item is not in stock." So basically, you would have to weigh the pros and cons.
Buy now and pay a little more or buy during a holiday sale and risk the item no longer being in stock.
Our Final Advice
A cooktop is a kitchen essential. Whatever you want to make, a good cooktop comes in handy. There is a broad range on the market, and they differ in look, price, functionality, reliability, etc.
Choosing the right cooktop for you can be daunting, but certain factors can make the decision seamless.
Determining what features you want is important when picking out a cooktop, but you have to factor in budget and, nowadays, stock availability or at least the lead time.
Installation of a gas cooktop is not as simple as plugging in a refrigerator, and it involves a plumber, so reliability should be a factor.
Additional Resources
Need more information on Gas Ranges? Download the Yale Gas Cooking Buying Guide with specs, features, and detailed profiles of all the brands. Well over 900,000 people have read a Yale Guide.
Related Articles:
Editor's Note: This article was originally published on January 3rd, 2014, and has been updated for accuracy, freshness, and comprehensiveness.
Why Should You Trust Us?
It seems that every appliance review has nothing but glowing comments about almost every product, yet you read customer reviews and they are almost universally bad.
We are here to fill in the disconnect. We'll give you the best features, and the drawbacks as well, including reliability based on over 37,000 calls performed by our service team just last year. Our goal is to give you ALL the information so you know what's right for you.
Please consider subscribing or adding to the conversation in the comments below. We appreciate you stopping by.
Thao Tran
Thao Tran is a Sales Consultant at Yale Appliance. She joined the company in 2019 but has been in the retail and customer service industry since 2002. When she is not assisting her customers in building their dream kitchen, you can find her in her own kitchen cooking and baking for her family and friends. The rest of her time is spent chauffeuring her son around to various sports games.
A Note About Pricing
Pricing on this blog is for reference only and may include time sensitive rebates. We make every attempt to provide accurate pricing at time of publishing. Please call the stores for most accurate price.