The Best 30-Inch Gas Cooktops (Reviews / Ratings / Prices)
It's easy to be confused when buying cooktops and any built-in products. The familiar and popular brands like GE, Whirlpool, Maytag, LG, and Samsung are not as strong in cooktops as freestanding and slide-in ranges. Thus, your decision is now based on less known specialists like Wolf, BlueStar, Thermador, Bosch, and Jenn-Air.
As confusing as built-ins can be, you are comparing half of a stove. It is a much easier decision with that mindset than the rest of your kitchen decisions such as what kind of tiles, flooring, colors, and fixtures.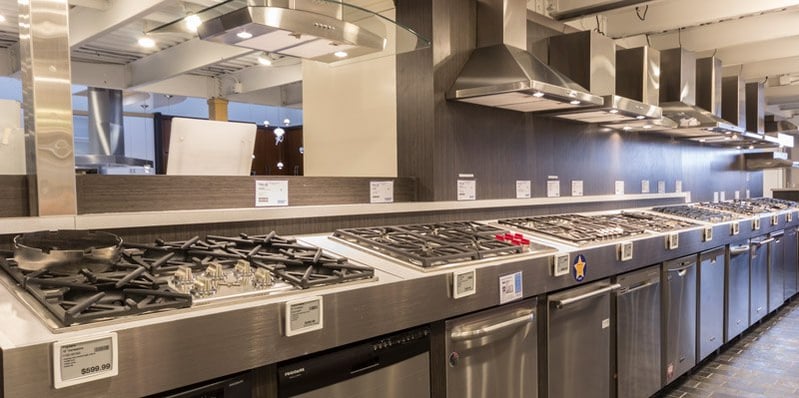 This article will show you the best products and their differences. However, first, you should know the difference between a rangetop and cooktop as well as what to look for when buying a cooktop.
Short on time? Get our free Gas Cooking Buying Guide
Cooktops vs. Rangetops
You are probably confused about what the difference actually is, but this is how you should look at it: You are essentially comparing the top half of a professional range to the top half of a regular range.
Rangetops look like a professional gas range without the oven below. The knobs sit on the front of the unit and they have a bulkier, more industrial appearance.
They also are available with either a griddle or grill component in the larger 36, 48, and 60-inch units.
Cooktops, on the other hand, sit on top of the counter with a more low-profile aesthetic.
Traditionally, rangetops collectively had more powerful burners. However, cooktops on the market today have one or two professional burners and have a less expensive price tag.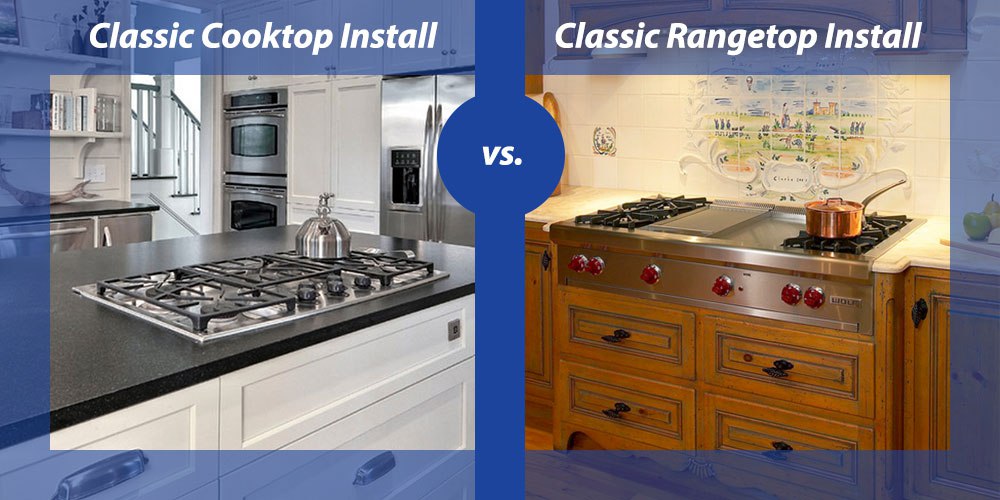 Unfortunately, there are installation issues on both. Rangetops have to be installed in the cabinet. It is hard to retrofit a rangetop in existing work. It is better planned with a cabinetmaker in new construction while cooktops are installed into the counter and are suitable for new and existing kitchens.
What to look for in a new cooktop
Cleanup: Look for removable knobs and an upswept lip or rim to contain spills. Look for sealed burners and grates that are dishwasher-safe.
Burner Layout: Many cooktops come with burners specifically designed for low-heat tasks (like simmering) or high-heat tasks (boiling). There should be enough space between burners to use several pots at once without juggling them. Smaller burners should be in front so that you attend to tasks that require close attention, like simmering.
Controls: Make sure they're easy to access and are legible. Touchpad (electric only) controls are easier to use than knobs or dials. Knobs on the front of the cook top (rather than the side) offer more cooking space and are further away from the burners. Making your hands less vulnerable to burns. They can also be easier for children to reach; some models have a push-in and turn feature for safety.
Cooktop Brands
Thermador and Bosch
Part of BSH Home Appliances Corporation, a fully owned subsidiary of BSH Bosch. Did you know they are the 3rd largest appliance manufacturer in the world? Founded in 1916 in California by William E. Cranston, and began as a manufacturer of electric items, most notably portable and built-in heaters. In 1932, Thermador established its appliance manufacturing as Cranston merged with business owner H.H. Fogwell to form the Thermador Electric Manufacturing Company. Thermador is now owned by the Bosch Company. The Bosch Benchmark line launched in early 2014 as the premium line within the Bosch product line.
Wolf
The Sub-Zero Freezer Company was founded in 1945, by Westye F. Bakke in Madison, Wisconsin. For more than 70 years, Wolf has been synonymous with professional cooking equipment for restaurants and hotels. In March of 2000, the company became part of Sub-Zero and was adapted for the serious in-home cook. Adapting to an ever growing kitchen design segment. Sub-Zero, reinvested in Wolf and redesigned the line completely with better simmers and double convection technology in the ovens.
(Get our free guide which explains all the popular features for gas cooking products)
Jenn-Air
The original Jenn-Air Products Company was founded by Louis J. Jenn in Indianapolis, Indiana in 1947, later becoming simply Jenn-Air. In the early years, the company focused on manufacturing and marketing of industrial fans for use in a variety of commercial and industrial applications. In 1961, Jenn-Air's integration of one of these fans to a cooktop range lead to the invention of the first self-ventilated downdraft range. The company grew its product line to include many other kitchen appliances including microwave ovens, refrigerators, dishwashers, and small appliances such as mixers and blenders. Unfortunately, the brand languished after being purchased by the Maytag company as well as the demand for downdrafts dissipating in the 1990s. With investment from Whirlpool, once again, Jenn-Air is a brand to be considered in the professional range category.
BlueStar
BlueStar is a family-owned range company based in Pennsylvania. They have been around making solid cooking appliances since the 1880s manufacturing commerical looking ranges. They introduced theirfirst professional refrigerator in 2017 and have become more known for their powerhouse ranges and pure convection element.
The Best 30-inch Gas Cooktops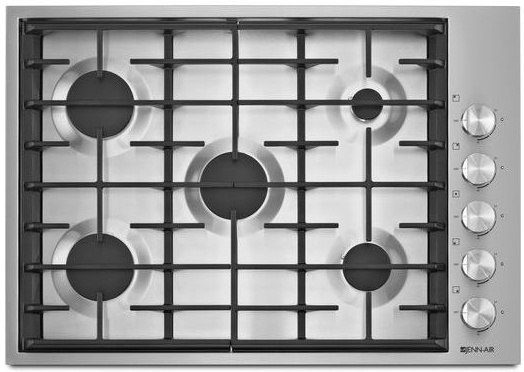 Electronic Ignition and SureFlame Ignition Protection - SureFlame ignition protection prevents the burner flame from being extinguished by a sudden draft.
Cast Metal Knobs - These sleek controls offer substantial heft and precision while complementing the cooktop's surface.
Low-Profile Design - With an extremely low profile, you can have a minimal look —nearly flush with the countertop - for an integrated transition to the cooktop.
12,000 BTU Burner - Experience a sturdy burner that's ideal for everyday cooking but can also be used for sautéing or pan-frying.
9,000 BTU Burner- A burner that reaches a maximum power level of 9,000 BTUs and fulfills most everyday cooking functions.
6,000 BTU Simmer Burner - Melt chocolate and butter or simmer sauces just below boiling with a high-precision burner that offers a wide range of power.
May Be Installed Over Jenn-Air 30" Electric Single Oven - This luxury electric radiant cooktop can be installed over a Jenn-Air® electric single oven, offering additional design flexibility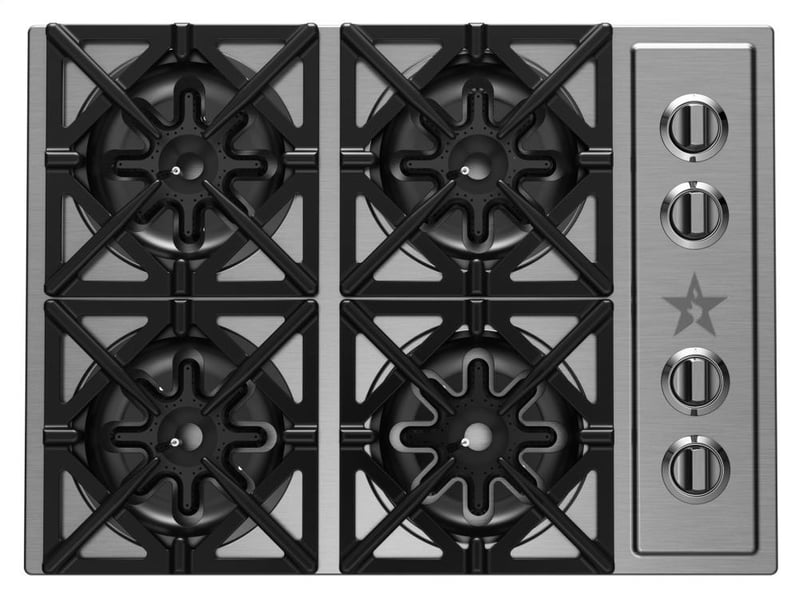 Restaurant style 22,000 BTU UltraNova™ open burners
8500 BTU
5000 BTU Simmer
Precise 130° simmer burner
Full motion grates
Stainless steel knobs and available customization
Available in Natural or LP gas
Enhanced compatibility with BlueStar Electric Wall Oven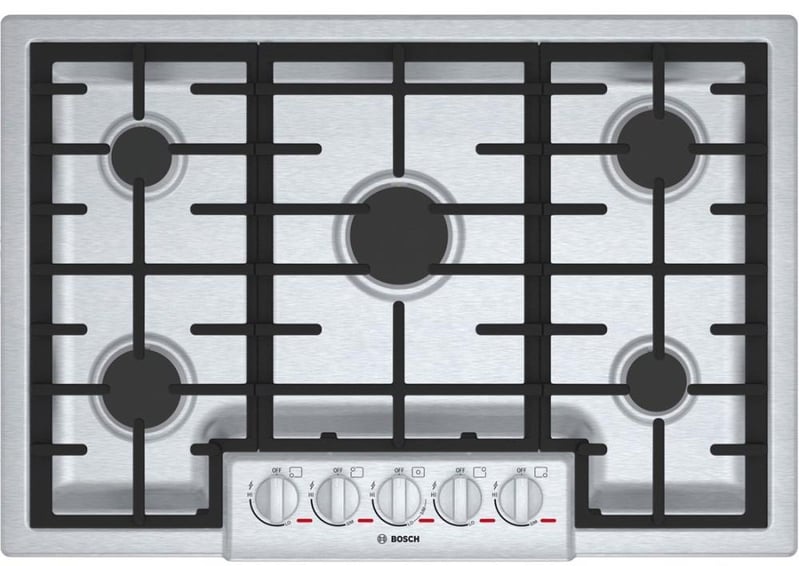 Heavy-Duty Metal Knobs for a Premium Look and Feel – these are knobs are easy to turn, will not warp from the heat of the burners and are effortlessly removed for easy cleaning.
Low-Profile Design for an Integrated Appearance – clean lines that make it easy to move your cooking vessel from one burner to another.
Distinctive red indicator light lets you know burners are on – when burners are on their lowest simmer the flame may be unnoticeable, but with the indicator lights you eliminate the possibility of leaving one on accidentally
Centralized Controls for Easy Use and Intuitive Operation of the Cooktop
Two 10,000 BTU burners, two 5,500 BTU burners, and a 20,000 BTU burner
Push-to-Turn Knobs – requiring effort to turn the cooktop on so the burners are not mistakenly turned on
Automatic Electronic Re-Ignition - In Case of Flame Goes Out, the Burner is Automatically Re-Ignited
LP Conversion Kit Included for Easy Conversion from Natural Gas to Liquid Propane – adapts to the gas source of any home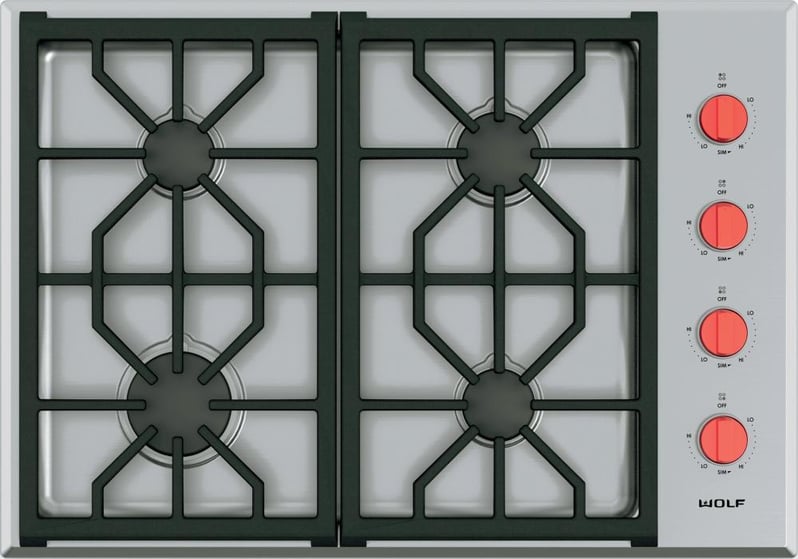 Stainless steel top construction
Four dual-stacked, sealed burners with automatic reignition on all settings
One large 18,000 BTU burner, one medium 12,000 BTU/Hr sealed burner and two small 9,200 BTU burners
True Simmer setting on all burners – dual-stacked burners that keep the simmer flame a little further from the pot to maintain the precision in heat
Illuminated control panel with two-tiered control knobs
Low-profile cast iron continuous burner grates with matte porcelain finish
Signature red, black or stainless steel control knobs – coordinates with an array of Wolf wall ovens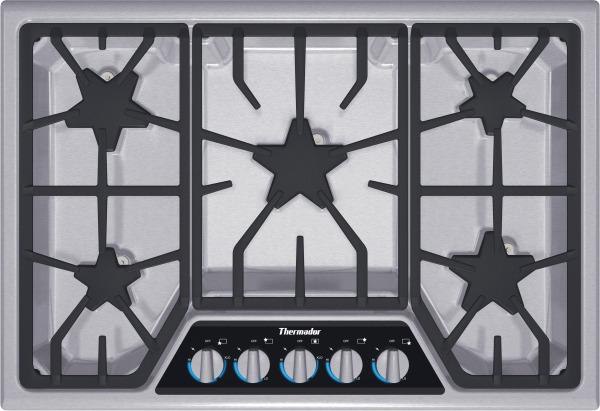 Overall 52,000 BTU output
Powerful 16,000 BTU Center Burner – provides substantial power for boiling water, searing foods or any type of high heat cooking such as stir-frying
Single point ignition - only burner that is being used is ignited
Exclusive 200 BTU ExtraLow burners for perfect simmering – great for melting chocolate, butter or maintaining the right consistency of delicate sauces
Exclusive, patented Star Burner provides superior performance – giving you more even heat distribution
Continuous grates allow pots and pans to glide smoothly across the cooktop
Progressive illuminated control panel with metal knobs – illuminates to indicate what level each burner is powered by
High-grade, quality die cast metal knobs
Sleek control panel features glass and stainless steel – the durable composition of this cooktop can withstand the use of even the less than careful chef
Knobs feature a safety "push to turn" system
Which is Best?
| | | | | | |
| --- | --- | --- | --- | --- | --- |
| | Jenn-Air JGC7530BS | BlueStar RBCT304BSSV2 | Bosch NGMP055UC | Wolf CG305PS | Thermador SGSX305FS |
| Dimensions | 30"W X 21"D X 4 1/2"H | 30"W x 22"D x 5"H | 31''W x 21 1/4''D x3 13/16''H | 30"W x 4"H x 21"D | 31"W x 21 1/4" D x 3 3/16" H |
| Top Burner Rating | 20,000 BTUs | 22,000 BTUs | 20,000 BTUs | 18,000 BTUs | 16,000 BTUs |
| Simmer Burner Rating | 16,000 | 130 degrees | 500 BTUs | 9,200 BTUs | 200 BTUs |
| # of Burners | 5 | 4 | 5 | 4 | 5 |
| Open or Sealed Burners | Sealed | Open | Sealed | Sealed | Sealed |
Before you buy the BlueStar based on power alone, keep in mind the burner is open, so you have to lift the top to clean underneath. The other manufacturers have sealed burners. There is no clear winner for the very best so it's importnat to consider various components that best fit your lifestyle.
Let's look at the major components you should consider and the winners for each.

Simmer
Winners: Thermador and Wolf
Thermador has the lowest simmer because they have an intermittent simmer to keep a low median temperature.
Wolf has a 3-stage burner with a smaller flame from the top at the simmer setting with a low of 500 BTU versus 200 for Thermador. Wolf can simmer on all burners versus 2 on Thermador.
Power
Winners BlueStar, Bosch, and Jenn-Air
BlueStar's 22,000 BTU burners is incredibly powerful albeit the cleaning component. You would have to vent accordingly. Bosch and Jenn-Air both have 20,000 BTUs on one burner (BlueStar has two).
Aesthetics
Winner Jenn-Air
Jenn-Air's cooktop sits the most flush and is theoretically the easiest to clean.
Value
Winners: Bosch, Jenn-Air, and Thermador
Bosch looks good for the price. Jenn-Air and Thermador have great rebate programs throughout the year.
Reliability
Winner: Wolf
Wolf is the only manufacturer on our list of most reliable manufactures based on over 20,000 completed service calls.
Ultimately, it depends on what you value. Remember a cooktop is only half a range. You are only comparing power, simmer, reliability, and price. Find the cooktop best suited for how you cook.
Additional Resources
Download the Yale Gas Cooking Buyers Guide with specs, features, BTU outputs and buying tips. Almost 220,000 people have downloaded a Yale Guide.

Related Articles:
WHY SHOULD YOU TRUST US?
A few review sites have placed this at the bottom of their articles. So here is our take: Our mission is to find reliable products for you to buy. Other review sites may say this as well.
However, we don't love every product. Quite frankly, it costs us way too much money in repair costs to support less reliable brands.
In fact, we sell fewer brands than most appliance stores. Here is why:
We feel it is our responsibility to repair your appliances after you buy them.
We now have 30 service technicians, each averaging 8-10 calls a day Monday through Friday, plus another 110 on Saturday. That's over 30,000 service calls logged in one year.
The labor rates of fixing an appliance do not come close to the true cost in any product's warranty period.
That is why no major retailer has a service department. It costs too much labor, money and time.
Our Blog is a bit different than most others you will read. We cannot write glowing reviews of unreliable products.
Hopefully, the bloggers and organizations who write such glowing product reviews for every brand consider servicing these products first. Only then they will understand the consequences of their marketing.
Steve Sheinkopf
My goal has always been simple: I want Yale to be the best retail experience anywhere. I have tried to create a compelling environment for customers and employees alike.
A Note About Pricing
Pricing on this blog is for reference only and may include time sensitive rebates. We make every attempt to provide accurate pricing at time of publishing. Please call the stores for most accurate price.