Wolf vs. Thermador Pro Grand Professional Gas Ranges: Which Is Better?
August 26th, 2021 | 13 min. read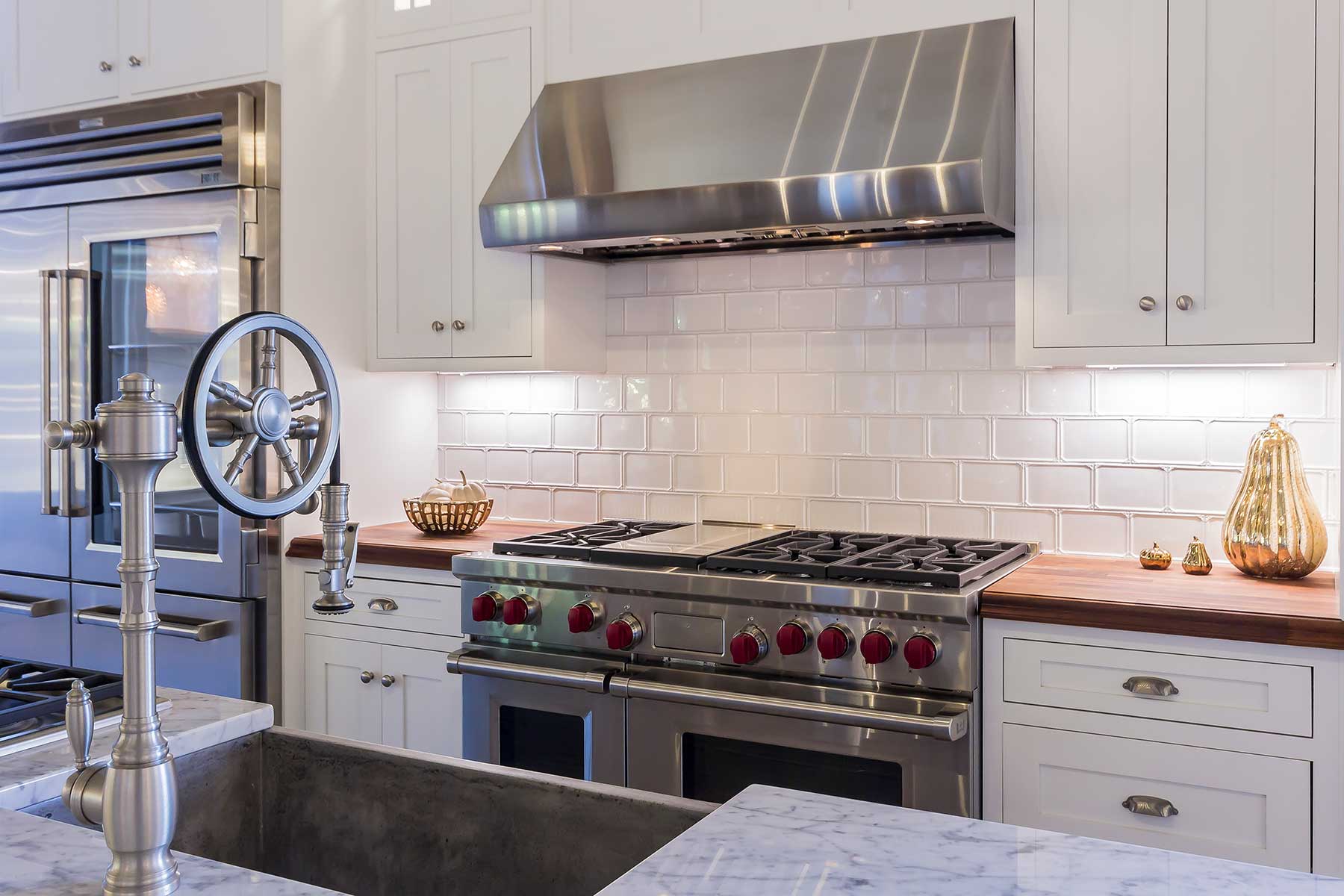 Wolf professional ranges versus Thermador Pro Grand ranges is the most popular comparison for pro ranges in the industry.
If you are in the market for a professional range, you should be looking at one of these brands, if not both.
It used to be that Wolf was better than Thermador. Now, Thermador is known for its good quality and is less expensive.
Both have new products, so there is no clear answer except which one works best for you.
In this article, you will learn the best features and problems of both ranges. Towards the end, you will see the results of our chef's cooking tests for both ranges.
We will be comparing both gas and dual fuel ranges because they are so radically different.
Let's look at both brands.
Wolf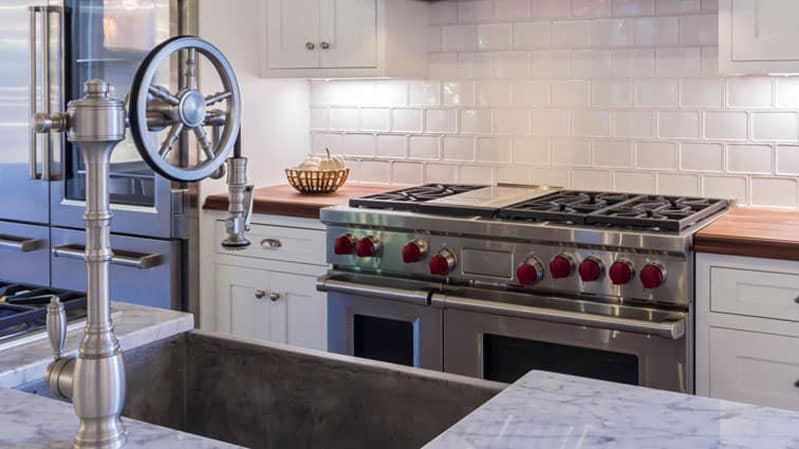 Wolf is the largest family-owned American appliance manufacturer based out of Wisconsin. Sub-Zero is the refrigerator line, with the recent Cove name being the dishwasher line.
Wolf has been around for years but was acquired by Sub-Zero 20 years ago.
It is the most preferred upscale brand in the U.S. for many reasons.
Wolf Pro Ranges
Wolf's professional ranges are available in 30, 36, 48, and 60-inch sizes for both all gas and dual fuel.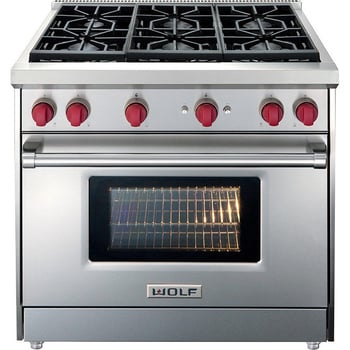 Available Options: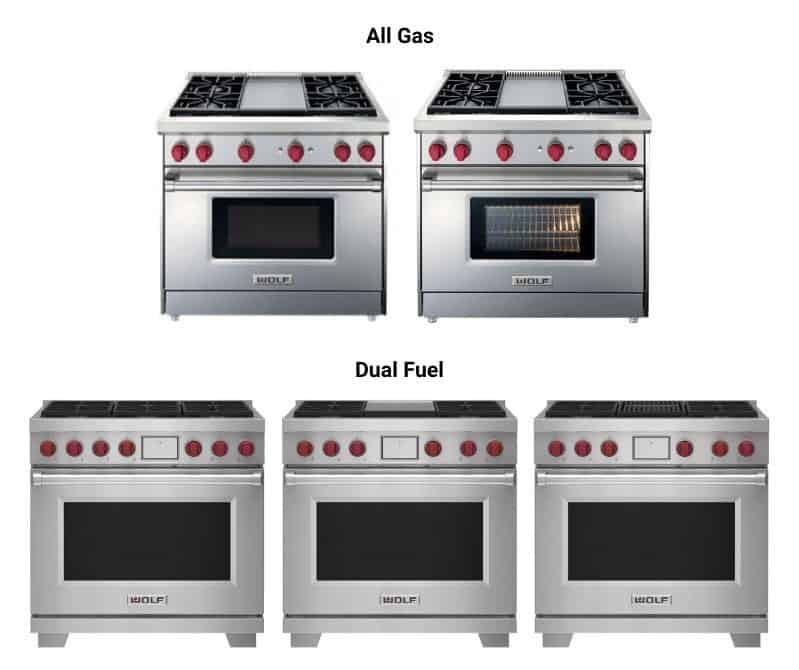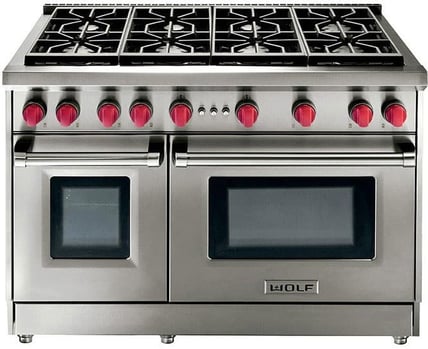 Available Options: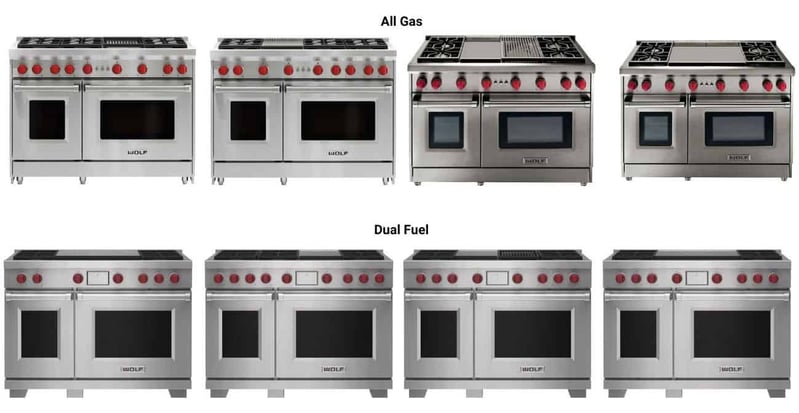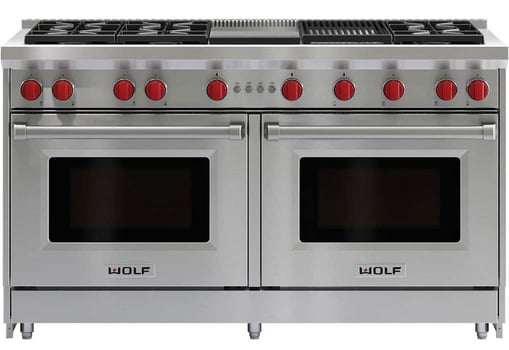 Available Options: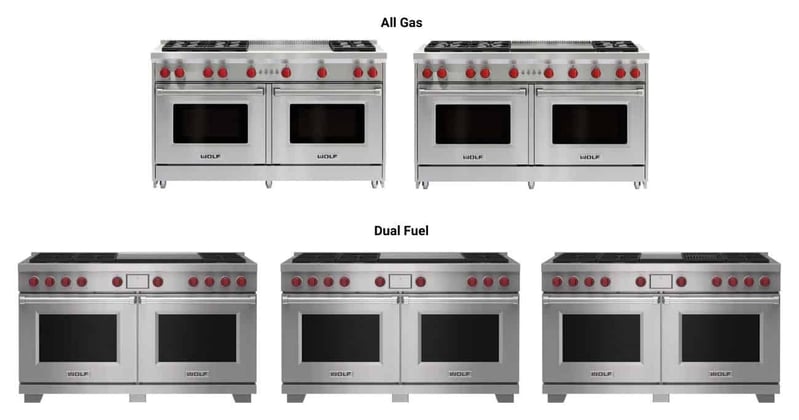 Wolf Pro Range Features
Let's look at their best features. Wolf was recently updated, so most of the range is new in dual fuel only.
Their all-gas model hasn't been changed and is much different than their dual fuel range.
Burners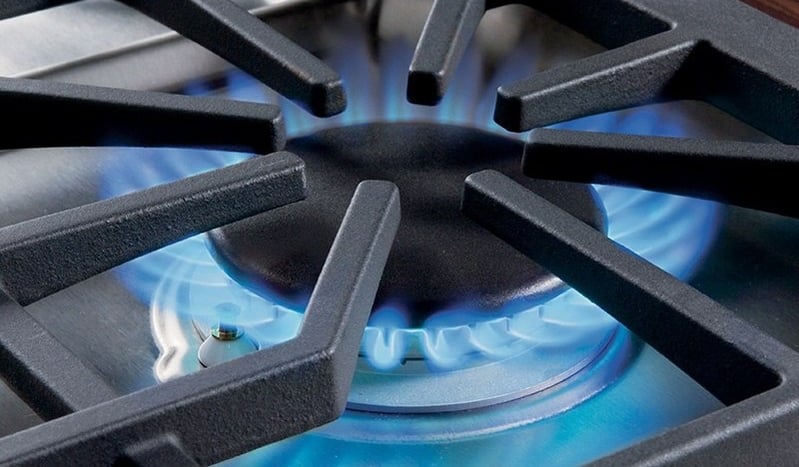 Dual Fuel Wolf Pro Ranges: Wolf's burner output for their dual fuel ranges is decent, with one to two burners at 20,000 BTU and a combination of 18,000, 16,000, and 15,000 with one summer burner at 9200 depending on the size.
It's a good combination of output and certainly competitive Thermador's Pro Grand series.
All Gas Wolf Pro Ranges: the output on Wolf's all gas pro ranges is 15,000 BTU for each burner with an additional summer burner with a high of 9200 BTU.
Simmering Capability
Wolf's low-temperature burners have always been effective, employing a three-state burner to maintain low heat.
Thermador has a low simmer, but the flame will turn itself on and off to maintain a lower mean temperature.
Later in this article, you'll see our chef tested both simmer burners.
Grill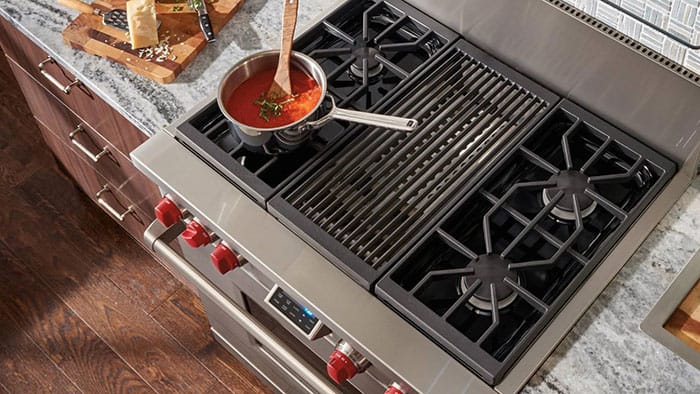 Wolf's infrared grill is excellent. Infrared is a directed heat for better searing. Lynx professional outdoor BBQ grills use an exposed infrared element for searing.
Lynx's sear element is 23,000 BTU, while Wolf's pro range is 16,000 BTU in a smaller size so that you can grill on a Wolf indoors.
Infrared also burns any residue off your burners, so they're easier to clean.
Wolf improved the grill by adding three settings for different types of foods.
Griddle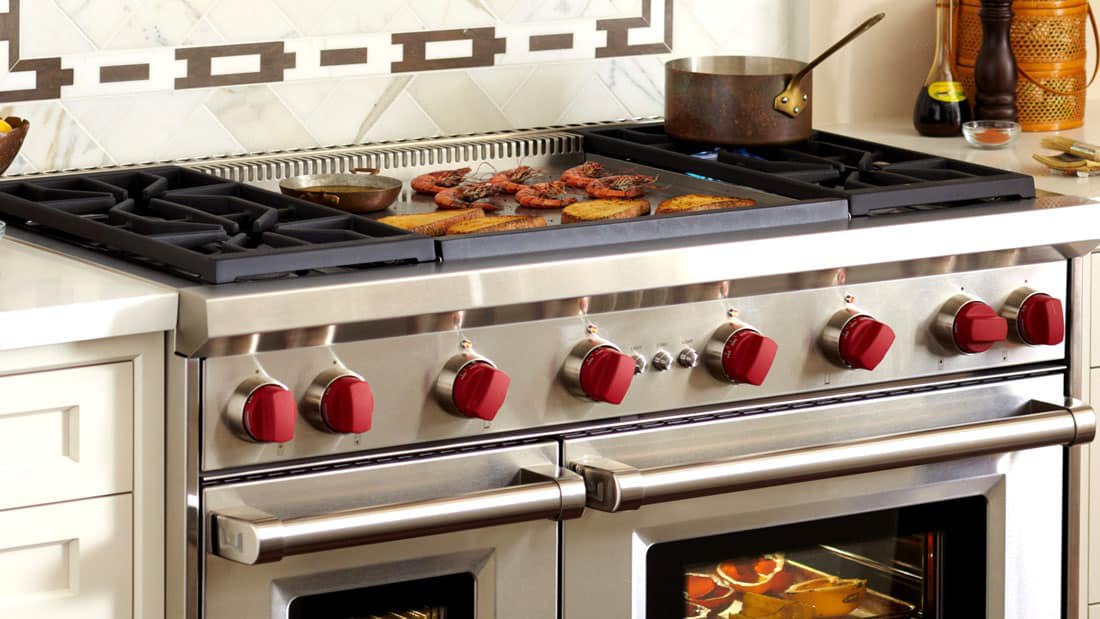 Once again, a 15,000 BTU infrared powers the griddle and is the best for consistent directed heat. It's rolled steel for durability. However, it's a bit hard to clean than a chromium-infused griddle.
French Top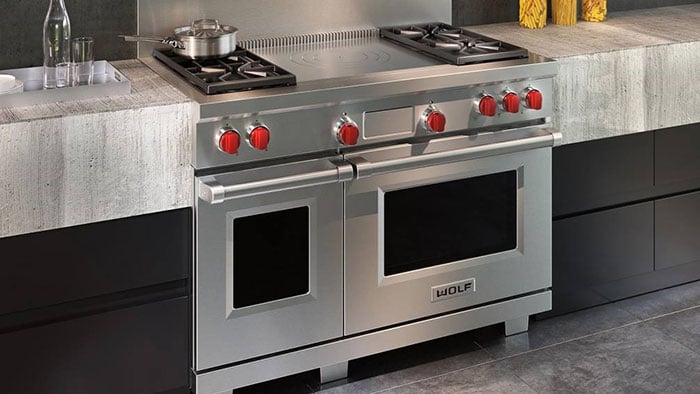 French tops look like a griddle but are the opposite. You can leave your food in pots and pans instead of placing it directly on the cooking surface with a French top.
Also, the heat in a French top is concentrated in the middle and spreads outward so you can cook in multiple temperatures simultaneously.
A griddle is a consistent heat, whereas the French top is designed to be inconsistent.
Oven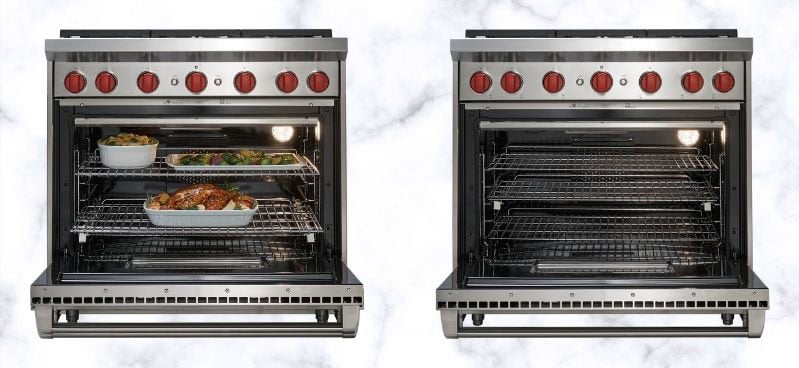 All Gas Wolf Pro Ranges: Wolf's all gas ranges use straight single gas convection. It is not self-cleaning in the main oven or the side oven in larger sizes.
Dual Fuel Wolf Pro Ranges: The Wolf dual fuel pro range has been updated a few times, including just recently.
Wolf's oven before was the best in the industry with twin dual convection. Both fans ran separately based on temperature.
Now, Wolf added their VertiCross convection system (shown below) using blowers on the side instead of fans.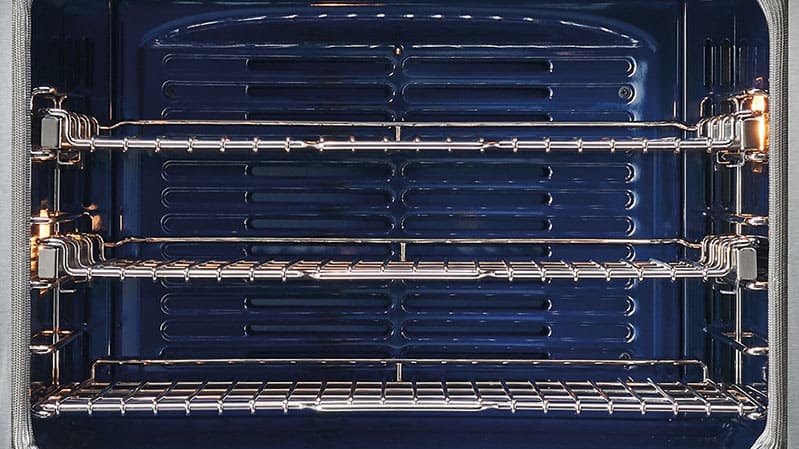 Blowers deliver more air than fans for more consistent heat and add space in the back wall.
Broiling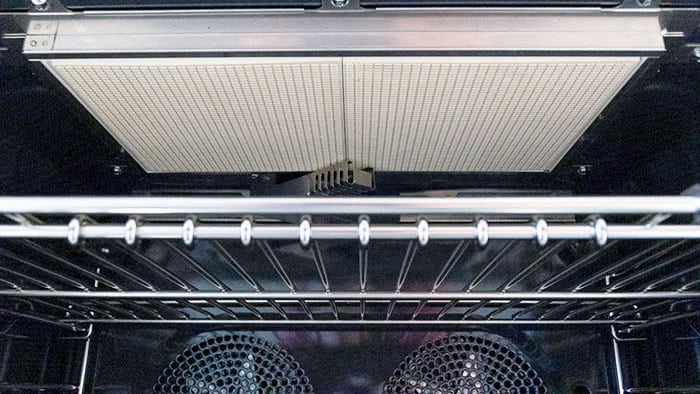 Gas is far better than electric. Wolf has a 20,000 BTU infrared broiler versus the electric element in the electric oven.
Gourmet Mode in Dual Fuel Only
Gourmet mode is another pre-existing feature from their M series wall ovens.
You input the food and weight, and the oven will calculate time, temperature, and even rack position.
You have 50 pre-programmed recipes. The only competitive controls are the Miele MasterChef with 100 recipes and steam functionality for bread and hardening foods.
JennAir has their Culinary Centre showing you pictures of how the food will look before it's cooked.
Neither will let you know the best rack position like Wolf.
Controls

Wolf 36-Inch All Gas Pro Range Controls | Wolf 36-Inch Dual Fuel Pro Range Controls
All Gas Wolf Pro Ranges: The Wolf all gas, like the older restaurant ranges, has no controls. Many ranges still don't like BlueStar, Capital, and Thermador Harmony pro ranges.
Dual Fuel Wolf Pro Ranges: Wolf's new dual-fuel ranges have touchscreen controls instead of the clock and timers. It flips up, tucking itself away when not in use.
Wi-Fi
Wolf officially entered the smart age with a fully functional system you can control from your phone with their app.
You can preheat, change modes, adjust temperatures, and turn on or off from an app on your phone anywhere.
They lack the recipe tie-ins at this writing of the Thermador HomeConnect or JennAir's app.
Now, let's take a look at Thermador's Pro Grand series ranges.
Read More: Are Wolf Professional Ranges Worth It?
Thermador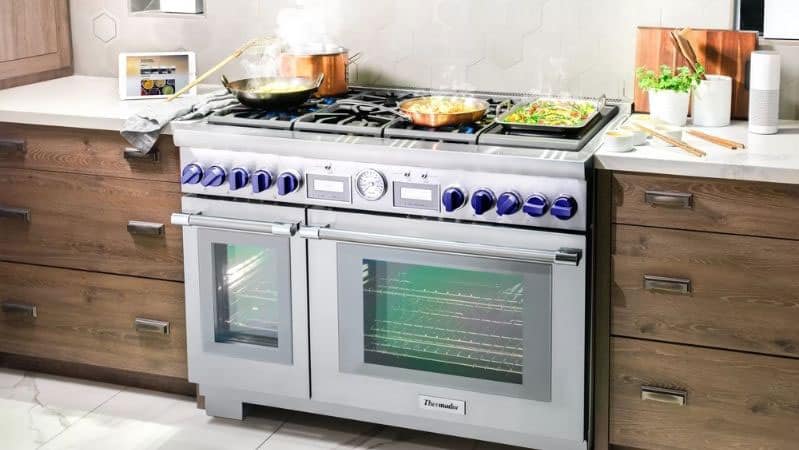 Thermador is a premium appliance brand founded in the U.S. back in 1916.
They have always been innovative with their convertible microwave top, wall ovens, downdraft ranges, and one of the first companies with a pro range.
However, the reliability diminished in the 1990s due to a lack of investment.
German-owned Bosch acquired them in the 1990s. Bosch instilled reliability in the brand while retaining and even expanding into U.S. manufacturing.
They are now best-known for their star-shaped burner, aggressive package offerings, and rebate program with free dishwashers and hoods for qualifying purchases.
Thermador has always been marketing as a good value alternative to industry leader Wolf.
Their Pro Grand series is different and designed to compete with Wolf (at least before the recent improvement).
Thermador Pro Ranges
Thermador Pro Grand is available in the 36, 48, and 60-inch sizes (shown below) with a variety of configurations in dual fuel (gas over electric) as well as all gas.
Their Harmony line is available in the 30-inch size.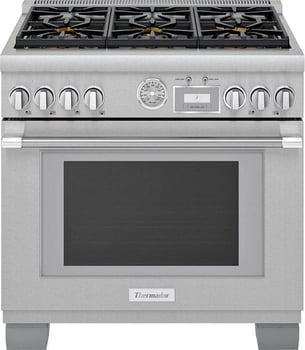 Available Options:

Thermador 36-Inch Pro Grand Range with All Burners, a Griddle, or Induction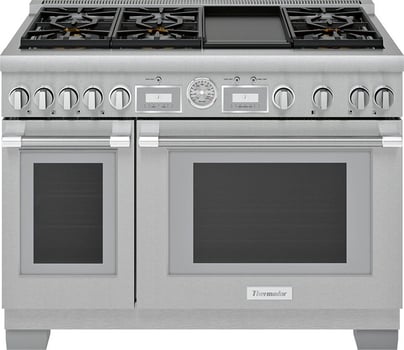 Available Options: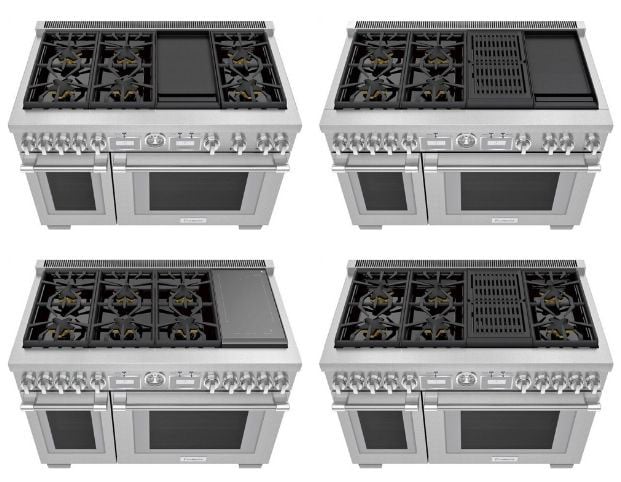 Thermador Pro Grand 48-Inch Range Options Griddle, Grill/Griddle, Induction, and Grill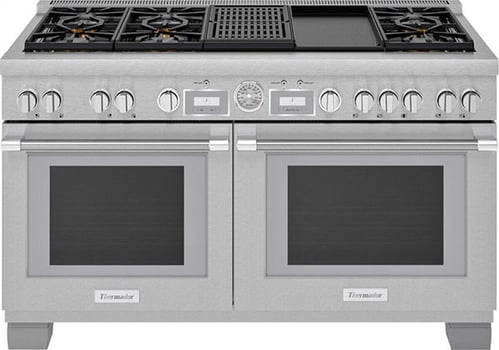 Available Options:

Thermador 60-Inch Pro Grand Range with Grill/Griddle and 24-Inch Griddle
Thermador Pro Range Features
In terms of gas versus dual fuel, you don't have the disparities between outputs, oven power, and controls between all gas and dual fuel like Wolf.
It's consistent between gas and electric, at least on the top. The broiler will be better in the gas unit, while baking is better in electric.
Burners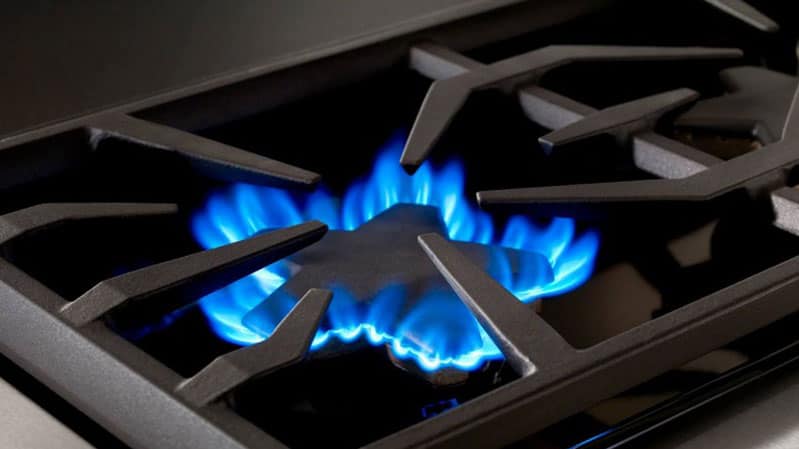 Thermador has their Star Burner. The logic behind the Star Burner is it can cover more surface area than a traditional round burner for more even heat.
However, the heat hits the pan, and the pan cooks the food, so I am unconvinced.
Their Star Burner is raised, so it's the easiest to clean underneath.
Their simmer burner is advertised as the best gas for 100 BTU, but the simmer is not consistent like the Wolf.
The Pro Grand does have one 22,000 BTU burner. In 2019, Thermador reduced the burners from 18,000 to 15,000 BTU. Many manufacturers did that for venting and safety purposes.
Their less deep Harmony series is just a combination of 18,000 and 15,000 BTU burners.
Grill and Griddle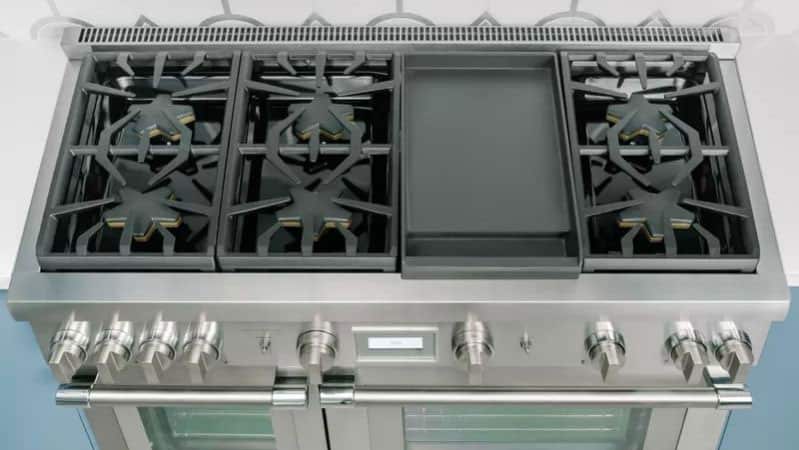 The electric grill and griddle are consistent at temperature but not as responsive as gas.
The griddle should be fine once at temperature.
Electric grills cannot sear nearly as well.
It's also a big advantage, especially in cleaning the grill, as the intense heat of the grill evaporates the drippings.
Induction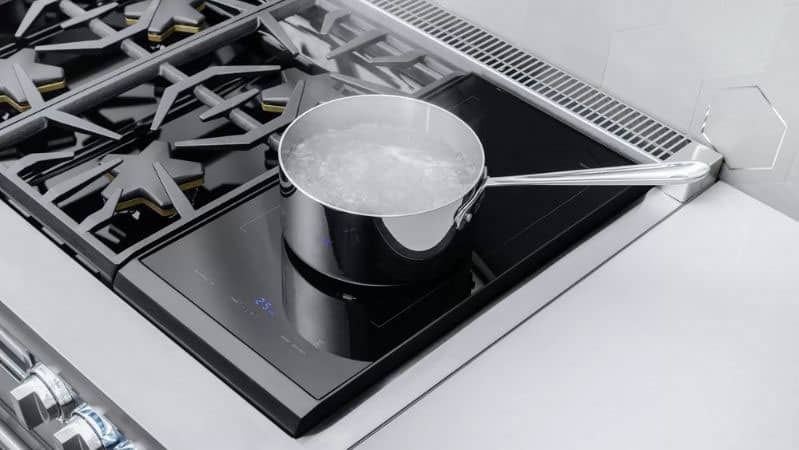 You can also buy an induction set of burners on the Pro Grand. Induction is incredibly smart, even on a product designed to be all gas.
Magnetic induction is by far the best for simmering and speed even more than a 22,000 BTU burner.
Thermador has their Liberty technology so you can move the food back and forth, and it remembers.
It's also child-safe because it has to sense metal to activate. Cleaning is easier because the surface does not heat and bake the stains to the surface like gas or regular electric burners.
Controls
The clock is a small radial circle in the middle of the range.
Wi-Fi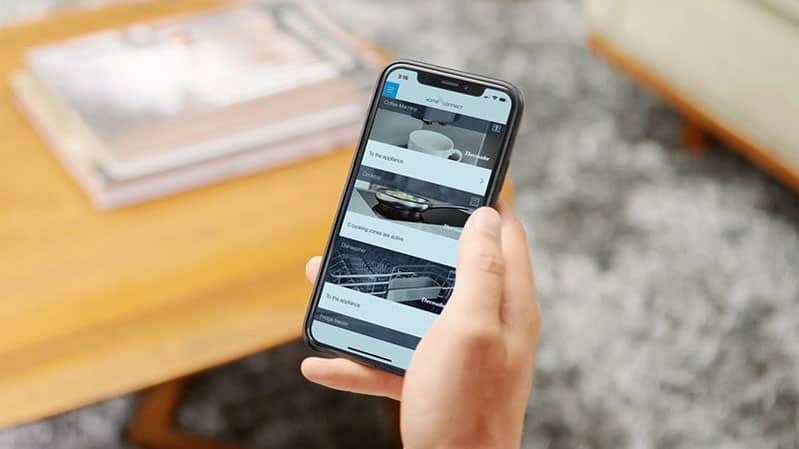 The Thermador ranges are also Wi-Fi enabled. You can control your range through an app on your phone.
Thermador also integrates recipes and your ability to change temperature and turn your range on or off remotely.
The app is highly rated as well, unlike some other brands.
Oven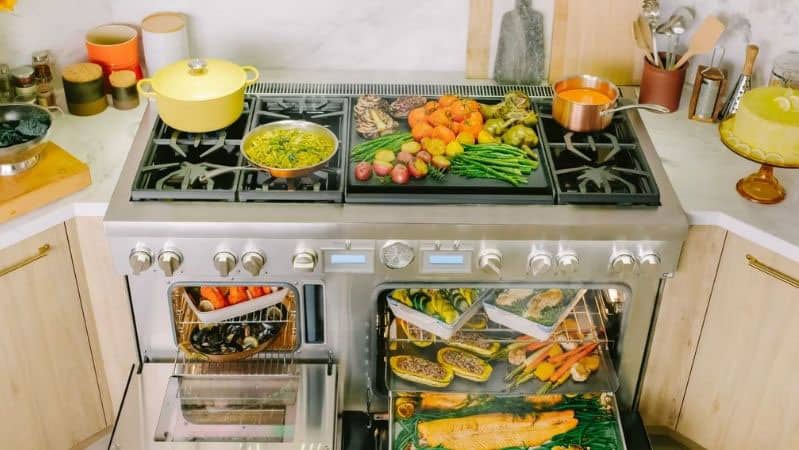 Thermador does have a steam oven and warming drawer.
Steam has become popular either as an oven or as an assist or part of the overall process.
It's a whole different type of cooking as steam adds moisture and doesn't bake out nutrients.
Food is more flavorful and much less dehydrated. However, you do have to learn how to cook with steam.
Warming Drawer
Beneath the steam oven, you have a warming drawer to keep food warm for up to three hours without dehydrating or overcooking your food.
It's a great option if you cook at one time and your family eats at another.
Leave your plates in the drawer for warm plates.
Now you know both companies and their ranges. Let's compare gas first and then dual fuel. Many of the options are similar on both so that I will mention them once for brevity.
Read More: Should You Buy a Thermador Professional Range?
Wolf vs. Thermador All Gas Pro Ranges

Sizes and Options
Thermador Pro Grand and Wolf pro ranges have the same sizes at 36, 48, and 60 inches.
Wolf will have more configurations and options with eight options available in the 48 and 60-inch sizes versus the four for Thermador Pro Grand.
You can buy double griddles, grills, French tops with Wolf versus Thermador with a grill and griddle option or an extra-large griddle on the 60-inch ranges.
Burners
The Thermador Pro Grand combines one higher output burner of 22,000 and 18,000 and 15,000 BTU.
Wolf is 15,000 with a simmer burner of 9,200 BTU max.
Simmer
Both are good. Thermador is lower with an inconsistent flame that shuts on and off, while Wolf has a consistent flame at a higher temperature.
You can simmer on every Wolf burner versus just two on the Thermador.
Thermador Pro Range Star Burners vs. Wolf Pro Range Round Burners
The Star Burner is easier to clean. In terms of heat, it doesn't boil appreciably faster.
Grill
There is no contest here. Wolf has the 16,000 BTU Infrared versus the Thermador electric grill with briquettes at the bottom to increase heat.
Griddle
Wolf will be faster and more responsive than the Thermador electric-powered griddle.
French Top
Wolf has a French top option, while Thermador does not. (Thermador's large double griddle is not a French top).
Oven
Both are single convection. Thermador will be larger because it's deeper and protrudes beyond the counter. Thermador is self-cleaning as well.
Controls
Neither are stellar. Thermador does have a small radial clock.
Wi-Fi
Thermador has Wi-Fi through their solid Home Connect app with recipe tie-ins.
Wolf does not have Wi-Fi in their all-gas range.
In Summary: A Wolf gas pro range will have a better grill, griddle, and French top. The Thermador Pro Grand all gas range is a more powerful with a self-cleaning oven and Wi-Fi controls.
Dual fuel is a different story.
Wolf vs. Thermador Pro Grand Dual Fuel Ranges

Burners
The grill, griddle, and French top are the same.
Wolf burners are upgraded, but Thermador still has slightly better output.
For example, let's look at them in a 48-inch pro-range stovetop.
Wolf
One burner at 20,000 BTU
Two burners at 18,000 BTU
Two burners at 15,000 BTU
One burner at 9200 BTU
Thermador
One burner at 22,000 BTU
Two burners at 18,000 BTU
Three burners at 15,000 BTU
So Thermador has a slightly higher burner and a 15,000 BTU versus a 9200 BTU.
Simmer
Thermador has 2 "XLO" burners at 100 BTU versus Wolf at 300, but Wolf is consistent against Thermador's on/off flames.
We will see a test later, but Thermador only has two dedicated simmer burners. You can simmer effectively on all the Wolf burners.
Induction
You can buy induction on all the Pro Grand ranges from 36 to 60 inches. You just saw the simmer ratings for both brands for gas.
Induction can simmer better than any gas burner. Gas will shut off at a certain low temperature. You can control induction to 1% power.
Oven
Wolf has their new verticross convection system using blowers versus Thermadors single convection.
Circulation will be better for better baking. Of course, this needs and will be tested in the performance section.
Controls
Thermador's controls include a radial clock, while Wolf has a new touch screen.
Thermador Home Connect vs. Wolf Gourmet
I am lumping in all of Wolf's capabilities against Thermadors' HomeConnect Wi-Fi system.
Both can set cycles, turn the oven/off, and change temperatures from an app on your phone.
Thermador has recipe tie-ins on the app.
Wolf doesn't have tie-ins yet.
However, Wolf Gourmet has 50 pre-programmed recipes.
You can also input the food and how you like it cooked. The oven sets the time, temperature, and rack position automatically.
Steam Oven/Warming Drawer
Thermador has the steam and drawer capability in their larger 48 and 60-inch sizes, whereas Wolf is self-cleaning convection.
Wolf vs. Thermador Professional Range Performance
Yale Corporate Chef Saba Wahid tested both the Thermador and Wolf 48-inch professional ranges. Her test results are below.
Roasting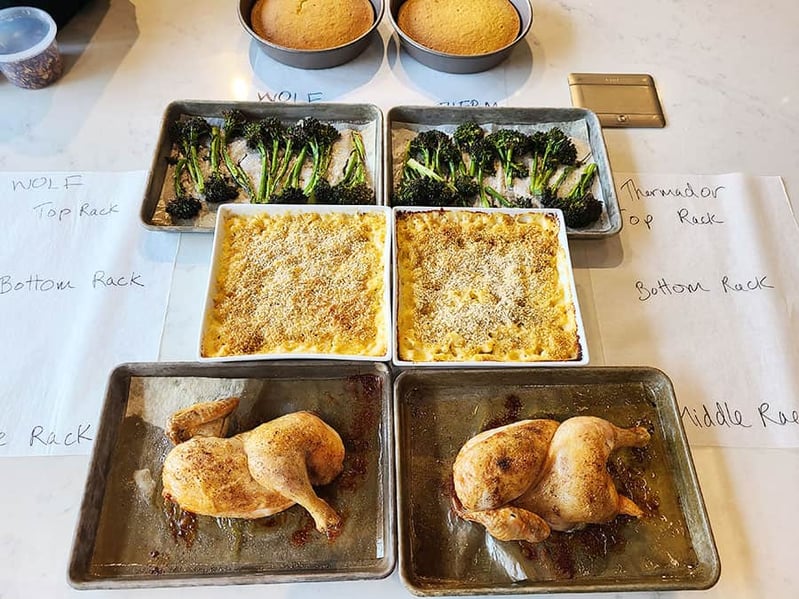 Wolf Pro Range Results (Left) | Thermador Pro Range Results (Right)
I roasted broccolini, a half Chicken, and Mac and Cheese in both ovens at 400 F on Convection Roast mode.
Wolf: On Wolf's top rack, the broccolini took around 14 minutes to roast. The Mac and Cheese, placed on the bottom rack, took approximately 23 minutes while the chicken took about 37 minutes on the middle rack.
Thermador: The broccolini took around 18 minutes on the top rack. The Mac and Cheese took approximately 31 minutes while on the bottom rack. The chicken, placed on the middle rack, took around 46 minutes.
The results were pretty close when you look at the photos, but the Mac and Cheese from the Thermador didn't get as much color as they did in the Wolf.
Additionally, I found the Wolf cooked everything slightly faster as well.
Baking
Wolf Pro Range Baking Results (Left) | Thermador Pro Range Baking Results (Right)
As for the baking test, I just made a classic yellow cake.
I baked the cakes on regular convection or True convection in both ovens.
The cake baked in the Wolf oven took around 30 minutes. The Thermador oven cake took about 35 minutes but still did not get as much color outside. It was pale in comparison.
Grill and Griddle Functions
Thermador Griddles Cast Aluminum and Electric Powered: Don't conduct heat as well as rolled/stainless steel, but do a decent job. Full range of temperature available, plus a drip tray. I found the griddle is easily removable and dishwasher safe.
Thermador Grills: Thermador's grill has an electric heating element with lava rocks, a drip pan, and cast aluminum grates
Wolf Griddles With Rolled Steel, Gas Powered: Some hot/cold spots, but primarily consistent from top to bottom. Full range of temperature available, plus a drip tray. The griddle cleaning kit is helpful for deep cleaning.
Wolf Grills: Wolf's infrared grill, known as the Charbroiler, has two heat settings and a diffuser plate. I found the food had to be moved to the desired cooking temperature area to cook evenly. The middle runs hotter, the bottom is more medium, and the top runs at a lower temperature.
Pros and Cons
Therm-Steam (Pro) vs. Wolf-No Steam Option (Con)
Wolf-Verticross (Pro) vs. Therm-Regular Convection (Decent, but the Verticross convection system proved to be a better system for our tests).
Therm-No French Top (Con) vs. Wolf-French Top Option (Pro)
Therm-Induction (Pro) vs. Wolf-No Induction Option (Con)
In Summary: Which is better for a duel fuel range? It depends on what you want. Wolf will have better technology along with the grill, griddle, French top functionality.
Their oven and controls are an improvement as well.
Thermador has the induction feature. It's a feature well worth considering for boiling and simmering.
They also have a steam oven to cook healthier and tastier meals.
What Is the Average Price Difference Between Thermador and Wolf Pro Ranges?
The average price difference between Thermador and Wolf pro ranges is splitting hairs. Wolf will be slightly expensive.
If we look at 48-inch gas and dual ranges, there price differences are less than $100 for all gas and just over $1000 for dual fuel.
All Gas:
Wolf - $11,710
Thermador - $11,649
Dual Fuel:
Wolf - $14,795
Thermador - $13,546
Promotions
Thermador has the 1,2, Free or $1,399 back plus a free hood if you buy a Thermador refrigerator. It's been an ongoing program for the last 15 years.
Wolf will have $1,000 rebates with other qualifying purchases occasionally.
Wolf vs. Thermador Pro Grand Professional Ranges: Which Is Better?
It depends on how you use the range and what fuel type you prefer.
In gas, Thermador has better output, self-cleaning, and Wi-Fi versus a better grill, griddle, and French top option.
For dual fuel, the convection system of the Wolf is the best on the market. Thermador does have induction and steam oven options.
Wolf will have a better grill, griddle, French top, and the Wolf Gourmet will make your life easier.
So, how will YOU use this range?
I can say steam ovens are better, but it doesn't matter if they are unused. Same with the grill, griddle, or French top.
The right range for you is the best combination of features you will use the most.
Additional Resources
Get our freshly updated Pro Cooking Buying Guide with tips, trends, and reviews of all the best brands. You can compare Thermador and Wolf to all the brands like Miele, Jenn-Air, BlueStar, Hestan, Viking, SKS, and Dacor. Over 900,000 people have already found answers in a Yale guide. It's detailed and free with no purchase necessary.
Related Articles:
Why Should You Trust Us?
It seems that every appliance review has nothing but glowing comments about almost every product, yet you read customer reviews and they are almost universally bad.
We are here to fill in the disconnect. We'll give you the best features, and the drawbacks as well, including reliability based on over 37,000 calls performed by our service team just last year. Our goal is to give you ALL the information so you know what's right for you.
Please consider subscribing or adding to the conversation in the comments below. We appreciate you stopping by.
Steve Sheinkopf is the third-generation CEO of Yale Appliance and a lifelong Bostonian. He has over 38 years of experience in the appliance industry, and he is a trusted source of information for consumers on how to buy and repair appliances.

Steve has also been featured in numerous publications, including the New York Times, Consumer Reports, The Boston Globe, Bloomberg Radio, the New York Post, The Wall Street Journal, and Entrepreneur, for his knowledge of how to buy appliances and appliance repair.

Steve is passionate about helping consumers find the best appliances for their needs, and he is always happy to answer questions and provide advice. He is a valuable resource for consumers who are looking for information on appliance buying, repair, and maintenance.

Despite being the worst goalie in history, Steve is a fan of the Bruins and college hockey, loves to read, and is a Peloton biker. The love of his life is his daughter, Sophie.
A Note About Pricing
Pricing on this blog is for reference only and may include time sensitive rebates. We make every attempt to provide accurate pricing at time of publishing. Please call the stores for most accurate price.