Are Hestan Professional Ranges Any Good?
March 31st, 2021 | 8 min. read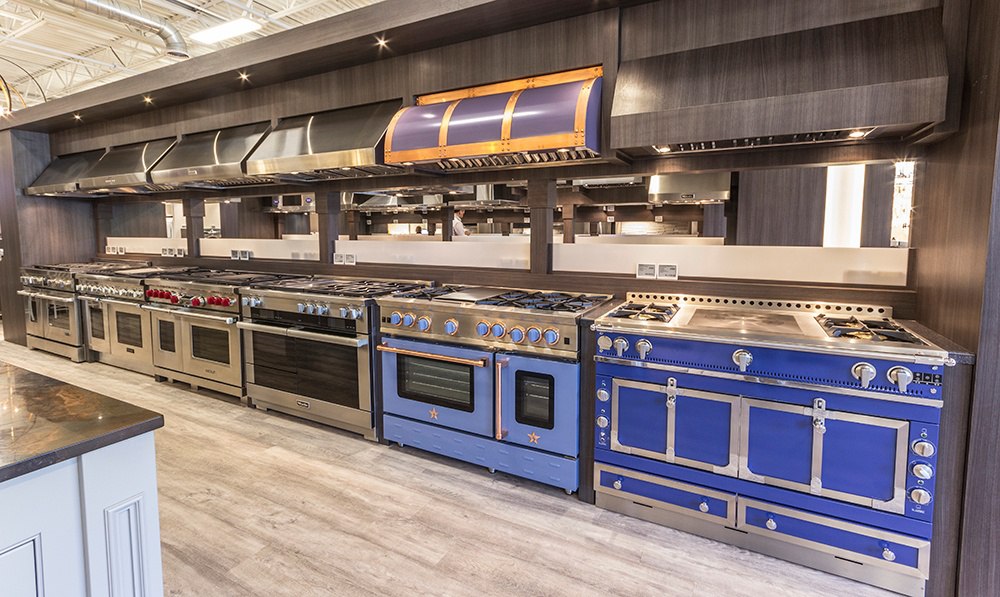 Let's say you cook a lot. Perhaps, you have a large family or do some catering.
Maybe you like cooking lobsters or love cooking Cajun dishes and need a high-heat burner for that pan.
Enter a brand you have not heard of - Hestan.
Hestan's professional ranges have some exciting features, including a 30,000 BTU center burner. That's right.
Thirty thousand of BTU output eclipsing BlueStar's 25,000 BTU output.
It's also 7,000 BTU more powerful than the next most powerful sealed burner range.
Power aside, Hestan is completely unique in looks and function.
In this article, you will learn all about Hestan, its features, prices, and how it stacks up to popular pro ranges from Thermador, Wolf, Miele, and JennAir.
You will also learn about Hestan's problems and whether it is a match for your particular style of cooking.
No range or even appliance is right for everyone. Hestan is no different.
The first question to be answered is, who is Hestan?
Hestan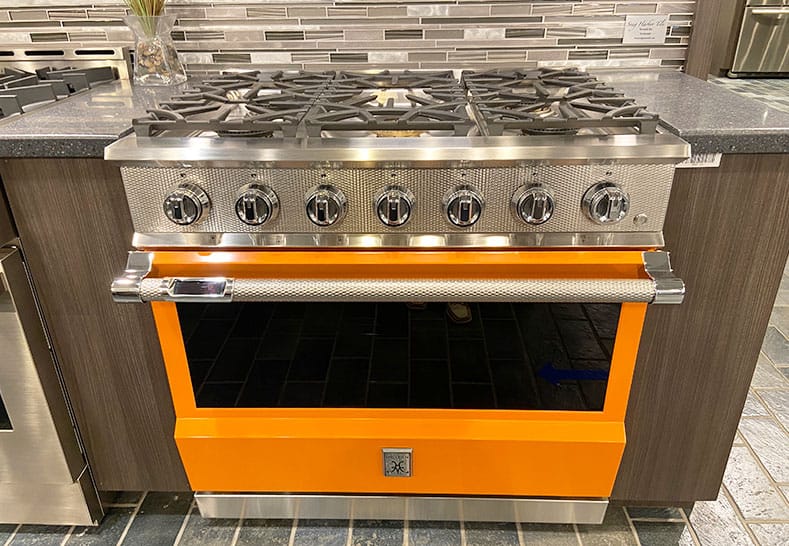 Hestan 36-Inch Pro Range in Citra at Yale Appliance in Boston
Hestan is a subsidiary of the Meyer corp. They are a large commercial supplier manufacturing ovens, stovetops, even pots, and pans.
They detail their California Napa Valley heritage all over their website. However, they have only been manufacturing residential cooking equipment since 2016.
BBQ grills were their first residential product and quickly became competitive with industry leader Lynx by designing a truly attractive BBQ in colors.
Hestan Professional Ranges
Sizes
Hestan has 10 pro ranges available.
Hestan's pro ranges include two 30-inch ranges, four 36-inch ranges, and for 48-inch ranges split between all gas and dual fuel.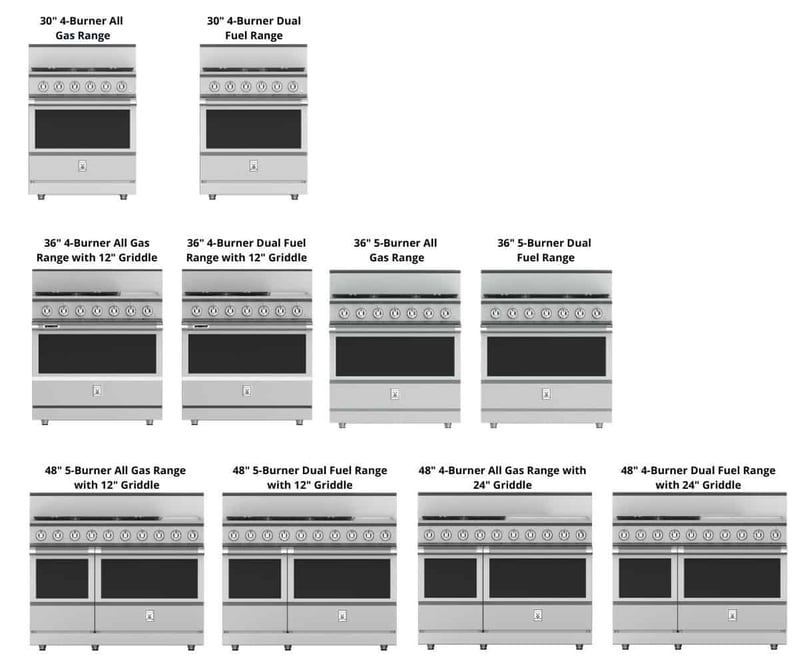 Components
I normally don't pay much attention to components.
Typically, service problems from faulty valves or some synapse between the parts themselves.
The knob may be shiny, but the ignition system you don't see is what will sideline your ability to cook.
Manufacturers always tout cast iron knobs and how solid the handle is. However, it doesn't usually add or detract from service issues.
But I have to admit, Hestan is impressive. It's built incredibly well. The caps and ignition is heavy solid brass. It certainly looks more solid than most competitive brands.
Rangetop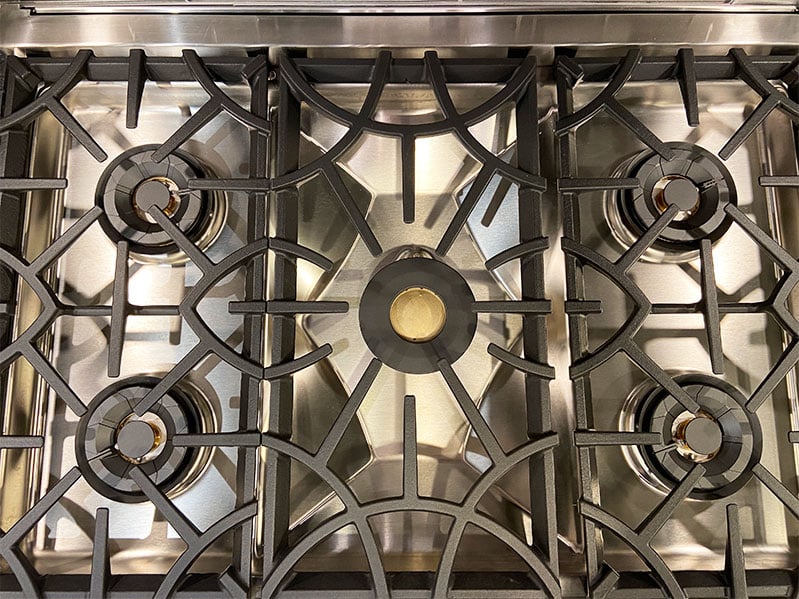 Hestan All Gas Professional Range
In the 36 and 48-inch ranges, you can choose between two types of rangetops, either five burners or four burners with a griddle. Both are good.
The five-burner configuration features a sealed incredibly powerful 30,000 BTU center burner along with two still powerful 23,000 BTU burners and two 15,000 BTU burners.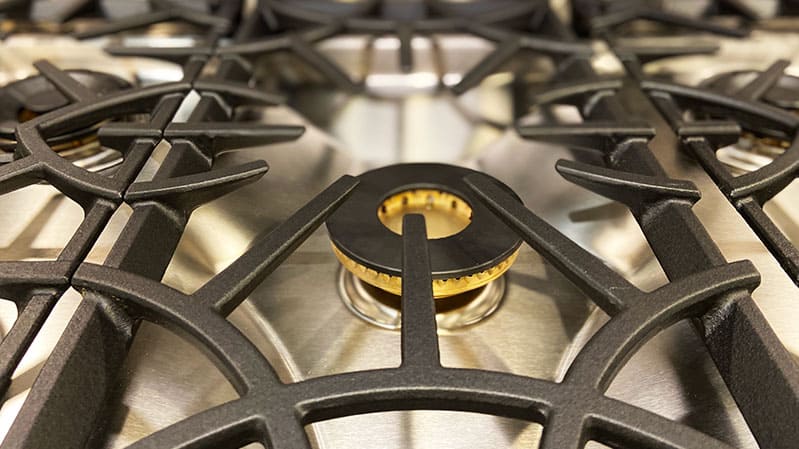 Hestan Professional Range 30,000 BTU Burner
The griddle is infrared, so it's a hot direct heat. You can also adjust the griddle by temperature from 150-500 degrees.
Other companies offering infrared griddles like Miele and Wolf offer one or two settings. Hestan has more variability.
If you have a recipe calling for a specific temperature for your pancake, then Hestan is your only choice without guesswork.
The griddle is comprised of type 304 steel, known for its durability. However, the JennAir chromium griddle will be easier to clean.
On the griddle models, you have a combination of high output between 23,000 and 15,000 BTU burners.
Simmer
The Hestan burner is two-stage with two gas valves. The lower output is the second stage in the middle of the burner for a 500 BTU consistent simmer.
It's similar to Wolf with their three-stage burner. Thermador has a lower BTU output in their Star burner, but it turns on or off for a lower simmer.
A consistent 500 BTU simmer is still excellent.
Controls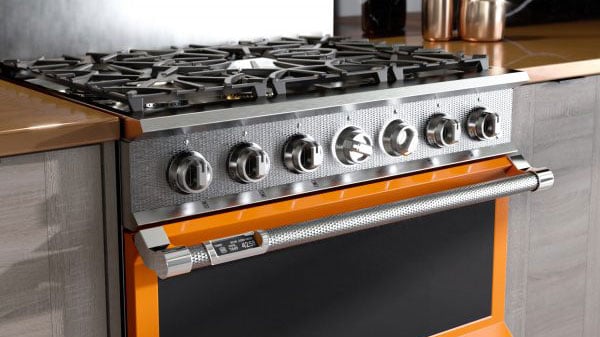 Hestan Professional Range Controls
Dual fuel and all gas have different controls.
All gas is strictly knobs, similar to a BlueStar or Thermador. You just use the knobs for mode and temperature.
Dual fuel has a unique clock and timer design. It's located in the handle of the range.
You can set temperature and swipe similar to your iPhone. The clock is also synced to the knob, so it reads the setting from the knob.
Oven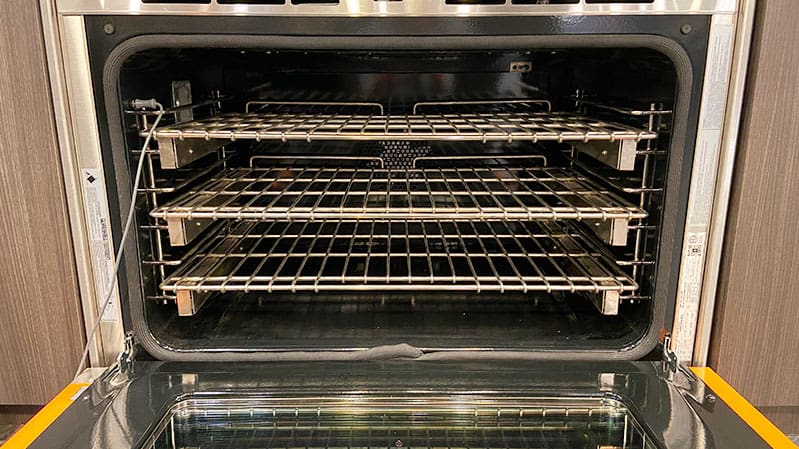 Hestan 36-Inch Professional Range Oven
As I previously mentioned, the ranges are available in dual fuel (electric oven) or all gas.
Just as a reminder to long-time readers: Gas is moister and better for roasting. Gas broiling is hotter and better than electric.
Electric is a drier heat for better baking. Like many other pro range manufacturers, only electric is self-cleaning. JennAir, Miele, and Thermador's Pro Grand ranges are self-cleaning in gas.
"PureVection"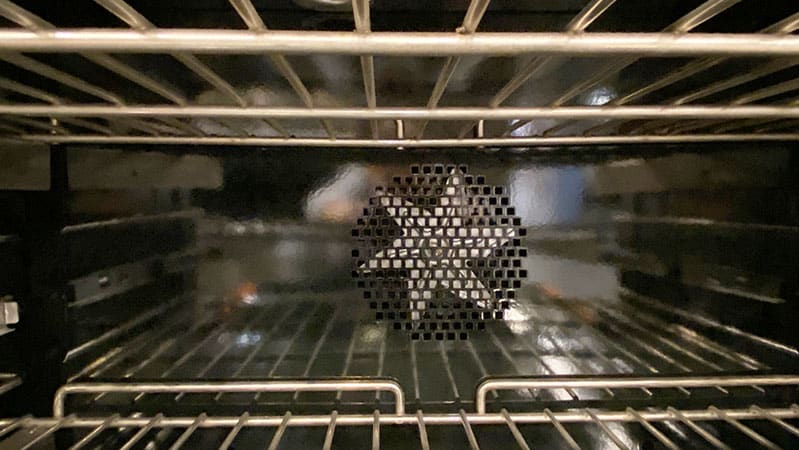 Hestan Pro Range with PureVection
This part is different.
Most pro ranges now maintain temperature with two convection fans. Hestan "PureVection" is one fan actively alternating temperature and fan speed with maintaining a precise temperature.
In my view, it's a single convection fan.
However, Hestan does supply stoves to many of the finer restaurants in the country.
Their counterclaim is Thomas Keller Restaurant Group uses Hestan appliances at The French Laundry in California.
He probably requires an even temperature to bake a soufflé or proof bread. So, Hestan must be able to deliver even heat out of one convection fan.
Broiler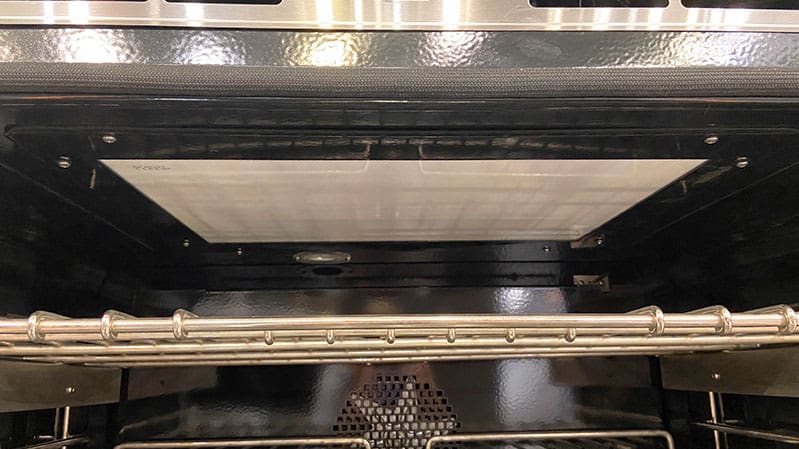 Hestan Pro Range Infrared Broiler
Hestan employs a 20,000 BTU infrared broiler. Infrared is an intense direct heat as opposed to gas which spreads the heat more evenly.
For broiling, infrared is far better.
You find the infrared in almost every pro range. Hestan has the best output. Wolf is 18,000, Thermador is 17,500, and BlueStar is 15,000. Miele is the best at 23,000 BTU.
Dual Fuel or electric ovens are not known for broiling. Hestan was creative in their design by adding a sheet of glass over their broiler ostensibly increasing the heat.
Warranty
Hestan offers a full three-year warranty.
In terms of coverage, three years is excellent. Of course, that all depends on who provides the service and how much they are paid to fix the range.
The warranty rate is always less than the actual cost to fix an appliance.
Nobody will tell you that.
Extended manufacturer warranties are a general problem of a much larger service issue.
Although you will not pay for service, finding willing yet prompt service agents will be hard to find in the first three years.
Of course, it depends on where you buy your new Hestan.
Colors

Colors are becoming a trend again in appliances. Hestan has 12 colors to choose from. Most companies like Wolf, Miele, JennAir, and Thermador are stainless only.
Then again, La Cornue has 48 color options and BlueStar has 1000 plus customization options.
Price
How does it price out against a JennAir, Miele, Wolf, Thermador, and BlueStar?
Hestan is a bit higher starting at $5,499 for an all gas 30-inch range. Dual fuel is $7,279 for 30 inches.
Hestan's 36-inch ranges start at $7,599 for all gas. Dual fuel is $10,499.
For 48-inch sizes, Hestan starts at $12,149 and $15,449 for dual fuel.
Hestan Professional Range Prices:
KRG Series 30" 4-Burner All Gas Range - $5,499
KRD Series 30" 4-Burner Dual Fuel Range - $7,279
KRG Series 36" 4-Burner All Gas Range with 12" Griddle - $8,349
KRD Series 36" 4-Burner Dual Fuel Range with 12" Griddle - $11,199
KRG Series 36" 5-Burner All Gas Range - $7,599
KRD Series 36" 5-Burner Dual Fuel Range - $10,499
KRG Series 48" 5-Burner All Gas Range with 12" Griddle - $12,149
KRD Series 48" 5-Burner Dual Fuel Range with 12" Griddle - $15,449
KRG Series 48" 4-Burner All Gas Range with 24" Griddle - $12,649
KRD Series 48" 4-Burner Dual Fuel Range with 24" Griddle - $15,999
What Features Do Hestan Pro Ranges Not Have?
Grill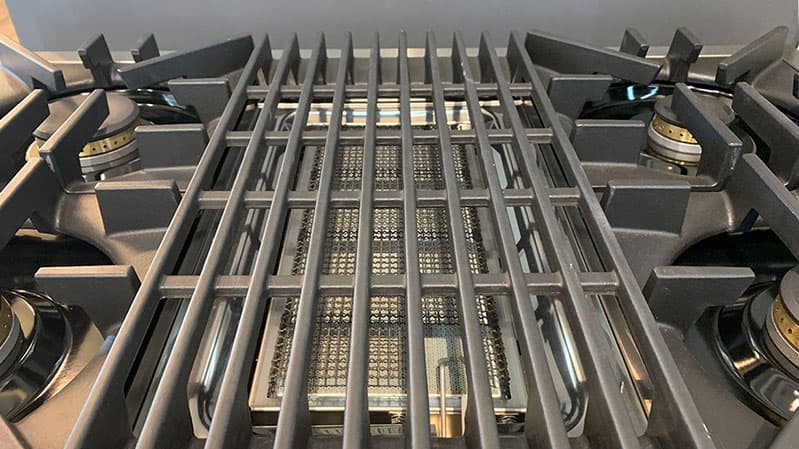 JennAir Pro Range Grill
Hestan does not have a grill. It only has the option of a griddle. You do have an infrared broiler in your oven, so it isn't necessarily a deal-breaker in all gas.
However, if you want to BBQ inside your house, Hestan does not offer that option.
Steam Oven/Warming Drawer
Miele MasterChef has a steam assist, so you can add moisture with up to three bursts of steam. This is great for baking bread and caramelizing the tops of your favorite dishes like lasagna and French onion soup.
Thermador has a full steam oven to cook a meal in just steam. Both Thermador and Miele offer warming drawers to keep food warm for up to three hours without drying out your meal.
Hestan does not offer any steam or warming drawer options.
Smart Functionality
JennAir and Thermador both offer remote access through an app on your phone. Both have recipe app tie-ins to enhance your cooking experience.
JennAir uses their own app similar to Yummly, while Thermador is part of the Bosch HomeConnect network.
Wi-Fi is improving to be more than remote on, off, and temperature control.
I think Hestan will one day have Smart cooking because they already market it in their portable Cue series.
Robust Controls
Their dual fuel controls on the towel bar are decent.
They lack the functionality of the Miele MasterChef, where you program how you want the food, and the range calculates the time and temperature for you.
Induction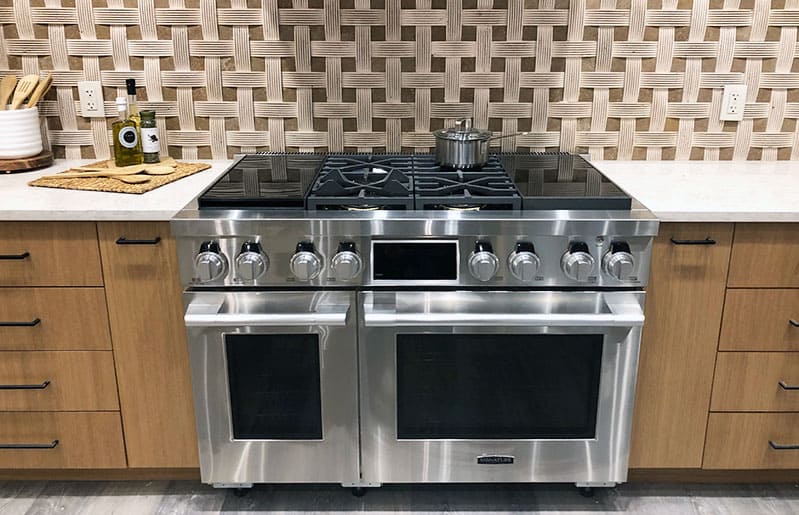 SKS Professional Range with Induction at Yale Appliance in Hanover
Thermador Pro Grand, Signature Kitchen Suite (SKS), and Fisher & Paykel offer induction in their pro gas ranges. Induction offers the lowest possible simmer and is more efficient.
Hestan does not have that capability.
How Do Hestan's Professional Ranges Compare to the Competition?
How do Hestan's professional ranges compare against pro ranges from JennAir, Miele, Wolf, Thermador, and BlueStar? Let's take a look.
Hestan vs. Thermador Pro Harmony All Gas Ranges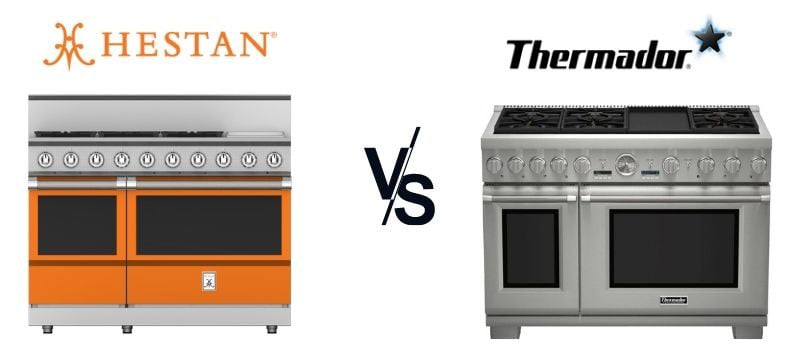 Hestan will have the more powerful top with a 30,000 BTU output, two 23,000, and two 15,000 BTU burners vs. 18,000 and 15,000 for the Harmony.
Thermador will have the lower simmer at 100 BTU.
There is a $700 difference between the two. Thermador offers a grill and Wi-Fi.
Hestan vs. Thermador Pro Grand Ranges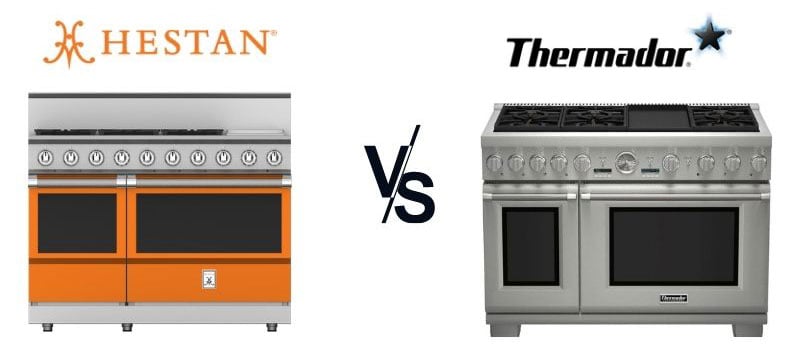 Thermador Pro Grand is a bit deeper with a basic clock and a 23,000 BTU burner. It is self-cleaning as well.
Thermador offers a steam oven and induction for their larger units.
What's interesting is the induction feature on the Thermador models. It will be as fast as the 30,000 BTU Hestan.
As previously mentioned, Thermador has Smart functionality through their HomeConnect App.
Hestan will have better controls on their dual fuel and is more powerful at 25,000 with an infrared griddle vs. an electric griddle on the Thermador.
You can buy your range in 12 different finishes with Hestan as well.
Hestan vs. JennAir Pro Ranges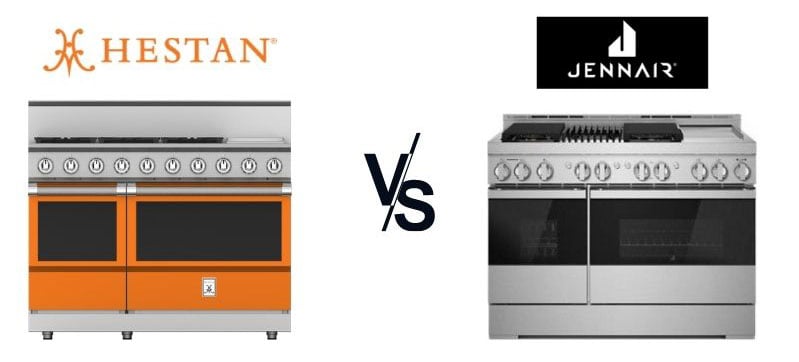 JennAir has a grill and is self-cleaning in gas and dual fuel. They offer their Wi-Fi controls and tie-ins to the recipe app, Yummly.
JennAir has its infrared grill. Hestan has a more powerful top, a better griddle, and 12 finishes to choose from.
Hestan vs. Miele Pro Ranges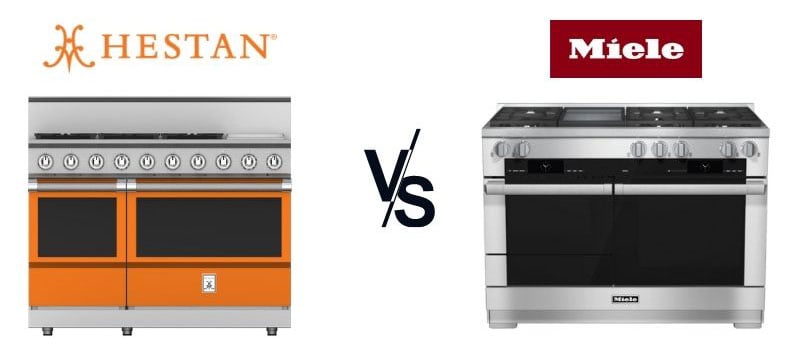 Miele is self-cleaning in gas and dual fuel with better gas controls and MasterChef controls in dual fuel.
Miele has steam assist in dual fuel with a warming drawer. The Miele grill is infrared as well as the griddle.
Hestan has powerful BTU output, colors, and a more controllable griddle.
Hestan vs. Wolf Pro Ranges
Wolf offers the best twin convection system in the oven and the best combo of grill, griddle, and simmer on the burner.
Hestan has colors, better controls in dual fuel, and is more powerful on the top.
Hestan vs. BlueStar Platinum Pro Ranges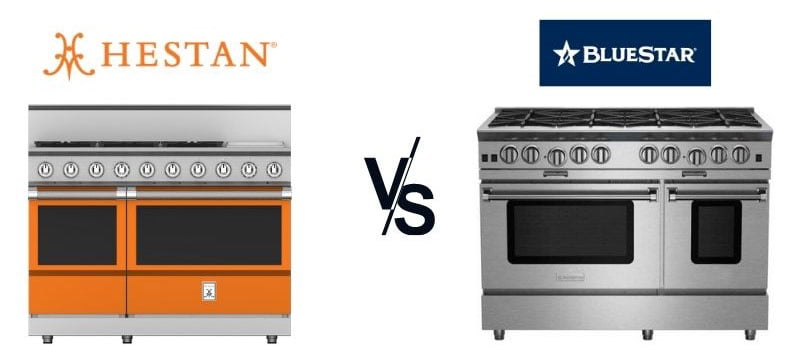 This one is a difficult comparison. Hestan has the highest output burner at 30,000 BTU, but BlueStar has the most overall output.
BlueStar offers a grill and griddle on their Nova series. However, it's regular gas, not infrared.
Hestan's griddle is better. BlueStar does have a grill, but it's gas, not infrared. In terms of color, BlueStar has 1000 plus 10 trims.
Are Hestan Pro Ranges Reliable?
Hestan's reliability - the big unknown. We publish reliability stats and sell brands based on reliability.
Yet we do not know about Hestan's pro ranges but soon will.
In terms of you buying Hestan, you should inquire about service and repair.
If the answer is none or factory service, then I would consider other options. Then again, you should be wary of all brands with little or no service.
Should You Buy a Hestan Pro Range?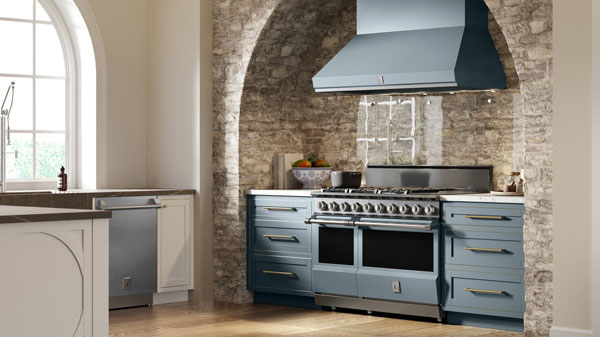 Hestan 48-Inch Professional Range
Service aside, it is the most powerful range on the market with its 30,000 BTU burner.
If you like to wok cook, then Hestan should be a consideration. That powerful burner was almost designed for it.
The griddle is excellent too. You have infrared and actual temperature control instead of one or two settings.
The oven is different and needs to be tested. However, it should work in your home if the technology has been tested in restaurants.
Overall, Hestan is a good range. You have good output, a different design, and colors for a unique choice.
Additional Resources
Get our free Pro Range Buying Guide packed with tips, specs, and recommendations on all the best brands. Over 820,000 people have already found answers in a Yale guide.
Related Articles:
Why Should You Trust Us?
It seems that every appliance review has nothing but glowing comments about almost every product, yet you read customer reviews and they are almost universally bad.
We are here to fill in the disconnect. We'll give you the best features, and the drawbacks as well, including reliability based on over 37,000 calls performed by our service team just last year. Our goal is to give you ALL the information so you know what's right for you.
Please consider subscribing or adding to the conversation in the comments below. We appreciate you stopping by.
Steve Sheinkopf is the third-generation CEO of Yale Appliance and a lifelong Bostonian. He has over 38 years of experience in the appliance industry, and he is a trusted source of information for consumers on how to buy and repair appliances.

Steve has also been featured in numerous publications, including the New York Times, Consumer Reports, The Boston Globe, Bloomberg Radio, the New York Post, The Wall Street Journal, and Entrepreneur, for his knowledge of how to buy appliances and appliance repair.

Steve is passionate about helping consumers find the best appliances for their needs, and he is always happy to answer questions and provide advice. He is a valuable resource for consumers who are looking for information on appliance buying, repair, and maintenance.

Despite being the worst goalie in history, Steve is a fan of the Bruins and college hockey, loves to read, and is a Peloton biker. The love of his life is his daughter, Sophie.
A Note About Pricing
Pricing on this blog is for reference only and may include time sensitive rebates. We make every attempt to provide accurate pricing at time of publishing. Please call the stores for most accurate price.