BlueStar vs. Hestan Professional Ranges
July 23rd, 2021 | 8 min. read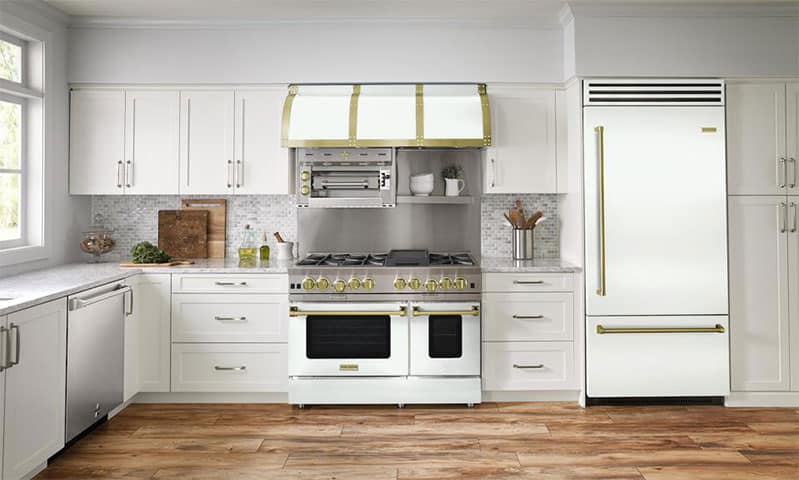 If you want high output, then Hestan and BlueStar are your two best choices.
When professional (pro) ranges became popular in the early 1990s, the highest output burners were 15,000 BTU.
BlueStar has 25,000 BTU burners, while Hestan now tops out at 30,000 BTU.
Wow.
Choosing between either brand is not easy.
Depending on how you cook, you could spend $15,000 and buy the wrong range.
In this article, you will learn about both companies, their strengths, and their weaknesses.
You will also see some references to other brands like Wolf, Thermador, JennAir, and Miele for a complete picture of how to buy a pro range.
BlueStar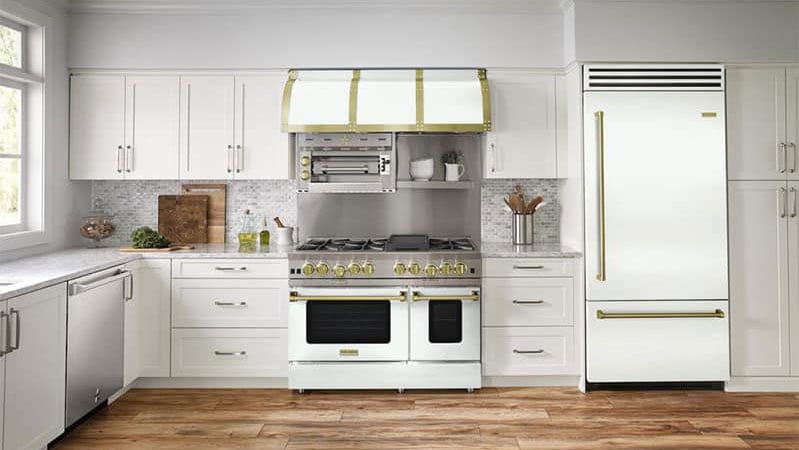 BlueStar states its heritage back to the 19th century. However, they are a family-owned company based in Pennsylvania.
Their ranges are interesting.
On the other hand, they emulate a restaurant range with open burners.
You have to clean under the cooktop with a BlueStar, but you can easily take it apart and clean it at the sink.
BlueStar's ranges have basic features with no Wi-Fi, steam functionality, or even a clock and timer.
Evidently, restaurants don't use clocks or timers on their stoves.
On the other hand, BlueStar is available in 1000 designer colors and ten trim packages. You can even add a high-quality photo for the front of your range.
I am pretty sure you won't see a maroon and copper range in a restaurant either.
Yet, 75% of BlueStar ranges were ordered in a custom color other than stainless steel at Yale.
So if you are looking for a unique or distinctive look, then BlueStar is certainly a consideration.
BlueStar Pro Range Sizes
BlueStar is a complete line manufacturing every range size available at 24, 30, 36, 48, and 60 inches.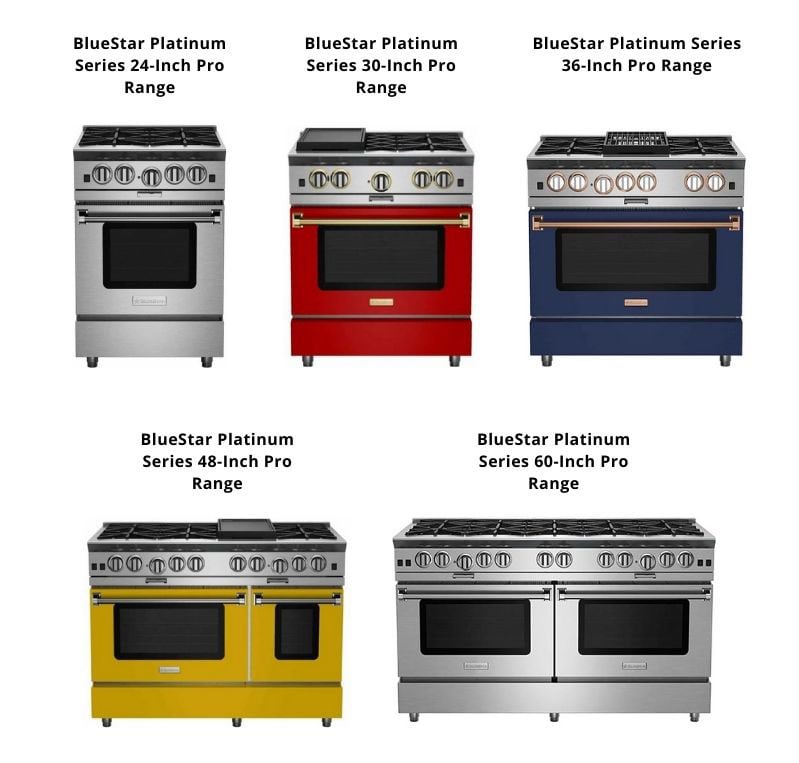 BlueStar Series
BlueStar markets five different series.
The Platinum: Highest output all burner ranges with pure convection
RNB: High output with grill, griddle, French top options
Precious Metals: French door (side by side ovens) in 30 and 36-inch sizes
Custom Open: Less expensive range with open burners
Custom Sealed: Least expensive series and the only BlueStar with a sealed burner
Platinum and RNB are their most popular ranges and will be used in our comparison.
Best Features of BlueStar Pro Ranges
Output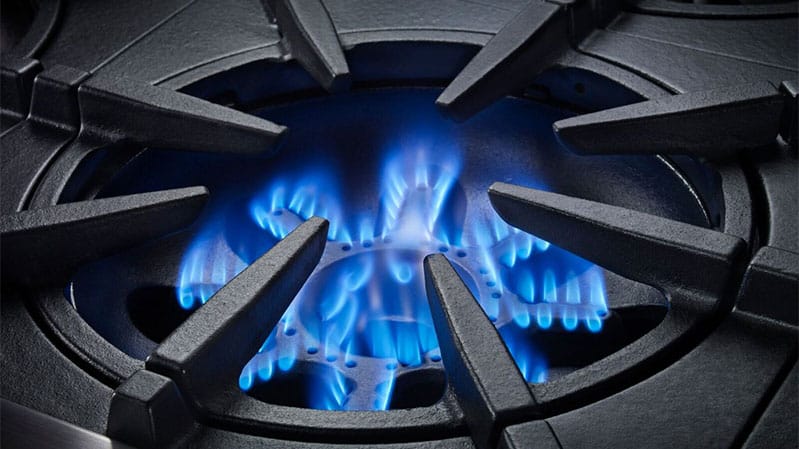 Hestan will have their 30,000 BTU burner, but a BlueStar Platinum will have two 25,000 BTU burners and a combination of 22,000, 18,000, and 15,000 BTU burners for the most overall burner output.
In terms of other manufacturers, Wolf and JennAir have a 20,000 BTU power burner.
Thermador has one burner at 22,000 in their Pro Grand series, while their Harmony line is 18,000.
Miele's highest output is 19,500 BTU. Signature Kitchen Suite's pro ranges will have multiple 23,000 BTU burners.
Overall, BlueStar is considerably more powerful.
BlueStar Stovetop Configurations
You have eight stovetop choices for 48-inch ranges. As an example, you can have a grill, griddle, and French top.
If you want a larger 24-inch grill, French top, or griddle, or smaller, BlueStar has that option as well.
PowR Oven (Platinum Series Only)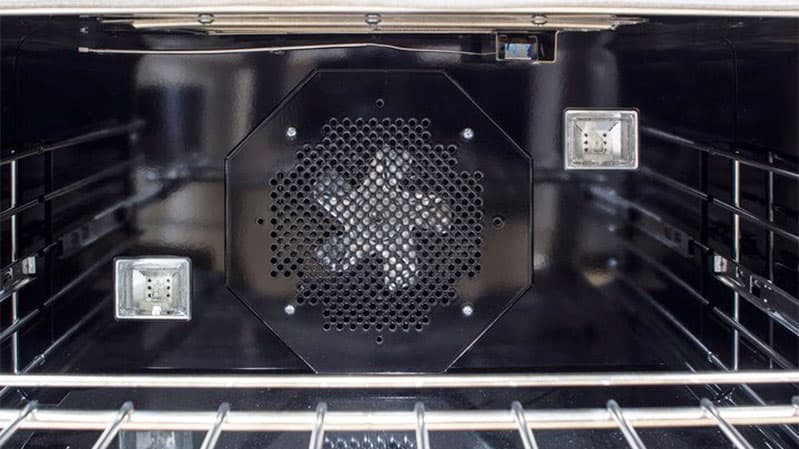 BlueStar is the only manufacturer with True convection or an element behind the fan for more even heat.
Anyway, true convection is an advantage, especially for a gas range.
Capacity
BlueStar can accommodate 18 by 26-inch chef's pans even in a 30-inch size.
Colors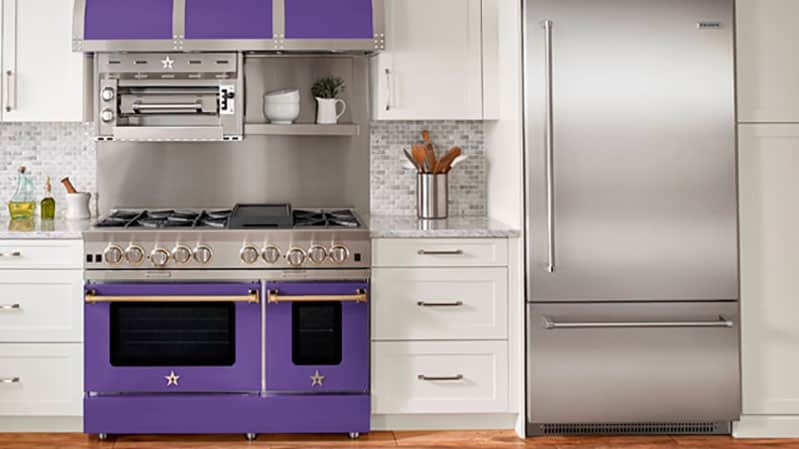 BlueStar offers the most colors out of any manufacturer. You have a chance for a unique look with BlueStar and many customization options.
Read More: Best BlueStar Professional Ranges for 2021
BlueStar Pro Range Weaknesses
Dual Fuel
BlueStar does not manufacture a dual fuel range. Dual fuel is a gas stovetop over an electric oven.
The advantage of an electric oven is a drier, more even heat for baking.
Gas is a moist heat and better for roasting and broiling.
But if you like to bake, then dual fuel is the better option.
Undersized Broiler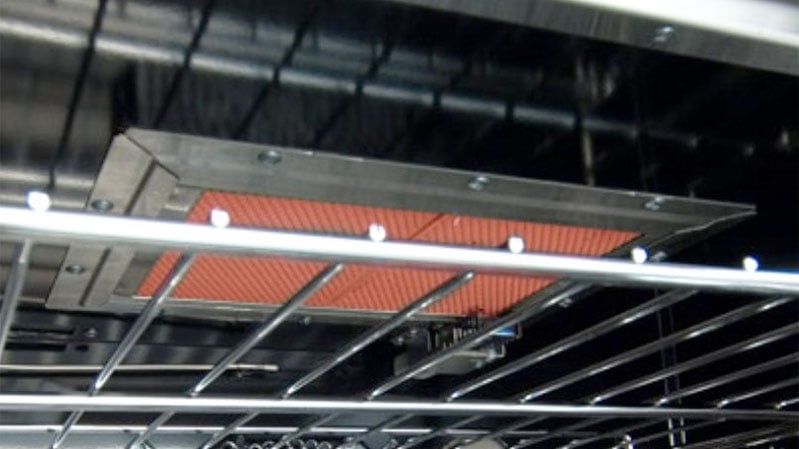 BlueStar talks about an 1850 degree broiler, but the actual BTU output is 15,000 BTU. Most are 18,000-20,000 BTU, with Miele being the best at 23,000 BTU.
Gas Grill
BlueStar uses gas, not infrared, for its grill on the RNB series. The gas spreads the flame, whereas the more directed infrared is better for searing with less clean-up.
No Special Features
Thermador and SKS will have steam ovens.
Miele will have steam assist.
JennAir, Miele, and Wolf have their pre-programmed settings with Culinary Centre, Miele MasterChef, or Wolf Gourmet guided cooking modes.
Almost every company has Wi-Fi compatibility except Miele, Hestan, and BlueStar.
Every company has a clock and timer except BlueStar, Wolf in all gas, and Thermador Harmony series pro ranges.
Self Cleaning
BlueStar does not have a self-cleaning cycle. Hestan does not either for their all-gas pro ranges only.
Overall, BlueStar is a powerful range with basic features.
Hestan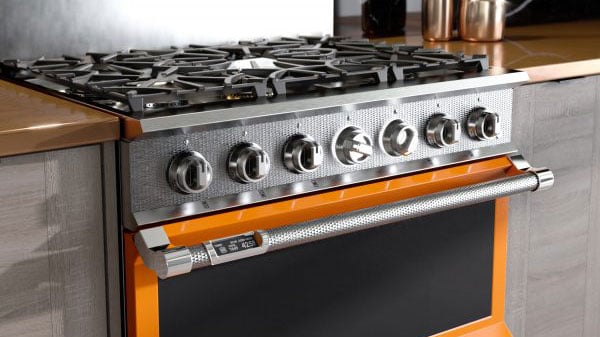 Hestan has an interesting origin based in California and is the brainchild of Stanley Cheng.
Hestan started as a winery manufacturing commercial ranges. They manufacture all types of commercial ranges as well as cookware.
The selection is endless on the website. They also have a pretty big following in the customer base in high-end restaurants.
In 2016, they started producing grills for your home featuring high output burners and solid grates.
In 2019, they started manufacturing ranges with some interesting features.
Sizes
Hestan manufactures ranges in the 30, 36, and 48-inch sizes. The configurations are limited to all burners or a griddle.
Hestan is available in dual fuel or all gas.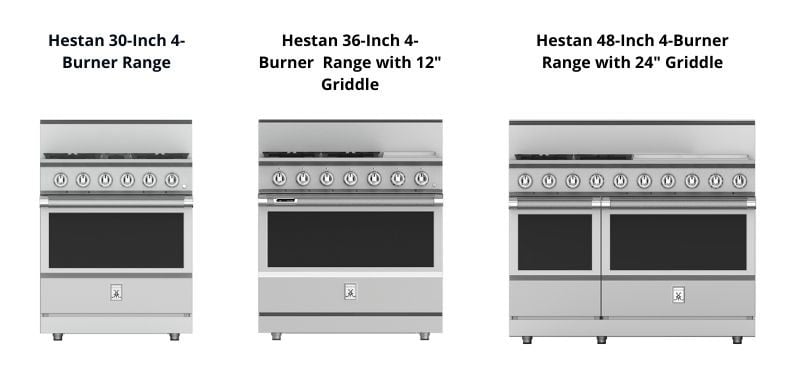 Best Features of Hestan Pro Ranges
Burner Output
Their "CircuFlame" delivers 30,000 BTUs. Their other burners rate at 23,000 and 15,000 BTU for an incredibly powerful range.
You could probably stir fry for a party of people at 30,000 BTU.
Sealed Burners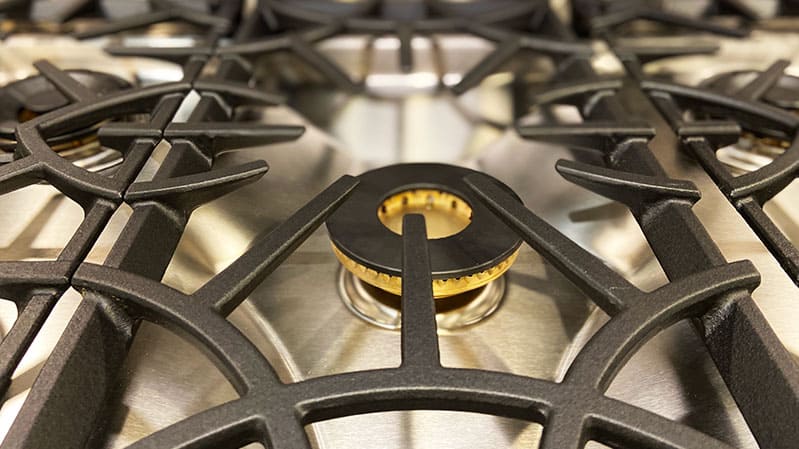 Burners are sealed like every other manufacturer except BlueStar. Hestan uses a more durable brass under the burners and for the ignitors.
Thermostatically Controlled Griddle
You can cook by temperature on your griddle versus the one or two settings by most manufacturers.
The griddle is also powered by infrared heat, not regular gas like BlueStar.
PureVection
Some brands have twin convection like JennAir and Miele. Wolf has their Verticross blower system in their new pro ranges.
BlueStar has its True convection.
Hestan has "PureVection," or a system to change fan speed and temperature to maintain an even temperature.
It seems like a new way to say single convection, yet Hestan uses the same system in their commercial ranges.
"Marquise" Controls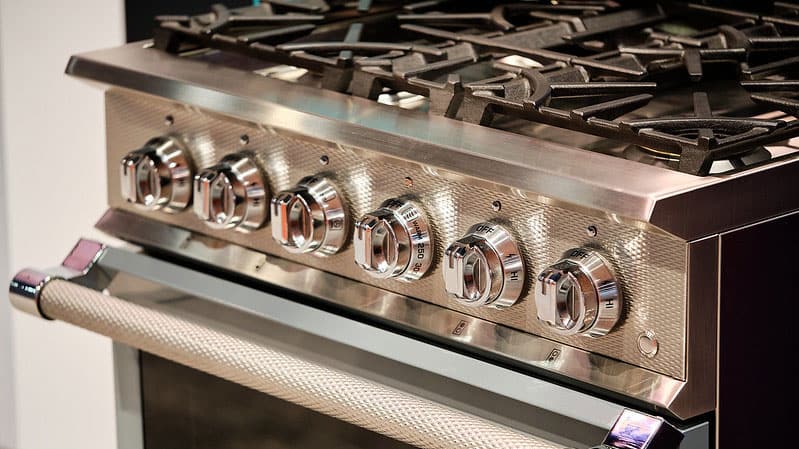 Hestan has controls on the towel bar for different modes in dual fuel only. It works like your SmartPhone by swiping through the different settings and modes.
Colors
Hestan has 12, which is 11 more than Miele, Thermador, Wolf, and JennAir, yet 988 less than BlueStar.
Read More: Are Hestan Professional Ranges Any Good?
Where BlueStar and Hestan Do Not Compete
Sizes
BlueStar has 24 and 60-inch ranges available, unlike Hestan.
Dual Fuel
Hestan offers both gas and dual fuel pro ranges. Pay close attention if you like to bake. Dual fuel will be better with its drier air and more consistent temperature.
Charbroiler or Indoor Grill
BlueStar offers a grill option for your stovetop called a charbroiler.
French Top
A French top is the opposite of a griddle. The heat is in the middle and radiates outward. You can boil in the middle and simmer on the outside.
It's a great option if you like to cook many different foods at different temperatures.
Only BlueStar, Wolf, and La Cornue offer a French Top.
BlueStar vs. Hestan Professional Ranges: Which is Better?

In this next section, we'll cover how BlueStar and Hestan both performed during a cooking demo performed by our Chef Saba Wahid. Saba recently won the TV show "Chopped," making her Grand Champion.
The contestants all used BlueStar ranges. So, she had a small advantage.
Oven Performance
Both ovens fit a chef's pan easily.
The oven performance was interesting because we compared the BlueStar gas PowR versus the Hestan PureVection.
Many companies have added twin convection and even blower convection in the new Wolf.
However, the Hestan did a great job with single convection. The cake was evenly cooked in color and texture.
What's surprising is the BlueStar. Their single convection gas oven cooked almost as well as Hestan's. There was slight discoloration where the cake was next to the fan.
Gas can cook your cake. It's not as even or well-calibrated as electric. Still, BlueStar was pretty good.
Burner Power
BlueStar and Hestan are the two hottest ranges. Hestan's 30,000 BTU vs. BlueStar's 25.000 BTU.
To test the burner output of both ranges, Chef Saba began her cooking test on the highest BTU burners while caramelizing onions on the lower BTU burners as well.
Below is her experience.
BlueStar vs. Hestan Professional Ranges: High Output Burner Test
Both pans were set to medium heat to melt the ghee, then around the 4-minute mark, I added in the ginger, garlic, and onion for both.
Around the 6 minute mark, I added the lentils, followed by the water and coconut milk, then turned the heat up to high on both.
From this point, it took Hestan's pro range around 1 minute and thirty seconds to come to a boil, and the BlueStar took around 2 minutes and fifteen seconds to come to a boil.
The difference was 45 seconds this time around. After 10 minutes, I added in the rice and a little more water, lowered the temperature to a simmer, and covered the pots partially with a lid.
At this point, I noticed the BlueStar was easier to set because I was able to turn the burner all the way to the lowest setting on the 25K BTU burner.
It simmered at the right temperature and pace.
If I lowered the Hestan 30K BTU burner all the way to the lowest setting, there wasn't much reaction in the pan since this was considered more of a holding temperature.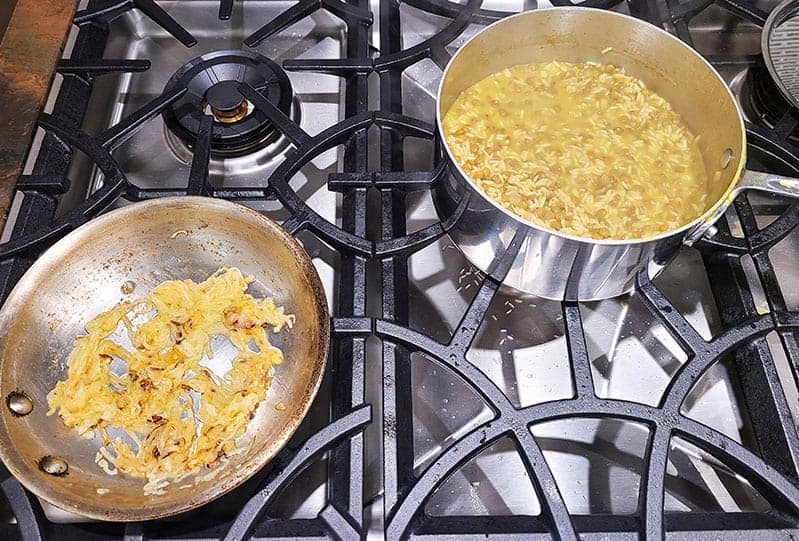 I had to play around with the settings a little more to find the perfect simmering temperature.
It was either too high, with both inner and outer ring ignited, causing all the liquid to boil and evaporate before the rice and lentils were cooked.
Then when turned, it was too low, not allowing the pan to get hot enough to cook the food.
This could certainly be a case of getting used to this style of the burner, and with a little practice, plus the frequency of use, this problem can be solved.
Because the moderate to low temperature stayed consistent on the BlueStar, the rice and lentil dish finished cooking around 3 minutes faster than the Hestan.
BlueStar vs. Hestan Professional Ranges: Low Output Burner Test
Hestan's two front burners are 23,000 BTU on the high end (with both inner and outer ring ignited) but can get as low as 500 BTU on the extra low simmer function (inner ring only).
BlueStar calls their lowest BTU burner a Simmer burner at 9,000 BTU.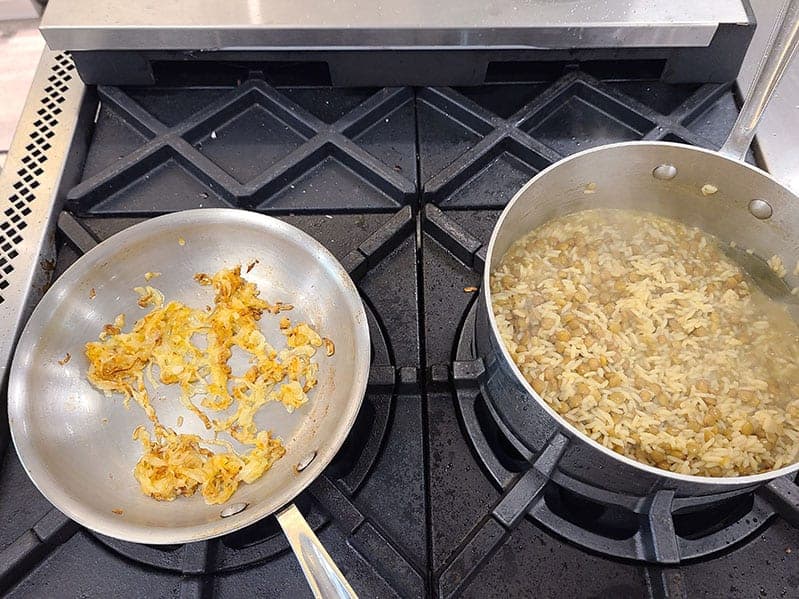 When set at the lowest setting, the Bluestar was able to hold a moderate temperature, enough to slowly caramelize the onions without scorching or burning them.
I came across the same scenario as above with the Hestan.
The lowest setting here was still utilizing both inner and outer burners, which was too high for caramelizing the onions, and the lowest low was too low.
It's more of a holding temperature
I ended up going between the highest simmer temperature setting and the lowest regular setting; it was difficult to find something in between.
Overall Cooking Results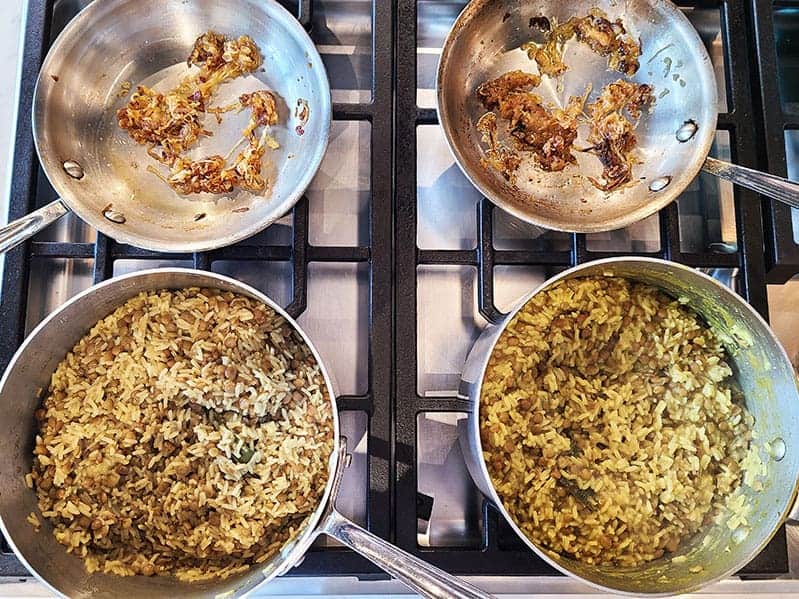 BlueStar Cooking Results (left) and Hestan Cooking Results (Right)
The BlueStar was simpler and more straightforward and didn't require any back and forth to determine the exact required temperature.
I found the burners easier to control on the BlueStar for both the high and low BTU burners. But this could also be due to the fact that I'm familiar with the BlueStar and have used this range many times.
The Hestan pro ranges are new, which will have a slight learning curve to use.
For a simmer, Hestan was a bit harder. It's a two-stage burner, so you have to turn the knob a certain way to simmer.
BlueStar was easier to control.
In terms of low burner simmering, Thermador's intermittent XLO and Wolf's three-stage simmer are a bit better.
BlueStar vs. Hestan Professional Ranges: Key Takeaways
Other than output, BlueStar and Hestan have little else in common.
Both are high-powered and made in the US, but they look completely different. Both have different feature sets.
BlueStar may be a better all-gas option with its PowR oven and ability to customize. You can opt for a French top, grill as well as a griddle.
Hestan is an excellent dual fuel option. The PureVection works well, so you can bake in addition to the high output sealed burner.
The best range for you will be the one with the combination of features matching the way you cook.
Additional Resources
Get our free Pro Range Buying Guide packed with tips, specs, and recommendations on all the best brands. Over 820,000 people have already found answers in a Yale guide.
Related Articles:
Why Should You Trust Us?
It seems that every appliance review has nothing but glowing comments about almost every product, yet you read customer reviews and they are almost universally bad.
We are here to fill in the disconnect. We'll give you the best features, and the drawbacks as well, including reliability based on over 37,000 calls performed by our service team just last year. Our goal is to give you ALL the information so you know what's right for you.
Please consider subscribing or adding to the conversation in the comments below. We appreciate you stopping by.
Steve Sheinkopf is the third-generation CEO of Yale Appliance and a lifelong Bostonian. He has over 38 years of experience in the appliance industry, and he is a trusted source of information for consumers on how to buy and repair appliances.

Steve has also been featured in numerous publications, including the New York Times, Consumer Reports, The Boston Globe, Bloomberg Radio, the New York Post, The Wall Street Journal, and Entrepreneur, for his knowledge of how to buy appliances and appliance repair.

Steve is passionate about helping consumers find the best appliances for their needs, and he is always happy to answer questions and provide advice. He is a valuable resource for consumers who are looking for information on appliance buying, repair, and maintenance.

Despite being the worst goalie in history, Steve is a fan of the Bruins and college hockey, loves to read, and is a Peloton biker. The love of his life is his daughter, Sophie.
A Note About Pricing
Pricing on this blog is for reference only and may include time sensitive rebates. We make every attempt to provide accurate pricing at time of publishing. Please call the stores for most accurate price.