So, you are buying a full suite of appliances for your kitchen. It is not easy researching each unit, but there may be a better way. Consider buying the brand.
This strategy works because all your appliances will match. Rebates also increase when you buy a whole kitchen appliance package. It's a much smarter way for you to buy appliances.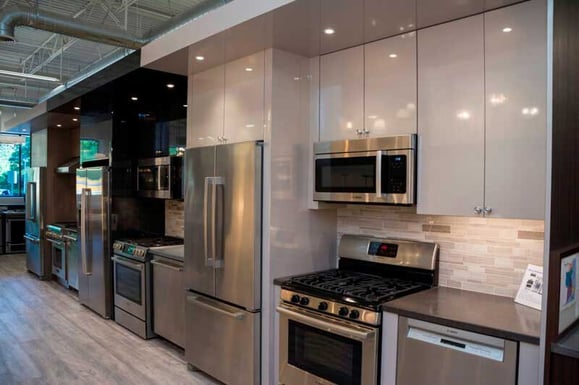 Yale Framingham Kitchen Packages
At the same time, this is your kitchen. Buy what you like and what you will use. Just be mindful of the different handle styles and shades of stainless of the different brands.
Samsung has some of the best packages with good promotions at all levels. However, you have to be willing to wait 6-12 weeks. Samsung is the number one volume brand, but their stock cannot keep up with the demand.
Be prepared to wait.
Anyway, Whirlpool, KitchenAid, Frigidaire and Jenn-Air have some interesting products to consider as well.
We have over 20 kitchen appliance packages this month, these are the most popular and best deals.
Benefits of Buying a Package of Appliances [VIDEO]
Thanks for reporting a problem. We'll attach technical data about this session to help us figure out the issue. Which of these best describes the problem?
Any other details or context?
message
Call us with any questions at 617-825-9253
Pricing updated for June 2017
Best Stainless Steel Kitchen Appliance Packages
Whirlpool Basic Stainless Steel Package
Whirlpool is a reliable, no-frills stainless package with an 18 cu. ft. refrigerator, over-the-range microwave, self-cleaning range, and dishwasher. The Whirlpool brand is one of the most reliable based on 20,000 service calls completed in the last 12 months, so the product works.
Whirlpool is a great builder or starter home package. It has a coordinated look and is actually one of the most reliable appliance brands.
Samsung Basic Stainless Steel Kitchen Package
Samsung has a nicely styled package under $2,000. The refrigerator is large at 25 cu. Ft. with a self-cleaning freestanding range, front control dishwasher, and over-the-range microwave. This package is not just a "starter" package but good for families of any size.
Maytag Basic Stainless Steel Kitchen Package
This package features a bottom mount refrigerator, self-cleaning range, over-the-range microwave, and a top control dishwasher.
The bottom mount refrigerator is considered an upgrade because you do not have to stoop for your refrigerator.
Samsung Counter Depth Package
This package consists of a counter depth French door refrigerator, self-cleaning free-standing range, an over-the-range microwave, and a dishwasher. Samsung has good, clean styling.
KitchenAid

Basic Stainless Steel

Package 
KitchenAid has a bold new look. Their new cooking is sharp. The dishwasher is very good with a 25 cubic foot French door refrigerator, a convection range, and over-the-range microwave.
Bosch Basic Slide-In Kitchen Packag

e
Bosch has one of the best overall packages for aesthetics. The slide-in range allows you to see your backsplash without the range backguard. The dishwasher is very quiet as well.
Bosch Slide-In Package Upgrade
This is Bosch's best appliances with a counter depth double drawer refrigerator, electric range, upgraded over the range microwave and 40-decibel dishwasher (that's incredibly quiet) with a 3rd cutlery rack.
KitchenAid Package Upgrade

This package set highlights a 20 cubic foot counter depth French door refrigerator, convection range, an over-the-range microwave, and a dishwasher.
Jenn-Air

Double Oven Range Package
$4,796 Electric / $5,196 Gas - Final price after $1,600 in rebates 
The Jenn-Air is perhaps one of the best packages to consider with a 20 cubic foot French door counter depth refrigerator along with a double oven range.
Jenn-Air Pro Package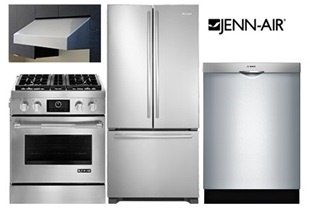 The Jenn-Air Pro has a 20,000 BTU burner and adds a clock with convection conversion. You can convert your regular recipes to convection with a touch of a button.
You also have twin convection and self-cleaning as well. The refrigerator is counter depth along with the Yale hood and quiet dishwasher.
Thermador Pro Package
$11,548 Gas / $12,598 - Final price after $3,198 in rebates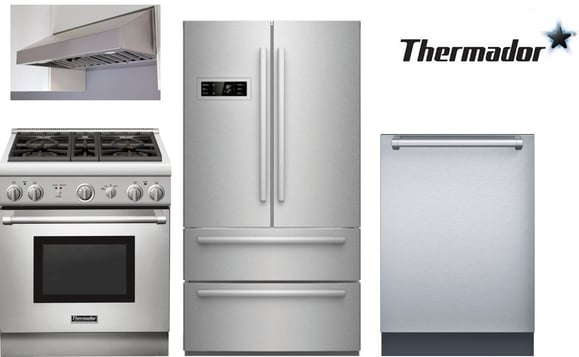 This package combines a Thermador pro range with Bosch counter depth refrigerator (Thermador style handles) along with a Thermador dishwasher (made by Bosch) and a Yale hood.
Jenn-Air and Thermador are pretty similar packages. Thermador has a slightly more powerful top with a better simmer whereas Jenn-Air has a clock, timer, convection conversion, self-cleaning and a better twin convection oven.
Miele Pro Package
$11,999 Gas / $13,699 Dual Fuel - Final price after $247 in rebates
Miele, along with Jenn-Air, has twin convection and self-cleaning. Their max burner output is 19,000 BTU. It is a very cleanable range because the racks can stay in a self-cleaning oven and the grates are dishwasher safe.
Their dishwasher is the best with three racks and the only real dry cycle in the industry. Air is diverted to the outside of the dishwasher. The cooler outside air attracts the hotter, insider steamy air and dissipated.
The refrigerator is integrated meaning is flush with the cabinets for a much more linear look. It is 3 times more expensive than the Thermador or Jenn-Air counter depth, French-door refrigerators.
Sub-Zero/Wolf Pro Package
$14,848 Gas / $16,268 Duel Fuel - Final price after $1,420 in rebates
Sub-Zero is the best refrigerator in the industry with two compressors, so the moist and cold air do not transfer. A vacuum seal, internal air scrubber, and pure water filter are a few of the reasons why Sub-Zero keeps food, fresher for a longer period of time.
The Wolf range has 15,000 BTU and single convection along with a powerful 600 CFM range hood. Package includes an Asko dishwasher with all stainless interior and solid graphite racks.
Which is the Best Choice?
Well, this list runs the gamut. If you are starting out, Whirlpool, and even Samsung are decent options. Samsung has the cool factor, but Frigidaire is more reliable and available.
Frigidaire Gallery, KitchenAid, and Bosch have a counter depth refrigerator for an inexpensive price. Jenn-Air has every feature under $5,000.
Their Pro is competitive with self cleaning, twin convection and intuitive cooking system with twin convection.
In terms of resale and overall aesthetic, Sub-Zero and Miele are good choices.
There is not one package for everyone (it would be easier if there were). Just assess your needs and buy what you like.
Call us with any questions at 617-825-9253
Additional Resources
Looking for more help on appliances? Get the free Yale Appliance Buying Guide with the 10 most frequently asked questions; answered, features on the major brands and advice for the best buying strategies. Well over 220,000 people have read a Yale Guide.